Herd Immunity May Be Closer Than Thought
The idea that more people may have immunity to coronavirus than show up in standard antibody surveys is getting more oxygen by the day. It is what may explain why the epidemic often goes into decline when 10-20% of the population has antibodies, why the epidemic is now considered over in Sweden and why countries that are lifting restrictions are seeing no second waves, only the occasional ripple.
This week the British Medical Journal added its voice to those arguing that population immunity may be closer than was originally thought. The Times reports:
Tests for antibodies may be dramatically underestimating the proportion of people who have been infected with the coronavirus, scientists said. The claim, made in the BMJ, implies that it is possible some parts of the country are far closer to herd immunity than had been thought.
The original misdiagnosis, the authors explain, is because we've been testing not for the full range of human immune responses but for just one or two types of antibodies.
Dr [Stephen] Burgess [from the Medical Research Council Biostatistics Unit at Cambridge University] said that calibrating tests using people who had been more severely ill may mean that a lot of asymptomatic infections are being missed. "This might explain why, in cities such as London, we have seen the breakdown of widespread social distancing but infection rates have still not increased sharply," he said.
Public Health England estimated London's antibody prevalence at the start of May to be around 17.5%, not far from New York City's 20%. Neither city has seen a rise in hospital admissions or deaths as restrictions have eased.
Eleanor Riley, professor of immunology at Edinburgh University, has some wise words on the subject which our politicians ought to heed:
"We need to think of the seroprevalence data as indicating that at least that proportion of people have been infected and it is likely higher. How much higher is difficult to estimate," she said.

She added that it was important to consider who was susceptible to being ill as well as who was susceptible to infection: "We are learning that many people have pre-existing immunity which is likely due to prior infection with other coronaviruses."

Dr Burgess said that he did not understand why more scientists were not questioning the seroprevalence data, as the extent to which it undercounts is critical.

"We've been asking ourselves the question of why this has not got more attention. It is clearly very important to our understanding of the disease," he said. "I think scientists are cautious, and would prefer to say nothing if they are not sure, even when saying nothing also has consequences."
Unfortunately, not all scientists are so timid with their views. Could it be the silence of too many sceptical scientists that has allowed more confident scientists like Neil Ferguson to become so influential? As Dr Burgess notes, saying nothing also has consequences. The BMJ deserves credit for publishing this paper, particularly as herd immunity is still being treated by some as politically toxic.
Kim-Jong Dan Versus Nic Sturge-on – Who's Winning in the Authoritarian Olympics?
An Australian blogger called David Robertson has written an interesting post comparing Victorian Premier Daniel Andrews with Scottish First Minister Nicola Sturgeon.
Our political leaders, Dan and Nicola [Sturgeon] have the best interests of the 'common good' at heart. They are 'moral' people seeking to do their best. But the trouble is that because they have lost their moral anchor, their moral compass has gone astray. They confuse 'the good' with their will. And they have little time for heretics or those who would dare to blaspheme their absolutist certainties. That's why they have to crack down on the poor souls who dare to question or challenge their absolute authority. Like all authoritarians they believe that if they get their way then we are on our way to a Better World – a Brave New World. But if they don't get their way then we are descending into the Abyss. That explains why they feel they have to crack down so strongly. It's not just a power grab. It's a necessary power grab – done for the common good. That's for as long as they remain true believers. When that ceases (more likely for their acolytes), they still use the same weapons. They come to see that it's all an unworkable fantasy – but they continue to peddle the illusion – because they have invested too much in it. Their sense of worth – personal, financial, emotional and social; all depend on it.
The solution is more humility, less hubris:
I suspect that the virus of authoritarianism that is so infecting much of our Western democracies (all in the name of doing good – or at least preventing evil) will end up having a longer and more dangerous legacy than any left by COVID-19. Our only solution is the road of humility, not the highway to hell of hubris. But Chairman Dan and Queen Nicola seem to prefer the latter.
Worth reading in full.
"We Touched Masks Together in Defiance": A Lockdown Wedding in Melbourne
An Englishwoman married her Australian boyfriend in Melbourne yesterday and has written to tell us what it was like:
Weddings in the next-door state (New South Wales) can have 150 guests to mark the occasion. Yet in Victoria, we are allowed just two. As my family are all in England it narrowed down the gold dust places to Matt's parents. But there was to be no celebration with them. They picked us up on their way to the registry office, all of us in masks. There would be no fancy bridal car for me. At least we got a parking space right outside – the city was deserted.

On entry, we hand sanitised and first met the woman who was going to bond us for the rest of our lives. A Zoom call was thankfully allowed so that my family could watch the moment – no WiFi available though, so thank God my phone was up to the hot spot challenge.

The ceremony lasted around 12 minutes, with Matt's parents sitting two metres apart in a room that could seat 50. We were allowed to hold hands for the duration, but no kiss. The key moment of any ceremony, a sort of rite of passage for husband and wife, was omitted for us. Our 'you may now kiss the bride' was replaced with a generic 'congratulations'. But when our registrar's back was turned, we touched masks together in defiance.
Keeping Schools Open in Sweden Resulted in Zero Deaths
Dennis Prager, the founder of PragerU, has written a piece in the Epoch Times pointing out that Sweden's decision not to close schools for under-16 year-olds had no impact on mortality.
The world should have followed Sweden's example. That country never locked down and has even kept children under 16 in school the entire time. As Reuters reported on July 15th, the number of Swedish children between one and 19 years of age who have died of COVID-19 is zero. And the percentage of children who contracted the illness was the exact same in Sweden as it was in Finland, which locked down its schools.

As regards teachers, Sweden's Public Health Agency reported that "a comparison of the incidence of COVID-19 in different professions suggested no increased risk for teachers". Nevertheless, with few exceptions, teachers in Los Angeles and elsewhere refuse to enter a classroom that has students in it. Their disdain for their profession has been superseded only by that of the Los Angeles teachers union, which announced that teachers will not resume teaching until the police are defunded.

People who defend lockdowns and closing schools point out that Sweden has the eighth-highest death rate per million in the Western world. But, needless to say, this has no bearing at all on the issue of whether Sweden was right to keep schools open or whether our country was wrong to close them, let alone keep them closed now. The overwhelming majority of deaths from COVID-19 in Sweden were among people over 70 years of age, and most of those were people over 80 and with compromised immune systems.

Reuters reported that three separate studies, including one by UNICEF, "showed that Swedish children fared better than children in other countries during the pandemic, both in terms of education and mental health".

For more than a month, Sweden has had almost no deaths from COVID-19 while the entire society remains open and almost no one wears masks. (In Holland, too, almost no one wears masks.) For all intents and purposes, the virus is over in Sweden.
Worth reading in full.
What's Killing Americans?
Inspired by the news from the US that only six per cent of reported COVID-19 deaths mention no other contributing causes, Willis Eschenbach on Watts Up With That took a closer look and made the above graph. He explains:
The light blue area is all of the deaths that did not involve Covid.

The dark blue area at the bottom represents the deaths of people with one or more other diseases or conditions who had Covid as a co-morbidity. It goes from 0.2% of all deaths for infants, and steadily increases with age to stabilize at about nine per cent of all deaths for all ages over 65. Some of these diseases and conditions are the result of Covid, and some are unrelated to Covid.

Fun fact. A total of 4,758 of the deaths in the dark blue area are from "Intentional and unintentional injury, poisoning and other adverse events" with Covid as a co-morbidity. So this includes e.g. the guy in Florida who died from a motorcycle accident and tested positive for Covid… clearly the category shown in dark blue includes both deaths with Covid as well as deaths from Covid.

The thin red area at the top, scarcely wider than a line?

That's all of the deaths from Covid by itself. It's tiny because most of the time Covid either causes other diseases, as when someone presents with Covid and then gets pneumonia as well, or because Covid is often non-causally associated with other diseases and conditions.

The takeaway message? Even with the old and ill, deaths with Covid plus deaths from Covid are less than ten percent of all deaths. For those under 14 years old, it's less than one percent of all deaths. For infants, 0.2%.
Worth reading in full.
Some Hope…
A Scottish reader has emailed to tell us of an unexpectedly good experience he had at his local gym.
I finally got back to my gym yesterday, Nicola finally having condescended to open them. It was very heartening to see that whilst they had bought lots of new gear they had made hardly any other covid changes and it all felt much like pre-lockdown. I fear they are breaking many rules, especially in the world of mad Nicola, but in the meantime all for the good. One thing they did urge was lots of hand washing which I accept as sound advice.

There was also a large sign asking folk to try not to use the changing rooms or showers, but to arrive in their gym kit and then shower at home. I was very pleased to see that lots of people simply ignored this and used the facilities as usual. None of the staff seemed even the least bit concerned and even asked every arrival whether they wanted a locker key.

Then, while I was in the changing room, several truly amazing things happened. First some chap arrived and, apropos of nothing at all apart from five months frustration I guess, starting describing, in very colourful terms, his views on lockdown. Clearly not a fan. Whereupon every other person in the changing room, six people, agreed with him. And they all started throwing statistics around in a very learned fashion proving the idiocy of all lockdown theory.

Finally, and I am still not sure whether to be appalled or pleased by this, a young lad entered wearing a mask. Whereupon all the lockdown antagonists begun questioning him about why he was wearing one. Again, they had all the data to hand and strove to prove, at some length, why he was deluded. On balance it was slightly intimidating but I was probably a bit pleased. Perhaps he learned something. Unsurprisingly, he didn't seem inclined to argue.

I thought I must have just happened upon a rare caucus of Scottish lockdown deniers, but when I was chatting to one of them later he told me that all his friends feel exactly the same way.

What was most refreshing was that despite the lack of patronising bilge every person at the gym just worked out what made sense and took sane precautions. For example, one area got quite busy for a time but folk just saw that was so and went off somewhere else until the zone they were after had cleared somewhat.

Perhaps there is hope yet.
Round-Up
Theme Tunes Suggested by Readers
"Stay Home" by Activirus, "Ban Everything" by Woodbine, "My Life Is On Hold" by Southern Sound, "We Are All Prisoners" by A Bit Member Of The World, "No Talking" by Jay Cartier, "Suspended From Class" by Camera Obscura.
Love in the Time of Covid
We have created some Lockdown Sceptics Forums that are now open, including a dating forum called "Love in a Covid Climate" that has attracted a bit of attention. We've also just introduced a section where people can arrange to meet up for non-romantic purposes. We have a team of moderators in place to remove spam and deal with the trolls, but sometimes it takes a little while so please bear with us. You have to register to use the Forums, but that should just be a one-time thing. Any problems, email the Lockdown Sceptics webmaster Ian Rons here.
Small Businesses That Have Re-Opened
A few months ago, Lockdown Sceptics launched a searchable directory of open businesses across the UK. The idea is to celebrate those retail and hospitality businesses that have re-opened, as well as help people find out what has opened in their area. But we need your help to build it, so we've created a form you can fill out to tell us about those businesses that have opened near you.
Now that non-essential shops have re-opened – or most of them, anyway – we're focusing on pubs, bars, clubs and restaurants, as well as other social venues. As of July 4th, many of them have re-opened too, but not all (and some of them are at risk of having to close again). Please visit the page and let us know about those brave folk who are doing their bit to get our country back on its feet – particularly if they're not insisting on face masks! If they've made that clear to customers with a sign in the window or similar, so much the better. Don't worry if your entries don't show up immediately – we need to approve them once you've entered the data.
"Mask Exempt" Lanyards
We've created a permanent slot down here for people who want to buy (or make) a "Mask Exempt" lanyard/card. You can print out and laminate a fairly standard one for free here and it has the advantage of not explicitly claiming you have a disability. But if you have no qualms about that (or you are disabled), you can buy a lanyard from Amazon saying you do have a disability/medical exemption here (now showing it will arrive between Oct 8th to Oct 17th). The Government has instructions on how to download an official "Mask Exempt" notice to put on your phone here. You can get a "Hidden Disability" tag from ebay here and an "exempt" card with lanyard for just £3.99 from Etsy here.
Don't forget to sign the petition on the UK Government's petitions website calling for an end to mandatory face nappies in shops here (now over 31,000).
A reader has started a website that contains some useful guidance about how you can claim legal exemption.
And here's a round-up of the scientific evidence on the effectiveness of mask (threadbare at best).
Shameless Begging Bit
Thanks as always to those of you who made a donation in the past 24 hours to pay for the upkeep of this site. Doing these daily updates is a lot of work (although we have help from lots of people, mainly in the form of readers sending me stories and links). If you feel like donating, please click here. And if you want to flag up any stories or links we should include in future updates, email me here. If you want me to link to something, don't forget to include the HTML code, i.e. a link.
And Finally…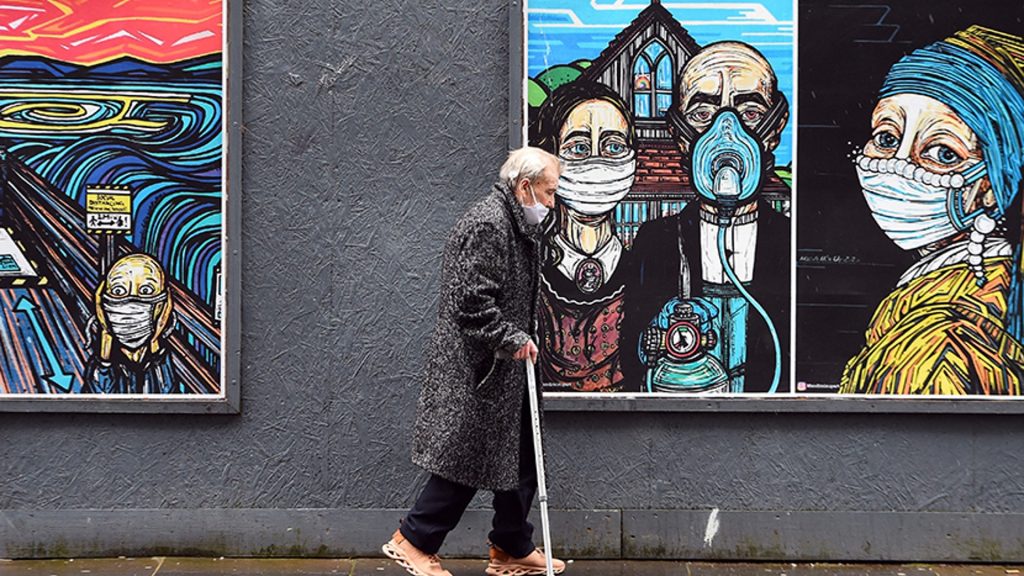 My colleague Toby Young has written about The Wake Up Call: Why the Pandemic Has Exposed the Weakness of the West, and How to Fix It in his Spectator column this week. The book – by John Micklethwait and Adrian Wooldridge – argues that the reaction of most Western governments to the pandemic has revealed them to be inverted pyramids of incompetence, although disappointingly that's not because the authors are lockdown sceptics.
There's a good deal in the book to disagree with. The authors make no attempt to re-evaluate the threat of COVID-19 in light of evidence that it's no more deadly than a bad flu. Instead, they regurgitate the WHO's doom-mongering and chastise Boris and other populist leaders for not locking down earlier. This 'failure' to heed the apocalyptic warnings of public health panjandrums is one way the West 'flunked the test'. The book even claims Britain's death toll (which they overestimate by at least 10%) might have been two-thirds lower if we'd locked down a week earlier.
To be fair to the authors, they based their UK death toll figures on PHE's original estimate and there wasn't time to correct it before publication.
In spite of the fact that Micklethwait and Wooldridge are unsound on the big issue, many of their arrows find their targets.
It's hard to dispute the authors' central hypothesis: that the virus has exposed the governments of most western democracies to be dysfunctional and sclerotic. They were caught off guard, even though they've had decades to prepare for a flu-like pandemic, and proved un-able to source protective equipment for health workers. Their attempts to roll out test-and-trace programmes have been hampered by bureaucratic incompetence — even Germany bungled its contact-tracing app. And the death toll is higher than it should be thanks to a series of unforced errors, such as failing to protect care-home residents. If the Chinese Communist party had manufactured Sars-CoV-2 in the Wuhan Institute of Virology to test the resilience of our system of government, they'd be starting up the tanks about now.
Both the book and Toby's column are worth reading in full.