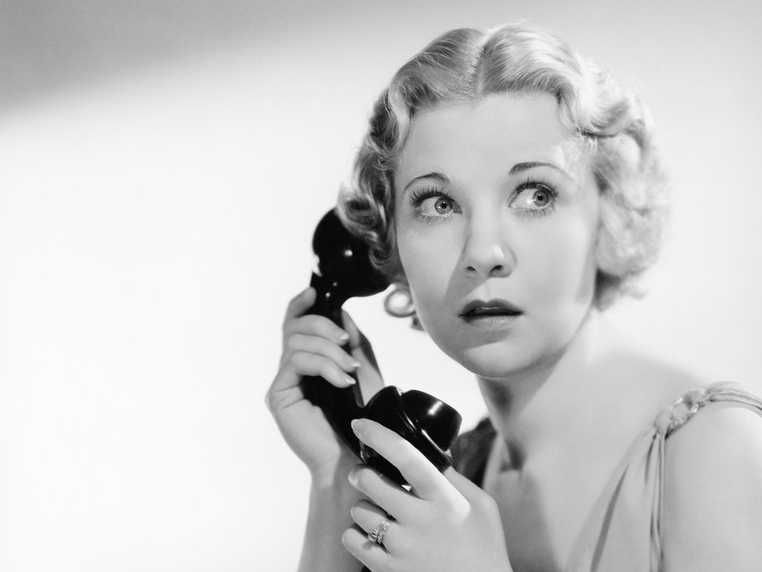 "Hello, Liz speaking?
Oh hello, Sandra. Yes, I'm well, thank you; and how are y… what?!? … when?! … Sandra! … oh, dear… oh, no… oh, Sandra… I don't know what to… mm-hmm… yes? … mm-hmm… no! … oh, Sandra… the police?! … mm-hmm… terrible shock; well of course, yes, it must've been… oh dear… and you say they're sure it was… you're calling from the morgue, are you? … oh dear, Sandra, I am sorry… your youngest, too… such a lovely boy… at least, until… well, no… no, it's just that… ahem, you know … wasn't he… er, didn't he… didn't he become one of those… what do the BBC call them now, "anti-vaxxers," isn't it? Well, no… no… no, no… no, Sandra, all I meant by it was… well alright, "libertarian" then, if you must insist on splitting hairs like that…
Still, despite the shameful behaviour of that "libertarian" death cult he'd thrown his lot in with recently – and they're not the sort of reprobates I'd have let my sons associate with, Sandra, though I don't want to cast aspersions on your parenting skills, certainly not at this difficult time – at least you'll be able to remember him proudly as a lad who did the right thing by the NHS when it really mattered and went to get both his jabs… won't you…? … Sandra…? … what, not even the first one?! … oh dear… but surely… I mean, he must've had an appointment booked, or something? Good Lord… not even an appointment! … I see… hmm… well, no… no… I… no, but it is a little bit relevant, Sandra, don't you think? … you know, I do feel that… Sandr… I… but… well, alright, I don't want to fall out with you, Sandra … no… of course not… no, I won't mention it again… yes, alright, I promise… except… well, no, never mind… after all, he's no longer a risk for us, is he? … yes, "No longer with us," that's what I said … isn't it? … oh? … what did I…? Oh, I am sorry, Sandra… no, I don't know what I could possibly have meant either … slip of the tongue, do you think? … but please, do go on; tell me what happened…
Yes … yes? … mm-hmm … mm-hmm? … the mob arrived after dark, I see… already dragging a tangle of unvaccinated bodies… and they were, what…? On the lash and out to get pissed?! I'm sorry, I don't underst… oh, the bodies were "lashed together and bound by their wrists." I see now, yes; yes, terrible phoneline, isn't it… by their wrists, eh? … best way with anti-va… I mean, er, libertar… I mean… ahem… how appalling, Sandra… and they were a mob, you say? A mob of…? You've forgotten the phrase, have you? Er, "zealous, civic minded neighbours"? Oh, that's not it? Erm… "Concerned citizens?" … "Boisterous disinformation wardens?" … hmm… "Firm but fair fact checkers?" Oh! Oh wait… yes, hang on… I know the word you mean… begins with "h"… yes, it's on the tip of my tongue now too… gosh, how frustrating! … oh, you've got it, have you? … good, well go on then, what is it…?
Vigilantes, Sandra?! … Oh… was, er… was that the phrase you'd forgotten? Would you call them that, do you think? I see. No, I… er… the word I was thinking of was… well, never mind that now… so anyway, what did this gang of hero… I mean, these vigilantes do, then? … yes… yes? … mm-hmm… oh… oh dear, that's not a very nice thing to chant, is it? Anti-vaxxers can't all be filth sucking pig vermin, can they; besides, some of them are just mentally ill, poor devils… no no, of course… not relevant, no… I just meant that… oh, but Sandra that's not fair … no, really I… come, come Sandra, do be reasonable … when people like me use the term "anti-vaxxer" it's entirely different, surely you must see that? … good GOD, of course we don't want them in our houses, Sandra… but it's nothing personal, you understand? … simply a question of health and safety… mm-hmm…. mm-hmm…. no, no… please, don't mention it… that's alright, Sandra; we all say things we regret from time to time… but thank you anyway… thank you… well I appreciate that, Sandra… no, none taken, Sandra; none taken…
So tell me about this mob… mm-hmm… eyes bulging, mm-hmm…? … mouths all laced-edged with foam, mm-hmm…? … and they were brandishing what, sorry? Pitchforks? Oh, how adorably quaint! Well, yes, or "terrifying", I suppose… but then I've never been lackadaisical about other people's health, have I, so I wouldn't know about that… yes… mm-hmm … mm-hmm… but if you'd already barricaded the doors, then how did they… oh, heavens! And to think you'd only just had those single glazed wooden ones replaced with uPVC… oh dear… will the insurance pay out, do you think? No… no, hardly important… of course; not at the moment, no, you're right… but even so, you might want to give them a ring tomorrow just to make sur… no, absolutely… no, not another word about it… I promise… please, do carry on…
I see… mm-hmm … oh … oh really? … and they're claiming that that's what inspired them, are they? … yes, as a matter of fact I think I did see it on TV the other night… Comic Relief, wasn't it? … yes, that's right … a celebrity packed, comedy sketch cum musical… "Vacci-nation" or something… very droll, oh very droll indeed… m'yes, there was a little ditty, wasn't there, now how did it go again, let me see… ah yes, that was it, "Get jabbed or get stabbed, la la la laa / Get jabbed or get stabbed tum tee tum tum" … hahaha! … oh… oh dear… oh, I'm so sorry Sandra… I didn't mean to upset you… please, do carry on… mm-hmm … and that's where the police believe he was taken, is it? … mm-hmm? … oh, but of course I know it! … what a lovely area… yes, I know that little layby… of course… very picturesque … there's a lovely walk down by a brook, isn't there; yes, we often mask up and take the dogs for their exercise over there when it's… no … no, absolutely… never mind what we do with our dogs, you're quite right… shouldn't have mentioned it… still, I'm glad you've reminded me, I really must remember to take the boys up there again soon… my youngest especially, you know – probably about the same age as yours is, well, haha, was – gosh, how he loves our family walks…
Hello, Sandra? … Sandra? … hello? … so sorry, Sandra, but I think the line just broke up… oh, you were sobbing, were you? Yes, well, I suppose some mothers find themselves sobbing nowadays because their sons and daughters have caught COVID and died thanks to the selfishness of the unvaccinated, Sandra, but please do take all the time you need to finish hosting your own private little pity party for your … "libertarian son" … before we proceed with your story… yes… that's right… yes, all I heard before you became incoherent was the word, "sodium" … oh, hyperchloride, you mean? … sodium hyperchloride? … but isn't that, er… oh… oh, dear, yes… into the lungs with a pipette? Haha! That'd teach the little shit… I, er… I said, "that'd bleach a little bit," Sandra… yes… no, definitely "bleach a little bit" … mm-hmm, the line is bad, isn't it; absolutely… so anyway, as you were saying… limbs all crushed, yes… mm-hmm? … tests ongoing, but testicles found nearby unlikely anyone else's… mm-hmm? … ice-pick … yes… clamp and tweezers… mm-hmm… well, I suppose it would have haemorrhaged, yes … mm-hmm? … and a pipette could scarcely have missed at that angle, could it, what with the teeth already having been removed… mm-hmm… I suppose it must've just trickled straight out and then oozed down into his lungs when they pressed one of those rubberised ends…
Well, Sandra, I am sorry, I really am… but… well, no… no, there is a "but" I'm afraid, Sandra… Sandr… Sandra… no, I do rea… let me finish, please… I… Sandra, let me finish… let me finish… Sandra! I… SANDRA!! … You surely can't expect me to sit here and deny that young people like your son are being a little selfish, now, can you? Yes Sandra, I know he was your youngest… yes, yes… heart ripped out and whatnot… mm-hmm, husband's business folded during the second lockdown… took his own life, yes, as you never tire of telling me or indeed anyone else who can still bear to listen to you drone on about it… yes, and your daughter's cancer wasn't diagnosed until it was too late thanks to the third lockdown and so on and so forth… yes, yes, a hard few years for you, Sandra… but it's been a hard few hard years for people who've had COVID too, don't you think? … I… wh… I… Sandr… Sandra, please don't take that tone with me. Facts are facts… statistics never lie, do they? … only civil to address a spade by its preferred pronouns, isn't it… or don't you agree, Sandra – are you a transphobic bigot as well as a failed mother who's just had to spend the morning identifying the remains of her dead, conspiracy theorising son, and all because she never bothered to teach him the value of protecting the NHS when he was growing up?
No, Sandra… no, no… Sandra, please calm down… I… Sandra, if I didn't know better I'd say you'd been drinking again… the… the moral…. Sandra, the moral bankruptcy… the moral… SANDRA, THE MORAL BANKRUPTCY… thank you… of young men like your son is there for all to see… what's that? Where can you see it, because right now you're struggling to see anything but state-sponsored psy-ops cockbollocks?! It's everywhere, Sandra; everywhere: the BBC News website, Comic Relief, Piers Morgan's twitter feed: everywhere… lower vaccine uptake amongst 18-34 year-olds; that's statistically proven, that is, which means that… I… how dare y… Sandr… Sandra, I've never been so… I ca… wh… I… ju…
…
Well, I must say… I'm sorry you feel you have to express yourself in that way, Sandra, although, sadly, listening to that potty mouth of yours running away with itself, I can see all too clearly what it was that drove your son off the rails… Sandra…. Sandra, you're becoming hysterical… San… Sandr… I… Sandra… there's no easy way of putting this… Sandra, listen to me please… Sandra… I… Sandra, I've listened to you talking, rather selfishly if you don't mind me saying so, about your self, your husband, your dying daughter, your dead son and now you really need to pay me the respect of letting me… Sandra, I… Sandra… SANDRA!!! THE TRUTH IS THAT YOUR SON'S BEEN PUTTING MY FAMILY AT RISK, HE'S BEEN PUTTING THE FAMILIES OF ALL THOSE POOR PITCHFORK WIELDING VIGILANTES AT RISK, AND – WORST OF ALL – HE'S BEEN PUTTING THE NHS AT RISK… Sandra?… hello? … Sandra?! … she's hung up! … oh, Sandra! … how could she be so nasty?"
Wilfred Thomas is a former academic.