The Government has been warned by doctors and trade union leaders that the impending deadline for NHS staff to be vaccinated or lose their jobs will result in making the NHS staffing crisis worse. MailOnline has the story.
Trade union leaders have warned the Government that mandatory COVID-19 vaccines for NHS workers will make staff shortages worse.

Last month, MPs approved mandatory vaccinations for NHS and social care staff by April this year.

The Government decided that all NHS staff in England who have direct contact with patients must have their first dose of a Covid vaccine by February 3rd, so they can receive their second dose before the March 31st deadline.

But the Trades Union Congress (TUC) has called for the policy to be delayed "with immediate effect" to avoid a shortage of key workers.

It comes after Steve James, a consultant anaesthetist at King's College Hospital in London, who has worked in the ICU since early 2020 treating Covid patients, told Sajid Javid why he did not believe he should have to be vaccinated after being infected.

Meanwhile, social care isolation rules have been relaxed following concerns over staff being off sick and problems discharging patients from hospital.

There are already fears of staff shortages as 39,142 NHS workers in hospital trusts in England were absent for COVID-19 reasons on January 2nd, NHS England data shows.

This was up a staggering 59% on the previous week and more than three times up from the start of December, when there were 12,508 workers absent.

Hospitals in Lincolnshire declared a staffing emergency, while bosses at United Lincolnshire Hospitals warned that so many doctors and nurses were now absent from shifts that patient care was "compromised".

It was announced earlier this week that hundreds of troops are being sent into London hospitals to fill in for NHS staff who are isolating because of Omicron.

But the TUC warned that the mandatory vaccination policy will worsen the staffing crisis, making it impossible for NHS trusts to maintain safe staffing levels in the coming weeks.
With over 90% of NHS staff double vaccinated while more than 60% have had a third dose, the mandate is unlikely to make a significant impact on transmission, particularly given how poorly the vaccines prevent infection with Omicron and how many NHS staff will already have been infected or exposed to the virus (surely all of them, exposed many times over). The rationale for such an illiberal and disruptive policy is therefore lacking. As Consultant Anaethetist Steve James told Sajid Javid yesterday: "The science isn't strong enough."
Sir David Nicholson, a former chief executive of NHS England who now chairs the Sandwell and West Birmingham Hospitals Trust, warned that his trust could lose hundreds of staff from the mandatory vaccination policy.
He told the Guardian: "My understanding on vaccines is that, though we may not put it in these terms, we will essentially be giving unvaccinated staff notice at the start of February. I am sure that's not quite the right way of putting it but that is the inexorable logic of where we are.'"

Last week, NHS Confederation chief Matthew Taylor said the system was in a "state of crisis" and hospitals were scrabbling for medics to plug a shortage in staff.
However, the Government remains defiant.
A spokesperson for the Department of Health and Social Care told the Guardian that there were "no plans to change the implementation dates".

A Department of Health and Social Care spokesperson told MailOnline: "The evidence is clear – vaccinations remain our best defence against COVID-19 by preventing infection and saving lives. Health and social care workers are responsible for looking after some of the most vulnerable people in society, many of whom are more likely to suffer serious health consequences if exposed to the virus. This is about patient safety, and ensuring people in hospital or care have as much protection as possible. There are record numbers of staff working in our NHS, with over 4,800 more doctors and over 10,900 more nurses compared to October 2020. While over 90% have been fully vaccinated [sic] we continue to work to boost uptake further.'"
That the Government still claims "the evidence is clear" that the vaccines prevent infection, despite its own studies showing vaccine effectiveness against Omicron falling to zero within five months, shows how detached policy has become from fact and evidence.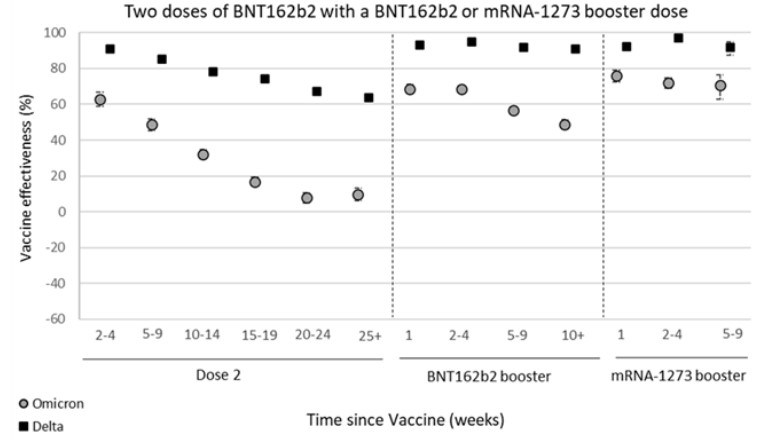 The report from MailOnline is worth reading in full.
Stop Press: More on this in the Sunday Express.