A reader has forwarded an email sent by Green Party MP Caroline Lucas via the platform of March for Change in which she reiterates the need for an immediate public inquiry into the Government's handling of Covid. As with most people calling for a Covid inquiry, she accused Boris Johnson of lifting the coronavirus restrictions "too soon". That restrictions suppress infections is simply taken for granted.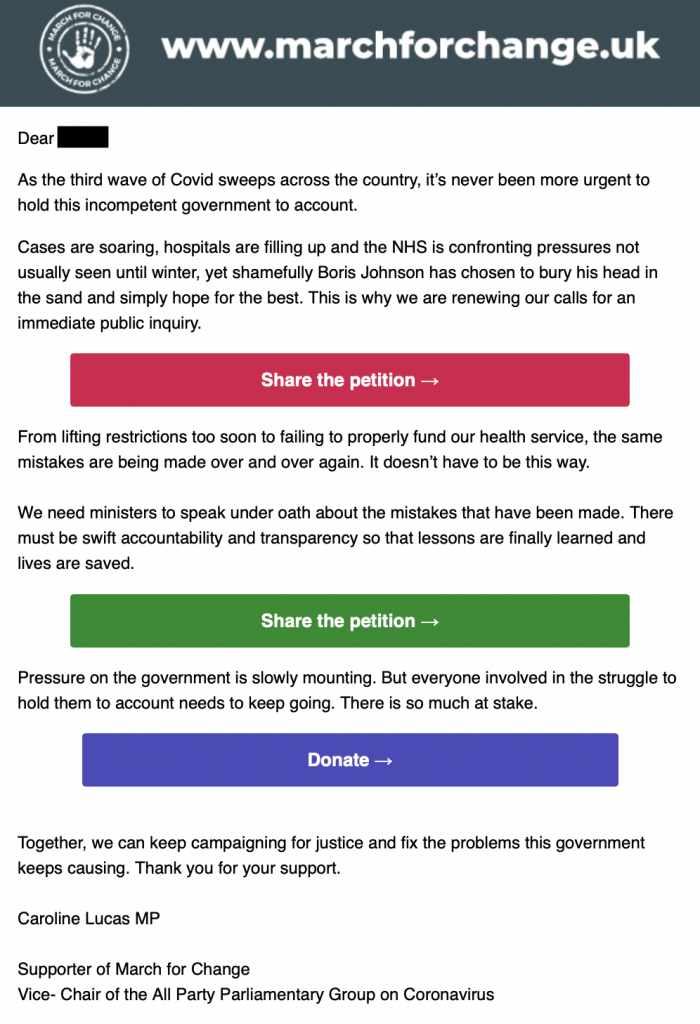 The odd thing about this email is that it appears to have been written a week ago since it makes no reference to the fact that the number of daily cases yesterday was 40% lower than it was on July 18th, the day before 'Freedom Day'. By going ahead with 'Freedom Day', Caroline Lucas claims, the Prime Minister has "chosen to bury his head in the sand and simply hope for the best". As a result of this criminal recklessness, "the third wave of Covid [is] sweep[ing] across the country", she says, and"cases are soaring".
In fact, official figures show that cases are falling or levelling off in every region of England, including Caroline Lucas's Brighton constituency. As Will Jones has pointed out, "the myth of the exit wave persists" – and the fact that this myth is so impervious to facts makes it look like a pro-Lockdown conspiracy theory.
The same goes for Lucas's claim that hospitals are filling up (see orange line in graph below).
Professor Adam Finn of the Joint Committee on Vaccination and Immunisation says the fall in reported Covid cases "means less viral transmission and eventually fewer hospitalisations and deaths than we feared and expected a week ago". The biggest problem faced by the NHS is the huge backlog of patients who haven't received treatment because of successive lockdowns. Not to mention those whose illnesses haven't even been diagnosed. Isn't Caroline Lucas concerned that sending out emails like this, including false claims about the case rate, will discourage even more sick people to seek much-needed hospital treatment?
Next time Lucas accuses a lockdown sceptic of trafficking in 'misinformation', they should point to this dangerously misleading email.
Stop Press: U.K.'s Covid cases have dropped for the sixth day in a row, according to MailOnline.
Stop Press 2: The Director of March For Change has tweeted an apology to Caroline Lucas for sending out an out-of-date, earlier draft of an email in her name. This is almost certainly a result of our eagle-eyed reader bringing this matter to our attention, the above article and those other Daily Sceptic readers who emailed Caroline Lucas's office to point out the mistake.