There follows a guest post in which 'George Santayana', the pseudonym of a senior executive in a pharmaceutical company, asks if there is there any evidence that the new lockdown measures will work? After examining the impact of similar measures in Scotland and Wales in the last six months, he concludes that they will not.
Last week, the Prime Minister announced that England would be moving to implement stricter mask mandates, work from home orders and vaccine passports in certain situations to try and do something to limit the rise of the Omicron variant. This is the so-called 'Plan B' and, although nowhere near a full Lockdown, involves the U.K. Government flexing its authoritarian muscles and imposing a range of restrictions on England in the name of saving us from viral Armageddon. But is there any evidence that these measures will help?
Effectively since 'Freedom Day' (July 19th, 2021), we've been doing a real-world experiment in England, Scotland, and Wales because, while England dropped mask requirements and had never implemented vaccine passports, the other two nations maintained the requirement for face coverings and introduced vaccine passports in some settings. In effect, Scotland and Wales all went to versions of 'Plan B' and, as a result, we can compare the effect that these extra restrictions have had on SARS-CoV-2 infection and Covid-related deaths to those in England as a way of understanding the potential impact of 'Plan B' in England.
Let's start by thinking about what we might predict would have happened if 'Plan B' measures had had any significant effect in preventing the spread of SARS-CoV-2 in Scotland and Wales. Firstly, we would predict that, looking at levels of infection within the general population, we should see a clear difference between England, as the control group, and Wales and Scotland, with England performing worse with respect to the number of infections per head of population or perhaps showing worse trends in things such as more rapid increases in rates of infection or slower recovery from a 'wave' of infections. Similarly, if we consider Covid-related deaths, we'd expect that 'Plan B' would help Scotland and Wales avoid a larger number of Covid related death compared to England, which would again be at the bottom of the league table. Finally, as the non-pharmaceutical interventions (NPIs) implemented by Wales and Scotland in their 'Plan Bs' are similar, we might expect that any trends we observe in looking at infections and deaths in these two countries are more similar to each other than to England, corroborating the idea that these improvements are due to 'Plan B'.
Let's first look at the infection data, which we can pull directly from the latest ONS survey that can be found here.
In Figure One, I've reproduced the results from the ONS coronavirus infection survey for England, Wales, and Scotland. The arrows on the graphs on the left-hand side indicate the approximate position of July 19th ('Freedom Day').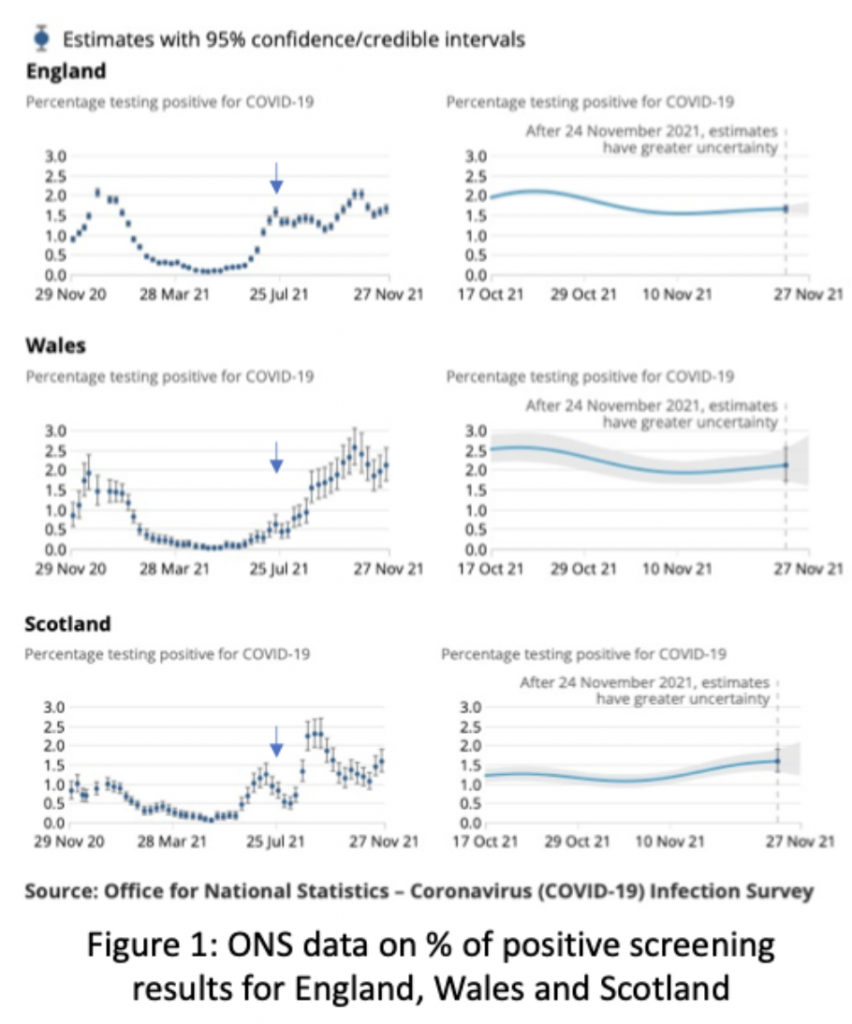 Is there Any Evidence that the New Lockdown Measures will Work?Read More