The number of settings in which life will continue as it is now after 'Freedom Day' keeps growing. Most recently, students at the University of Oxford have been told that rules on mask-wearing and social distancing will remain unchanged after July 19th due to high infection rates in the county.
The number of positive Covid tests in Oxford has been on the up in recent weeks, but deaths remain low, with zero deaths having been recorded in seven of the last 10 weeks and no more than three deaths recorded in the other three weeks.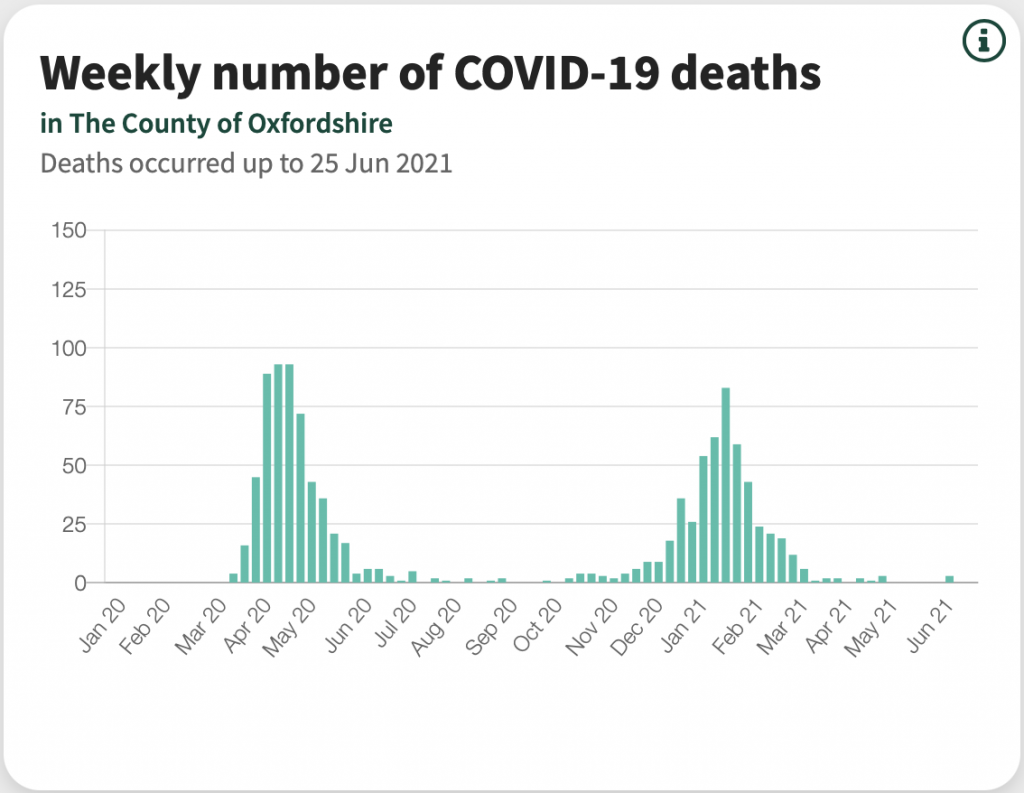 University leaders haven't let this stop them imposing tough lockdown restrictions. In an email sent to staff and students on Tuesday (and kindly forwarded to us at Lockdown Sceptics by a reader), Baroness Royall of Blaisdon, the Principal of Somerville College, said measures would remain "until further notice".
Please note that, whilst the Government has confirmed plans to lift Covid restrictions on Monday, July 19th, the University's policies on social distancing, face coverings and working from home will not change due to the high rates of Covid in Oxford. We will therefore continue with our Covid restrictions in College until further notice and, for the moment, we will not be allowing visitors.
On its website, the University warns that "Covid remains a real threat to many people in our community and… the pandemic is not yet over". Students are instructed to continue following these measures:
Continue social distancing – assume two metres within University buildings unless told otherwise.
Keep washing your hands.
Keep wearing a face covering (unless you're exempt).
Get tested – twice a week, with Lateral Flow Devices (LFDs); and take a PCR test if you have symptoms or have received a positive LFD test result or have been advised that you are a close contact of someone who has a PCR-confirmed case of Covid.
Continue to follow the self-isolation guidance.
If we can't banish these restrictions from one of the country's – the world's – most learned institutions, what chance have we got of scrapping them from pubs and restaurants?