Professor Neil Ferguson says that the spread of the Indian Covid variant could result in lockdown restrictions needing to be "tightened" – but as Britain recorded more than 3,000 Covid cases today for the first time in a month, deaths remained in the single figures. This follows Professor Sunetra Gupta's recent warning regarding fear being drummed up about variants due to an increase in cases.
What we're trying to do is prevent people from dying. Whether or not infections go up with a new variant is not relevant. It is important that people don't die.

We have protected vulnerable people now… I'm sure that [vaccines] will protect vulnerable people against this new variant from death. Maybe not from infection, but that's not relevant…
The MailOnline has more on the most recent Covid figures.
Daily infections today (3,180) spiked by 18% compared to last Wednesday's figure, reaching their highest level since April 12th (3,568).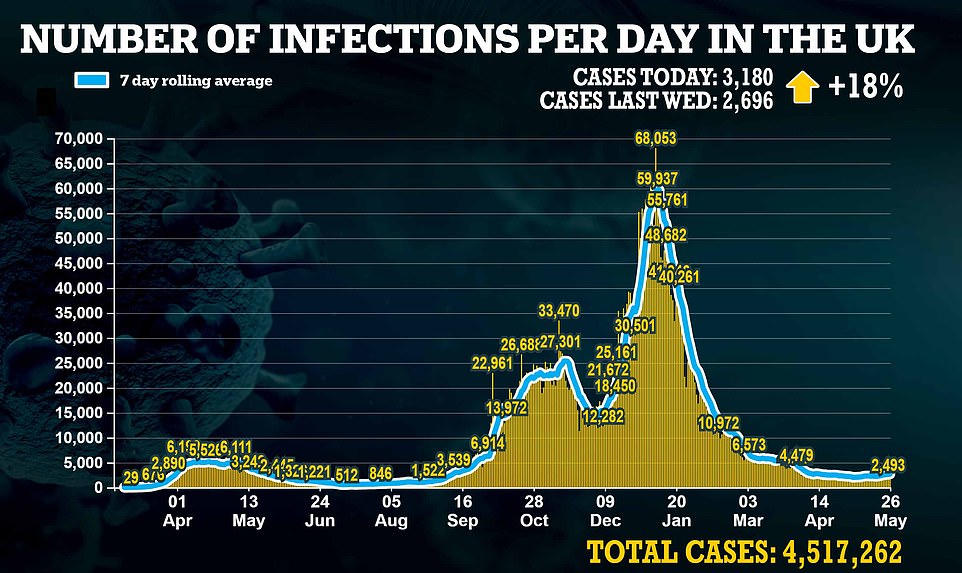 But deaths remained in single figures, with nine fatalities today up slightly on the three posted last Wednesday. Day-to-day counts can fluctuate – but the overall trend remains flat.

And Britain's mammoth vaccine drive continued at full steam ahead, with 387,987 top-up jabs dished out across the country yesterday. It takes the U.K.'s number of fully vaccinated adults to more than 23.6 million…

It comes as "Professor Lockdown" Neil Ferguson today said it was impossible to say whether the June 21st date for England's last stage of easing restrictions will go ahead because of the Indian variant.

He warned the B.1.617.2 strain – which is now spreading in almost half of England's 300-plus authorities – could hinder Boris Johnson's roadmap out of lockdown and lead to measures needing to be "tightened", if data showed it was much more transmissible. 

But the notoriously cautious academic struck a note of optimism, saying the huge vaccine roll-out means the U.K. is currently in a "much better place" than in December, when the Kent variant first began surging through the country before triggering a devastating second wave.

And Professor Ferguson… also suggested the nation could cope if the variant was proven to only be 20 to 30% more transmissible – which SAGE experts say is feasible.  
Worth reading in full.