Deaths registered weekly in England and Wales, provisional: week ending June 5th 2020
You can see ONS date of death statistics here (Figure 9). These data are complete up to June 5th for date of death. Delays in registration were excessive back in March and April, but they seem to have got their act together according to other ONS reports. Now most or all deaths are supposedly being registered within seven days (hence the reference to registrations up to June 13th for this Fig 9).
In the graphic below I have taken seven-day averages of these same data, and plotted alongside the total deaths reported by the media according to registration date in the DHSC releases. I am not sure why the DHSC seem to be reporting fewer deaths overall (area under curve), but critically the delay in registration of deaths (especially from care homes) means that the daily briefings fail to convey just how much the daily death rate has actually fallen. And since June 5th these rates will have fallen even further.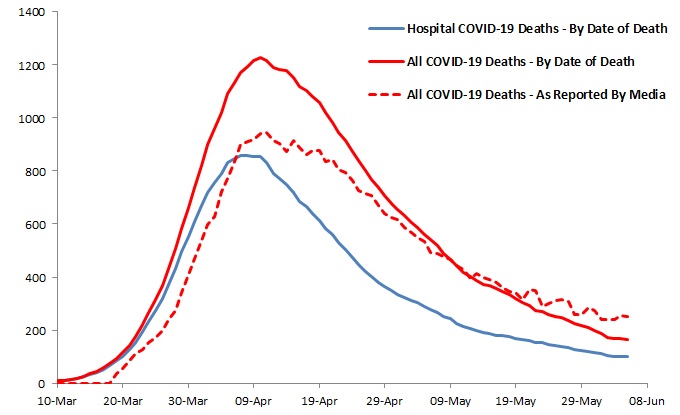 It is peculiar and disappointing that around the start of June the Government stopped releasing the number of daily COVID-19 deaths in hospitals. If that is now approaching a few tens per day, we can assume (by extrapolation) the same is true for daily COVID-19 deaths in care homes.
A separate topic of interest might be the rate of daily cases for the different 'Pillars', and why these are never presented as percentages. Objective analysis of these data suggest that most people have now been infected. Yet another (perhaps related?) topic would be why the government are not releasing results for the many hundred thousand serology tests they have now completed.
Regarding the various other aspects of this disease you asked about, I certainly do have hypotheses – but neither I nor anyone has definite answers. That's almost always the case for real science (even though the government want to give a different impression). I am not sure how appropriate it would be to throw out theories at this stage – even though very tempting. Perhaps we start with the more definitive things, such as the above, and go from there.
Interesting times.