South Africa has ramped up its restrictions again in response to the recent reported rise in infections associated with new subvariants Omicron BA.4 and BA.5 as the southerly country heads into winter.
South Africa never lifted its mask mandate and, though the mandate was due to end this week, has now extended it. It never lifted it despite the country skipping the Omicron BA.2 wave and having low infection levels for months, its original Omicron wave being much smaller than in other countries (see below) and the variant anyway being considerably milder and posing no threat.
Worse, when the country lifted the 'state of disaster' in April it did not say goodbye to its emergency Covid laws but codified them into permanent, ordinary law. Thus it is now a matter of ordinary law in South Africa to wear face-coverings in any indoor public setting or building and on public transport.
In addition, South Africa has used its new "Regulations Relating to the Surveillance and the Control of Notifiable Medical Condition 2022" to re-impose 50% capacity limits on gatherings over 100 people and require vaccination or a negative test to attend.
The Government has issued a statement saying it is still treating COVID-19 as a "life-threatening disease".
However, researcher Dr. Ridhwaan Suliman points out that the new 'wave' is already running out of steam as "positivity has stabilised/levelled off over [the] past few days".
Certainly there is currently no sign of a big new wave, though that could perhaps change.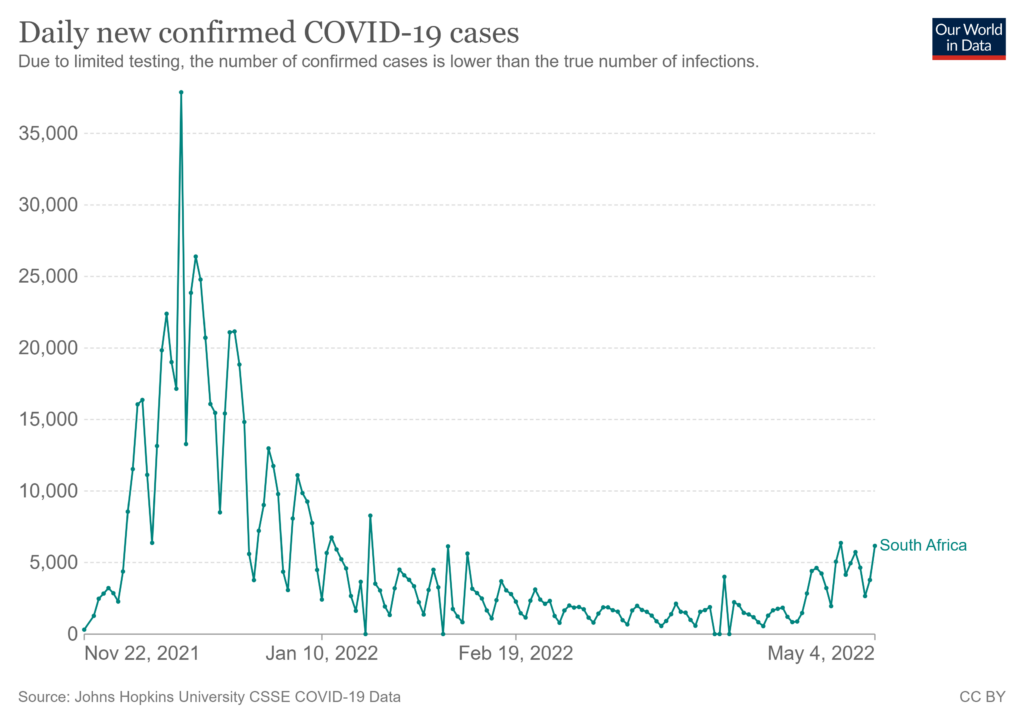 Either way, though, there are no indications the disease is anything serious or socially critical. The most worrying thing, of course, is that the South African Government still thinks Covid warrants imposing restrictions on society, and worse, has created permanent new laws to make this a normal part of public health management. It leaves us asking: if a disease this mild can be used as a reason to suspend basic rights, how do human rights and freedom mean anything at all?
Stop Press: Professor Carl Heneghan has told Julia Hartley-Brewer on TalkTV: "South Africa is bringing back vaccine passports, travel restrictions and masks. My concern is we go into winter and see a domino effect of these policies."