With the vaccination of those most vulnerable to Covid achieved some time ago, Britain's vaccine roll-out has encompassed younger and younger age groups. Most recently, more than half of people in their 30s have been vaccinated in just two weeks, and polling suggests that the overall uptake will be close to 90% in this age group (as well as in all others). Yet Government advisers continue to insist that the June 21st date for unlocking is "too early". The MailOnline has the story.
NHS England said that, since it began opening up the vaccine roll-out to this age group on May 13th, some 53% of those aged 30 to 39 have been given at least one dose.

People aged 30 to 31 were the most recent group to be invited for their jab – from Wednesday – with more than five million appointments made through the national booking service within 72 hours.

It means the Government continues to be on track to hit the deadline of offering a vaccine to every adult by the end of July.

The continued success of the rollout is also one of the Government's four tests to allow a further easing of restrictions, with the final one in just over three weeks time.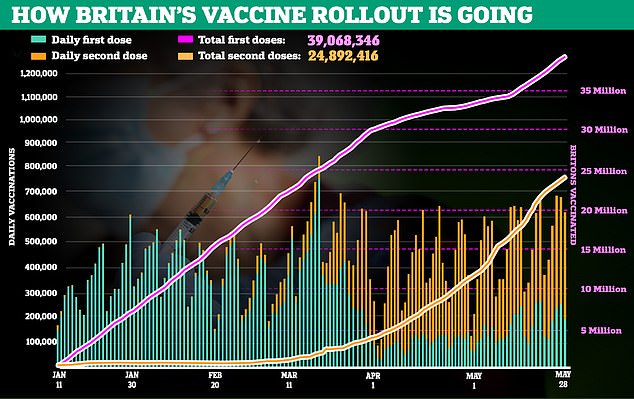 But Linda Bauld, Professor of Public Health at the University of Edinburgh, has said June 21st is "too early" to lift coronavirus restrictions in England.

She told Sky News: "I really think that it is too early to be charging ahead. I would like to see several more weeks' data."

She said the planned date is "very ambitious", adding: "June 21st is very soon and I think to avoid more preventable deaths… we really need to be cautious at the current time."

It comes as a scientific adviser warned confusion over the Government's handling of Covid restrictions was undermining efforts to control the virus.

Professor Stephen Reicher, a psychologist on the SAGE sub-committee advising ministers on behavioural science, said the Government was in a "pickle" because it appeared to have abandoned the "data not dates" principle.
Worth reading in full.
Stop Press: The Sun on Sunday reports that half of all U.K. adults will have received both doses of a Covid vaccine by the end of the week.