Boris Self-Isolating After Fellow MP Tests Positive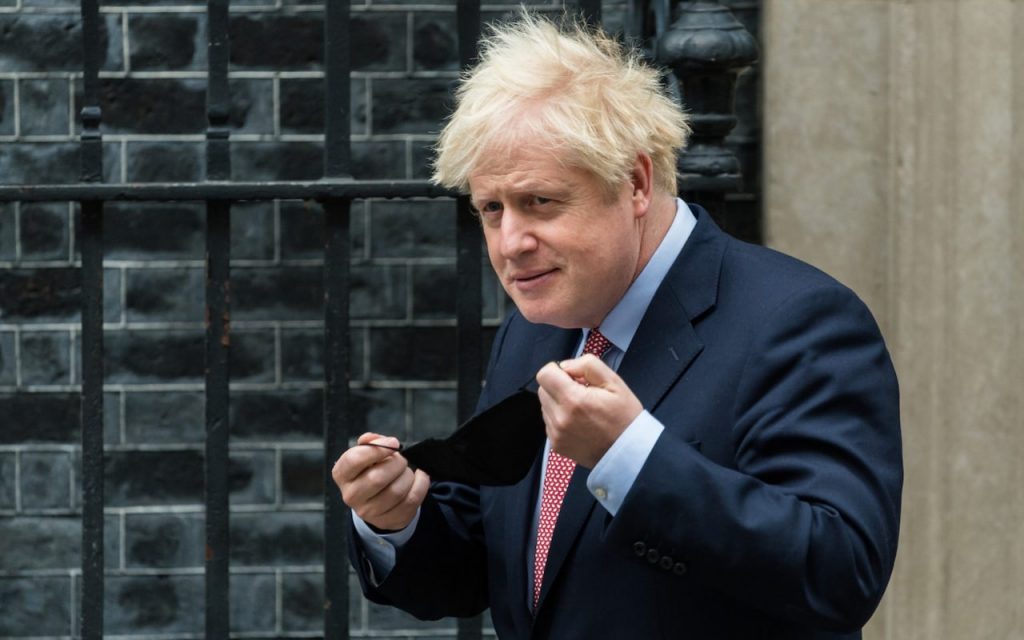 The Prime Minister was self-isolating last night after Lee Anderson, a Conservative MP with whom Boris had a 35-minute meeting, tested positive. But why has he got to self-isolate, given that he had COVID-19 less than six months ago and even the BMJ admits that T-Cell immunity lasts at least six months? The MailOnline has an explanation.
It is possible to contract COVID-19 twice, with five confirmed cases of reinfection reported globally as of last month.

Tests have shown that many people who recover from COVID-19 do have antibodies which can produce future immunity.

But not enough is known about whether protection is long-term as the virus has only been known to science for less than a year.

Even if a patient is asymptomatic, they may still be able to pass on the virus to people they are in close contact with.
But hang on. If having had COVID-19 less than six months ago doesn't give you immunity, what hope is there for a vaccine? The BioNTech/Pfizer vaccine is already a two-parter. Will we be expected to have a booster every few months as well?
As the MailOnline points out, the telephone call from NHS Test and Trace couldn't have come at a worse time for the Prime Minister who is hoping to relaunch his Government this week after the recent upheavals among his staff at Number 10.
Stop Press: Dan Hodges didn't pull his punches in his Mail on Sunday column yesterday. It was headlined: "If the future is now all about wind farms, trans rights and wokery, Boris Johnson is doomed."
Stop Press 2: The Sun's political editor Harry Cole has posted the WhatsApp message Boris sent to Conservative MPs last night on Twitter.
Labour Calls For Censorship of Anti-Vaxx 'Misinformation' on Social Media
The Labour Party has demanded the Government do more to force social media companies to remove "dangerous anti-vax content". Sky News has more.
Anti-vaccination content on social media is "poison" and "garbage" and should be "stamped out", Labour has said.

With hopes rising of a COVID-19 jab being rolled out by the end of the year, the opposition has called for emergency legislation to remove "dangerous anti-vax content", such as posts against the use of vaccines.

The party wants the government to bring forward laws that would include financial and criminal penalties for companies that fail to act against such content.

Shadow health secretary Jonathan Ashworth told Sky News' Sophy Ridge on Sunday that "dangerous nonsense" is being spread on social media by people who are against inoculations and it "erodes trust" in vaccines.

There is "poison, garbage (and) conspiracy theories" online and "it's all nonsense", he added.

Mr Ashworth said Labour wanted to work with the government to tackle the issue.
This is alarming. First the Royal Society and the British Academy call for disseminating anti-vaxxing 'misinformation' to become a criminal offence, and now the Labour Party wants the Government to impose financial and criminal penalties on social media companies that fail to censor anti-vaxxing content. (It shows how out of touch the Labour Party is if it genuinely believes social media companies aren't doing enough to suppress Covid dissent.)
If the Labour Party wants people to trust public health authorities on vaccines, why not call for a more honest and transparent presentation of scientific data about every aspect of this crisis? It's not anti-vaxxers who are eroding public trust, but the Government which deliberately misled the public about the risk rising cases posed to the NHS in order to secure the consent of the House of Commons to the second lockdown. To rebuild public trust, we need more openness not more censorship.
It's true that a significant minority of people are wary of taking the BioNTech/Pfizer vaccine. But if your aim is to reassure those people that the vaccine is safe and effective, with minimal side effects, censoring anti-vaxxers won't help. On the contrary, they will conclude that their concerns are well-founded. After all, if they were easily rebutted, why not engage with the anti-vaxxers in the public square? If the pro-vaxxers are relying on censoring their opponents to win the argument, that will make the fence-sitters more nervous, not less.
As the Supreme Court Justice Louis Brandeis said, "If there be time to expose through discussion, the falsehoods and fallacies, to avert the evil by the processes of education, the remedy to be applied is more speech, not enforced silence."
Sunlight is the best disinfectant.
Stop Press: Ex-BBC journalist Anna Brees has been told by Facebook that there are certain issues – such as vaccinations – that she is no longer allowed to discuss on her page. Find out more here. As she says: "Censorship removes trust in vaccination whereas debate brings about trust."
Stop Press 2: A group of NHS workers – doctors, nurses and ambulance drivers – have formed an anti-vax group on Facebook. I look forward to Jon Ashworth calling for their arrest and imprisonment.
How Many People Are Catching Covid in Hospital?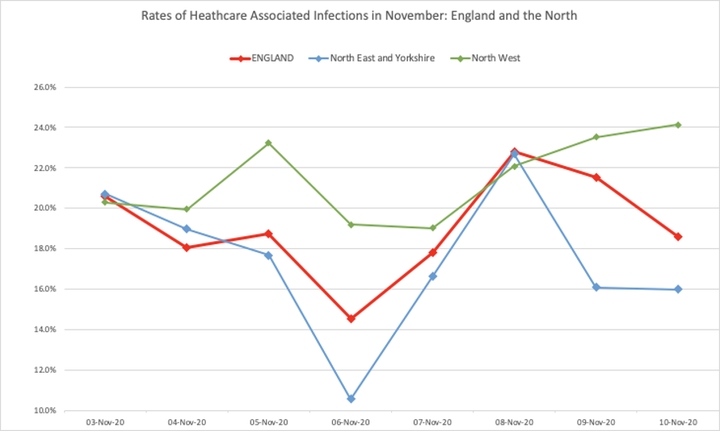 Yesterday, the doctor who writes regularly for Lockdown Sceptics posed the question, "How many patients caught Covid while in hospital having been admitted for other reasons?" Shortly afterwards, Professor Carl Heneghan and Tom Jefferson addressed that issue in the Spectator.
NHS England publishes a daily Covid 'situation report' that gives the number of new hospital cases and breaks down how many came from care homes and how many are from wider society, which they term the 'community'. In line with NHS England guidance, patients who test positive after seven days or more in hospital are considered probable healthcare-associated infections (HCAIs).

We noticed that in some of the larger hospital trusts, the amount of absentee staff for COVID-19 has been steady throughout the summer and autumn, indicating likely low-level transmission among staff. But, among patients it is a different story. The current rate of infections in a healthcare setting is hovering at around 20%, up from 12% in October.
Big problem, in other words. They conclude:
We must assess whether the use of dedicated areas and the other measures will be sufficient. If they are not, the only way to control these outbreaks is to separate hospitals.
Worth reading in full.
"A Whole Industry Waiting For a Pandemic to Occur"
A reader has drawn my attention to an interview Tom Jefferson did with the German news weekly Der Spiegel in 2009. The subject was Swine Flu, but his remarks anticipated the current pandemic.
Spiegel: Do you consider the swine flu to be particularly worrisome?

Jefferson: It's true that influenza viruses are unpredictable, so it does call for a certain degree of caution. But one of the extraordinary features of this influenza – and the whole influenza saga – is that there are some people who make predictions year after year, and they get worse and worse. None of them so far have come about, and these people are still there making these predictions. For example, what happened with the bird flu, which was supposed to kill us all? Nothing. But that doesn't stop these people from always making their predictions. Sometimes you get the feeling that there is a whole industry almost waiting for a pandemic to occur.

Spiegel: Who do you mean? The World Health Organization (WHO)?

Jefferson: The WHO and public health officials, virologists and the pharmaceutical companies. They've built this machine around the impending pandemic. And there's a lot of money involved, and influence, and careers, and entire institutions! And all it took was one of these influenza viruses to mutate to start the machine grinding.
Worth reading in full.
Stop Press: In 2010, Der Spiegel produced a good overview of what it called "The Swine Flu Panic of 2009".
Brave Boys in Blue Break Up Baptism
Heroic Metropolitan Police Officers put themselves in the line of fire yesterday to… break up a baptism. BBC News has more.
Police halted a baptism service after about 30 worshippers gathered in breach of national lockdown restrictions.

Regan King, lead pastor at The Angel Church, Islington, defended his decision to hold the service, saying it served "the greater good".

The pastor agreed to hold a brief "socially distanced outdoor gathering in the church courtyard" after officers halted the service.

Four officers stood at the entrance stopping people from entering.

Under current restrictions weddings and baptisms are not allowed in England. Funerals can be attended by a maximum of 30 people.Mr King, 28, said he wanted to hold the baptism as it was providing "an essential service".

He said: "We were told not to have a baptism and police began to block people from entering the church, so we decided to make other arrangements."

Asked why he had decided to breach the restrictions, Mr King said: "Because I believe we serve a greater good.

"This is an essential service that we provide.

"It's about loving our neighbour, and you can talk with a number of people here who are extremely vulnerable, homeless or on the verge of being very isolated."

Two police vans and a police car parked outside the church's hall.

A 22-year-old attendee said: "While the restrictions allow people to go to the supermarket to get food, I think there needs to be consideration for spiritual food as well."

On Friday, more than 100 church leaders launched a judicial review of the decision to ban people from worshipping together.

A Met spokesman said officers spoke with the pastor following reports he intended to hold a "baptism and an in-person service".

The spokesman said: "Officers explained that due to COVID-19, restrictions are in place preventing gatherings and that financial penalties can be applied if they are breached."
Thank God for the police. While most of us run away from danger, they run towards it. They didn't even know whether the baby was armed!
Where would we be without them?
AIDS and Covid: A Tale of Two Health Scares
We're publishing an original piece today by Nick Macleod, a former insurance actuary, who sees plenty of parallels between the panicky, over-reaction to the Covid pandemic back in March and the initial reaction to the AIDs pandemic.
AIDS entered the public consciousness in the mid-1980s. At that time, I was working in the USA as an actuary at a large multiline insurer. To my surprise, I was given the rather broad-brush assignment Assess the effect of AIDS on the health insurance industry in North America.

I spent the next several months developing mathematical models of the spread of infection, and applying them to official health statistics, which were provided under free subscription by the Centers for Disease Control in their Weekly Surveillance Report. And, like anyone who has worked with epidemiological models during an emerging infection, I came to understand that early-stage projections are not neutral; they have an intrinsic and marked tendency towards exaggeration of whatever threat they're applied to.

The reason is that with any new health condition, early infections and deaths naturally occur among the most susceptible parts of the population. With AIDS, there were clearly-defined and relatively small groups of people who were at very high risk, and almost all of the early cases were among members of those groups. As the disease spread to the much larger lower-risk parts of the population, overall rates of infection and death fell significantly.

When unrepresentative infection and death rates derived from early data are projected into the far future their effects are greatly amplified, just as a rifle fired at a distant target will turn a tiny error in aim into a miss by miles. And once the projected rates have been translated into numbers of deaths for a population of millions we end up with apocalyptic forecasts that can't help but induce panic.

Many scientists spend their careers searching for eye-catching results, and it must be extremely difficult to choose to tone down the few that do occur, especially when they apply to a novel and high-profile disease. The temptation to believe you've discovered a genuinely awful and important truth is a powerful one. The Royal College of Nursing certainly couldn't resist: in 1985, they predicted that one million people in Britain would have AIDS within six years. But by 1990, the cumulative total was less than 5,000.
Worth reading in full.
Fewer than 0.4% of Scousers Have Covid
According to the BBC, 90,000 Liverpudlians have now been tested after one week of mass testing using the lateral flow test and only 336 of them tested positive, i.e. fewer than 0.4%. And, as Dr Clare Craig pointed out, almost all of these will be false positives. After all, the lateral flow test has a false positive rate of 0.4%. This is in stark contrast to the latest ONS infection survey (w/e November 6th), which estimated that 2.2% of people in the North-West are positive.
This could mean one of two things. Either the lateral flow test is more accurate than the PCR test – in which case Liverpool should be released from lockdown tomorrow – or it's not fit for purpose. Hard to see the Government reaching the latter conclusion, given that it's spent £40 billion on mass testing so far. But anything's possible.
Stop Press: The number of coronavirus patients being treated in Liverpool's hospitals fell by 15% the week before lockdown, according to figures released by NHS England.
Stop Press 2: Channel 4's Dispatches has an undercover report from one of Britain's biggest COVID-19 testing labs this evening, where evidence of serious failings have been uncovered.
Covid Poses Almost No Threat to Healthy Under 70s in Scotland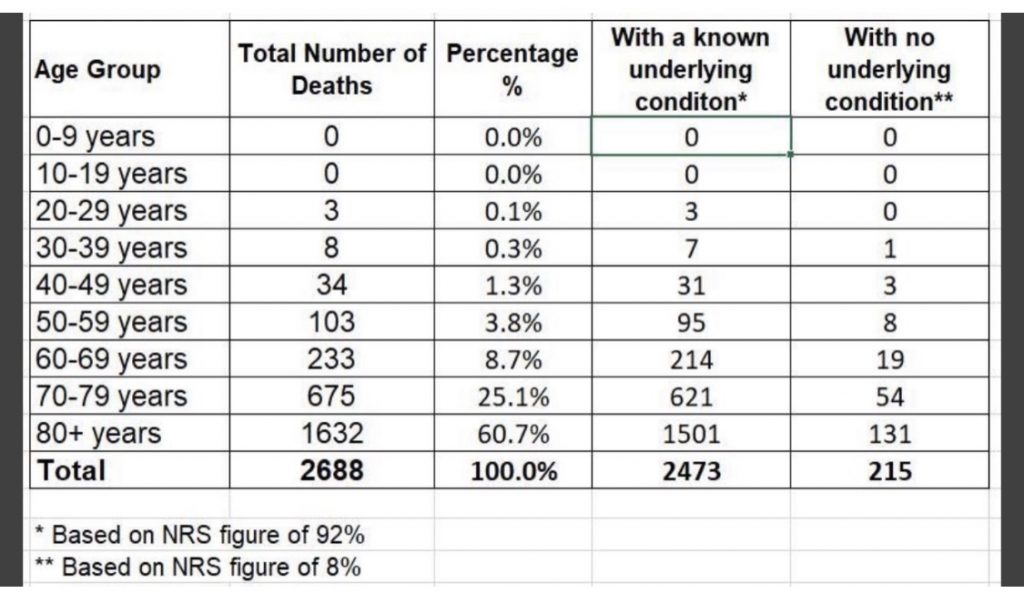 A reader has found the above table in the latest update (w/e November 11th) to the National Records of Scotland's Covid dashboard. It says that 88% of those who've died of Covid in Scotland so far are aged 70 or above and the total number of people who've succumbed to Covid with no underlying health condition is 563 (8% of the total). And the reader points out that this number would be even lower if obesity was classed as an underlying condition. In other words, if you're under 70 and healthy, Covid poses almost no risk.
No surprise, then, that the Scottish Government has introduced a Byzantine, incomprehensible series of restrictions.
Here is the reader's attempt to summarise what restrictions are planned for the coming weeks:
Level 4 on Tuesday. Councils are being briefed by the Scottish Government this morning on what to expect.

All other areas will stay at their current levels except for the North East moving to Level 3.

West and Central Scotland Level 4 for a minimum of four weeks. If figures are good, they will return to Level 3 mid-December.

All Level 3 areas will remain in that band until January 5th.

If the R Number (R) is estimated to be between 0.6-1.0 at Christmas, there will be a 48hr relaxation on 25th and 26th of December for home visits for those living in Level 3 and 4 areas, which will temporarily be downgraded to Level 2.

If figures are reduced, the Executive is hoping much of Scotland will return to Level 2 on January 5th when footfall for the hospitality sector is traditionally at its lowest.
If you're planning on visiting anyone in Scotland over Christmas, you cannot arrive until one minute after midnight on December 25th at the earliest (bad luck Santa) and you'll have to depart at one minute before midnight on December 26th.
Portuguese Appeals Court Deems PCR tests unreliable
A Portuguese professor and lockdown sceptic has sent me a long and informative email about a recent ruling by the Portuguese Court of Appeal which casts doubt on the reliability of the PCR test. It is a great tribute to the integrity of the Portuguese legal system that the Court seems to understand in considerable detail the shortcomings of the PCR test as a diagnostic tool, particularly when not used in combination with a clinical diagnosis. I think this is the best news I've had all week. What follows is not the whole email. The professor doesn't want to be identified, so I'm only publishing an extract.
With Spain and Greece, Portugal is one of the few countries in the so-called West where enough people are still alive to know what a dictatorship looks like. Our numbers are dwindling, as you have to be at least 60 to have experienced the 1974 revolution in any meaningful manner. I was a teenager at the time, and I remember very well what daily life was like under censorship, massively lying mass media, police brutality, arbitrary detention in the name of the "national interest", etc. — all those things that I hoped never again have to experience but that the current Covid climate has brought very, very vividly to the fore. Yet, it may well be exactly because of such things having happened in living memory that our Government has been less heavy-handed about the pandemic than most others in Europe. And, now to the point, maybe that's also why our high courts have issued rulings of potentially devastating consequences for the current Covid narrative. Portugal is a small country but is part of the EU and so what happens here still is of some international significance. That's why I thought you'd be interested in learning about some recent developments.
In a recent decision, dated November 11, 2020, a Portuguese appeal court ruled against the Azores Regional Health Authority concerning a lower court decision to declare unlawful the quarantining of four persons. Of these, one had tested positive for Covid using a PCR test; the other three were deemed to have undergone a high risk of exposure. Consequently, the Regional Health Authority decided that all four were infectious and a health hazard, which required that they go into isolation. The lower court had ruled against the Health Authority, and the appeal court upheld that ruling with arguments that explicitly endorse the scientific case for the lack of reliability of the PCR tests (e.g., as extensively explained in Lockdown Skeptics by Dr. Mike Yeadon, Dr. Clare Craig and others).
The court's ruling is a long text. I provide below a summary of the key passage.
The court's main points are as follows:
A medical diagnosis is a medical act that only a physician is legally qualified to undertake and for which such physician will be solely and entirely responsible. No other person or institution, including government agencies or the courts, has such an authority. It is not up to the Azores Regional Health Authority to declare someone ill, or a health hazard. Only a physician can do that. No one can be declared ill or a health hazard by decree or law, nor as the automatic, administrative consequence of the outcome of a laboratory test, no matter which.
From the above, the court concludes that "if carried out with no prior medical observation of the patient, with no participation of a physician certified by the Ordem dos Médicos who would have assessed symptoms and requested the tests/exams deemed necessary, any act of diagnosis, or any act of public health vigilance (such as determining whether a viral infection or a high risk of exposure exist, which the aforementioned concepts subsume) will violate [a number of laws and regulations] and may configure a crime of usurpação de funções [unlawful practice of a profession] in the case said acts are carried out or dictated by someone devoid of the capacity to do so, i.e., by someone who is not a certified physician [to practice medicine in Portugal a degree is not enough, you need to be accepted as qualified to practice medicine by undergoing examination with the Ordem dos Médicos, roughly our equivalent of the UK's Royal College of Physicians]."
In addition, the court rules that the Azores Health Authority violated article 6 of the Universal Declaration on Bioethics and Human Rights, as it failed to provide evidence that the informed consent mandated by said Declaration had been given by the PCR-tested persons who had complained against the forced quarantine measures imposed on them.
From the facts presented to the court, it concluded that no evidentiary proof or even indication existed that the four persons in question had been seen by a doctor, either before or after undertaking the test.
The above would suffice to deem the forced quarantine of the four persons unlawful. The court thought it necessary, however, to add some very interesting considerations about the PCR tests:
"Based on the currently available scientific evidence this test [the RT-PCR test] is in and of itself unable to determine beyond reasonable doubt that positivity in fact corresponds to infection by the SARS-CoV-2 virus, for several reasons, among which two are paramount (to which one would need to add the issue of the gold standard, which, due to that issue's specificity, will not be considered here): the test's reliability depends on the number of cycles used; the test's reliability depends on the viral load present."
Citing Jaafar et al. (2020;), the court concludes that "if someone is tested by PCR as positive when a threshold of 35 cycles or higher is used (as is the rule in most laboratories in Europe and the US), the probability that said person is infected is <3%, and the probability that said result is a false positive is 97%." The court further notes that the cycle threshold used for the PCR tests currently being made in Portugal is unknown [N.B. – I know from acquaintances that in at least some Portuguese labs the threshold is 35 cycles].
Citing Surkova et al. (2020)), the court further states that any diagnostic test must be interpreted in the context of the actual probability of disease as assessed prior to the undertaking of the test itself, and expresses the opinion that "in the current epidemiological landscape of the United Kingdom, the likelihood is increasing that Covid 19 tests are returning false positives, with major implications for individuals, the health system and society."
The court's summary of the case to rule against the Regional Health Authority's appeal reads as follows:
"Given how much scientific doubt exists — as voiced by experts, i.e., those who matter — about the reliability of the PCR tests, given the lack of information concerning the tests' analytical parameters, and in the absence of a physician's diagnosis supporting the existence of infection or risk, there is no way this court would ever be able to determine whether C was indeed a carrier of the SARS-CoV-2 virus, or whether A, B and D had been at a high risk of exposure to it."
I anticipate this ruling to have massive legal implications in my country. Note that it comes in the back of a previous ruling by the Constitutional Court, our highest court, declaring as an unlawful deprivation of liberty a decision by the Regional Government of the Azores to force into a 14-day quarantine every passenger landing in an airport of the territory.
Stop Press: A reader has got in touch to say he's looked at the NHS definitions for the terms used in the monthly data analysed by my doctor friend yesterday and uncovered the following gem:
For all relevant data items: a confirmed COVID-19 patient is any patient admitted to the trust who has recently (ie in the last 14 days) tested positive for COVID-19 following a polymerase chain reaction (PCR) test.

Patients who have been diagnosed via X-ray and assessment rather than a positive test should be counted as suspected (and not confirmed) COVID-19 patients.

So patients that have a test but no diagnosis are confirmed COVID patients. Anyone with a firm clinical diagnosis but no positive test are "suspected".
Boris's 12 Days of Christmas
Can't claim to have written this one. Not sure who did. But it's pretty darn good.
On the 12th day of Christmas Boris gave to me
12 sanitizers
11 plastic visors
10pm curfew
9 months in lockdown
8 swabbing test kits
7 frigging face masks
6 people only
5 TOILET ROLLSSS
4 isolations
3 tier system
2 metre distance
AND A USELESS TRACK AND TRACE APPPP
Round-Up
Theme Tunes Suggested by Readers
Just one today: "Carrie" by Cliff Richard.
Love in the Time of Covid
We have created some Lockdown Sceptics Forums, including a dating forum called "Love in a Covid Climate" that has attracted a bit of attention. We have a team of moderators in place to remove spam and deal with the trolls, but sometimes it takes a little while so please bear with us. You have to register to use the Forums, but that should just be a one-time thing. Any problems, email the Lockdown Sceptics webmaster Ian Rons here.
Sharing stories: Some of you have asked how to link to particular stories on Lockdown Sceptics. The answer used to be to first click on "Latest News", then click on the links that came up beside the headline of each story. But we've changed that so the link now comes up beside the headline whether you've clicked on "Latest News" or you're just on the Lockdown Sceptics home page. Please do share the stories with your friends and on social media.
Woke Gobbledegook
We've decided to create a permanent slot down here for woke gobbledegook. Today, I'm reproducing a helpful list of the characteristics of white supremacy, as compiled by some American educators.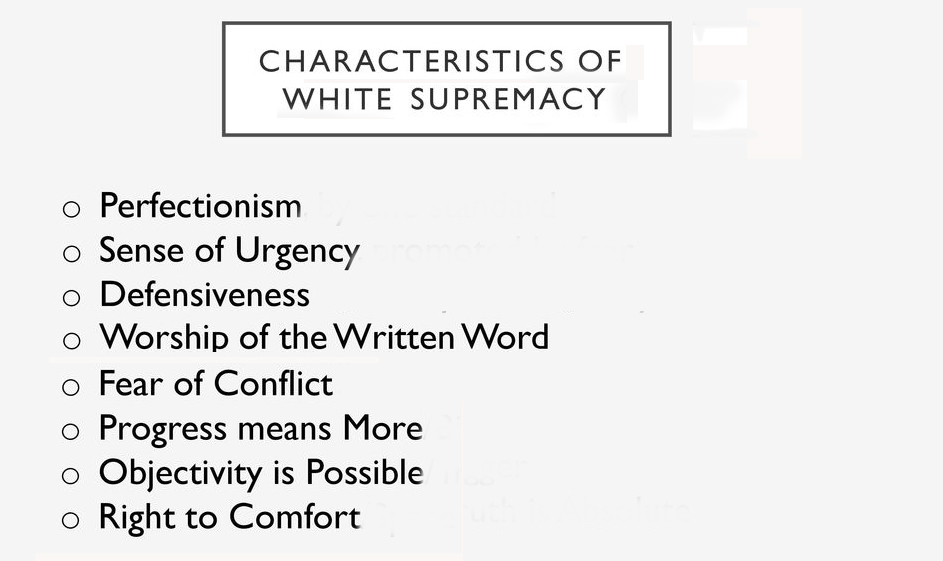 "Mask Exempt" Lanyards
We've created a one-stop shop down here for people who want to buy (or make) a "Mask Exempt" lanyard/card. You can print out and laminate a fairly standard one for free here and it has the advantage of not explicitly claiming you have a disability. But if you have no qualms about that (or you are disabled), you can buy a lanyard from Amazon saying you do have a disability/medical exemption here (takes a while to arrive). The Government has instructions on how to download an official "Mask Exempt" notice to put on your phone here. You can get a "Hidden Disability" tag from ebay here and an "exempt" card with lanyard for just £1.99 from Etsy here. And, finally, if you feel obliged to wear a mask but want to signal your disapproval of having to do so, you can get a "sexy world" mask with the Swedish flag on it here.
Don't forget to sign the petition on the UK Government's petitions website calling for an end to mandatory face masks in shops here.
A reader has started a website that contains some useful guidance about how you can claim legal exemption.
If you're a shop owner and you want to let your customers know you want be insisting on face masks or asking them what their reasons for exemption are, you can download a friendly sign to stick in your window here.
And here's an excellent piece about the ineffectiveness of masks by a Roger W. Koops, who has a doctorate in organic chemistry.
Mask Censorship: The Swiss Doctor has translated the article in a Danish newspaper about the suppressed Danish mask study. Largest RCT on the effectiveness of masks ever carried out. Rejected by three top scientific journals so far.
The Great Barrington Declaration
The Great Barrington Declaration, a petition started by Professor Martin Kulldorff, Professor Sunetra Gupta and Professor Jay Bhattacharya calling for a strategy of "Focused Protection" (protect the elderly and the vulnerable and let everyone else get on with life), was launched last month and the lockdown zealots have been doing their best to discredit it ever since. If you Googled it a week after launch, the top hits were three smear pieces from the Guardian, including: "Herd immunity letter signed by fake experts including 'Dr Johnny Bananas'." (Freddie Sayers at UnHerd warned us about this the day before it appeared.) On the bright side, Google UK has stopped shadow banning it, so the actual Declaration now tops the search results – and my Spectator piece about the attempt to suppress it is among the top hits – although discussion of it has been censored by Reddit. The reason the zealots hate it, of course, is that it gives the lie to their claim that "the science" only supports their strategy. These three scientists are every bit as eminent – more eminent – than the pro-lockdown fanatics so expect no let up in the attacks. (Wikipedia has also done a smear job.)
You can find it here. Please sign it. Now over 650,000 signatures.
Update: The authors of the GDB have expanded the FAQs to deal with some of the arguments and smears that have been made against their proposal. Worth reading in full.
Update 2: Many of the signatories of the Great Barrington Declaration are involved with new UK anti-lockdown campaign Recovery. Find out more and join here.
Update 3: You can watch Sunetra Gupta set out the case for "Focused Protection" here and Jay Bhattacharya make it here.
Update 4: The three GBD authors plus Prof Carl Heneghan of CEBM have launched a new website collateralglobal.org, "a global repository for research into the collateral effects of the COVID-19 lockdown measures".
Judicial Reviews Against the Government
There are now so many JRs being brought against the Government and its ministers, we thought we'd include them all in one place down here.
First, there's the Simon Dolan case. You can see all the latest updates and contribute to that cause here.
Then there's the Robin Tilbrook case. You can read about that and contribute here.
Then there's John's Campaign which is focused specifically on care homes. Find out more about that here.
There's the GoodLawProject's Judicial Review of the Government's award of lucrative PPE contracts to various private companies. You can find out more about that here and contribute to the crowdfunder here.
The Night Time Industries Association has instructed lawyers to JR any further restrictions on restaurants, pubs and bars.
Christian Concern and over 100 church leaders are JR-ing the Government over its insistence on closing churches during the lockdowns. Read about it here.
And last but not least there's the Free Speech Union's challenge to Ofcom over its 'coronavirus guidance'. You can read about that and make a donation here.
Samaritans

If you are struggling to cope, please call Samaritans for free on 116 123 (UK and ROI), email jo@samaritans.org or visit the Samaritans website to find details of your nearest branch. Samaritans is available round the clock, every single day of the year, providing a safe place for anyone struggling to cope, whoever they are, however they feel, whatever life has done to them.
Quotation Corner
It's easier to fool people than to convince them that they have been fooled.

Mark Twain
Men, it has been well said, think in herds; it will be seen that they go mad in herds, while they only recover their senses slowly, one by one.

Charles Mackay
They who can give up essential liberty to obtain a little temporary safety, deserve neither liberty nor safety.

Benjamin Franklin
To do evil a human being must first of all believe that what he's doing is good, or else that it's a well-considered act in conformity with natural law. Fortunately, it is in the nature of the human being to seek a justification for his actions…

Ideology – that is what gives the evildoing its long-sought justification and gives the evildoer the necessary steadfastness and determination.

Aleksandr Solzhenitsyn
No lesson seems to be so deeply inculcated by the experience of life as that you never should trust experts. If you believe the doctors, nothing is wholesome: if you believe the theologians, nothing is innocent: if you believe the soldiers, nothing is safe. They all require to have their strong wine diluted by a very large admixture of insipid common sense.

Robert Gascoyne-Cecil, 3rd Marquess of Salisbury
Nothing would be more fatal than for the Government of States to get into the hands of experts. Expert knowledge is limited knowledge and the unlimited ignorance of the plain man, who knows where it hurts, is a safer guide than any rigorous direction of a specialist.

Sir Winston Churchill
If it disagrees with experiment, it's wrong. In that simple statement is the key to science.

Richard Feynman
Of all tyrannies, a tyranny sincerely exercised for the good of its victims may be the most oppressive. It would be better to live under robber barons than under omnipotent moral busybodies. The robber baron's cruelty may sometimes sleep, his cupidity may at some point be satiated; but those who torment us for our own good will torment us without end for they do so with the approval of their own conscience.

C.S. Lewis
The welfare of humanity is always the alibi of tyrants.

Albert Camus
We've arranged a global civilization in which most crucial elements profoundly depend on science and technology. We have also arranged things so that almost no one understands science and technology. This is a prescription for disaster. We might get away with it for a while, but sooner or later this combustible mixture of ignorance and power is going to blow up in our faces.

Carl Sagan
We're Hiring
Lockdown Sceptics is looking to hire someone to help us write the daily update. This will involve producing a daily update yourself two or three times a week – so a page exactly like this one – under your own byline. The ideal candidate will have some journalistic background, be able to work quickly under pressure and know their way around WordPress. We can pay you £75 for each update. If you're interested, email us here and put "Job Application" in the subject line.
Shameless Begging Bit
Thanks as always to those of you who made a donation in the past 24 hours to pay for the upkeep of this site. Doing these daily updates is hard work (although we have help from lots of people, mainly in the form of readers sending us stories and links). If you feel like donating, please click here. And if you want to flag up any stories or links we should include in future updates, email us here. (Don't assume we'll pick them up in the comments.)
And Finally…