Boris Announces Second National Lockdown
Talk about a cock-up! Downing Street originally briefed that the Prime Minister would be holding a press conference on Monday to set out plans for a second national lockdown. Then someone leaked the details to the press, meaning Conservative MPs had to read about the plans in yesterday's papers rather than being told about them by Boris. In an effort to minimise the damage, Downing Street brought forward the announcement to 4.30pm yesterday. Then moved that to 6.30pm. And in the event, the Wizard of Oz didn't appear from behind his curtain until about 6.45pm, even though Downing Street had been warned by the BBC that it had to start at 6.30pm because they weren't going to move Strictly.
As one Conservative minister told the Times's Matt Chorley: "The incompetence is another level. Is this a deliberate destruction of the Tory Party? People only vote for us because they think we don't care, but are competent. Lose the competence and we're f***ed. We've lost the competence. And we are f***ed."
And let's not forget the PM scoffed at Keir Starmer's call for a two-week 'circuit breaker' three weeks ago and described a second national lockdown as the "nuclear option". Pitch rolling, Boris-style.
The key points of yesterday's announcement were as follows (courtesy of the Mail):
Restrictions will start at midnight on Thursday morning and last until December 2nd.
People can only leave their homes for specific reasons, such as to do essential shopping, for outdoor exercise, and for work if they are unable to work from home. International travel will only be allowed for business purposes and returning travellers will have to quarantine. (This is a devastating blow to the already beleaguered aviation industry.)
Non-essential shops will be told to shut, although supermarkets do not need to stop selling non-essential goods, as happened in Wales.
Restaurants and pubs will have to close to the public, though they can still operate a takeaway service.
Leisure centres, gyms, sporting venues, hairdressers and beauty parlours will have to close, although professional sport, including the Premier League, will continue.
Key businesses that cannot operate remotely – such as construction – will carry on as before with safety precautions.
Schools, colleges and universities will remain open.
Places of worship can stay open for private prayer.
Funerals are limited to close family only.
The furlough scheme will be extended during the period of the lockdown, rather than ending tomorrow as originally planned.
Exercise is permitted with no limits on frequency, but organised sports – including outdoor activities such as golf – will not be permitted.
When the lockdown lapses the Tiers system will be reinstated, although Boris didn't say what metric will be used to decide whether areas can have restrictions eased.
Rather implausibly, after Witless and Unbalanced had unveiled graph after graph of doom, Boris claimed to be optimistic about the medium- and long-term and tried to get the dour-faced Patrick Vallance to second that, which he reluctantly did. The reason for this optimism? Vaccines, obviously, but also a rapid testing programme that's due to be rolled out in the next few days. Boris promised whole towns – nay, whole cities – could be tested at a stroke, with the help of the British Army. The Times has more on this plan, which is stage one of the Prime Ministered fabled "Moonshot".
Not sure many people will be convinced that upscaling the NHS Test and Trace programme, which has proved completely ineffective to date, is a silver bullet.
He also said, rather ominously, that the Army would "help" people to self-isolate. Does that mean purpose-built quarantine facilities, like the kind they have in New Zealand? Let's hope the buffoon just misspoke.
Towards the end of this rambling stream-of-consciousness, Boris said we'd need to observe the old mantra that was rolled out in March: "Stay home. Protect the NHS. Save lives." Bit of a shock, that, given how many people who needed urgent care avoided hospitals last time round, seemingly in a misguided attempt to "protect the NHS", with catastrophic consequences. Did Boris just pull that out of his hat at the last minute?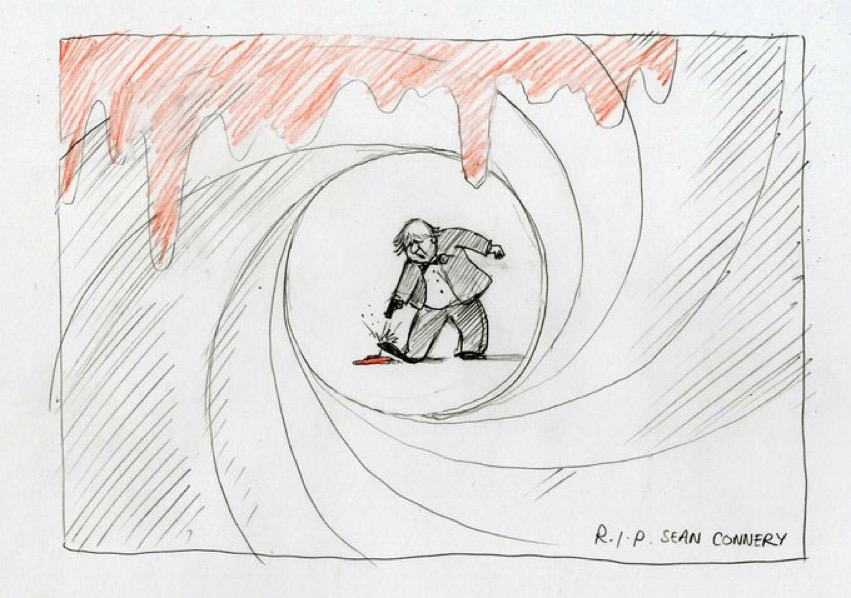 According to a Twitter thread by Matt Chorley, the fact that the "stay home" mantra was being revived came as news to the Cabinet, as did the extension of the furlough scheme. Is that why the press conference was delayed for more than two hours? Was Boris negotiating that with Rishi? The furlough news went down like a cup of cold sick with Northern leaders, who'd been told less than two weeks ago it would not be possible to cover workers' pay above two thirds as part of the Tier 3 support scheme. Why all the brinkmanship if the Treasury was going to fork out four fifths two weeks later? Feels to Andy Burnham and others as if the PM thought he could get away with short-changing Northerners, but now Southerners are going to be locked down as well he's decided to be more generous.
There is also a lot of suspicion among Tory MPs that the new restrictions aren't being imposed because of the gloomy data; rather, the gloomy data is being conjured up to justify the new restrictions. Many grumbled to Chorley that case numbers were falling in their constituencies. For instance, cases are falling in all of Liverpool's local authorities.
One Conservative MP told the Sunday Times: "The sentiment some of us are trying to convey to the Prime Minister is that goodwill is at an all-time low and his long-term future in Downing Street could be at risk. It just looks like a shit-show."
How much comfort should we take from Boris's assurance that the second lockdown will only remain in place until December 2nd, at which point the country will return to the three-Tier system? Absolutely none, obviously. Chorley put together the following timeline of other assurances made by the Prime Minister:
Mar 19th: Turn tide in 12 weeks

May 17th: "Near normality" by end of July

July 17th : "Significant normality" by Christmas

Sep 9th: "back to normal by Christmas"

Oct 23rd: "some aspects of our lives… back to normal" by Christmas

Oct 31st: very different and better by spring
The word "omnishambles" doesn't quite fit the bill here. Nor does "shit-show" or "cluster-f***".
The word to describe this level of incompetence has yet to be coined.
Stop Press: Ross Clark in the Spectator assesses the claim that new daily cases are escalating so rapidly it won't be long before the NHS is overwhelmed. He says the Government's blind panic is largely based on last week's REACT survey, which showed cases doubling every nine days. However, the most recent King's College London survey has cases doubling every 28 days, while the latest ONS infection survey has cases doubling every two-and-a-half weeks. If you take the seven-day average of confirmed test results, as reported on the Government's coronavirus dashboard, it shows daily new cases have risen from 20,249 to 22,678 over the past week, which yields a doubling time of about six weeks. Clark's conclusion: "Last week's REACT survey does look something of an outlier." Shame the Government decided to base a second lockdown on it.
10 Reasons A Second Lockdown is a Terrible Idea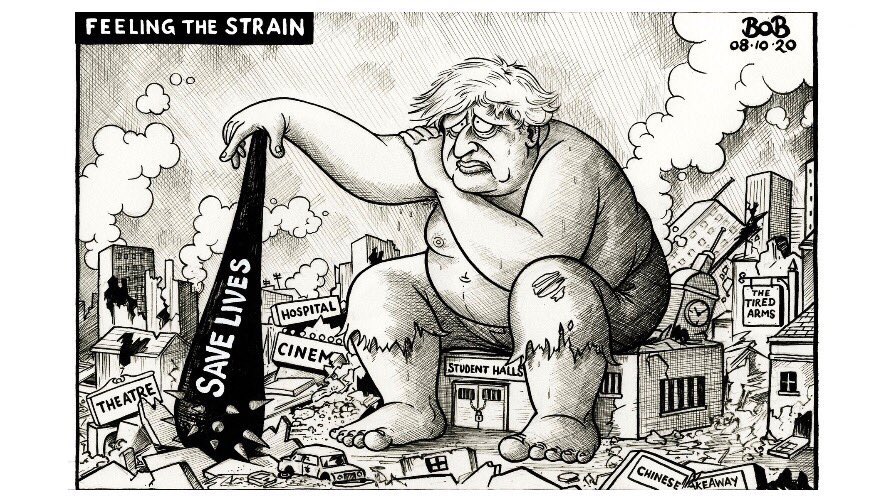 I thought I'd put this list together, just in case anyone needs reminding.
Our rights belong to us by dint of our status as freeborn Englishman. Therefore, if the Government is going to suspend them, it needs a really good reason for doing so. It did not have a good reason when the first lockdown was imposed in March and it doesn't have a good reason today. (I made this argument in discussion with Prof Michael Levitt.)
Quarantining the healthy as well as the sick to stop a virus spreading has been proved not to work historically and, for that reason, was advised against in the UK Influenza Pandemic Preparedness Strategy 2011. More recently, Dr David Nabarro of the WHO cautioned governments to treat lockdowns as a "last resort".
There's little evidence that lockdowns reduce Covid mortality. The evidence on this is plentiful, but to give just one example the per capita Covid fatalities in the eight US states that didn't shut down (North and South Dakota, Nebraska, Iowa, Arkansas, Oklahoma, Wyoming and Utah) was lower than in the 42 states that did. (See this piece in the WSJ.) The main argument for locking down – and the one we heard yesterday – is that it prevents healthcare systems becoming overwhelmed, something which means more people dying from COVID-19, as well as other diseases. But in those US states that didn't shut down, the healthcare systems weren't overwhelmed – and nor was Sweden's. A group of researchers at Uppsala University plugged Sweden's numbers into Neil Ferguson's Imperial College model in early April, hoping to persuade the authorities to abandon its mitigation strategy and impose a lockdown. According to the model, if the Swedish Government continued to pursue its "reckless" policy the capacity of the healthcare system would be overwhelmed 40-fold. Needless to say, it wasn't even overwhelmed one-fold. In any event, we've already built additional critical care capacity into the English healthcare system to mitigate this risk – the seven Nightingale Hospitals, for instance, as well as all those ventilators the Government procured in March and April. Oddly, they weren't mentioned in yesterday's Downing Street briefing. As for overwhelmed healthcare systems being unable to treat other diseases, isn't that already happening in our underwhelmed, Covid-ready NHS? One argument Patrick Vallance made yesterday was that if Covid admissions continue to rise at their present rate, the NHS would have to start turning away other patients in need of critical care. But that's a sliding scale not a binary choice and the NHS has been turning patients away since March.
Interrupting transmission among those who aren't vulnerable to the disease, i.e. everyone under 75 and in good health, delays the time it takes for the population to reach herd immunity and that, in turn, prolongs the period in which the vulnerable have to be shielded and causes needless collateral damage to those who aren't at risk. (See the Great Barrington Declaration.) Given that we're going to have to learn to live with this virus, and that the "vaccines" are only likely to reduce the severity of the symptoms, what's the point of continually kicking the can down the road?
Lockdowns cause more loss of life than they prevent. This is contested, obviously, because the number of lives they've saved depends on a counter-factual generated by shonky computer models, and, on the other side of the equation, we don't yet now how much loss of life has been caused by the lockdowns. (For instance, unnecessary cancer deaths will occur over the next five years.) But given that the average age of the people whose lives are supposedly being saved is 80+ and given the tens of thousands of people who will die unnecessarily as a result of cancer screening programmes being postponed, cancer care being delayed, strokes and cardiovascular disease being untreated, elective surgeries being postponed, out-patient care being cancelled and the long-term impact of job losses on mortality, it seems overwhelmingly likely that lockdowns cause a net loss of life. (The Department of Health and Social Care, Office for National Statistics, Government Actuary's Department and Home Office have tried to calculate the collateral damage caused by the first lockdown and estimated it could be as high as 200,000 deaths. But they claim the lockdown was still worth it by contrasting the Government's suppression strategy with an "unmitigated" scenario in which they claim that ~1.5 million lives would have been lost. That's about 420,000 to COVID-19 and a further 1.1 million non-Covid patients dying who wouldn't have been able to access health care in our overwhelmed NHS. You can check their sums here.) I'm just talking about the domestic impact of the lockdown here. Sceptics can easily show that the loss of life caused by all the lockdowns, collectively, is greater than the lives supposedly saved by pointing to the catastrophic impact of the lockdowns on the developing world. (See point 8 below.) Prof Sunetra Gupta estimates that 130 million people will starve to death as a result of the global economic recession triggered by the lockdowns. Zealots – even neutrals – argue that the pandemic would have caused the same economic damage in the absence of the lockdowns because people would have naturally adjusted their behaviour. But that's implausible. The UK economy contracted by 20.4% in Q2, while Sweden's only contracted by 8.6%.
Lockdowns wreak havoc with people's mental health and cause a rise in suicides. The Centre for Mental Health estimates that up to 10 million people in England (almost 20% of the population) will need either new or additional mental health support as a direct consequence of the crisis. 1.5 million of those will be children and young people under 18. The UK Government hasn't released any data about the number of suicides in 2020 yet, but anecdotal evidence from GPs suggests it's increased significantly, particularly among children.
Lockdowns cause catastrophic economic damage, destroying businesses and throwing millions out of work. Boris announced yesterday that the furlough programme would be extended for another month. But how do you compensate those people who won't have a job to go back to? 750,000 people lost their jobs as a result of the first lockdown. How many more will lose their jobs as a result of the second? According to the Office for Budget Responsibility, which keeps tabs on public spending, the Government will have to borrow £372 billion for the current financial year (April 2020 to April 2021), compared to £55 billion in a normal year. And that's before the cost of new lockdowns and support measures announced yesterday are factored in.
The global economic recession caused by the lockdowns will likely reverse the progress that's been made in the past 25 years in lifting billions of people out of poverty in the developing world and will cause huge loss of life. From "The Coming Post-Covid Global Order" by Joel Kotkin and Hügo Krüger: "In its most recent analysis, the World Bank predicted that the global economy will shrink by 5.2% in 2020, with developing countries overall seeing their incomes fall for the first time in 60 years. The United Nations predicts that the pandemic recession could plunge as many as 420 million people into extreme poverty, defined as earning less than $2 a day. The disruption will be particularly notable in the poorest countries. The UN has forecast that Africa could have 30 million more people in poverty. A study by the International Growth Centre spoke of "staggering" implications with 9.1% of the population descending into extreme poverty as savings are drained, with two-thirds of this due to lockdown. The loss of remittances has cost developing economies billions more income."
Lockdowns are fundamentally undemocratic in that they involve the arrogation of power by the executive branch of government at the expense of the legislative branch, rule by decree, postponing elections so politicians remain in power after their term of office has expired, suspending the right to protest, censoring the fourth estate (see Ofcom's 'coronavirus guidance') and restricting travel. What guarantee do we have that things will return to normal when the pandemic is over? Will the powers-that-be ever declare victory in this war, given that it will mean a diminution of their power? As Milton Friedman said, nothing is as permanent as a temporary government programme.
Lockdowns require police forces to enforce arbitrary, illogical rules in a draconian, heavy-handed way (e.g. fining students £10,000 for hosting parties). That undermines the rule of law and destroys policing by consent.
Stop Press: Matt Ridley in the Telegraph has come up with six reasons why a second lockdown is a mistake.
Carl Heneghan's Plan B
Prof Carl Heneghan and his colleague Dr Tom Jefferson have written a comment piece for today's Mail on Sunday arguing for an alternative to a second national lockdown.
You could be forgiven for thinking that the situation we now face is as clear as it possibly could be – and that it is becoming more dangerous by the day. The virus, we are told, is out of control, that Britain is heading for 3,000 to 4,000 deaths a day by Christmas, and that our hospitals are on the edge of catastrophe.

Yet we believe the situation is not at all clear. There are only two things about which we can be certain: first, that lockdowns do not work in the long term. They kick the can down the road. The idea that a month of economic hardship will permit some sort of 'reset', allowing us a brighter future, is a myth. What, when it ends, do we think will happen? Meanwhile, ever-increasing restrictions will destroy lives and livelihoods.

The second certainty is this: that we need to find a way out of the mess that does no more damage than the virus itself. We presented just such a plan to the Prime Minister himself more than a month ago. It will be put before him once again this weekend. We urge him to pay attention and embrace it.

Our strategy would be to tackle the four key failings. We must address the problems in the Government's mass testing programme; we must tackle the blight of confused and contradictory statistics; we must make real efforts to protect and isolate those who are vulnerable; and we must inform the public about the true and quantifiable costs of lockdown (as if they needed telling).

If we do these things, there is real hope that we can learn to live with the virus. That, after all, was supposed to be the plan.
Worth reading in full.
Teaching Unions Call For School Closures
The largest of the teaching unions, the National Education Union, has demanded that schools close during the second national lockdown, as has the UCU, the largest of the academic trade unions. The Mail has more.
Teaching unions are already calling for schools to shut in defiance of Boris Johnson's insistence on Saturday that they will remain open during a new national lockdown.

The National Education Union's joint general secretary Kevin Courtney called for schools to be included in new lockdown restrictions and said it would be a 'mistake' to allow them to remain open.

As for higher education, Jo Grady, the general secretary of the Universities and College Union (UCU) said it would be 'incomprehensible' to allow in-person teaching to continue.
The teaching unions really are a disgrace. If these 'teachers' care so little for children's education, shouldn't they consider another profession?
The worrying thing is that Boris is so weak – so prone to U-turns – that he may well give in to these demands within days.
Covid and the Religious Impulse
A postgraduate researcher in political philosophy and the sociology of religion has got in touch, having written a fascinating essay on the religious aspects of this mad historical moment. We're publishing it today. It's in seven parts (although each part is quite short, so don't let that put you off) and here is the part labelled "Heretics". Should strike a chord with many readers of Lockdown Sceptics. It certainly struck a chord with me.
Honest open debate, indeed the fierce collision of differing opinions, is a wonderful thing. If the lockdown lobby were interested in developing the greatest possible sophisticated understanding, they would cherish the contribution of the sceptics. They would glory in the contradictions of their own arguments being pointed out to them. Following Hegelian dialectics, thesis would create antithesis would create synthesis. But, sadly, sophistication is not high on their agenda. A crushing uniformity of message seems to be more up their street. So to hell with Hegel (and Plato too); the arguments must be structured, not as an eternally progressing dialectic of knowledge, but rather as a flat, stale, unprofitable split between orthodoxy and heterodoxy. Rather than being painstakingly ground out in a crucible of trial and error, a corpus of infallible knowledge that we have come to know as "The Science" has simply been revealed. As many sceptics have noticed, the sole custodians of this knowledge, the keepers of the arcana, are the members of the scientific priesthood. They zealously claim all rights of interpretation, mediation and exegesis. Wielding their esoteric degrees as armour no factual nuance can penetrate, they have no trouble shouting down the citizen-scientists. Ah but those fellow priests, sometime quite high priests, who spout heterodox opinion are a thornier proposition. But the sacerdotal rite of peer review comes to their rescue, so that even the most bumptious of novices can denounce the most learned and venerable. With the help of giant online corporations richer and more influential than the Knights Templar, any inconvenient book, article, blog and petition is placed on the Index Librorum Prohibitorum. Contrarians are no-platformed, but not before that platform (or scaffold) has witnessed the last of the heretics' ashes blown away on the wind. Before long these orthodox priest-scientists will have changed, through their dogmatism and intolerance, the very nature of medical science. In the rise of the public health professor, at the expense of the traditional clinician, we are seeing the emerging dominance of a new Augustinianism. For just as Augustine of Hippo hardwired the concept of original sin into the burgeoning cult of Christianity, so the goons of public health have got everyone thinking in terms of mass infection rates, reproduction numbers, and cases. Those who resist, those who retain an attachment to individualised clinical need, are attacked and dismissed as adherents of a twenty-first century Pelagian heresy. As Christopher Hitchens was fond of saying, quoting Fulke Greville, we are all of us now "objects in a cruel experiment, whereby we are created sick and commanded to be well".
Worth reading in full.
Stop Press: On the subject of censorship, a reader reports that Anna Brees's interview on Facebook with Dr. Mike Yeadon has been greyed-out, with users notified that it has been removed because the content is inaccurate.
A Post-Script From Rhodes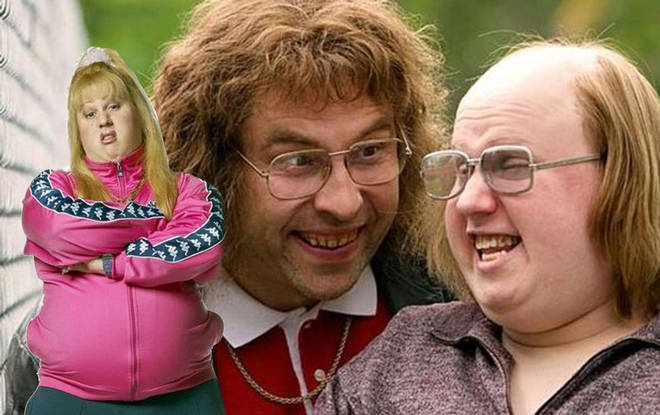 Following his "Postcard From Rhodes", Guy de la Bédoyère has written about his flight home, which sounds like an episode of Little Britain directed by Mike Leigh.
As we headed back to the airport our phones started screeching alarms about the earthquake in the Aegean. We felt and heard nothing but it was a reminder there are more risks in life than just COVID-19.

On the Jet2 flight home I was fascinated by a family or families that involved at least three adult women and several children all seated together two rows in front of us. Their masks were fashion accessories. Not one of them seemed to be able to sit still for a minute. Up and down like yo-yos with at least two vast and obese prepubescent youngsters obsessed with wandering up and down the aisle while the rest of them, children and adults alike, climbed over each other and the seats ceaselessly, with the adults blatantly consuming large bottles of alcohol they had brought on board. By the time we reached London after four hours of this a couple of them were distinctly 'tired and emotional'.

The hapless Jet2 staff, all aged about 21, were quite unable to bring themselves to do anything about these renegades, despite complaints from other passengers. One of the airline rules is that anyone aged over six is supposed to wear a mask, but that cut no ice.

Fuelled by booze, the women were becoming aggressive. Eventually a dark warning was given that the miscreants would be apprehended by the 'authorities' at Stansted. Needless to say this had all the impact of being threatened with the comfy cushion and a cup of tea. They took not the slightest notice. The masks remained only decorative embellishments to any part of their bodies apart from the relevant orifices. The cabin crew continued to do nothing and needless to say there wasn't the slightest sign of the Covidstasi at Stansted either. Nothing could have exemplified better the futile impact of rules and regulations on people who won't play ball and the utter meaninglessness of this Government's authority when challenged.

This was my second arrival at Ghost Airport Stansted in just over a month. And like the last occasion (in September) I had my Government Passenger Locator Form and QR code at the ready. This time I didn't even notice any signs about showing the form. In any case the form will be useless now. Jet2 had moved our seats in Rhodes meaning that as far as the world-beating UK Government team of PLR QR scrutinizers will be concerned we were sitting somewhere that in fact we weren't (you have to give your seat number). I look forward to trying to convince them that the Biro alteration to our boarding passes made at Rhodes will prove we were in a different row and not next to the Covid storm in row 21 where we had been originally positioned. Or you know what? Maybe we won't hear anything at all.

As for the Stansted passport staff, the two 12 year-olds on duty woke up momentarily to wave us casually towards the automatic booths before drifting back into catatonic states. And that was that. We picked up our bags from the laughably non-socially distanced carousel zone and headed out into the night, collected the car, and drove home to face the prospect of another futile lockdown as the lights go out all over Europe. Shall we see them once again in our lifetimes?
Round-Up
Theme Tunes Suggested by Readers
Just one today: "Crazy Train" by Ozzy Osborne.
Love in the Time of Covid
We have created some Lockdown Sceptics Forums, including a dating forum called "Love in a Covid Climate" that has attracted a bit of attention. We have a team of moderators in place to remove spam and deal with the trolls, but sometimes it takes a little while so please bear with us. You have to register to use the Forums, but that should just be a one-time thing. Any problems, email the Lockdown Sceptics webmaster Ian Rons here.
Sharing stories: Some of you have asked how to link to particular stories on Lockdown Sceptics. The answer used to be to first click on "Latest News", then click on the links that came up beside the headline of each story. But we've changed that so the link now comes up beside the headline whether you've clicked on "Latest News" or you're just on the Lockdown Sceptics home page. Please do share the stories with your friends and on social media.
"Mask Exempt" Lanyards
We've created a one-stop shop down here for people who want to buy (or make) a "Mask Exempt" lanyard/card. You can print out and laminate a fairly standard one for free here and it has the advantage of not explicitly claiming you have a disability. But if you have no qualms about that (or you are disabled), you can buy a lanyard from Amazon saying you do have a disability/medical exemption here (takes a while to arrive). The Government has instructions on how to download an official "Mask Exempt" notice to put on your phone here. You can get a "Hidden Disability" tag from ebay here and an "exempt" card with lanyard for just £1.99 from Etsy here. And, finally, if you feel obliged to wear a mask but want to signal your disapproval of having to do so, you can get a "sexy world" mask with the Swedish flag on it here.
Don't forget to sign the petition on the UK Government's petitions website calling for an end to mandatory face masks in shops here.
A reader has started a website that contains some useful guidance about how you can claim legal exemption.
And here's an excellent piece about the ineffectiveness of masks by a Roger W. Koops, who has a doctorate in organic chemistry.
Mask Censorship: The Guardian has reprinted a mask survey in Which? magazine that ranked different masks according to how comfortable they are, how much crap they filter out, and so on. Worth reading for a laugh.
The Great Barrington Declaration
The Great Barrington Declaration, a petition started by Professor Martin Kulldorff, Professor Sunetra Gupta and Professor Jay Bhattacharya calling for a strategy of "Focused Protection" (protect the elderly and the vulnerable and let everyone else get on with life), was launched last week and the lockdown zealots have been doing their best to discredit it. If you Googled it last week, the top hits were three smear pieces from the Guardian, including: "Herd immunity letter signed by fake experts including 'Dr Johnny Bananas'." (Freddie Sayers at UnHerd warned us about this hit job the day before it appeared.) On the bright side, Google UK has stopped shadow banning it, so the actual Declaration now tops the search results – and this Spectator piece about the attempt to suppress it is among the top hits – although discussion of it has been censored by Reddit. The reason the zealots hate it, of course, is that it gives the lie to their claim that "the science" only supports their strategy. These three scientists are every bit as eminent – more eminent – than the pro-lockdown fanatics so expect no let up in the attacks. (Wikipedia has also done a smear job.)
You can find it here. Please sign it. Now well over 600,000 signatures.
Stop Press: Prof Sunetra Gupta tells the Daily Mail about how she's been intimidated and shamed for backing focused protection over lockdowns.
Judicial Reviews Against the Government
There are now so many JRs being brought against the Government and its ministers, we thought we'd include them all in one place down here.
First, there's the Simon Dolan case. You can see all the latest updates and contribute to that cause here.
Then there's the Robin Tilbrook case. You can read about that and contribute here.
Then there's John's Campaign which is focused specifically on care homes. Find out more about that here.
There's the GoodLawProject's Judicial Review of the Government's award of lucrative PPE contracts to various private companies. You can find out more about that here and contribute to the crowdfunder here.
The Night Time Industries Association has instructed lawyers to JR any further restrictions on restaurants, pubs and bars.
Christian Concern is JR-ing the Welsh Government over its insistence on closing churches during the "circuit breaker". See its letter-before-action here and an article about it here.
And last but not least there's the Free Speech Union's challenge to Ofcom over its 'coronavirus guidance'. You can read about that and make a donation here.
Samaritans

If you are struggling to cope, please call Samaritans for free on 116 123 (UK and ROI), email jo@samaritans.org or visit the Samaritans website to find details of your nearest branch. Samaritans is available round the clock, every single day of the year, providing a safe place for anyone struggling to cope, whoever they are, however they feel, whatever life has done to them.
Shameless Begging Bit
Thanks as always to those of you who made a donation in the past 24 hours to pay for the upkeep of this site. Doing these daily updates is hard work (although we have help from lots of people, mainly in the form of readers sending us stories and links). If you feel like donating, please click here. And if you want to flag up any stories or links we should include in future updates, email us here. (Don't assume we'll pick them up in the comments.)
And Finally…
The time has come, I think, to play this clip from Network, the 1976 satirical film about a TV network starring Peter Finch and Faye Dunaway. This is the famous scene in which Finch, a newsreader, encourages everyone in the television audience to throw open their windows and shout, "I'm mad as hell and I'm not going to take it any more."