The Story Behind the Number 10 Bloodbath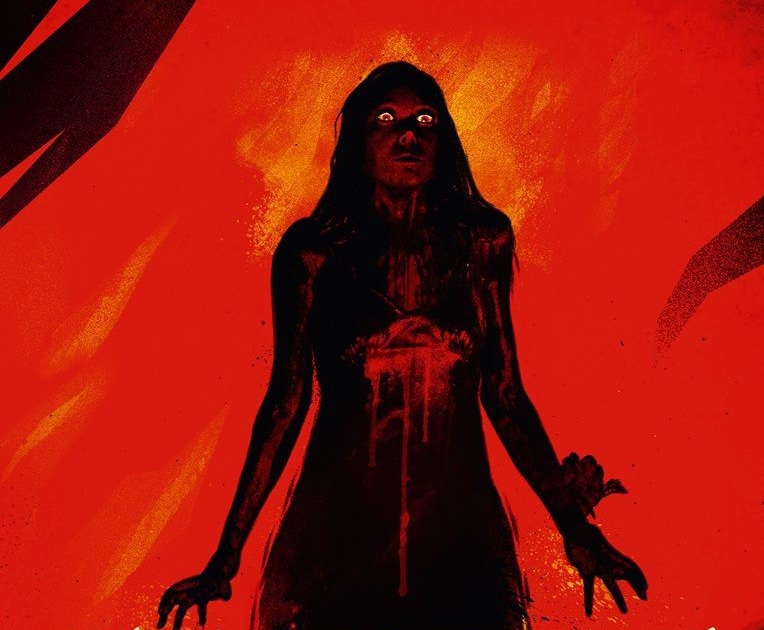 The Sunday Times's Tim Shipman has written one of the best pieces about Dom's departure from Downing Street for today's papers, as you'd expect. Shipman has authored two books about the Brexit drama and is working on a third and it's clear that Dom is one of his main sources. But to be fair to Tim, he's clearly been briefed by both sides and his piece is fairly balanced.
In Tim's telling, the conflict between Dominic Cummings and Lee Cain on the one hand, and Allegra Stratton and Carrie Symonds on the other, is a battle for Boris's soul. What kind of Prime Minister is he going to be?
At its simplest, it was a division between the Vote Leave faction of Brexiteer buccaneers – led by Cummings and Cain – who guided Johnson to his victories in the 2016 EU referendum, the Tory leadership contest and last year's election – and others, led by Symonds and Stratton, who remember more fondly the consensual figure who twice won the London mayoralty in a Labour city.

In the end, Johnson decided he quite liked that version of himself too. As one Cabinet minister put it: "Boris has finally decided that he wants to be the Prime Minister rather than a kidnap victim."
The spin being put on events by those on Dom's side is that Boris is a weak and indecisive Prime Minister who relied on Michael Gove to make decisions on his behalf. Boris initially asked Lee to become his Chief of Staff, but changed his mind when Lady Macbeth kicked up a stink, egged on by Allegra. Carrie wants the Prime Minister to be "pink Stetson Boris" – a reference to when he put on said headgear at a Pride parade. But that would be a mistake, according to the Brexiteers, because the people who elected him are provincial conservatives, not metropolitan luvvies. The two ladies claim not to like Dom and Lee because they've presided over a culture of machismo and heavy drinking at Number 10, but in reality it's because the two women are snobs, according to friends of the Brexit duo.
Cain's allies are incensed by what they see as a cabal of "posh southern women" who have ousted a working-class man from Ormskirk in Lancashire. "This bloke is a working-class outsider who went from dressing as a chicken to become the prime minister's director of communications," said a leading Tory strategist. "He got the job on merit without going to a fancy school or Oxford or being on the BBC. There's something distasteful about the glee with which they have greeted his demise."
The other side of the story is that Dom is a psychotic control freak and Lee in his "mini me".
The row over the future of Cain exhumed long-standing ministerial hatred of Cummings and his culture of aggression. Grant Shapps, the transport secretary, was furious when Cain peremptorily sacked Neil Tweedie, a special adviser to the Transport Secretary, allegedly for leaking details of a meeting that Tweedie says he was not even in – a situation that is still the subject of HR negotiations.

Allies of Symonds refer to the duo as "the mad mullahs". One senior cabinet minister calls Cummings David Koresh, after the cult leader who caused the tragic Waco siege in Texas in 1993. Symonds and Stratton, in close contact, both worked on Johnson. "Carrie was depressed," another friend said. "She didn't think this was who Boris is."

Other ministers and donors had complained for months that Cummings would sit at the back of what were supposed to be one-on-one meetings with Johnson. One donor, irate at finding Cummings "huffing and puffing" in one encounter with Johnson asked him: "Are you on drugs?" When Cummings said, "No," he added: "Surely you should be on some sort of medication."

One ally said: "Dom has basically spent most of the last year telling people to f*** off. People who should have been his allies were not there for him this week."
Worth reading in full.
Is Carrie Wearing the Trousers?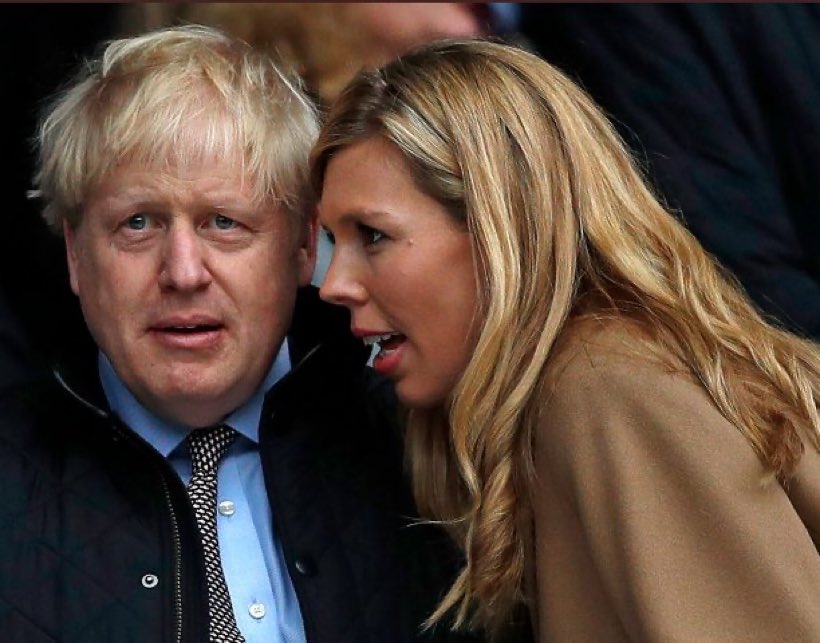 Glen Owen, Dan Hodges and Katie Hind also have some inside dope in the Mail on Sunday. According to them, Carrie threw a "victory party" after Dom's departure.
Just hours after Dominic Cummings had left No 10 on Friday afternoon, his few allies who remained in the building claim that they heard the distinctive strains of a "victory party" from the Downing Street flat inhabited by Carrie Symonds.

Ms Symonds' friends deny that there was a "boisterous celebration" – the latest in a vicious cycle of claim, denial and counter-claim by the warring factions – but there can be little doubt that Boris Johnson's fiancee has emerged triumphant in the extraordinary power struggle she has waged with the adviser and Lee Cain, Mr Cummings' Vote Leave ally.

It culminated with Mr Cummings carrying out his belongings in a cardboard box, following a final meeting in which Mr Johnson is said to have rebuked the two aides for describing Ms Symonds as "Princess Nut Nut" – something else which is denied by No 10.
Although the Mail on Sunday team try not to pick sides, they've clearly been well-briefed by Carrie's allies.
Friends of Ms Symonds say that she has "no regrets" about opposing Mr Cain's appointment and thinks that "a more diverse group of voices" should advise the Prime Minister. They say her professional experience mean she was well-qualified to share her views.

One told the Mail on Sunday: "Surely it is in the Prime Minister's interest that he hears from a range of people. That's the way to have a fairer and more successful operation.

"What man wouldn't ask their informed partner for their opinion on something to do with work, particularly when it is a world they have known for many, many years.

"If you see something that needs altering why wouldn't you say so? To think the Prime Minister can't make his own mind up is silly."

The friends describe the attacks on her as sexist.

"The idea that she is a woman and therefore shouldn't have a voice is unfair," said one. "The vitriol and bitterness towards her has been quite something, chances are they would not happen to a man.

"It is saddening to see that she is being attacked for having a view. Downing Street has been devoid of senior women and the more rounded opinions which they offer."
Women offer "more rounded opinions" than men?
Sounds a bit desperate.
Worth reading in full.
Stop Press: One Conservative Party insider told me last night that Boris and Rishi spent the evening phoning close allies of the party in the business world claiming he was buffaloed into Lockdown 2.0 with bogus data and it wasn't going to happen again. I don't think that's true – I think Boris made the decision knowing full well the data didn't support it and wants to avoid being blamed for all the pain and misery it will cause. But if that's the spin he wants to put on it that is quite helpful nevertheless.
Executive Editor of the BMJ Thunders Against Corruption of the Medical-Political Complex
This doesn't happen every day. The Executive Editor of the BMJ, Kamran Abbasi, has written a blistering editorial taking aim at the "state corruption" that Covid has unleashed.
Politicians and governments are suppressing science. They do so in the public interest, they say, to accelerate availability of diagnostics and treatments. They do so to support innovation, to bring products to market at unprecedented speed. Both of these reasons are partly plausible; the greatest deceptions are founded in a grain of truth. But the underlying behaviour is troubling.

Science is being suppressed for political and financial gain. COVID-19 has unleashed state corruption on a grand scale, and it is harmful to public health. Politicians and industry are responsible for this opportunistic embezzlement. So too are scientists and health experts. The pandemic has revealed how the medical-political complex can be manipulated in an emergency – a time when it is even more important to safeguard science.

The UK's pandemic response provides at least four examples of suppression of science or scientists. First, the membership, research, and deliberations of the Scientific Advisory Group for Emergencies (SAGE) were initially secret until a press leak forced transparency. The leak revealed inappropriate involvement of government advisers in SAGE, while exposing under-representation from public health, clinical care, women, and ethnic minorities. Indeed, the Government was also recently ordered to release a 2016 report on deficiencies in pandemic preparedness, Operation Cygnus, following a verdict from the Information Commissioner's Office.

Next, a Public Health England report on COVID-19 and inequalities. The report's publication was delayed by England's Department of Health; a section on ethnic minorities was initially withheld and then, following a public outcry, was published as part of a follow-up report. Authors from Public Health England were instructed not to talk to the media. Third, on October 15th, the editor of the Lancet complained that an author of a research paper, a UK Government scientist, was blocked by the Government from speaking to media because of a "difficult political landscape".

Now, a new example concerns the controversy over point-of-care antibody testing for COVID-19. The Prime Minister's Operation Moonshot depends on immediate and wide availability of accurate rapid diagnostic tests. It also depends on the questionable logic of mass screening – currently being trialled in Liverpool with a suboptimal PCR test.

The incident relates to research published this week by the BMJ, which finds that the Government procured an antibody test that in real world tests falls well short of performance claims made by its manufacturers. Researchers from Public Health England and collaborating institutions sensibly pushed to publish their study findings before the government committed to buying a million of these tests but were blocked by the health department and the prime minister's office. Why was it important to procure this product without due scrutiny? Prior publication of research on a preprint server or a government website is compatible with The BMJ's publication policy. As if to prove a point, Public Health England then unsuccessfully attempted to block The BMJ's press release about the research paper.
He then goes on to support Mike Yeadon's hypothesis – not quite a conspiracy theory – that we're witnessing a "convergence of opportunism" during this crisis.
The UK's pandemic response relies too heavily on scientists and other Government appointees with worrying competing interests, including shareholdings in companies that manufacture COVID-19 diagnostic tests, treatments, and vaccines. Government appointees are able to ignore or cherry pick science – another form of misuse – and indulge in anti-competitive practices that favour their own products and those of friends and associates.

How might science be safeguarded in these exceptional times? The first step is full disclosure of competing interests from Government, politicians, scientific advisers, and appointees, such as the heads of Test and Trace, diagnostic test procurement, and vaccine delivery. The next step is full transparency about decision making systems, processes, and knowing who is accountable for what.

Once transparency and accountability are established as norms, individuals employed by government should ideally only work in areas unrelated to their competing interests. Expertise is possible without competing interests. If such a strict rule becomes impractical, minimum good practice is that people with competing interests must not be involved in decisions on products and policies in which they have a financial interest.
For an editorial like this to appear in a leading scientific journal is unprecedented. Worth reading in full.
Kamran Abbasi is mad as hell and he's not going to take it anymore.
Stop Press: According to the Sunday Times, one of the Britain's most influential lobbyists secretly served as an adviser to a health minister for six months – before sending sensitive information on lockdown policy to paying clients. This was the headline finding of a major investigation by the paper into privileged access for friendly lobbyists and £1.5 billion worth of contracts awarded to Tory-linked companies. This will be more grist to Kamran Abbasi's mill.
How Stressed is the NHS?
My top doctor friend has been pouring over the NHS's latest data. He's not convinced the NHS is under nearly as much pressure as the Chief Scientific Officer and Chief Medical Officer suggested in the run-up to the second lockdown.
When is a Covid Patient not a Covid patient?
On November 12th the NHS released a monthly summary of COVID hospital data.
I was hoping it might answer my key questions:
How many patients reported as admitted every day from the community actually have Covid symptoms?
How many patients reported as Covid inpatients are in hospital because they are ill with Covid rather than simply testing positive as a consequence of routine testing and are asymptomatic?
How many patients caught Covid while in hospital having been admitted for other reasons – i.e., the rate of hospital-acquired infection.
What is the average length of stay of a Covid patient?
The first two questions address the possibility that we could have a 'casedemic' rather than a genuine second wave pandemic. The third question on hospital-acquired infection rates goes to the issue of whether admitting symptomatic Covid patients into general hospitals might be making the problem worse. The last question informs assessment of the burden of care on the NHS and whether predictions of the system becoming overwhelmed absent a lockdown were credible.
I'm going to work through a couple of examples to illustrate just how difficult it is to answer these questions using the figures presented by the NHS and reported on the TV. Apologies if this is a bit dense and difficult to understand, but it's important.
Take November 4th.
The categories of figures presented by NHS Statistics are as follows
Number of patients admitted with Covid in last 24 hrs: 296
Of that number, 113 (38%) were under 65 years of age (lower risk). It isn't clear whether these 296 patients were admitted with symptoms of Covid and a positive test result, but for the purposes of the exercise we will assume so.
Total number of inpatients diagnosed with Covid within previous 24 hrs: 1,001
It's clear that the number of patients with positive tests on arrival to hospital is much lower than those who test positive while in hospital. We aren't told when the patients diagnosed in hospital had their swabs taken – because patients are swabbed multiple times in hospital.
In the October monthly round up, there were different categories of swab dates, so it was easier to figure out which patients had become Covid positive while in hospital and when they became positive in relation to the date of admission. In November, these columns have disappeared. I don't understand why we aren't allowed to see that information this month, because it's an important indicator of the rate of in-hospital infection.
NHS management argues that even an asymptomatic Covid patient imposes a greater burden on hospital staff because of the need to shield staff and other patients. There is justification for that view, but it does not explain why this information is kept from the public. Concealing such data just reinforces suspicion and fosters a lack of trust in the system – precisely the opposite of what's needed.
Discharges total: 977
Whenever one hears Covid inpatients discussed on TV, there is never any reference to patients getting better and being discharged from hospital. In fact the overwhelming majority of patients in hospital for COVID are only in hospital for a few days and are then discharged home.
Further, in the slide deck leaked last week there is a reference to the NHS investigating the possibility of providing care at home to Covid patients rather than admitting them to hospital – I wonder why that is?
Could it be a clandestine acknowledgement that there is a serious problem with in-hospital cross-infection control? Graph 1 shows that the rate of discharges of COVID patients is much the same as the rate of in-hospital diagnoses. So, if the NHS could get on top of the estimated 20% of self-generated hospital-acquired infections by only admitting the seriously ill, it might relieve pressure.
Covid ICU patients: 986
On November 5th there were 986 patients in English ICUs suffering from Covid-related symptoms out of a total of 3,291 ICU patients – about 30%. That's a significant percentage of the total. Numbers in ICU tend to mount up because patients often stay a long time – and the sicker they are, the longer they stay. The average length of ICU stay for survivors is five days and for non survivors eight days (ICNARC report).
What the new data does not say – but the leaked NHS slide deck reveals – is that there was substantial spare ICU capacity still available in the system as of November 1st, with bed occupancy running at an average of 78%. This has been flagged up by the helpful graphic from the Spectator Covid tracker (Chart 1). It is important to recognise that the NHS has expanded its critical care capacity since the spring and most trusts have put in place escalation plans where normal ward beds can be converted to higher intensity care to meet rising demand – prudent preparation. So, when the figures suggest spare capacity on a percentage basis it's true to say that overall capacity has increased since last year. The fact that such plans have been put in place ought to mitigate exaggerated predictions of impending doom in favour of more measured and nuanced advice to policy makers.
The proportion of Covid patients admitted to ICU has fallen from 12-13 % to 8-9%. There are several possible reasons for this, all of which may play a part. Some hospital doctors have suggested that the disease is not as severe as it was in the spring. Treatments such as high dose steroids and anti-coagulants administered early in the course of the disease may reduce the proportion of patients needing ICU care and shorten hospital stays. In addition, there may be measurement artefact if substantial numbers of patients recorded as suffering from Covid do not in fact have the disease (false positives) or may be positive for Covid but are in hospital for other reasons and do not have Covid symptoms.
(Graph 2 – NB the spike in early September is a recording error in the data and can be ignored).
In the two weeks up to November 5th, the number of ICU patients in the worst affected English regions was essentially stable with the exception of the Midland region which had seen a significant increase, recently levelling off – note these figures were known to the NHS before the Parliamentary lockdown vote on November 4th but to my recollection not referenced in any of the alarming public briefings. The other English regions had negligible numbers of Covid ICU patients – not worth recording on Graph 3.
Chris Hopson (CEO of NHS Providers) has criticised using ICU occupancy as a measure of Covid pressure on the basis that acute ward pressures are a more representative measure of the stress. That's a reasonable point, but he forgot to address the revelation from the leaked slide deck that oxygen utilisation by trusts is no higher than normal at this time of year, and although there undoubtedly is pressure on hospitals in the North of England, the NHS is managing it. Hopson's extraordinary argument that the entire population should remain under indefinite house arrest so that the NHS can continue doing elective surgery surely tests the extreme limit of deformation professionelle.
Finally, where are the deaths? True, there's a time lag between community infection, hospitalisations, ICU stays and deaths. But one would have expected to see a rise in deaths by now – and it hasn't happened (Chart 2). The tiny increase in deaths to October 30th is all due to deaths at home – there are no excess deaths recorded by the ONS from respiratory disease.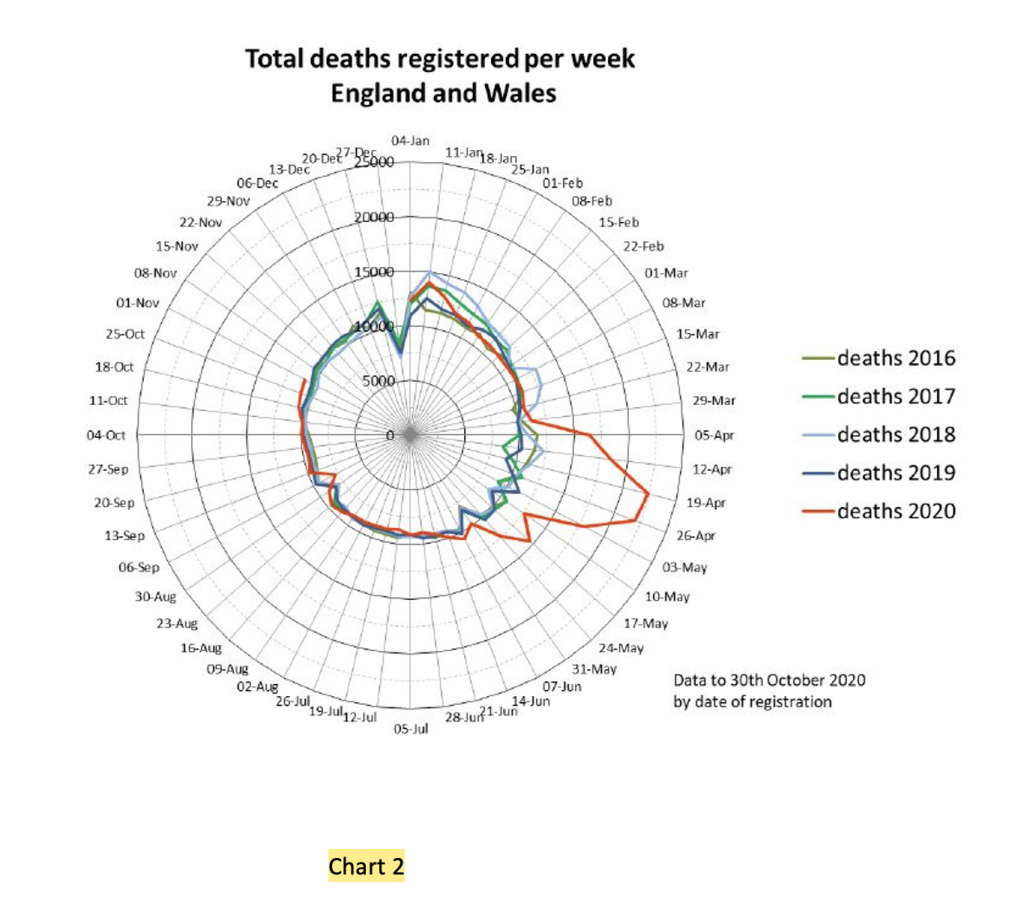 For clarity, I should say that Covid is a nasty infection. It can make people very ill and sometimes die. I certainly hope I don't get it. That said, I think I'm sufficiently informed about the risks to make up my own mind with respect to sensible and proportionate precautions – and my fellow citizens are, too.
I'm sure the answers to the questions posed in my opening paragraph are known to NHS executives. If they do not know the answers, they really ought to. When they do know, the information should be made available to Members of Parliament and the public without spin or exaggeration.
I have little doubt that senior NHS managers will take the view that I have no right to be shown all the information that informs their decisions or advice to Government. That the public should just obediently take instruction on trust and comply with Government recommendations indefinitely without asking impertinent questions. I don't accept that, obviously. If it is necessary for my freedoms to be curtailed, I require a full explanation. I expect complete disclosure of the information behind such recommendations and it should be open to interrogation by experts not affiliated to the Government machine. I expect the restrictions to be publicly reviewed on a regular basis. I take great exception to the view expressed to the Parliamentary Science and Technology Committee by Sir John Bell, Regius Professor of Medicine at Oxford, that if the public "behave themselves" then some "freedoms may be restored". On what basis does this man presume such authority over others?
All of this goes to the issue of whether Parliament was properly informed before the lockdown vote. For what it's worth, I don't think the data I've seen supports the conclusions drawn by decision makers and their advisors. I readily concede I am not an expert in infectious disease epidemiology, but I am a reasonably well informed medical professional with over 30 years clinical experience. If the experts can't convince me of the need for a full lockdown, their argument is in trouble. Even the BMJ is pushing back against the concealment of information and repression of open debate (see above).
If Members of Parliament were not provided with adequately contextualised information before the lockdown vote – and that information was readily available in the NHS – that's a scandal. We should be far more worried about that than we are about the virus.
Finally, I note the following from an article in the Financial Times dated November 13th:
NHS Providers said in a letter to Mr Sunak that if his review on November 25th failed to allocate the necessary money for 2021-22, "the health and wellbeing of hundreds of thousands of . . . patients is at risk".
I'm sure I've heard that before somewhere.
Covid Recovery Group Continues to Grow
The new group of sceptical Tory MPs – the Covid Recovery Group – can now boast 70 members and it's unlikely to stop there. The Telegraph has more.
Boris Johnson is facing a growing revolt against lockdown restrictions, as more than 30 MPs who voted for the current measures joined a Parliamentary group opposed to any extension of restrictions.

The Covid Recovery Group, which launched on Wednesday to fight the imposition of a third national lockdown at the beginning of next month, has grown substantially and now numbers around 70 MPs.

The Telegraph can disclose that recruits include more than 30 lawmakers who supported the current lockdown, among them Damian Green, the former Deputy Prime Minister, Tom Tugendhat, the senior backbencher, and many members of the Conservative Party's 2019 intake of MPs.

The group will oppose any return to a national shutdown of the economy when lockdown is lifted on December 2nd.
Excellent news. But surely, merely opposing an extension of the second lockdown – or, God forbid, the imposition of a third one – isn't enough? The group must make it clear to Boris that plunging us back into Tier 3 on December 3rd would be unacceptable too.
Worth reading in full.
More Evidence the Pfizer Announcement was Delayed Until After the US Election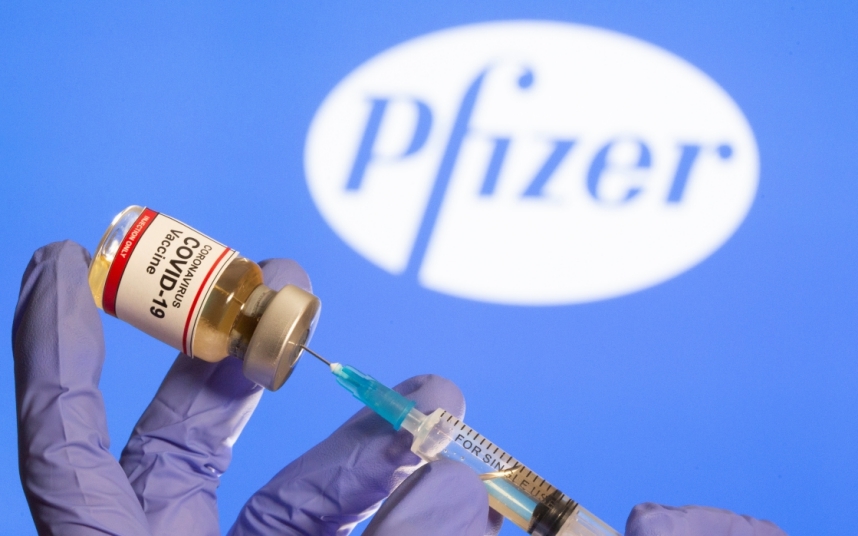 A reader tells me about an interesting conversation he had with a friend who's been working on the delivery of the new vaccine.
I've just had a long conversation with a friend I've not caught up with for a couple of months, who it turns out is working on efforts to get the new Pfizer vaccine to hospitals for December.

They have been busy for weeks working on the practicalities of getting the vaccine to a short list of hospitals.

They are worried about actually being able to meet the target in the timescales given and also the reaction from people who clamour for the vaccine when it's only going to some hospitals initially.

They started the whole story off by telling me they had been working on it for a week and half before the announcement. That it was action stations and they were sworn to secrecy.

Our local hospital is on the list to get it first and yesterday in the school playground my interest was piqued when my wife heard someone who works at the hospital explain they were getting it in December when another parent asked them about the vaccine.

So it seems clear the announcement was delayed to damage Trump, and the UK was in on it, as the NHS has been preparing since before election day to roll it out before Christmas to a select list of NHS hospitals.

Something else needs looking into further as well. My friend mentioned that an obscure law was being used to get it through quickly.

Something to do with using an existing approved drug but for a different purpose. Ironic considering the furore surrounding Hydroxychloroquine.

But if this is an existing drug then it's not a new vaccine is it?

We joked about NHS staff coming down with a wave of side effects over Christmas, and my friend agreed with me that really what most people want is to actually be infected with the virus before Christmas so they gain 99.9% immunity and not 90% with a vaccine.

Who wants to risk a 1 in 10 chance of harming a vulnerable loved one?

Anyway, the snake oil is coming, and it's coming to an NHS hospital near me.
Stop Press: Zero Hedge reveals that Fauci shared the news of Pfizer/BioNTech's successful trial with Biden before Trump.
Are Children Being Deprived of Real World, Physical Experiences?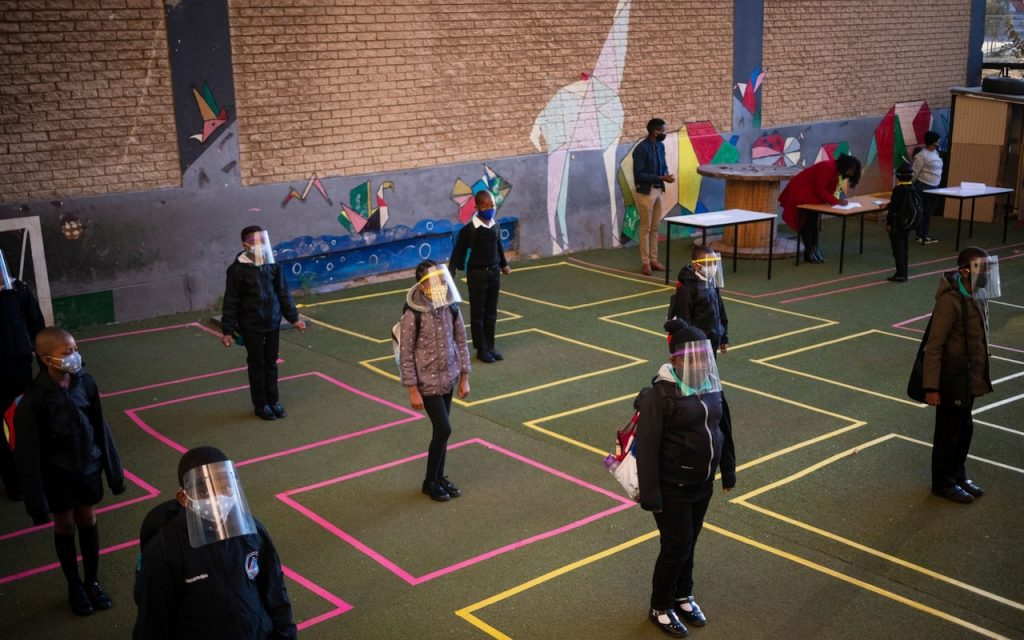 Today I'm publishing another piece by Dr Sinead Murphy, a Philosophy Lecturer at Newcastle University. This one is about the downgrading of real-world experiences in favour of virtual experiences – a phenomenon that predates the coronavirus crisis, but which has been accelerated by it. Here's an extract about the recent funeral of the English footballer Nobby Stiles.
The funeral took place on Thursday of the footballer Nobby Stiles, who died last week at the age of 78. He was part of the famous triumph of the English national team at the World Cup of 1966. Footage has been playing again, of Nobby celebrating this win, dancing on the muddy pitch of victory, cup in one hand, false teeth in the other, smiling from ear to ear.

Nobby is not 'physical' in the manner of current premier footballers. He does not have the sculpted body. He does not have the styled hair. He does not perform for the camera, fake-kissing his girlfriend, fake-rocking his baby, holding his ear to hush the media or the crowd. And yet, because of his non-studied physicality, Nobby presents as markedly more real, more part of the physical world, than today's poster stars. Streaked with mud from the pocked grass pitch, hair askew in greasy, dirt-stiff spikes, and with more teeth in his clutching fist than in the gums at the front of his mouth, Nobby is nobody's avatar. Nobby is a man of flesh and blood. Any ten-year-old might have aspired to Nobby: not to his kit, not to his boots, not to his hair, but to his game.

There were only a few at Nobby's funeral, another event de-physicalized by Covid prevention measures. No crowds lining the streets. A handful of fans outside the stadium. This footballer from the physical world, sent home to a virtual grave.
Worth reading in full.
Jab Jingles
A reader has sent through five suggestions for some catch-phrases to encourage people to get vaccinated. Can you come up with any more?
ivApparently, members of the Psychology Dept at Yale University were asked to come up with nine psychological incentives/coercions to get Americans lining up for their COVID-19 vaccine. I'm sure something similar will be cooking here. To save time and probably a few million I've done a quick fry up. Or at least I've got to five but am stuck for the other four. Any ideas anyone?

1. A jab in your arm will do the trick
of saving your Nan from getting sick

2. Inform on those who won't comply,
aquired immunity is simply a lie

3. Don't be fooled by herd immunity
only a jab can save your community

4. Think of others, don't be mean
shareholders need feeding, book your vacc-ine.

5. Keep Safe, Keep Distant and Cover Your Face
only this vaccine will save the human race.
Stop Press: The Telegraph reports that various trademarks have been filed by BioNTech for the Covid vaccine. Names include Rnaxcovi, Kovimerna and Comirnaty, but Covuity is looking like the strong favourite
How Prevalent is Long Covid?
Yesterday, we published something about the poll that Savanta ComRes had carried out for Conservative Woman that, among other things, found the public thinks one in three people who recover from COVID-19 suffer from Long Covid. The Telegraph, which reported this finding, claimed the real figure was one in 20.
But a reader has got in touch to point out that 1 in 20 is an over-estimate.
I was just reading your article on LDS "Public Think Average Age of Covid Deaths is 65, Among Other Misconceptions" and the comment from the Telegraph that Long Covid affects 1 in 20 Covid sufferers.

I would argue that that statement is wrong for two reasons:

Firstly it implies that the 1 in 20 figure for Long Covid relates to all Covid sufferers whereas the King's College London research where this claim comes from (see below) only related to symptomatic cases; and
The KCL team were keen to publicise the 1 in 20 figure for people suffering Long Covid for over eight weeks. However, 'chronic' conditions usually relate to diseases lasting over 12 weeks.

The effect of both of these assumptions is to greatly increase the perceived risk from Long Covid.

Symptomatic v. Asymptomatic figures

As mentioned above, I imagine that the 1 in 20 figure comes from the King's College London paper of October 21st 2020:
"New research identifies those most at risk from 'long COVID'
A new analysis by researchers at King's, using data from the COVID Symptom Study app, shows that one in 20 people with COVID-19 are likely to suffer symptoms for 8 weeks or more (so-called 'long COVID'), potentially adding up to many hundreds of thousands in the UK and millions worldwide" (my emphasis).

This finding was cited by Mr. Hancock in Parliament.

However, what seems to have passed most commentators by is that in the body of the report the KCL team say, "Extrapolating out to the general UK population, which has a different age and gender makeup compared with the Covid Symptom Study app users, the team estimated that around one in seven (14.5%) of people with symptomatic COVID-19 would be ill for at least four weeks, one in 20 (5.1%) for eight weeks and one in 45 (2.2%) for 12 weeks or more" (my emphasis).

NERVTAG reviewed asymptomatic cases in their paper of September 9th and determined that 28% of all Covid infections are asymptomatic.

There is some dispute as to whether this figure should be much higher but to be conservative I'll go with 28%.

That means that the Long Covid prevalence stated by the KCL Team should be reduced proportionately to account for all (symptomatic and asymptomatic) Covid cases, i.e.:
4 weeks: 14.5% x 0.72 = 10.4% or 1 in 10
8 weeks: 5.1% x 0.72 = 3.7% or 1 in 27
12 weeks: 2.2% x 0.72 = 1.6% or 1 in 63

Unfortunately, either through intent or ignorance the journalists are happy to imply that the 1 in 20 figure applies to all Covid cases which, according to the research, is not correct.

Definition of 'chronic'

The second point is that the way Long Covid has been described by the researchers is akin to a chronic disease such as Chronic Fatigue Syndrome/ME. That oracle of truth, Wikipedia, defines a "chronic condition" as "a human health condition or disease that is persistent or otherwise long-lasting in its effects or a disease that comes with time. The term chronic is often applied when the course of the disease lasts for more than three months".

Given that that appears to be a standard definition of a chronic condition, it's odd that the KCL team focused on the 1 in 20, eight weeks figure. Maybe it bigged up its headline for PR purposes?

Conclusion

In summary, if we revise the Long Covid prevalence figures to cover all Covid sufferers, and focus on conditions lasting over 12 weeks, the result is 1.6% or 1 in 63 of all Covid sufferers at risk from Long Covid. Quite different from the publicised 5.1% and 1 in 20 figures. A highly unpleasant condition, no doubt, but hardly supporting the Government, SAGE and media hysteria.
Stop Press: You can read more detail about that Conservative Woman poll here. Some truly hair-raising misunderstandings on the part of the public. You'd think the BBC, instead of worrying about sceptics spreading "misinformation", would examine why so many zealots are woefully misinformed.
Devil's Dictionary Entries
Readers have been submitting their entries for the Devil's Dictionary, after another reader kicked us off yesterday. The best so far are:
Social Distancing, n. An oxymoron
Second wave, n. A gesture of farewell as Boris exits 10 Downing street after only a year as Prime Minister.
CBA, abbrev. Essential aspect of Government policy: Can't Be Arsed. Often mistaken for Cost Benefit Analysis.
Parliamentary scrutiny, n. Silently judging other MPs' homes as seen on a Zoom call.
False positive, n. Optimism that lockdown will end; peaked in 2026 before dwindling in prevalence.
Covid-secure protocols, n. Torture method designed to suck any remaining life out of those who dare leave home.
Double-spacing, n. Socially responsible email formatting.
Lockdown, n. Flattening the curve by expanding yours.
Science, The, n. A set of arcane, immutable practices and protocols guaranteed to ensure safety and long life to those who follow them in a spirit of blind, unwavering faith. Not to be confused with science.
Herd immunity, n. [THIS ACCOUNT HAS BEEN REMOVED]
Incomprehensible PCR Test Instructions
A reader has let us know about his experience of trying to follow the instructions when taking a PCR test at a drive-through testing centre. Sounds predictably hopeless.
I am not an epidemiologist or a biologist. I am however a psychologist, and I have something of a specialism in consulting to and training with businesses needing to develop their skills and effectiveness in writing and publishing complex instructions.

A couple of days ago I was coughing and spluttering a bit, the result I thought of a slight cold that had hung around for a few days. I wouldn't have bothered with a PCR test myself, but social pressure being what it is in these times meant pressure from those around me to head off to the nearest drive-through. So I booked a test and did so.

In my professional view the instructions and the process are too complex, and are given too quickly, for the samples collected to be reliable in the way that they are clearly intended to be.

1) Instructions are given too rapidly. There is a summary from a worker who speaks to you very quickly over the phone. Then written instructions are given in a little more detail. These come in a seven-page booklet.

2) You feel under pressure to get the job done quickly, because i) the staff are speaking and moving quickly, ii) you are aware there is a queue of people behind you and iii) you have been told to expect the whole thing to take only a few minutes.

3) I felt, myself, a little uncertain about what was required. I don't want to blow my own trumpet, but I'm a speaker of English as a first language, I have three degrees, two professional qualifications and 20-odd letters after my name. If I was struggling to follow quickly, it stands to reason that those who are not fortunate enough to start from the same position as me in some respects would be likely not to understand what was being asked.

4) It is axiomatic in any kind of adult learning context that the only reliable way to gauge levels of understanding is to assess those levels in some active way – for example to ask your audience a question or ask them to conduct some part of the operation under supervision, so that you can check that there has been understanding of your instructions. There is nothing like this in the drive-through operation.

5) The operation of the swab itself is difficult. You are being asked to roll the swab around both tonsils for 15-20 seconds without letting it touch your tongue, lips or cheeks. Then you are asked to estimate how high up your nostril to insert the swab. You are told that this should be "2.5cm or 1 inch, until you feel a slight resistance". In the first place, try asking 20 people to estimate 2.5cm or 1 inch with a gap between their fingers, and you'll find yourself amused by the huge range of responses. Second, I no doubt have an unusually large nose, but 2.5cm is nowhere near enough for me to encounter resistance from my nostril. Mine's more like 3.5cm, or 40% more than is being instructed.

I was very pleased to receive a negative result and would have been highly suspicious of a positive in these circumstances. But:

Either the precision of these instructions is important to the accuracy of the outcome – in which case, they are likely to be far too complex for most people.

Or it is not important to the accuracy of the outcome – in which case why is it stated repeatedly that it is?
Postcard From Tanzania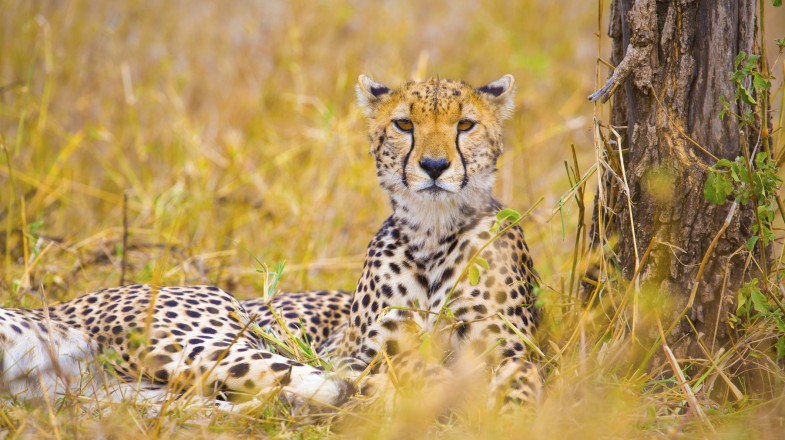 A reader has sent us a postcard from Tanzania. Sounds heavenly.
There is normal life out there beyond the Covid black hole known as the UK. We're just back from a three-week safari in Tanzania where day-to-day interactions with other human beings are, well, normal.

Indeed, throughout most of Africa there are more important things to worry about than a corona virus.

Yes, simple practical common sense precautions are in place like hand sanitizer stations and masks on the small bush planes, but that's about it.

The welcome we received without exception was tremendous but we were just so pleased to be there and were privileged to have magical wildlife encounters with no-one else around and see a couple of great migration river crossings with less than a handful of other people present.

All this added up to a very special adventure but this is tempered somewhat by the fact that many camps remain closed because of the lack of tourists with those that are open operating on reduced staff for obvious reasons.

Unlike the UK, the hard fact facing people in Tanzania is no work, no job, no pay. That would concentrate minds wonderfully here.

We can only hope that common sense prevails over hysteria with so many people's lives in other parts of the world so drastically affected. Not just the humans but the wildlife too…
Round-Up
Theme Tunes Suggested by Readers
Three today: "Please Release Me" by Engelbert Humperdinck, "Won't Get Fooled Again" by the Who and "For What It's Worth" by Buffalo Springfield.
Love in the Time of Covid
We have created some Lockdown Sceptics Forums, including a dating forum called "Love in a Covid Climate" that has attracted a bit of attention. We have a team of moderators in place to remove spam and deal with the trolls, but sometimes it takes a little while so please bear with us. You have to register to use the Forums, but that should just be a one-time thing. Any problems, email the Lockdown Sceptics webmaster Ian Rons here.
Sharing stories: Some of you have asked how to link to particular stories on Lockdown Sceptics. The answer used to be to first click on "Latest News", then click on the links that came up beside the headline of each story. But we've changed that so the link now comes up beside the headline whether you've clicked on "Latest News" or you're just on the Lockdown Sceptics home page. Please do share the stories with your friends and on social media.
Stop Press: A 20 year-old Italian man has been fined 400 euros for kissing his girlfriend in public.
"Mask Exempt" Lanyards
We've created a one-stop shop down here for people who want to buy (or make) a "Mask Exempt" lanyard/card. You can print out and laminate a fairly standard one for free here and it has the advantage of not explicitly claiming you have a disability. But if you have no qualms about that (or you are disabled), you can buy a lanyard from Amazon saying you do have a disability/medical exemption here (takes a while to arrive). The Government has instructions on how to download an official "Mask Exempt" notice to put on your phone here. You can get a "Hidden Disability" tag from ebay here and an "exempt" card with lanyard for just £1.99 from Etsy here. And, finally, if you feel obliged to wear a mask but want to signal your disapproval of having to do so, you can get a "sexy world" mask with the Swedish flag on it here.
Don't forget to sign the petition on the UK Government's petitions website calling for an end to mandatory face masks in shops here.
A reader has started a website that contains some useful guidance about how you can claim legal exemption.
If you're a shop owner and you want to let your customers know you want be insisting on face masks or asking them what their reasons for exemption are, you can download a friendly sign to stick in your window here.
And here's an excellent piece about the ineffectiveness of masks by a Roger W. Koops, who has a doctorate in organic chemistry.
Mask Censorship: The Swiss Doctor has translated the article in a Danish newspaper about the suppressed Danish mask study. Largest RCT on the effectiveness of masks ever carried out. Rejected by three top scientific journals so far.
Stop Press: A reader in Devon has let us know about a terrible development at her favourite health food shop.
I have been a customer of Nature's Larder, a Health Food Shop with therapy rooms in Ivybridge, Devon for around 20 years. Since the imposition of the face mask rules, they had, until today, still allowed me entry although I do not wear a mask. I simply explained that I claim exemption.

Today, armed with quite a list of items I wanted to buy, I was surprised to see several notices at the windows and on a billboard outside stating "No Mask No Entry". In smaller letters underneath it said that those without masks would be served at the door. The shop owner was in the doorway so I expressed my disappointment at this harsh measure. His response was something to do with having to become very stringent due to cases rising so fast, but he was happy to serve me at the door.

Well actually I wouldn't be happy to accept being stigmatised as a potential leper, so to his evident surprise I declined and walked away.

Words fail me at this point, but I hope this madness doesn't spread any further.
Needless to say, cases are not rising in South Devon.
The Great Barrington Declaration
The Great Barrington Declaration, a petition started by Professor Martin Kulldorff, Professor Sunetra Gupta and Professor Jay Bhattacharya calling for a strategy of "Focused Protection" (protect the elderly and the vulnerable and let everyone else get on with life), was launched last month and the lockdown zealots have been doing their best to discredit it ever since. If you Googled it a week after launch, the top hits were three smear pieces from the Guardian, including: "Herd immunity letter signed by fake experts including 'Dr Johnny Bananas'." (Freddie Sayers at UnHerd warned us about this the day before it appeared.) On the bright side, Google UK has stopped shadow banning it, so the actual Declaration now tops the search results – and my Spectator piece about the attempt to suppress it is among the top hits – although discussion of it has been censored by Reddit. The reason the zealots hate it, of course, is that it gives the lie to their claim that "the science" only supports their strategy. These three scientists are every bit as eminent – more eminent – than the pro-lockdown fanatics so expect no let up in the attacks. (Wikipedia has also done a smear job.)
You can find it here. Please sign it. Now over 650,000 signatures.
Update: The authors of the GDB have expanded the FAQs to deal with some of the arguments and smears that have been made against their proposal. Worth reading in full.
Update 2: Many of the signatories of the Great Barrington Declaration are involved with new UK anti-lockdown campaign Recovery. Find out more and join here.
Update 3: You can watch Sunetra Gupta set out the case for "Focused Protection" here and Jay Bhattacharya make it here.
Update 4: The three GBD authors plus Prof Carl Heneghan of CEBM have launched a new website collateralglobal.org, "a global repository for research into the collateral effects of the COVID-19 lockdown measures".
Judicial Reviews Against the Government
There are now so many JRs being brought against the Government and its ministers, we thought we'd include them all in one place down here.
First, there's the Simon Dolan case. You can see all the latest updates and contribute to that cause here.
Then there's the Robin Tilbrook case. You can read about that and contribute here.
Then there's John's Campaign which is focused specifically on care homes. Find out more about that here.
There's the GoodLawProject's Judicial Review of the Government's award of lucrative PPE contracts to various private companies. You can find out more about that here and contribute to the crowdfunder here.
The Night Time Industries Association has instructed lawyers to JR any further restrictions on restaurants, pubs and bars.
Christian Concern is JR-ing the Government over its insistence on closing churches during the lockdowns. Read about it here and here.
And last but not least there's the Free Speech Union's challenge to Ofcom over its 'coronavirus guidance'. You can read about that and make a donation here.
Samaritans

If you are struggling to cope, please call Samaritans for free on 116 123 (UK and ROI), email jo@samaritans.org or visit the Samaritans website to find details of your nearest branch. Samaritans is available round the clock, every single day of the year, providing a safe place for anyone struggling to cope, whoever they are, however they feel, whatever life has done to them.
Quotation Corner
It's easier to fool people than to convince them that they have been fooled.

Mark Twain
Men, it has been well said, think in herds; it will be seen that they go mad in herds, while they only recover their senses slowly, one by one.

Charles Mackay
They who can give up essential liberty to obtain a little temporary safety, deserve neither liberty nor safety.

Benjamin Franklin
To do evil a human being must first of all believe that what he's doing is good, or else that it's a well-considered act in conformity with natural law. Fortunately, it is in the nature of the human being to seek a justification for his actions…

Ideology – that is what gives the evildoing its long-sought justification and gives the evildoer the necessary steadfastness and determination.

Aleksandr Solzhenitsyn
No lesson seems to be so deeply inculcated by the experience of life as that you never should trust experts. If you believe the doctors, nothing is wholesome: if you believe the theologians, nothing is innocent: if you believe the soldiers, nothing is safe. They all require to have their strong wine diluted by a very large admixture of insipid common sense.

Robert Gascoyne-Cecil, 3rd Marquess of Salisbury
Nothing would be more fatal than for the Government of States to get into the hands of experts. Expert knowledge is limited knowledge and the unlimited ignorance of the plain man, who knows where it hurts, is a safer guide than any rigorous direction of a specialist.

Sir Winston Churchill
If it disagrees with experiment, it's wrong. In that simple statement is the key to science.

Richard Feynman
We're Hiring
Lockdown Sceptics is looking to hire someone to help us write the daily update. This will involve producing a daily update yourself two or three times a week – so a page exactly like this one – under your own byline. The ideal candidate will have some journalistic background, be able to work quickly under pressure and know their way around WordPress. We can pay you £75 for each update. If you're interested, email us here and put "Job Application" in the subject line.
Shameless Begging Bit
Thanks as always to those of you who made a donation in the past 24 hours to pay for the upkeep of this site. Doing these daily updates is hard work (although we have help from lots of people, mainly in the form of readers sending us stories and links). If you feel like donating, please click here. And if you want to flag up any stories or links we should include in future updates, email us here. (Don't assume we'll pick them up in the comments.)
And Finally…