Remembrance Sunday Cancelled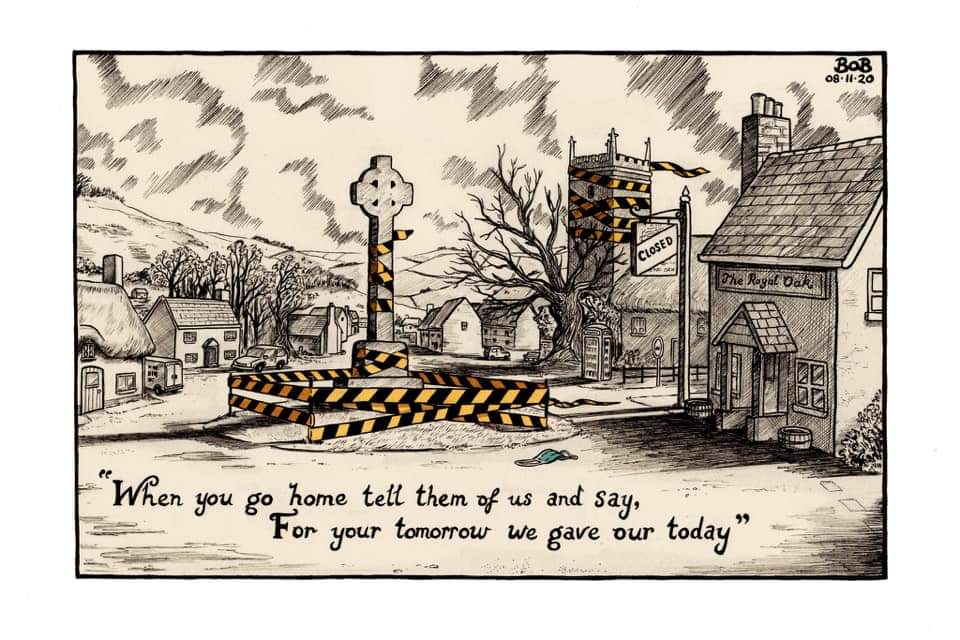 It's Remembrance Sunday today, but Covid restrictions mean only 25 sailors and marines will be taking part in the Whitehall parade. The MailOnline has more.
Cancelled events and health fears mean many of those who served in the Armed Forces can't mark Remembrance Sunday in their usual way, but veterans have urged the public to "take a few minutes" to pause and reflect. And Government officials have insisted plans to mark the Cenotaph's centenary "will be announced in due course".
The ex-head of the Royal Navy Lord West has told the Telegraph that war heroes face catching pneumonia if they're forced to stand outside churches today and not allowed in.
Lord West of Spithead, the former First Sea Lord, said it was "extraordinary" that veterans were being made to commemorate fallen comrades "in the freezing cold" this Sunday after ministers made going to church a criminal offence with a minimum £200 fine.
Other military leaders also spoke out against the ban on Remembrance Sunday services.
Lord Dannatt, the former head of the Army, urged a rethink and called on the Government to make an exception for Remembrance Sunday.

Major General Julian Thompson, who was British land commander during the Falklands War, described the ban by "panicking" ministers as "absolutely ridiculous".

Former Defence Secretary Sir Michael Fallon turned on the Government for refusing to trust veterans to keep their social distance inside a church having previously trusted them to fight in wars to protect the country.
And the Royal British Legion is set to lose out on millions of pounds in Poppy Appeal donations after coronavirus caused in-person collections to be halted for the first time in 99 years. The MailOnline has more on that story.
Charles Byrne, Director-General of the charity, said lockdown restrictions mean that for the first time in the organisation's 99-year history, in-person fundraising has been cancelled on the streets.

The move came into effect on Thursday – the first day of the new corona rules – but poppies remain available at some supermarkets and donations can be made online.

Many poppy sellers for the Royal British Legion, which raises more than £50million a year during the three-week period of the appeal (Oct 22nd-Nov 11th), are elderly, and the charity is keen to ensure they are protected from the virus.

Mr Byrne said: "This will be the first time in the history of the Poppy Appeal that our volunteers will be unable to carry out face-to-face collections anywhere across the UK.

"The loss of that activity could run into millions of pounds in fundraising which means online donations are crucial, and so we're asking people to support the Poppy Appeal by donating via the Legion's website.

"Every poppy counts so whether you choose to print off a downloadable poppy from the Legion's website or draw your own, we are calling on everyone across the nations to unite in a UK-wide show of support from home, display a poppy in their window in time for Remembrance Sunday and pay tribute to our Armed Forces community."
You can donate to the Poppy Appeal here.
Is Biden's Win Bad News For Sceptics?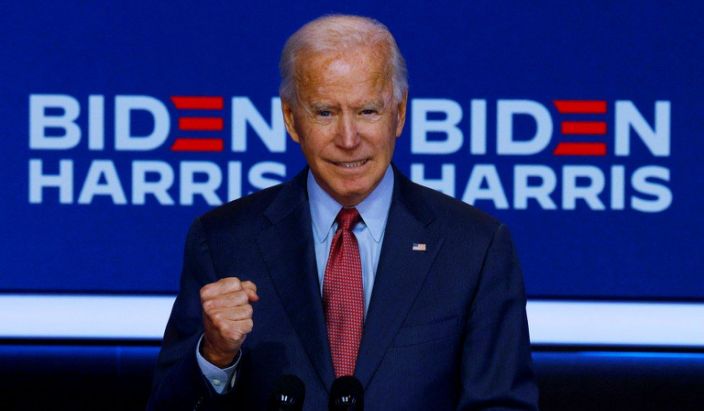 My biggest worry in the run up to the Presidential election was that Trump would be punished by the American electorate for not doing more to prevent people dying of COVID-19. Had Biden won a resounding victory, as he was widely expected to do, it would have sent a message to democratically elected leaders across the world: If you don't prioritise minimising Covid deaths, even if the measures you put in place end up causing a greater loss of life than they prevent, you will be slung out of office by the voters. But thankfully Biden won by a whisker, not a landslide. Given that this was in part a contest about how best to manage the pandemic, the result shows that the US electorate are split down the middle on the issue. Trump's approach, which broadly reflects that set out in the Great Barrington Declaration, may not have won the day, but it wasn't decisively rejected either. And it's clear that the American people are much more sceptical now than they were back in March, when there was broad public support for the shut downs.
We're winning the argument.
Is the NHS's Lack of Capacity a Manpower Problem?
A reader has emailed me with an interesting question.
In keeping with your retweet of the thread by Ed Conway on transparency today I was struck by an email to Liam Halligan and Allison Pearson related on their Planet Normal podcast this week.

An NHS worker wrote in to Planet Normal to highlight the fact that the organisation has implemented a Covid risk profile tier system across its 1.4 million strong workforce whereby for instance an obese worker is classed as being in a high risk tier and is being allowed to stay at home on full pay (why not 80% as per furlough?). This policy puts pressure on the workers who are deemed low risk to carry the extra load as well as leading to lots of additional agency staff being employed at higher cost.

Furthermore, the implications of this policy are staggering – we have been locked down to protect the NHS again yet it seems privately the NHS is doing a very good job of protecting itself.

In terms of transparency, is the real reason for Lockdown 2.0 not the familiar bed capacity measure but rather the sheer number of staff classed as being too at risk on the NHS internal tier system? Do we have a Human Resources problem not a medical problem? Why is this not big news?

In addition, isn't the NHS the perfect model to test the hypothesis of Dr Mike Yeadon on community immunity thresholds?

Given nurses and doctors have continued to provide care in the first instance with a highly publicised lack of PPE, shouldn't we be allowed to see a detailed statistical analysis of outcomes? Under the notorious Ferguson model we would expect to have seen 12,600 deaths (1.4 million x an IFR of 0.9%) among health care workers since March. What are the actual figures for Covid deaths on the NHS payroll? (As of August 11th, 620 NHS staff and social care worker deaths had been linked to coronavirus.) How do Covid deaths of NHS workers compare with the wider working community, e.g. versus frontline workers in food supply chains and civil servants who have been able to work from the comfortable isolation of their own homes since March? Is this data even available and if so why not when so much of our tax money is swallowed by this institution, and once more we are all being asked to make the sacrifice of lockdown in the name of protecting this national treasure/religion! Clap for data?

I'm sure brighter minds are aware of these issues and asking the right questions. But having mentioned these ideas to a few friends, coworkers and family in the past 24 hours this seems to be a potential light bulb set of arguments.
SAGE Wants to Move Christmas to Next Summer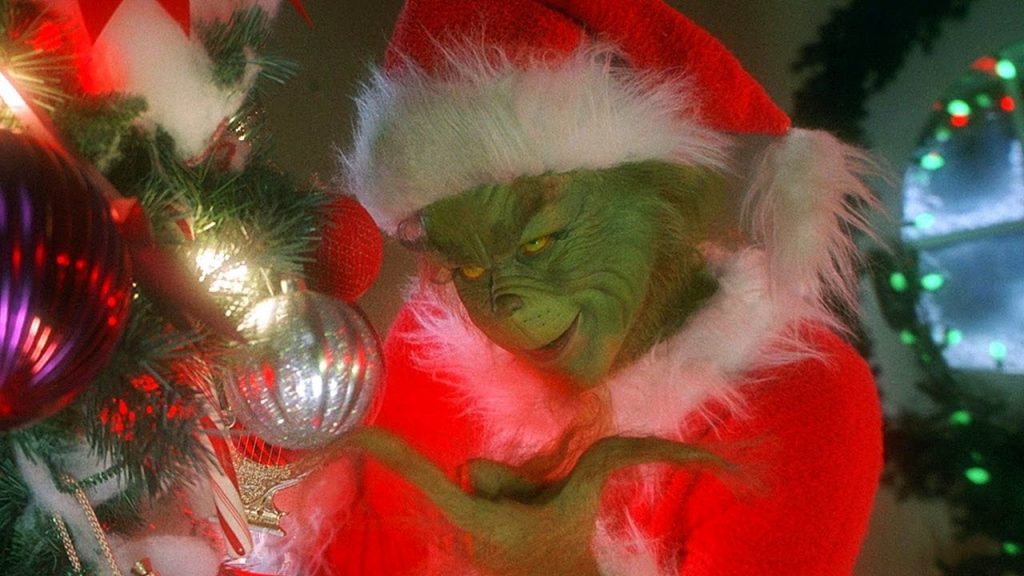 According to the Express, the Government's team of scientific advisers want Britons to postpone their Christmas celebrations until the summer.
With just seven weeks to go until the festive season comes around, Sage wants millions of people to scrap plans for family gatherings – and instead arrange to see their loved ones next summer.

But they said if people do opt for a large celebration including extended family members they should be prepared to "self-quarantine" over the New Year period.

The advice was laid out in documents released on Friday, a day after England went into its second nationwide lockdown.

The documents, which were sent to Cabinet ministers, read: "Whenever announcing that a particular form of social interaction needs to be avoided, then actively propose and support less risky forms of mixing.

"These could include carrying out the activity at a later date e.g. planning a summer family get together to replace meeting at Christmas.

"If people find it emotionally or practically impossible to avoid making contact with someone outside their household then they should be encouraged to make meeting that person as safe as possible.

"For example, by self-quarantining before meeting (reducing contact with other people as far as possible for 14 days) and avoiding close and prolonged contact when meeting."

The advice was contained in a document entitled "Positive strategies for sustaining adherence to infection control behaviours".
Not really worth reading, let alone in full.
Does the Mink Outbreak Invalidate the Vaccine Strategy?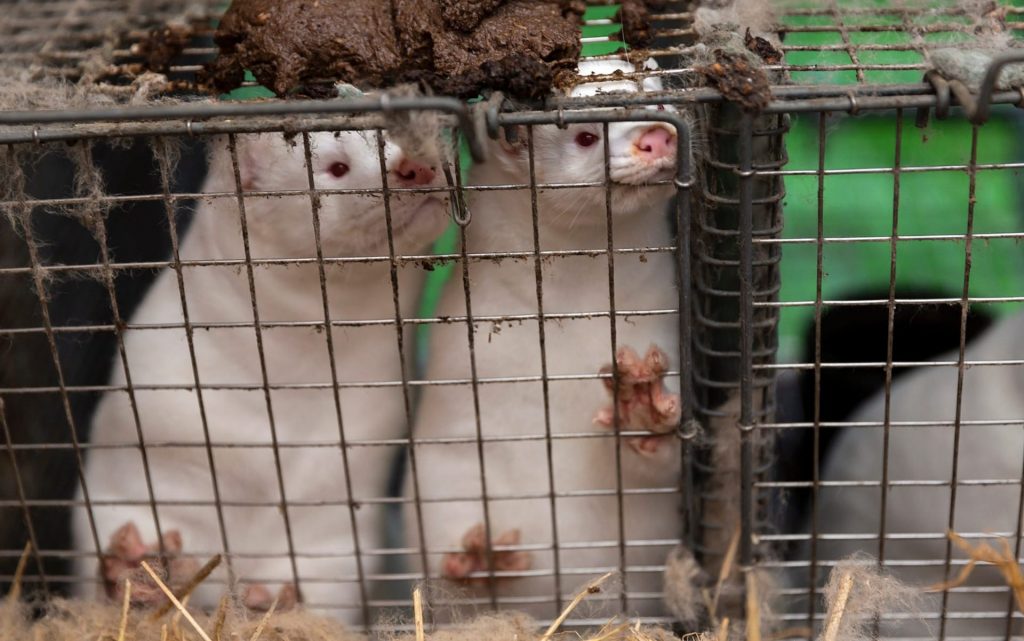 What follows is a guest post by Professor David Livermore, Professor of Medical Microbiology at the University of East Anglia.
Yesterday's papers carried the story of a new SARS-CoV2 variant circulating in Danish mink, which presumably caught it from their keepers. It has now spread back, in mutated form, to humans. Evidently this is causing concern, with a swift UK travel ban apropos Denmark, without the usual exemptions.
One can see why. From the Statens Serum Institut press release, via Google Translate:
A specific virus from cluster 5 has been detected with four simultaneous changes in the genes for the Spike protein in five North Jutland mink farms and in 12 patient samples. Of these, four people were directly connected to three of these farms.

To those skilled in the art, SSI may report that viruses have had the following changes in amino acids: H69del / V70del, Y453F, I692V and M1229I. Information on all variants will be uploaded in the international system GISAID.

Preliminary studies suggest that this virus from cluster 5 exhibits decreased susceptibility to antibodies from more individuals with past infection compared to non-mutated virus. This has been demonstrated in laboratory experiments, where it is seen that the particular mink virus is not inhibited to the same degree by antibodies from humans who have been infected with SARS-CoV-2 compared to other non-mutated SARS-CoV-2 viruses. Studies are currently underway that will further uncover the issue.
This is important because practically all the vaccines in development, including the front-running Moderna, Pfizer, AZ and J&J candidates are directed against this Spike protein. Rare exceptions are a few whole-killed-virus vaccines being investigated in China and India.
The response to natural COVID-19 infection, including the more persistent T-cell response, on the other hand, is not purely directed against the Spike protein but also gives reactivity against other components, specifically the Nucleoprotein.
A fortnight ago I had a deal of flak, in media interviews, from those who said herd immunity wouldn't work after an Imperial study reported circulating antibody levels dwindled over time. There were good arguments against that assertion at the time – that it's what you expect circulating immunoglobulins to do post infection, that the T-cell response remained, and that the 'immune memory' persisted, enabling manufacture of more antibodies under challenge.
Harder to refute was the argument that the awaited vaccine would give a stronger immune response than natural infection, as shown in Phase I trials.
The mink results weaken this argument considerably. A weaker broad-based response from natural infection may be more protective than a strong response specifically to the Spike protein if virus with an altered Spike enters wide circulation.
With travel restrictions and mink culls, there clearly is a massive effort to stop this from happening. This effort may succeed or fail. What is however revealed is that the Spike protein is prone to consequential change. And if it has happened once, my experience (from a lifetime of working on antibiotic resistance in bacteria, which are far less mutable than RNA viruses) is that it'll happen again, likely without mink as a vector.
For the absence of doubt: I am not anti-vaccine. I believe that vaccines will play a useful role in reducing the burden of COVID-19 and will almost certainly consent to being vaccinated, based upon a simple calculation of personal risk. I even volunteered for the AZ trial, but wasn't 'called-up'.
However, these findings make a further salutary point against the notion that a vaccine is going reliably to rescue us all and that we should wait, taking the massive collateral damage of repeated lockdowns, until one does. It is wiser to accept that we must face the long adaption to 'living with this virus', hoping that vaccines will give a boost to naturally acquired immunity, but not counting on them. Vaccine developers might also like to ponder whether putting all bets on one target is prudent…
I got back to Prof Livermore and asked him to clarify something for me. Why does the existence of this new mink strain, and the possibility of other mutations arising from human interaction with other species, invalidate the suppress-until-a-vaccine-is-available strategy but not the GDB strategy? The SSI press release he quotes suggests that antibodies in humans who've been infected with SARS-CoV-2 don't provide much protection from the new strain. Yet Prof Livermore says the body's response to natural COVID-19 infection would provide better all-round protection than a vaccine specifically designed to immunise people against the Spike protein. How does he reconcile those two things? He replied:
Anything that changes the virus so that it evades some component of the immune system isn't good news. However:
Vaccines – almost all, except some Chinese & Indian candidates, seek to elicit a response solely to the Spike protein. If that target changes, as in the mink variant, they have a problem. They aren't hitting anything else.
Natural infection, as will occur if following a GBD strategy – gives a range of differently-targeted antibodies and T-cells. Some recognise the Spike protein and some the nucleoprotein or membrane proteins. Those with other targets rather than the Spike protein will remain fully active against the mutant virus. Loss of the Spike as a target will, very likely, weaken the overall response but, unlike with the vaccine, some protection remains from antibodies and T-cells that target non-Spike components.
Only clinical experience will finally clarify the picture but this does argue that broader, infection-induced responses have a better chance of protecting against virus variants than an Spike-protein targeted vaccine. The SSI press release doesn't give us enough information on just how the testing was done, and whether they were looking at total response or specifically at Spike-targeted antibodies. They certainly didn't look at T-cell-mediated immunity.
Stop Press: Coronavirus has been found in mink populations in six other countries, so the Danish travel restrictions are unlikely to contain the new strain of the virus.
Vaccine Tsar's £670,000 PR bill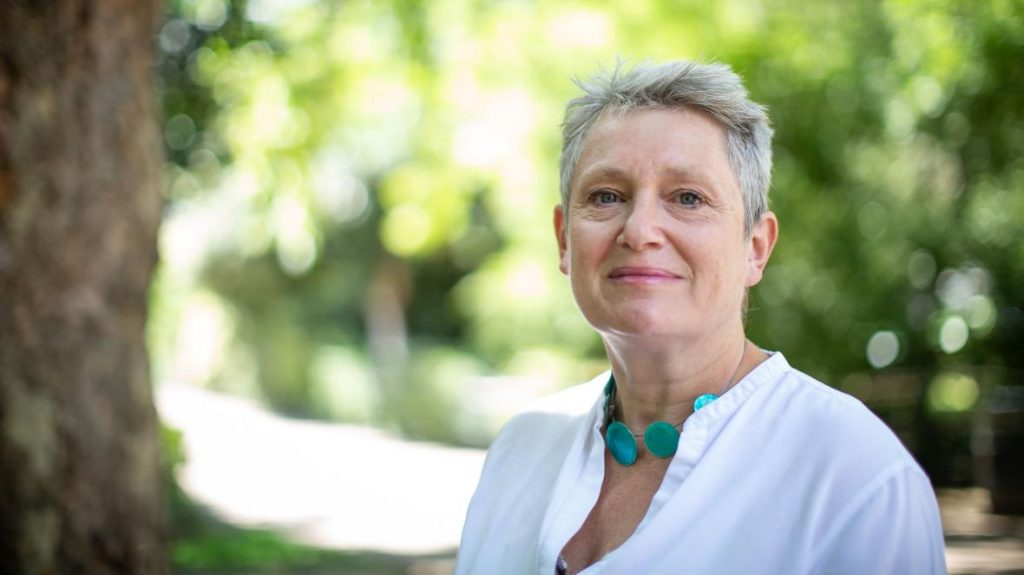 The Sunday Times has a story on its front page today about Kate Bingham, the head of the UK's vaccine task force, spending £670,000 of taxpayers' money on a team of boutique public relations consultants.
Kate Bingham, a venture capitalist married to Jesse Norman, a Conservative Minister, was appointed to the role by Boris Johnson.

Since June she has used eight full-time consultants from Admiral Associates, a London PR agency, to oversee her media strategy.

According to leaked documents, she has already spent £500,000 on the team, which is contracted until the end of the year. It means each consultant is on the equivalent of £167,000 a year – more than the Prime Minister's salary.

Bingham, 55, is said to have "insisted" on hiring them despite concerns they would duplicate the work of about 100 communications staff at the Department for Business, Energy and Industrial Strategy (BEIS), in which her taskforce sits.

The decision was signed off by civil servants, not Alok Sharma, the business secretary.
This revelation follows last week's story in the Sunday Times that Bingham had disclosed sensitive information about Britain's vaccine efforts at a $200-a-head event for US venture capitalists.
During an hour-long talk to the financiers, she had given some of the most detailed insight to date about the UK's immunisation programme, including confidential data about the government's investment priorities.
But Bingham used her appearance before the Science and Health Select Committee at the House of Commons on Wednesday to deny any wrongdoing.
Asked whether she had disclosed anything that was not in the public domain, she said: "No. And there have been a lot of nonsense reports, and inaccurate, and I'm afraid to say irresponsible, reports suggesting that I did," she told Greg Clark, the Tunbridge Wells MP. Her account is understood to have been met with scepticism in Downing Street.

Today, new evidence makes the questions more urgent still. In February, Bingham is due to appear at another elite function: a conference hosted by Biocom, a Californian biotech firm, charging $2,460 (£1,870) a ticket to bring together "executives, bankers [and] venture capitalists". It promises networking that will "be fruitful for your business ventures this year and for many years to come".

In brochures, Bingham is advertised solely as head of the UK vaccine taskforce and the literature says she will discuss her work "to find and manufacture a Covid-19 vaccine".

During her talk to venture capitalists last month, Bingham showed guests a confidential list of 51 vaccines in development. Of these, Bingham told guests, officials had marked 14 as priority one, meaning they expect to place orders worth hundreds of millions of pounds. "We haven't necessarily signed contracts with all of them so far, but they're all in our sights," she said, pointing to a slide in which the relevant treatments were split into blue, representing priority one, or purple, priority two.

For those present this was sensitive information they could use to make investments of their own. Bingham even showed the estimated price of vaccines per dose, based on an analysis prepared by Rx Securities, an investment bank.
It's not looking good for Bingham.
Worth reading in full.
Teachers Disagree With Unions Over School Closures
According to Teacher Tapp, just 39% of teachers believe schools should close during the November lockdown, while 46% think they should remain open. The Telegraph has more.
Over 6,000 teachers were asked whether they agree with the Government's plan to keep children in the classroom during the national shut down.

Headteachers were more likely to back schools staying open, with 69% in favour compared to 42% of classroom teachers.

The Prime Minister has insisted that schools will remain open throughout the November lockdown, saying: "We will not allow this virus to do any further damage to the future of our children."

But the National Education Union (NEU) has demanded that schools close as they claim both staff and students are at risk.

The union is lobbying MPs for schools to be included in the lockdown, arguing that their analysis of data from the Office of National Statistics (ONS) "confirms the role of schools in the transmission of the virus".
The teaching unions have not had a good crisis. Let's hope their members wake up to the fact that they care more about scoring political points than children's welfare.
Worth reading in full.
Manchester Student Fence Was Erected to "Protect" Them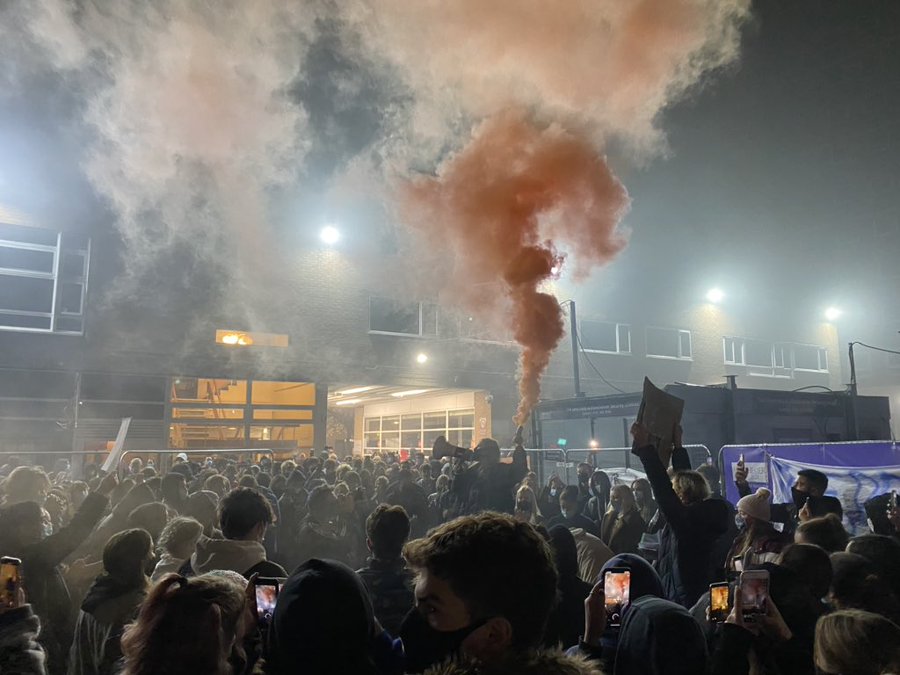 A reader has pointed out the remarkable similarity in the claim made by Manchester University's Vice-Chancellor about the fence that was built around the Fallowfield halls of residence – it was built to "protect" students from non-university visitors – and the excuse made by the East German authorities for building the Berlin Wall.
The GDR authorities called the barrier the "Antifaschistischer Schutzwall" ("Anti-Fascist Protection Rampart") and claimed that it served to keep fascists away from East Germany.

"No one should think we are in love with the Wall; that is by no means the case… The anti-fascist protective rampart was necessary to stand up to the military adventurers," East German leader Walter Ulbrecht said in a speech shortly after the Wall's erection.
Britain under Boris is becoming a Lidl version of the GDR.
Londoners Flout Lockdown
People weren't paying much attention to the new lockdown restrictions yesterday. On the contrary, the capital looked much like it does on a normal Saturday. The MailOnline has more.
Britons flouted lockdown in their hundreds of thousands in London today as a market was packed with visitors helping themselves to takeaway beer on the first weekend of new coronavirus lockdown restrictions.

Londoners flocked to Broadway Market for drinks and food this afternoon, despite the new guidance to stay at home as much as possible.

People were pictured queuing up for pints outside street food restaurants and packing the streets, with many not wearing face masks.

Takeaway alcohol were originally going to be banned under the new lockdown restrictions but a Government U-turn allowed pubs, bars and hospitality venues to serve them.
Worth reading in full.
Stop Press: The Sun says it was the same story in England's parks, markets and seafronts, which were all packed on Saturday.
More on Army Testing at Liverpool School
A reader has got in touch to flag up some of the problems with the Army-administered, whole-school testing that's due to take place at Broadgreen international School in Liverpool on Monday (see here for the letter parents received about this on Friday).
The letter from the school and the Army testing within school appears to breach child protection requirements.

A school cannot have outsiders working with children without school staff supervising unless the school has completed its own DBS checks on those coming in (even then, it is not good practice for outsiders to be given access to children without school staff supervision – this is to protect both the adult from unfounded allegations and the child). From the letter, it is not clear that this would be covered.

Broadgreen School is rated by Ofsted as inadequate, including inadequate leadership and management. It currently appears to be in special measures. See here for the latest full Ofsted report and here for a more recent monitoring letter.

It is disturbing that the Government feels it is acceptable to use a school in such dire straits to trial a test programme.
Hunt For Downing Street's "Chatty Rat"
As Fraser Nelson reminded us in his Telegraph column on Friday, Boris was bounced into a second lockdown by a leak. He originally wanted to spend last weekend mulling over the decision about whether to impose a second lockdown, but was forced to adopt the policy after someone in Downing Street leaked the plan to the press. Now, according to today's Mail on Sunday front page, the mole hunt is underway as security experts entered the homes of Cabinet Ministers to examine their personal mobile phones.
Senior figures, including Matt Hancock and Michael Gove, were told to surrender their phones as No 10 hunted for the mole whose secret briefings forced the Prime Minister to make an early announcement of the new lockdown.

In the bid to unmask the "chatty rat", as Government sources have dubbed him in the Cabinet.

The Ministers' personal messages were examined under the investigation, ordered by a furious Mr Johnson after he was rushed into announcing the English lockdown at a hastily convened press conference last Saturday.

Hawks believe that pro-lockdown 'doves' leaked details of the so-called 'quad' meeting of Johnson, Sunak, Gove and Hancock the previous day to stop the Prime Minister from watering down the shutdown plans.

It also led to the rushed presentation of dubious predictions, with the projection of up to 4,000 Covid deaths a day by Christmas comprehensively discredited in the days after it was revealed to millions of television viewers.

Last night, Health Secretary Mr Hancock categorically denied any involvement in the leak, but declined to comment on the investigation.

Mr Gove's allies said the Cabinet Office Minister and his advisers were happy to hand over their phones because they had "nothing to hide". Anti-lockdown Tory rebels, led by former party leader Sir Iain Duncan Smith, called for the mole to apologise personally to the Commons if caught.
Worth reading in full.
500 Scientists, Doctors and Academics Tell Boris Covid Risk Exaggerated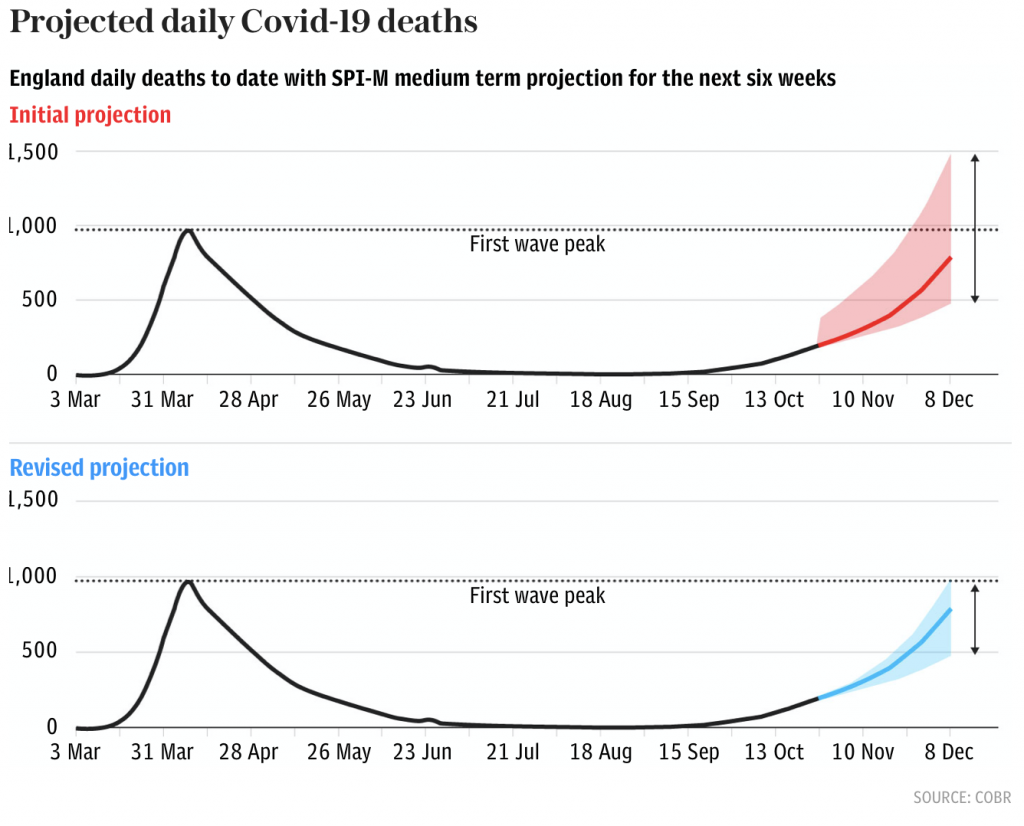 The children and parents' campaign group UsForThem and the new anti-lockdown group Recovery organised a joint letter to the Prime Minister yesterday signed by a coalition of almost 500 senior doctors and scientists. The Telegraph has more.
In a joint letter to Boris Johnson, the medics and academics say the Government's approach to the pandemic has become "disproportionate" and is "causing more harm than good".

They warn that mass testing is "distorting the current risk" from the virus, with tests likely to be producing high numbers of "false positive" results and providing a poor indication of whether someone is infectious, and say the Government must do more to place increasing infection and deaths "in the context of the normal seasonal illness/death rate".

The intervention comes as the Archbishop of York, the Rt Rev Stephen Cottrell, warned in the Telegraph that worship is not a "leisure pursuit", urging the Government not to treat churches "like bingo halls and cinemas" amid criticism of the ban on congregational services brought in by lockdown.

Mr Johnson is understood to be considering plans pushed by Robert Jenrick, the Communities Secretary, for a "review point" next week after which places of worship could reopen for communal prayer if infection data suggests the move would not lead to a significant rise in Covid cases.

The open letter to the Prime Minister was signed by 469 medics and scientists including Ellen Townsend, a professor of psychology at Nottingham University, David Paton, an economics professor, and a series of senior medics including Anthony Hinton, Lasantha Wijesinghe, and Paul Sanderson, consultant surgeons in London, Dorset and Newcastle.
Worth reading in full.
Help Pay For Helene Guldberg's Cancer Operation
Helene Guldberg requires surgery urgently to remove her bladder. Cancer was diagnosed two years ago but her doctors believed that chemotherapy would be sufficient. It wasn't. In May of this year – during the lockdown – abnormal cells were again identified and Helene has had an agonising six months of delays in her cancer treatment. She has been advised that the NHS do not have the capacity to operate on her until January 2021 due to the coronavirus. Helene simply cannot wait that long. Every doctor Helene has consulted has said the same thing: "Time is of the essence."
Even finding a private hospital which has the capacity to treat her has proved very difficult. But Helene has finally found one – The Royal Marsden in London. She is scheduled to undergo surgery on November 23rd.
Please contribute to this fundraiser to help her pay for the treatment the NHS can't provide.
The Lockdown Archipelago
To do evil a human being must first of all believe that what he's doing is good, or else that it's a well-considered act in conformity with natural law. Fortunately, it is in the nature of the human being to seek a justification for his actions…

Ideology – that is what gives the evildoing its long-sought justification and gives the evildoer the necessary steadfastness and determination.

Aleksandr Solzhenitsyn, The Gulag Archipelago
Round-Up
Theme Tunes Suggested by Readers
Three today: "Moonshine Sally" by Mud, "Alive and Kicking" by Simple Minds and "Symphony of Destruction" by Megadeth.
Love in the Time of Covid
We have created some Lockdown Sceptics Forums, including a dating forum called "Love in a Covid Climate" that has attracted a bit of attention. We have a team of moderators in place to remove spam and deal with the trolls, but sometimes it takes a little while so please bear with us. You have to register to use the Forums, but that should just be a one-time thing. Any problems, email the Lockdown Sceptics webmaster Ian Rons here.
Sharing stories: Some of you have asked how to link to particular stories on Lockdown Sceptics. The answer used to be to first click on "Latest News", then click on the links that came up beside the headline of each story. But we've changed that so the link now comes up beside the headline whether you've clicked on "Latest News" or you're just on the Lockdown Sceptics home page. Please do share the stories with your friends and on social media.
Woke Gobbledegook
We've decided to create a permanent slot down here for woke gobbledegook. Today, it's the turn of the Imperial War Museum which is reviewing Churchill's legacy and his views on "sensitive topics" in the wake of the Black Lives Matter protests. The Telegraph has more.
Internal documents, seen by the newspaper, reveal discussions are taking place at the institution, which is home to the Churchill War Rooms complex where Britain's wartime leader directed our country's fight against Nazi Germany.

Senior staff called for a fresh look at "Churchill's views" in relation to "sensitive topics" as his usually revered reputation came under scrutiny this summer as marches on Parliament Square resulted in his statue being defaced with graffiti claiming he "was a racist".

Last night the institution said that while it is always considering "complex subject matter", it had no current plans to reinterpret his legacy. Work is ongoing, it is understood.

Curators began discussions in the days after Churchill's statue on Parliament Square was defaced by protesters, which was sparked by Black Lives Matter supporters marching on London.

"We must continue to have conversations around sensitive and difficult issues," Museum staff were told in an email. "We must have conversations in which we reflect upon and examine our own biases and preconceptions."

Other emails, obtained under freedom of information laws, show staff explicitly discuss Churchill. One said: "We should chat further about how we can look at Churchill's views re: tackling sensitive topics too.

"This is one I'm very keen to get ahead of."

Campaigners have criticised Churchill on topics including racism, colonialism, and his handling of the Bengal Famine which left millions dead, much to the dismay of his supporters.

The debate over the former Prime Minister's views comes amid widespread reappraisal of Britain's revered historical figures, including Admiral Lord Nelson, after the statue of Edward Colston was toppled in Bristol.
Worth reading in full.
Stop Press: Tim Parker, Chair of the National Trust, has praised Black Lives Matter as a "human rights movement with no party-political affiliations". This was days before BLM applied to the Electoral Commission to register as a political party.
"Mask Exempt" Lanyards
We've created a one-stop shop down here for people who want to buy (or make) a "Mask Exempt" lanyard/card. You can print out and laminate a fairly standard one for free here and it has the advantage of not explicitly claiming you have a disability. But if you have no qualms about that (or you are disabled), you can buy a lanyard from Amazon saying you do have a disability/medical exemption here (takes a while to arrive). The Government has instructions on how to download an official "Mask Exempt" notice to put on your phone here. You can get a "Hidden Disability" tag from ebay here and an "exempt" card with lanyard for just £1.99 from Etsy here. And, finally, if you feel obliged to wear a mask but want to signal your disapproval of having to do so, you can get a "sexy world" mask with the Swedish flag on it here.
Don't forget to sign the petition on the UK Government's petitions website calling for an end to mandatory face masks in shops here.
A reader has started a website that contains some useful guidance about how you can claim legal exemption.
And here's an excellent piece about the ineffectiveness of masks by a Roger W. Koops, who has a doctorate in organic chemistry.
Mask Censorship: A group of American researchers have withdrawn their paper claiming mandatory masking reduces SARS-CoV-2 transmission after further research revealed that… it didn't. Details here.
The Great Barrington Declaration
The Great Barrington Declaration, a petition started by Professor Martin Kulldorff, Professor Sunetra Gupta and Professor Jay Bhattacharya calling for a strategy of "Focused Protection" (protect the elderly and the vulnerable and let everyone else get on with life), was launched last month and the lockdown zealots have been doing their best to discredit it. If you Googled it a week after launch, the top hits were three smear pieces from the Guardian, including: "Herd immunity letter signed by fake experts including 'Dr Johnny Bananas'." (Freddie Sayers at UnHerd warned us about this hit job the day before it appeared.) On the bright side, Google UK has stopped shadow banning it, so the actual Declaration now tops the search results – and my Spectator piece about the attempt to suppress it is among the top hits – although discussion of it has been censored by Reddit. The reason the zealots hate it, of course, is that it gives the lie to their claim that "the science" only supports their strategy. These three scientists are every bit as eminent – more eminent – than the pro-lockdown fanatics so expect no let up in the attacks. (Wikipedia has also done a smear job.)
You can find it here. Please sign it. Now over 650,000 signatures.
Update: The authors of the GDB have expanded the FAQs to deal with some of the arguments and smears that have been made against their proposal. Worth reading in full.
Update 2: Many of the signatories of the Great Barrington Declaration are involved with new UK anti-lockdown campaign Recovery. Find out more and join here.
Update 3: Professor Sunetra Gupta sets out the case for "Focused Protection" in a YouTube video for Co-Immunity.
Judicial Reviews Against the Government
There are now so many JRs being brought against the Government and its ministers, we thought we'd include them all in one place down here.
First, there's the Simon Dolan case. You can see all the latest updates and contribute to that cause here.
Then there's the Robin Tilbrook case. You can read about that and contribute here.
Then there's John's Campaign which is focused specifically on care homes. Find out more about that here.
There's the GoodLawProject's Judicial Review of the Government's award of lucrative PPE contracts to various private companies. You can find out more about that here and contribute to the crowdfunder here.
The Night Time Industries Association has instructed lawyers to JR any further restrictions on restaurants, pubs and bars.
Christian Concern is JR-ing the Government over its insistence on closing churches during the lockdowns. Read about it here.
And last but not least there's the Free Speech Union's challenge to Ofcom over its 'coronavirus guidance'. You can read about that and make a donation here.
Samaritans

If you are struggling to cope, please call Samaritans for free on 116 123 (UK and ROI), email jo@samaritans.org or visit the Samaritans website to find details of your nearest branch. Samaritans is available round the clock, every single day of the year, providing a safe place for anyone struggling to cope, whoever they are, however they feel, whatever life has done to them.
Shameless Begging Bit
Thanks as always to those of you who made a donation in the past 24 hours to pay for the upkeep of this site. Doing these daily updates is hard work (although we have help from lots of people, mainly in the form of readers sending us stories and links). If you feel like donating, please click here. And if you want to flag up any stories or links we should include in future updates, email us here. (Don't assume we'll pick them up in the comments.)
And Finally…
A reader has kindly answered our call to create a Downfall parody of the pickle Boris has got himself into. Pretty darn good. More please.