Whistleblower: 37% of NHS Staff Are Absent "Due to COVID-19" In Yorkshire and North-East
An NHS whistleblower has leaked a slide deck dated November 2nd. In the words of the leaker, it's a "pretty standard high level (NHS England) briefing, looking at operational areas and the general picture". It's full of interesting data that I'll be working through over the next couple of days, but the thing which jumped out after a brief perusal was the figure for "regional Covid-related staff absences" in Yorkshire and the North-East – a whopping 37%! As the whistleblower says, "This has to be due to false positives, no way can over 1/3 of staff all have Covid." (The figure is even higher in the Midlands – 40%.)
This confirms my analysis, published last Wednesday, of why the 'Quad' took the decision to place England under a second lockdown, in spite of knowing that Covid hospital admissions were unlikely to exceed those during the peak of the first wave, when no NHS trust anywhere in the country was overwhelmed. As I said then, they were just worried about certain hotspots – specifically, those in cities in Yorkshire and the North-East. And the reason for their anxiety was because NHS England's critical care capacity in those areas is now lower than it was in March/April. Why? Because hospital trusts have been ordered to admit non-Covid patients (unlike during the first wave) and because intensive care units are under-staffed.
Another difficulty is that there are fewer specialist intensive care nurses than there were in March/April, partly because some of them have asked to be reassigned to other departments after the stress of the first wave and partly because hospitals are obsessively testing all their staff using the unreliable PCR kit because they're terrified of "healthcare-associated infections" (nosocomial transmission of the virus). The upshot is there are fewer intensive care nurses and some of those that are still around have been sent home and told to self-isolate for 10 days. Another issue is that those with young children who've been sent home from school and told to self-isolate – because a child in their bubble has tested positive – are having to stay at home to care for their kids. And yet another issue is that some schools and NHS trusts are telling nurses to self-isolate for 14 days if one of their children has been identified as a "contact" of an infected person, even though that's not something NHS Test and Trace are insisting upon.
If 37% of staff in Yorkshire and the North-East were absent for Covid-related reasons on November 2nd, that was clearly what was fuelling anxiety, not the 'second wave' baloney that Witless and Unbalanced obediently trotted out. (A reader made the same point: the NHS has a manpower problem.)
And yesterday brought further confirmation that staff absence is the issue, not a fear of rising hospital admissions, with the news that NHS England has relaxed the one-to-one rule, saying nurses can now look after two patients at the same time. Here's the tell-tale paragraph in the Telegraph:
Northern Lincolnshire and Goole Hospitals NHS Foundation Trust, which runs hospitals across Grimsby and Scunthorpe, said it was struggling with staff shortages after dozens of nurses and doctors were ordered to self-isolate.
So there you have it. The reason we've gone into lockdown is because of staff shortages within some NHS trusts thanks, in part, to the false positive rate of the PCR test and the over-zealous enforcement of quarantining for those who've come into contact with "positive" cases.
Stop Press: On the Spectator's Coffee House Shots podcast on Saturday it was disclosed that that the NHS asked the Government for extra resources over the summer to build capacity for the so-called second wave. Apparently, it refused on the grounds that its "world beating" Test and Trace system would ensure that extra capacity wouldn't be needed.
Top Doctor Says NHS In Contempt of Parliament
What follows is a guest post from my doctor friend who has cast his eye over the latest weekly data released by NHS England. He believes the NHS was wrong to withhold crucial data from MPs ahead of the vote on Lockdown 2.0, creating the impression that the service was on the brink of being overwhelmed when Sir Simon Stephens and others knew perfectly well that it wasn't.
On November 4th, the British Parliament voted to enforce a lockdown of the population in order to prevent the NHS from being overwhelmed with COVID-19 admissions.
In support of the Government, Professor Whitty and Sir Patrick Vallance provided graphs of dubious provenance suggesting catastrophic consequences if lockdown was not re-introduced. These projections subsequently turned out to be grossly inaccurate.

Sir Simon Stevens, the head of the NHS in England then presented figures suggesting that the NHS was in imminent danger of collapse from Covid pressures in the coming weeks. He stated that the number of Covid patients in some hospitals was greater than the number in the spring and that in total there were enough Covid patients in England to fill 22 hospitals.
Conservative MPs complained that the information they had been provided with was insufficiently detailed to allow them to make an informed decision on the matter. The motion was duly carried.
On November 5th, the NHS released weekly Covid statistics in respect of inpatients and patients in mechanical ventilation beds (only 30% of patients in these beds are actually being mechanically ventilated).
Analysis of these figures throws up some interesting findings.
Firstly, the 850 bed Liverpool University Hospital – regarded as the epicentre of the outbreak in the North West of England.
Here is a graph of Covid patients in Liverpool.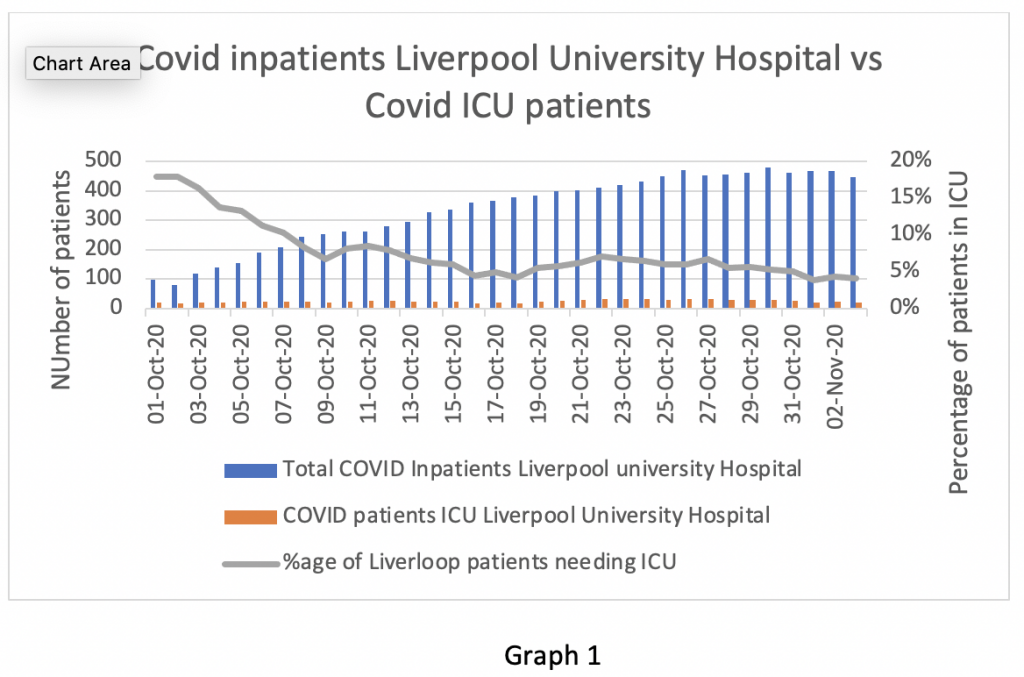 As you can see from this graph, the total number of Covid patients has been flat or declining for the last 10 days. The proportion of patients in ICU as a percentage of the total has also declined from about 17% at the start of October to 5% currently. This could mean that Liverpool has a low threshold for admitting patients from the community with Covid symptoms. Or that a substantial proportion of the 'Covid' inpatients in Liverpool may have positive covid tests but no symptoms of the disease.
Either way, the number of Covid patients in the ICU at Liverpool's main hospital has fallen from 29 on Oct 22nd to 19 on November 3rd. This does not look like a hospital in imminent danger of collapse.
Comparing the Liverpool figures to the wider England figures shows a similar pattern – there is a clear measurement artefact on September 11th, but the percentage of Covid hospital patients admitted to ICU has fallen from 15% in the spring to 7% now, and the proportion of patients needing mechanical ventilation has fallen from 70% to under 30% (ICNARC reports). This may mean either that the severity of the disease is lower than in the spring, or the number of Covid patients in hospitals is being over-estimated by including asymptomatics. Whichever way one looks at it, the burden on the healthcare system is a lot lower than in the spring.
Graph 3 is a graph of the daily Covid admissions in hospitals across England expressed as a three day moving average. Seems to have flatlined for the last week. Unfortunately, Sir Simon forgot to inform the public with respect to the daily discharge figures of Covid patients, so I can't provide a graph of how discharges compare with admissions. Anecdotally I am informed that most patients spend three to four days in hospital and are then discharged, so in many hospitals the influx of symptomatic Covid patients is balanced by discharges.
The balance between Covid admissions and discharges has troubled me for some time. Looking at the granular level data released in relation to admissions from the community and diagnoses in hospital seven days after admission, it appears that there is a very significant percentage of in-hospital infection with Covid. The NHS will not voluntarily release information about the number of patients who go into hospital without Covid but contract it having been admitted for another medical matter. The Oxford Centre for Evidence-Based Medicine has already identified this problem and the Daily Mail has submitted Freedom of Information requests to force individual NHS Trusts to divulge this information from the spring wave of COVID-19.
The way information is released by the NHS is difficult to interpret. Graph 4 is derived from calculating the number of patients with a positive Covid test within the last 24 hrs and subtracting from that the number of patients with a positive Covid test within seven days of admission. The difference between those two figures is probably the number of patients who tested positive for Covid from a test conducted while in hospital. It is possible that this graph may overestimate the number of in-hospital infections, but the NHS does (or should) know this figure accurately – if they don't release the information, they can't complain when third parties try to make reasonable estimates from the data that they do provide. By my rough calculation this appears to be running at close to 20% across English NHS hospitals. Something else Sir Simon forgot to mention.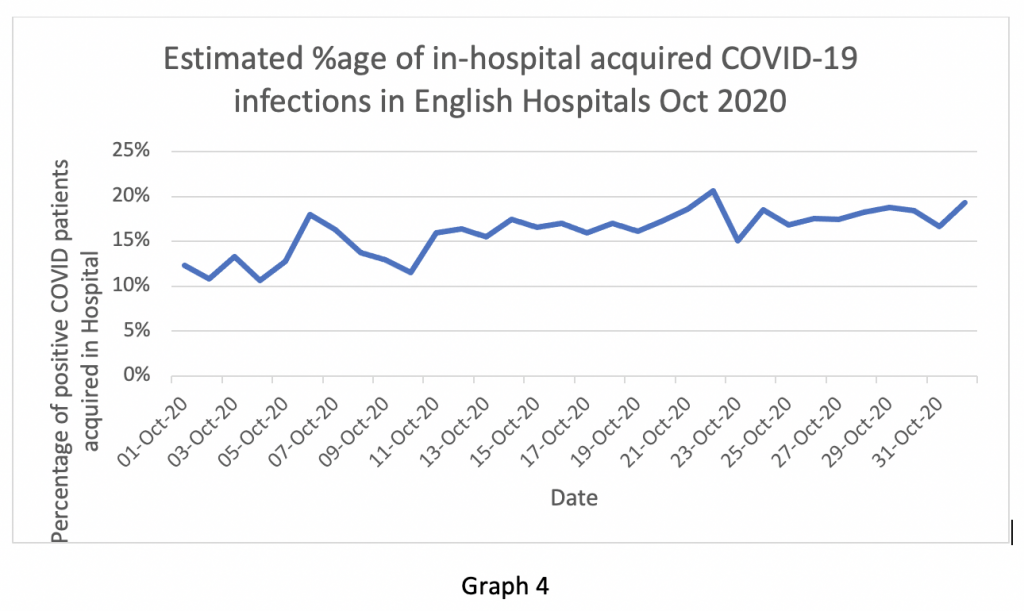 It is disturbing that the Daily Mail has had to resort to statutory instruments such as FOI requests to extract information on hospital-acquired infections that should be publicly available. In relation to a number of highlighted cases of deaths, hospital spokespeople were quick to make the assertion that "a death with Covid does not necessarily mean a death because of Covid". That's a true statement, but it appears that the NHS counts all patients carrying Covid as positive cases when it suits them, and excludes the same patients from the numbers when it doesn't.
The comment from Dr David Nicoll, a leading neurologist from Birmingham, that the NHS "acts like North Korea by obfuscating figures" is in my experience entirely accurate. Some weeks ago I wrote an article advising readers of Lockdown Sceptics to be on the look-out for NHS revision of statistics by altering counting methods, burying embarrassing information in the middle of dense spreadsheets and concealing bad news. I think the issue of hospital acquired infection is a good example.
The data released on November 5th do not support the assertion of a health service close to collapse. Further, this information was clearly available before the vote on November 4th and should have been given to MPs before the division. Data from the ONS death statistics up to October 16th suggest that there has been a slight increase in the number of deaths compared to the five-year average for this time of year. However, the deaths in hospital from all respiratory causes including COVID-19 are lower than expected for this time of year – the excess deaths are occurring in people's homes, not hospitals. It's extremely unlikely these excess deaths are due to COVID-19 and much more likely they are due to heart disease.
Taken together, I find this situation troubling.
Professors Whitty and Vallance present information to the public, now accepted as grossly flawed and exaggerated, in support of a Government motion to severely restrict civil liberties.
The head of the NHS presents a one-sided, unchallenged narrative of imminent healthcare collapse, without mentioning that admissions across the UK appear to be levelling off, or that the percentage of patients needing critical care has dropped substantially, or acknowledging the percentage of hospital-acquired Covid infections. Information held by the NHS executive which should be in the public domain is concealed and suppressed, even from elected parliamentary representatives before a crucial national vote.
There has been no presentation to the public of the known healthcare costs of lockdown. Data on this issue will be published in the open literature in the next few weeks – too late to avert a damaging second lockdown.
Could someone explain to me why this situation does not constitute contempt of Parliament?
Dissent is suppressed by ridicule, exclusion or intimidation. Valid alternative interpretations of the data are ignored. Inconvenient metrics in relation to hospital-acquired infections or death rates are concealed. It's not clear to me what path this Government is following, but I'm pretty sure it's not a scientific one.
Daily Covid Cases Drop by 11.5% compared to last Sunday
Yesterday's 20,572 coronavirus cases mark a significant drop of 2,682 compared to last Sunday's total of 23,254. This cannot be due to Lockdown 2.0, which was only imposed on Thursday, and suggests cases were falling before the latest restrictions were imposed, just as they were before Lockdown 1.0 was imposed on March 23rd. The MailOnline has more.
Today's all-settings death toll marks a drop of 3.7% on the 162 deaths reported this time last week.

It is also fewer than half the 413 deaths reported on Saturday – but figures on Sunday can be lower than usual due to a delay in processing over the weekend.

The positive drop in case numbers adds fuel to criticism against Boris Johnson's trigger-happy lockdown put in place this week.

The Prime Minister pushed ahead with nation-wide restrictions amid concerns rapid spread of the virus in September and October is leading to surging hospital admissions across the North of England and sparking fears the NHS could be overwhelmed again.

But the move has proven controversial as streams of data from various sources – some official and some not – seem to show that the local lockdown policy was working.

Of today's figures, England recorded 122 deaths, while Scotland announced three.

In Wales, 19 new deaths were reported, along with 744 new cases, as it prepares to leave its 'firebreak' lockdown tomorrow.

Seven deaths were recorded in Northern Ireland and an additional 420 cases.

Today's figure come on the fourth day of England's national lockdown, with Tory MPs warning Boris Johnson he will face a "massive revolt" if he tries to extend it beyond December 2nd.
Worth remembering that we're still nowhere near Witless and Unbalanced 'Graph of Doom' prediction of 50,000 new positive cases per day and a very long way indeed from 1,000 deaths a day, let alone 4,000.
Looks like the British public were sold a pup by Boris and his henchmen.
Worth reading in full.
Stop Press: Ex-Conservative MP David Mellor in yesterday's Mail on Sunday said that the dossier Boris presented to the public last Saturday was so dodgy even Tony Blair wouldn't have touched it.
Protestors in Manchester Chant: "Take Off Your Masks"
There was a sizeable anti-lockdown protest in Manchester yesterday, resulting in four arrests. The Manchester Evening News has more.
Hundreds of people gathered in Piccadilly Gardens in central Manchester today to protest against the national lockdown.

The protest is believe to have got underway in the city centre at around 1pm.

There appeared to be little social distancing and none of the protesters appeared to be wearing masks.

Condemning the protest on Sunday evening, Greater Manchester Police said they estimated 600 were in attendance and said police officers responding to the incident were left injured.

They also said a large number of people had travelled to Manchester for the protest – including one group who came via coach from Cumbria.

Assistant Chief Constable Mabs Hussain said: "I would like to use this opportunity to publically condemn this gathering. Both the organisers and attendees were irresponsible – increasing demand on police who are also responding to calls regarding serious incidents and people who are in immediate danger across Greater Manchester.

"Under the Anti-social Behaviour, Crime and Policing Act 2014, officers authorised a Section 34 Dispersal Order. They also arrested four people on suspicion of public order offences and issued 24 £200 Fixed Penalty Notices (FPNs). Enquiries are ongoing to also issue an FPN to the organiser."

He added: "Whilst responding to this gathering, a number of officers were injured. This is unacceptable behaviour towards officers who were simply doing their job and protecting people. Investigators will now work to identify those responsible and ensure they face justice."
Worth reading in full.
Was Boris Bounced Into Ordering Lockdown 2.0?
According to today's Mail, Boris is furious about having been strong-armed into agreeing to a second lockdown after being shown dodgy data. Political Editor Jason Groves has more.
Boris Johnson believes he was bounced into ordering a second national lockdown, a Cabinet ally said last night.

The Prime Minister reluctantly signed off a new lockdown in England last weekend after being warned by Government scientists that deaths could rise to 4,000 a day – four times the peak seen in April.

The decision was rushed out with minimal Cabinet consultation after news of the warning, and the PM's reaction to it, was leaked to news organisations, including the Daily Mail.

The 4,000-a-day figure has since been widely discredited and Government scientists have been forced to correct other dire warnings used to inform the lockdown decision.

Some data last week suggested that the second wave may have levelled off or even peaked before the lockdown was introduced last Thursday.

Yesterday another 156 Covid deaths were reported across the UK, down from 162 a week earlier.

Some 20,572 cases were recorded, a fall of 2,682 on the previous Sunday's total of 23,254.

One Cabinet minister last night told the Daily Mail that Mr Johnson felt he had been pushed into the decision.

"I think he is concerned that he may have been bounced into it," the source said.

"He was really, really cross about the leak because at that point a different decision might still have been made.

"There is also concern that some of the information used to inform the decision now seems to be crumbling.

"In fact the figures seem to be suggesting things were getting better before the lockdown began – we are being shut down for a month when we did not need to be."

The source predicted the episode would harden the PM's attitude against any attempt to renew the restrictions.

"It means a third or fourth lockdown is very unlikely," the source said. "All of this goes against his political inclinations."
Do we believe this? Or is Boris just trying to escape the blame for a political decision he took knowing full well it wasn't supported by the data? It wouldn't be the first time he wanted to have his cake and eat it. Not for nothing is the Prime Minister known as "the slippery pig" by some Tory grandees.
Worth reading in full.
Stop Press: The Mail on Sunday ran a powerful editorial yesterday saying that if Lockdown 2.0 doesn't end on December 2nd it's "curtains for Boris".
Number of People With Suicidal Thoughts Trebles Since Lockdown
The number of people seeking help because of suicidal thoughts has tripled since lockdown, according to a new investigation, with some ambulance services seeing cases rise by almost two thirds. The Telegraph has more.
The Royal College of Psychiatrists said mental health services were "overflowing" with patients, with growing numbers struggling to cope with anxiety, psychosis and depression. Experts said millions were battling isolation, fear and post-traumatic stress, with many only seeking help when their crisis had become acute.

The number of people needing support and advice because of suicidal thoughts has tripled, with similar trends being seen among those with anxiety disorders, the new data shows.

London Ambulance Service has seen a 68% rise in suicides and attempted suicides, with crews now attending 37 cases a day compared to 22 this time last year. A survey of almost 700 psychiatrists revealed that six in 10 are now dealing with an increased number of emergency cases, including people needing to be sectioned for their own safety.

One doctor said bed shortages were so extreme that he had recently been unable to secure a specialist bed for a 17-year-old boy suffering from psychosis anywhere in the UK.
Very worrying.
Worth reading in full.
Stop Press: 50 charities and top doctors have signed an open letter to the Prime Minister urging him not to abandon cancer patients. Data from first wave suggests 35,000 extra deaths may be caused by cancer next year as a result of the second lockdown.
Message From the People's Republic of Wales
A Welsh reader has sent an encouraging message.
Luckily for us we live in Wales, albeit by about 75 yards, and our "firebreak" ended yesterday. I've had a good look at the Welsh Government guidance that will apply from today. To be fair to Chairman Drakeford, he has clearly taken some sensible advice, presumably following the "non-essential" items furore, and toned down the rhetoric. With the exception of pointless face coverings, a "rule of four" in pubs and restaurants and daring to cross the border from plague-ridden England everything else appears to be guidance, as opposed to law, which will not be enforced by the police. He has clearly realised, or been told, that people respond better to gentle encouragement than diktats which I, with fifteen years experience of hostage and suicide intervention negotiation, could have told him from the outset.

For those of you unfortunate enough to live in England I have had a good look at the latest nonsense from Boris and his cronies and am of the view that it is all completely unenforceable. Everything comes with the "reasonable excuse" caveat but doesn't define a reasonable excuse so if you are approached by the police for breaching one of the regulations simply claim to have a reasonable excuse as you don't appear to have to define what that excuse is. People also need to understand that Fixed Penalty Notices are not compulsory so if a police officer tries to issue you with one, particularly if it is for a ridiculous sum of money, simply refuse to accept it and ask to be summoned to court instead. Preparing a summons file is a laborious task which most officers don't have time to do and, in any case, the CPS have failed to prosecute anyone so far as the law is so vague.
Liverpool School Update
Readers will recall that on Saturday I published a letter that parents had been sent the previous day by the head of Broadgreen International School informing them that the Army would be testing their children today using the new lateral-flow test. Among the letter's many horrors was this paragraph:
Under normal circumstances parental permission is sought for the testing of children, however under these very challenging circumstances that is not possible, therefore we would ask that if you wish to exclude your child from this test please do so in writing to me first thing on Monday morning.
Is that even legal? I got a message on Twitter from Liverpool City Council yesterday which suggests that it isn't. It said: "Hi Toby, the letter sent to parents at this school was incorrect – parental consent is required. This is an entirely voluntary testing programme and only parents who return the consent forms will have their child tested."
I replied as follows: "Thanks for letting me know. Have parents at the school been informed? And will you be issuing guidance to schools to make sure this mistake isn't repeated?"
I then got this back: "Hello Toby, parents at the school have started to be informed and we are in conversation with schools across the city."
I sincerely hope this is true. Liverpoool's schoolchildren should not be used as guinea pigs in the roll out of Boris's 'Moonshot' testing programme, and certainly not after their parents have been given so little notice and told that unless they object their children will be tested.
Stop Press: The school has indeed delayed the testing and informed parents that "opt in" consent will be required.
Stop Press 2: A paper published on April 20th by Professor Derrick Cook concluded that the ELISA and lateral flow immunoassays were "inadequate".
Round-Up
Theme Tunes Suggested by Readers
Just one today: "The Gates of Delirium" by Yes, "Walking on the Edge" by Wilko Johnson and "I'm Walking Backwards For Christmas" by the Goons.
Love in the Time of Covid
We have created some Lockdown Sceptics Forums, including a dating forum called "Love in a Covid Climate" that has attracted a bit of attention. We have a team of moderators in place to remove spam and deal with the trolls, but sometimes it takes a little while so please bear with us. You have to register to use the Forums, but that should just be a one-time thing. Any problems, email the Lockdown Sceptics webmaster Ian Rons here.
Sharing stories: Some of you have asked how to link to particular stories on Lockdown Sceptics. The answer used to be to first click on "Latest News", then click on the links that came up beside the headline of each story. But we've changed that so the link now comes up beside the headline whether you've clicked on "Latest News" or you're just on the Lockdown Sceptics home page. Please do share the stories with your friends and on social media.
Woke Gobbledegook
We've decided to create a permanent slot down here for woke gobbledegook. Today, I'm bringing you an extract from Andrew Sullivan's column about the US election results, which, according to him, shows how fed up to the back teeth most Americans are with woke dogma.
And this was also clearly and unequivocally a rejection of the woke left. The riots of the summer turned many people off. In exit polls, 88 percent of Trump voters say it was a factor in their choice. On the question of policing and criminal justice, Trump led Biden 46 — 43 percent. For the past five years, Democrats have been telling us that Trump and his supporters were white supremacists, that he was indeed the "First White President" in Ta-Nehisi Coates' words, that all minorities were under assault by the modern day equivalent of the KKK. And yet, the GOP got the highest proportion of the minority vote since 1960! No wonder Charles Blow's head exploded.

We may find out more as exit polling is pored over, but in the current stats, Trump measurably increased his black, Latino, gay and Asian support. 12 percent of blacks — and 18 percent of black men — backed someone whom the left has identified as a "white supremacist", and 32 percent of Latinos voted for the man who put immigrant children in cages, giving Trump Florida and Texas. 31 percent of Asians and 28 percent of the gay, lesbian and transgender population also went for Trump. The gay vote for Trump may have doubled! We'll see if this pans out. But it's an astonishing rebuke of identity politics and its crude assumptions about how unique individuals vote.

Why did minorities shift slightly rightward after enduring four years of Trump? First off, many obviously rejected the narrative being pushed out by every elite media source: that the core of Trump's appeal was racism. They saw a more complicated picture. I suspect that many African-Americans, for example, were terrified of "defunding the police" and pleased to be economically better off, with record low unemployment before Covid19 hit. Many legal Latino citizens, perplexing leftists, do not want continued mass immigration, and are socially conservative. Asians increasingly see the woke as denying their children fair access to education, and many gays just vote on various different issues, now that the civil rights question has been largely resolved by the Supreme Court.

Obviously a big majority of non-white and non-straight voters still backed Democrats. But the emergence of this coalition of minority conservatives is fascinating — and, of course, a complete refutation of what critical race theory tells us how minorities must feel. Ditto the gender gap. It's there, but not quite the gulf we were led to believe. We have again been told insistently that being female in America today is a constant nightmare of oppression, harassment, violence and misogyny; and that no one represents this more potently than Donald "grab 'em by the pussy" Trump. And yet white women still voted for Trump 55 to 43 percent. Among white women with no college education, arguably those most vulnerable to the predations of men, Trump got 60 percent support. This is not a wave of rage; and it suggests that the left's notion of patriarchy is, in 2020, something many, many women just don't buy, or do not believe should outweigh other, more important issues.

And look at California, one of the most leftist states in the country, and minority-majority. The initiative to allow public institutions to discriminate openly on the basis of race — in order to favor some groups over others on the Ibram X. Kendi model — decisively failed, after months of unceasing propaganda about "white supremacy" and the need to counter it. So did an attempt to regulate the gig economy and to expand rent control. The appeal of assimilation and economic success among Latinos is not, pace the critical race theorists, an attempt to gain the advantages of "white-adjacency". It's simply the American way, paved by generations of immigrant groups before them.
This is one of the best analyses of the US election results I've read so far.
Worth reading in full.
Stop Press: Sarah Phillimore, a barrister specialising in child protection, has started a CrowdJustice fundraiser so she can bring a case against the police to get them to remove a 'non-crime hate incident' they've recorded against her name. Donate here.
"Mask Exempt" Lanyards
We've created a one-stop shop down here for people who want to buy (or make) a "Mask Exempt" lanyard/card. You can print out and laminate a fairly standard one for free here and it has the advantage of not explicitly claiming you have a disability. But if you have no qualms about that (or you are disabled), you can buy a lanyard from Amazon saying you do have a disability/medical exemption here (takes a while to arrive). The Government has instructions on how to download an official "Mask Exempt" notice to put on your phone here. You can get a "Hidden Disability" tag from ebay here and an "exempt" card with lanyard for just £1.99 from Etsy here. And, finally, if you feel obliged to wear a mask but want to signal your disapproval of having to do so, you can get a "sexy world" mask with the Swedish flag on it here.
Don't forget to sign the petition on the UK Government's petitions website calling for an end to mandatory face masks in shops here.
A reader has started a website that contains some useful guidance about how you can claim legal exemption.
And here's an excellent piece about the ineffectiveness of masks by a Roger W. Koops, who has a doctorate in organic chemistry.
Mask Mandate: According to Fox News, Biden is planning to implement mask mandates nationwide as one of his first acts as President.
Stop Press: West Midlands Police challenged a shopper in Sainsbury's who wasn't wearing a mask. He explained that he was exempt because he suffered from anxiety and they threatened to arrest him unless he either put a mask on or left the shop. The West Midlands Police later apologised: "We got this wrong and we're sorry for any upset & distress we've caused."
The Great Barrington Declaration
The Great Barrington Declaration, a petition started by Professor Martin Kulldorff, Professor Sunetra Gupta and Professor Jay Bhattacharya calling for a strategy of "Focused Protection" (protect the elderly and the vulnerable and let everyone else get on with life), was launched last month and the lockdown zealots have been doing their best to discredit it. If you Googled it a week after launch, the top hits were three smear pieces from the Guardian, including: "Herd immunity letter signed by fake experts including 'Dr Johnny Bananas'." (Freddie Sayers at UnHerd warned us about this hit job the day before it appeared.) On the bright side, Google UK has stopped shadow banning it, so the actual Declaration now tops the search results – and Toby's Spectator piece about the attempt to suppress it is among the top hits – although discussion of it has been censored by Reddit. The reason the zealots hate it, of course, is that it gives the lie to their claim that "the science" only supports their strategy. These three scientists are every bit as eminent – more eminent – than the pro-lockdown fanatics so expect no let up in the attacks. (Wikipedia has also done a smear job.)
You can find it here. Please sign it. Now well over 600,000 signatures.
Update: The authors of the GDB have expanded the FAQs to deal with some of the arguments and smears that have been made against their proposal. Worth reading in full.
Update 2: Many of the signatories of the Great Barrington Declaration are involved with new UK anti-lockdown campaign Recovery. Find out more and join here.
Update 3: You can watch Sunetra Gupta set out the case for "Focused Protection" here and Jay Bhattacharya make it here.
Judicial Reviews Against the Government
There are now so many JRs being brought against the Government and its ministers, we thought we'd include them all in one place down here.
First, there's the Simon Dolan case. You can see all the latest updates and contribute to that cause here.
Then there's the Robin Tilbrook case. You can read about that and contribute here.
Then there's John's Campaign which is focused specifically on care homes. Find out more about that here.
There's the GoodLawProject's Judicial Review of the Government's award of lucrative PPE contracts to various private companies. You can find out more about that here and contribute to the crowdfunder here.
The Night Time Industries Association has instructed lawyers to JR any further restrictions on restaurants, pubs and bars.
Christian Concern is JR-ing the Government over its insistence on closing churches during the lockdowns. Read about it here.
And last but not least there's the Free Speech Union's challenge to Ofcom over its 'coronavirus guidance'. You can read about that and make a donation here.
Samaritans

If you are struggling to cope, please call Samaritans for free on 116 123 (UK and ROI), email jo@samaritans.org or visit the Samaritans website to find details of your nearest branch. Samaritans is available round the clock, every single day of the year, providing a safe place for anyone struggling to cope, whoever they are, however they feel, whatever life has done to them.
Stop Press: Dr Gary Sidley has come up with a list of five reasons to be cheerful about coronavirus.
Shameless Begging Bit
Thanks as always to those of you who made a donation in the past 24 hours to pay for the upkeep of this site. Doing these daily updates is hard work (although we have help from lots of people, mainly in the form of readers sending us stories and links). If you feel like donating, please click here. And if you want to flag up any stories or links we should include in future updates, email us here. (Don't assume we'll pick them up in the comments.)
And Finally…
You will enjoy this. It features a group of television presenters watching a music teacher's video in which she plays a song she's written to help her adapt to online teaching and learning. The song – and their reaction – is priceless.