EU Renews Vaccine Passport Scheme Despite Overwhelmingly Negative Public Feedback
By Will Jones
The European Parliament has voted to approve an EU Commission proposal to renew the EU Digital Covid Certificate for another year, despite 99% of the responses to the public consultation being opposed. Robert Kogon at Brownstone has more.
The vote was 453 for, 119 against and 19 abstentions.

The certificate regulation had been scheduled to expire on June 30th. Earlier this month, a delegation from the parliament had already reached a "political agreement" with the Commission on renewing the certificate, thus making yesterday's vote virtually a foregone conclusion.

The certificate regulation was originally adopted in June of last year, ostensibly to facilitate "safe travel" between EU member states. But the EU digital certificate quickly evolved into the model and sometimes infrastructure for the domestic 'health' or Covid passes that would serve to restrict access to many other areas of social life over the following year.

The EU has opted to extend the Covid certificate despite the overwhelmingly negative results of a public consultation on the subject that was launched by the European Commission under the heading of "Have Your Say" and that was open to the public from February 3rd to April 8th. The consultation elicited over 385,000 responses – almost all of which appear to be opposed to renewal!

In a letter to the European Ombudsman that the French member of the parliament Virginie Joron posted on her Twitter feed, Joron writes: "I read hundreds of responses at random with my team. I did not find any in favor of extending the QR code [i.e., the digital certificate]. Based on this large survey, it seems obvious that virtually all the responses were negative."
Getting ready for winter, it seems.
Worth reading in full.
New Analysis: Covid's Infection Fatality Rate Now Same as Seasonal Flu
By Toby Young
Death rates from Covid are lower than ever, according to an analysis by Professor Carl Heneghan and Dr Jason Oke carried out for the Mail on Sunday. The IFR is now ~0.0333%, similar to seasonal influenza.
Experts say there is little need to fear a recent surge in cases as fewer than one in 3,000 infected people now dies from coronavirus – with the rate even lower for the vaccinated.

The analysis of official data by Oxford University shows the 'infection fatality rate' has dropped about 30-fold since the pandemic began due to a combination of vaccine protection and naturally acquired infection.

Professor Carl Heneghan of Oxford's Centre for Evidence Based Medicine, who carried out the analysis with statistician Jason Oke, said: "There have been an astonishing number of Covid infections so far this year, but deaths have come down.

"Now we are looking at an infection fatality rate for Covid of around one in 3,000 which is comparable with seasonal influenza. That's why the Government is right not to be concerned and has come to the conclusion that there is no need for restrictions."
Worth reading in full.
BBC Staff Told there are More than 150 Genders and Urged to Develop 'Trans Brand'
By Toby Young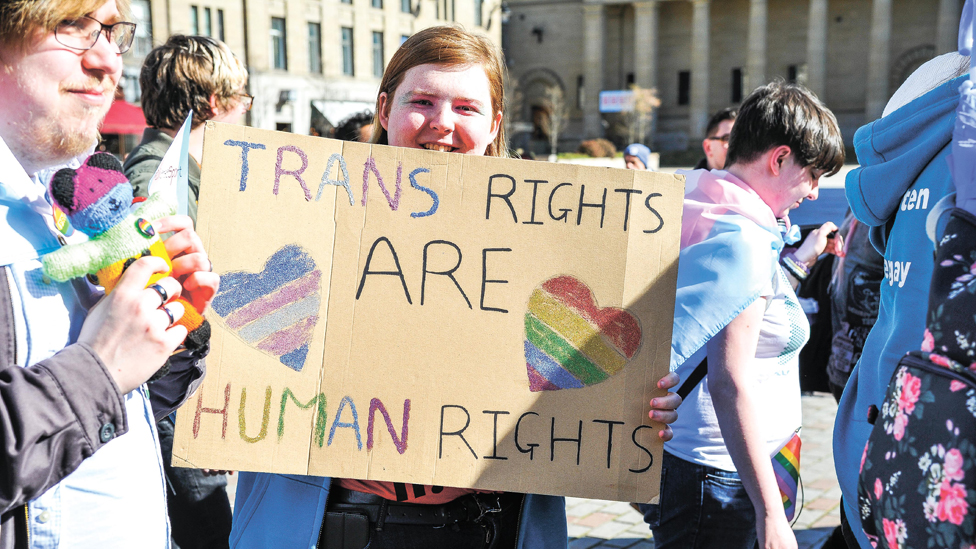 BBC staff have been told there are more than 150 genders, and they must develop their "trans brand" by declaring their pronouns on email sign-offs. Ewan Somerville in the Telegraph has more.
The Telegraph has obtained material provided to radio staff by Global Butterflies, a transgender group that the BBC drafted in for training sessions last summer and autumn.

Emails were sent to radio producers and programme editors, some from heads of departments, urging them to attend the training.

During the sessions, leaked to the Telegraph, staff were shown an array of gender-neutral pronouns they should use including "xe, xem, xyrs", and were told: "People can self-identify themselves in over 150 ways, and increasing!"

Staff were told they should include their pronouns in email signature boxes to be "part of your trans brand" as an "inclusive and welcoming… brilliant show of ally support".

The Global Butterflies trainer told staff that "he/she" pronouns "can create "discomfort, stress and anxiety" for gender non-conforming people and "it has been shown that in young trans people, using correct pronouns and names reduces depression and suicide risks".

The diversity training said: "If you overhear a colleague using the incorrect pronouns for someone, take them aside and remind them of the correct pronouns."

Staff were shown a diagram of pronoun badges that they could wear around offices, and shown how to use gender pronouns on air. They were also urged to avoid the terms transsexual and transvestite, and told that "nudging" or "staring" are transphobic.

A whistleblower told the Telegraph the BBC was "suppressing stories" that challenge trans activism and claimed there is a "tight-knit cabal at the top of BBC News who give tacit approval to gender ideology".

The whistleblower urged the BBC's Director General Tim Davie to "get a grip" and remind the corporation's human resources and diversity departments that "licence fee payers pay their salaries and expect staff to be trained by impartial trainers".

"The BBC simply doesn't understand what's going on with gender identity ideology," the source, a senior staff member who recently quit the corporation, said.

"They've been pandering to a social contagion amongst young people rather than being the adult in the room. 'Inform and educate' from the BBC Charter has left the BBC when it covers trans issues."
Worth reading in full.
Incidentally, any BBC staff under pressure to declare their preferred gender pronouns should check out the Free Speech Union's FAQs on how you can push back against this.
Stop Press: If you can't get past the Telegraph's paywall, MailOnline also has the story.
The British Council has Been Captured by the Woke Cult
By Toby Young
I've written an op ed piece for today's Mail on Sunday about the British Council. Sad to say, but an organisation that was once an effective instrument of soft British power has succumbed to the anti-patriotic self-loathing of the metropolitan elite. Here's how the piece begins:
Few will be surprised to learn that an organisation funded by the British taxpayer once issued a 'non-discriminatory' language guide that urged its staff not to refer to 'Brits', or use the phrase 'the Queen's English'. The reason the latter was "problematic", we were told, was that "it implies that these varieties of English are more correct or of greater importance than others".

What may have come as a shock, though, is that the document – which could be called 'How To Speak Woke-ish' – was produced by the British Council, whose purpose is to promote Britain's values and culture across the world.

Not only does it have a budget of £1.2 billion a year and employ 7,000 people, but it received a Royal Charter in 1940 – and its patron is Her Majesty the Queen.

It seems this public body, like so many others, has succumbed to the anti-patriotic self-loathing that is so prevalent among the Brexit-hating metropolitan elite.

Once a vehicle for the projection of soft power, celebrating the pinnacles of British culture like the plays of Shakespeare and the music of Elgar, it has become infected by what the late philosopher Roger Scruton called 'oikophobia' – the repudiation of one's own culture and the glorification of others.

Now the British Council has published a 'diversity and inclusion' policy that says the UK's record on "ethnic conflicts, civil disturbances and genocides" puts it on the same footing as Syria, South Sudan and Darfur.

Notably missing from its list of shameful countries is China, for that is one part of the world where the British Council does take its commitment to 'decolonisation' very seriously. It is extremely careful never to breathe a word of criticism about the Chinese Communist Party's brutal suppression of the pro-democracy movement in Hong Kong – that well-known victim of British colonial oppression – lest it jeopardise the £219 million a year it receives from the People's Republic of China.

"Imagine the BBC, but without the talent," is how one disillusioned ex-staffer described the organisation.
Worth reading in full.
Student Awarded £60,000 of Taxpayers' Money to Research Whether Puppets are Racist
By Toby Young
A student is getting £60,000 of taxpayers' cash to research racist puppets for three years. the Sun has more.
News of the programme left ventriloquists stunned last night — while campaigners called it a woke-fuelled waste of money.

The project, entitled "Grotesque acts of ventriloquism", will analyse "race, puppetry and performance" in the 21st century.

It claims white artists receive funding to produce "puppet representations of people of colour" that is often "stereotypical".

A student at Queen Mary University of London will lead the research, which was last night dismissed as "postmodern piffle".

Ronnie Le Drew, president of the British Puppet and Model Theatre Guild, said: "I find it very strange.

"I know several puppeteers working in the West End and the job market has been better for black people in the world of puppetry.

"So I'm slightly bemused. Most of the puppet companies in this country are all for using black puppeteers."

James Roberts, Political Director of the TaxPayers' Alliance, said: "Taxpayers are fed up with their money being wasted on woke research.

"Cash should be focused on urgent priorities like tax cuts or public services, not this postmodern piffle."
Worth reading in full.
Punch and Judy aren't racist are they? OH YES THEY ARE!
In their Desperation to be Woke, Universities are Losing their Way
The term multiversity was coined by respected University of California president Clark Kerr in a famous 1963 lecture. Kerr's vision was originally received as a prophetic acknowledgement of a splendid technocratic future. But Kerr believed himself to be misunderstood. He was never so sure that the multiversity, inevitable as it seemed to be, was a great idea. In later writings he pointed out some of its flaws, flaws which have led to a huge changes to the university as it has existed for almost a thousand years. The multiversity is now indistinguishable from a business, a business that largely lost sight of its proper function.
Kerr listed the often-conflicting tasks of university presidents in this new age. Three stand out:
"a seeker of truth where the truth may not hurt too much"
"to keep the peace"
"service to society"
Number 1 often loses out to Number 2 and Number 3 justifies almost any activity, truth-seeking or not. These tendencies have come to fruition in the modern research university where clarity of vision has dimmed as the enterprise has expanded. UCL is an example.
A Modern Multiversity
University College London is not a college but a university, a very large one, in fact. It is the largest 'college' in the University of London, rated one to three as a U.K. research university and between eight and 16 in the world rankings, depending on who's counting. Its tag line is "London's Global University". Its student body numbers over 40,000. Its problems are shared by many large U.S. research universities. Appropriately, the new President of UCL, Michael Spence, an Australian, has wide interests, from theology to intellectual property theory.
UCL is embarking on a Five-Year Plan and in March 2022, President Spence invited alumni to help, with a memo entitled "How can UCL remain a world-leading university in a rapidly changing world?" As an alumnus, I feel obliged to respond.
UCL is a vast organisation embracing multiple more or less independent entities. Coming up with a mission statement is a formidable undertaking. Nevertheless, UCL is a university and should presumably adhere to core intellectual values. In order to find out if it does, let's look at Paper 1, "2022-2027 Strategic plan. Introduction: Vision, Mission and Values," one of five that are up for discussion. I will just discuss Part one, "Our vision and mission", and "Our values". The section begins:
Vision

Our distinctive approach to research, education and innovation will further inspire our community of staff, students and partners to transform how the world is understood, how knowledge is created and shared and the way that global problems are solved [emphasis mine].
Well, at least it's short, but it reads as if written not by an intelligent human being, but by a bot programmed to string together fashionable words (boldfaced) in grammatical sequence. UCL is apparently "distinctive", but how or even why distinctiveness is important not clear – but, never fear, it "will inspire" not to mention "transform." The statement actually says almost nothing and what it does say is not obviously related to the functions of a real university. Suggested alternative:
Vision: Our purpose is the search for truth, verifiable in the case of science, but always a subject of rational debate, i.e. Wissenschaft.
Incidentally, the word truth does not occur at all in the 4,300-word Vision, Mission and Values statement. So much for Veritas.
Next is:
Mission

London's Global University: a diverse intellectual community, engaged with the wider world and committed to changing it for the better; recognised for our radical and critical thinking and its widespread influence; with an outstanding ability to integrate our education, research, innovation and enterprise for the long-term benefit of humanity.
The buzzwords now become global. Does UCL really know why or even where it exists? "Committed to changing [the world]", why? Isn't that what the politico-legal system is for? For "better", what is "better"? Define or discuss. "Widespread influence" – well, new ideas have influence but influence should not part of a university's mission. Why should a university seek to influence anything beyond the world of ideas (see politico-legal above)? "Radical and critical thinking": critical, yes, but radical, why? What's so good about radical? At least part of a university's purpose surely is to pass on an intellectual tradition, i.e., to be conservative rather than radical – and, above all, truth. "[A]n outstanding ability" — sez who, not ourselves, surely? Evidently modesty is not one of our "values" (see also "Vision" above). "Long-term benefit of humanity"? Indeed, scholarly and scientific work may benefit humanity, at least in the long term, but is that why we do it? Knowledge should be an intrinsic not an instrumental good for a university. No sign of that here.
Suggested alternative:
Mission

To be a university that is faithful to its values, selects its faculty and students for excellence of intellect and character, and pursues both teaching and research with equal vigour.
Values
The final section of Part one, on Values, is the longest and most confused. Evidently UCL had an internal controversy in 2020 about decision making to which this section is in part a reaction. Earlier, it accepted the resignation of a Nobelist honorary professor because indignant feminists complained about a lighthearted, but probably true, statement in a conference talk: that women in a predominately male research lab can lead to emotional problems.
Perhaps for these reasons, accountability is emphasised:
The first of the four clusters [of values] being honest and transparent in our dealings with one another and the broader community. This entails a strong sense of collective and personal responsibility and accountability to each other, and to the communities that we serve.
So, be decent and responsible, which should be true for everyone, always, not special to a university or UCL. And does a university serve a community or an ideal?
And then on academic freedom:
[T]he one thing that all understandings of academic freedom have in common, and that must be maintained… is a strong bias towards maximising the autonomy of the researcher and teacher to determine, to pursue, and to promote their own intellectual agenda, and to do so free of unwarranted institutional or government interference.
Translation: We'll be nice to you, academics, but we will not be too specific about how. No mention of the distinction between facts, which are the real business of the university, and the values/emotion and political activism often attached to them, which are not. Much of the rest of this section seems to be redundant repetitions of these sentiments plus the usual hyperbole and allusions to the 2020 inquiry:
Universities have a history of promising extraordinary things to the communities with whom they work: It is essential that we are absolutely clear with staff, students, alumni, donors, and external organisations about what we can and cannot deliver as an organisation of limited resources and competing priorities, even when pressure exists to deliver the impossible. The demands on universities are growing, and we must be able to say with clarity both what we can, and what we cannot, achieve.
All this sounds like agonised introspections of administrators trying to resolve conflicts, rather than anything to do with the values of a university. And do universities– should they – "promise extraordinary things"?
The last part of "Values" is a combination of wokeness and crypto-Marxism.
Sample quote: "Openness and inclusion."
The first is the absolute priority of ensuring that our staff and student body (not least our academic and professional leadership group) [leaders?] is as diverse as possible… a duty to promote equality, both within and without the UCL community….This means…that all students of equivalent ability should be equally able to succeed, and that the so-called 'awarding gap' for Black, Asian and Minority Ethnic (BAME [BIPOC]) students must finally be removed.
All must have prizes, and all must be equal, especially BAMEs. Yet a university has always been an elite organisation. Not everyone wants, or is able to profit from a university education. A commitment to equality (as opposed to equality of opportunity) subverts that objective. And why must leaders be "diverse" as opposed to merely excellent?
Sample quote: "Care and respect."
[T]he university would be unable to achieve its academic mission without the contribution of its professional staff, who must enjoy a parity of esteem for the vital contribution that they make to our success. They must be accorded respect and parity of esteem for their professional skills, just as academic staff are for theirs.
Esteem must surely be earned not awarded. All this used to be covered by exhortations like 'be polite' and 'don't be rude to others'. But neither 'rude' nor 'impolite' is to be found in this document (or many others like it). The word polite does occur in the first paragraph, but only as a slur: "The university was to be… both open to all the world, and concerned at least as much with 'useful knowledge' as with 'polite learning'." So much for knowledge for its own sake.
One of two cited references is to the work of the delightfully named Chantal Mouffe who's Wikipedia entry gives a hint as to where this section is coming from: "She is best known for her contribution to the development… of the so-called Essex School of discourse analysis, a type of post-Marxist political inquiry drawing on Gramsci, post-structuralism and theories of identity, and redefining Leftist politics in terms of radical democracy." Perhaps 'polite' = 'bourgeois' for Mme. Mouffe?
Sample quote: "Rigour and innovation."
Our work will only have impact if we engage and if we reduce the barriers to cooperation… One particular challenge here is in the balance of work addressing the complex problems of our communities, which is almost always cross-discplinary [sic]…
Cooperation is often good but often either irrelevant or simply annoying (Isaac Newton, q.v.). Is it right for a university to recommend it for all? And is addressing community problems a prime purpose of a university? This section concludes:
The four clusters of value that seem to be emerging as important for our work are thus:

• Integrity and mutual accountability
• Openness and inclusion
• Care and respect
• Rigour and innovation
In short: be honest and responsible, be politically correct, be polite, be a good scholar, be novel but tough. In short, values that work for any institution from a university to a Chevrolet dealership. Nothing about truth or the separation of fact and value. "Inclusion" is favored over colour-blindness.
Conclusion
It is hard to know just what to make of this document. It avoids ideas basic to a university, like truth, excellence and the intrinsic value of knowledge. It is jargon-filled and rambling almost as if the intent is not to transmit information but to hide it. Bromides abound. The obvious conclusion is that the document is a muddle because the real purposes of the multiversity have very little to do with traditional academic values.
This document and many others like it was written not by scholars, but by successful bureaucrats, using tactics that work in any large organisation: keep your ear to the ground and your finger to the wind. No matter how awkward the resulting posture, you can be sure to offend no one and gain a reputation for soundness. Abiding adherence to principle is rarely to be found in a system so organised.
In practice, the multiversity has become a rootless business enterprise in which the core departments, the sciences and humanities, are subordinate to what used to be the periphery: the professional schools of law, medicine, engineering and business. All of these serve different functions, have different missions and different values. It is no wonder that any attempt to unify them leads to a stumbling convergence on values that apply in effect to any organisation whatever.
John Staddon is the James B. Duke Professor of Psychology, and Professor of Biology and Neurobiology, Emeritus at Duke University.
News Round-Up
By Will Jones
If you have any tips for inclusion in the round-up, email us here.