Thursday, 19th May 2022
WHO to Make Lockdowns Part of Official Pandemic Guidance
By Will Jones
The World Health Organisation is to make lockdowns and other non-pharmaceutical interventions intended to curb viral spread part of official pandemic guidance.
The revelation comes in a report scheduled to go to the WHO's World Health Assembly later this month. This is not part of a new pandemic treaty and does not require the endorsement of member states. The report says the implementation is already underway.
Many have raised the alarm about a new WHO pandemic treaty. However, as I've noted previously (and as Michael Senger notes here), there isn't a new pandemic treaty on the table. Rather, there are amendments to the existing treaty, the International Health Regulations 2005, plus other recommendations (131 in all) put forward in a report from the Working Group on Strengthening WHO Preparedness and Response to Health Emergencies.
Most of these amendments and recommendations relate to information and resource sharing and preparation for future pandemics; none of them directly interferes with state sovereignty in the sense of allowing the WHO to impose or lift measures. However, that doesn't mean they're not dangerous, as they endorse and codify the appalling errors of the last two years, which began with China's Hubei lockdown on January 23rd 2020.
The recommendations in the report originate from WHO review panels and committees and were sent out in a survey in December 2021 to member states and stakeholders to seek their views.
Non-pharmaceutical interventions appear three times in the recommendations, once under "equity" and once under "finance", where states are urged to ensure "adequate investment in" and "rapid development, early availability, effective and equitable access to novel vaccines, therapeutics, diagnostics and non-pharmaceutical interventions for health emergencies, including capacity for testing, scaled manufacturing and distribution".
While rapid development and early availability of non-pharmaceutical interventions sounds worrying enough, it could be interpreted in a number of ways by states.
Where it really gets alarming, however, is in the "leadership and governance" section. LPPPR 29 states (emphasis added):
Apply non-pharmaceutical public health measures systematically and rigorously in every country at the scale the epidemiological situation requires. All countries to have an explicit evidence-based strategy agreed at the highest level of government to curb COVID-19 transmission.
The requirement that a country's pandemic strategy must aim to curb viral transmission is a major change from the current guidance. The U.K.'s existing pandemic preparedness strategy, prepared in line with previous WHO recommendations, is completely clear that no attempt should be made to stop viral transmission as it will not be possible and will waste valuable resources, stating as such in three places:
It will not be possible to halt the spread of a new pandemic influenza virus, and it would be a waste of public health resources and capacity to attempt to do so.

Page 28
It almost certainly will not be possible to contain or eradicate a new virus in its country of origin or on arrival in the U.K. The expectation must be that the virus will inevitably spread and that any local measures taken to disrupt or reduce the spread are likely to have very limited or partial success at a national level and cannot be relied on as a way to 'buy time'.

Page 29
It will not be possible to stop the spread of, or to eradicate, the pandemic influenza virus, either in the country of origin or in the U.K., as it will spread too rapidly and too widely.

Page 15
But now the WHO says that curbing viral transmission is to be the aim of pandemic response. This is a disaster.
Worse, the report says this recommendation will be incorporated into the WHO's "normative work", meaning it will be part of official WHO guidance to states in responding to a pandemic. Worse still, it says it's already being implemented – it doesn't need a treaty or the agreement of member states to do this, it's already happening.
Expect to see new guidance appearing at the international and national levels over the coming months and years which incorporate this presumption that restrictions should be imposed to curb viral spread. This is despite the last two years only confirming the wisdom of the WHO's previous guidance that this is not possible and not worth the attempt.
This matter must be raised at the highest levels so that lockdowns and other non-pharmaceutical interventions are kept out of all pandemic planning.
Sign the parliamentary petition against the latest moves by the WHO here – now at over 121,000 signatures.
More Reasons to Doubt the Covid Vaccines Really Deliver 90% Protection Against Death
By Nick Rendell
The UKHSA's latest vaccine surveillance report includes this table on page 11:
In essence, it claims ongoing efficacy against death from COVID-19 at about 88% following three vaccinations for the over 50 year-olds. Does this mean that in the absence of the vaccines we would expect deaths of the triple-vaccinated to be 8.3 times higher than it has been? Let's assemble some data from Government sources and see if this can really be true.
Up until week 13 2022, the UKHSA used to report deaths from Covid by age and vaccine status. Fig 2 reproduces this last data table. The absolute numbers may have changed in the five weeks since then but the relative rates of death in the various groups had been fairly stable for the weeks prior to this and I suspect they still are.
We can see from table 13b, taken from the week 13 vaccine surveillance report, that Covid deaths amongst the unvaccinated over-50s accounted for 289 of the 3,944 over-50 deaths, that's 7% of the total. How does this compare with the proportion of people in the 50-plus age cohort who have been vaccinated? Well, Fig 3 below shows the rate of vaccination by five year age-cohorts for a single dose of vaccine and Fig 4 shows the vaccination rate for a third dose of vaccine.
About 92% of the over 50s had a first dose and about 85% have gone on to have a first booster. If, as the UKHSA tells us, the vaccines confer about an 88% efficacy against death, you would expect the unvaccinated to die at over eight times the rate that the unvaccinated die. But they don't. As Fig 2 shows us, the unvaccinated account for only 7% of the deaths. The table also tells us that of the 3,944 deaths of the over-50s, 3,003 of them (76%) were of the triple vaccinated; 562 of the deaths (14%) were of the double vaccinated but unboosted, and 79 (2%) were of those who only ever had one dose of vaccine. Going back to Fig 3 and 4, we can see that the difference between the percentage of people single dosed and triple dosed is about 7% (92%-85%=7%), yet they appear to account for about 16% of all of the deaths in the period covered by the report. It isn't the unvaccinated who appear to die in disproportionate numbers, but the vaccinated who haven't had a booster.
Certainly, the UKHSA data don't seem to support the UKHSA's own claim of 88% efficacy against death. But, for the sake of argument, I'm prepared to go along with the UKHSA and others who claim that perhaps the unvaccinated are a self-selecting group of fitter people, less susceptible to Covid or that they do a better job of isolating themselves or that they wear military grade gas masks and that consequently, even though it doesn't look like it, it's still true that vaccines are incredibly beneficial. Let's look at it from another direction. Surely it follows that if 90% of the population weren't vaccinated and if the vaccines had approaching a 90% efficacy against death then in the absence of vaccines the current death rate would be 8.3 times higher than it is? Let's have a look.
Fig 5 shows the profile of deaths in the U.K. from Covid over the past two years or so. One of the more striking features of the chart is that deaths this May are around 20 times more than they were last May. Should this surprise us? Well, considering that about a further 100 million doses of vaccine have been injected into the arms of the U.K. population since then. And, given that in May 2021 two thirds of the infections were of the Alpha and one third of the Delta variant, both considered far more virulent than today's 99%-prevalence Omicron. And, that the majority of the population have had Covid thus acquiring natural immunity, then I would argue that yes, it should surprise us! It certainly isn't a ringing endorsement of 88% efficacy against death.
Let's now see what happens if we multiply deaths since January 1st 2022 by 8.3 times. Fig 6 shows where we would expect deaths to be in the absence of vaccines. Without vaccines, are we really saying that deaths this month would have reached twice the peak rate ever achieved, back in the days before any vaccines.
Of the under-40s, only about 70% ever got a first dose of the vaccine. Booster take up is below 50% and everyone knows plenty of both the vaccinated and unvaccinated who've had Covid and are hard pushed to identify any difference in severity of symptoms or likelihood of infection. The fact that about 25% of the under-40s have opted not to get the booster should alarm the health authorities as it looks all too likely that they've overplayed their hand and created a vast group who have become vaccine hesitant. There are a lot of us who believe that we've been oversold and coerced into taking a medical intervention that we didn't need. The consequences look likely to haunt us for a generation.
And just in case you thought British exceptionalism may account for the apparent failure of the vaccines to deliver high levels of protection against death even in the event of a benign variant, high levels of natural immunity and improvements in case management, then just look at the comparative death rates pre- and post- vaccine in Israel, South Africa, the EU and in the USA. Israel has had very high rates of vaccination yet deaths peaked at a higher rate after the vaccine rollout. South Africa has had a relatively low rate of vaccine take-up yet its death rates have been getting ever smaller. In the EU and USA numbers there may be some vaccine impact but it doesn't look like a game changer, certainly not when we factor in natural immunity and more benign variants.
Hard as I look, I can't see that the vaccines have delivered the claimed 90% protection against death and I think there's a lot of people who agree with me.
U.S. Government Tells Americans to Put Their Masks Back On
By Will Jones
U.S. Federal Government health officials have told Americans they should wear masks again in areas with high coronavirus infection rates. Yahoo! News has more.
Desperate to keep the coronavirus pandemic from spoiling a third consecutive summer, federal public health officials said Wednesday that masking should return in parts of the country with rapidly rising rates of infection. But although cases have been rising for several weeks, local and state leaders have thus far shown little willingness to reimpose mask mandates, even in Democratic municipalities and states.

"We urge local leaders to encourage the use of prevention strategies like masking and public indoor setting and increasing access to testing and to treatment," the Director of the Centers for Disease Control and Prevention, Dr. Rochelle Walensky, said at a briefing Wednesday of the White House pandemic response team.

She also said that given the efficacy of one-way masking and over-the-counter availability of testing, people did not need to wait for Government action to take action of their own.

"In areas where community levels are high, everyone should be using prevention measures and wearing a mask in public indoor settings," Walensky said, adding that in areas of moderate community spread, people should "consider" masking as well, based on individual risk factors like age and overall health.

She noted that 32% of Americans now live in a community with high or moderate coronavirus levels, an increase of 8% since the previous week. Hospitalisations are rising, too, though deaths remain at a relatively low level, a testament to the effectiveness of treatments like Paxlovid.
Testament to Paxlovid? Pfizer will be pleased with the plug, but I'd have thought it has far more to do with the mildness of Omicron, which the CDC itself has said is 91% less deadly than Delta.
Worth reading in full.
NHS Chief Blames Lack of Face-to-Face GP Appointments for 24% Fall in Dementia Detection Rates
By Will Jones
Progress on tackling dementia has stalled, Sajid Javid admitted on Tuesday, as the NHS dementia chief blamed the lack of in-person GP check-ups during the pandemic for a 24% drop in dementia detection rates. The Telegraph has the story.
Speaking at the Alzheimer's Society annual conference, in London, Mr Javid said 1.6 million people in the UK were expected to have dementia by 2040, up from around 900,000 now.

Advances had been made in recent years, the Health Secretary said, "but the pandemic has stemmed the tide of progress".

"Despite the best efforts of the NHS it became harder for some people to get a timely diagnosis because the pandemic made it more difficult to access memory assessment services," he added.

The NHS dementia chief [Professor Alistair Burns] also told the conference that remote GP appointments meant opportunities to diagnose dementia had been "lost"…

Prof Burns said there were "pros and cons" to tele-consultations. "Crucially for me [there is the] issue of digital exclusion, people may not have access to some of the new technology and are at a disadvantage."

Many patients have said they struggled to see their family doctor in person during the pandemic. The most recent official figures from NHS Digital show 62% of GP appointments were held in-person in March, compared with around 80% pre-pandemic.

Many aspects of primary care "slipped a bit" during the pandemic, Prof Burns added.

Citing new figures, he said the number of people at risk of dementia who were referred for assessment dropped by almost a quarter in the six months to this year, from 147,000 pre-pandemic to 112,000.

"It's been a tough time for everyone during Covid, but I know particularly people with dementia, their families and carers have lost out disproportionately," he said.
Worth reading in full.
Western Audiences Have a Right to Be Accurately Informed About this War
By Noah Carl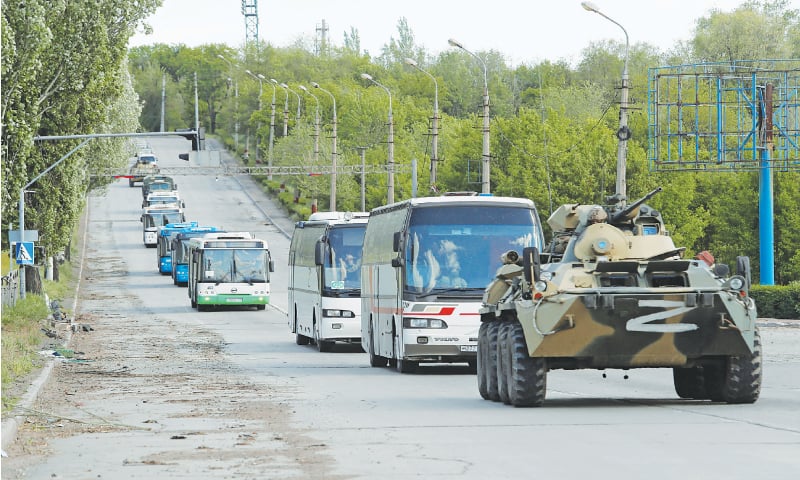 Yesterday, Ukrainian fighters besieged in the Azovstal steelworks surrendered to Russian forces, after a battle lasting almost three months. There's no doubt this was a surrender: the Ukrainian fighters – who belong to the Azov regiment – were taken in buses to Russian-held territory in Eastern Ukraine (as shown above).
However, that's not the impression you'd get scanning Western media outlets like the BBC, CNN and the New York Times. These outlets described what happened as an "evacuation" marking an "end to the combat mission". Here are the headlines:
• 'Mariupol: Hundreds of besieged Ukrainian soldiers evacuated' – The BBC
• 'Hundreds of Ukrainian troops evacuated from Mariupol steelworks after 82-day assault' – The Guardian
• 'Azovstal steelworks evacuated as Ukraine ends combat mission in Mariupol' – The Times
• 'The battle for Mariupol nears end as Ukraine declares 'combat mission' over' – CNN
• 'Ukraine ends bloody battle for Mariupol; Azovstal fighters evacuated' – The Washington Post
• 'Ukrainian authorities declare an end to the combat mission in Mariupol after weeks of Russian siege' – The New York Times
In war, an "evacuation" is when you send boats, planes or vehicles to transport your own troops away from a hostile location. Dunkirk was an evacuation. It is not when the enemy transports your troops to a location under his control after those troops have surrendered. That's called a "surrender".
Despite reporting where the Ukrainian fighters were taken (Russian-held territory), some of the articles above don't even use the word 'surrender'. One is reminded of Muhammad Saeed al-Sahhaf – nicknamed "Comical Ali" – who became known for his preposterous claims about U.S. losses during the 2003 invasion of Iraq.
Note: this has nothing to do with being 'pro-Russia'. This is about journalists using language that actually corresponds with reality. Which prompts the question of why? Why are they going around describing things in transparently misleading terms?
I can think of two possible reasons. One is they don't want to hurt Ukrainian morale. Perhaps Ukrainian soldiers on the front lines read Western media, or at least read what is written about Western media, and there was a concern that if they saw the headline 'Mariupol Garrison Surrenders', they might become dispirited.
The second possible reason is they don't want Western audiences to believe that Ukraine is faltering, as they might then become less willing to support military aid or sanctions. (Note: I'm not saying that Ukraine is faltering – I have no idea who has the upper hand – only that news of a surrender might lead Western audiences to believe that it's faltering.)
Of the two reasons, I'd suggest the first is more plausible. Maybe every outlet received the same press release with notes like: 'Keep 'surrender' out of the headline. Use 'evacuation' instead.' This is pure speculation, of course, but I don't know how else to explain why so many outlets used such bizarre language.
Now, I could perhaps understand if it was British troops surrendering. But it wasn't: the fighters who surrendered were Ukrainian – and from a regiment that just a few years ago Western media outlets were describing as "far-right" and even "neo-Nazi".
Not only are the media giving us an inaccurate picture of the most serious armed conflict since the Cold War; they're doing so despite the fact that it's not even our troops fighting. They're running interference for a foreign government – and regardless of how just that government's cause may be, this puts us in very thorny territory.
We're not dealing with celebrity gossip here. Western audiences have a right to be accurately informed about this war.
News Round-Up
By Will Jones
If you have any tips for inclusion in the round-up, email us here.