Two-Metre Rule Will be Replaced by One-Metre Rule by July 4th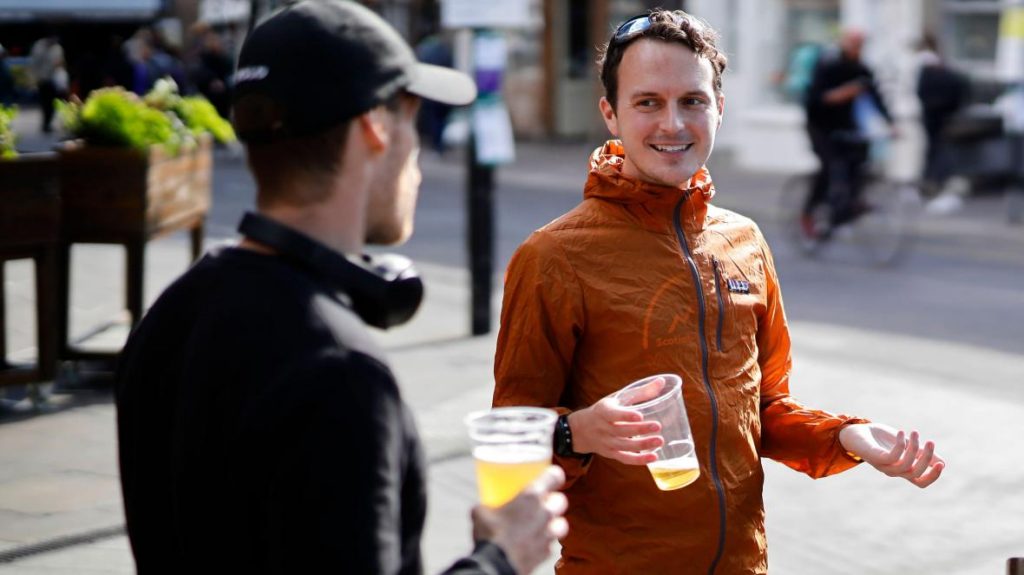 According to the Times, two metres will be replaced by one metre on July 4th so most pubs and restaurants will be able to reopen.
Boris Johnson will announce next week that the two-metre rule will be relaxed from July 4th and that pubs, restaurants, cafés and attractions can reopen as he attempts to revive the economy. Guidance drawn up by the Government and the hospitality industry will also be published as Britain embarks on a "new normal".

Separately, ministers will publish legislation next week to encourage an "al fresco revolution". Every pub, bar and restaurant will be automatically entitled to serve alcohol for people to drink on the pavement and in the street.
So that's the good news. The bad news is, beer gardens and outdoor dining areas will be patrolled by the police to make sure the one-metre rule is being observed.
Let's hope our brave boys in blue don't "take the knee" mid-patrol. It will look like they're proposing to whichever woman happens to be sitting at the nearest table.
A Doctor Writes
One of my readers, a retired NHS Consultant and member of the BAME population, has written a brief review for me of the delayed Public Health England report on why BAME people appear to be more vulnerable to COVID-19 than white people. This report was much ballyhooed when it was published a few days ago, with its conclusions seeming to chime with the claims of the Black Lives Matter protestors. It led to hysterical headlines, such as this one in the Guardian: "Historical racism may be behind England's higher BAME Covid-19 rate".
My reader is a little more sceptical.
Black, Asian and Minority Ethnic groups have a substantially higher risk of developing the COVID-19 syndrome from infection with SARS-CoV-2. Unfortunately, this has got entangled with the Black Lives Matter campaign before the details of why this should be so have been unravelled. So the finding has been overlaid, somewhat hysterically, by the social constructs of cultural deprivation and racism.

The risk increase varies between BAME subgroups. It is highest in people of Bangladeshi origin – much higher than in Black people of African origin. Research is ongoing, but the Government has rushed out this extraordinary report. Initially, its recommendations were redacted. Frankly they would have been better kept that way because we still don't know enough. At least I would have put in something about the likelihood of a genetic predisposition. Blood group A seems to be important, but why?

The incidence of a great many medical conditions varies between ethnic subgroups. For instance, sickle-cell anaemia occurs entirely in people of African origin. It is genetically determined. So to ignore the possibility that COVID-19 susceptibility might have a genetic component is foolish. And to make socio-cultural analysis the focus of the investigation, as this report does, is bizarre. What anyway is a "culturally competent" assessment? Answers on a postcard, please.

The risk of death from COVID-19 varies by age, pre-existing condition such as diabetes, or ethnicity. Being on immune suppressants may reduce your risk of death (an Italian study showed a lower risk in patients with inflammatory joint disease on cytokine blockers). Risk may be heightened by the level of exposure; being coughed at as you examine a patient closely will be far more dangerous than being breathed at from a metre away. The virus may spread more in close-contact groups; hospitals, care homes, places of worship, clubs.

But there is little evidence that deprivation plays a part. One cannot argue that hospital consultants (I was one) are financially disadvantaged, yet the death toll has been higher among BAME hospital consultants than their white counterparts too. And why are Bangladeshis at greater risk than Black Britons if racism is the cause? Most are Muslim. Yes, they may communicate closely at the mosque or at home, but hygiene standards are very high. Close contact might explain the high level of acquisition, but not the high death toll. So there remain many unknowns. But we should look for a scientific explanation before we start blustering about racism and deprivation. The virus itself is not knowingly racist; it cannot think.

I do think that groups now shown to be most at risk should be shielded from front-line duties in COVID-19 management. That means BAME doctors, nurses and others. The problem is that the NHS is so heavily reliant on them…
A Geneticist Writes
I got an email from a geneticist and data scientist who is an avid reader of Lockdown Sceptics. He is convinced that the daily deaths in England, both in hospitals and care homes, is close to zero, although you wouldn't know that from the statistics reeled off at the daily briefings, where, as we all know, they're reporting the total deaths that were registered in the previous 24-hour period, not those that actually occurred in the past 24 hours. He writes:
COVID-19 really has all but disappeared from the UK. The 1% or so positive cases recorded per day from daily screening may well be in the range of false positives for PCR (a method I know VERY well, and developed variations of over the years).
Sign This Free Speech Petition
The Free Speech Union has gone to bat for Stu Peters, the Manx Radio host who's been suspended by his employer and referred to the Isle of Man's Communications Commission – the equivalent of Ofcom – because he challenged the concept of "White Privilege". This is a flagrant violation of Stu Peters' right to free speech and the FSU has written to the Communications Commission demanding it drop its investigation and exonerate him.
A petition has been started by some Isle of Man locals in support of Stu. It now has over 6,000 signatures. Please sign it to show your support for free speech.
Did Sweden Lock Down After All?
I've published a piece by David Crowe today entitled "Sweden Did in Fact Lock Down When it Came to Care Homes". It argues that, when it comes to care homes, Sweden did lock down in that it imposed a blanket ban on visitors. According to Crowe, it was this attempt to protect the elderly from COVID-19 that accounts for the high number of excess deaths in Sweden's care homes – and excess care home deaths more generally.
I believe that the isolation of patients in nursing homes has not prevented deaths, but has caused deaths. Elderly, infirm people have nothing to live for any more, and poor care and abuse can no longer be observed, and stopped, by visiting friends and relatives. Underpaid staff, those who have not quit or been put in quarantine, are even more overworked than normal, resulting in poor care, frustration and abuse. Hospitals do not want nursing home patients, and the recommended alternative for the nursing home is to sedate and, if that doesn't work, sedate some more.

Sweden, like virtually every other country, imposed an absolute ban on nursing home visitors. If this is the most destructive part of the lockdown then it is fair to say that Sweden did actually lock down when they banned visitors to nursing homes on March 31st, and this explains why its death rate is in the middle of the pack. We will never know if Sweden would have had a far lower death rate if the doors of their nursing homes had been left open to the outside world.
It's an interesting argument and worth reading in full.
Newsnight's Deborah Cohen Strikes Again
One of the few BBC reporters to unpack "the science" is Newsnight's Health Correspondent Deborah Cohen. Some readers will remember her excellent report at the beginning of May entitled "Is the Government really 'following the science'?" Last night, she filed another report, this one about a recent meta-study in the Lancet that analysed just over a dozen studies looking at the effects of physical distance, face masks, and eye protection on virus transmission in health-care and non-health-care (e.g. community) settings. The paper concluded that your chances of catching COVID-19 if standing one metre away from an infectious person were twice as high as if standing at two metres away.
Cohen is quite critical of the study. "It was published in the Lancet and at first glance the results look sound," she said.
Now questions have emerged about whether the evidence for two metres is quite as good as it looked. The paper concluded your chances of catching COVID-19 at one metre was double your chances at two. Scratch a little deeper and the vast majority of the 15 studies analysed don't mention one or two metres at all. They say things like face-to-face contact and then this is extrapolated to one or two metres. For some, this extrapolation is very troubling.
We then hear from Professor Carl Heneghan at the Oxford Centre for Evidence-Based Medicine. He says the evidence "is of such low quality" that it's "not sound science".
Dr Colin Axon of Brunel University agrees: "There's not really any solid evidence to support two metres and there never has been."
Unfortunately, Deborah's report isn't available on YouTube yet, but you can watch last night's episode of Newsnight again here. The report is near the beginning.
This report cannot be dismissed lightly. Deborah was an editor at the BMJ for 13 years so knows her stuff.
Will the Lancet be forced to retract yet another paper? Embarrassing.
Postcard From Oregon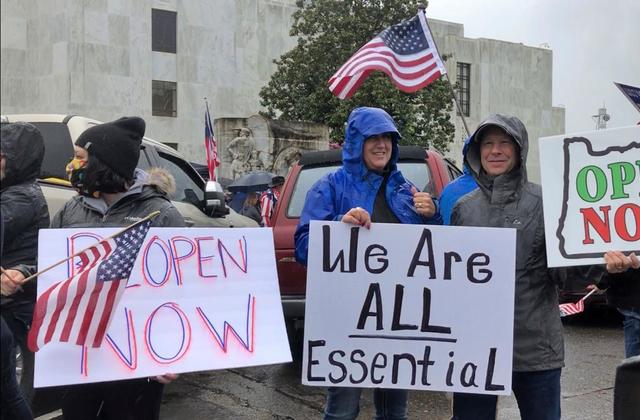 A reader called JJ – a professional journalist in a former life – has written a "Postcard From Oregon" for me and it's one of the best Postcards we've published. Here is an extract:
Even now, going out I nearly feel a fugitive, as if a weekly trip to buy food, supplies, and medicines is committing a terrible wrong against society. A wet, live layer of fear and suspicion drips from everything and everyone. Those of us not masked or distanced are given dirty looks, parents clutch their masked children away from us as we pass, and we get rude or even silent customer service in stores. Unkind words, insults and epithets are uttered publicly. Shame is in abundance. Rational discussion has become scarce. It rapidly descends into hostility and arguing. Comments are flagged and blocked, social accounts get banned. Messages to local officials are ignored or disparaged.
Definitely worth reading in full.
Round-Up
And on to the round-up of all the stories I've noticed, or which have been been brought to my attention, in the last 24 hours:
Small Businesses That Have Reopened
A few weeks ago, Lockdown Sceptics launched a searchable directory of open businesses across the UK. The idea is to celebrate those retail and hospitality businesses that have reopened, as well as help people find out what has opened in their area. But we need your help to build it, so we've created a form you can fill out to tell us about those businesses that have opened near you. Now that non-essential shops have reopened – or most of them, anyway – we're now focusing on pubs, bars, clubs and restaurants, as well as other social venues. Please visit the page and let us know about those brave folk who are doing their bit to get our country back on its feet. Dont worry if your entries don't show up immediately – we need to approve them once you've entered the data.
Note to the Good Folks Below the Line
I enjoy reading all your comments and I'm glad I've created a "safe space" for lockdown sceptics to share their frustrations and try to keep each other's spirits up. But please don't copy and paste whole articles from papers that are behind paywalls in the comments. I work for some of those publications and if they don't charge for premium content they won't survive.
Shameless Begging Bit
Thanks as always to those of you who made a donation in the last 24 hours to pay for the upkeep of this site. It usually takes me several hours to do these daily updates, along with the other work connected with the site, which doesn't leave much time for other work. If you feel like donating, however small the amount, please click here. Alternatively, you can donate to the Free Speech Union's litigation fund by clicking here or join the Free Speech Union here. And if you want to flag up any stories or links I should include in future updates, email me here. Note: Please don't email me at any other email addresses.
And Finally…
For those who missed the link to my Spectator column about getting a COVID-19 antibody test on Thursday, here's your chance to listen to me reading it out. Also includes Laurence Fox on the pitfalls of wrongthink and Lucy Kellaway on the true cost to students of classroom closures.