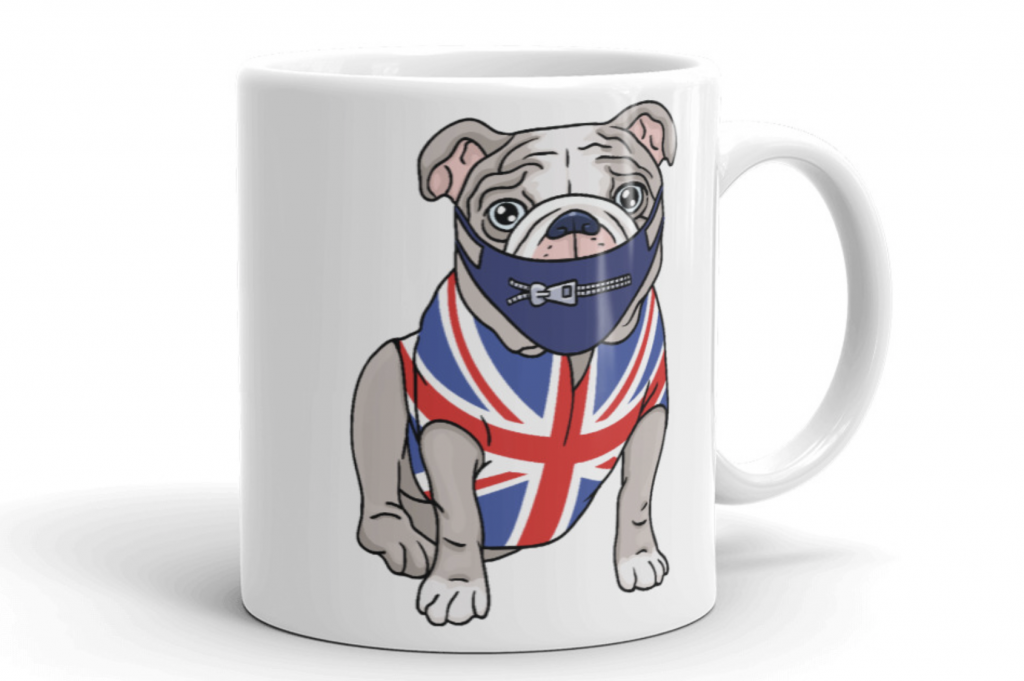 Finally, the Lockdown Skeptics shop is here! Yes, click on this link and you will be taken to the all-singing, all-dancing Lockdown Sceptics shop. I've also included a link in the top right-hand corner of every page.
No need to wear a mask and no social distancing required!
In addition to this splendid mug, we have T-shirts in all different colours, hoodies and tote bags. More merchandise will follow…
The central motif – a British bulldog muzzled by a face mask – was designed by my 16 year-old daughter and turned into a proper logo by a professional illustrator. I've promised Sasha 10% of the profits so she can enjoy the summer after a miserable three months being under house arrest at our home in Acton. So please get your shopping trolleys out and go bananas.
Help me turn the muzzled bulldog into this summer's must-have brand.
YouTube Shadow-Bans Peter Hichens
YouTube is at it again. Today, the company has been caught red-handed "shadow banning" an interview Peter Hitchens did on the Triggernometry channel entitled "Lockdown is a catastrophe". The interview was published at 6pm yesterday, but if you search for for "triggernometry Peter Hitchens" on YouTube or search for "triggernometry YouTube Peter Hitchens" on Google the video doesn't appear in the results. That's no accident. On the contrary, it's a tried-and-tested way for YouTube – and its parent company Google – to suppress traffic to an interview they deem suspect. The two comedians who host Triggernometry, Konstantin Kisin and Francis Foster, have made a video (on YouTube) to illustrate the problem.
Shadow-banning is a particularly insidious form of censorship because it's impossible to appeal against. When I was notified by YouTube last week that my video entitled "The Case Against Lockdowns" had been removed because it violated the company's "community standards", I was given the option to appeal, something I'm intending to do. But in this case, the censorship is unofficial – YouTube hasn't notified Triggernometry that it's suppressed the interview with Hitchens. It's censorship on the sly.
Konstantin Kisin and Francis Foster are both members of the Free Speech Union's Advisory Council and the FSU will be doing what it can to help. Six months ago, YouTube removed an interview they did with the feminist campaigner Posie Parker for the Triggernomentry channel, claiming it contained "hate speech that promotes or encourages violence against vulnerable groups". Parker's sin, apparently, was to say she didn't believe transwomen are women. Kisin and Foster appealed the decision and also kicked up a stink on social media and the video was reinstated. Needless to say, YouTube didn't even bother to respond to their appeal.
Shadow-banning is a form of "deceptive blocking" which was referred to in Trump's executive order last week aimed at removing the legal protections currently enjoyed by social media companies like YouTube so that henceforth they can be sued by users if they censor their content, whether directly or indirectly.
Let's hope Trump's Executive Order, as well as the threat of legislation, forces YouTube and other social media companies to be less censorious. Given their increasingly important role as forums for public debate, their terms of service and content moderation policies should be politically neutral, not designed to promote a narrow range of woke orthodoxies.
Stop Press: The WHO has changed its mind about wearing masks and now recommends against dong so. Let's hope it doesn't post its new guidance on YouTube because the company may be forced to remove it on the grounds that it contravenes the recommendations of… the WHO.
Mothers Threaten Gavin Williamson With Legal Action if Schools Don't Abandon "Draconian" Social Distancing Rules
#NotOK, the lobby group set up by three mothers to campaign for the reopening of schools, has threatened the Government with a law suit for breaching children's human rights if schools don't remove the absurdly restrictive social distancing rules they've brought in, supposedly following official guidance.
According to a story in today's Mail:
Three mothers are considering suing the Government over school closures – amid claims they may have breached children's human rights and pupils are being "treated like they're germs".

The women have also written to the Secretary of State Gavin Williamson to ask whether the "long term physical and mental welfare" of pupils has been considered, and to raise concerns about social distancing.

Campaigner Christine Brett, who has two children, said: "These are healthy children who have been quarantined for 12 weeks – they shouldn't be treated like they're germs, disinfected on entry and separated on to individual tables."

"Us and Them" campaign group founders Molly Kingsley, 41, Liz Morris, 46, and Mrs Brett, 48, all from Cambridgeshire, have one child each returning to school and another still stuck at home.
Regular readers won't need reminding that Christine Brett is a contributor to Lockdown Sceptics. She wrote a piece for the site arguing for the reopening of schools on May 17th that you can read here.
It's not just the fact that some primary age children still can't return to school that #NotOK objects to. It's also the draconian social distancing measures that children as young as four will be expected to observe once they return to school. It is that, rather than fear of infection, that is prompting a lot of parents to keep children at home – 50% of those eligible to return today, according to the Times. Christine told the Mail: "Children are social beings and it's really worrying that instead of going back to a supportive environment where they can actually recover from what's happened, they're going to be further damaged."
If you want to sign up to the campaign, you can do so here.
Scotland Becomes More Like North Korea Every Day
Nicola Sturgeon has today threatened to pass draconian new laws to force the Scottish people to observe the country's social distancing rules following a number of breaches over the weekend. On Saturday, for instance, Police Scotland dispersed 797 gatherings and car traffic trebled at some beauty spots like Loch Lomond and Glen Coe.
At present, the social distancing rules in Scotland are guidelines and don't have the force of law. But that will change, the First Minister said, if people continue to flout them.
"It's worth being clear that if there is continued evidence of even a minority not abiding by these guidelines and travelling unnecessarily, or meeting up in larger groups, we will have to put these restrictions on group size and travel distance into law," she said. "We will not hesitate to do that if it is necessary for the collective wellbeing of society."
That last phrase has an ominously authoritarian ring to it, suggesting Scotland is fast-becoming a one-party state. Guy de la Bédoyère, a regular contributor to Lockdown Sceptics, is unimpressed:
Just as I said the other week: the state always travels in the direction of totalitarianism unless someone stops the process. When do we ever hear from anyone in Scotland except Sturgeon? It's a one-woman state so she proceeds unchecked. Furious that anyone has dared to challenge her edicts by travelling around at the weekend she cannot, like any tinpot totalitarian, resist the temptation to elevate the threat of punitive recriminations, believing that that's the way to rule.
Perhaps this talk of bringing in more laws is Sturgeon's version of a "dead cat", hoping to deflect attention from the number of care home deaths in Scotland. According to the National Records of Scotland website, 46% of Covid deaths in Scotland since the beginning of the year have been in care homes, considerably more than England (37.4%). In an interview with Sophy Ridge on Sky News yesterday, Sturgeon made two dubious claims in her own defence.
First, she said she thought care home deaths in England had been under-counted. But while that may or may not be true, there's no reason to think deaths in care homes are more likely to have been under-counted than deaths in hospitals or the community, thereby altering the total percentage of deaths that have occurred in care homes. It's still going to be higher in Scotland.
Second, she said that when the Scottish Government passed the Coronavirus (Scotland) Act on April 7th, empowering councils to move elderly adults with no symptoms of the disease from hospitals to care homes, she didn't know that carriers of the virus could be asymptomatic. If true, that would reveal an astonishing depth of ignorance about the disease on the part of the First Minister. Was she living on another planet between mid-January, when the large number of asymptomatic carriers was first discussed by SAGE, and April 7th?
As the Times points out today:
At a public briefing on February 25th, Dr Bruce Aylward, a senior adviser to the WHO Director General, said: "The iceberg is you've got critical cases, you've got severe cases, you've got mild cases and a bit of asymptomatic transmission probably at the bottom. That seems to be what it looks like."
On February 28th, the WHO published a study from China entitled: "A familial cluster of COVID-19 indicating virus can be transmitted by asymptomatic carriers."
At a briefing on April 1st, Dr Maria Van Kerkhove, the Imperial College academic, said: "We know that… the transmission of this virus is driven by people who are asymptomatic."
The following day, the WHO issued a COVID-19 situation report that stated: "Asymptomatic cases have been reported as part of contact-tracing efforts in some countries."
At the WHO briefing on April 3rd, Dr Michael Ryan, Executive Director of the WHO Health Emergencies Programme, said: "There is always the possibility of asymptomatic transmission."
On April 4th, Sir Harry Burns, the Chief Medical Officer for Scotland when Ms Sturgeon was Health Secretary, told the Times: "There may be tens of thousands of people out there with the virus but no symptoms, and they are liable to spread it."
Tony Banks, founder of the Balhousie Care Group which operates 26 care homes across Scotland with about 940 residents, accused Scottish ministers of a "disgusting" attempt to deflect attention from their own "missed opportunities" yesterday.
Let's hope Mr Banks appears as a witness in Scotland's public inquiry.
Keep Britain Free
Simon Dolan has launched a spiffy new website and given a name to his campaign to hold the Government to account – "Keep Britain Free". You can check it out here. He's also given an interview to Spiked that you can read here.
Could this be the beginning of a new political movement? Numerous people have contacted me, on the left as well as the right, urging me to found a new political party devoted to defending our ancient liberties. Not a libertarian party, since it wouldn't be campaigning to strip the role of the state back to that of a night-watchman. Rather, a party that campaigned for our Common Law rights as freeborn Englishmen to be restored – not just those suspended during the lockdown, but those that have been gradually eroded since the Second World War, such as our right to free speech. The Common Law Rights Party… although with a snappier name.
Watch this space.
Chris Whitty Opposed Airport Screening in 2018
A reader has got in touch to flag up this 2018 lecture by Chris Whitty, the Chief Medical Officer of England, in which he says that screening at airports and banning travel is utterly useless when it comes to preventing pandemics spreading. Could this be why the NERVTAG meeting on January 21st, attended by Chris Whitty, recommended against port-of-entry screening? As I pointed out yesterday, those countries that introduced it in early January have some of the lowest Covid death counts in the world.
How High Are Excess Deaths in the US?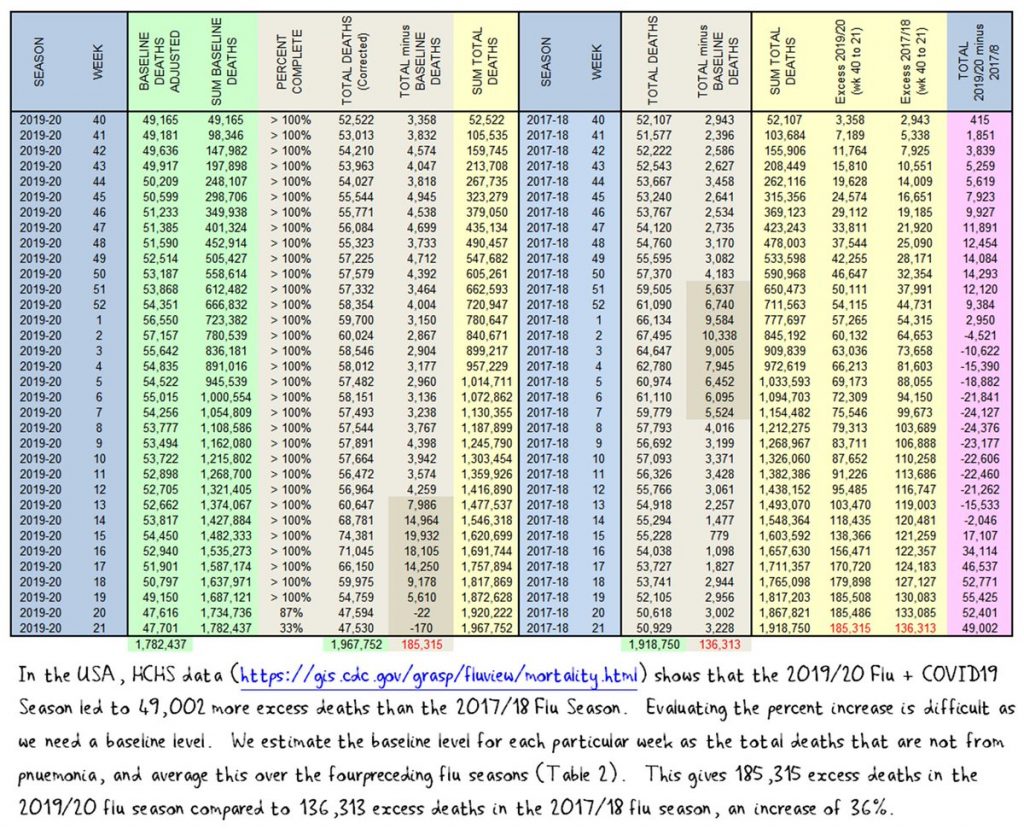 Nobel laureate Michael Levitt has compared excess deaths in the 2019/20 Flu + COVID-19 season in the US with excess deaths in the 2017/18 flu season and estimated that there have been 185,315 in 2019/20 compared to 136,313 in 2017/18. So a difference of 49,002, or an increase of 36%. This is a much smaller estimate than that made by the Yale School of Public Health and published in the Washington Post on Saturday, although even the Post says, based on Yale's state-by-state analysis, that excess deaths have been higher in those states that have imposed the strictest lockdowns and haven't yet eased them. "For the most part, the states that continue to maintain especially restrictive social distancing rules are those that suffered the largest numbers of excess deaths," the Post writes.
The number of excess deaths during the pandemic compared to the number of excess deaths from seasonal flu in recent years will be a big debating point as the post-mortems get underway, as will the number of excess deaths caused directly by COVID-19 compared to the number caused indirectly, e.g. as a result of the lockdowns.
In Germany, for instance, the number of directly caused COVID-19 deaths to date (8,605) is about a third of the number who died of seasonal influenza in 2017/18 (25,100). Angela Merkel initially described the pandemic as the worst crisis to afflict the country since the Second World War. She may come to regret those words…
Readers' Dispatches from Singapore and Albuquerque
I've published two more "postcards" from people in different countries, describing what it's like to be locked down in their parts of the world – one from Singapore and one from Albuquerque. The latter is by a severely disabled person called Kaatje van der Gaarden who's found that the lack of support for people like her has made the lockdown particularly hard to navigate. Here's an extract in which she points out that the cost of the lockdown in her state is likely to be greater than any benefit:
Studies show that prolonged stay-at-home orders aggravate mental health disorders, decrease our immune systems, and may prevent herd immunity. Most worryingly, the lockdown is destroying our societal and global fabric. Segregate and protect the elderly and those at risk, maintain voluntary distancing and use masks and gloves as needed, and let people decide whether or not they want to risk going to a store. Being alive comes with all sorts of risks that we normally accept, yet COVID-19 scared politicians and the media into a panic which they turned into propaganda.
Both postcards are worth reading in full.
Round-Up
And on to the round-up of all the stories I've noticed, or which have been been brought to my attention, in the last 24 hours:
Theme Tune Suggestions From Readers
Some more suggestions for theme songs from readers: "Culturecide" by Primal Scream, "F**k Off Get Free" by the Thee Silver Mt Zion Memorial Orchestra and "Police and Thieves" by the Clash.
Small Businesses That Have Reopened
A few weeks ago, Lockdown Sceptics launched a searchable directory of open businesses across the UK. The idea is to celebrate those retail and hospitality businesses that have reopened, as well as help people find out what has opened in their area. But we need your help to build it, so we've created a form you can fill out to tell us about those businesses that have opened near you. Please visit the page and let us know about those brave folk who are doing their bit to get our country back on its feet.
Shameless Begging Bit
Thanks as always to those of you who made a donation in the last 24 hours to pay for the upkeep of this site. It takes me about nine hours a day which doesn't leave much time for other work. If you feel like donating, however small the amount, please click here. Alternatively, you can support the site by going to our shop and buying a T-shirt or a mug. And if you want to flag up any stories or links I should include in future updates, email me here.
No Update Tomorrow
I won't be filing a daily update tomorrow as I've got to write my Spectator column, attend a Zoom meeting to discuss the decline of academic free speech, and prepare the papers for the forthcoming Free Speech Union board meeting. Normal service will resume on Wednesday.
And Finally…
This image appeared on the BBC's website yesterday to accompany a story entitled: "The mystery of asymptomatic 'silent spreaders'." Even by the BBC's scare-mongering standards, it's quite something. Bear in mind that: (a) there isn't a single case anywhere in the world of the virus being spread by footwear; and (b) the evidence that the virus can remain contagious on surfaces other than the human body is threadbare, at best.
There's another consideration, too, which is the fact that 'silent spreaders' are responsible for so much infection – 10% of carriers account for 80% of cases, according to some estimates – is a good thing, not a bad thing, as Justin Fox points out in Bloomberg. It means far fewer people are infectious than previously thought and if we can identify these spreaders we'll be well on our way to controlling the pandemic. But no. According to this BBC article, it's one more reason to remain under our beds until we have a vaccine.