Public Health Scotland (PHS) has announced it is no longer going to publish its Covid infection, hospitalisation and death rates by vaccination status. Purportedly this is because it is being misrepresented by "anti-vaxxers", according to a report in the Scotsman. But a more likely explanation is because it looks so bad. Here's the "notice of change" (there are further notices for each section going into more detail).
NOTICE OF CHANGE

From February 16th 2022, Public Health Scotland (PHS) will no longer report COVID-19 cases, hospitalisations, and deaths by vaccination status on a weekly basis. PHS will continue to provide updates from the latest scientific analyses and reports on the effectiveness of COVID-19 vaccines. An explanation behind this decision can be found below.

Since July 2021, Public Health Scotland (PHS) have [sic] reported COVID-19 cases, hospitalisations, and deaths by vaccination status in the weekly COVID-19 statistical report. These data were first published to help monitor the impact of the vaccination programme on the pandemic, impact on the NHS, and to help understand where to prioritise vaccination delivery. While PHS has stated that the data in the report should not be used as a measure of vaccine effectiveness, PHS is aware of inappropriate use and misinterpretation of the data when taken in isolation without fully understanding the limitations described below.

Due to the increasing risk of misinterpretation from growing complexities as the COVID-19 pandemic enters its second year (as described below), PHS has taken the decision to no longer report COVID-19 cases, hospitalisations and deaths by vaccination status on a weekly basis. PHS is currently reviewing the content and frequency of reporting this information. PHS will continue to communicate up to date and high quality research on COVID-19 vaccines. Evidence suggests the COVID-19 vaccine is effective at reducing the risk of a severe outcome, such as hospitalisation when infected, however no vaccine is 100% effective and some COVID-19 hospitalisations and deaths may still occur, particularly in vulnerable populations. PHS, in collaboration with partners such as the EAVE II consortium, will continue supporting comprehensive scientific studies evaluating the risks and reasons for severe COVID-19 in vaccinated populations and will communicate its findings as and when appropriate.
In its piece explaining the change, the Scotsman points the finger at us (well, Toby – but the "promotion on social media" referred to will presumably be his tweets promoting Daily Sceptic posts):
The data has been promoted on social media by individuals including the Spectator's associate editor Toby Young, the American right-wing opinion website, The Blaze, and anti-vaxxer American talking head Alex Berenson.
How dare we promote data published by the Government! I'm not sure exactly which tweets or articles this is referring to, but if it's Thorsteinn Siglaugsson's recent piece then I defy anyone to find inaccuracies or misrepresentations in it.
The main argument appears to be that the official Scottish population data overestimate the unvaccinated population. This may be true – but if so it would be the opposite of the ONS data, which underestimates the population of England (leading to greater than 100% vaccination rates in some age groups). Even if true though, the trends the data show are still informative. Besides which, PHS claims it is the "very simple statistics" that are being misrepresented, but this is not true: the data PHS presents is age-adjusted. Why bother adjusting for age if not to try to convey something meaningful about the infection rates and the effectiveness of the vaccines?
It also claims the vaccinated are more likely to get tested. That may also be true, but why not quantify it and adjust for it as many other studies have done? It's not difficult and PHS has the data to do so.
Instead though, PHS is going to stop publishing the data altogether and refer people instead to its studies. Which use – you guessed it – modelling. From the Scotsman article:
One PHS official said that focusing on vaccine effectiveness rather than the existing "very simple statistics" would result in "much more robust" data for the public.

They [sic] said: "The main important point around all of the analysis is we understand whether the vaccines are working against catching it and against getting severe Covid, and that's where the vaccine effectiveness studies come in which are a completely different methodology. The case rates, hospitalisation rates, the death rates are very simple statistics, whereas for the vaccine effectiveness studies we use modelling, we compare people who have tested negative to those who have tested positive and match them on their underlining co-morbidities. It's a completely different method which is much more robust and that's what we want people to focus on."
This is referring to a test-negative case-control study design, which numerous critics have pointed out should not be used for a disease like COVID-19.
However, the one positive this week is PHS did publish the data one final time, so we have one last opportunity to 'misrepresent' them. Here are the data from the report.
Here are graphs showing unadjusted vaccine effectiveness (actually, it is adjusted for age, but it's not adjusted for anything else, such as testing behaviour, comorbidities or prior infection). The data seem a bit noisy, but the sharp decline in the three-dose and two-dose effectiveness this week may lie behind the decision to stop publishing them.
Here are the absolute proportions of cases, hospitalisations and deaths by vaccination status, courtesy of the Freedom Podcast, showing it is most definitely not an epidemic of the unvaccinated.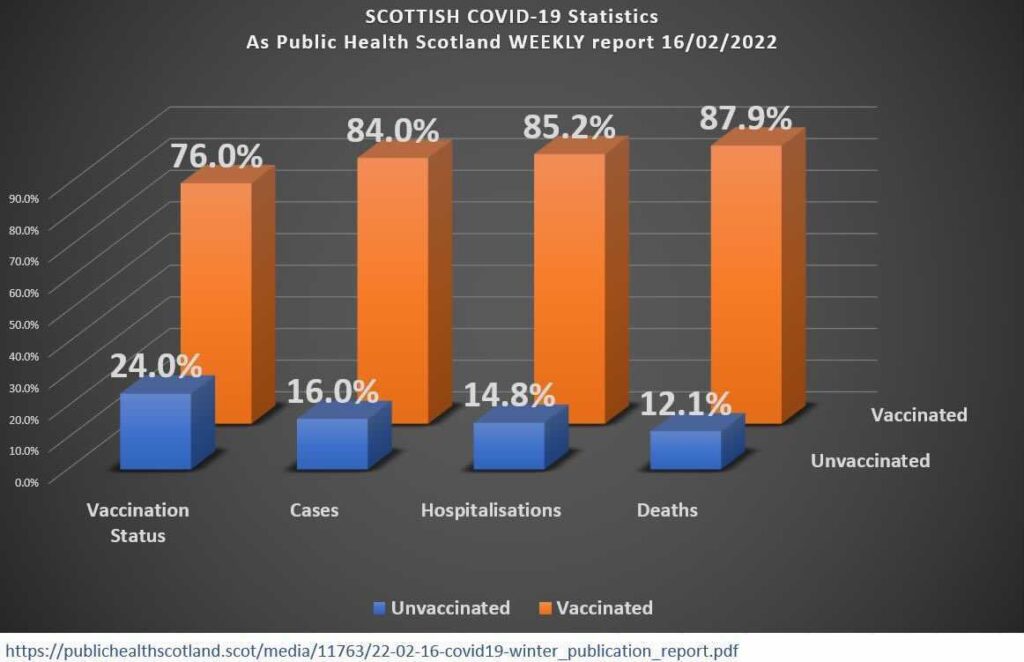 Stop Press: Read Eugyppius's Substack post on this.