Government borrowing came in lower than estimated in May, but there is little else in the state of the country's economy to be cheery about. Following more than a year of lockdowns and heavy borrowing, the national debt stands at £2.2 trillion and a former Chancellor has warned there is a big risk of inflation spiralling out of control. The MailOnline has the story.
The Government was in the red by £24.3 billion last month, down from £43.8 billion a year earlier at the height of the pandemic – and crucially below the Office for Budget Responsibility's forecasts.

However, the figure was still the second highest on record for the month and £18.9 billion more than in May 2019 before the pandemic struck, while national debt now stands at a staggering £2.2 trillion.

The grim fiscal backdrop was highlighted as former Chancellor Ken Clarke warned that there is a "big risk" of inflation running out of control – and urged Mr Sunak to raise more revenue now to make the Government less vulnerable to a resulting spike in interest payments.  

Responding to the figures, Mr Sunak reiterated his pledge to "get the public finances on a sustainable footing".

"That's why at the Budget in March I set out the difficult but necessary steps we are taking to keep debt under control in the years to come," he added.

Concerns over the rebounding economy overheating and causing an inflation spike have been intensifying after the headline rate surged ahead of expectations to hit 2.1% last month.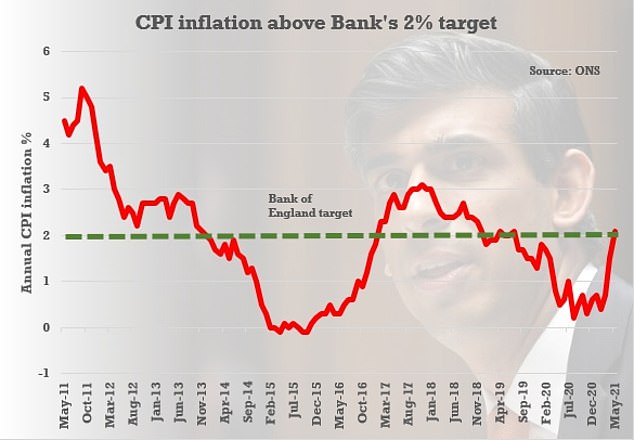 In the U.S. it is also at worryingly high levels, as Joe Biden pours money into stimulating the economy.

Mr Sunak has been wrestling with Boris Johnson over how to fund ambitious "levelling up" spending commitments and a new social care plan.

Downing Street has insisted that the "triple lock" on the state pension will stay in place, even though the warping effects of furlough could mean it rises by 6% this year.

Number 10 also says the manifesto commitment not to raise income tax, national insurance or VAT in this parliament stands – even though the respected IFS think-tank says that makes it "extremely difficult" for the Chancellor to find ways of raising money.
Worth reading in full.