Restaurants will be able to reopen for indoor service from Monday, but only if lockdown hasn't already forced them to close for good. There are now 9.7% fewer restaurants – and 19.% fewer "casual dining venues" – across Britain than in March 2020, according to new research. BBC News has the story.
The data in the latest Market Recovery Monitor from CGA and AlixPartners suggests that while many pubs and bars have also struggled to survive the pandemic, it is restaurants that have fared worst…

CGA and AlixPartners measured the impact of the last 13 months on pubs and restaurants that hold a licence to serve alcohol. 

Looking at the net number of venues, once all closures and new openings were taken into account, they found pubs across Britain fared slightly better than the restaurant sector.

The number of pubs serving food has fallen by 4.2%. Bars and pubs that only serve drinks fell by 5.2%. 

But on top of the near-20% fall in casual dining outlets, bar-restaurants, which make up a smaller part of the overall dining market, fell by 9.6%. 

General restaurants, which are the largest dining out category, are down 10.2%.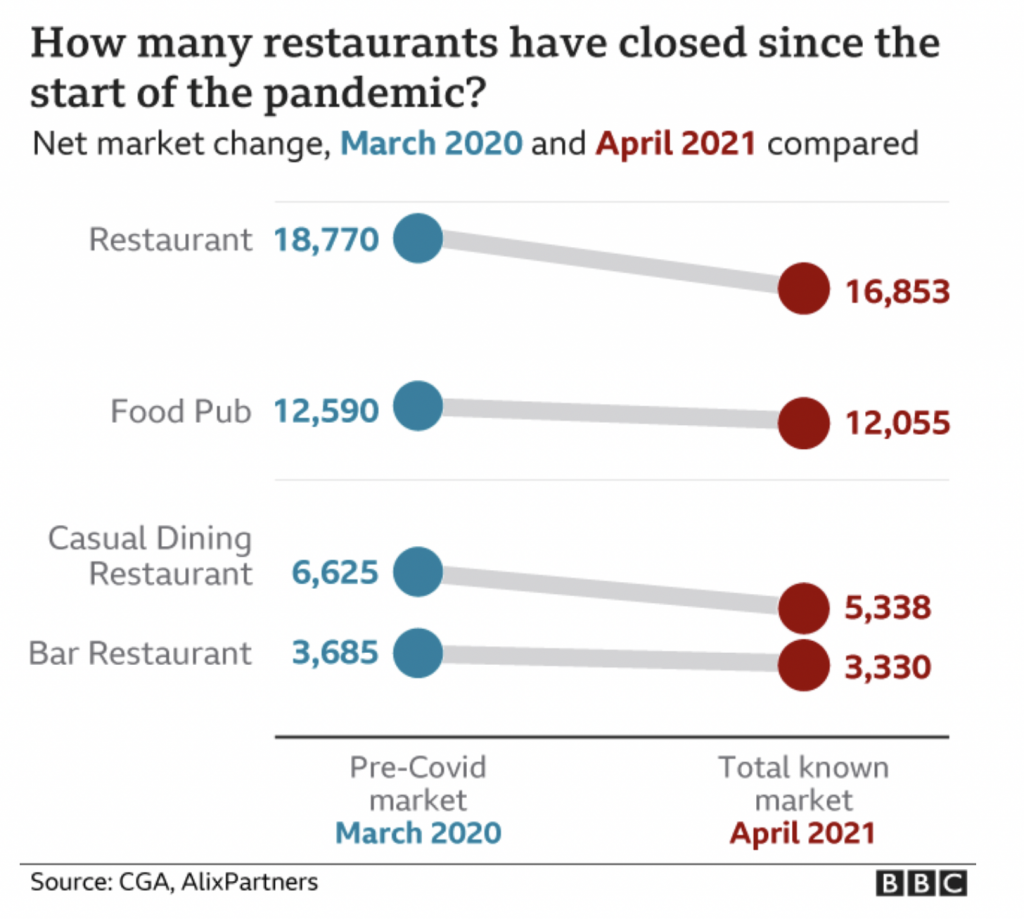 While restaurants that belong to larger chains were sometimes able to fall back on the group financially, or negotiate agreements with landlords across the business, independent operators have found it harder to survive.

The restaurant sector was already shrinking before the pandemic, but the net losses between 2017 and 2019 were between 0.9% and 2.2% a year, according to CGA AlixPartners data.

Many of those earlier losses were in crowded sectors such as burger bars. But losses over the past year have included businesses with otherwise promising futures.
Worth reading in full.
Stop Press: The "BBC [is] doing its usual conflation trick" in reporting that restaurants were lost because of the pandemic rather than because of lockdowns, says Luke Johnson.