The number of people waiting to receive hospital treatment continues to rise, with 4.7 million people stuck on a waiting list by the end of February in England. This is the highest number since 2007, highlighting the impact of a year in which the NHS focused on Covid patients at the expense of many others. BBC News has the story.
Around 4.7 million people were waiting for routine operations and procedures in England in February – the most since 2007, NHS England figures show.

Nearly 388,000 people were waiting more than a year for non-urgent surgery compared with just 1,600 before the pandemic began.

During January and February, the pressure on hospitals caused by Covid was particularly acute.

NHS England said two million operations took place despite the winter peak.

However surgeons said hospitals were still under huge pressure due to the second wave of Covid, which had led to "a year of uncertainty, pain and isolation" for patients waiting for planned treatment.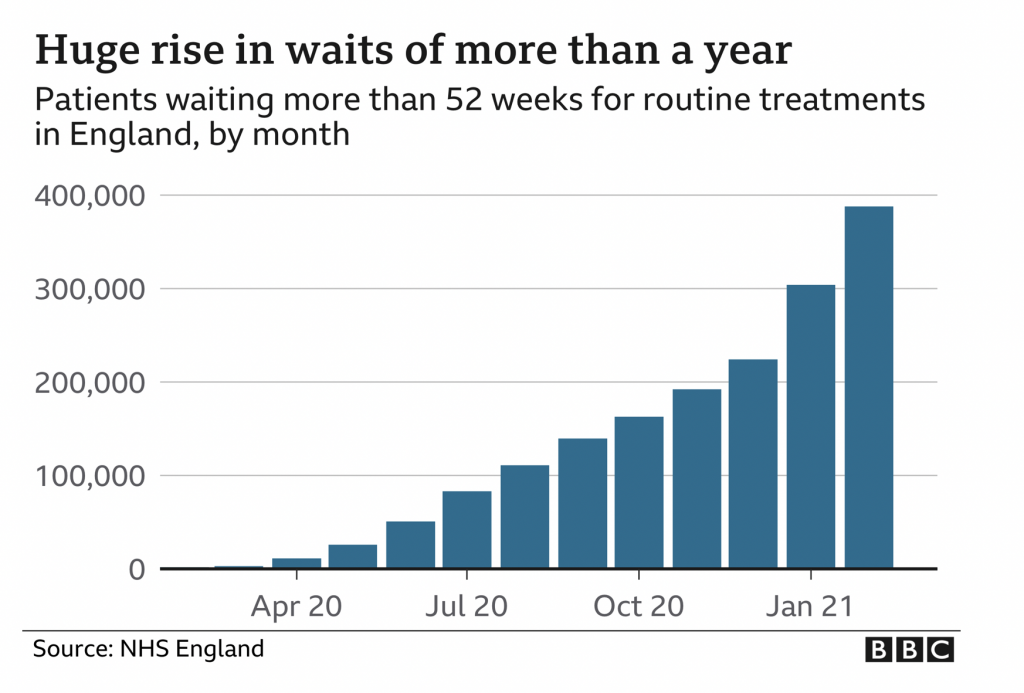 Tim Mitchell, Vice-President of the Royal College of Surgeons of England, has asked how much longer those whose treatments have been delayed can be expected to wait.
Although the most urgent operations for cancer and life-threatening conditions went ahead, hundreds of thousands of patients waiting for routine surgery such as hip and knee operations, cochlear implants and vascular operations had their treatment cancelled or postponed.

People have been patient as they've seen the battering the pandemic has given the NHS, but how much longer can they be expected to wait?
This news again highlights the importance of Professor Karol Sikora's oft-repeated, yet consistently ignored proposal for a Government press conference to be held which is entirely dedicated to non-Covid related illnesses.
Worth reading in full.