The Government's top scientific advisers have released papers today claiming social distancing and masks must remain in place for another year to avoid another wave of hospitalisations and deaths this summer at levels seen in January, despite the high vaccine take-up. The Mail has the details.
Social distancing will remain in place until next year even if Boris Johnson's roadmap out of lockdown goes to plan, the Government's top scientific advisers warned today.

Senior SAGE sources said that while the vaccines prevent the vast majority of people from falling ill and dying from coronavirus, they "are not good enough" to see all curbs lifted "without a big epidemic".

All legal limits on social contact were to be abolished by June 21st as part of the final stage of the Prime Minister's four-step route out of the crisis. It was hoped that festivals, sports events and nightclubs would reopen and that families and friends could reunite in large numbers after that date for the first time since winter 2020.

However, No 10's experts claimed today that "baseline measures", including some form of social distancing and masks, would need to remain in place until this time next year. They said they are "reasonably confident" that Covid will be manageable by then.

The AstraZeneca and Pfizer vaccines reduce Covid deaths by about 90%, but there are fears high infection rates could see the virus spill into the small number of vulnerable people who haven't been jabbed or for whom the vaccines don't work.

Despite the pessimistic comments, Mr Johnson is set to announce the country is on track for the second stage of his lockdown easing plans on April 12th, which will see shops, gyms, hairdressers and beer gardens reopen again.

Cases and deaths are at their lowest levels in six months and more than half of the adult population has been vaccinated with at least one dose of the jabs.

Papers released by SAGE today show the expert group is confident next week's lockdown-easing measures will not pile pressure on the NHS, even if there is a slight uptick in infections, because of the success of the jab rollout.

But the advisory panel is less optimistic about future stages of the roadmap, adding that it is "highly likely that there will be a further resurgence in hospitalisations and deaths".

They said the reopening of pubs, cinemas and indoor hospitality – due to happen on May 17th – could be delayed if vaccine uptake in the under-50s dips below 85%.

Modelling by Warwick University, Imperial College London and the London School of Hygiene and Tropical medicine (LSHTM) warned of a late summer surge after "freedom day" in June which could rival levels seen this January when hospitals were nearly overwhelmed.
It comes despite the models being relied on having been consistently wrong in hugely over-predicting deaths due to faulty assumptions about the deadliness of the virus, the susceptibility of the population, the effectiveness of interventions and the seasonality of the virus.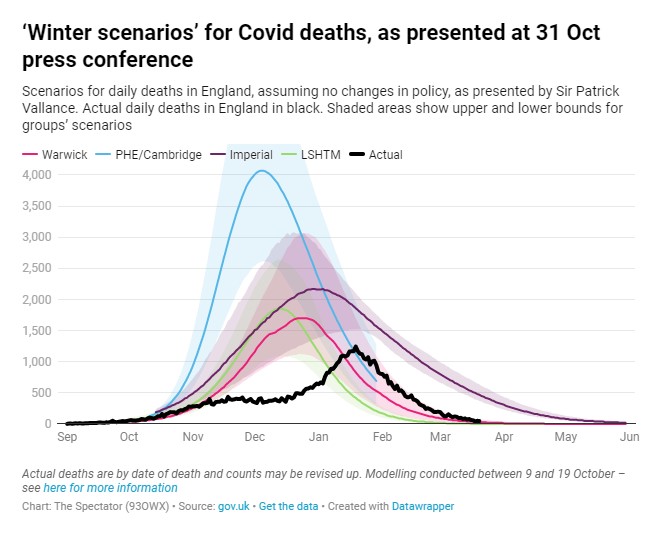 It also flies in the face of evidence from America, where states with fewer restrictions have fared better on average than those with more restrictions, and states which have lifted all measures this spring have yet to see a new surge.
The Government is still in urgent need of a red team to counter the doom and gloom being pumped out by SAGE.