Handy Cock Sacrifices Scapegoat in Bid to Save Political Career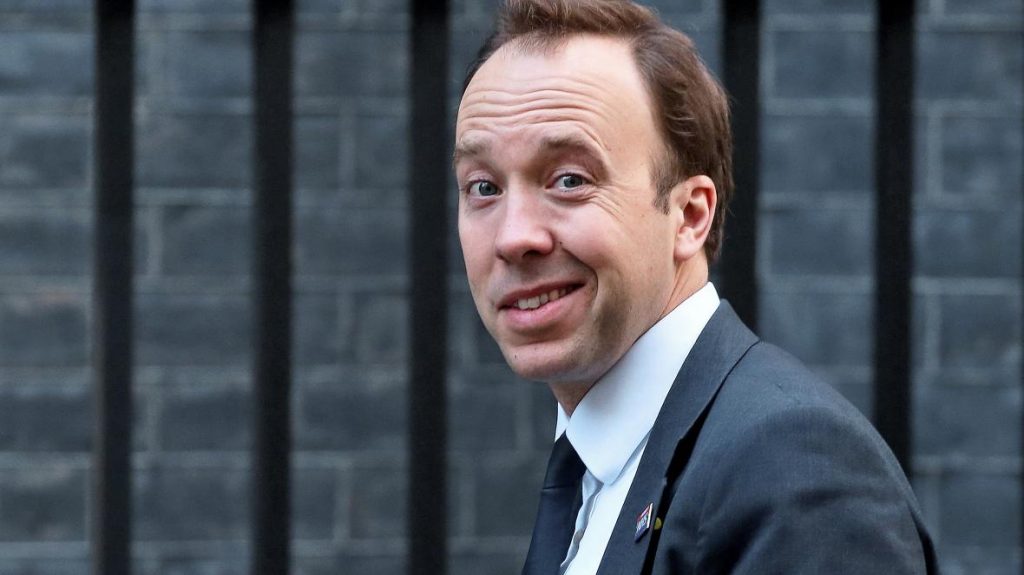 Matt Hancock has axed Public Health England! The Telegraph has the story.
Public Health England (PHE) is to be scrapped and replaced by a new body specifically designed to protect the country against a pandemic by early next month, the Telegraph can disclose.

Health Secretary Matt Hancock will this week announce a merger of the pandemic response work of PHE with NHS Test and Trace into a new body, called the National Institute for Health Protection, modelled on Germany's Robert Koch Institute.

The Health Secretary, who returns to work after a UK holiday this week, wants to give PHE's replacement time to be set up before a feared surge in coronavirus cases this autumn.
That last sentence is ominous. Does the Government really believe there's a second wave heading our way from across the English Channel? Apparently so.
A senior minister told the Telegraph: "We want to bring together the science and the scale in one new body so we can do all we can to stop a second coronavirus spike this autumn.

"The National Institute for Health Protection's goal will be simple: to ensure that Britain is one of the best equipped countries in the world to fight the pandemic."
What is this "senior minister" talking about? The pandemic is as good as over. (See below for a debunking of the 'second wave' hypothesis by a Professor of Genetics).
So who will run Britain's version of the Robert Koch Institute? Carl Heneghan? Karol Sikora? David Spiegelhalter? Don't be silly. No, the name in the frame is Dido Harding, Conservative life peer and head of England's disastrous test-and-trace programme.
Mr Hancock is seeking someone with experience of both health policy and the private sector to run it. Baroness Harding, the former chief executive of TalkTalk who heads up NHS Test and Trace, is tipped for the role.
Talk about failing upwards! To date, Harding's main claims to fame are presiding over a cyber-attack affecting tens of thousands of customers while Chief Executive of TalkTalk and overseeing NHSX's test-and-trace app which has now been abandoned, costing the taxpayer £10 billion. Her appointment would be controversial since she's married to Conservative MP John Penrose who sits on the advisory board of the think tank "1828" which has called for PHE to be scrapped.
I published a piece by Rob Lyons calling for PHE to be scrapped on May 10th so I suppose I should be happy. And there's little doubt it's done a terrible job of coordinating England's response to the crisis. But shouldn't Matt Hancock take responsibility for those failures? According to Nick Davies, programme director at the Institute of Government, PHE has "direct accountability to Matt Hancock". And how will the new National Institute for Health Protection differ from the National Institute for Health Research, headed by Chris Whitty? Or is that being scrapped as well? Incidentally, PHE replaced an organisation called the Health Protection Agency. Does this mean that when the National Institute for Health Protection is blamed for some other failure in 10 years time it will be replaced with a revamped version of PHE?
Incidentally, if this move does prove to be politically effective, which quango will be next? The Government is spoilt for choice, obviously, but my money's on Ofqual, the English exams regulator. It isn't exactly covering itself in glory when it comes to this year's A-level results and the crisis will only deepen next week with GCSE results due to come out.
According to the Sunday Times:
In an about-turn, Ofqual issued new guidance yesterday allowing schools to use the grades predicted by teachers to appeal against pupils' results.

However, late Saturday night, Ofqual said the policy was "being reviewed" by its board and that further information would be released "in due course".

This left Gavin Williamson, the Education Secretary, exposed because it broke the "triple lock" he had promised A-level and GCSE pupils only 72 hours earlier.

On Wednesday, Williamson said appeals could be made on the basis of mock exams. But under the new rules, mock results cannot trump teachers' predictions.
Neil Ferguson Based IFR Estimate on Tiny Sample
There's a fascinating Twitter thread by Graham Neary in which he drills down into how Neil Ferguson and his team came up with an estimated Infection Fatality Rate (IFR) of 0.9%. (The real figure is closer to 0.1%). Apparently, it was based on an analysis of the passengers on six flights that departed from Wuhan between January 30th and February 1st. Out of the 689 passengers, only six tested positive for Covid. That – and that alone – was the basis for the initial IFR estimate.
Congratulations to Neary for a sterling bit of detective work. For those who aren't on Twitter, I've unrolled the thread here. Neary concludes: "As we live through the consequences of economic depression and the (hopefully temporary) destruction of our way of life, remember that it all comes back to the belief that finding six people with Covid on six flights was a good way to estimate how many people had the disease."
Who's Managing the Covid Crisis?
A reader has posed an interesting question.
As a retired manager, one aspect of our current ludicrous actions on Covid that annoys me is that there seems to be no attempt to operate even the most basic principles of project-management. There seems to be no analysis, no plan, no objectives, no identification of options, no targets, no idea of what success looks like, no statement of the 'endgame' and no cost benefit analysis.

The original objective of "flatten the curve, protect the NHS and save lives" has clearly now been achieved but we have carried on with a kind of bizarre game of covid 'ring-a-roses' as we all panic about test results with no idea what we are trying to achieve?

I just wondered if there might be a Carl Heneghan of the management world who could usefully comment on the Covid hoo-ha from a management perspective?
If a Carl Heneghan of the management world is reading this and would like to write something about the Government's colossal mismanagement of this crisis, please get in touch. Although the Telegraph's Jeremy Warner is doing a pretty good job.
Global Law Firms Prepare to Sue UK
According to the Guardian, international law firms are lining up to sue the British Government on behalf of clients who've lost money as a result of the lockdown.
Governments around the world – including the UK – face a wave of lawsuits from foreign companies who complain that their profits have been hit by the pandemic.

Webinars and presentations shared with clients reveal that leading global law firms anticipate governments around the world will soon face claims over their response to the COVID-19 crisis. The actions are being brought under investor state dispute settlement (ISDS) clauses which are embedded in trade and investment agreements and allow foreign investors and firms to sue other countries' governments.

The claims are heard in highly secretive ad hoc tribunals before a panel of three judges. Often it is not apparent that a case is being brought until the panel sits.

The law firm Alston & Bird used a recent webinar to predict that the UK will be sued over Sadiq Khan's decision to close Crossrail construction sites during the pandemic. The decision was at odds with the government's policy of allowing sites to operate throughout lockdown, an inconsistency that they say opens up the way for a legal challenge.

Law firm Reed Smith has predicted that measures taken by governments to deal with the crisis are affecting investments "directly and significantly and could give rise to substantial claims".

And Ropes & Gray has issued an alert advising clients to consider actions brought under investment treaties as "a powerful tool to recover or prevent loss resulting from COVID-19-related government actions".
More power to their elbows.
Three Months to Global Herd Immunity
A Professor of Genetics who's a regular reader of Lockdown Sceptics has sent me a quick and dirty analysis of when the world is likely to achieve herd immunity.
I've looked at how the global prevalence has been changing over the last many months, if one eliminates the influence of massively increased levels of testing. Bottom line – it has been creeping up, but really not changed that much overall (median has risen from just over 2-3% to 3-4%). Declines in some places are matched by increases elsewhere. I suspect we've reached the peak though, and the next few weeks and months will see the global curve start to roll over and decline.

Now, given that in the UK the prevalence is falling by ~5% per day, if we assume NO new infections then this means the virus is detectable in a person on average for about 20 days. However, we know some new infections are occurring, and so the virus detection window is probably something more like 10 days (or even less!). Using this 10 day guesstimate, and a steady prevalence of 3-4%, then this means that every 10 days another 3-4% of people are getting infected globally. There are many caveats to this – but these numbers would mean that to get to 30% infected (Carl H's estimate of what is needed for herd immunity) will take only three months. Or if you want to go with the insanely high pantsdown requirement of 80%, then this will take one year globally. In the UK's case, we were one of the first countries to see the virus spread widely – and it actually rose to >40% prevalence in both Pillar 1 and 2 datasets late March. So we definitely reach the CH level for herd immunity some time ago, and also the NF required level more recently or soon. This has to be why the virus has been fading away naturally.

And one final line of argumentation for that… assuming a 0.26% IFR, and 41k deaths in the UK, indicates ~16M (41k/0.0026) have been infected, which is 24% of the UK population. Assume a 0.1% IFR and this goes to 61%. And these numbers are absolute minimum values, as the PCR assay has quite a high false negative rate!

Government and the people need to know this, as they are all currently "scared to lose their fear"! Mass hysteria exists in extremis, and will not end until our 'leaders' and the people understand reality. That said, most people I talk to think its all a nonsense and a scam of some sort – so there is hope!
Fishy Data
A reader has spotted a curious cause of death.
Having just read in today's Sunday Telegraph that a man was killed in a boat off Darwin, Australia when a mackerel flew out of the water hitting him in the chest I am left wondering if the fish came in on the second wave will it be reported as a Covid death?
Round-Up
Theme Tunes Suggested by Readers
Three today: "Stitched Up" by John Mayer and Herbie Hancock, "Dead Souls" by Joy Division and "Don't Fall" by the Chameleons.
Small Businesses That Have Re-Opened
A couple of months ago, Lockdown Sceptics launched a searchable directory of open businesses across the UK. The idea is to celebrate those retail and hospitality businesses that have re-opened, as well as help people find out what has opened in their area. But we need your help to build it, so we've created a form you can fill out to tell us about those businesses that have opened near you.
Now that non-essential shops have re-opened – or most of them, anyway – we're now focusing on pubs, bars, clubs and restaurants, as well as other social venues. As of July 4th, many of them have re-opened too, but not all (and some of them are at risk of having to close again). Please visit the page and let us know about those brave folk who are doing their bit to get our country back on its feet – particularly if they're not insisting on face masks! Don't worry if your entries don't show up immediately – we need to approve them once you've entered the data.
Love in the Time of Covid
We have created some Lockdown Sceptics Forums that are now open, including a dating forum called "Love in a Covid Climate" that has attracted a bit of attention (including this piece on Fox News). We have a team of moderators in place to remove spam and deal with the trolls, but sometimes it takes a little while so please bear with us. You have to register to use the Forums, but that should just be a one-time thing. Any problems, email the Lockdown Sceptics webmaster Ian Rons here.
"Mask Exempt" Lanyards
I've created a permanent slot down here for people who want to buy (or make) a "Mask Exempt" lanyard/card. You can print out and laminate a fairly standard one for free here and it has the advantage of not explicitly claiming you have a disability. But if you have no qualms about that (or you are disabled), you can buy a lanyard from Amazon saying you do have a disability/medical exemption here (now showing it will arrive between Sept 30th to Oct 9th). The Government has instructions on how to download an official "Mask Exempt" notice to put on your phone here. You can get a "Hidden Disability" tag from ebay here and an "exempt" card or just £2.79 from Etsy here.
Don't forget to sign the petition on the UK Government's petitions website calling for an end to mandatory face nappies in shops here (now over 29,000). The Government responded to this petition today. Usual balls. You can read the response here.
A reader has started a website that contains some useful guidance about how you can claim legal exemption.
And here's a round-up of the scientific evidence on the effectiveness of mask (threadbare at best).
Shameless Begging Bit
Thanks as always to those of you who made a donation in the past 24 hours to pay for the upkeep of this site. Doing these daily updates is a lot of work (although I have help from several people, including one indefatigable techie who doesn't want to be named). If you feel like donating, please click here. And if you want to flag up any stories or links I should include in future updates, email me here.
And Finally…
A reader has produced this sticker, printed a ton of them and is handing them out to local shops. A surprising number are displaying them in their windows. Congratulations, Sir. You are my Sceptic of the Week.