Holiday bookings have exploded on the eve of the Government's "air bridges" announcement, according to the Daily Mail.
Over the weekend, Britain's biggest travel websites saw inquires for some European destinations rise by 350 per cent and bookings were up by as much as 80 per cent on the week before.

Travellers are being tempted by promised savings of up to 76%.

The reductions mean it is possible for a family of four to save more than £500 on the headline price of a sunshine break.

Such was the surge in interest that the Eurostar website ground to a halt under the weight of bookings.
I looked at booking a family holiday in Santorini in July on Sunday, but when I checked Greece was still conducting port-of-entry screenings and insisting that new arrivals who test negative quarantine themselves for seven days. Doesn't sound like a barrel of laughs.
Beware the Jabberwocky Second Wave
So how worried should we be about a second wave? Readers will know my answer to that question, not least because I wrote a piece about it for the Telegraph on Friday.
Let's start with Sweden. At this point, I'm going to hand over to Freddie Sayers, the editor of UnHerd. UnHerd's coverage of the pandemic has been consistently excellent. Freddie had a good article in the Sunday Telegraph about his home country.
Sweden, my normally uncontroversial motherland, is again at the front of this battle between the Pollyannas and the pessimists. Because of its more laissez-faire strategy, it must be finally proven to be either a triumph or a catastrophe. The truth is somewhere in between. Charts of newly recorded cases in Sweden or maps of new cases per 100,000 population look bad, as if that country is suffering a plague out of proportion with the rest of the continent. But look at a chart showing admissions into Swedish intensive care with Covid-19 and you'd think the epidemic was pretty much over – sharply falling from its peak in mid-April to under 200 people nationwide today.

The answer to this confusion lies in testing. Starting from a low base, the Swedes have now doubled tests, and so have started picking up large numbers of mild cases that previously went undetected. Case numbers look bad, but hospitalisations and deaths continue to come down. They have no excess deaths compared with what would be normal for this time of year.
It's the same story across the rest of Europe: no second wave.
The real story across Europe has been that, despite country after country opening up, none has yet been hit by a genuine second wave. There have been big local outbreaks, such as in a meat-processing plant in Gütersloh in Germany and in Lisbon, but while they have understandably caused concern and led to local lockdowns, there have not been national surges or significant increases in hospitalisations or deaths.
What about the United States? The bedwetters' line is that states that re-opened early have seen a "surge" in infections, although that's not actually true since several states that re-opened early – such as Ohio – have not seen an uptick in infections and infections have continued to decline in those seven states that never shut down at all. Another difficulty with this hypothesis is that infections are rising in 22 states, not all of which re-opened early.
Partly, the rise is due to more people being tested, as this graph makes clear: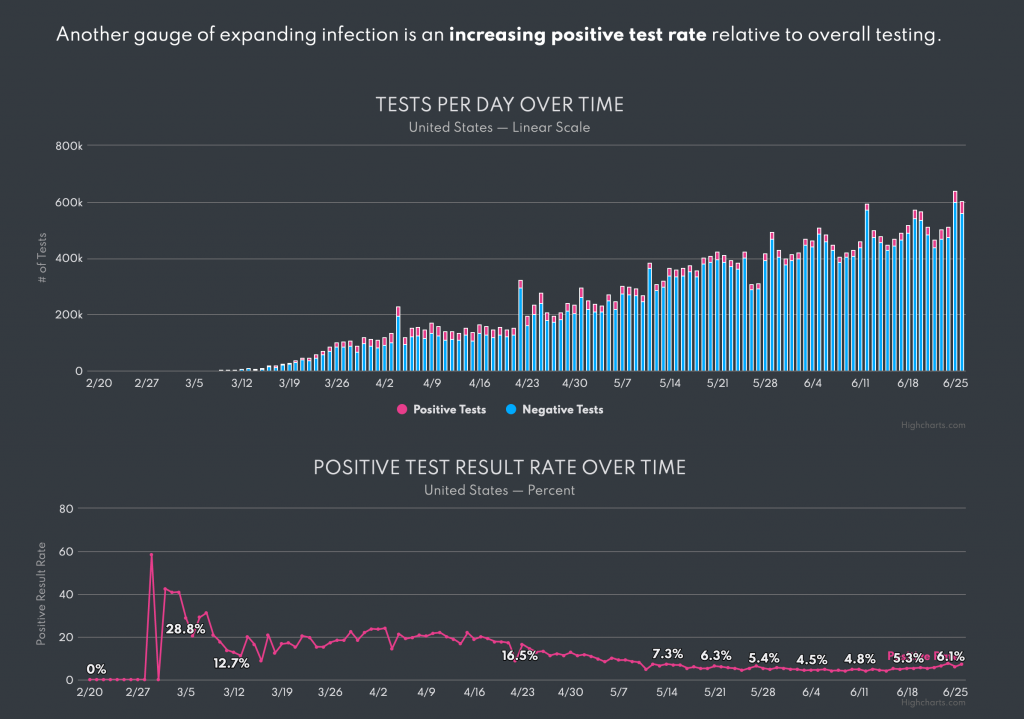 However, there's no denying that in some southern and southwestern states, case counts have been climbing in a way that can't be fully explained by increased testing. Last Friday, for instance, 25% of Arizona tests were positive, up from around eight percent on Memorial Day, when the rise began. Florida had a record single-day case count last Friday, and about a quarter of Alabama's total cases have come in the last week. Scary stuff, right?
No, not really, because there's been no corresponding rise in deaths. The daily death tolls are continuing to drop in Texas, Florida and Arizona, as they are for the whole of the United States, as this graph from the New York Times makes clear:
And before you say, "But what about the lag time between infection and death?" let me point out that cases started to rise in southern and southwestern states five weeks ago, so if the rise in cases was going to cause a proportionate rise in deaths we'd have seen that by now. Why haven't we? Because most of the people getting infected since those states re-opened have been young people. Florida Governor Ron DeSantis says the median age for new cases in his state is 37, while in Texas Greg Abbott says a majority of new cases are from people under 30. And as we know, the infection fatality rate for people under 50 with no underlying health conditions is close to zero. A recent seroprevalence study in Sweden found that among 36,000 sero positive cases, only two deaths were detected, giving an IFR of 0.005%.
And in the extremely unlikely event of an infected young person requiring critical care, we've got a lot better at treating the disease – Dexamethasone really does work.
Another complicating factor is that Arizona's rising death toll is partly due to deaths that occurred much earlier only just being reported. On Wednesday, for instance, it reported 79 "new" deaths, but they weren't really new at all, according to azcentral.
The 79 deaths, while included in Wednesday's report, did not all occur in the past day. According to the health department, 53 of those deaths were from "death certificate matching" for deaths that occurred previously and the department is just identifying as Covid-related. Arizona's death total now is 1,463.
1,463, incidentally, is low. Worth remembering that over 17,000 people have died in New York.
Meanwhile, across America as a whole daily deaths are 90% lower than they were at their peak (see graph below). Weirdly, though, the British media isn't reporting that story.
Will All Schools Really Re-open in September?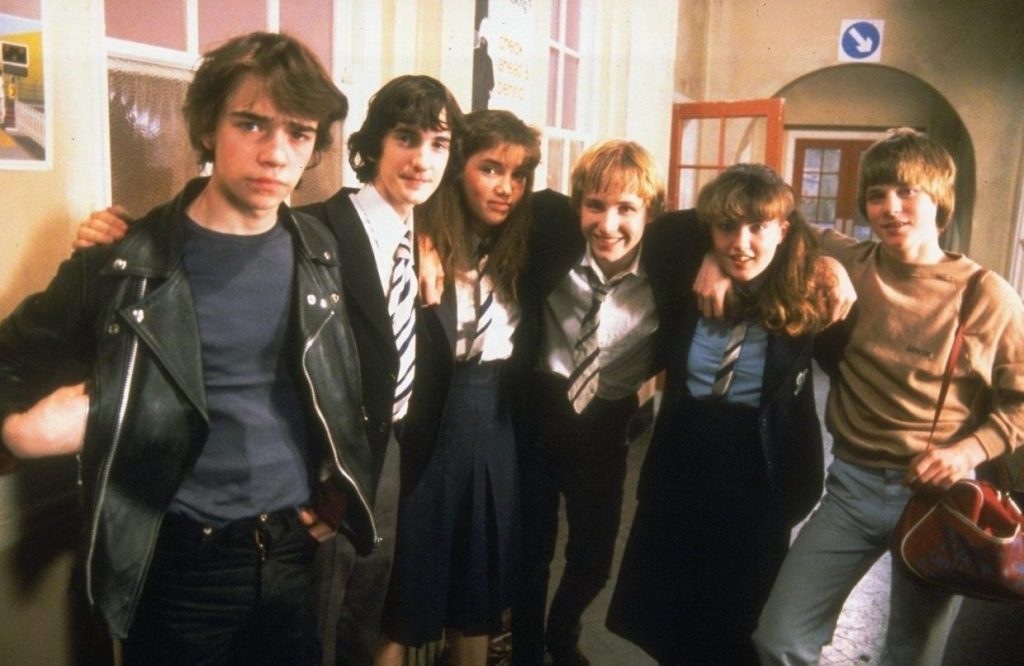 In spite of the Government's expressed intentions, I'm sceptical that all schools will re-open in September, at least not in full. A reader passed on this email from the headteacher of Highgate Woods School in Haringey which I fear is pretty typical.
Planning for September return – an update

I shared the table below with you last Friday. You may recall that we are planning for each of the four scenarios below, but that we are particularly focused on scenarios 2 and 3 as we think they are the most likely.

Scenario 1 COVID-19 disappears completely over the summer and the risk of contracting COVID-19 has been eliminated. Full school return in September

Scenario 2 The risk level of contracting COVID-19 is lower than now but not eliminated. This would probably mean that we could have half the school in at any time

Scenario 3 The risk level of contracting COVID-19 is something like now. This is likely to see Year 11/Year 13 in school significantly more than other year groups, whose main provision would be remote learning

Scenario 4 The risk of a severe second spike is high. School would be closed to all students

Since then you will probably be aware that the Prime Minister has announced that the Government plan to open all schools fully in September (scenario 1). However, at the moment, this is just a stated intention and from experience, we have seen such statements alter and in some cases get retracted. There has been no official guidance.

My view is that this is a highly ambitious objective by the government and although I welcome this, I am also clear that we will proceed with caution. Until such time that we receive official guidance from the Government, we will continue to plan for all four scenarios. The emphasis for us at HWS is safety first. Irrespective of the Government's position, I want to reassure parents that we will make decisions about how we re-open based on our ability to do so safely.
At first glance, it's hard to understand. He makes no attempt to explain why the school won't re-open in full if there's the slightest risk of the children contracting COVID-19, given that it poses less threat to children's safety than a thunder storm. Mystifying. Then there's a chink of light. He says he "welcomes" the Government's objective of re-opening all schools in full in September but will only re-open his school if he receives "official guidance" to that effect. Well, of course. God forbid that a headteacher should take any initiative himself. That's a bit clearer, I suppose: official guidance = school re-opening. But then the sky begins to darken again. He adds: "Irrespective of the Government's position, I want to reassure parents that we will make decisions about how we reopen based on our ability to do so safely."
In other words, he's not going to reopen the school in full even if the Government orders him to do so.
My favourite bit is this line: "The emphasis for us at HWS is safety first."
Forget about putting the welfare of the children first or, God forbid, their education. No, the critical thing is to put "safety" first.
Gawd help us.
Do Asda, Not As I Say
Got an encouraging email from a reader about how relaxed his local supermarket has become. I expect this is true of many shops that have embraced all the social-distancing bells and whistles.
My local Asda has all the lockdown features even the most fanatical virus paranoid could want: stickers, signs, screens, one-way lanes – you name it. No-one, not even the staff, now takes the slightest notice and there is zero enforcement. They've even stopped having a Brian Hanrahan on the door to count shoppers in and out. Nearby, the queuing lanes, once packed with the living dead waiting their turn, are empty with just the miles of tape flapping in the breeze.
Sceptic of the Week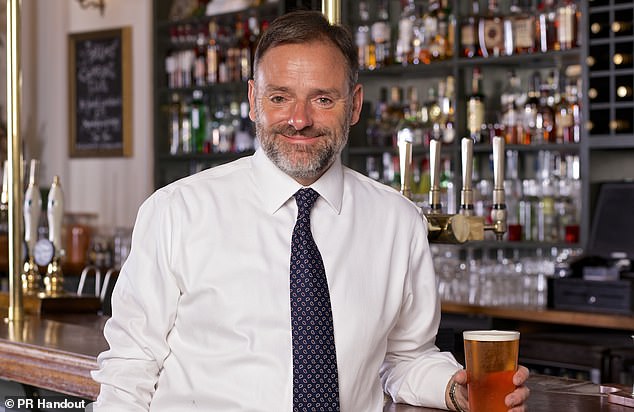 A clear winner this week: Ralph Findlay, CEO of Marston's, a pub chain that has 1,400 sites. He told the Mail that he will re-open 90% of his pubs on July 4th and not only will customers not have to register, he won't insist on anyone having to wear face masks either.
The brewer will spend several hundred thousand pounds on personal protective equipment for employees who want to use it for "their own peace of mind" but not as a matter of course.

The Wolverhampton-based group, which owns the Pitcher & Piano and Revere chains, said it would leave pens and paper for customers to fill out their details if they wanted to.

It means this voluntary information, and potentially the records of those making digital bookings, will be the only data it can provide to help the Government's track and trace efforts.
Unleashing the Welsh Dragon
For my Welsh readers, a crumb of comfort. Nicola Sturgeon, it seems, is acting even more ridiculously than your own First Minister. On Sunday it was announced that Scotland may introduce mandatory quarantine for those travelling from England if cases begin to rise once again. That won't do much for the Scottish tourism industry. Bear in mind it's worth £10.5 billion a year to the Scottish economy and employs approximately eight per cent of the working population.
A Rig Pig Writes
Got an excellent email from someone who works on a North Sea oil rig – sort of a Postcard from the North Sea. Sounds like he's had to put up with less social distancing balls than most, but even in the middle of the North Sea there are still some face mask Nazis…
I work offshore in the North Sea, and work has continued as normal – we have gone to four weeks on/four weeks off instead of our normal 3/3 – ostensibly to reduce the amount of time spent in heliports and traveling. But the rig has actually been busier than ever, with more people on board than normal. Gotta keep the gas flowing! We have established token social-distancing: removing every other seat in the mess room, or spreading out in the locker-room for our pre-shift briefing instead of sitting shoulder to shoulder. We also don't meet our back-to-backs face-to-face on crew change day (you used to get a quick ten minute chat while the helicopter was turned-round). All perfectly reasonable, and non-intrusive. We still work very (physically) closely, it just goes with the job – my mate is holding something in place while I bolt it up.

The "authorities" have come up with some rather daft policies, needless to say.

My first "lockdown trip" was just after the full lockdown started. After taking the crew of 12 in half at a time to watch a rousing video from our head honcho – "You may ask why you are still going out to work when the whole country is in lockdown? The answer is because YOU are powering the country" – we then went into separate departure rooms to get our survival suits on and watch the safety video. Six people together is surely safer than 12! Then all got on the same helicopter to fly out to the same rig to live and work together for four weeks! (No masks required that time.)

The following trip out (so eight weeks later) was much the same, but we had to wear these stupid snoods whilst on the chopper, which I found extremely annoying, and couldn't help keep faffing with it and itching my face.

I do accept wearing this during the helicopter journey though, out of politeness to the pilots if nothing else. However…

Coming home from that trip, we were out on the upper deck, in the North Sea wind, 30 yards away from the helideck, waiting for the helicopter (with blades turning) being refueled. I had my snood around my neck, and was told that I MUST wear it right now. "If the pilots see you, we will get a snotty email from the helicopter company," I was told. I asked: "Do you think viral transmission is likely in the middle of the ocean next to a running helicopter?" and was given a "rules are rules"-type reply.

The final stupidity was that we were explicitly told we were not allowed to remove these muzzles whilst walking across the Aberdeen tarmac, only when we were INSIDE the terminal!

All in all, I feel like one of the lucky ones. When offshore, things are almost completely normal, working away and surrounded by friends. But these completely random rules from the heliport did my head in, as did not being able to go straight to the Spider's Web boozer for a traditional back onshore pint.
Is Anything Not a Symptom of COVID-19?
According to Fox News, the CDC has added yet more items to its already very long list of COVID-19 symptoms. It's just as well the pubs are closed because everyone waking up with a hangover would think they had the virus.
Why Aren't We Allowed to Go to Ethiopia?
A reader who went to Ethiopia recently on his hols got a heart-rending note from the guide he hired to take him round the Simien Mountains National Park. The advice from the Foreign Office is to avoid the country. But why? People are literally dying in Ethiopia because the tourism industry has collapsed. My correspondent writes:
To begin with, the number of deaths from COVID-19 in Ethiopia has been 89 in a population of roughly 109 million. The peak was in April. The FCO is of course advising against all but essential travel to Ethiopia, and the Government is not planning to include Ethiopia in its initial "air bridge" scheme. It'll probably be one of the last countries to get its tourism industry back. Yet the infection rate has been much higher in those countries that are part of the air bridge scheme. The only rationale for this policy (playing into perceptions of the country) would be that Ethiopia has under-reported deaths, or can't properly test people so doesn't know. But the reverse seems to be the case, and they are getting praise for their response (e.g., here and here). Is it that they are not screening people coming in to Addis Ababa? Apparently not. They seem to be doing screening and also requiring a 14 day quarantine in a hotel of their choice. So it seems that Ethiopia ought to be high on the list of countries with whom we could run an air bridge scheme. Apparently "some Caribbean islands" are high on the list, so it's not like the GDP of the nation in question or the likely demand for flights is all that much of an issue – after all, demand for flights to Ethiopia was enough that Ethiopian Airlines was (until COVID-19) going to begin direct flights from Manchester to Addis Ababa (they already fly direct from Heathrow). It does make me wonder whether "some Caribbean islands" are on the list for other reasons.
The Great Awokening and the Second American Revolution
I interviewed Professor Eric Kaufmann for the Quillette podcast on Friday. He wrote an absolutely spell-binding essay about America's Mao-ist moment for Quillette last week and this was an opportunity for me to explore some of his ideas in more detail. Professor Kaufmann believes America may be going through something akin to China's Cultural Revolution in which many aspects of American society, from the constitution to the name of the country, could change. I'm not quite as alarmist as him, but his argument is persuasive.
Propaganda Poem
A mum of two primary school children sent me this poem that was set for her 10 year-old in Year Five last week. The poor little mite was expected to learn this abominable propaganda by heart! She quite rightly told the school to get knotted. Message: The Lockdown has brought about a spiritual awakening that has made people realise the error of their planet-destroying ways.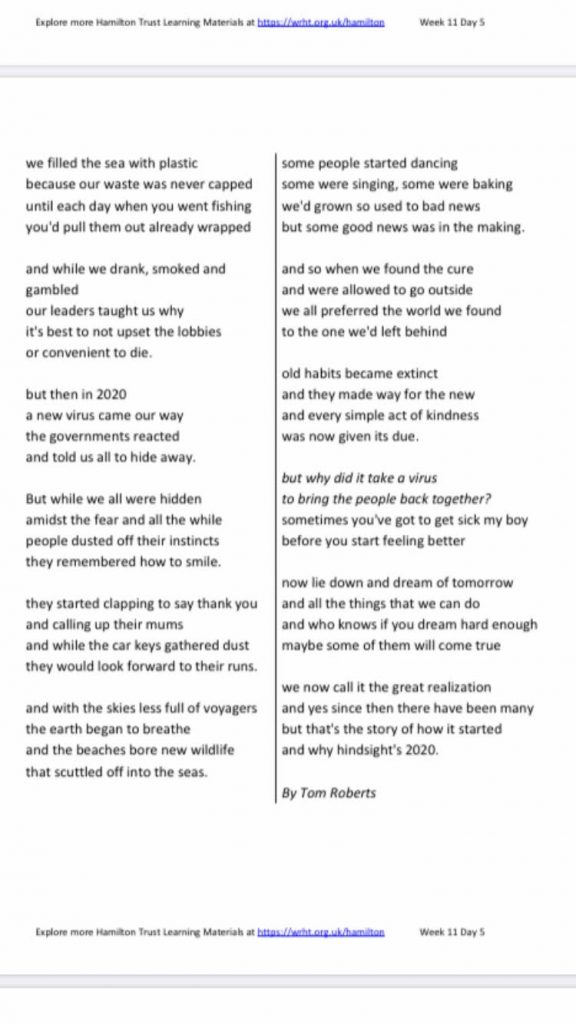 Round-Up
And on to the round-up of all the stories I've noticed, or which have been been brought to my attention, in the last 24 hours:
Theme Tune Suggestions From Readers
Just one suggestion today: "Everybody Hurts" by R.E.M. Can't believe we haven't had that one before. Or have we?
Small Businesses That Have Reopened
A few weeks ago, Lockdown Sceptics launched a searchable directory of open businesses across the UK. The idea is to celebrate those retail and hospitality businesses that have reopened, as well as help people find out what has opened in their area. But we need your help to build it, so we've created a form you can fill out to tell us about those businesses that have opened near you. Now that non-essential shops have reopened – or most of them, anyway – we're now focusing on pubs, bars, clubs and restaurants, as well as other social venues. Please visit the page and let us know about those brave folk who are doing their bit to get our country back on its feet. Don't worry if your entries don't show up immediately – we need to approve them once you've entered the data.
Note to the Good Folk Below the Line
I enjoy reading all your comments and I'm glad I've created a "safe space" for lockdown sceptics to share their frustrations and keep each other's spirits up. But please don't copy and paste whole articles from papers that are behind paywalls in the comments. I work for some of those papers and if they don't charge for premium content they won't survive.
Shameless Begging Bit
Thanks as always to those of you who made a donation in the last 24 hours to pay for the upkeep of this site. It usually takes me several hours to do these updates, along with everything else, which doesn't leave much time for other work. If you feel like donating, however small the amount, please click here. And if you want to flag up any stories or links I should include in future updates, email me here. (Please don't email me at any other address.) I'll try and get another update up on Tuesday.
And Finally…
Jonathan Pie's latest rant – about cancel culture – is well worth a watch. When he's good, he's very, very good.