The Health Secretary has said Covid passes will be scrapped in England this month as the country's Omicron wave continues to collapse. MailOnline has more
Sajid Javid is said to have told MPs [yesterday] that he shared their "instinctive discomfort" at the certificates, which 100 Tories voted against.

Ministers are also keen to ditch widespread working from home guidance when the current Plan B measures are reviewed on January 26th. It could mean that compulsory masks on public transport and in shops will be the only remaining curb.

Britain's Covid cases have fallen week-on-week for the past eight days in a row, with 109,000 new positive tests on Thursday. Hospital admissions have also flatlined.

At a meeting with Tory MPs yesterday, Mr Javid hailed the "encouraging signs" – but warned that hospitals remained under "significant pressure", the Times reports.

Currently, people in England need to show proof of vaccination or a negative lateral flow to enter large events and nightclubs.

A Whitehall source told the newspaper: "There was always a very high threshold for the policy and it looks increasingly likely in a couple of weeks that threshold won't be met. The way cases are going it will be hard to justify renewing."

Boris Johnson faced his biggest Tory revolt since the start of the pandemic over the introduction of Plan B measures last month, with nearly 100 Conservatives defying the party whip to vote against them.

The PM's chief Brexit negotiator Lord Frost dramatically resigned in protest over the rollout of the curbs. Yesterday he slammed the "Covid theatre" of masks and passes, and called lockdown a "serious mistake".
Worth reading in full.
Stop Press: Welsh First Minister Mark Drakeford has done a U-turn, announcing that all Covid restrictions will be lifted in Wales in two weeks in spite of describing England as an "outlier" last week because it had fewer restrictions than Wales. MailOnline has the story.
Mark Drakeford today confirmed all major coronavirus restrictions will be lifted in Wales in two weeks as he faced accusations of "overreacting" to the Omicron wave.

The Welsh Government will reopen nightclubs, end the rule of six in pubs and lift the 50-person limit on outdoor events.

Mr Drakeford, the Welsh First Minister, had warned just one week ago on January 7th that the Omicron "storm is fully upon us" as he predicted the peak would not arrive for "another 10 to 14 days".

He also slammed Boris Johnson's decision not to impose similarly tough restrictions in England as he branded the neighbouring country an "outlier".

But speaking this morning, Mr Drakeford said case numbers are now "coming down very rapidly" as he rejected accusations of a U-turn.
Worth reading in full.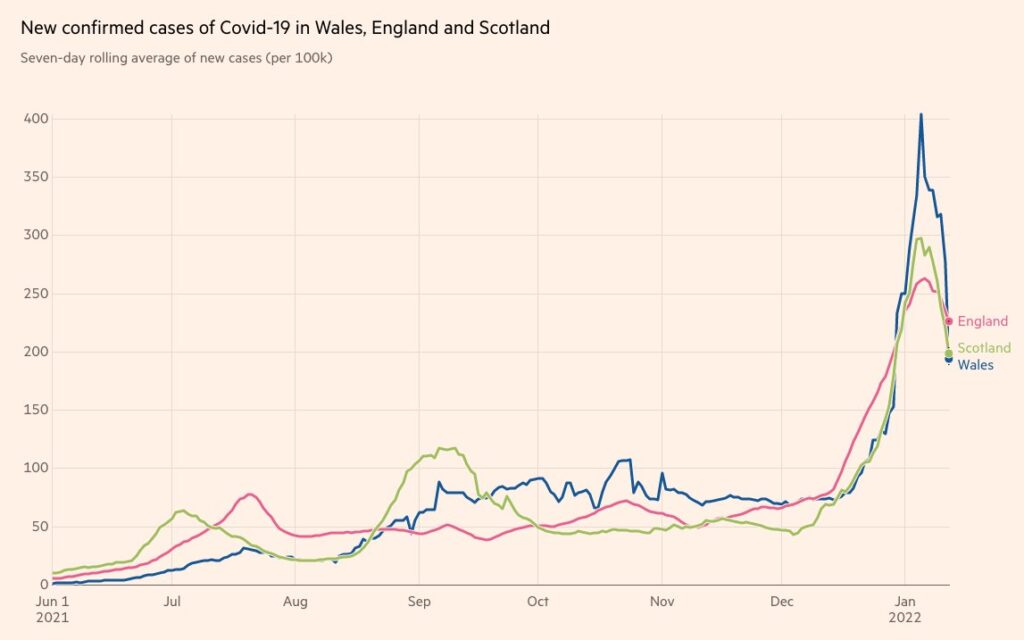 Stop Press: Sign this petition which specifically calls for mandatory face masks in shops and on public transport to be scrapped.
Stop Press 2: Daily cases have fallen below 100,000 in the U.K. for the first time since before Christmas. MailOnline has more.