Covid accounted for just 2.4% of the deaths registered in England in April – a month in which nearly 90% of the more than 7,000 neighbourhoods in England and Wales reported zero Covid deaths. The MailOnline has the story.
Office for National Statistics (ONS) data reveal April was the first month since August 2020 where the number of deaths was below the five-year average, with fewer than 1,000 virus-linked fatalities.

The overall death rate in England – 851.2 per 100,000 people – was the lowest rate for April since the ONS started recording mortality rates in 2001. 

MailOnline analysis shows the proportion of English and Welsh neighbourhoods with zero deaths increased from 57.9% in March to 87.6% last month – some 6,301 areas.

Just ten areas saw three deaths each, which was the highest amount for any postcode.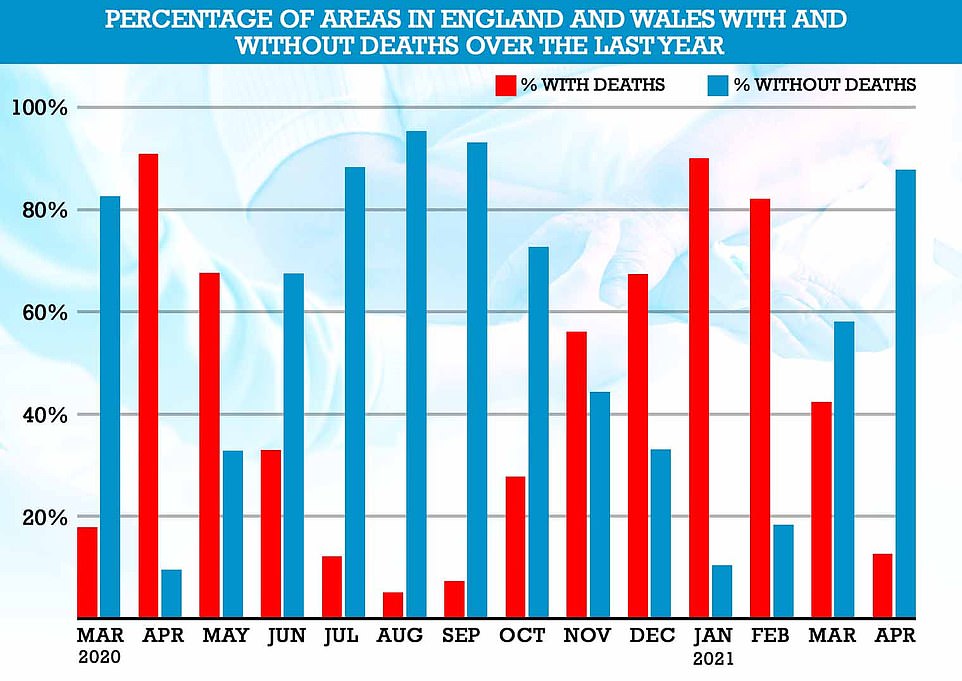 The ONS data also revealed that Covid was just the ninth leading cause of death in England last month – its lowest ranking since September 2020. Heart disease and dementia were the leading killers.

A total of 941 deaths were due to coronavirus in April, the equivalent of 2.4% of all deaths registered in England. Another 35 were recorded in Wales…

Professor Tim Spector, the epidemiologist who leads [King's College London's symptom-tracking app], said [the Indian Covid variant] "hasn't altered numbers significantly" and outbreaks remain focused in hotspots, such as Bolton. "While the outbreaks remain localised and U.K. numbers are steady and most cases appear mild, it's highly unlikely to cause the NHS to be overrun or stop us coming out of lockdown," he said.

Meanwhile, Public Health England bosses hailed "hugely encouraging" data that showed cases remained "stable" nationally at around 12,000 last week, and dropped in all age groups except 5 to 9 year-olds. Hospitalisations with the virus also fell across the country, while infection rates dipped in every region except the North West, which is struggling against an outbreak of the Indian strain.

Britain today also recorded just seven Covid deaths as the fatality toll continues to drop. Meanwhile, infections are flat with another 2,874 positive tests recorded. For comparison, 11 deaths and 2,657 cases were posted this time last week. 
Despite the fear being spread regarding the Indian Covid variant, the case for a full unlock grows stronger by the day.
The MailOnline report is worth reading in full.