Go-Slow BoJo Says Dates Will Not Change, However Good the Data Gets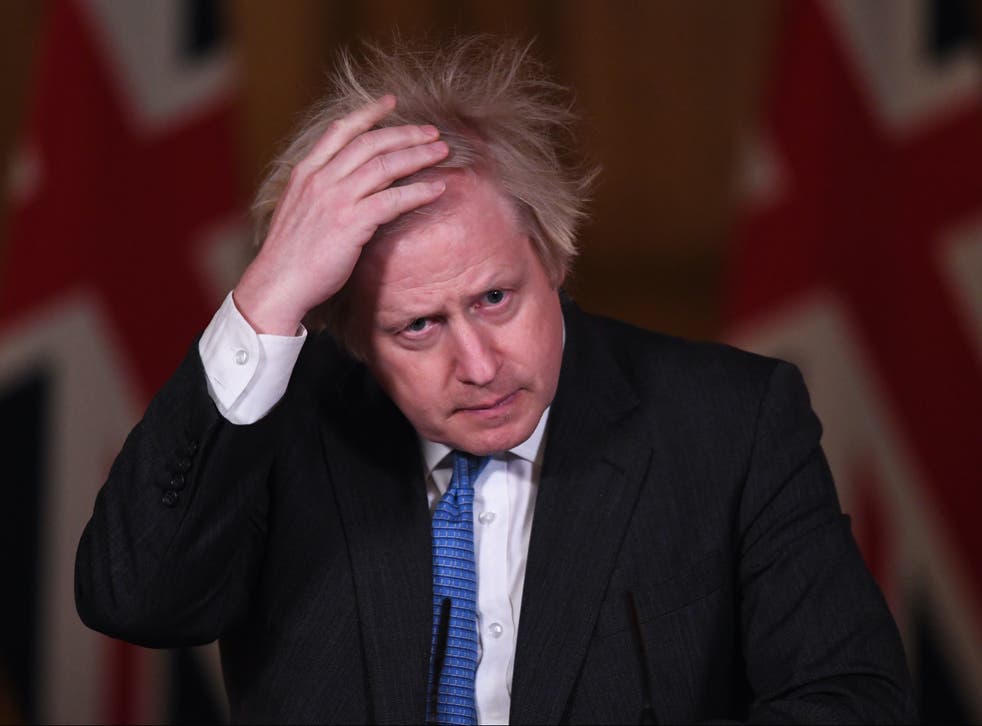 Despite saying last month that the Government's lockdown easing strategy will be driven by data not dates, it seems for Boris this only goes one way, and there is no question of better-than-expected data bringing easing forward.
Health Secretary Matt Hancock was out yesterday reiterating the Government's line and underlining that there would be no faster easing even for areas with almost no Covid at all. The Times has more.
Matt Hancock has rejected calls to ease restrictions early for low-infection areas, citing the failure of last year's tier system to prevent lockdowns.

Local variations in infection rates are becoming an increasing concern in Government, with cases rising in a fifth of areas while elsewhere they have fallen to extremely low numbers.

Millions of people in England are living in neighbourhoods where there are close to no cases of COVID-19, official figures show.

While areas such as Peterborough, Leicester and Sandwell in the West Midlands have rates of more than 200 per 100,000 people, rates have fallen below 50 per 100,000 in places ranging from Islington in north London to the Isle of Wight.

In very local areas Public Health England does not publish data with fewer than three cases "to protect individuals' identities". The latest figures show that 971 of 6,791 "Middle-layer Super Output Areas" (MSOAs) fall into that category.

Ben Bradshaw, MP for Exeter in Devon where rates are 49 per 100,000, asked the Health Secretary: "What will be the justification for keeping my constituents locked down and local businesses closed through Easter and beyond because rates somewhere else happened to be higher?"

Hancock replied: "We obviously had a tiered system over the autumn — one of the challenges we found was people travelling from a part of the country where rates are higher to those where they are lower."

While the Government may take "a localised approach to outbreaks", he insisted: "We are going to move down the road map, as a nation, across England."

Boris Johnson has also insisted that restrictions will not be eased earlier than planned in last week's road map despite increasingly positive news on vaccination, infections and deaths. But Nicola Sturgeon, the Scottish first minister, added to pressure on the prime minister when she said that in Scotland "we will be considering if it might be possible to accelerate the exit from lockdown" because of the encouraging data. "I have always said if we can go further and faster, then we will not hesitate to do so," she said.
It comes to something when Nic Sturge-On is outflanking you on the pace of re-opening.
But is it just political opportunism? That seems likely when you read the extreme measures the First Minister has in store for Scotland. The BBC reports.
The Scottish government hopes to return to the levels system from late April. But if an area is to see restrictions lifted, the number of positive cases will need to be far lower than when the system operated last year. The Government said the more stringent approach was needed because of the new faster-spreading variant of the virus…

The Scottish government's updated approach is outlined in the its latest strategic framework.

Under the new system, local authorities which have a case rate of more than 150 cases per 100,000 are likely to end up in level four – when only essential shops can open and hospitality must close. The previous threshold for level four was 300 cases per 100,000. Cases will also need to drop to below 50 per 100,000 in a local authority before it will be considered for level two, much lower than the previous rate of 150 per 100,000. That is the level where non-essential journeys outside the authority boundary are allowed and pubs can serve alcohol.
This sounds worryingly like a Zero Covid approach.
Justifying its strategy, the Scottish Government says it is "drawing on World Health Organisation (WHO) advice" from the November 2020 interim guidance document "Considerations for implementing and adjusting public health and social measures in the context of COVID-19".
Indeed it is. A hitherto under-appreciated document, this interim guidance (which, notably, predates the authorisation of vaccines) is a Zero Covid charter which envisages restrictions continuing until such time as there is "No known transmission of SARS-CoV-2 in the preceding 28 days". Even then it says "robust surveillance" (i.e., test and trace) should continue (forever, apparently) and suggests individuals continue "voluntary physical distancing". Here are its lowest three "Situational Levels".
The Scottish Government summarises the WHO's criteria for easing restrictions as follows:
Evidence shows that COVID-19 transmission is controlled.
Sufficient public health and health system capacities are in place to identify, isolate, test and treat all cases, and to trace and quarantine contacts.
Outbreak risks are minimised in high vulnerability settings, such as long-term care facilities (i.e., nursing homes, rehabilitative and mental health centres) and congregate settings.
Preventive measures are established in workplaces, with physical distancing, handwashing facilities and respiratory etiquette in place, and potentially thermal monitoring.
Manage the risk of exporting and importing cases from communities with high-risks of transmission.
Communities have a voice, are informed, engaged and participatory in the transition.
That's right – the criteria for easing restrictions include physical distancing in workplaces, the minimisation of outbreak risk in gathering settings, and ongoing invasive surveillance. But hang on a minute – those are the restrictions. When the criteria for easing restrictions are themselves part of the restrictions, you know you're well and truly ensnared in the circles of hell. Nowhere does the strategic framework specify the criteria for ending all restrictions and surveillance.
The final phase of the framework is: "COVID no longer a significant threat to public health. Maximum vaccine roll out" and "COVID-19 ceases to be a serious threat to public health". But even then it says: "Some ongoing public health measures likely to remain in place."
No endpoint is envisaged by the strategic framework or the WHO's interim guidance when all restrictions will cease and the normality of 2019 will resume.
Stop Press: The Telegraph reports that the fall in Covid deaths in England is running around three weeks ahead of modelling estimates and that some Government advisers are calling for lockdown to be eased more quickly.
Texas Ends All COVID-19 Restrictions
In a move that will boost the hopes of the millions around the world who want and need a return to normality sooner rather than later, the Governor of Texas Greg Abbott yesterday issued an Executive Order lifting the mask mandate in the state and increasing capacity of all businesses and facilities to 100%. The Governor said:
With the medical advancements of vaccines and antibody therapeutic drugs, Texas now has the tools to protect Texans from the virus. We must now do more to restore livelihoods and normalcy for Texans by opening Texas 100%. Make no mistake, COVID-19 has not disappeared, but it is clear from the recoveries, vaccinations, reduced hospitalisations, and safe practices that Texans are using that state mandates are no longer needed. Today's announcement does not abandon safe practices that Texans have mastered over the past year. Instead, it is a reminder that each person has a role to play in their own personal safety and the safety of others. With this executive order, we are ensuring that all businesses and families in Texas have the freedom to determine their own destiny.
Worth reading in full.
This is a return to normal as far as state mandates and guidance are concerned. A provision for local restrictions by county judges (should Covid hospital occupancy hit a certain level locally) remains in force. But other than that this is Texas returning to normality.
Will it become an international movement as the evidence that such an unwinding does not precipitate mass deaths becomes clear? Let's hope so, and let's hope Boris and his advisers are watching.
Test and Trace Finds Almost No Covid in Schools
Biostatistics Professor Jon Deeks, a Senior Researcher in the Institute of Applied Health Research at Birmingham University, has a good Twitter thread on how mass testing in schools appears to be finding no Covid and is a harmful waste of time. We reproduce it here in full.
Testing in schools has been finding close to zilch! Just located the Test and Trace figures for testing in schools. They are on this webpage.

To interpret these results remember all tests give false positives (FP). For Innova, DHSC says about three per 1,000 (0.3%) were FP; in Liverpool it was about one per 1,000 (0.1%). So only event rates above these figures indicate that a test is usefully detecting real cases.

First, primary schools (presume teachers and staff): 2,031,296 tests; 4,232 positives – that is 0.21% – stable for the past month. This is below the 0.3% false positive rate stated for Innova – so many will be false positives.

Now secondary schools: 1,918,823 tests; 2,986 positives – that is 0.16% over two months and has been below 0.1% for the past fortnight. Well below the 0.3% false positive rate stated for Innova – so many will be false positives.

These data make clear (1) all LFT positives MUST be verified by PCR – the Government is risking wrongly putting staff and students unnecessarily in isolation for 10 days. (2) The case that doing this at all will make a difference to cases and spread is less than wafer thin.

– think about the cost (~£10K-£30K per case detected)
– think about the time and effort
– think about children who get stressed by tests and swabs think about what else we could provide to schools
– many harms, unlikely there are going to be benefits

Why are we doing this?
Stop Press: The Telegraph reports that schools have been telling parents that their children will be banned from class if they do not consent to the tests. Val Mason, headteacher at Hornchurch High School in Havering, wrote to parents saying: "If you do not provide consent your child will not be permitted to return to face-to-face lessons. They will instead be required to complete their work remotely whilst being accommodated on the school site in a separate space."
Does Vaccination Make You More Susceptible to Covid in the Week After the Jab?
A data analyst sent us the following comments on recent data that suggests Covid vaccines may increase susceptibility to the disease in the days immediately following the jab.
Matt Hancock referenced a Public Health England study on Monday that suggested an 80% reduction in hospitalisations after a single dose of either the Pfizer/BioNTech or AstraZeneca/Oxford vaccines.

Unlike the recent Scotland study (which found around 90% efficacy but excluded the first seven days post-vaccination), the PHE study included data for the week immediately after vaccination.

Significantly, the authors noted a 48% increase in risk of infection 4-9 days after vaccination in the over-80s group treated with the Pfizer mRNA vaccine before January 4th. This is similar to the outcome reported in the FDA Emergency Use Authorisation for the Pfizer vaccine, which found 40% higher "suspected COVID" in the first week after vaccination compared to the control group. The authors of the PHE study explain the increase is likely to reflect the higher risk of exposure in these patients, either in hospital or in care homes. An alternative explanation – that the vaccine itself increased susceptibility – has not been adequately considered. Notable in this regard is that in trials the Pfizer vaccine was found to suppress lymphocyte count in the first few days after treatment (see chart above), potentially increasing susceptibility.

The PHE study employed a "test-negative (TN) case control" design that has become popular in assessing the efficacy of influenza vaccines in recent years. This design has been criticised as being not so much a "trial" as an observational retrospective study with a biased design. In this study, Pillar 2 data from unvaccinated patients is taken from December 8th. In contrast, vaccinated subjects appear to get nine days' grace in the run up to January 4th. According to symptom trackers and Pillar 2 testing, the majority of vaccinated patients will have started reporting after infections in the community collapsed. The extent to which vaccine efficacy in the over-70s (from January 4th) is assisted by the natural waning of the epidemic after the turn of the year is uncertain.

Given the numerous anecdotal reports of care home outbreaks (see the report from the UK Medical Freedom Alliance) shortly after vaccination across the world, I suggest this data needs further independent scrutiny.
I Think I'm In An Abusive Relationship – With the Government!
We're publishing an original piece today by Ashton Warhurst, pointing out the disturbing fact that, by the Government's own definition, "the people of Britain have been trapped in an abusive relationship with its own Government for almost a year, and the only end in sight is the vague suggestion of a maybe". Ashton begins:
I think I am in an abusive relationship, and I don't know how to escape. My abuser is too powerful and is intent on turning everyone I know against me, relentlessly trying to convince me that it's all my fault, that somehow I'm to blame. It seems they're the 'good guy' and I'm just a naïve nobody who doesn't understand what's best for me.

The realisation that I might be in an abusive relationship dawned on me when I read the Government's statutory guidance framework for Controlling or Coercive Behaviour in an Intimate or Family Relationship. This framework, introduced in 2015, presents a list of control behaviours that help lawmakers recognise when a person, such as myself, is in an abusive relationship.

As I read through the list, it's obvious that my own abuser ticks a disquietingly large majority of these boxes. Perhaps I shouldn't be surprised. After all, it is my own abuser who wrote the framework.
Worth reading in full.
Lockdown Scepticism Was Never a 'Fringe' Viewpoint
Noah Carl has written an excellent piece in Quillette defending scepticism from the charge of being the preserve of extremists and fruitcakes. Here's the opening:
Whether or not lockdowns are justifiable on public-health grounds, they certainly represent the greatest infringement on civil liberties in modern history. In the UK, lockdowns have contributed to the largest economic contraction in more than 300 years, as well as countless bankruptcies, and a dramatic rise in public borrowing.

This does not mean that lockdowns were the wrong policy, since they might have been necessary to prevent the National Health Service from being overwhelmed with COVID-19 critical-care patients. (And such measures are justified, proponents argue, on the grounds that they prevent infected individuals from harming others by inadvertently transmitting a deadly disease.) But as I will argue below, there's plenty of evidence that supports those on the other side of this issue, notwithstanding the efforts of politicians, experts, and social-media companies to paint such dissent as marginal or even dangerous.
Worth reading in full.
Government Admits it Has No Evidence For Restrictions
Sir Graham Brady MP asked the Health Secretary to publish the Government's evidence on transmission risks in the different settings that are affected by lockdown restrictions. The Government's answer has now been published – and basically admits it currently has no evidence and won't have any until the summer. By which point all restrictions are envisaged to be gone!
Question:
To ask the Secretary of State for Health and Social Care, pursuant to the Answer of September 2nd 2020 to Question 75983, on Coronavirus: Shops, if he will publish (a) the studies and (b) other research reports that his Department holds on the presence of viable COVID-19 virus in the air in (i) supermarkets, (ii) other large retail settings and (iii) other non-clinical settings. (154773)

Tabled on: February 19th 2021

Answer:
Edward Argar:

The National Institute for Health Research and UK Research and Innovation jointly awarded over £5.3million for a programme of research of eight projects to understand the routes of transmission of COVID-19 in different environments and groups of people. These projects are 12-15 months in duration and are expected to report findings in the summer of 2021.

The answer was submitted on March 2nd 2021.
So much for being led by "the science".
Rising From the Ashes
A Lockdown Sceptics reader who lost his job during lockdown has set up a London-based gardening business: Pruners & Shapers. We thought we'd give it a mention. And in case you're wondering, yes, gardeners are allowed to continue working under the current restrictions in England.
If any other entrepreneurial readers have found themselves in a similar position and would like us to give a boost to their new enterprise, email us here.
COVID-1984
Some more great Party slogans from readers:
IF YOU DON'T HAVE COVID YOU DON'T MATTER
WE'RE DESTROYING YOUR LIFE TO SAVE IT
KISSING KILLS
COMPANY WILL KILL
FRIENDS ARE THE ENEMY
FRONT DOOR IS FAR ENOUGH
SCEPTICISM IS SEDITION
MODELLING IS REALITY
SHAMING IS LOVING
TESTS ARE TRUTH
One from the Theresa May playbook:
LOCKDOWN MEANS LOCKDOWN
And one from ANIMALFARM-19:
ALL CITIZENS ARE EQUAL. BUT IMMUNISED CITIZENS ARE MORE EQUAL THAN OTHERS.
Theme Tunes Suggested by Readers
Ten today: "Numbers Don't Lie" by Popcaan, "I Surrender" by Rainbow, "Dead Cities" by The Exploited, "Twisted (Everyday Hurts)" by Skunk Anansie, "How Many More Years" by Howlin' Wolf, "I Predict A Riot" by Kaiser Chiefs, "Things Can Only Get Better" by Howard Jones, "Tell Me The Truth" by Bonnie Tyler, "Open Up" by Leftfield and Lydon and the latest from Media Bear: "Stick Me Baby 1 More Time".
Love in the Time of Covid
We have created some Lockdown Sceptics Forums, including a dating forum called "Love in a Covid Climate" that has attracted a bit of attention. We have a team of moderators in place to remove spam and deal with the trolls, but sometimes it takes a little while so please bear with us. You have to register to use the Forums as well as post comments below the line, but that should just be a one-time thing. Any problems, email Lockdown Sceptics here.
Sharing Stories
Some of you have asked how to link to particular stories on Lockdown Sceptics so you can share it. To do that, click on the headline of a particular story and a link symbol will appear on the right-hand side of the headline. Click on the link and the URL of your page will switch to the URL of that particular story. You can then copy that URL and either email it to your friends or post it on social media. Please do share the stories.
Social Media Accounts
You can follow Lockdown Sceptics on our social media accounts which are updated throughout the day. To follow us on Facebook, click here; to follow us on Twitter, click here; to follow us on Instagram, click here; to follow us on Parler, click here; and to follow us on MeWe, click here.
Woke Gobbledegook
We've decided to create a permanent slot down here for woke gobbledegook. Today, it's the news that Dr Seuss has been cancelled by Joe Biden for alleged racism. The Spectator USA looks at how the woke fanatics reached that peculiar conclusion.
The children's author Theodore Seuss Geisel lived his entire life not just as a staunch progressive, but even as the rather grating variety. To Geisel, the Cold War clash with totalitarian communism was a dispute as flimsy as a debate over how to butter bread. Horton Hears A Who! may declare that "a person's a person, no matter how small", but Seuss threatened to sue a pro-life group that took that statement to its logical conclusion. If Bartholomew Cubbins and his 500 hats were around today, at least one of the hats would be a Pussy Hat.

But Seuss's books were still phenomenally popular. Thousands of schools celebrate March 2nd as Read Across America Day. The date was chosen to mark Geisel's birth date. But now President Biden has reportedly omitted Seuss from the official list after educational authorities in Loudoun County, Virginia decided the author is, er, problematic.

Seuss drew anti-Japanese caricatures during World War Two. His characters are mostly the colour of the paper they are printed on. His later anti-racism works promote equality and colour-blindness rather than equity and 'reckoning'. So of course, he probably should be cancelled or at least denounced.

Loudoun County was once the great redoubt of conservatism in Northern Virginia, populated by the refugees of Fairfax, Arlington and DC itself. But the Big Blue Blob fully consumed Loudoun in 2016, and now parents get to enjoy the consequences, like denunciations of beloved children's authors.

And so, out went a statement from Loudoun's educators: "As we become more culturally responsive and racially conscious, all building leaders should know that in recent years there has been research revealing racial undertones in the books written and the illustrations drawn by Dr Seuss."
Research like this on Horton Hears a Who! by two critical race theorists:
Regardless of the intention of the book, the impact is that it reinforces themes of White supremacy, Orientalism, and White saviourism. It positions the Whos in a deficit-based framework as the dominant, paternalistic Horton enacts the White Saviour Industrial Complex… Not only does a White saviour narrative play out within Horton Hears a Who!, Seuss himself is positioned as a White saviour for writing it.
Worth reading in full.
"Mask Exempt" Lanyards
We've created a one-stop shop down here for people who want to obtain a "Mask Exempt" lanyard/card – because wearing a mask causes them "severe distress", for instance. You can print out and laminate a fairly standard one for free here and the Government has instructions on how to download an official "Mask Exempt" notice to put on your phone here. And if you feel obliged to wear a mask but want to signal your disapproval of having to do so, you can get a "sexy world" mask with the Swedish flag on it here.
A reader has started a website that contains some useful guidance about how you can claim legal exemption. Another reader has created an Android app which displays "I am exempt from wearing a face mask" on your phone. Only 99p.
If you're a shop owner and you want to let your customers know you will not be insisting on face masks or asking them what their reasons for exemption are, you can download a friendly sign to stick in your window here.
And here's an excellent piece about the ineffectiveness of masks by a Roger W. Koops, who has a doctorate in organic chemistry. See also the Swiss Doctor's thorough review of the scientific evidence here and Prof Carl Heneghan and Dr Tom Jefferson's Spectator article about the Danish mask study here.
The Great Barrington Declaration
The Great Barrington Declaration, a petition started by Professor Martin Kulldorff, Professor Sunetra Gupta and Professor Jay Bhattacharya calling for a strategy of "Focused Protection" (protect the elderly and the vulnerable and let everyone else get on with life), was launched in October and the lockdown zealots have been doing their best to discredit it ever since. If you googled it a week after launch, the top hits were three smear pieces from the Guardian, including: "Herd immunity letter signed by fake experts including 'Dr Johnny Bananas'." (Freddie Sayers at UnHerd warned us about this the day before it appeared.) On the bright side, Google UK has stopped shadow banning it, so the actual Declaration now tops the search results – and Toby's Spectator piece about the attempt to suppress it is among the top hits – although discussion of it has been censored by Reddit. In February, Facebook deleted the GBD's page because it "goes against our community standards". The reason the zealots hate it, of course, is that it gives the lie to their claim that "the science" only supports their strategy. These three scientists are every bit as eminent – more eminent – than the pro-lockdown fanatics so expect no let up in the attacks. (Wikipedia has also done a smear job.)
You can find it here. Please sign it. Now over three quarters of a million signatures.
Update: The authors of the GBD have expanded the FAQs to deal with some of the arguments and smears that have been made against their proposal. Worth reading in full.
Update 2: Many of the signatories of the Great Barrington Declaration are involved with new UK anti-lockdown campaign Recovery. Find out more and join here.
Update 3: You can watch Sunetra Gupta set out the case for "Focused Protection" here and Jay Bhattacharya make it here.
Update 4: The three GBD authors plus Prof Carl Heneghan of CEBM have launched a new website collateralglobal.org, "a global repository for research into the collateral effects of the COVID-19 lockdown measures". Follow Collateral Global on Twitter here. Sign up to the newsletter here.
Judicial Reviews Against the Government
There are now so many legal cases being brought against the Government and its ministers we thought we'd include them all in one place down here.
The Simon Dolan case has now reached the end of the road. The current lead case is the Robin Tilbrook case which challenges whether the Lockdown Regulations are constitutional, although that case, too, has been refused permission to proceed. There's still one more thing that can be tried. You can read about that and contribute here.
The GoodLawProject and three MPs – Debbie Abrahams, Caroline Lucas and Layla Moran – brought a Judicial Review against Matt Hancock for failing to publish details of lucrative contracts awarded by his department and it was upheld. The Court ruled Hancock had acted unlawfully.
Then there's John's Campaign which is focused specifically on care homes. Find out more about that here.
There's the GoodLawProject and Runnymede Trust's Judicial Review of the Government's award of lucrative PPE contracts to various private companies. You can find out more about that here and contribute to the crowdfunder here.
Scottish Church leaders from a range of Christian denominations have launched legal action, supported by the Christian Legal Centre against the Scottish Government's attempt to close churches in Scotland for the first time since the the Stuart kings in the 17th century. The church leaders emphasised it is a disproportionate step, and one which has serious implications for freedom of religion." Further information available here.
There's the class action lawsuit being brought by Dr Reiner Fuellmich and his team in various countries against "the manufacturers and sellers of the defective product, PCR tests". Dr Fuellmich explains the lawsuit in this video. Dr Fuellmich has also served cease and desist papers on Professor Christian Drosten, co-author of the Corman-Drosten paper which was the first and WHO-recommended PCR protocol for detection of SARS-CoV-2. That paper, which was pivotal to the roll out of mass PCR testing, was submitted to the journal Eurosurveillance on January 21st and accepted following peer review on January 22nd. The paper has been critically reviewed here by Pieter Borger and colleagues, who also submitted a retraction request, which was rejected in February.
And last but not least there was the Free Speech Union's challenge to Ofcom over its 'coronavirus guidance'. A High Court judge refused permission for the FSU's judicial review on December 9th and the FSU has decided not to appeal the decision because Ofcom has conceded most of the points it was making. Check here for details.
Samaritans

If you are struggling to cope, please call Samaritans for free on 116 123 (UK and ROI), email jo@samaritans.org or visit the Samaritans website to find details of your nearest branch. Samaritans is available round the clock, every single day of the year, providing a safe place for anyone struggling to cope, whoever they are, however they feel, whatever life has done to them.
Shameless Begging Bit
Thanks as always to those of you who made a donation in the past 24 hours to pay for the upkeep of this site. Doing these daily updates is hard work (although we have help from lots of people, mainly in the form of readers sending us stories and links). If you feel like donating, please click here. And if you want to flag up any stories or links we should include in future updates, email us here. (Don't assume we'll pick them up in the comments.)
And Finally…
In a sign of how small the relative impact of Covid is on annual mortality, Lockdown Sceptics reader Mark Ellse has drawn up this chart showing that a woman's probability of dying in 2020 was still way below that of a man in a normal year. Which can only mean one thing: men need to start living in permanent lockdown to keep them safe from the nasty world out there.