Civil Disobedience Growing Among OAPs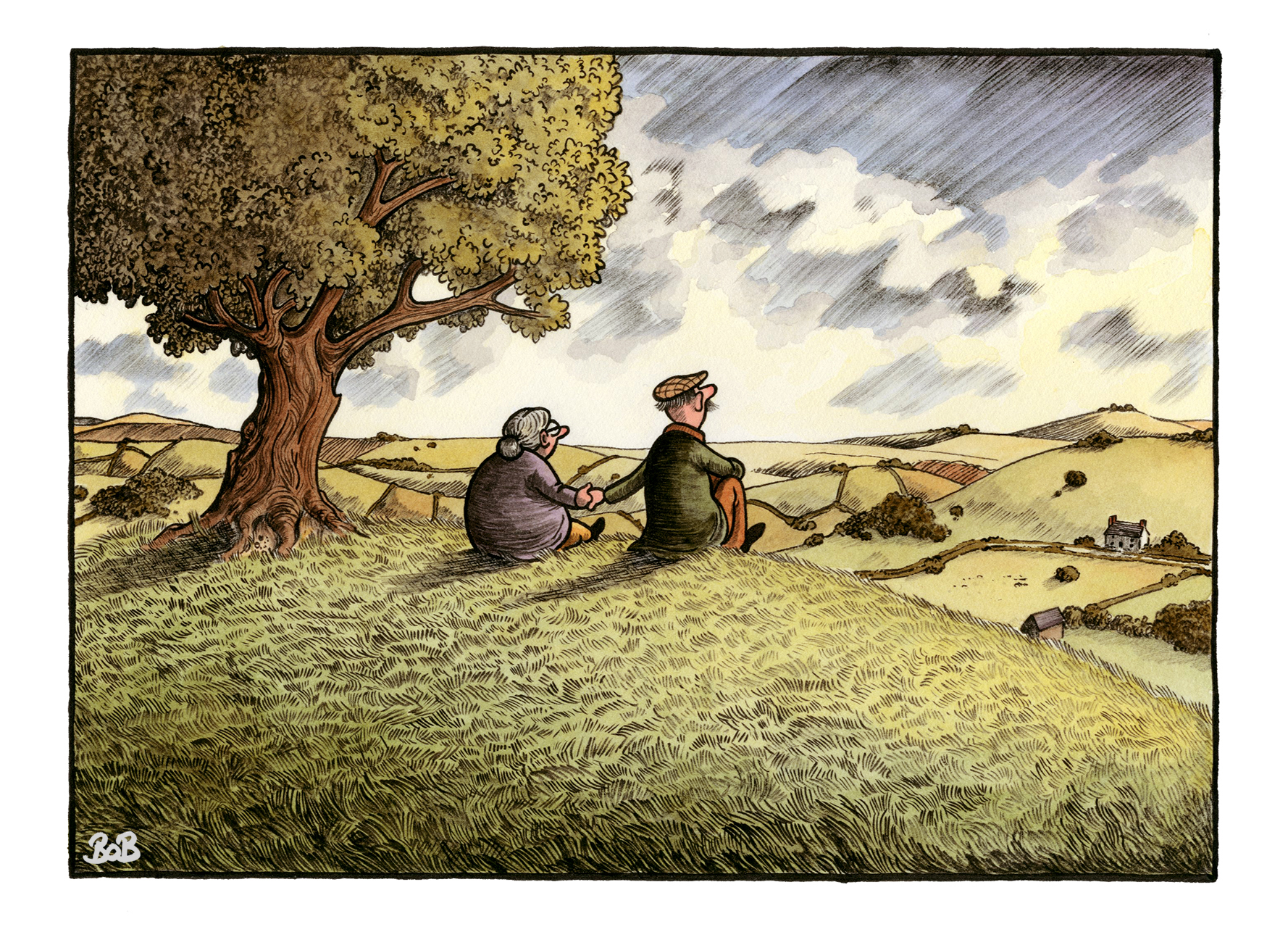 This coming Monday, March 8th, is the first key date in Boris's roadmap. It is the date schools across England will reopen and university students can return – albeit just those doing practical courses. It is the date when one person can visit someone else in a care home – albeit in PPE and clutching a recent negative test result. It is the date people will be permitted to meet outside in public spaces to socialise and not just to exercise – albeit only in pairs.
Unsurprisingly, however, the already vaccinated are beginning to ignore this glacial, excessively cautious reopening. They are already meeting up with people, even indoors, as Guido notes, commenting on a recent data release from the ONS.
Buried in the latest ONS data dump of Covid research is a remarkable – if logical – statistic. Just 33% of over 80s have not met with anyone indoors since having their jab, with 43% admitting to meeting with people other than their carers or support bubble after receiving the first dose. After two jabs, this explicit rule-breaking rises to 48%. Despite the widespread rule-breaking, hospitalisation and death rates amongst the age group are tumbling…

Cheeky octogenarians are not alone – spritely 72-year-old Lord Sumption yesterday made a splash by telling UnHerd that "sometimes the most public-spirited thing that you can do with despotic laws like these is to ignore them" – even claiming that a quiet campaign of "civil disobedience" has already begun. At least among the elderly, the data does seem to agree with him…
The ONS data release provides further details.
Of over 80s-who had received at least one dose of a COVID-19 vaccine, a total of 67% reported that they had met somebody they do not live with, indoors, since being vaccinated.

More than a third (37%) had met with a member of their support bubble, indoors, since being vaccinated, and 23% had met with their child or children indoors.
It would appear that their perception of risk has altered fundamentally, as the ONS statistician comments:
The rollout of the COVID-19 vaccination is, no doubt, a huge relief to many people aged over 80, as we can see that almost half of all them, when asked, considered COVID-19 to be a major or significant personal risk before receiving the vaccination – this decreases to just 5% having the same concern after hypothetically receiving both doses of the vaccine.
Boris has appealed for vaccinated octogenarians to abide by the rules, but it appears to have fallen on deaf ears.
More Than Half of Positive Test Results in Schools Likely to be False Positives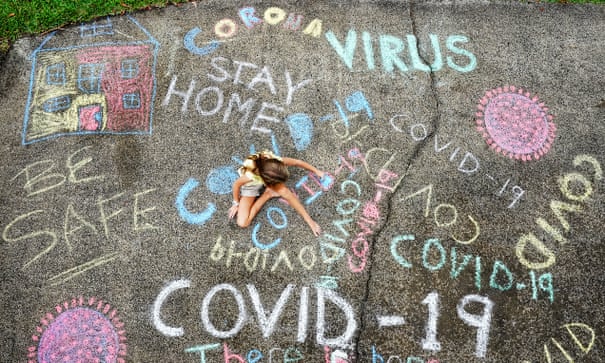 Children returning to school on Monday face being subjected to extensive rules and guidance designed to make the school 'Covid-secure'. This includes frequent and regular testing of all students and staff. One mother, healthcare professional and reader of Lockdown Sceptics wrote in to tell us why her children will not be taking part.
Mass testing using lateral flow tests will be rolled out across all secondary schools across England from Monday March 8th as all pupils are [deep breath] going back to school. A test is required before each child is allowed to return followed by two further tests between three and five days apart in school. So, three tests in the first week. This is then followed by biweekly testing at home from thereon. "Testing remains voluntary but highly advised" (Department of Health, NHS Test and Trace). I have two children who attend a large comprehensive secondary school. There are just under 1,500 students in the school – if each child takes the three tests in the first week that amounts to 4,500 tests (plus the teachers). If my research tells me right there are just under 3.5 million pupils in state funded secondary schools in England so that is 10.5 million swabs in week one alone, plus the teachers (and plus all the other swabs that are being done elsewhere). Each lateral flow test is a single use disposable plastic swab. I am not sure how the swabs are disposed of but I can be certain they are not recycled – I expect they are incinerated as clinical waste.
My husband and I are both 'front line' health care professionals and have opted our children out of testing in key worker school and have indeed opted out for the next phase of testing starting next week. Indeed we have also opted ourselves out of testing at work (also not mandatory). This is because we have many concerns about the flaws of mass testing asymptomatic people.
Bear with me here. The lateral flow tests have been reported to have a specificity of 99.6% (Preliminary report from the joint PHE Porton Down and University of Oxford SARS-CoV-2 LFD test development and validation cell, 2020). That is to say that if you use a lateral flow test on 1,000 people *known to definitely not have Covid* then it will test negative in 996 of them. Meanwhile the sensitivity of lateral flow is variable depending on the person administering it, ranging from 76% when trained healthcare staff are the operators but falling to 58% when used by self-trained members of the public. Put another way: if 100 people who are *known to definitely have Covid* are tested with lateral flow, the result will be positive in somewhere between 58 and 76 of them. However this is only half the story when it comes to screening a population that has no symptoms. To understand the value of lateral flow when it's used in this way, we need to understand the idea of Positive Predictive Value (PPV) and Negative Predictive Value (NPV). These are the values that answer the questions "I've tested positive, so what are the chances I actually have Covid?" and "I've tested negative, so what are the chances I really don't have Covid?". The trouble is that the PPV and NPV vary depending on the prevalence of the condition you're testing for – if the condition you're hunting for (in this case Covid) by using a given screening test (in this case lateral flow) is rare, then the PPV of the test will drop while the NPV improves – in other words a positive test is less likely to mean you really do have the disease, while a negative test is more likely to mean you don't have the disease. Conversely if the condition is common then a positive test is more likely to mean you really do have the disease (i.e., the PPV increases) whilst the NPV drops.
Take my children's school as an example: approximately 1,450 pupils. Let's say six of them have Covid (based on the current estimated national average of 1 infection per 230 people – although in fact the estimated prevalence in my local area is even lower). Let's also say that 66% of those will test positive (as per the stated sensitivity of lateral flow). That's four positive tests and two negative tests amongst the children with actual Covid. This leaves 1,444 without Covid. 99.6% of them (i.e., 1438 pupils) will correctly test negative, so six will test positive. Therefore there are ten positive tests amongst the whole school, of whom four actually have Covid and six actually don't. Some rudimentary maths will show that this equates to a PPV of 40%. In other words any pupil receiving a positive test has a less than 50/50 chance of actually having Covid. The reassuring thing is that based on these numbers a negative test is 99.9% likely to mean a child truly doesn't have Covid, but the price of this 'reassurance' is a few unlucky children being removed from school (again) and put through another unpleasant and invasive test, not to mention the possible risk of anxiety, the impact on their family having to isolate whilst the PCR test results are awaited, but also the environmental impact. This is one of my main concerns – the environmental impact of using millions of disposable plastic swabs each week (gov.uk has a daily/weekly count available – at the time of writing there were 4,513,953 tests carried out over the last 7 days. This is a combination of lateral flow and PCR tests). The number of tests is going to rise dramatically over the next week and this is of huge concern to us as a family. I have raised this as a concern in a recent medical webinar. I was not completely alone however I genuinely think not many people have thought about this issue (someone did raise concern related to the types of plastics used in the swabs). This is at complete odds with the environmental campaign against single use plastic and the effects on our planet. Even more ironically children are taught extensively at school about protection of the planet and individual responsibility. What are we teaching them now?… I will leave the PPE and wipes and disposable masks and plastic EVERYWHERE for now as I am starting to sweat … and the children want to watch David Attenborough A Life on Our Planet…
Stop Press: Covid Testing in school has been recommended by the Government, but is not mandatory, as we have previously reported. Nevertheless, most schools are doing their best to test all their pupils and according to a survey conducted by ITV this is eating up huge amounts of time that will take away from teaching time in many schools. Only 9% of schools have consent for the tests from all parents, and a majority are struggling to get consent from more than half. Perhaps because it would have teachers lives easier, 80% of them believe that testing should have been made compulsory by the Government.
Stop Press 2: The other core component of the guidance is on mask-wearing in the classroom. The Telegraph reports on the UsForThem letter to Gavin Williamson asking him to publish the evidence showing that masks interrupt transmission or abandon the measure. Meanwhile, 32 Tory MPs have demanded that the measure be dropped after Easter.
Stop Press 3: A teacher has written in to describe an unanticipated difficulty with 'remote learning'.
My head of department went AWOL the other day at one point because she fell victim to a sophisticated online scam while teaching online. The scammers purported to be from her internet service provider fixing an issue with her connection (which they simulated) and sneaked into her phone by the back door, emptying her bank account in the process. Had she not been trying to teach an online lesson at the time it wouldn't have happened – she of course was desperate to get 'the problem' sorted as fast as possible. Luckily she got the money back from the bank but it's a mark of how vulnerable relying on multiple internet access can be with all the distractions of trying to manage online teaching, to say nothing of the potential for far more sinister hacking impacting on the children involved. For this teacher going back to 'real' teaching can't come soon enough.
Another Foreign Travel Ban
In case anyone is tempted to sneak off for an Easter break to one of the countries that have declared themselves open to vaccinated Brits, the Government has made it illegal to leave the country for non-work reasons from March 8th. In guidance published yesterday, it states:
From March 8th 2021, you must complete this form to declare the reason that you need to travel abroad.

You must complete this form if you are travelling outside the UK from England. Different rules apply for international travel from Northern Ireland, Scotland and Wales.

You don't need to complete the form for travel within the UK, to Ireland, the Channel Islands or the Isle of Man.

You should print a copy of the completed form or save it to a mobile phone or other device.

You may be asked to show this declaration form at the port of departure. You may carry evidence to support your reason for travel.

Entering a port of departure to travel internationally without a completed form is a criminal offence, for which you could be fined.

If you try to travel abroad without a legally permitted reason, you may also be fined for breaching the stay at home requirements
Writing in the Telegraph, Chris Leadbeater is not impressed.
There is a definite element of Charlie and the Chocolate Factory to today's announcement of a new "Declaration to Travel" – which will come into force on Monday (March 8th).

At first glance, it might seem as innovative and attractive – to that section of the electorate which wants even tougher restrictions, at all costs – as an Everlasting Gobstopper, or a stick of chewing gum which runs through the flavours of a three-course dinner, including the pudding.

But on closer inspection, it is revealed to be as pointless and impractical as, well, a piece of confectionery that turns the consumer into a big blueberry – or a Fizzy Lifting Drink where the imbiber has to burp to stay grounded.

As with much that has come out of Downing Street and the offices of state around it during the pandemic, the Declaration to Travel is fantasy thinking. But not in a good way.

Let us look, first of all, at what it is meant to do. Officially, it is designed to ensure that anyone attempting to leave the UK in the coming weeks has good reason to do so –and can demonstrate as such by typing their details into a three-page document that can be waved at the airport or ferry terminal, at anybody shoving their beak into your business.

But what will it actually achieve? Nothing – beyond scaring any lingering urge to go anywhere out of the citizens of a country who have been locked down, threatened with quarantine, and gaslit with the prospect of fines for all manner of minor offences for the best part of the last year.
Worth reading in full.
An Update From the Lockdown Sceptics Senior Doctor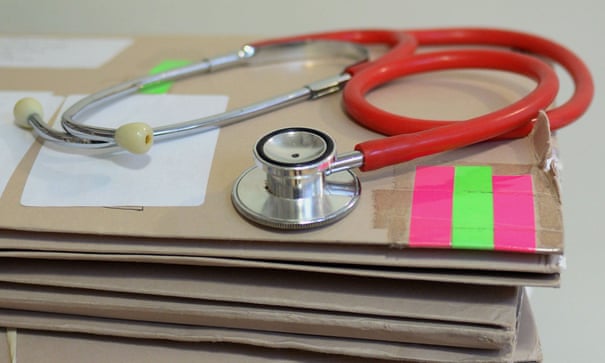 We have an update today on the latest NHS data from the Senior Doctor who writes regularly for Lockdown Sceptics. Good news, but with a few oddities.
At the risk of testing readers patience for graphics, I'm firstly going to have a look at the regular hospital statistics to assess what has changed in the last couple of weeks and compare the information with where we were last year. Then I will raise a few issues that have been puzzling me for some time – essentially discrepancies between what I hear in the media and what I see in the data. I apologise in advance for having more questions than answers in this update. Much of the data I have looked at this week does not seem to fit together with official pronouncements and I don't have ready explanations for why that might be.
Here is the chart for COVID-19 inpatients in English Hospitals (Graph 1). Readers will observe that the number of inpatients is now lower than at the beginning of December. In fact, the inpatient numbers are equivalent to where they were in October. Importantly, they continue to fall at an impressive rate – approximately 2,500 – 3,000 per week and the trend shows no sign of slowing down. To put it another way, the numbers of COVID-19 patients in English hospitals has fallen from about 30% of available beds to under 10% in six weeks. I will discuss possible reasons for this reduction later in the piece. Readers will also note that the trend is uniform across all geographic regions, with a slight lag between the curves for London and the South East and the rest of the country. This has been attributed to the transit of the so called 'Kent variant' strain. The same trends are seen in ICU numbers, albeit with a lag due to longer lengths of stay.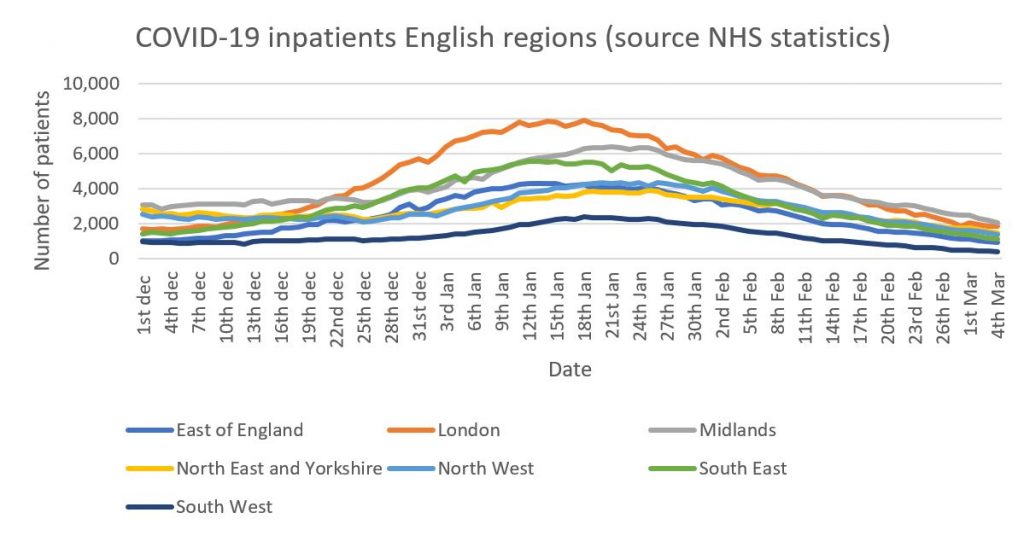 I find Graph 2 interesting. This is a comparison of the spring 2020 inpatient curve with the recent winter one. Readers should be aware that this chart is derivative. I have taken two time series by identifying the peak dates of COVID-19 inpatients, then worked back and forward for a few weeks either side of the peak to compare the curves. The graph shows that the peak number of COVID-19 inpatients was higher in the winter than the spring, but that the decline from the peak has been more rapid – the grey line is almost at the same level as the blue line on the right-hand side. 'Day 70' in the spring series represents May 31st, so in terms of COVID-19 inpatients we are already where we were at the beginning of summer last year. This observation fits with the community testing data which shows a significant reduction in positive cases in recent weeks.
There are several possibilities to explain the observable difference, and they may all be playing a part – one is the vaccination effect. Another is the intensity of testing – we may have been under recording COVID-19 patients in the spring and possibly over recording them in the winter. Advocates of 'non-pharmaceutical interventions' will probably attribute the difference to societal lockdown. Adherents to the other side of the argument may claim this is a consequence of 'herd immunity'. It may even be that the virus recedes in warmer weather. Whatever the reason, the burden of COVID-19 in hospitals is falling faster now than in the spring last year.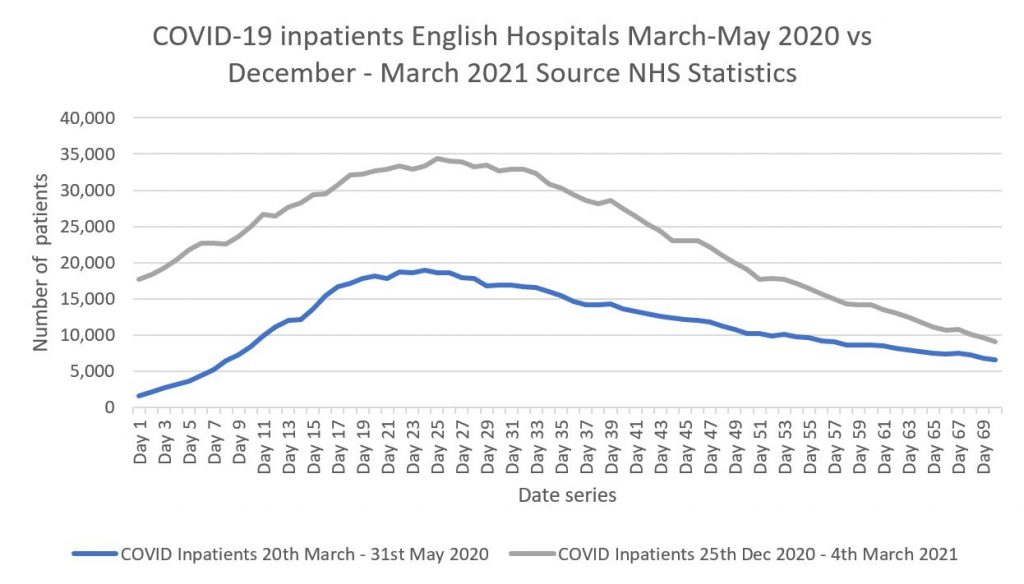 Next, I examine admissions to hospital from the community in Graph 3. This looks a bit confusing as all the lines converge on the right-hand side, but it's an important graphic because the downward trend of falling admissions implies that the number of inpatients is likely to continue to fall in the next few weeks. Simply put, if the number of patients coming into the funnel is lower than the numbers being discharged, then the overall hospital numbers will go down quite quickly. We don't have access to rolling discharge figures as these are only released on a monthly basis, but I think it's reasonable to infer that hospital discharges have increased substantially in the last few weeks and lengths of stay have fallen.
For a non-graphical comparison which might be easier to understand, the three-day average admissions in London have dropped from nearly 800 a day in London to about 70 per day now. Across the whole of England, one patient with COVID-19 is admitted from the community every 150 seconds, compared to one every 30 seconds in mid-January. On March 3rd there were 478 COVID-19 patients admitted to English Hospitals – similar levels to the first part of October. I haven't heard Simon Stevens updating the nation with those particular statistics, but then I don't watch much TV and he's a busy person. I also find it strange that my colleagues who were so keen to appear in the media emphasising how awful things were in January have been more reticent in informing the public that matters are now largely under control. Why is that?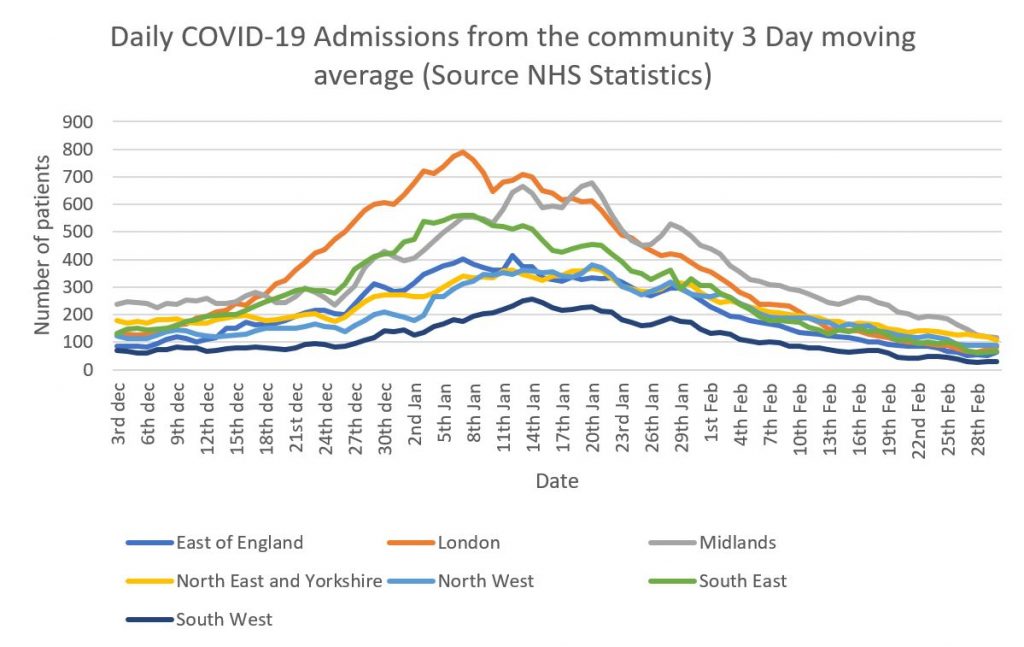 I now want to look at some data on deaths, which I find puzzling for a variety of reasons. Graph 4 shows ONS recorded COVID-19 deaths in December and January. I have not included deaths in people under 60 years of age because they are so low as to be statistically irrelevant. Graph 4 is interesting because it clearly shows the age stratification of COVID deaths – the older you are, the more likely you are to die with the virus. This graphic contradicts much of what I have heard in the press about the new variant being more deadly in younger age groups. All the data I have seen from hospital admissions, ICU audits and death figures show that there is no difference in age-related mortality or disease severity between Spring 2020 and this Winter. I don't understand why this is being reported differently in the media – am I missing something? Do the experts have access to information that I can't see? If so, I would be grateful if this data could be made available because I find cognitive dissonance uncomfortable.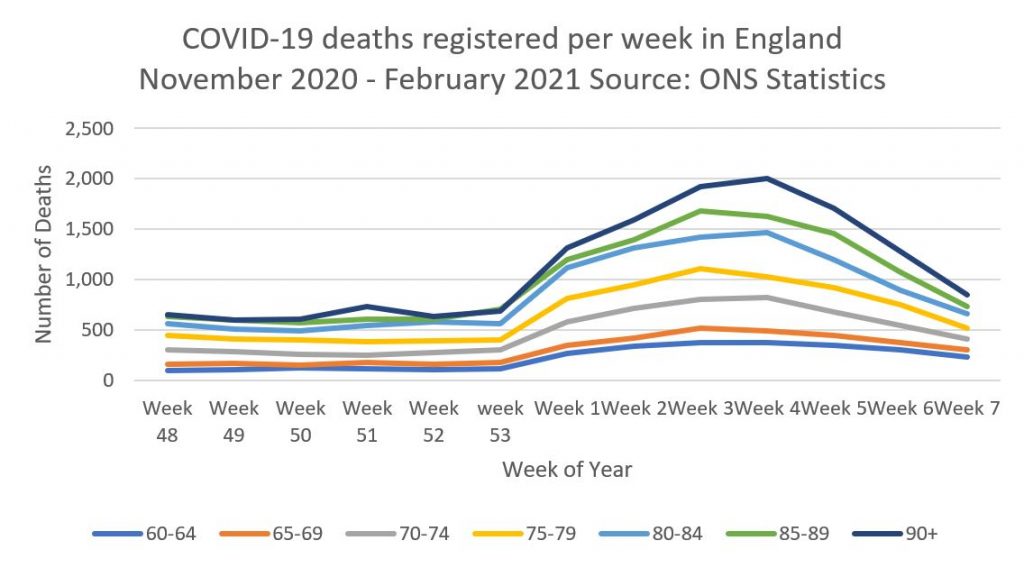 Graph 4 also shows that COVID-19 deaths peaked at the end of January and are on a clear declining trend. I observed in a previous piece that on January 26th at the Downing Street press conference, Professor Whitty said: "I think we have to be realistic that the rate of mortality, the number of people dying a day, will come down relatively slowly over the next two weeks – and will probably be flat for a while now." Graph 4 clearly refutes that prediction. In fact, all the predictions around deaths have been wildly inaccurate. PHE predicted a peak of 4,070 COVID-19 deaths per day which would occur at the beginning of December. Imperial College said COVID-19 deaths would peak at 2,170 per day on 30th December. Warwick University were the closest predicting 1,700 deaths per day on 23rd December. The real daily peak of recorded COVID-19 deaths was 1,249 on January 19th.
Chart 1 shows all cause deaths recorded in England and Wales as a Nightingale plot. Readers can clearly see the peak excess deaths in the spring. Note that these figures are all-cause deaths, not just COVID-19 deaths. What puzzles me about this data is the lower number of overall deaths in the recent winter compared to last spring. Graph 5 below shows that the number of COVID-19 recorded deaths is much the same as the spring, so it appears that non COVID-19 deaths are considerably lower than usual. How can that be? Could it be due to the complete absence of influenza deaths this winter? Or did the 2020 epidemic burn through the 'dry stubble', killing people that would have died in the first two months of 2021 willy nilly?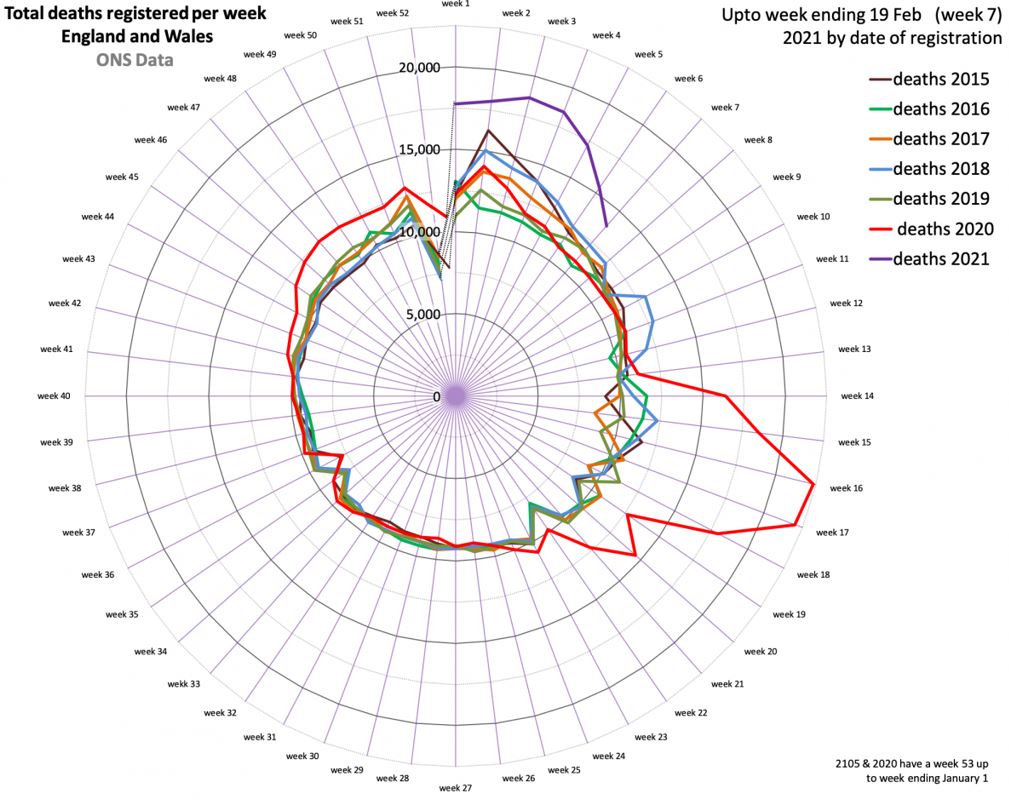 In Graph 5 I have plotted weekly deaths recorded by the ONS where 'COVID-19 was mentioned on the death certificate' according to location of death. It suggests that COVID-19 related deaths were similar in number in the Winter compared to the Spring and that most COVID-19 deaths were recorded in hospitals. This observation begs several questions. We know from the hospital admissions data that there were approximately 75% more patients hospitalised with COVID-19 in the Winter compared to the Spring, but there were roughly the same number of deaths. Hence as a percentage, the in-hospital mortality was substantially lower in the Winter than in the Spring. If the new variant really is more deadly, how can this be? It is possible that the hospital admission criteria may have been lower in the winter, so there may have been more patients, but they were less ill (relatively speaking) than in the Spring. Or maybe they really were sicker, but treatment has improved very substantially. The vaccine effect might explain some of the reduced mortality in the last few weeks: SPI-M (one of the Government's advisory bodies) has recently released data showing that the rate of COVID-19 deaths has fallen faster than its modelling from the beginning of February. However, I think it's unlikely that vaccines alone can explain the lower overall peak deaths in January. Whatever the reason, it appears to me that the cohort of COVID-19 patients in the Winter were much less likely to die than those admitted in the Spring.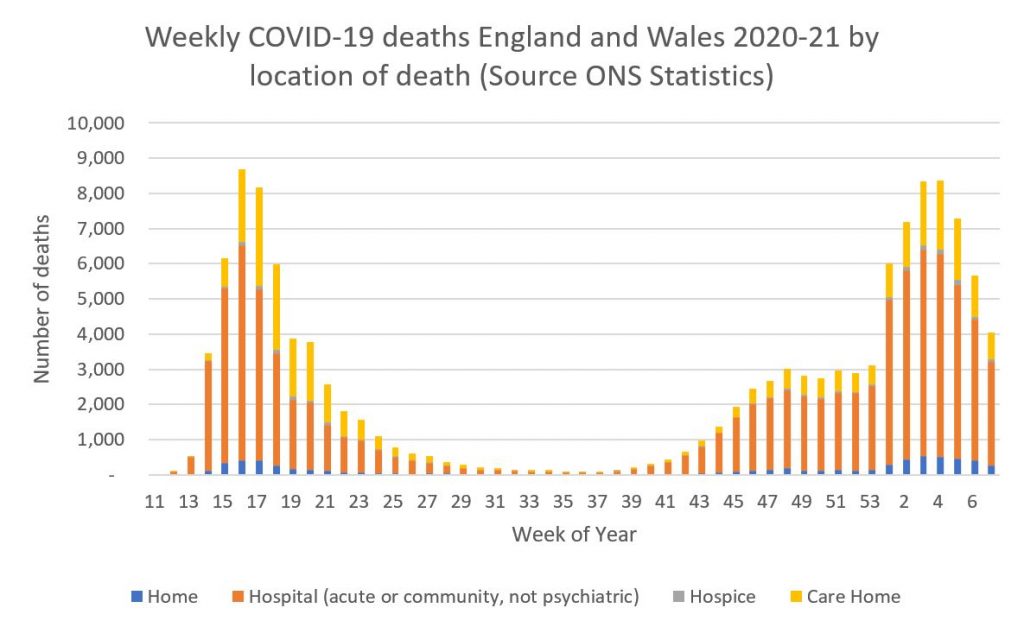 Graph 6 reinforces the point. It shows all-cause recorded deaths by week of the year and location of death. The care home spike in the Spring is visible (yellow bars in weeks 15 – 19). Overall, the proportions of deaths in hospital and at home are about the same and the total number of deaths is significantly lower this Winter than last Spring.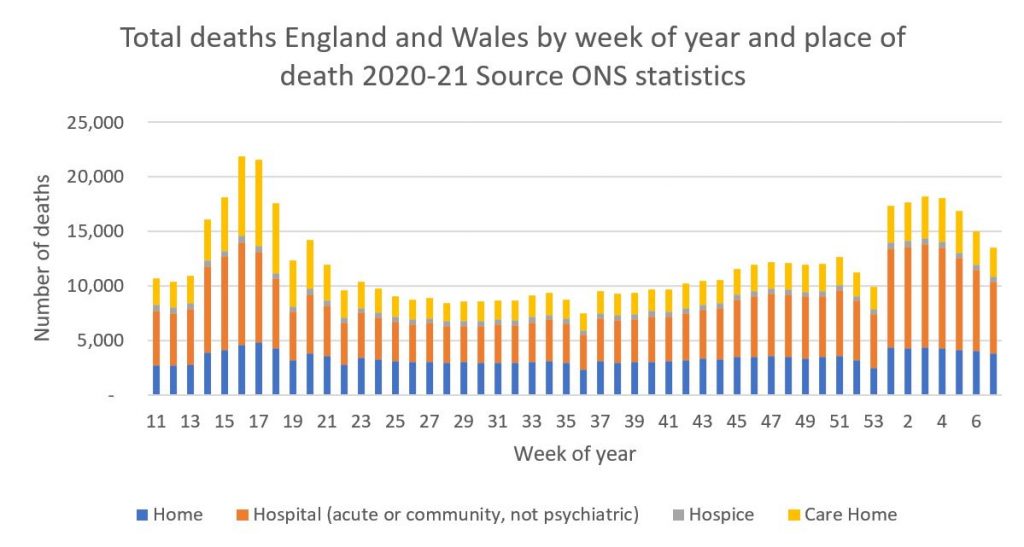 Finally, an article in the Financial Times caught my eye this morning – it was reported in detail in yesterday's edition of Lockdown Sceptics, but I think it bears repetition. The World Obesity Federation has published a study purporting to show mortality rates from COVID-19 are 10 times higher in countries where 50% of the population are overweight (Chart 2). At first glance there are some problems with this study – correlation does not imply causation, and one is always suspicious of PR manipulation when a report on obesity deaths is released to coincide with 'World Obesity Day'. The charts presented seem to have curious distinct separations of mortality rates without any intermediate grading – one obvious potential error could be that in developing countries the number of COVID-19 deaths may be under-recorded. Nevertheless, the basic conclusion does fit with multiple other reputable published sources.
Once again, I experience uncomfortable cognitive dissonance when the press, including the taxpayer-funded national broadcaster, repeatedly emphasise the uncommon tragedy of young healthy people dying from COVID-19, but omit reference to the far greater numbers of very old or very fat people falling victim to the disease. I am reminded of Mark Twain's comment to the effect that: "If you don't read the news you're uninformed. If you do read the news you're misinformed."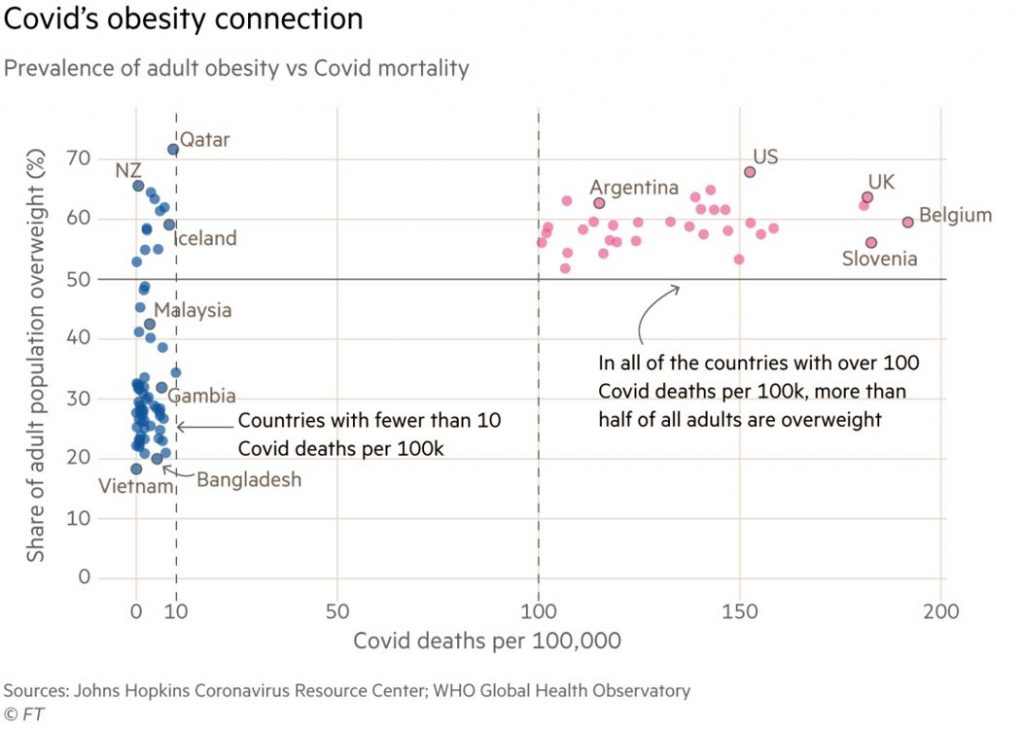 I remarked at the top of the article that I have many more questions than answers. My root cause for bewilderment is this. Reading the published data over the last 12 months leads me to believe that COVID-19 is mainly dangerous to specific segments of the population – principally the over-65s and the overweight. I have not seen any convincing evidence that people under 60 are seriously at risk unless they have pre-existing significant medical problems or are very unlucky – there is emerging evidence of specific underlying genetic susceptibilities to COVID-19 which might explain some of the deaths in younger age groups.
The latest figures show community cases falling, hospital occupancy dropping and vaccination rates soaring, particularly among the vulnerable older age groups.
Therefore, why is it necessary to deprive the vast majority of the population of their civil liberties until June 21st for an infection which poses minimal risk to their health?
The economic damage of lockdown has been starkly revealed by the Chancellor in his recent budget. The relationship between public health and national prosperity is widely accepted. Despite obvious collateral harms, no 'cost-benefit' analysis has been provided to justify unprecedented governmental actions implemented on the advice of unelected public health academics. Can anyone explain to me why this is a rational position for our parliamentary representatives to adopt?
Isle of Man Locks Down Again – So Much For Zero Covid!
Lockdown was lifted on the Isle of Man recently, with borders closures, tough rules backed by prison sentences and a supportive population all credited with bringing the infection rate down to zero. Today, the island is back in lockdown. Our regular contributor, Guy de la Bédoyère, is unimpressed.
The Isle of Man has announced a three-week lockdown and school closures. Chief Minister Howard Quayle has his finger on the pulse:
The virus spreads when people mix and so we need to do all we can to minimise that mixing … In the interests of children and broader society, we need to prevent children from mixing.
There you have it. It's in the Isle of Man children's best interests to be prevented from mixing. I thought we'd all begun to understand that the exact opposite is true, but in this Orwellian era Quayle's pronouncement should occasion no surprise.
The tragedy for the Isle of Man's politicians in the House of Keys is that just like the Land of St Jacinda they thought their lockdowns had the power to annihilate the disease. And still do. The island has reported 58 cases, most of which are linked to an infected ferry crew member. That's unfortunate because the only option really then would be to ban ferries too. The culprit is the 'Kent' variant spreading rapidly among the island's young people.
The most recent bout of restrictions had only been lifted as recently as the end of January, and last year there was a taste of normality with seven months of no restrictions.
The best quote of all comes once more from Howard Quayle:
I do believe though that if we get this right one more time – if we stamp out once and for all the transmission that has been sitting under the surface for some time now –and in parallel if we protect our vaccination programme – this could hopefully be the last time.

If all is well, as we progress over the next 21 days, I sincerely hope that we will not have to tighten up further. It has worked before. We know what to do.
He hopes to "get this right one more time" because "it has worked before". Except that it obviously didn't work before because if it had there'd be no need for another time. But he is confident that with this latest lockdown the virus will be stamped out for good. Yes, Mr Quayle, just like all the other viruses that human beings have stamped out 'for good' so easily.
I don't know what's more incredible: that politicians can continue to come out with these insane promises, or that so many people are continuing to believe them. How can it be that one of the most invasive, volatile, and contagious viruses ever to afflict mankind is also the one uniquely susceptible to permanent eradication with the simple measure of a lockdown – especially if two previous lockdowns demonstrably didn't get rid of it?
The Isle of Man was already pioneering our local version of the New Zealand prison island model. Only residents and key workers were allowed in. But since it was one of the latter who brought Covid back, how long before even they are consigned to guarded compounds? Or just banned outright? Perhaps the island could be supplied by helicopter drops?
It's at times like this you really do start to get a picture of the hideous rabbit hole this crisis is starting to go down. But there is one small glimmer of hope. Quayle seems to be intimating that the vaccines might be the way out. Let's hope so, because right now there seems to be absolutely nothing else in sight that is going to stop this relentless march towards a lifetime of endless lockdowns, incarcerated communities, and a society where the only means of interaction is within a Zoom screen.
Follow The Politics, Not The Science
We must be "guided by the science" was an oft-repeated refrain in the early days of the Covid crisis – except we weren't guided by the science, at least not after March 23rd, as we abandoned Pandemic Preparedness Plan and followed other countries around the world, not least the People's Republic of China, into lockdown. Our Government was making political decisions, not scientific ones, as this superb original article that we're publishing today makes clear. It's an exhaustive analysis of the careful preparation that went into pandemic planning and why abandoning that approach had nothing to do with science and everything to do with political expediency. It also documents in meticulous detail how the political approach ended up causing more harm than good. It's by an epidemiologist with a PhD from a Russel Group university and a retired Professor of Forensic Science and Biological Anthropology (whom Toby put in touch when they both contacted Lockdown Sceptics asking if he could introduce them to someone with the other's expertise). Here is the executive summary:
This article contrasts the policies pursued by the UK Government in response to the COVID-19 pandemic with prior national and international preparedness guidelines. It begins with illustrative reference to Popper's criteria defining the scientific method and to seven foundational ethical principles proposed for use in public health education. It then examines scientific evidence for the value of Non-Pharmaceutical Interventions (NPIs) in the mitigation of respiratory virus outbreaks.

It finds that, until mid-March 2020, the UK Government followed existing national and international guidelines recommending low stringency NPIs – such as hand hygiene, social distancing and isolating when sick – to slow the spread of infections. There was some scientific evidence these measures were beneficial and accompanying harms limited. Government advisers assessed SARS-CoV-2 disease characteristics and risks realistically, incorporating known behaviour of similar respiratory viruses.

However, on March 23rd, 2020, an unprecedented lockdown – involving travel bans, stay at home orders and mandatory business closures – was implemented in the absence of empirical evidence for their utility. As well as contravening the existing pandemic preparedness guidelines, this violated key principles of public health ethics and human rights.

Many scientific studies have since shown lockdowns cause considerable harm for minimal benefit and the error has been compounded by a failure to abandon these policies as confounding evidence has accumulated.

These harms could have been avoided if the UK Government had respected the pandemic preparedness guidelines and the scientific and ethical principles underpinning them, and resisted media pressure – or coercion – to behave like 'many other Governments'. Instead, lockdowns have been extended and repeated, and vindictive suppression of scepticism has increased – including that based on accepted principles of law, ethics and scientific inquiry.

Politics – not the science – caused the UK to become a 'lockdown autocracy' with one of the worst pandemic outcomes in the world. An inept but unchallenged administration arose, funded by borrowing and fiscal easing, supported by an acquiescent public highly dependent on Government subsidies, and led by media fear mongering with the manufacturing of 'heroes' and 'villains', vilification of dissent and condemnation of rational and viable alternatives.

The article concludes that an absence of leadership in the UK allowed human rights law and the ethics and principles of evidence-based public health to be disregarded, precipitating economic and social devastation and excess mortality. If a future such occurrence is to be avoided, new legislation and formal censure of those responsible – whether from politics, media, medicine, science or the judiciary – will be necessary
It's a long one, so grab a coffee, but very much worth reading in full.
COVID-1984
Party slogans continue to roll in:
LOCKDOWN ENDS WHEN THE CLOCK STRIKES 13
TODAY'S HISTORY WAS WRITTEN LAST WEEK
LOCKDOWN IS LIBERTY
VACCINATION IS VALIDATION
CONFINEMENT IS SAFETY
FEAR IS FREEDOM
LOGIC IS ILLOGICAL
TODAY'S LIES ARE TOMORROW'S TRUTHS
HATING OTHERS IS LOVING THE PARTY
ROOM 101 IS IN EVERY HOUSE
NHS ABOVE ALL
One reader spied Orwell's pen in the name given to Israel's tracking bracelets which permit new arrivals to isolate at home rather than in a quarantine hotel. These are known as 'freedom bracelets'.
Another offered a quote from the novel itself:
"YOU ARE THE DEAD. … REMAIN EXACTLY WHERE YOU ARE. MAKE NO MOVEMENT UNTIL YOU ARE ORDERED."
Poetry Corner
Today's poem is from a reader who calls herself Liberty Walker.
Lazy, Lardy, Lethal Lockdown

Britain's getting fatter,
We've given up the gym,
We're eating up our take-aways,
It's harder to stay trim.

Boris closed the swimming pools,
And told us 'stay at home,
Don't go out unless you must,
But you can pick up the phone.'

You can dial out for pizza,
The Chinese opens late,
If you're looking for a change,
Get curry for your date.

You'll have to date on Zoom,
And eat curry while you chat,
No one sees your bottom half,
They cannot see the fat.

This lockdown is quite deadly,
As we eat in great excess,
We're storing up a crisis
For our precious NHS.
Round-up
Theme Tunes Suggested by Readers
Twelve today: "Columbia" by Oasis, "Hanging On" by Ellie Goulding, "Lie To Me" by Tom Waits, "How Long" by Ace, "The Future" by Leonard Cohen, "Reason Is Treason" by Kasabian, "The New Pollution" by Beck, "Alienated" by Urban Dance Squad, "It's Not Funny Anymore" by Babybird, "I Don't Worry About It" by the Meteors, "Rage Hard" by Frankie Goes to Hollywood and "Trouble Every Day" by Frank Zappa.
Love in the Time of Covid
We have created some Lockdown Sceptics Forums, including a dating forum called "Love in a Covid Climate" that has attracted a bit of attention. We have a team of moderators in place to remove spam and deal with the trolls, but sometimes it takes a little while so please bear with us. You have to register to use the Forums as well as post comments below the line, but that should just be a one-time thing. Any problems, email Lockdown Sceptics here.
Sharing Stories
Some of you have asked how to link to particular stories on Lockdown Sceptics so you can share it. To do that, click on the headline of a particular story and a link symbol will appear on the right-hand side of the headline. Click on the link and the URL of your page will switch to the URL of that particular story. You can then copy that URL and either email it to your friends or post it on social media. Please do share the stories.
Social Media Accounts
You can follow Lockdown Sceptics on our social media accounts which are updated throughout the day. To follow us on Facebook, click here; to follow us on Twitter, click here; to follow us on Instagram, click here; to follow us on Parler, click here; and to follow us on MeWe, click here.
Woke Gobbledegook
We've decided to create a permanent slot down here for woke gobbledegook. Today, we bring you the woke makeover of the military-industrial complex, where NATO, the CIA and the US Army are all bending over backwards to emphasis how diverse and inclusive they are while spending eye-watering sums of money on new and better ways to kill people. Paddy Hannam sums it up for Spiked.
This week, the world's most powerful military alliance tweeted, "Diversity is our strength." The tweet featured a video of employees of various ethnic backgrounds, including both men and women, telling viewers to "respect our needs" and "embrace our differences". NATO encouraged Twitter users to share the tweet – which was in honour of #ZeroDiscriminationDay – "to join us in celebrating the differences that make us stronger". The organisation which bombed Iraq and Libya back to the dark ages is diverse. How nice.

It's not just NATO that has leapt on the woke bandwagon. Former CIA boss John Brennan – the 'principal coordinator' of a US anti-terror 'kill list', who also oversaw American drone strikes – revealed his white guilt this week. "I'm increasingly embarrassed to be a white male these days with what I see other white males say," he told MSNBC.

The US Army is in on the fun, too. It has its own "Equity and Inclusion Agency", which launched 'Project Inclusion' last year. This operation included "listening sessions with soldiers and civilians worldwide to converse on race, diversity, equity and inclusion". General James C McConville, Chief of Staff of the US Army, said on the army's website that it "must continue to put People First by fostering a culture of trust that accepts the experiences and backgrounds of every soldier and civilian". I wonder what the citizens of the many countries the US has attacked in recent years would have to say about that.

The military is signed up to the environmentalist agenda, too. Both the US and British armies are pursuing 'Net Zero' emissions targets. The army needs to be "on the right side of the environmental argument, especially in the eyes of that next generation of recruits that increasingly make career decisions based on a prospective employer's environmental credentials", according to senior British general Sir Mark Carleton Smith. The military, with its gas-guzzling tanks and fighter jets, is a significant emitter of CO2. So apparently, in order to attract recruits for the next foreign war, we need eco-friendly death machines. …

Raytheon, a defence and intelligence company which makes, among other things, aircraft engines, missiles and drones for the US military, partnered with the Girl Scouts in 2019 in order to promote a feminist message. A company representative said on Raytheon's website, "we are all about using innovation to make the world a safer place, and we need engineers, especially female engineers, to drive diversity and innovation for the future of our technology". It seems Raytheon wants more diversity in its bomb-making department.
Worth reading in full.
Stop Press: Soft Power is going woke too, writes Bruce Newsome in the Critic's Artillery Row, commenting on the recent Global Soft Power Summit 2021:
How do you turn "soft power" into an anti-racist, anti-Western, pro-China, neoliberal, anti-Brexit aspiration? You partner with the BBC to host a soft power conference. You invite Hillary Clinton to headline it. You introduce her as "the best President we never had". You put David Miliband on one panel. On another panel, you put David Heymann (the Labour Government's Chairman of what is now Public Health England). You invite Carl Bildt to represent continental progressives. You invite Tom Tugendhat as your sole "conservative"; a Remainer who won't disagree with your handwringing about Brexit.

The nominal host of Thursday's four-hour conference was Zeinab Badawi of BBC World News, who repeated her favourite self-identification as "someone who was born under the African sun". Clearly unprepared, out of her depth, and star struck, she kept fluffing her lines and circling back to criticism of the West.

Joe Nye, the author of the term "soft power", was there too, to remind us inadvertently that the wokeness of "soft power" begins with its vagueness
Worth reading in full.
"Mask Exempt" Lanyards
We've created a one-stop shop down here for people who want to obtain a "Mask Exempt" lanyard/card – because wearing a mask causes them "severe distress", for instance. You can print out and laminate a fairly standard one for free here and the Government has instructions on how to download an official "Mask Exempt" notice to put on your phone here. And if you feel obliged to wear a mask but want to signal your disapproval of having to do so, you can get a "sexy world" mask with the Swedish flag on it here.
A reader has started a website that contains some useful guidance about how you can claim legal exemption. Another reader has created an Android app which displays "I am exempt from wearing a face mask" on your phone. Only 99p.
If you're a shop owner and you want to let your customers know you will not be insisting on face masks or asking them what their reasons for exemption are, you can download a friendly sign to stick in your window here.
And here's an excellent piece about the ineffectiveness of masks by a Roger W. Koops, who has a doctorate in organic chemistry. See also the Swiss Doctor's thorough review of the scientific evidence here and Prof Carl Heneghan and Dr Tom Jefferson's Spectator article about the Danish mask study here.
Stop Press: MailOnline reports on a study which found that the growing trend for double-masking, practised by President Biden and many others, might well be pointless.
Double-masking is only slightly better at stopping the spread of coronavirus than wearing one face covering, a study has suggested.

Japanese researchers said wearing one surgical mask that is fitted correctly could stop up to 85% of viral particles from passing through.

Doubling up on surgical masks offers no benefit because air resistance builds up and causes leakage around the edges of the mask, they claimed.

The study found there was some benefit in wearing a tight-fitting reusable mask on top of a surgical one, but it was marginal, offering up to 89% protection.

The experts, who used a super-computer simulation to test different face covering combinations, said 'the performance of double masking simply does not add up'.

Their findings contradict recent recommendations from health experts in the UK and US, who have claimed it's 'common sense' two masks are better than one.
Stop Press 2: Those amusing folks at the Babylon Bee have written a spoof article about a progressive who's pleasantly surprised to discover he can still double mask even when mask mandates have been lifted.
The Great Barrington Declaration
The Great Barrington Declaration, a petition started by Professor Martin Kulldorff, Professor Sunetra Gupta and Professor Jay Bhattacharya calling for a strategy of "Focused Protection" (protect the elderly and the vulnerable and let everyone else get on with life), was launched in October and the lockdown zealots have been doing their best to discredit it ever since. If you googled it a week after launch, the top hits were three smear pieces from the Guardian, including: "Herd immunity letter signed by fake experts including 'Dr Johnny Bananas'." (Freddie Sayers at UnHerd warned us about this the day before it appeared.) On the bright side, Google UK has stopped shadow banning it, so the actual Declaration now tops the search results – and Toby's Spectator piece about the attempt to suppress it is among the top hits – although discussion of it has been censored by Reddit. In February, Facebook deleted the GBD's page because it "goes against our community standards". The reason the zealots hate it, of course, is that it gives the lie to their claim that "the science" only supports their strategy. These three scientists are every bit as eminent – more eminent – than the pro-lockdown fanatics so expect no let up in the attacks. (Wikipedia has also done a smear job.)
You can find it here. Please sign it. Now over three quarters of a million signatures.
Update: The authors of the GBD have expanded the FAQs to deal with some of the arguments and smears that have been made against their proposal. Worth reading in full.
Update 2: Many of the signatories of the Great Barrington Declaration are involved with new UK anti-lockdown campaign Recovery. Find out more and join here.
Update 3: You can watch Sunetra Gupta set out the case for "Focused Protection" here and Jay Bhattacharya make it here.
Update 4: The three GBD authors plus Prof Carl Heneghan of CEBM have launched a new website collateralglobal.org, "a global repository for research into the collateral effects of the COVID-19 lockdown measures". Follow Collateral Global on Twitter here. Sign up to the newsletter here.
Judicial Reviews Against the Government
There are now so many legal cases being brought against the Government and its ministers we thought we'd include them all in one place down here.
The Simon Dolan case has now reached the end of the road. The current lead case is the Robin Tilbrook case which challenges whether the Lockdown Regulations are constitutional, although that case, too, has been refused permission to proceed. There's still one more thing that can be tried. You can read about that and contribute here.
The GoodLawProject and three MPs – Debbie Abrahams, Caroline Lucas and Layla Moran – brought a Judicial Review against Matt Hancock for failing to publish details of lucrative contracts awarded by his department and it was upheld. The Court ruled Hancock had acted unlawfully.
Then there's John's Campaign which is focused specifically on care homes. Find out more about that here.
There's the GoodLawProject and Runnymede Trust's Judicial Review of the Government's award of lucrative PPE contracts to various private companies. You can find out more about that here and contribute to the crowdfunder here.
Scottish Church leaders from a range of Christian denominations have launched legal action, supported by the Christian Legal Centre against the Scottish Government's attempt to close churches in Scotland for the first time since the the Stuart kings in the 17th century. The church leaders emphasised it is a disproportionate step, and one which has serious implications for freedom of religion." Further information available here.
There's the class action lawsuit being brought by Dr Reiner Fuellmich and his team in various countries against "the manufacturers and sellers of the defective product, PCR tests". Dr Fuellmich explains the lawsuit in this video. Dr Fuellmich has also served cease and desist papers on Professor Christian Drosten, co-author of the Corman-Drosten paper which was the first and WHO-recommended PCR protocol for detection of SARS-CoV-2. That paper, which was pivotal to the roll out of mass PCR testing, was submitted to the journal Eurosurveillance on January 21st and accepted following peer review on January 22nd. The paper has been critically reviewed here by Pieter Borger and colleagues, who also submitted a retraction request, which was rejected in February.
And last but not least there was the Free Speech Union's challenge to Ofcom over its 'coronavirus guidance'. A High Court judge refused permission for the FSU's judicial review on December 9th and the FSU has decided not to appeal the decision because Ofcom has conceded most of the points it was making. Check here for details.
Samaritans

If you are struggling to cope, please call Samaritans for free on 116 123 (UK and ROI), email jo@samaritans.org or visit the Samaritans website to find details of your nearest branch. Samaritans is available round the clock, every single day of the year, providing a safe place for anyone struggling to cope, whoever they are, however they feel, whatever life has done to them.
Shameless Begging Bit
Thanks as always to those of you who made a donation in the past 24 hours to pay for the upkeep of this site. Doing these daily updates is hard work (although we have help from lots of people, mainly in the form of readers sending us stories and links). If you feel like donating, please click here. And if you want to flag up any stories or links we should include in future updates, email us here. (Don't assume we'll pick them up in the comments.)
And Finally…