For the Fallen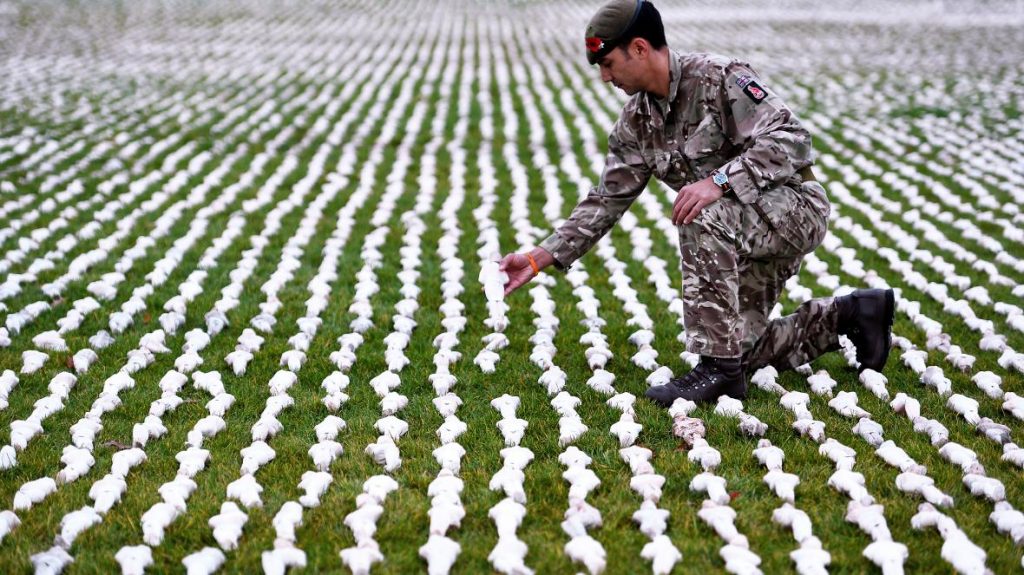 I'm kicking off the first update of 2021 with a comment that appeared beneath the last update of 2020. It was by Freddie Attenborough, a regular contributor to Lockdown Sceptics.
To mark the last day of 2020, this post is dedicated to all those whose lives and livelihoods have been lost, diminished or tainted by our nascent, deeply illiberal and socially, economically and psychologically destructive lockdown societies; for all those whose jobs and businesses have been destroyed; those whose medical conditions have been left undiagnosed; those whose cancers have been left untreated whilst the Government 'saves the NHS;' those whose aspirations have been crushed; whose financial lifelines and supports have been laughed at, ripped up and thrown to the wolves by well-paid, cosseted and conceited scientific bureaucrats; those who've seen loved ones die long before their time at the hands of rescheduled and/or cancelled NHS appointments; for those citizens out on the streets exercising their democratic right to protest against lockdown who've been roughed up by the police; for the young woman in Victoria State, Australia, strangled to the floor by a policeman for the 'crime' of not wearing a mask; for the heavily pregnant woman led away from her home in handcuffs on a charge of promoting an anti-lockdown event on a Facebook page; for all those who've been fined for upholding the most basic tenets of any self-respecting liberal democracy – civil society, laughter, human touch, communion; for those whose elderly relatives have been left to die alone in care homes, bereft of the love and attention that would have eased their passing; for the pain and the hurt felt by those who never got to say goodbye to a loved one; for the children who've been left psychologically scarred by an education system now in thrall to semi-functional neurotics; for the university students being taught to fear the unknown, to look before they leap, to strip the joy out of life and to replace it with a risk assessment, to cede personal responsibility to Authority and to always value Security over and above Freedom; for all the women trapped at home with abusive partners; for the children who social workers can't see on Skype video calls; for those whose mental health has deteriorated, who feel irreparably broken, who've got to thinking that they'll never be able to find their way back to who they once were; for the people who lie awake at night worrying about where the next mortgage payment is coming from; to those who, at some point this year, have felt that they've had nowhere to turn but The Samaritans; and to all those troubled souls who've slipped unnoticed through the cracks of our desiccated society, and then out into one last lonely, bewildering descent into silence.

We won't forget. We won't forgive. There will be a reckoning.
Welcome to the Year of the Vaccine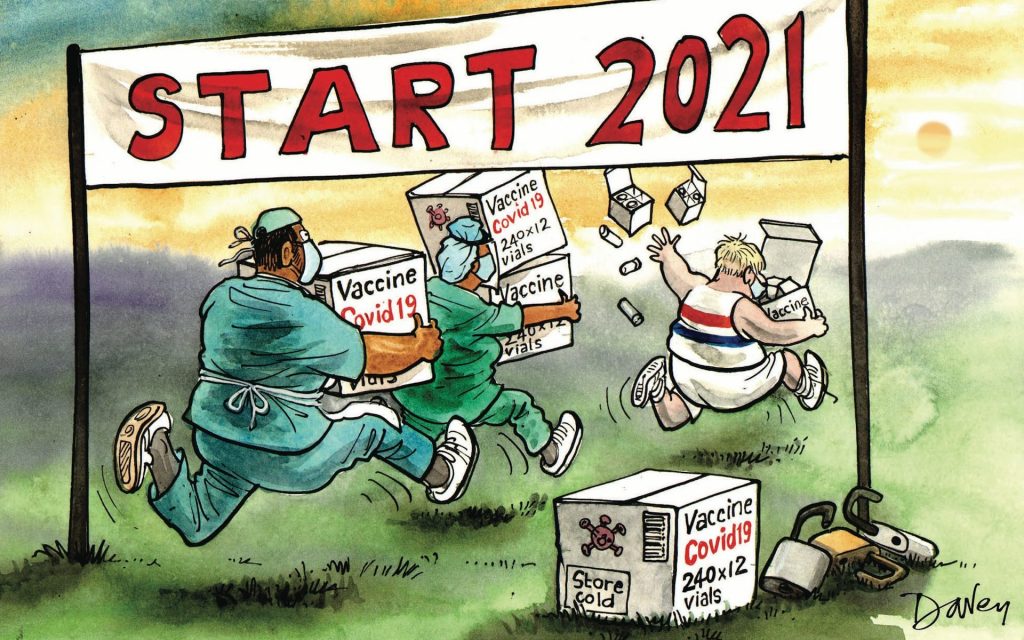 Spectator Editor Fraser Nelson has written a good column for today's Telegraph in which he expresses some scepticism about the Prime Minister's target of lifting restrictions by Easter.
When Boris Johnson cheerfully declared that things should be much better by Easter, hearts will have sunk all over the country. One of the few reliable features of the pandemic is the Prime Minister's optimistic predictions being quickly disproven. He spoke of "normality" by November. Then Christmas. We were also promised no more lockdowns, or school closures. So now, when he says we could be less than three months away from the taming of Covid, it's hard to banish the idea of something going rather drastically wrong.

His aides are, by now, familiar with his trend. He hates giving bad news. So after a particularly bleak press conference, he'll seek to end on a high note with an unscripted promise of dazzling success (such as a "world-beating" test-and-trace system). "We need to break that habit of overpromising and underdelivering," says one of his lieutenants in the Covid battles.
He acknowledges that there is some cause for optimism. The UK is among the first countries in the world to approve the Pfizer/BioNTech and AstraZeneca vaccines and the roll out has already started. But realism dictates the deadline probably won't be met.
The Oxford vaccine needs to spend 20 days in sterilisation, so there's a waiting game – which is why just 530,000 of the promised 4 million doses will be ready by Monday. Then, the safety tests: each batch needs to be checked by the regulator. The speed of rollout will be affected not just by social distancing, but the regulations: everyone is being observed for 15 minutes in case of nasty reactions. When the vaccines come, they'll do so in splurges – there will be times when everyone is waiting for supplies.

Let's go back to the Prime Minister's deadline – or, as he prefers to call it, his "terminus ante quem" of Easter Sunday, April 4TH. To hit this timeframe, a lot of things would have to go right. Vaccinations would have to run close to 1.5 million a week by the end of this month, rising to 2.5 million – perhaps more – over the next two months. This is more than Astra can make, but Pfizer vaccines are due in February. Factor in the three weeks that the vaccine needs to take effect, and an Easter deadline is a stretch. But it's doable.
Worth reading in full.
Stop Press: Professor Martin Marshall, Chair of the Royal College of GPs, asks: Why do you need diversity training in order to give a jab?
Stop Press 2: The Times reports that GPs are rebelling after being instructed not to give elderly patients second jabs of the Pfizer/BioNTech vaccine in order to give first jabs to as many people as possible.
ICU Occupancy Still Below Average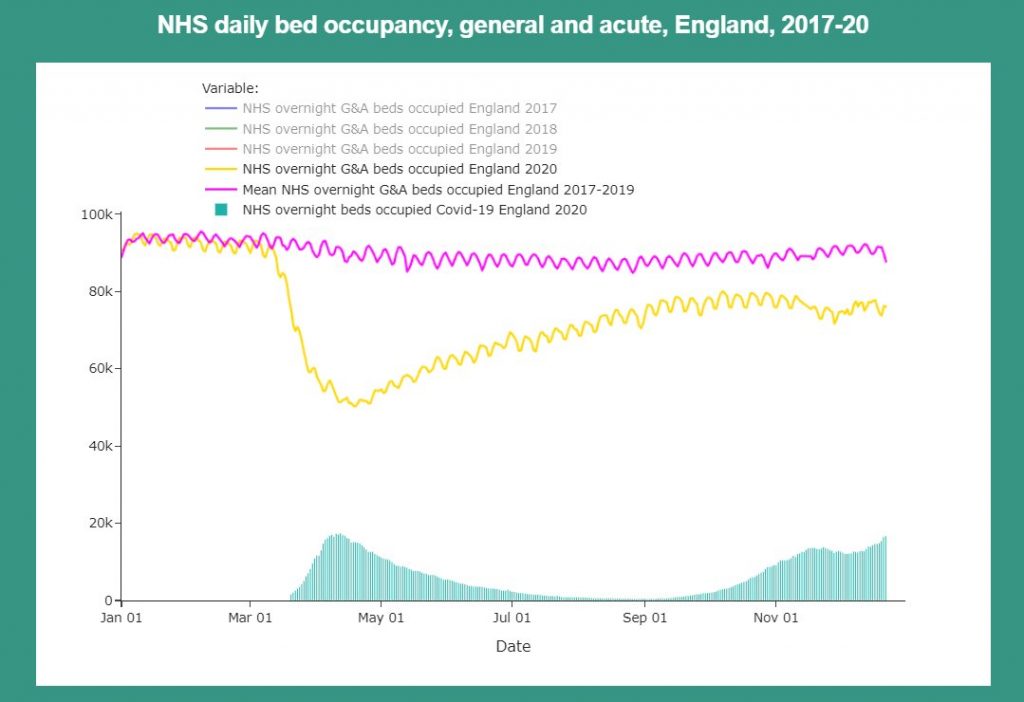 On Monday, we noted that ICU occupancy on December 20th in NHS hospitals in England was lower in absolute terms in four out of seven NHS England regions than it was in December 2019. If you measured ICU occupancy as a percentage of all ICU beds available, it was lower in all seven regions.
Several people pointed out that our figures were out of date. Since December 20th, we were told, ICU occupancy had increased dramatically thanks to the spike in Covid admissions caused by the new variant.
We now have the figures for Dec 27th and while there are more ICU beds in use, the situation hasn't changed dramatically.
First, let's look at the total number of ICU beds occupied in the seven NHS regions.
It's true that the total number of ICU beds occupied in London, the South East and East of England on December 27th was higher than the December average last year, but in three of the seven regions it was lower (the South West, North East and Yorkshire, North West) and in the Midlands it was only fractionally higher. So not much change, then.
What about the percentage of ICU beds occupied on December 27th compared to the three-year average for December? Again, not much change.
As before, in six of the seven regions the percentage of critical care beds occupied on December 27th was below the December average for the past three years and in only one region – the East of England – has it climbed above. True, the number of available ICU beds increased between December 2019 and December 2020, but the fact that capacity hasn't been exceeded in the vast majority of areas suggests that, contrary to the impression given by the BBC (see below), the NHS isn't at breaking point.
Hysterical Outburst From ICU Doctor
Yesterday, Radio 5 Live broadcast an interview with an emotional intensive care doctor who said that people who don't follow social distancing rules or wear masks "have blood on their hands".
Professor Hugh Montgomery said hospitals were facing a "tsunami" of Covid cases and he feared it would get worse after New Year's Eve. Among his more outlandish claims were that one person could infect "hundreds of thousands of people" and "whole families are getting wiped out", including children. Really? If an entire family had died of COVID-19, I think we'd have heard about it by now.
No doubt Prof Montgomery has the best of intentions, but he should pause to consider that between 20% and 30% of Covid patients in hospitals have become infected since being admitted. In reality, no one has "blood on their hands" because no one intentionally infects another person. But if you're going to assign blame, surely he and his NHS colleagues have to accept some responsibility as well?
All Hands on Deck
Today we're publishing an original piece by Dr Ann Bradshaw, a retired Senior Lecturer in Adult Health Care at Oxford Brookes. She delves into the mystery of why the Nightingale Hospitals were built for precisely the contingency the NHS finds itself in at the moment but aren't being used.
The huge body of student nurses in training is not being mobilised onto the front line in the Covid pandemic crisis, as I wrote in Spiked recently.

Beds aren't the problem, it is said. It's the shortage of doctors and nurses. On December 27th the Sunday Times stated that hospitals have been ordered to mobilise their "surge capacity" in the face of soaring Covid infections, staff absence and longer patient stays. Amanda Pritchard, NHS Chief Operating Officer, ordered trusts to use the independent sector, community provision, specialist hospitals and the Nightingale Hospitals. Some hospitals in London are now operating above 100% ICU capacity and are said to be near "breaking point".

The following day the Telegraph reported that the London Nightingale hospital was even being dismantled.
Worth reading in full.
Stop Press: According to MailOnline, the Nightingales are being reactivated.
Online International COVID-19 Symposium
The New Zealand academics behind Covid Plan B have put together a stellar line-up for their upcoming symposium, to be held on February 13th from 8.30am (Auckland time). Speakers will include Great Barrington Declaration authors Professors Sunetra Gupta and Jay Bhattacharya, as well as Emeritus Professor Ramesh Thakur (and Lockdown Sceptics contributor) from the Australian National University.
Tickets for the symposium will be available (to anyone worldwide) soon. Keep checking the symposium website for updates.
Sir Desmond Swayne's Speech in Full
We linked to an extract from Sir Desmond Swayne's speech yesterday, but here's the full monty. Few MPs have emerged with as much credit from this crisis as the Member of Parliament for New Forest West.
Universities Closed Too
A reader has got in touch to point out that it isn't just schools that aren't reopening next week.
It has not been much reported in the media, who have concentrated on schools being closed. But were you aware that universities have also been closed until at least the end of January?

My son is at Southampton University and has just been sent a communication that reflects the contents of this page on the university website.

Note especially the contents of the Government letter that is linked to from the page – this is national and not just Southampton.

Students have been told not to return until the end of January at least, even those doing practical courses like engineering.
Stop Press: Ross Clark says 2020 will be remembered as the year we turned our backs on school standards.
If 2020 Teaches Us Anything…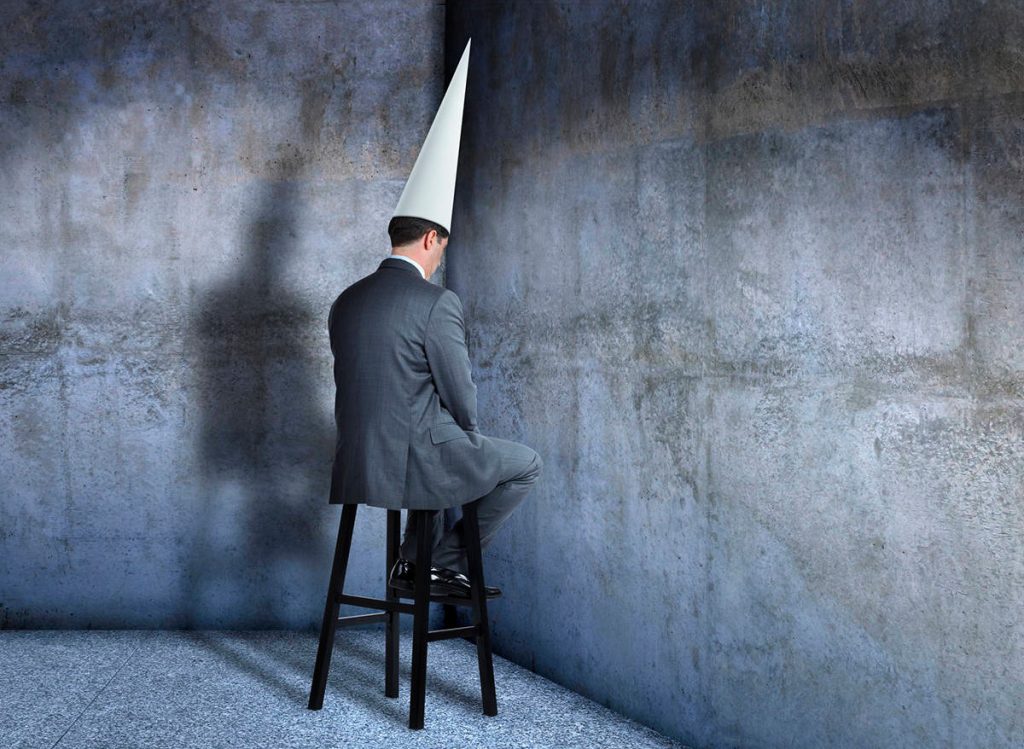 We're publishing an original piece today by the teacher and journalist Joe Baron, a regular Spectator contributor. It's fair to say he's been unimpressed by the manner in which our ruling elites have dealt with the coronavirus crisis. Here are the first few paragraphs.
Annus horribilis just doesn't cut it. A year in which we've seen the advent of a global pandemic, worldwide protests caused by the killing of an unarmed black civilian in Minneapolis and the cancellation of Christmas – all endured with the forebidding spectre of a no deal Brexit hanging over us – surely needs a brand new term.

The most striking thing about this whole affair, though, has been the utter failure of our Alpha caste to navigate the ship of state through these tempestuous seas. Incalculable levels of ineptitude have combined with both arrogance and aloofness to produce an epoch-ending conflation of crises that has exposed the egregious shortcomings of our governing class and, just as importantly, the misconceptions of a credulous public. The mask has finally slipped and the veneer of superiority has been stripped away. The emperors really do have no clothes.

Oxbridge and Eton, we now know. Apart from churning out an interminable, never-ending configuration of smug, arrogant, born-to-rule Malfoys with the means and connections to trample over their opponents and further their own interests, you have nothing else to offer. You certainly don't add any value to the rest of society.

Thanks to you, and our most influential institutions – institutions saturated with your alumni and the alumni of our other elite educational establishments – the poor suffering British people have been lumbered with politicians intent on destroying our socio-economic and cultural inheritance – in short, our hard won freedoms and economic well-being – in the name of protecting us from a virus that has a 99.7% survival rate.
Worth reading in full.
Dozens of False Positives in Aosta, Italy
A reader has got in touch to draw our attention to a mini-scandal at an Italian hospital, as reported in Italy News 24.
Due to a technical problem with an instrument in the analysis laboratory of the Parini hospital in Aosta, Italy numerous tests have resulted in 'false positives'. The fact – according to what was learned from ANSA – took place last Sunday 27 December 2020. At least twenty patients, already hospitalized, were therefore transferred to the Covid wards on the same evening.

Only Monday morning their negativity was discovered and now they are isolated in other wards. The false positives led to a boom in infected and hospitalized patients reported in the Covid bulletin of the Crisis Unit on Monday. The failure was caused by the instrument being switched off, which reset itself and was not 're-calibrated' by the technicians: almost all the samples tested positive. According to what is reported in the bulletin, in fact, out of 68 reports tested last Sunday 61 gave a 'positive' result. Some of these belong to people who were hospitalised in various Parini wards and who were therefore urgently transferred to the Covid wards. Today all the swabs that gave a negative result were redone and they were placed in quarantine waiting to understand if they caught the virus during their stay in the wards dedicated to the coronavirus. Many protests have arisen from patients.
Poetry Corner
Today's poem is from a reader who calls herself Liberty Walker (not her real name).
2020, what a year!
A rollercoaster built on fear.
Bats were blamed as sickness spread,
We'd no idea what lay ahead.
Dead bodies lay on China's roadside,
Caught on film and shared worldwide.
The Chinese guided us with care,
Taught world leaders everywhere.
How to lock their nation down,
How to silence every town.
Our leaders gently took our hands,
Led us gently as was planned.
They made it fun, we clapped and danced,
Our eyes on screens, quite entranced.
We learnt to Zoom, we didn't mind,
Not seeing Granny now was kind.
Shaming people next was taught,
Granny killers must be caught!
Beaches filled with families playing,
But home was where they should be staying!
Protesting was quite accepted,
If black lives were being protected.
But dare to speak of lockdown's pain,
Your voice was silenced, you were shamed.
Masks were next to keep the pace,
To keep us focused on the race.
To find the vaccine was the mission,
We had to share this global vision.
Then testing came to raise the fear,
And keep us locked up for the year.
Testing ramped up, cases grew,
False positives were not a few.
Healthy people were no more,
Silent carriers 'caused' this war.
Healthy people stayed inside,
Touch and love all were denied.
Until our lives became a shell,
Each day for many, living hell.
As days wore on and winter dwelt,
The toll of lockdown could be felt.
No more dancing or doorstep clapping,
Now tempers frayed with families snapping.
Desperate people, broken now,
Looking to the sacred cow –
The vaccine is their promised saviour,
Let's add it to the new behaviour.
They've said we'll have to keep the mask,
Still keep our distance, they have asked.
Add the vaccine, we need all three,
To make the Covid trinity.
So what lies ahead in this new year?
More of the same for those who fear.
But God has better plans ahead,
For those who trust in him instead.
Poetry Extra: Regular Lockdown Sceptics contributor Guy de la Bédoyère was inspired to produce this short verse after seeing Hancock crying on the telly box (with apologies to Lewis Carroll).
'It seems a shame,' the Hancock said,
'To play them such a trick,
After we've dragged them down so far,
Once more to take the mick!'
The Williamson said nothing but
'Let's do it, very quick!'

'I weep for you,' the Hancock said:
'I deeply sympathize.'
With sobs and tiers he put in 4
Districts of every size,
Holding his pocket-handkerchief
Before his streaming eyes.

'O People,' said the Johnson,
'You've been having too much fun!
Shall we be locking down again?'
But answer came there none —
And this was scarcely odd, because
They'd cheated every one.
Round-up
Theme Tunes Suggested by Readers
Four today: "Tell Me Why" by the Beatles, "Look Back in Anger" by David Bowie, "The Age of Anxiety" by Leonard Bernstein and "Just Run Out of Whiskey" by Gaelic Storm.
Stop Press: A reader has helpfully substituted the word "Tiers" for "Tears" in as many songs as he could think of with the word "Tears" in the title.
Tiers of a Clown
Tiers for Souvenirs
Tiers in Heaven
Tracks of my Tiers
As Tiers go by
Tiers on my pillow
Here come those Tiers again
Love in the Time of Covid
We have created some Lockdown Sceptics Forums, including a dating forum called "Love in a Covid Climate" that has attracted a bit of attention. We have a team of moderators in place to remove spam and deal with the trolls, but sometimes it takes a little while so please bear with us. You have to register to use the Forums as well as post comments below the line, but that should just be a one-time thing. Any problems, email the Lockdown Sceptics webmaster Ian Rons here.
Sharing Stories
Some of you have asked how to link to particular stories on Lockdown Sceptics so you can share it. To do that, click on the headline of a particular story and a link symbol will appear on the right-hand side of the headline. Click on the link and the URL of your page will switch to the URL of that particular story. You can then copy that URL and either email it to your friends or post it on social media. Please do share the stories.
Social Media Accounts
You can follow Lockdown Sceptics on our social media accounts which are updated throughout the day. To follow us on Facebook, click here; to follow us on Twitter, click here; to follow us on Instagram, click here; to follow us on Parler, click here; and to follow us on MeWe, click here.
Woke Gobbledegook
We've decided to create a permanent slot down here for woke gobbledegook. Today, it's the turn of yesterday's New Year's Eve fireworks display as choreagraphed by the BBC, which managed to tick every woke box in the book. Has there every been a better reason not to pay the licence fee? The Telegraph has more.
London welcomed the dawn of 2021 – or perhaps the end of 2020 – with a dazzling light and fireworks show on the Thames, including tributes to the NHS and notable figures from the year of COVID-19.

As the BBC-televised display began, a male voice recited a poem that set the theme: "In the year of 2020 a new virus came our way; We knew what must be done and so to help we hid away."

Amid the fireworks, several images filled the sky over the O2 Arena formed through the use of 300 drones, one of which showed the NHS logo in a love-heart while a child's voice said "Thank you NHS heroes".

A later tribute came for BAME NHS workers – "so many of the nurses and doctors and consultants and cleaners, the helping hands guiding us through this storm".
But it wasn't just our beloved NHS that got the hagiographic treatment.
As coloured lights shone at various points up the Thames, leading to more fireworks above Wembley Stadium, the Black Lives Matter movement was also recognised.

Viewers saw its clenched-fist symbol, which became recognised worldwide amid the protests which followed the death of Minnesota man George Floyd in police custody in May.
As if this wasn't enough to have viewers reaching for their remote controls in the millions, the BBC somehow managed to shoehorn in a reference to climate change. During a fireworks display?!? Yes!
Finally, the show ended with an ecological rallying call in the much-loved voice of Sir David Attenborough, reminding all of a reality shown so starkly in the past 12 months – the fragility of life on earth.

"Our planet is unique – a living world of diversity and wonder," Sir David said.

"It's also fragile.

"With a new year comes the opportunity for change, and if we act in 2021 we can make a world of difference.

"Together we can turn things around. Together we can restore our fragile home, and make it a happy new year for all the inhabitants of planet Earth."
The only thing missing from this parade of woke clichés was Harry and Meghan lecturing us about equality.
Just when you thought 2020 couldn't get any worse…
Stop Press: MailOnline points out that no one sang "Auld Lang Syne" at the BBC's fireworks display. And the bard who kicked off the festivities was George the Poet, famous for having turned down an OBE last year due to the "pure evil" of the British Empire.
Stop Press 2: Read Rod Dreher's article in the American Conservative on the hounding of Mark Crispin Miller at NYU after he had the temerity to ask his class on propaganda to look at the efforts by various public health authorities to get us to wear masks.
"Mask Exempt" Lanyards
We've created a one-stop shop down here for people who want to buy (or make) a "Mask Exempt" lanyard/card. You can print out and laminate a fairly standard one for free here and it has the advantage of not explicitly claiming you have a disability. But if you have no qualms about that (or you are disabled), you can buy a lanyard from Amazon saying you do have a disability/medical exemption here (takes a while to arrive). The Government has instructions on how to download an official "Mask Exempt" notice to put on your phone here. You can get a "Hidden Disability" tag from ebay here and an "exempt" card with lanyard for just £1.99 from Etsy here. And, finally, if you feel obliged to wear a mask but want to signal your disapproval of having to do so, you can get a "sexy world" mask with the Swedish flag on it here.
Don't forget to sign the petition on the UK Government's petitions website calling for an end to mandatory face masks in shops here.
A reader has started a website that contains some useful guidance about how you can claim legal exemption. Another reader has created an Android app which displays "I am exempt from wearing a face mask" on your phone. Only 99p, and he's even said he'll donate half the money to Lockdown Sceptics, so everyone wins.
If you're a shop owner and you want to let your customers know you will not be insisting on face masks or asking them what their reasons for exemption are, you can download a friendly sign to stick in your window here.
And here's an excellent piece about the ineffectiveness of masks by a Roger W. Koops, who has a doctorate in organic chemistry. See also the Swiss Doctor's thorough review of the scientific evidence here.
The Great Barrington Declaration
The Great Barrington Declaration, a petition started by Professor Martin Kulldorff, Professor Sunetra Gupta and Professor Jay Bhattacharya calling for a strategy of "Focused Protection" (protect the elderly and the vulnerable and let everyone else get on with life), was launched in October and the lockdown zealots have been doing their best to discredit it ever since. If you googled it a week after launch, the top hits were three smear pieces from the Guardian, including: "Herd immunity letter signed by fake experts including 'Dr Johnny Bananas'." (Freddie Sayers at UnHerd warned us about this the day before it appeared.) On the bright side, Google UK has stopped shadow banning it, so the actual Declaration now tops the search results – and my Spectator piece about the attempt to suppress it is among the top hits – although discussion of it has been censored by Reddit. The reason the zealots hate it, of course, is that it gives the lie to their claim that "the science" only supports their strategy. These three scientists are every bit as eminent – more eminent – than the pro-lockdown fanatics so expect no let up in the attacks. (Wikipedia has also done a smear job.)
You can find it here. Please sign it. Now over three quarters of a million signatures.
Update: The authors of the GBD have expanded the FAQs to deal with some of the arguments and smears that have been made against their proposal. Worth reading in full.
Update 2: Many of the signatories of the Great Barrington Declaration are involved with new UK anti-lockdown campaign Recovery. Find out more and join here.
Update 3: You can watch Sunetra Gupta set out the case for "Focused Protection" here and Jay Bhattacharya make it here.
Update 4: The three GBD authors plus Prof Carl Heneghan of CEBM have launched a new website collateralglobal.org, "a global repository for research into the collateral effects of the COVID-19 lockdown measures". Follow Collateral Global on Twitter here. Sign up to the newsletter here.
Judicial Reviews Against the Government
There are now so many legal cases being brought against the Government and its ministers we thought we'd include them all in one place down here.
The Simon Dolan case has now reached the end of the road.
The current lead case is the Robin Tilbrook case which challenges whether the Lockdown Regulations are constitutional. You can read about that and contribute here.
Then there's John's Campaign which is focused specifically on care homes. Find out more about that here.
There's the GoodLawProject and Runnymede Trust's Judicial Review of the Government's award of lucrative PPE contracts to various private companies. You can find out more about that here and contribute to the crowdfunder here.
And last but not least there was the Free Speech Union's challenge to Ofcom over its 'coronavirus guidance'. A High Court judge refused permission for the FSU's judicial review on December 9th and the FSU has decided not to appeal the decision because Ofcom has conceded most of the points it was making. Check here for details.
Samaritans

If you are struggling to cope, please call Samaritans for free on 116 123 (UK and ROI), email jo@samaritans.org or visit the Samaritans website to find details of your nearest branch. Samaritans is available round the clock, every single day of the year, providing a safe place for anyone struggling to cope, whoever they are, however they feel, whatever life has done to them.
Shameless Begging Bit
Thanks as always to those of you who made a donation in the past 24 hours to pay for the upkeep of this site. Doing these daily updates is hard work (although we have help from lots of people, mainly in the form of readers sending us stories and links). If you feel like donating, please click here. And if you want to flag up any stories or links we should include in future updates, email us here. (Don't assume we'll pick them up in the comments.)
And Finally…