The PCR False Positive Pseudo-Epidemic
Today, we're proud to be bringing you a new blockbuster piece by Dr Mike Yeadon in which he debunks the notion that we're in the midst of a 'second wave' – he believes most parts of England reached herd immunity by June of this year – and systematically takes apart the PCR testing data that seems to show daily cases number tens of thousand a day. This is, as he and Dr Clare Craig have said before, a false positive pseudo-epidemic. But Dr Yeadon has never set out his case so clearly, and with such a wealth of evidence, as he has done in this new article. He's particularly illuminating on the shortcomings of the super-labs set up to process hundreds of thousands of PCR tests every day, drawing on his own 29-year career conducting and supervising laboratory work in UK.
Here's an extract in which he summarises his argument:
In brief: the pandemic was over by June and herd immunity was the main force which turned the pandemic and pressed it into retreat. In the autumn, the claimed "cases" are an artefact of a deranged testing system, which I explain in detail below. While there is some COVID-19 along the lines of the "secondary ripple" concept explained above, it has occurred primarily in regions, cities and districts that were less hard hit in the spring. Real COVID-19 is self-limiting and may already have peaked in some Northern towns. It will not return in force, and the example again is London. Even here, certain boroughs, e.g. Camden and Sutton, have had minimal positive test results. I've explained a number of times how this happened – the prominent role of prior immunity is often ignored or misunderstood. The extent of this was so large that, coupled with the uneven spread of infection, it needed only a low percentage of the population to be infected before herd immunity was reached.

That's it. All the rest is a PCR false positive pseudo-epidemic. The cure, of course, as it has been in the past when PCR has replaced the pandemic itself as the menace in the land, is to stop PCR mass testing.
Dr Yeadon's articles have been some of the most read things we've published on Lockdown Sceptics and this one will be no exception.
Put the kettle on, make yourself a cup of tea and settle down to read this essential piece. Easily the best 20 minutes you'll spend today.
The Second Wave Peaked Before Lockdown 2.0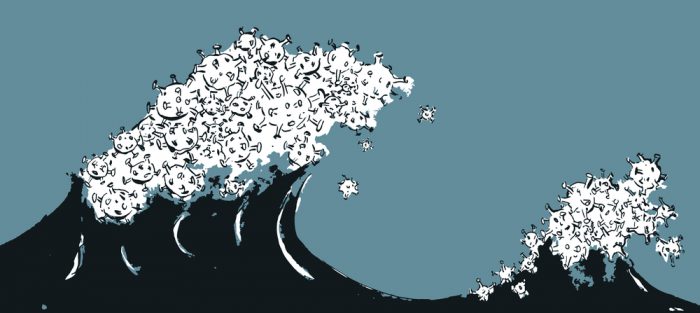 We have previously shared the findings of Tim Spector, Professor of Genetic Epidemiology at King's College, London. He is the founder of the ZOE app which over a million people use to report their symptoms every week and which has become a prime source of rapid, near real-time data about COVID-19. He received an OBE for this work, earlier this year. Writing in the Spectator, he explains what the ZOE data shows:
COVID-19 rates for the UK are now falling in nearly all major regions. The Government and the Opposition, who believe in lockdown, will say that the fall in the number of confirmed cases, deaths and hospitalisations proves lockdown 2.0 was a success, regardless of the extra health costs associated with lockdowns.

Looking at our data, I concluded last month that we had passed the peak of new COVID-19 cases before we went into the second English lockdown. Our data has since been backed up by the ONS survey and GP surveillance records that track new consultations. Hospital admissions, which lag new cases, also peaked shortly after the lockdown of November 5th.

This suggests the impact of the tiered system was being felt before the lockdown started. Chris Whitty has said that it takes two to three weeks for the effects of lockdown to appear. Were lockdown essential then we would have expected hospital admissions to peak far later, possibly around now. The below is what the ZOE data suggests: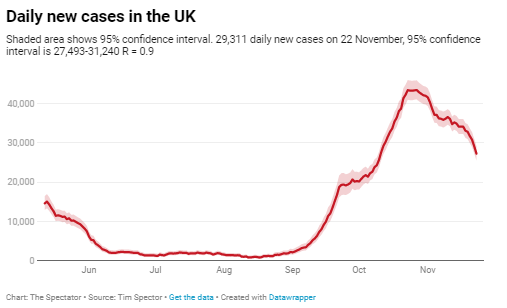 Areas that were under relatively strict tiered restrictions in October are all seeing a continued drop in the number of new COVID-19 cases after peaking around the second half of October.
He goes on to provide some good news for the NHS.
The higher rates are still among 20 to 39 year-olds, who are probably the most exposed to the virus because they are more likely to be carrying on with their lives; and the lowest is among people over 60… The numbers are still relatively low among those in the older age group who are most likely to become seriously ill or die from the disease.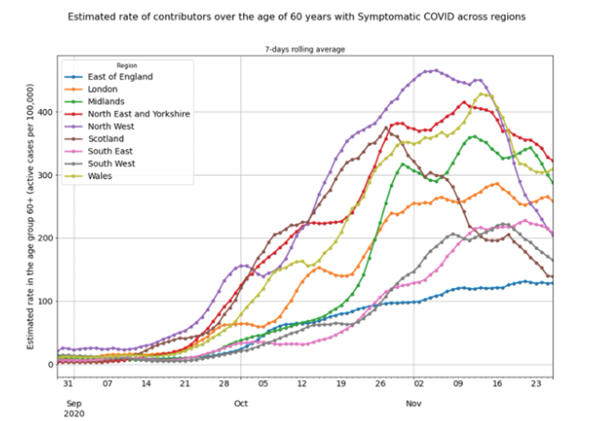 It is hard to disagree with his conclusion:
Any further restrictions should be based on encouraging voluntary behavioural changes. Persuasion is a far more effective long-term strategy than coercion… The public must be able to see exactly what is happening and be trusted to take the right actions for themselves.
Tim Spector's analysis is worth reading in full.
Stop Press: Tim Spector gave an interview to Freddie Sayers for UnHerd's LockdownTV last week. A must watch.
Switzerland: No Lockdown, No Armageddon
We reported last Thursday that Switzerland is one of five places that seem to indicate that lockdowns are not necessary. Today, with thanks to the reader who flagged it in the comments, a report from Focus Online that bears this out:
Switzerland was, not long ago, considered one of biggest COVID-19 hotspots in Europe. Now, though, the curve is pointing sharply downwards, despite no major new measures being adopted. Even the experts are stumped.

Switzerland opted for a middle course in its COVID-19 policy, between Sweden's laissez-faire model and a hard lockdown strategy. Up until the middle of November, it looked as though the policy would fail miserably.

But, since then, the curve has shown a clear downwards trend, dropping from 10,000 new infections per day at the beginning of the month to 4,500. And that is without any containment measures being implemented. The Swiss Federal Council has not tightened measures since October 29th.
The report continues:
Why did the numbers fall so rapidly, despite the open restaurants and shops and the loose contact restrictions? The experts don't quite know. At the moment, "from a scientific point of view it is still too early to judge", Swiss epidemiologist Marcel Salathé tells FOCUS Online. Antje Heise, an intensive care doctor and President of the Swiss Institute for Intensive Care added: "We can only speculate on what led to the turnaround in infection numbers."

Whether it was the Swiss middle-course COVID-19 policy that led to the reduction in numbers is therefore unknown. The strategy was criticised by many. There were grave doubts as to whether the measures were sufficient to save the health system from collapse.
Worth reading in full (if you speak German). It goes on to note that the numbers are still very high and that the country has only recently seen its highest daily death toll, and says that caution is still required.
The Rush to Publish COVID-19 Research Saw Errors Triple
New research published today in the Medical Journal of Australia (MJA) has thrown some light on the compromises made in the publication processes of medical journals, a consequence of the rush for new research on COVID-19. 9 News has more:
The research examined five medical journals considered to be the most critical to informing global health policy and clinical practices: the Lancet, the New England Journal of Medicine, the Journal of the American Medical Association (JAMA), the British Medical Journal and the Annals of Internal Medicine.

The analysis compared 134 research papers published between January 1st and May 31st this year to 54 published during the same period in 2019.
The research found that:
One in five COVID-19 studies published by the journals during the first five months of the pandemic had corrections issued after publication. This compares to 7.4% of published during the same period last year
Three studies had to be retracted altogether, including a highly publicised hydroxychloroquine trial published in the Lancet. This led to a temporary cessation of the WHO trial into hydroxychloroquine. No such retractions were made in 2019.
Just 5% of the coronavirus trials were randomised controlled trials – considered the "gold standard" of medical research – compared to 35% of the 2019 trials.  
The timeframe given to review, approve and publish trials was drastically reduced. In the case of JAMA, the only journal to release data for this, the average timeframe from first submission to publication fell from 139 days to just 23.
Close to half of the COVID-19 studies did not explicitly state that consent was obtained from trial participants. A number of articles also stated that they were granted exemptions from the requirement for ethical review due to the nature of the pandemic.
The study's lead author, Professor Michael Reade of the University of Queensland, said:
In the new information age, it's a great thing that people can disseminate information really quickly. You can put a paper up online, you can read these things really quickly, but the other side of that is that by the time it gets into a journal, if journals are going to add anything to this process, it needs to be that they give the stamp of approval that it's true.
Quite. And it is surely during such times as the last few months that the reliability of papers published in prestigious medical journals matters most. The 9 News article is worth reading in full.
The MJA article has a number of suggestions for facilitating the rapid dissemination of information, without compromising its quality, ethical standards or oversight, including:
A two-track review process for pandemic and non-pandemic research, rapid preliminary assessment of research methodology by skilled in-house reviewers before deciding whether to send for peer review, sharing of peer-reviews between reviewers and journals, and mentored peer reviewing by research trainees.
The MJA article is also worth reading in full.
Dear Commissioner…
A member of the Free Speech Union, Dominic Martin, has written to Cressida Dick the Commissioner of the Metropolitan Police, to complain about the heavy-handed policing of Saturday's anti-lockdown protest in central London. Hard to disagree with anything he says.
I am writing to express my disgust at how your police force handled the anti-lockdown protest in central London, and indeed how it has handled several previous demonstrations. They have been suppressed in an overly zealous and excessively forceful manner which brings shame upon the force and is chillingly reminiscent of scenes we have scene in recent months in Belarus and Hong Kong. The right to challenge authority by peaceful protest is a centuries-old British liberty and, moreover, a liberty enshrined in the Universal Declaration of Human Rights which was signed by Britain in 1948 (Article 20(1): "Everyone has the right to freedom of peaceful assembly and association"). It is a cornerstone of liberal democracy, and can only be rightfully suspended in the most extreme of circumstances, such as war, invasion, or social breakdown. A virus with a 99%+ survival rate – and of the 1% or less who sadly die the overwhelming majority are of a very advanced age with existing health conditions – is no justification for enacting such draconian measures and stripping citizens of their basic rights. It is a highly worrying development. As we saw with the anti-terror laws rushed through in the aftermath of the September 11th and July 7th attacks, powers once gained are rarely surrendered, and are often used in a manner which far exceeds their original remit and purpose.

As bad as the over-reaction is, it is made far worse by the complete inaction shown this summer in regards to other protests, such as when far larger crowds were allowed to gather under the banner of Black Lives Matter (BLM) at the height of the first lockdown. Not only were these demonstrations given sanction to go ahead, they were lightly policed and indeed several police officers were seen running away when provoked, with protestors given free rein to vandalise public statuary. Furthermore, several police officers were filmed "taking the knee", which, given that BLM is at heart a political lobby group, was a clear violation of police neutrality. A later FOI response by your force (ref. 01.FOI.20.014886) states clearly that "Officers were briefed to use enforcement powers as a last resort", and the protests were also enthusiastically endorsed by Mayor Sadiq Khan. The contrast with Saturday's anti-lockdown protest could not be more stark; it was met with a huge police presence and ordered to disperse immediately, with protestors then being arrested seemingly at random and in large numbers. The organisers of such demonstrations in the past have also been issued with exorbitant fines (again, not issued against BLM organisers).

Having a police force that is seen to be fair and impartial is of fundamental importance if public trust and support for law enforcement is to be maintained. I suspect that the real reason for the selective policing this year is that your organisation is still reeling from the impact of the MacPherson Report, and prioritises being seen as "not racist" above enforcing the law in a fair and equitable manner. I for one have lost all faith in the Metropolitan Police as an unbiased and apolitical force, and I suspect that I am far from alone. The damage caused has been enormous and the repercussions will be felt for many years to come.
Stop Press: Sky New Australia has a great report on the protests. They call them "riots".
Stop Press: It is also worth reading Matthew Scott's piece in the Telegraph – "Lockdown is being policed in an entirely disproportionate way" and Dr Jade Norris's article in the Spectator about why she has resigned as a Special Constable – "Why I can no longer police the coronavirus restrictions".
A Festive Protest Suggestion
After reading the accounts of Saturday's protests on the news and in yesterday's update, a reader has got in touch with a suggestion for an alternative form of protest:
How about organising large gatherings to sing Christmas carols as a form of protest – and a nice way to spread some Christmas cheer.

The problem with the brave protests that have taken place so far is that the media spins it as a few conspiracy theorist nuts protesting against vaccinations, 5G and so on. Much of the population consequently has little sympathy for the victims of heavy-handed policing. I read the comments section on the article in the Sun about Saturday's protest and although there were plenty of people on our side there were also lots of comments to the effect that the protesters deserved all they were getting. There was even one comment that suggested they be denied a vaccine, which seems an odd punishment.

The police would surely be more reluctant to start brutalising a large crowd of peaceful carol singers. Even our media would struggle to present that as a proportionate response. Perhaps the general public who saw these protests would be more likely to come over to our cause.
Not a bad idea.
"Back Me or Face Lockdown 3"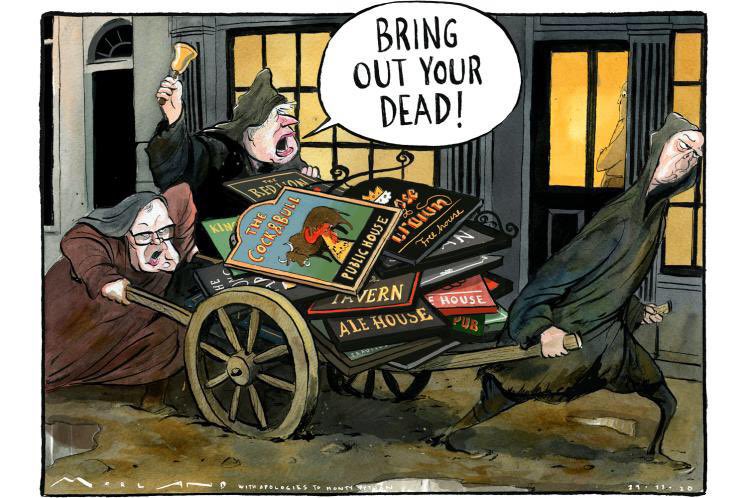 The MailOnline has the latest on the Prime Minister's battle to squash the rebellion last night:
"The country will face another national lockdown if MPs reject new local limits," Boris Johnson warned tonight. The Prime Minister was battling to quell a Tory revolt as he unveiled a series of concessions in a bid to persuade backbenchers to back a tougher tier system. But ahead of a critical vote Tuesday, the rebels tonight demanded "hard evidence" to convince them that the crackdown will save more lives than it costs.

Tomorrow Downing Street will publish an analysis of the health, economic and social impacts of COVID-19 and the measures taken to suppress it. The move is an attempt to limit the scale of a rebellion which has been growing since last week. The document will include forecasts from the Bank of England and the Office for Budget Responsibility. Mr Johnson yesterday dangled the prospect that some areas facing the harshest curbs in Tier 3 could see them eased as part of a review before Christmas.

Mr Johnson insisted "no Prime Minister wants to impose restrictions which cause such harm to society, the economy and people's mental health". He warned that the "tougher tiers" are needed "if we are to keep the virus under control and avoid either overwhelming the NHS or another national lockdown which is far more damaging and restrictive than these tiers".
Parliament is due to vote on Lockdown 3.0 on Tuesday. There is no time like the present to join Peter Hitchens' campaign for a mass write-in to MPs. Numbers count.
A Message from a Donor
We received a generous donation yesterday, and thought it worth sharing the message that came with it:
My part of the Civil Service all received a £100 bonus for adjusting well to working from home. This is possibly one of the most tone-deaf actions I have ever seen, given the state of the nation's finances and the prospects of those working in the private sector – not to mention a complete waste of taxpayers' money as there was not a single group of people who had easier during the lockdown. I donate it to a worthier cause.
Round-Up
Theme Tunes Suggested by Readers
Three today: "Fight the Power" by Public Enemy, "Kingdom of Madness" by Magnum and "Inject the Venom" by AC/DC.
Love in the Time of Covid
We have created some Lockdown Sceptics Forums, including a dating forum called "Love in a Covid Climate" that has attracted a bit of attention. We have a team of moderators in place to remove spam and deal with the trolls, but sometimes it takes a little while so please bear with us. You have to register to use the Forums, but that should just be a one-time thing. Any problems, email the Lockdown Sceptics webmaster Ian Rons here.
Sharing Stories
Some of you have asked how to link to particular stories on Lockdown Sceptics so you can share it. To do that, click on the headline of a particular story and a link symbol will appear on the right-hand side of the headline. Click on the link and the URL of your page will switch to the URL of that particular story. You can then copy that URL and either email it to your friends or post it on social media. Please do share the stories.
Social Media Accounts
You can follow Lockdown Sceptics on our social media accounts which are updated throughout the day. To follow us on Facebook, click here; to follow us on Twitter, click here; to follow us on Instagram, click here; to follow us on Parler, click here; and to follow us on MeWe, click here.
Woke Gobbledegook
We've decided to create a permanent slot down here for woke gobbledegook. Today, we were intending to highlight the plight of Professor Dorian Abbot, a tenured faculty member in the Department of Geophysical Sciences at the University of Chicago, who has recently come under attack from students and postdocs in his Department for a series of videos he posted to YouTube expressing his reservations about the way Diversity, Equity, and Inclusion (DEI) efforts have been discussed and implemented on campus.
In these videos, since taken down, Prof. Abbot raised several misgivings about DEI efforts and expressed concern that a climate of fear is "making it extremely difficult for people with dissenting viewpoints to voice their opinions". The slides for each of Prof. Abbot's videos can be found here, and his own account of events and his opinions can be found here. Nowhere in these materials does Prof. Abbot offer any opinion that a reasonable observer would consider to be hateful or otherwise offensive.
Shortly after uploading the videos, Abbot's concerns were confirmed when 58 students and postdocs of the Department of Geophysical Sciences, and 71 other graduate students and postdocs from other University of Chicago departments, posted a letter containing the claim that Prof. Abbot's opinions "threaten the safety and belonging of all underrepresented groups within the [Geophysical Sciences] department" and "represent an aggressive act" towards research and teaching communities.
The letter also issued 11 demands, many of which would serve to ostracize and shame Prof. Abbot, while stripping him of departmental titles, courses, and privileges. The signatories further demand that the Department of Geophysical Sciences formally and publicly denounce Prof. Abbot's views, and change hiring and promotion procedures so as to prioritise DEI.
That's what we were intending to highlight. Indeed, we were going to ask you to sign a Free Speech Union petition launched a few days ago urging the President of Chicago, Robert J. Zimmer, to issue a statement reiterating his support for the Chicago Principles and affirming that Prof. Abbot will not be reprimanded, will not be subject to any departmentally imposed punishments and humiliations, and will not be stripped of any departmental titles, courses, or privileges, or have his tenure put in jeopardy.
But there is no need because the petition has achieved its objective. Yesterday, just three days after the petition's launch, President Zimmer issued a statement saying he had no intention of watering down the Chicago Principles and affirming the right of Chicago's academic staff to express their views on controversial topics, however unorthodox, without fear of being penalised by their employer in any way:
From time to time, faculty members at the University share opinions and scholarship that provoke spirited debate and disagreement, and in some cases offend members of the University community.

As articulated in the Chicago Principles, the University of Chicago is deeply committed to the values of academic freedom and the free expression of ideas, and these values have been consistent throughout our history. We believe universities have an important role as places where novel and even controversial ideas can be proposed, tested and debated. For this reason, the University does not limit the comments of faculty members, mandate apologies, or impose other disciplinary consequences for such comments, unless there has been a violation of University policy or the law. Faculty are free to agree or disagree with any policy or approach of the University, its departments, schools or divisions without being subject to discipline, reprimand or other form of punishment.
This is exactly what the FSU was asking for and it is now confident that Prof Abbot is no longer in any danger from the outrage mob that targeted him for cancellation. Thanks to the actions of its President, the University of Chicago has confirmed its status as a beacon of academic free speech that universities around the world can look to for leadership on this critical issue.
But this is no time for complacency. Help the FSU secure more victories like this by joining today.
The enemies of free speech hunt in packs; its defenders must band together too.
"Mask Exempt" Lanyards
We've created a one-stop shop down here for people who want to buy (or make) a "Mask Exempt" lanyard/card. You can print out and laminate a fairly standard one for free here and it has the advantage of not explicitly claiming you have a disability. But if you have no qualms about that (or you are disabled), you can buy a lanyard from Amazon saying you do have a disability/medical exemption here (takes a while to arrive). The Government has instructions on how to download an official "Mask Exempt" notice to put on your phone here. You can get a "Hidden Disability" tag from ebay here and an "exempt" card with lanyard for just £1.99 from Etsy here. And, finally, if you feel obliged to wear a mask but want to signal your disapproval of having to do so, you can get a "sexy world" mask with the Swedish flag on it here.
Don't forget to sign the petition on the UK Government's petitions website calling for an end to mandatory face masks in shops here.
A reader has started a website that contains some useful guidance about how you can claim legal exemption.
If you're a shop owner and you want to let your customers know you will not be insisting on face masks or asking them what their reasons for exemption are, you can download a friendly sign to stick in your window here.
And here's an excellent piece about the ineffectiveness of masks by a Roger W. Koops, who has a doctorate in organic chemistry.
The Great Barrington Declaration
The Great Barrington Declaration, a petition started by Professor Martin Kulldorff, Professor Sunetra Gupta and Professor Jay Bhattacharya calling for a strategy of "Focused Protection" (protect the elderly and the vulnerable and let everyone else get on with life), was launched last month and the lockdown zealots have been doing their best to discredit it ever since. If you Googled it a week after launch, the top hits were three smear pieces from the Guardian, including: "Herd immunity letter signed by fake experts including 'Dr Johnny Bananas'." (Freddie Sayers at UnHerd warned us about this the day before it appeared.) On the bright side, Google UK has stopped shadow banning it, so the actual Declaration now tops the search results – and Toby's Spectator piece about the attempt to suppress it is among the top hits – although discussion of it has been censored by Reddit. The reason the zealots hate it, of course, is that it gives the lie to their claim that "the science" only supports their strategy. These three scientists are every bit as eminent – more eminent – than the pro-lockdown fanatics so expect no let up in the attacks. (Wikipedia has also done a smear job.)
You can find it here. Please sign it. Now over 700,000 signatures.
Update: The authors of the GDB have expanded the FAQs to deal with some of the arguments and smears that have been made against their proposal. Worth reading in full.
Update 2: Many of the signatories of the Great Barrington Declaration are involved with new UK anti-lockdown campaign Recovery. Find out more and join here.
Update 3: You can watch Sunetra Gupta set out the case for "Focused Protection" here and Jay Bhattacharya make it here.
Update 4: The three GBD authors plus Prof Carl Heneghan of CEBM have launched a new website collateralglobal.org, "a global repository for research into the collateral effects of the COVID-19 lockdown measures". Follow Collateral Global on Twitter here.
Judicial Reviews Against the Government
There are now so many JRs being brought against the Government and its ministers, we thought we'd include them all in one place down here.
First, there's the Simon Dolan case. You can see all the latest updates and contribute to that cause here.
Then there's the Robin Tilbrook case. You can read about that and contribute here.
Then there's John's Campaign which is focused specifically on care homes. Find out more about that here.
There's the GoodLawProject's Judicial Review of the Government's award of lucrative PPE contracts to various private companies. You can find out more about that here and contribute to the crowdfunder here.
The Night Time Industries Association has instructed lawyers to JR any further restrictions on restaurants, pubs and bars.
And last but not least there's the Free Speech Union's challenge to Ofcom over its 'coronavirus guidance'. You can read about that and make a donation here.
Samaritans

If you are struggling to cope, please call Samaritans for free on 116 123 (UK and ROI), email jo@samaritans.org or visit the Samaritans website to find details of your nearest branch. Samaritans is available round the clock, every single day of the year, providing a safe place for anyone struggling to cope, whoever they are, however they feel, whatever life has done to them.
Quotation Corner
It's easier to fool people than to convince them that they have been fooled.

Mark Twain
Men, it has been well said, think in herds; it will be seen that they go mad in herds, while they only recover their senses slowly, one by one.

Charles Mackay
They who would give up essential liberty to purchase a little temporary safety, deserve neither liberty nor safety.

Benjamin Franklin
To do evil a human being must first of all believe that what he's doing is good, or else that it's a well-considered act in conformity with natural law. Fortunately, it is in the nature of the human being to seek a justification for his actions…

Ideology – that is what gives the evildoing its long-sought justification and gives the evildoer the necessary steadfastness and determination.

Aleksandr Solzhenitsyn
No lesson seems to be so deeply inculcated by the experience of life as that you never should trust experts. If you believe the doctors, nothing is wholesome: if you believe the theologians, nothing is innocent: if you believe the soldiers, nothing is safe. They all require to have their strong wine diluted by a very large admixture of insipid common sense.

Robert Gascoyne-Cecil, 3rd Marquess of Salisbury
Nothing would be more fatal than for the Government of States to get into the hands of experts. Expert knowledge is limited knowledge and the unlimited ignorance of the plain man, who knows where it hurts, is a safer guide than any rigorous direction of a specialist.

Sir Winston Churchill
If it disagrees with experiment, it's wrong. In that simple statement is the key to science.

Richard Feynman
Of all tyrannies, a tyranny sincerely exercised for the good of its victims may be the most oppressive. It would be better to live under robber barons than under omnipotent moral busybodies. The robber baron's cruelty may sometimes sleep, his cupidity may at some point be satiated; but those who torment us for our own good will torment us without end for they do so with the approval of their own conscience.

C.S. Lewis
The welfare of humanity is always the alibi of tyrants.

Albert Camus
We've arranged a global civilization in which most crucial elements profoundly depend on science and technology. We have also arranged things so that almost no one understands science and technology. This is a prescription for disaster. We might get away with it for a while, but sooner or later this combustible mixture of ignorance and power is going to blow up in our faces.

Carl Sagan
Political language – and with variations this is true of all political parties, from Conservatives to Anarchists – is designed to make lies sound truthful and murder respectable, and to give an appearance of solidity to pure wind.

George Orwell
The object of life is not to be on the side of the majority, but to escape finding oneself in the ranks of the insane.

Marcus Aurelius
Necessity is the plea for every restriction of human freedom. It is the argument of tyrants; it is the creed of slaves.

William Pitt the Younger
Shameless Begging Bit
Thanks as always to those of you who made a donation in the past 24 hours to pay for the upkeep of this site. Doing these daily updates is hard work (although we have help from lots of people, mainly in the form of readers sending us stories and links). If you feel like donating, please click here. And if you want to flag up any stories or links we should include in future updates, email us here. (Don't assume we'll pick them up in the comments.)
And Finally…