Largest Anti-Lockdown Demo So Far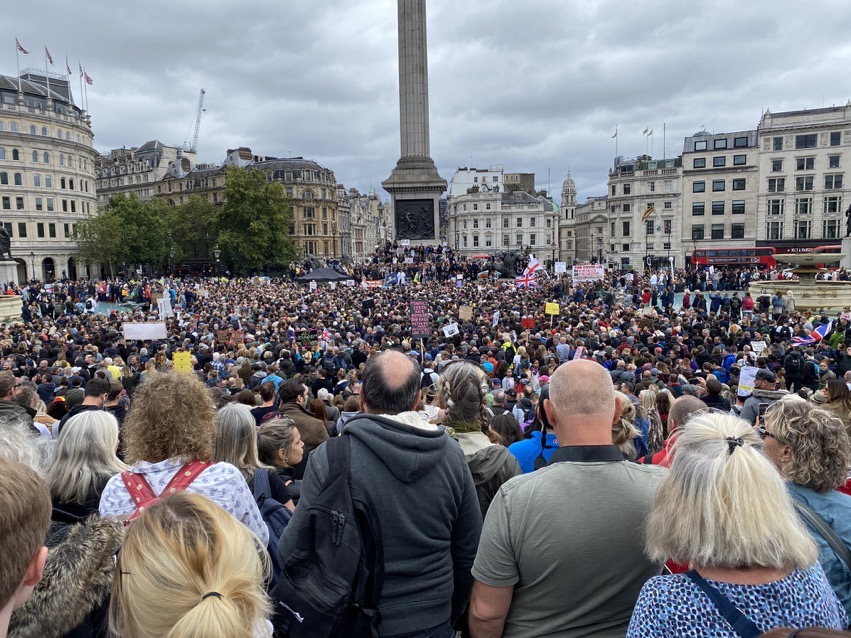 The pictures from yesterday's anti-lockdown demo in Trafalgar Square are quite impressive. Some reports put the turnout at 35,000. The Express was one of the first newspapers to report on the protest.
Pictures of the large crowds show people holding signs that read "coronavirus is a hoax", "no to mandatory vaccines" and "masks are muzzles".

One person has claimed it is the largest anti-lockdown protest to date.

The large numbers of protesters have filled the area beneath the National Portrait Gallery.

Very few of those in attendance appear to be wearing face coverings.

A flyer for the event said the protesters would be joined by "top professional doctors and nurses speaking out".

Jeremy Corbyn's brother, Piers, is also due to make an appearance at the event.
The Express report was more even-handed than the report in the Metro, which began:
Thousands of coronavirus-deniers have gathered in London's Trafalgar Square to protest against lockdowns and vaccination programmes.
And the Mail was even worse, headlining its report of the protest: "More than 10,000 COVID conspiracy theorists gather in London as police arrest Jeremy Corbyn's brother Piers AGAIN: Huge crowd of anti-vaxxers led by David Icke gather to argue that virus is a lie spread in secret global plot organised by Bill Gates".
A reader emailed me to tell me his impressions after the demo ended.
Just on my way back from the protest at Trafalgar Square. Apparently there were 35,000 people there, according to Piers Corbyn. I wonder what number the mass media will report?

On the whole it was a brilliant atmosphere. Absolutely packed with people, like an outdoor festival event. Brilliant!

My only criticism, is that the MC, Kate Shemirani (an ex-nurse apparently) was pushing some ideas that I just did not agree with. For example:

* 5G radiation will kill us all.

* The vaccine will make us all infertile and kill us all.

* Fluoride in our toothpaste is killing us and numbing our brain.

* Pandemic ideology, that this has all been planned for years/decades, etc.

It frustrates me that 5G conspiracy theorists and anti-vaxxers are at the forefront of the pushback. I've had all my jabs (MMR, BCG, etc.) and I have no issues with vaccines in general. I just don't agree we need a rushed out vaccine to "cure" a diseases that has pretty much disappeared.

So mixed emotions, but generally I'm feeling good that so many people are waking up to the nonsense.
Meanwhile, a protest in Berlin was broken up by police at 9am, according to MSN News.
Police ordered a protest by people opposed to Germany's pandemic restrictions to disband after participants refused to observe social distancing rules.

Tens of thousands of people had gathered at the German capital's Brandenburg Gate in the morning before streaming down the Unter den Linden boulevard in a show of defiance against Germany's coronavirus prevention measures.

Protesters carried a wide range of grievances and banners proclaiming their opposition to vaccinations, face masks and the German government in general.
Stop Press: There was an anti-lockdown protest in Ottawa yesterday. The T-shirts and slogans are remarkably similar to those in London and Berlin. This is a global movement.
Is the Government Preparing to Turn the NHS into a Covid-Only Service Again?
Matt Hancock gave an interview to ITV News on Friday in which he suggested plans are underway to turn the NHS into the National Coronavirus Service this winter, seemingly oblivious to the tens of thousands of unnecessary deaths this misstep caused over the summer.
"We're doing a huge amount of planning to make sure that the NHS is prepared and can cope to make sure that people can have as much freedom to enjoy Christmas, to enjoy winter, as possible," he said.
What's the rationale, Matt? Better to have half-empty hospitals and turn patients away just in case there's a spike in Covid hospitalisations over Christmas? That's like throwing people out of an aeroplane to reduce the risk of it crashing.
Alarming.
Schools Insisting on Unnecessary Face Muzzles
Yesterday, my colleague Will Jones asked readers to get in touch if their children's schools were insisting on face coverings, even if they're not in local lockdown areas. Needless to say, we've been deluged with responses.
This is an extract from a letter sent to parents at Chatham and Clarendon Grammar School
Face Covering – with regard to the revised Government guidance yesterday about the wearing of face masks in communal areas and in restricted spaces like corridors, at the moment this is not mandatory as Thanet is not in an area with increased lockdown restrictions. However the corridors in the school are very narrow and we have therefore decided that with safety uppermost in everyone's minds we will require all students to bring face coverings with them to school and wear them in corridors and communal areas. Each student must bring plastic sealable bags to store their face covering and use the lidded bins on site to dispose of face coverings if they get wet or damaged and should also carry spares for this eventuality.
Here's another, this one from a grandparent in Darlington which is an area of low infection.
My granddaughter attends Polam Hall School in Darlington and will be returning for the new term next Friday. We have received guidance relating to COVID-19 procedures. It says "You will be asked to wear a face covering in crowded corridors and communal areas". So no mention of Government guidelines or the WHO in this case. However, Darlington has always been at the lower end of the scale in terms of COVID-19 cases. I keep a check via the BBC online service which allows you to enter your postcode to find out how many cases there have been. Last week there were two cases in a town with a population of just over 106,000.
This one is from a parent of a school in Cobham:
I'd like to report my school, ACS International School Cobham, bringing in a masking rule for all children aged 10-18 in indoor communal areas. In our case, this will mean everywhere except in the classroom. Cobham (district of Elmbridge) has no local spikes in infection and has no plans to introduce local lockdown of which I am aware.

I put it down to pre-emptive action due to extreme caution and ignorance of the facts. This action will, of course, make absolutely no difference whatsoever to the odds of someone introducing COVID-19 to the general school body. We have opened a book on the odds of the school shutting again. Current best guess is mid-October.
Here's the face mask section in a letter from Guy Sanderson, the headmaster of Eltham College, a private school in Mottingham.
As I mentioned last week, students travelling on school buses or public transport will be required to wear a face covering. We have taken the decision to follow World Health Organisation guidelines and to go further than the government's current stated positions on masks in school. Accordingly, all Senior School students should bring a mask (and ideally some spare masks) to school in addition to the mask that they wear whilst travelling to school. Students will be required to wear these between lessons when moving around corridors and for communal events such as year group assemblies. They will not need to wear them in lessons (where they impede communication) or when outside on the fields at break or lunchtime.
The parent of a child at Alcester Grammar has forwarded the rules issued by the school's headmaster:
Face coverings should be worn
• In corridors and inside communal spaces
• Whilst queuing for entry / collection of food in the canteen, Pit Stop and Studio
• In the Theatre and Sports Hall for assemblies
• In study areas (library, Newport Study).
• On transport and when queueing for buses after school
The same parent has suggested that another verse should be added to Madness's "Baggy Trousers":
Risk-free kids in risk-free schools
Headmasters laying down new rules
No more fun, we're ruled by fools
Can't get near the woodwork tools
Do Masks Increase Risk of Transmission?
I've published an original article today by a senior research scientist for a pharmaceutical company on the risks posed by face masks. Here's the kernel of the argument:
The aim of face coverings is to prevent an asymptomatic individual from infecting others. For such an individual, their face covering would become saturated with respiratory droplets containing coronavirus and in fact, the more effective the face covering, the more virus it will have captured. So if an infectious individual touched their face covering, they would potentially be contaminating their fingers with coronavirus…which they could then transfer to the next thing they touched – like a door handle, handrail or table.

Although such an individual could have still contaminated their hands and the environment whilst not wearing a face covering, the fact that the face covering has captured viral particles means that it provides a much more concentrated source of the virus. Additionally, putting a cloth covering on your face will almost certainly increase the probability that someone would touch their face to adjust or fiddle with it, especially if it is not well fitted. This further increasing the likelihood that an infectious individual would actually touch the contaminated cloth material.
Worth reading in full.
Alarmist Sage Report Says 85,000 People Could Die of Covid This Winter
According to a Newsnight report by Deborah Cohen on Friday night, Sage signed off on a report in July predicting that a further 85,000 could die of Covid in the UK between July and March 2021 in a reasonable worst case scenario. Cohen has written up her report for BBC News.
A leaked government report suggests a "reasonable worst case scenario" of 85,000 deaths across the UK this winter due to COVID-19.

The document also says while more restrictions could be re-introduced, schools would likely remain open.

But it says the report "is a scenario, not a prediction" and the data are subject to "significant uncertainty".

However some are critical of the modelling and say some of it is already out of date.

The document, which has been seen by BBC Newsnight, was prepared for the government by the Sage scientific advisory group, which aims to help the NHS and local authorities plan services, such as mortuaries and burial services, for the winter months ahead.

Among its key assumptions are that schools will remain open and that the government's tracing, isolation, and quarantine measures will only be 40% effective in cutting the spread of Covid outside households.

It also states that by November "policy measures would be put in place to reduce non-household contacts to half of their normal pre March 2020 levels". In other words, restrictions to mitigate the impact – other than school closures – could be put in place.

According to the report these measures might be expected to remain in place until March 2021.
I haven't seen this report, but what's the betting that the 85,000 prediction is based on a static computer model that takes no account of the fact that the rise in cases since July, whether here or in Europe, has not been accompanied by any corresponding rise in hospitalisations or deaths? (The authors should read this surprisingly even-handed piece by Fergus Walsh for BBC News). Business leaders are reportedly furious about this report and the suggestion that there might have to be a second lockdown to prevent these deaths.
The assumptions built into the report, as described by Deborah Cohen, sound unduly pessimistic.
The figures, which the scientists say have a wide range of uncertainty, suggest around 2.4% of infected people could be hospitalised (range: 0.0%-8.9%) with 20.5% of hospitalised patients going into ICU (range: 1.5% – 35.25) and 23.3% (range: 1.2% – 43.3%) of all hospitalised patients dying.

The model also predicts an overall infection fatality ratio of 0.7% (0.0% – 9.7%).

While the model is by no means a prediction and subject to "significant uncertainty", the reasonable worst case scenario is used to inform government planning decisions.

However, some are critical of the modelling and believe some of the assumptions in the "official sensitive" model prepared for the Cabinet Office are wrong and the model is unhelpful given the wide range in possible scenarios.

Prof Carl Heneghan, from Oxford University, said some of the assumptions made in the model were "implausible" and that the report assumes that "we've learnt nothing from the first wave of this disease".
If anyone has a link to the report, or has a copy, please send it to the usual email address. We'll get our team of experts to scrutinise it.
Worth remembering that last month another report, this one done at the request the UK's Chief Scientific Adviser, Sir Patrick Vallance, suggested there might be about 120,000 new coronavirus deaths in a second wave of infections this winter. Why the discrepancy between that report and this?
They might as well just pick these numbers out of a hat.
You can watch Deborah Cohen's report here.
Government Casting Call For People to Model "Spreading Germs"
An actor has sent me a casting call he received yesterday. You couldn't make it up.
Needless to say, SARS-CoV-2 "germs" don't show up "under a UV light". What about a UVA light, which is what the writer of this blurb actually means? Nope. Coronavirus particles are so small you'd need an electron microscope to see them.
How the Government can persuade itself that it's pumping out this bedwetting propaganda to counter "misinformation" is beyond me.
A Philosopher Writes…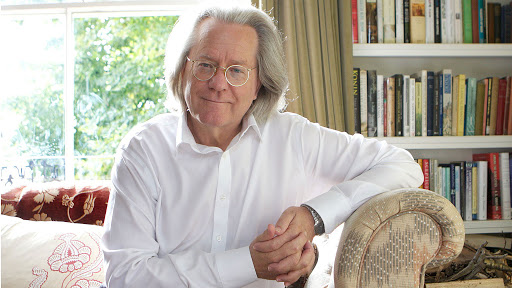 I got another email from a self-described "left-leaning, Remain-voting, Tory-averse" person saying he shares our scepticism about the crisis. This one is from a philosophy professor (not AC Grayling, I should point out).
I'm just writing to thank you for Lockdown Sceptics. I'm a Professor of Philosophy, working mostly on medicine and health. So I find that I'm able to digest a lot of the scientific literature and I'm also pretty good at identifying the weak points in arguments. Back in March, I thought the lockdown was an awful mistake, but I naively assumed that the situation would be reevaluated as the evidence became clearer. That didn't happen, of course. Instead, anything that didn't fit the established narrative was distorted until it did and then assimilated, or it was ignored. Still, I hoped that reason and evidence would prevail by now. But no, it's masks, more masks, and then even more masks – surely they'll help ward off the evil spirits.

For a while, I was just bemused by it all, but now I'm genuinely frightened. Can one really impose something so odious as mandatory masking on the whole population, despite there being no decent evidence in support of it? Yep, they'll just slap the rags on their faces as a symbol of virtue and chastise anyone who doesn't conform, so that the whole wretched thing is self-policing. I dread to think of all the things an authoritarian regime could get the Great British public to do, while barely lifting a finger.

More generally, something deeply unsettling is happening, which I really struggle to understand: somehow or other, this virus has triggered a perfect storm of reasoning biases, fears, and vices disguised as virtues, resulting in something that often looks more like the behaviour of a religious cult than an informed response to a viral pandemic.

Lockdown Sceptics is one of only a few places where I've consistently been able to find sensible discussions of what's going on. So I'm very grateful to you for your efforts. Good luck to you!
That penultimate paragraph is bang on. In response, I sent him this blog post by Hugh Willbourn which flagged up a book called When Prophesy Fails by a psychologist called Leon Festinger who joined a UFO doomsday cult in the 1950s to better understand the mindset of its members. Festinger was astonished by what happened when the cult's doomsday prophesy failed to materialise. Instead of abandoning their crackpot beliefs, the members doubled-down, coming up with spurious reasons as to why the apocalyptic prediction they'd made hadn't come true. Festinger hypothesised that the reason these cultists refused to abandon their beliefs was because the pain of admitting they'd been wrong, and their sacrifices were all for nothing, would have been too much to bear.
Sound familiar?
Every Mistake We've Made So Far Predicted in 2006

A reader in the US has flagged up a 2006 paper by Thomas Inglesby, Director of Johns Hopkins' Bloomberg School of Public Health, in which every mistake that governments around the world have made in their response to the pandemic was warned against. It's quite uncanny. The paper is called "Disease mitigation measures in the control of pandemic influenza". Here are some highlights:
In brief, models can play a contributory role in thinking through possible mitigation measures, but they cannot be more than an ancillary aid in deciding policy…

A major challenge for all authorities charged with managing a pandemic will be how to allot scarce, possibly life-saving medical resources and how to maintain hospitals' capacity to care for critically ill flu victims while continuing to provide other essential medical services…

The negative consequences of large-scale quarantine are so extreme (forced confinement of sick people with the well; complete restriction of movement of large populations; difficulty in getting critical supplies, medicines, and food to people inside the quarantine zone) that this mitigation measure should be eliminated from serious consideration…

Home quarantine also raises ethical questions. Implementation of home quarantine could result in healthy, uninfected people being placed at risk of infection from sick household members. Practices to reduce the chance of transmission (hand-washing, maintaining a distance of 3 feet from+ infected people, etc.) could be recommended, but a policy imposing home quarantine would preclude, for example, sending healthy children to stay with relatives when a family member becomes ill. Such a policy would also be particularly hard on and dangerous to people living in close quarters, where the risk of infection would be heightened…

It is reasonable to assume that the economic costs of shutting down air or train travel would be very high, and the societal costs involved in interrupting all air or train travel would be extreme…

Implementing such measures would have seriously disruptive consequences for a community if extended through the 8-week period of an epidemic in a municipal area, let alone if it were to be extended through the nation's experience with a pandemic (perhaps 8 months). In the event of a pandemic, attendance at public events or social gatherings could well decrease because people were fearful of becoming infected, and some events might be cancelled because of local concerns. But a policy calling for community wide cancellation of public events seems inadvisable…

Schools are often closed for 1–2 weeks early in the development of seasonal community outbreaks of influenza primarily because of high absentee rates, especially in elementary schools, and because of illness among teachers. This would seem reasonable on practical grounds. However, to close schools for longer periods is not only impracticable but carries the possibility of a serious adverse outcome. For example, for working parents, school serves as a form of day care and, in some areas, a source of nutritional meals for children from lower-income families. In 2005, some 29.5 million children were fed through the National School Lunch Program; 9.3 million children received meals as part of the School Breakfast Program. A portion of America's workforce would be unable to go to work as long as children were out of schools. Heightened absentee rates could cripple essential service industries. Teachers might not be paid and a great many hourly workers (mall and fast-food employees; school janitorial, security, and kitchen staff; bus drivers) would face particular financial hardship…
And here's the kicker:
An overriding principle. Experience has shown that communities faced with epidemics or other adverse events respond best and with the least anxiety when the normal social functioning of the community is least disrupted. Strong political and public health leadership to provide reassurance and to ensure that needed medical care services are provided are critical elements. If either is seen to be less than optimal, a manageable epidemic could move toward catastrophe.
Lockdown zealots will say, "This was advice about how best to respond to an influenza pandemic and that isn't what this is." But in reality the coronavirus is no more deadly than a bad bout of seasonal flu and, therefore, the advice contained in this 2006 paper is 100% relevant.
Worth reading in full.
Round-Up
Theme Tunes Suggested by Readers
Three today: "Twisting and Turning" by the New Foundation, "All Out to Get You" by the Beat and "Germ Free Adolescence" by X-Ray Specs,
Love in the Time of Covid
We have created some Lockdown Sceptics Forums that are now open, including a dating forum called "Love in a Covid Climate" that has attracted a bit of attention. We've also just introduced a section where people can arrange to meet up for non-romantic purposes. We have a team of moderators in place to remove spam and deal with the trolls, but sometimes it takes a little while so please bear with us. You have to register to use the Forums, but that should just be a one-time thing. Any problems, email the Lockdown Sceptics webmaster Ian Rons here.
Small Businesses That Have Re-Opened
A few months ago, Lockdown Sceptics launched a searchable directory of open businesses across the UK. The idea is to celebrate those retail and hospitality businesses that have re-opened, as well as help people find out what has opened in their area. But we need your help to build it, so we've created a form you can fill out to tell us about those businesses that have opened near you.
Now that non-essential shops have re-opened – or most of them, anyway – we're focusing on pubs, bars, clubs and restaurants, as well as other social venues. As of July 4th, many of them have re-opened too, but not all (and some of them are at risk of having to close again). Please visit the page and let us know about those brave folk who are doing their bit to get our country back on its feet – particularly if they're not insisting on face masks! If they've made that clear to customers with a sign in the window or similar, so much the better. Don't worry if your entries don't show up immediately – we need to approve them once you've entered the data.
"Mask Exempt" Lanyards
I've created a permanent slot down here for people who want to buy (or make) a "Mask Exempt" lanyard/card. You can print out and laminate a fairly standard one for free here and it has the advantage of not explicitly claiming you have a disability. But if you have no qualms about that (or you are disabled), you can buy a lanyard from Amazon saying you do have a disability/medical exemption here (now showing it will arrive between Oct 2nd to Oct 12th). The Government has instructions on how to download an official "Mask Exempt" notice to put on your phone here. You can get a "Hidden Disability" tag from ebay here and an "exempt" card with lanyard for just £3.99 from Etsy here.
Don't forget to sign the petition on the UK Government's petitions website calling for an end to mandatory face nappies in shops here (now almost 31,000).
A reader has started a website that contains some useful guidance about how you can claim legal exemption.
And here's a round-up of the scientific evidence on the effectiveness of mask (threadbare at best).
Stop Press: Jenny Harries, England's Deputy Chief Medical Officer, says "the evidence on face coverings is not very strong in either direction". The Mail has more.
Shameless Begging Bit
Thanks as always to those of you who made a donation in the past 24 hours to pay for the upkeep of this site. Doing these daily updates is a lot of work (although I have help from lots of people, including Will Jones who will be doing these updates about half the time from now on). If you feel like donating, please click here. And if you want to flag up any stories or links we should include in future updates, email me here. And if you're sending a link don't forget to include the HTML code.
And Finally…