Yes, Kids Can Get Covid. But They're More Likely to Die of Flu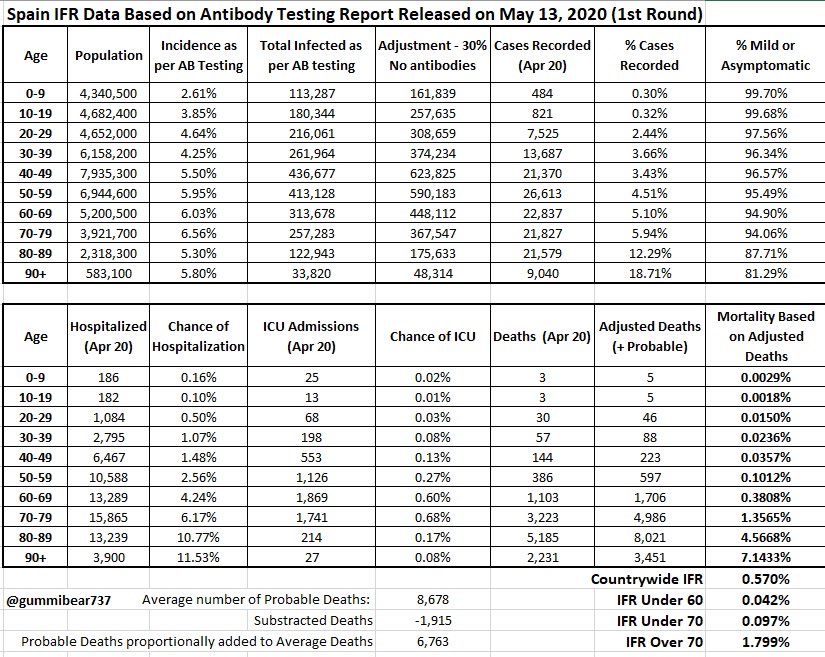 Last week, there was a hysterical story in the New York Times about how hundreds of children had become infected at a summer camp in Georgia. It led to crazy, paranoid "guidance" being written by bedwetting journalists, such as this piece for the NPR website advising parents to "look for" things like "consistent, mandatory mask usage for kids and adults" and "6 feet between desks, small class sizes and cohorts".
As Gummi Bear said on Twitter: "Nobody said children don't get COVID-19 so not sure what the breaking news is. A 12 year-old child has a 1 in 55,000 chance of dying IF they get it. That same child is 25x more likely to die from other causes. As a society, we have lost all commonsense in terms of risk assessment."
The above IFR data from the huge seroprevalence survey in Spain – and which almost certainly overstates the IFR in every age category – says children under the age of 10 have an IFR of 0.0029% and those aged 10-18 0.0018%.
The negligible risk to children is also mentioned in this piece in today's Telegraph by Science Editor Sarah Knapton entitled "How the danger of coronavirus compares with the risks of everyday life". She writes:
Children have a greater chance of being hit by lightning than dying from coronavirus with the death rate for five to 14-year-olds in England and Wales currently just one in 3.5 million. For under-fives, it is one in 1.17 million.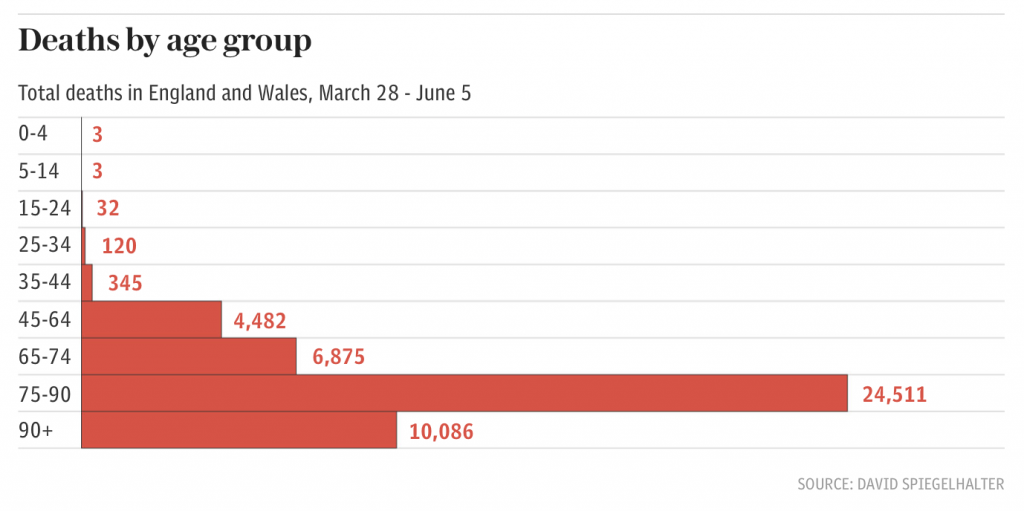 Not surprisingly, these data cut no mustard with the teaching unions. The Telegraph has obtained a recording of a Zoom meeting with Mary Bousted, joint head of the National Education Union (NEU), in which she advises her lieutenants that the Government "won't be able to carry out their threats" against schools that refuse to re-open in September.
She said: "The latest iteration of Government guidance is so unworkable that you can't trust it. Local authorities and schools should take the confidence to do what they can do and that will mean for many schools that they cannot have all children fully back in September.

"Now, the Government's making threatening noises about that. But in the end, they won't be able to carry out their threats."

She said that it might be "simply impossible" to follow the guidance "and have all children back" and schools "should have the confidence to be looking at what is possible in your area and make those arrangements".
The Government is in a hole of its own making. If it hadn't insisted schools comply with a plethora of utterly pointless social distancing measures, the teaching unions wouldn't be in such a powerful position. In effect, the Department for Education has handed its most ruthless enemies a loaded gun. It can't really complain if that gun is now being pointed at its head.
Did Dominic Cummings Make Second Trip to Durham?
Two of four people who claim to have seen Dominic Cummings on what would have been a second visit to the north-east of England have complained to the police watchdog, accusing the Durham force of not fully probing their claims, according to the Guardian.
Cummings has consistently denied returning to Durham on April 19th, days after he came back to London from a trip that was subsequently exposed in a joint investigation by the Guardian and the Daily Mirror.

The Prime Minister's chief adviser has said that phone data and potentially CCTV would prove he was in London – and the Guardian has been told of one sighting of him on Hampstead Heath that afternoon.

However, neither he nor Downing Street has gone public with the evidence they say they have – and which Boris Johnson says he has seen – and pressure is mounting again for full transparency to answer lingering questions about his movements.
Apologies if I can't get too worked up about this. Who gives a stuff if Dominic Cummings broke the lockdown rules? When will the Guardian and Daily Mirror's journalists start doing their jobs and ask why Cummings and co placed the entire country under virtual house arrest on March 23rd without having done any due diligence about the damage it was likely to do?
Lockdown Easing Caused a Fall in Infections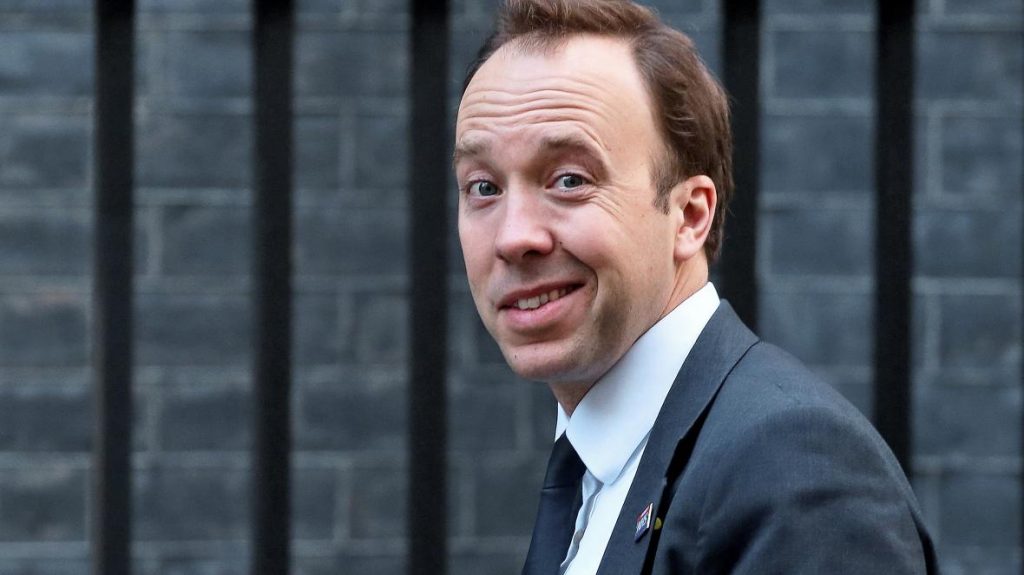 According to new research done by Imperial College and Ipsos Mori, who carried out the largest swab testing survey in the country, infections fell when lockdown restrictions were eased. The Telegraph has more.
Although there are fears that releasing measures too soon has led to localised spikes in some areas, new data suggests that there was no overall rise after primary schools returned and non-essential shops reopened.

According to Imperial College London and Ipsos Mori, community prevalence actually fell after lockdown measures were relaxed, decreasing from 12 infections per 10,000 people in May to eight in 10,000 by mid-June to early July.
Needless to say, Matt Hancock has tried to spin this as proof that the lockdown was effective.
"This research highlights how, thanks to everyone's efforts and sacrifice, alongside targeted measures to counter the spread of this virus in health and care settings, we were able to keep rates of infection low as some restrictions were lifted.

"However, we must not be complacent. I urge everyone to get a test if you have symptoms, self-isolate and provide your contacts to NHS Test and Trace so we can continue to keep the virus at bay and get back to normal."
You've got to give him points for shamelessness. No matter how conclusive the evidence is that the lockdown was completely ineffective, he'd try and spin it as a vindication of Government policy.
Car Salesman More Trusted Than Prime Minister
Amusing anecdote sent to me by a reader:
Thought I'd share my experience in a car showroom today. I'd already told the saleswoman I wouldn't be masked and she was absolutely fine with it but there was a steady stream of masked people coming in as they currently have a 0% finance offer on. They all were clearly uncomfortable and took them off as soon as the sales staff told them it was OK. It seems we now live in a country where people trust car salesmen more than they do the Prime Minister!
Breakin' the Law, Breakin' the Law – in Melbourne
A spirited resident of Melbourne has got in touch to reveal how often he now finds himself breaking the law in the course of his daily routine.
I'm a 53 year old married father of three, running a small business. In the space of 24 hours my life went from low key, bordering on boring, to law breaking and risky. And I didn't change a thing I did.

Leaving at 4.20am each morning, I run from my home to the city, about 12-14km (depending on which station I run to), then catch a train to work, getting to work at 6am. This boring routine now violates many new laws in Chairman Dan Andrews' nightmarish socialist dystopia. By leaving at 4.20am I'm breaking the 8pm-5am curfew, by running for more than an hour I'm breaking the 1 hour exercise a day rule, by running more than 5km from my place of residence, I break the 5km rule, if I forget to carry my mask, that's another rule broken and if I forget to carry work permit papers, allowing me to travel to work (ludicrously signed by me as a worker & signed again by me as the co-owner of the company), then I'm breaking another edict brought in last Sunday.

I now run at my usual time, but only around my area, still for the same time and distance, with my Garmin switched off, my location services on my phone also switched off, clad entirely in black. The first 40 minutes of my run is spent avoiding main roads (police might find me out before curfew is over), avoiding shopping areas (maybe a camera might catch me), and ducking up peoples driveways, or standing still behind a tree, whenever I see a set of headlights. Maybe it might be the cops?

My formerly law abiding a mild mannered wife and children now also find themselves breaking several laws a day. Maybe we need something at the supermarket, but we've already been out once that day for shopping? Go out again and you're breaking a law. One shopping trip a day is allowed, and only for one hour. Going for a small jog, find yourself out of breath and slow to a walk? Put that mask on! If you're not actually jogging/running, a mask must be on at all times! There's suddenly a lot of people going for very slow jogs, looking like it's the first time they've run since school, all for the freedom of not wearing a mask.

Last weekend, I wanted to take my two youngest kids out to get an ice cream. Such frivolity is not a permitted reason to be out. To get around this edict, I asked my 13 year old daughter to write out a fake shopping list, so that if questioned by police on the reason we were out, we could produce the fake shopping list and plead that we were out in order to shop for vital supplies at the supermarket across the road from the ice cream shop. So my daughter is caught up in my law breaking lifestyle too.

I haven't even mentioned the myriad laws and rules my brother & I must now keep in mind in trying to run a little hardware company with 16 staff. Including who we sell to, when we sell, where we allow goods to be collected from and what the customer is going to do with the goods. I'll save this saga for another time.

This is life in Melbourne in August 2020.
I had to point out that by taking his two youngest kids out for an ice cream he was almost certainly breaking another law. As I understand it, only two people are allowed out of their house at any one time.
Round-Up
Theme Tunes Suggested by Readers
Two today: "Harder to Breathe" by Maroon 5 and "The Bug" by Paul Weatherhead.
Small Businesses That Have Re-Opened
A couple of months ago, Lockdown Sceptics launched a searchable directory of open businesses across the UK. The idea is to celebrate those retail and hospitality businesses that have re-opened, as well as help people find out what has opened in their area. But we need your help to build it, so we've created a form you can fill out to tell us about those businesses that have opened near you.
Now that non-essential shops have re-opened – or most of them, anyway – we're now focusing on pubs, bars, clubs and restaurants, as well as other social venues. As of July 4th, many of them have re-opened too, but not all (and some of them are at risk of having to close again). Please visit the page and let us know about those brave folk who are doing their bit to get our country back on its feet – particularly if they're not insisting on face masks! Don't worry if your entries don't show up immediately – we need to approve them once you've entered the data.
Forums Back Up and Running
I enjoy reading all your comments and I'm glad I've created a "safe space" for lockdown sceptics to share their frustrations and keep each other's spirits up. But please don't copy and paste whole articles from papers that are behind paywalls in the comments. I work for some of those papers and if they don't charge for premium content they won't survive.
We have created some Lockdown Sceptics Forums that are now open. Initially, they became a spam magnet so we temporarily closed them. However, we've found a team of people wiling to serve as moderators so the Forums are back up and running. Any problems, email the Lockdown Sceptics webmaster Ian Rons here.
"Mask Exempt" Lanyards
I thought I'd create a new permanent slot down here for people who want to buy (or make) a "Mask Exempt" lanyard/card. You can print out and laminate a fairly standard one for free here and it has the advantage of not explicitly claiming you have a disability. But if you have no qualms about that (or you are disabled), you can buy a lanyard from Amazon saying you do have a disability/medical exemption here (now showing it will arrive between Sept 11th to 22nd). The Government has instructions on how to download an official "Mask Exempt" notice to put on your phone here. You can get a "Hidden Disability" tag from eBay here and an "exempt" card that looks like as if it's been issued by the NHS for just £2.79 from Etsy here.
Don't forget to sign the petition on the UK Government's petitions website calling for an end to mandatory face nappies in shops here.
A reader has started a website that contains some useful guidance about how you can claim legal exemption.
And the reader who managed to travel all the way to Corfu without wearing a face nappy, thanks to a "Mask Exempt" lanyard, reports he was able to travel back again too.
Just a quick note to say I used the Lanyard again on the way back from Corfu. No questions asked. The Greeks, who are getting strict on face coverings, clearly appreciate the validity of the lanyards too.
Shameless Begging Bit
Thanks as always to those of you who made a donation in the past 24 hours to pay for the upkeep of this site. If you feel like donating, however small the sum, please click here. And if you want to flag up any stories or links I should include in future updates, email me here. I may not be able to manage an update every day over the next few days as I'm in Wales doing some walking in the Brecon Beacons.
And Finally…