The Government's Incoherent New Measures in the North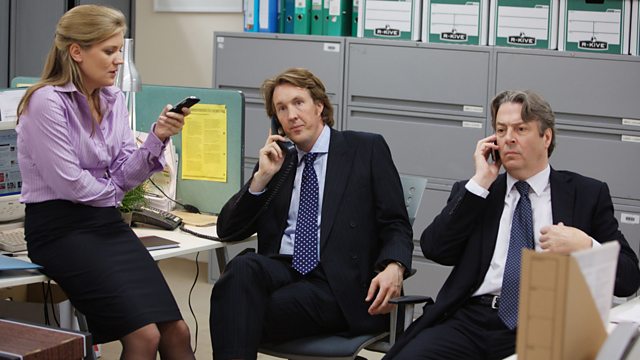 I didn't think the Government's management of the pandemic could get any worse, but I was wrong. The measures announced last night, imposing new restrictions in Greater Manchester, East Lancashire and parts of West Yorkshire, are a new low.
They were announced by Matt Hancock in a Twitter thread at 9.16pm – no, I'm not making that up. He really did announce restrictions affecting millions of people on Twitter less than three hours before they were due to come into force. Or should that be farce? It's as though Matt Hancock's script is being written by Armando Iannucci, creator of The Thick of It. Oh, and the Government then published the new guidance two hours later – less than an hour before it came into effect – and then published further guidance this morning.
Let me see if I can get this straight. In Greater Manchester, Blackburn with Darwen, Burnley, Hyndburn, Pendle, Rossendale, Bradford, Calderdale and Kirklees, people from one household won't be allowed to meet people from other households in their homes or gardens. That seems relatively clear, but the Government then added the caveat that you are allowed to mix with a person or persons in another household if the two households have formed a "support bubble". A "support bubble" "must include a single adult household, i.e. people who live alone or single parents with dependent children aged under 18".
Clear?
When asked about this rather complicated rule on breakfast television this morning, Hancock only added to the confusion.
"The law that we're bringing in is that two households cannot meet in the area defined, but obviously any two households that are meeting should follow the social distancing guidelines," he said.
Not only did that fail to make the advice any clearer, but by using the words "in the area defined" he muddied the waters even further. In its published guidance, the Government specified that people in the these areas should not "visit someone else's home or garden even if they live outside of the affected areas". So has the Government changed its mind about that? Or does Hancock not understand his own guidance?
Perhaps Hancock's confusion isn't surprising since the guidance is borderline incomprehensible.
For instance, someone from outside an "affected area" is not allowed to visit someone inside an "affected area" unless they're attending a wedding or a funeral, in which case they can provided there are no more than 30 people in attendance. Oh, and you're allowed to travel into an "affected area" if you're "holidaying" there.
Clear?
There's more of this gobbledegook. People in the "affected areas" will be allowed to visit pubs, restaurants, cafes, shops, places of worship, community centres, leisure and entertainment venues and visitor attractions, but only if they remain with members of their households while in those venues and don't "socialise" with anyone else – unless they're in their "support bubble", of course.
In Leicester, where a local lockdown has been in place for the past month, pubs, cafes and restaurants will re-open on Monday, but the no-socialising restriction will apply, as will the other new rules.
You are allowed to meet people in the open air, provided it's not in a private garden:
In line with the national guidance, you can continue to meet in public outdoor spaces in groups of no more than six people, unless the group includes only people from two households.
What if one of the two households includes someone from another household in their "support bubble"? And why public parks but not private gardens? Who knows.
The new law mandating these restrictions is going to be called "The Dog's Breakfast Act". Or is it the "Whack-A-Mole Act"?
In his Twitter thread, Hancock said this decision was "based on the data" and referred to "an increasing rate of transmission in parts of Northern England".
The main evidence that the number of cases is increasing comes from the ONS, which claims it has discovered a slight increase in the number of people testing positive based on a nose and throat swab in recent weeks. Here's what the BBC has to say about those data:
The figures are based on its infection survey, which takes swabs from people selected at random in homes in England.

The ONS estimates that about 1 in 1,500 people in homes in England are infected (roughly 36,000 people in total) with 4,200 new infections each day.

Both figures are up on last week, when it was estimated there were 2,800 new infections each day and that one in 2,000 people (28,000 total) were infected in homes in England.
Unfortunately, the ONS hasn't disclosed whether it re-tested anyone to ensure the first test result wasn't a false positive.
Even though these data show a slight uptick in the number of cases in the past few weeks – from 0.05% of the population to a whopping 0.07% – the overall number of cases is far lower than it was at the end of April (0.34%):
Can these data be used to justify the new measures? No. The ONS has produced a breakdown of the percentage of infected people per region, but it shows that the North West has fewer infected people than all but one other area (the South West) and lower than Yorkshire and the Humber, the East Midlands, the East of England, the South East and London, which is way out in front. If I lived in Manchester, I would ask why I'm having to endure these additional restrictions when a smaller percentage of my city is infected than London.
The BBC also published some data from PHE showing the number of new cases per 100,000 has increased in some parts of Greater Manchester, although it has fallen in Bolton and Rochdale: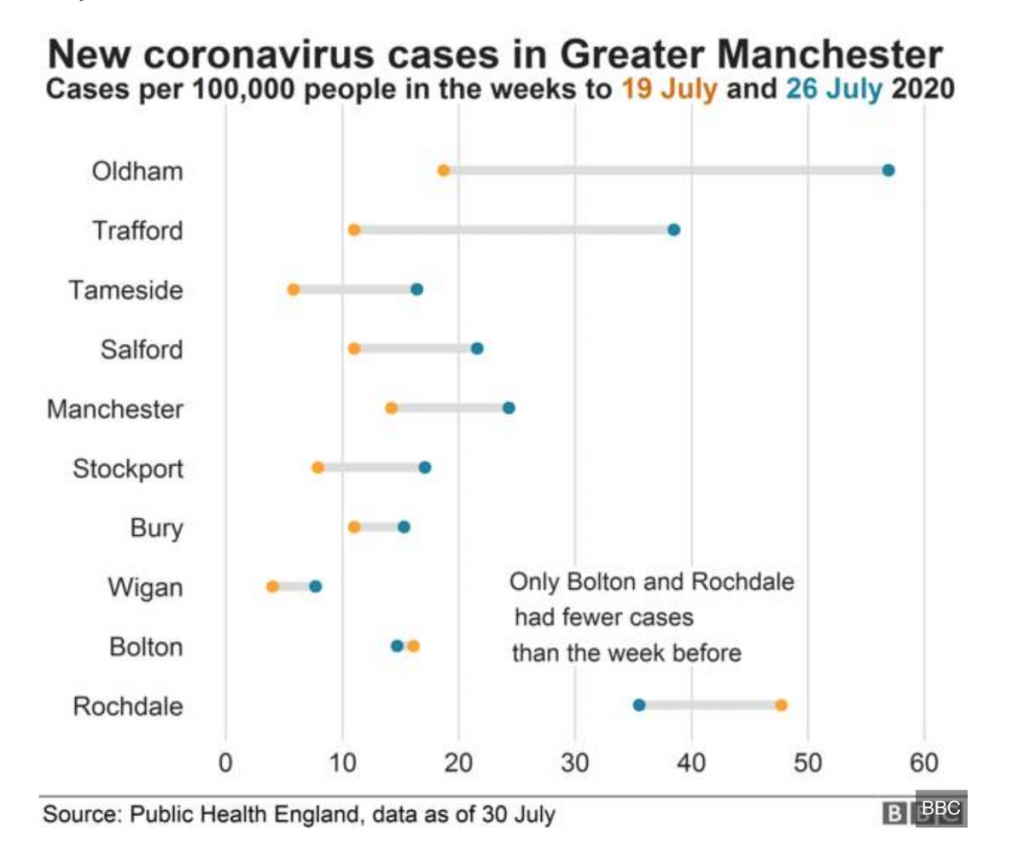 Can this be used to justify the local lockdowns? Not really. In Germany, the trigger for a local lockdown is the number of new cases climbing to above 50/100,000. The only part of Greater Manchester that's happened in is Oldham. Why are the people of Manchester having to suffer all these new restrictions when the infection rate is only 25/100,000?
As usual, there's no rhyme or reason to the Government's handling of the crisis. They're just making it up as they go along. No wonder more than half of the British public don't understand the lockdown rules.
Stop Press: A reader has emailed to point out that anyone from one of the affected areas who's currently visiting someone in another area is now breaking the law and could be fined £100.
My mother-in-law is staying with us. She lives in Manchester. Now, according to the hapless Hand Cock, she's breaking the law unless we make ourselves her support bubble. Whatever that means.
Boris "Squeezes the Brake Pedal" (Mistook it For Woman's Thigh)
There was more bad news this morning. Boris held a press conference with Chris Whitty in which he announced that he was going to "squeeze the brake pedal" on the planned easing of lockdown restrictions on August 1st. Here's the BBC's summary:
On July 17th, the Prime Minister set out plans to further ease lockdown rules from 1 August to:

* Reopen most remaining leisure settings, including bowling, skating rinks and casinos
* Allow live indoor theatre and concert performances to resume with socially distanced audiences
* Reopen all close contact services including any treatments on the face, such as eyebrow threading or make-up application
* Allow wedding receptions for as many as 30 people

These changes have now been postponed for at least a fortnight, with the Prime Minister saying at a Downing Street press conference that "we should now squeeze that brake pedal to keep the virus under control".

The changes to the guidance for employers, allowing them to make decisions about how and where their staff can work safely from tomorrow, will remain in place.
In addition, fans will no longer be permitted to attend the sporting pilot events allowing limited numbers of spectators at Goodwood, the Crucible and the Oval in coming days.
Again, no evidence was presented to show that the virus isn't under control. On the contrary, PHE published data showing that the number of people turning up at hospital Emergency Departments with Covid-like symptoms has declined since its peak in early April:
It also published data showing the number of people testing positive for COVID-19 being admitted to hospital and ICUs has declined since early April and is continuing to fall:
SAGE Member Says Project Fear on Steroids Must be "Ramped Back Up"
A reader sent me this extraordinary comment made by Professor Robert West from University College London, a member of the behavioural science group that feeds into SAGE, on the Today programme. You really couldn't make it up.
Round-Up
Here's a round-up of all the stories I've noticed, or which have been been brought to my attention, in the last 24 hours:
Small Businesses That Have Re-Opened
A couple of months ago, Lockdown Sceptics launched a searchable directory of open businesses across the UK. The idea is to celebrate those retail and hospitality businesses that have re-opened, as well as help people find out what has opened in their area. But we need your help to build it, so we've created a form you can fill out to tell us about those businesses that have opened near you.
Now that non-essential shops have re-opened – or most of them, anyway – we're now focusing on pubs, bars, clubs and restaurants, as well as other social venues. As of July 4th, many of them have re-opened too, but not all. Please visit the page and let us know about those brave folk who are doing their bit to get our country back on its feet – particularly if they're not insisting on face masks! Don't worry if your entries don't show up immediately – we need to approve them once you've entered the data.
Forums Back Up and Running
I enjoy reading all your comments and I'm glad I've created a "safe space" for lockdown sceptics to share their frustrations and keep each other's spirits up. But please don't copy and paste whole articles from papers that are behind paywalls in the comments. I work for some of those papers and if they don't charge for premium content they won't survive.
We have created some Lockdown Sceptics Forums that are now open. Initially, they became a spam magnet so we temporarily closed them. However, we've found a team of people wiling to serve as moderators so the Forums are back up and running. Any problems, email the Lockdown Sceptics webmaster Ian Rons here.
"Mask Exempt" Lanyards
I thought I'd create a new permanent slot down here for people who want to buy (or make) a "Mask Exempt" lanyard/card. You can print out and laminate a fairly standard one for free here and it has the advantage of not explicitly claiming you have a disability. But if you have no qualms about that (or you are disabled), you can buy a lanyard from Amazon saying you do have a disability/medical exemption here (although it's showing a delivery date of Sept 4th to 14th). The Government has instructions on how to download an official "Mask Exempt" notice to put on your phone here. You can get a "Hidden Disability" tag from eBay here and an NHS exemption notice for just £2.99 from Etsy here (see above).
And don't forget to sign the petition on the UK Government's petitions website calling for an end to mandatory face nappies in shops here.
A reader has been in touch to tell me about his wizard strategy for avoiding wearing a mask on his Ryanair flight to Crete:
Masks are to be worn on board Ryanair flights, of course, but not if you are eating or drinking. €27.50 seemed a bit steep for a toasted ham and cheese croissant, two half litres of still water and a double Hendriks and Britvic, but we had a tail wind down to Crete and they lasted the three hour flight.

Worth every pfennig.
Shameless Begging Bit
Thanks as always to those of you who made a donation in the past 24 hours to pay for the upkeep of this site. If you feel like donating, however small the sum, please click here. And if you want to flag up any stories or links I should include in future updates, email me here.
And Finally…