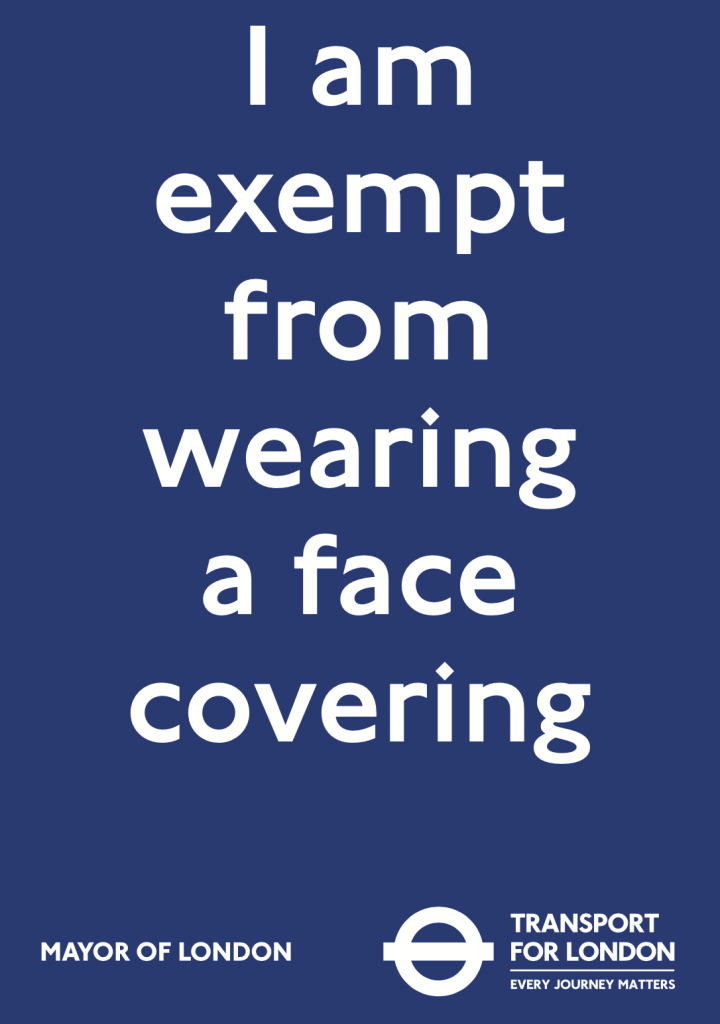 Postcard From Nordrhein-Westfalen
I'm publishing another postcard today, this one from Nordrhein-Westfalen in Germany. The author, who has written under a pseudonym, is a professional musician and life has been tough, as you would imagine. But as he explains, he's been more fortunate that most.
I live in a smallish town in West Germany and am a musician. Needless to say work has been pretty hard to come by but luckily I have been able to continue some of the teaching and we are back to some type of normalcy, face to face without a mask, after having utilised Skype in less than optimal circumstances. I have also benefited from a emergency state loan some of which may have to be paid back, any of the funds not paid back will be subjected to tax as income.

I am one of the lucky ones. I have a few English friends who are not as fortunate. One – an Echo winner of a few years ago – has seen his income dry up almost completely as he does not teach, lives in a different state where his loan is much less generous and has only a few recording opportunities. The rest were cancelled long ago. Another works for an orchestra which tours the world. At the moment they are trying to find ways of possibly giving concerts locally in the near future. Needless to say a full compliment on stage is impossible and the restrictions still being enforced mean the audience would be reduced to a figure of around 25%.
Worth reading in full.
Template Letter to Object to Mandatory Face Coverings in Schools
The pressure group Them For Us, which has been tirelessly campaigning for schools to re-open, has created a template letter for parents who want to object to mandatory face coverings in schools when they re-open in September. I'm reporting it in full below.
Dear [Governor of School, copying Headteacher and relevant Local Authority]

I am writing in relation to the [newsletter] from school dated XX July 2020 (the "Newsletter"). In the Newsletter, you explained amongst other things that:

"[insert relevant rule requiring wearing of masks in school.]"

(the "policy")

I and my child have strong objections to this policy. I do not consent to [name of child] wearing a face covering in school.

I must also stress that I understand there to be serious legal problems with your policy and that, if implemented, your policy would be potentially subject to legal redress including by way of proceedings in the Administrative Court.

Public Health England does not, based on current evidence, recommend the use of face coverings in schools and this is reflected in the recently issued guidance (which you are required as a matter of law to have regard to) from the Department for Education:

"They are not required in schools as pupils and staff are mixing in consistent groups, and because misuse may inadvertently increase the risk of transmission. There may also be negative effects on communication and thus education."

(the "Guidance")

Your policy – the requirement for pupils to wear masks – is contrary to the Guidance, and could lead to the adverse educational outcomes referred to in that Guidance. Mandatory mask wearing is likely to have a disproportionate and damaging effect upon students. In particular, I am concerned about the effect face coverings have on:

* Breathing, especially if the mask is worn for long periods or during sport

* Restriction of interaction with peers compounding the existing mental health damage

* Limitations to learning and educational outcomes

* Increase in anxiety as a result of an alien environment and behaviour

In legal terms, the policy is accordingly at present irrational and disproportionate and therefore unlawful. You have failed to provide cogent and intelligible reasons as to why you consider that the school should depart from the Guidance.

In light of the serious welfare, health and learning, and legal issues at stake, you must reverse this policy immediately, and issue new school guidance to that effect. If you fail to do so, you are required to explain the policy in further detail, in writing, including providing me with a copy of all risk assessments you have undertaken in relation to such measure, and all supporting evidence by reference to contemporaneous internal documents.

I look forward to hearing from you as soon as possible and certainly within seven working days of receipt of this letter.

Yours,
Elusive Report Found
A reader has found the elusive report I blogged about yesterday and which shows more than 200,000 people dying as a result of the lockdown in a reasonable worst case scenario. It's here. It was published last April, but received no attention until Sir Patrick Vallance mentioned it when testifying before the House of Commons Science and Technology Committee last Thursday. Makes for very interesting reading.
Number of People Testing Positive Dwindles to Almost Nothing
As the Government's propaganda shifts from focusing on the daily death toll (approaching single digits) to new cases, a reader has looked at the number of people testing positive as a percentage of the total tested (see above). Turns out, the percentage of people testing positive is also rapidly approaching zero.
Bull Stat on the BBC
A reader flagged up a bit of idiocy in BBC News story:
There was an interesting Covid bull stat for you in aside on the BBC News story on govt pay increases today. They suggest that that more than 300 NHS workers have fallen to Covid 19. If we assume it's 400, and there are 1.4m NHS employees, that is a fatality rate of 0.03% at this point, i.e. really very low given that presumably much of the NHS was at greater risk of exposure than the population as a whole, and fairly reliable given the decent amount of testing for health workers.
Chris Whitty Admits Virus in Retreat Before Lockdown
Chris Whitty appeared before the House of Commons Heath Committee yesterday and admitted that the lockdown may not have been necessary after all. According to the Times
The coronavirus epidemic was probably already in retreat before full lockdown was imposed, the Chief Medical Officer for England has said as he insisted there was no "huge delay" in government action.
Interestingly, he put a different spin on Sir Patrick Vallance's testimony to the House of Commons Science and Technology Committee last Thursday, which was widely interpreted as Sir Patrick claiming Sage had advised the Government to lock down a week earlier than it did.
Last week Sir Patrick Vallance, the government's Chief Scientific Adviser, said that Sage had advised on March 16 that more draconian measures were needed. Professor Whitty said today that Sir Patrick had not been referring to full legal lockdown but the advice on avoiding needless travel and socialising that Mr Johnson issued that day.

"Quite a lot changed that led to R going below one well before, or to some extent before, March 23", when full lockdown was imposed, Professor Whitty said.
More Under-25 Year-Olds Died From Influenza in 16 Weeks in 2014/15 Than COVID-19 This Year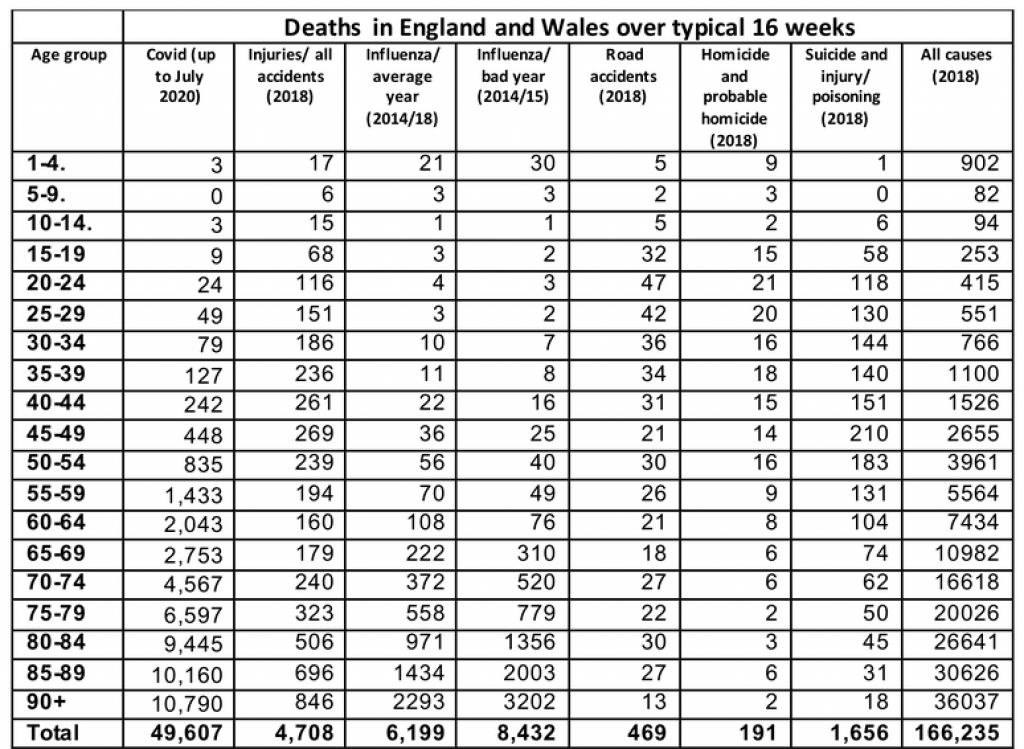 There's a fascinating table on the website of the Winton Centre for Risk and Evidence Communication (see above) comparing the data on different causes of death in 2020 up July 3rd with the data for a typical 16-week period in previous years. It shows, among other things, that more under-49 year-olds died of suicide and injury/poisonings in 2018 than Covid in 2020.
Round-Up
Here's a round-up of all the stories I've noticed, or which have been been brought to my attention, in the last 24 hours:
Theme Tune Suggestions By Readers
Only one today: "Paranoid" by Black Sabbath.
Small Businesses That Have Re-Opened:
A couple of months ago, Lockdown Sceptics launched a searchable directory of open businesses across the UK. The idea is to celebrate those retail and hospitality businesses that have re-opened, as well as help people find out what has opened in their area. But we need your help to build it, so we've created a form you can fill out to tell us about those businesses that have opened near you.
Now that non-essential shops have re-opened – or most of them, anyway – we're now focusing on pubs, bars, clubs and restaurants, as well as other social venues. As of July 4th, many of them have re-opened too, but not all. Please visit the page and let us know about those brave folk who are doing their bit to get our country back on its feet – particularly if they're not insisting on face masks! Don't worry if your entries don't show up immediately – we need to approve them once you've entered the data.
Note to the Good Folks Below the Line
I enjoy reading all your comments and I'm glad I've created a "safe space" for lockdown sceptics to share their frustrations and keep each other's spirits up. But please don't copy and paste whole articles from papers that are behind paywalls in the comments. I work for some of those papers and if they don't charge for premium content they won't survive.
We created some Lockdown Sceptics Forums, but they became a spam magnet so we've temporarily closed them. However, we can open them again if some readers volunteer to be moderators. If you'd like to do this, please email Ian Rons, the Lockdown Sceptics webmaster, here.
Gone Fishin'
Thanks as always to those of you who made a donation recently to pay for the upkeep of this site. If you feel like donating, however small the sum, please click here. I'm on holiday in Italy until Saturday, July 25th and won't be doing my usual amount of work on the site until I return. If you want to flag up any stories or links I should include in future updates, email me here.
Salem 2.0
I thought I'd give my readers something to chew on while I'm away: Salem 2.0: The Return of the Religious Police to the Public Square. This is a book about cancel culture that I've been working on for a while now, but which took a back seat during the coronavirus crisis. Hoping to get back to it as the crisis recedes – although that's happening more slowly than any of us hoped. It's a work in progress, so don't expect too much.