Lockdown Magic-Masked Riders of the Apocalypse Approaching a Town Near YOU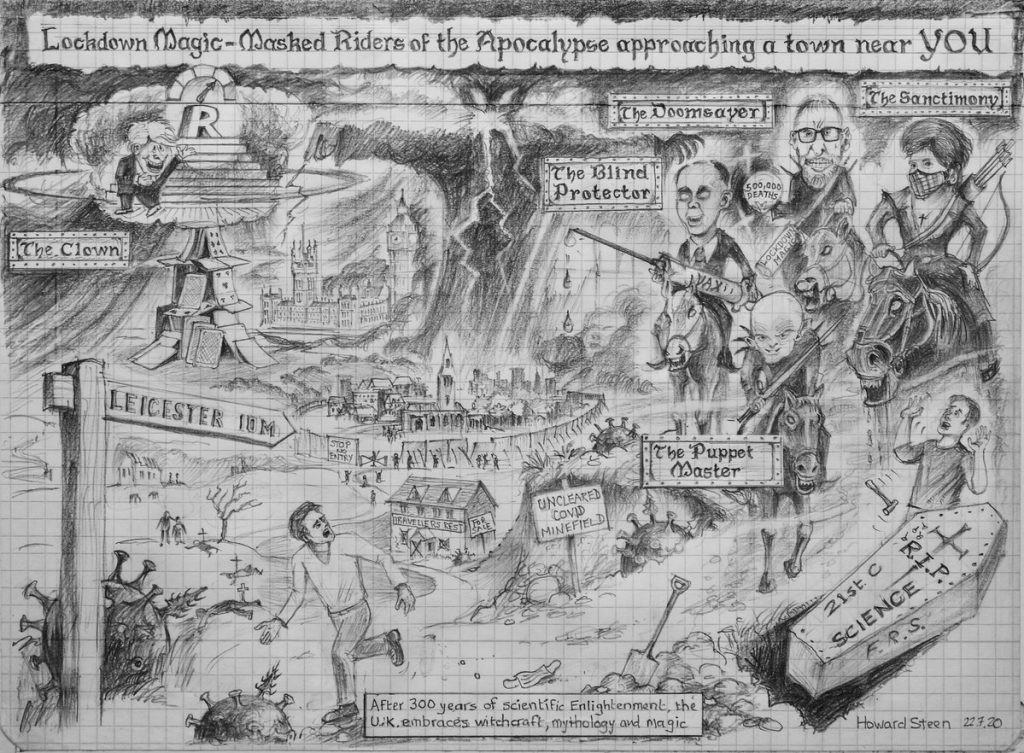 This picture was posted by Howard Steen, a retired scientist, on Twitter in response to a sceptical tweet by Michael Levitt. The caption reads: "After 300 years of scientific Enlightenment, the U.K. embraces witchcraft, mythology and magic." Levitt gave it the thumbs up.
More Nonsense on Masks
The Welsh Government's advice on face coverings, which are due to become mandatory on public transport in Wales from July 27th, contains this gem in the section entitled "What is the science behind this advice?"
At the present time, the widespread use of masks by healthy people in the community is not supported by high quality scientific evidence. Social distancing and hygiene measures remain the most effective measures for reducing transmission of COVID-19.
A reader makes a good point about mandatory face coverings in shops, due to come into force in England tomorrow:
If I fill up my car with petrol and then go to pay in the kiosk (=shop?) without a mask, will they let me in?
Meanwhile, in North Korea anyone refusing to wear a face mask will have to do three months hard labour in one of the regime's notorious prison camps. Squads of student enforcers are patrolling the streets of Pyongyang, bundling anyone not complying into the back of unmarked vans.
How long before Nic Sturge-un follows suit?
And if you think North Korea is bad, get a load of what's happening in Florida: authorities in Broward County have passed a coronavirus emergency order which includes text suggesting all residents are mandated to wear face masks inside their own homes.
Finally, NHS workers with beards have been asked to shave them off because if they don't their masks won't work, according to the Nursing Times. Does this mean the Government will soon slap a ban on beards, with police empowered to issue on-the-spot fines? Won't go down well in Hoxton.
Perhaps there is a silver lining to the idiotic mask diktat after all.
My Plans for a Covid Inquiry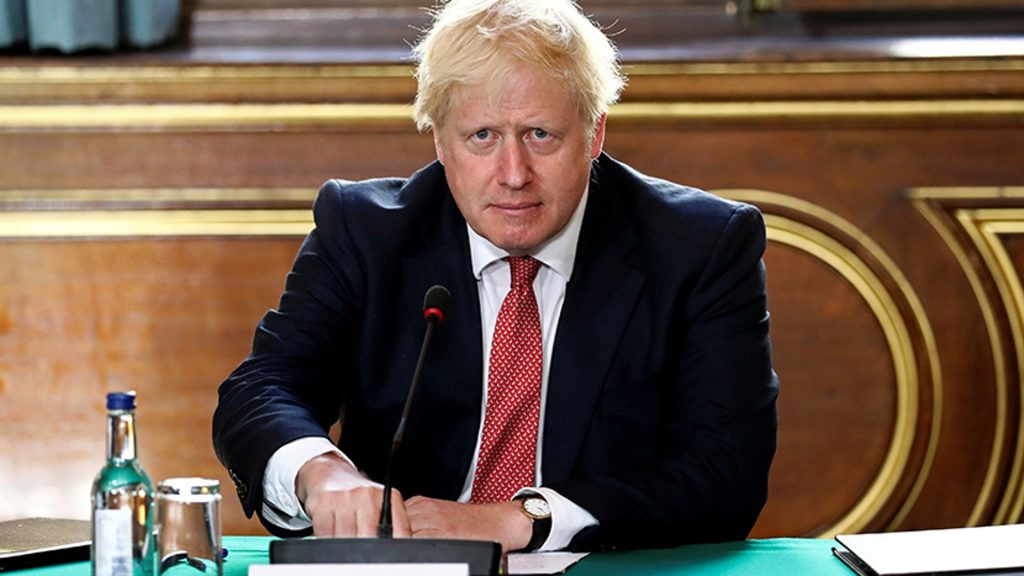 In my Spectator column today, I point out that the public inquiry is already underway – dozens of them.
First out of the gate was the Sunday Times on 24 May, followed by the New Statesman and, last week, the Financial Times. In addition, there will be 'inquiries' by other newspapers and magazines, parliamentary select committees, television and radio programmes, think tanks and universities, scientific and medical journals.

Few will be able to resist blaming the UK's higher-than-average death toll on the Government's failure to lock down earlier. That's been the verdict of those that have been published so far, and we know in advance that Sir Patrick Vallance and Neil Ferguson will confirm this when they're asked to testify by Uncle Tom Cobley and all. They've said as much already. The only thing all these 'non-partisan' panels of experts will disagree about is exactly how many dead bodies can be chalked up to Boris Johnson's "dither and delay".
If you're a lockdown sceptic, this is profoundly depressing. What's the point of all these inquiries if they take it for granted from the outset that the lockdown was the right policy response? Not only will they fail to address the Government's biggest mistake – which was imposing a lockdown in the first place – but if they all conclude that Boris's failure to lock down even sooner caused tens of thousands of unnecessary deaths, it will mean the next time a British government is faced with a viral outbreak it will lock down immediately.
Just like in March, all hospital patients still breathing will be turfed out of their beds to "protect the NHS", billions will be spent on pop-up hospitals that are never used, schools will be closed unnecessarily for six months, the Chancellor will borrow hundreds of billions so the economy can be mothballed indefinitely, and Matt Hancock will spend billions on a track-and-trace system that is about as effective as two tin cans connected by a piece of string. All in a desperate effort to avoid being blamed for not acting quickly enough.
So what can be done about this? I conclude that I'll have to convene a public inquiry of my own, which will mean pulling together a panel of genuinely independent-minded scientists.
I'm thinking of people like Dr John Lee, the ex-professor of pathology who's written a series of sceptical pieces for this magazine; Carl Heneghan, the Oxford professor who runs the Centre for Evidence-Based Medicine and helped to expose the shortcomings of Tamiflu; David Spiegelhalter, the Cambridge statistician who can analyse this year's excess deaths and put them in context; Sunetra Gupta, the Oxford epidemiologist who believes we may have achieved herd immunity already; and Michael Levitt, the Nobel laureate who understood early on that the number of people infected with coronavirus in any given region was not growing exponentially. And I'll ask Lord Sumption to chair it, of course.

I don't suppose they will be any more sympathetic to Boris and his pals than the kangaroo courts being set up across the country. They just won't take it for granted that indiscriminately locking down the entire population was the right thing to do. They will look closely at those countries that didn't lock down, such as Sweden, South Korea and Belarus, as well as the seven US states that didn't, and puzzle over the fact that they experienced fewer deaths per capita, on average, than those places that did. They will wonder, I imagine, why no country before this year ever tried to tackle a viral epidemic by imposing a full lockdown, save for Mexico in 2009, and why so many countries rushed headlong to adopt this draconian policy in spite of the WHO recommending against it last year.
Now all I need is a billionaire to fund it. And, of course, a change of identity so when I invite all these distinguished scientists to sit on my panel they won't stick my name into Google and then run a mile.
Or is there another solution? Could I use this website and the following it has built up to launch an inquiry? I could ask some of its scientific readers and contributors to pull together panels and look into different aspects of the crisis – a more concise version of the chapter-headings on the right-hand side. They and their teams could then publish their findings at regular intervals and, after a year, produce their final summaries and verdicts which I would then compile into a book. It wouldn't have any official standing or the imprimatur of a distinguished institution. But it would be right, which is the most important thing.
Email me here if you think this is a good idea and you'd like to contribute.
Lancet Paper Says Lockdowns Ineffective
A new paper in the Lancet entitled "A country level analysis measuring the impact of government actions, country preparedness and socioeconomic factors on COVID-19 mortality and related health outcomes" has some bad news for the Government: lockdowns have done nothing to reduce Covid mortality. In the "Findings" section, the authors state:
Government actions such as border closures, full lockdowns, and a high rate of Covid-19 testing were not associated with statistically significant reductions in the number of critical cases or overall mortality.
Worth reading in full.
A singer writes
I got a response from a professional singer to yesterday's "Postcard From Nordrhein-Westfalen" by a musician based in Germany.
I was most interested in the postcard from Germany today. I too am a professional classical musician, a singer unfortunately. We have been well and truly silenced except for an elite few, while I know for a fact that good technique should be tested by singing onto a flame, which should not flicker. It is slightly safer than talking.

I am about to write to my re-opening health and leisure club, as they have just advised members that the toilets will not be available and members will have to traipse through the large guest lounge, where people eat, drink, work and socialise, to access the reception toilets. All this in the middle of a work-out or swim! I am just going to point out that swimmers peeing in the pool is not unheard of – why make it the easy option? How is that safe? I bet this is a general rule – my husband has to go to the dentist tomorrow, at enormous expense because of the deep-cleaning, resting the room etc., and he has also been warned that the toilet will be closed and to arrive with an empty bladder. More lunacy.
Kent County Council Misleads Public
A reader has been in touch to say he's received a leaflet from Kent County Council warning him of "misleading information" that's been disseminated in the Kent area (see above). If you look in the top right-hand corner of the document the Council has identified as "misleading" it says: "Were you aware that fewer people in London died in the past few weeks compared to the same period in 2019?"
In fact, that claim isn't "misleading"; it's true. As the Daily Mail reported on June 16th, London became the first region in England to report that deaths from all causes had fallen to below the five-year average – and below 2019 – and that's now true of the whole of England and Wales. According to the ONS's latest weekly report, the number of deaths registered in England and Wales in Week 28 was 6.1% below the five-year average.
As you can see from the graph below, this has been true of London since mid-May.
As is so often the case, a public authority that's issued a pompous warning about Covid "misinformation" is itself guilty of misinformation.
Sign Petition To Stop Mandatory Face Masks in Schools
Lockdown Sceptics contributor Christine Brett and her colleagues at Them For Us have started a petition on Change.org asking Gavin Williamson to stop schools insisting that children wear face coverings when they return in September. Please sign it.
Lord Sumption Admits to Breaking Lockdown Rules
In conversation with legal affairs journalist Joshua Rosenburg for a Prospect seminar, Lord Sumption admitted to breaking lockdown rules.
The former top judge – who has been a vocal opponent of Number 10's lockdown rules, previously describing them as the "greatest interference with personal liberty in our history" – is said to have fessed up to flouting some aspects of the "absurd" regulations during a Zoom-based webinar.

The online session, 'Democracy and the Rule of Law in the Age of COVID-19', was hosted by legal affairs journalist Joshua Rozenberg, who took to his own Twitter account to confirm Sumption's rule-breaking revelation.
Lord Sumption was unapologetic in the course of the seminar. The Telegraph has some good quotes:
For a Government to say we are so stupid and untrustworthy we will take this decision-making out of your hands is not acceptable in a democratic society.

If you want a risk-free environment then you can lock yourself up. That's a better alternative than the Government locking everyone up.
Round-Up
Here's a round-up of all the stories I've noticed, or which have been been brought to my attention, in the last 24 hours:
Theme Tune Suggestions By Readers:
Two today: "I Drink Alone" by George Thorogood and the Destroyers and "Sea of Madness" by Iron Maiden.
Small Businesses That Have Re-Opened
A couple of months ago, Lockdown Sceptics launched a searchable directory of open businesses across the UK. The idea is to celebrate those retail and hospitality businesses that have re-opened, as well as help people find out what has opened in their area. But we need your help to build it, so we've created a form you can fill out to tell us about those businesses that have opened near you.
Now that non-essential shops have re-opened – or most of them, anyway – we're now focusing on pubs, bars, clubs and restaurants, as well as other social venues. As of July 4th, many of them have re-opened too, but not all. Please visit the page and let us know about those brave folk who are doing their bit to get our country back on its feet – particularly if they're not insisting on face masks! Don't worry if your entries don't show up immediately – we need to approve them once you've entered the data.
Note to the Good Folks Below the Line
I enjoy reading all your comments and I'm glad I've created a "safe space" for lockdown sceptics to share their frustrations and keep each other's spirits up. But please don't copy and paste whole articles from papers that are behind paywalls in the comments. I work for some of those papers and if they don't charge for premium content they won't survive.
We created some Lockdown Sceptics Forums, but they became a spam magnet so we've temporarily closed them. However, we can open them again if some readers volunteer to be moderators. If you'd like to do this, please email Ian Rons, the Lockdown Sceptics webmaster, here.
Gone Fishin'
Thanks as always to those of you who made a donation recently to pay for the upkeep of this site. If you feel like donating, however small the sum, please click here. I'm on holiday in Italy until Saturday, July 25th and won't be doing my usual amount of work on the site until I return. If you want to flag up any stories or links I should include in future updates, email me here.
Salem 2.0
I thought I'd give my readers something to chew on while I'm away: Salem 2.0: The Return of the Religious Police to the Public Square. This is a book about cancel culture that I've been working on for a while now, but which took a back seat during the coronavirus crisis. Hoping to get back to it as the crisis recedes – although that's happening more slowly than any of us hoped. It's a work in progress, so don't expect too much.