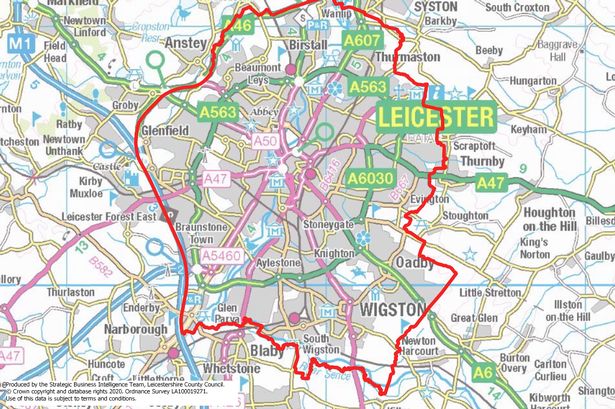 Got a good piece for you today. It's by a doctor who works for the hospital trust in Leicester. They've called themselves "Dr Q" because doctors are under strict instructions not to talk to the media, but Dr Q has provided me with proof that they are who they say they are. Here are the opening three paragraphs:
I'm a doctor at University Hospitals Leicester NHS Trust. We have about 2000 inpatient beds across three main sites and serve roughly 1 million people in Leicester city, Leicestershire county and Rutland. Leicester is a multi-cultural city and 36% of our 16,000 health care workers are from BAME backgrounds.

Many of my colleagues are angry and confused about what is happening nationally and particularly in Leicester and Leicestershire. We are reminded daily that we are not allowed to speak to journalists or on social media, which is why I am stringently anonymous and more vague than I'd like to be here. I love being a doctor, and I risk suspension for speaking out.

I'm going to use Public Health England's own numbers for this analysis (found here) and I'm going to explain why I think the conclusions they (and the politicians) have drawn are wrong.
Dr Q goes on to explain that there is no evidence of any increase in the rate of infection in Leicester based on Pillar 1 data – tests administered to inpatients by hospital staff.
By May, positive cases averaged around 10 a day and deaths were continuing to fall. In late May, we started swabbing every single admission to the hospitals, and this is where things get interesting. I work in a department that isn't respiratory medicine. This means that the patients who are in our area are there for other health issues that are not caused by COVID-19 (think surgery or mental health). Of those we swabbed, just 1% tested positive and all of them were asymptomatic. That rate has been steady since May 23rd. I believe that our patients are representative of the rate in the UK population and, for what it's worth, it's the same story in Manchester, Leeds and Guildford, where I've been comparing notes with colleagues. Unpublished data shared on an open forum from Leeds, Manchester, Sussex also confirms this – 1%, all asymptomatic when testing positive. These patients have, almost without exception, not developed any symptoms, although some have had household members with a cough.
So why the panic? Pillar 2 data. But there's a problem with Pillar 2 data.
The point of "Lockdown" has always been to 'flatten the curve' in order to 'Protect the NHS'. Given we were coping on March 31st, when we had nearly ten times the number of positive cases in hospitals, with relatively little access to testing, we are certainly coping now. The issue and alleged cause of the "Local Lockdown" is our Pillar 2 numbers. These are the community tests outsourced to private companies. There is no guarantee that these tests are all taken from different people (unlike the Pillar 1 data, which is cross checked against a unique patient identifier). In fact, the Government accepts that the number of Pillar 2 cases is not the same as the number of people with COVID-19 because Pillar 2 data includes people who've been tested more than once – often because they have to re-test before they're allowed back to work.
In other words, the "evidence" that cases are increasing at a dangerous rate in Leicester – or were, since even the Government acknowledges that even Pillar 2 data show the number of cases is falling now – is unreliable. And Dr Q doesn't even get into the problem of false positives with PCR tests.
Dr Q points out that even if we decide to accept the Pillar 2 data at face value it shows the average age of all these newly infected people is 39, so there's almost zero risk of them dying from COVID-19 anyway. And he/she highlights the sheer lunacy of closing schools, given that almost no children have died of COVID-19 across the United Kingdom.
But here's the best part – or, rather, the worst part. Matt Hancock's track-and-trace Johnnies have only managed to track 11 of the estimated 900 new cases in Leicester. Eleven! I'm fairly cynical when it comes to the DHSC's track-and-trace capacity, but 11? That's quite something.
Anyway, this is great whistleblowing piece which this courageous doctor has written at some personal risk. I've given it a slot on the right-hand side under "What Percentage of the Population Has Been Infected?"
Worth reading in full.
Postcard from Salzburg
A message from a reader who's just returned from Austria:
I just read today's letter and noted the letter from a reader who has gone to Switzerland to get away. We have just returned – accepting a totally unjustified 14 day self-quarantine on return in order to do so – from 10 days in Salzburg.

I cannot begin to describe what it felt like to be in a sane country. We met friends, we went to restaurants. we shopped (and nobody took away anything we touched for 72 hours sanitisation), we enjoyed room service (room service!) and we lived like normal people. I even had a dental appointment – something that has been impossible in the UK unless you want to practice 18th century dentistry. I can't tell you how good for the soul it was to feel again among normal people – we humans are social animals and this abnormal social distancing has been one of the key dehumanising factors in the whole Covid lockdown debacle.

Returning to the UK, we find that little seems to have changed, despite the fact that July 4th is supposed to be the UK's Independence Day.
Spot the Difference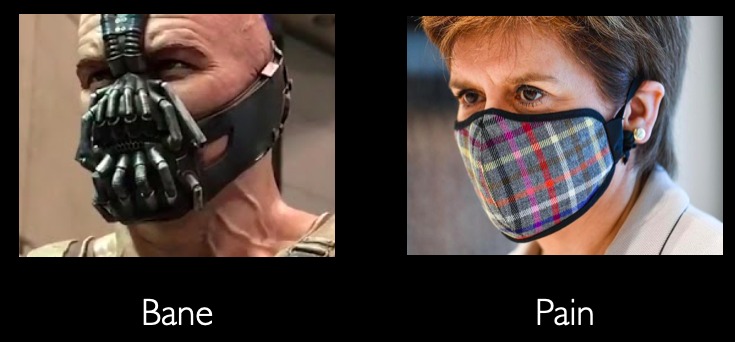 A Scottish reader points out the uncanny similarity between Bane, the psychotic super-villain in Batman Rises, and Nicola Sturgeon.
The peg, of course, is that Scotland's First Minister has just announced that face coverings will be mandatory in shops.
This is how my reader put it:
In Scotland, we've just had the bad news that Nicola Sturgeon, aka "The Mad Wee Krankie", now wants to force us all, via legal threats, to wear face masks in shops. I spoke to the owner of the new Spar corner shop that's just opened in our village and she was in tears, as she fears that'll destroy her business just as it's started — people will vote with their feet and just order online.

So to lighten the mood, I just noticed a strange likeness between our Farce Minister and, well, you'll see …
Lockdown: Conspiracy or Cock-Up?
Got an email from a reader who was slightly taken aback to discover some of his friends – educated professionals, like him – are now entertaining conspiracy theories about the lockdown.
Lockdown: Conspiracy or Cock-Up?Just been away for a couple of days to stay with some of our oldest friends. They threw the lockdown out of the window weeks ago. It was interesting to hear them say how the lockdown has been such a fiasco, such a pointless farce, etc., etc., that therefore there must be a cynical government subtext going on such as a pretext to amass data about people, personal details, and so on as the only possible explanation for the greatest example of peacetime self-destruction in British history. Their adult sons share these views. They're all educated professionals. I wonder how much this will evolve in people's minds as the basis for resistance and subversion? Personally, I prefer the thesis that it's entirely based on total incompetence, but the outcome may well be the same.
For what it's worth, my 35-year career in journalism has left me a strong believer in the cock-up theory.
Sea Wolf
Email from a reader who's found a nice way to get away from all the madness:
I have been feeling very angry and sad with the constant bedwetting decrees but more so by my parents' curtain-twitching neighbours. This outbreak of authoritarianism and snitching is so dispiriting. So I've done what all good sailors do – sailed my boat (alone) from Scotland to the Scilly Isles. It has been wonderful to be out at sea and remembering what it's like to be a free person who weighs risk and makes judgments all the time. I can't imagine that loathsome creature Hancock has ever had to decide whether to take in an extra reef when the seas are getting up and the gunwales are dipping from the excess heel!
Round-Up
And on to the round-up of all the stories I've noticed, or which have been been brought to my attention, in the last 24 hours:
Theme Tune Suggestions From Readers
One suggestion today: "Paracetamoxyfrusebendroneomycin" by Amateur Transplants.
Small Businesses That Have Re-opened
A few weeks ago, Lockdown Sceptics launched a searchable directory of open businesses across the UK. The idea is to celebrate those retail and hospitality businesses that have re-opened, as well as help people find out what has opened in their area. But we need your help to build it, so we've created a form you can fill out to tell us about those businesses that have opened near you. Now that non-essential shops have re-opened – or most of them, anyway – we're now focusing on pubs, bars, clubs and restaurants, as well as other social venues. Please visit the page and let us know about those brave folk who are doing their bit to get our country back on its feet. Don't worry if your entries don't show up immediately – we need to approve them once you've entered the data.
Note to the Good Folk Below the Line
I enjoy reading all your comments and I'm glad I've created a "safe space" for lockdown sceptics to share their frustrations and keep each other's spirits up. But please don't copy and paste whole articles from papers that are behind paywalls in the comments. I work for some of those papers and if they don't charge for premium content they won't survive.
Shameless Begging Bit
Thanks as always to those of you who made a donation in the last 48 hours to pay for the upkeep of this site. It usually takes me several hours to do these updates, along with everything else, which doesn't leave much time for other work. If you feel like donating, however small the amount, please click here. And if you want to flag up any stories or links I should include in future updates, email me here. (Please don't email me at any other address.) I'll try and get another update done on Saturday.
And Finally…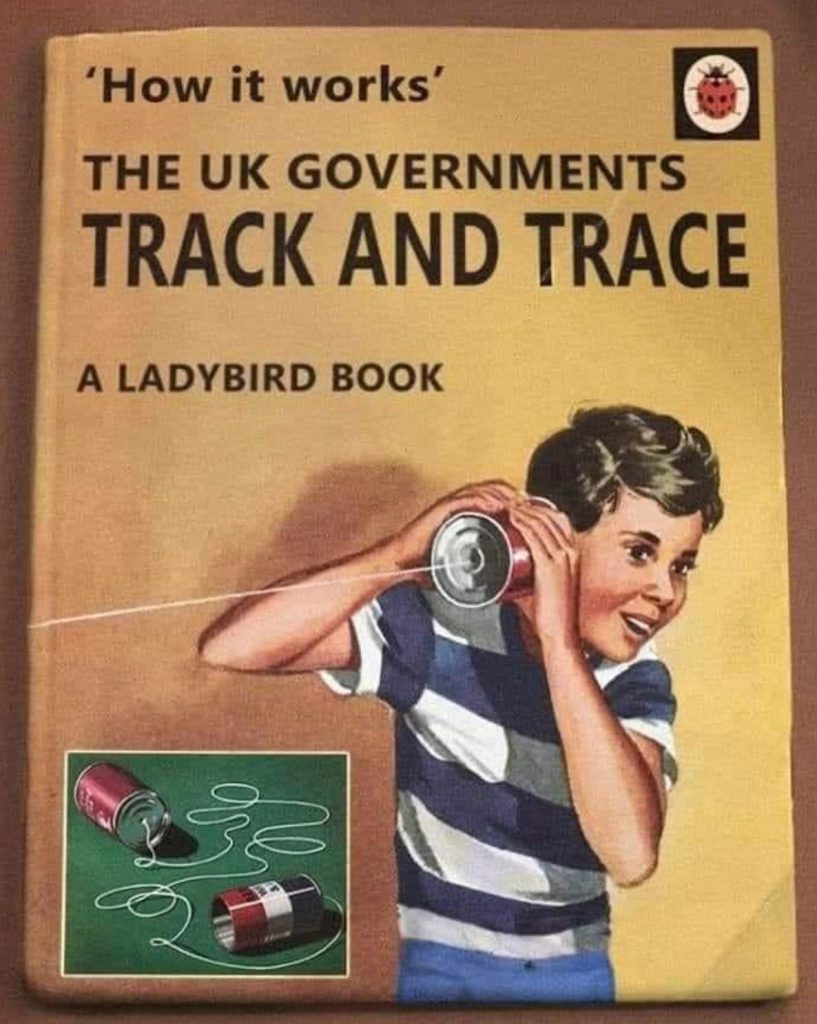 In homage to Dr Q's revelation that Matt Hancock's track-and-trace team have so far managed to locate just 11 of the 900 new cases in Leicester, I am reproducing the cover of the latest Ladybird book. Slightly misleading though because a couple of tin cans and a piece of string would actually be much more effective than anything the NHSX has come up with so far.