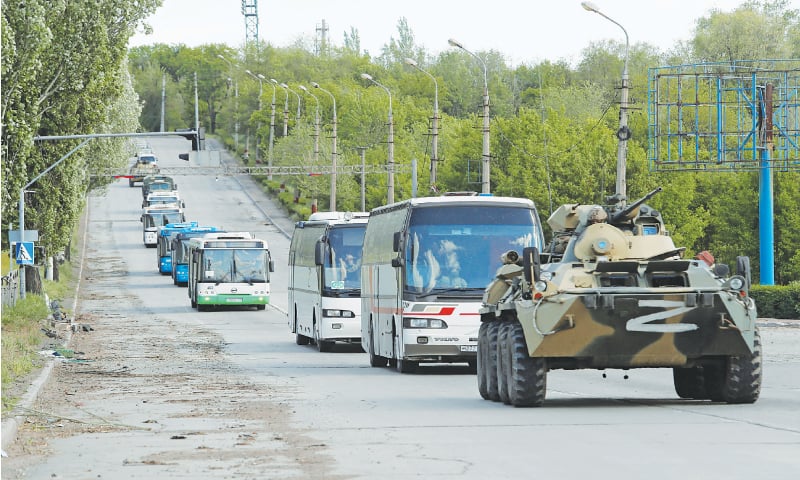 Yesterday, Ukrainian fighters besieged in the Azovstal steelworks surrendered to Russian forces, after a battle lasting almost three months. There's no doubt this was a surrender: the Ukrainian fighters – who belong to the Azov regiment – were taken in buses to Russian-held territory in Eastern Ukraine (as shown above).
However, that's not the impression you'd get scanning Western media outlets like the BBC, CNN and the New York Times. These outlets described what happened as an "evacuation" marking an "end to the combat mission". Here are the headlines:
• 'Mariupol: Hundreds of besieged Ukrainian soldiers evacuated' – The BBC
• 'Hundreds of Ukrainian troops evacuated from Mariupol steelworks after 82-day assault' – The Guardian
• 'Azovstal steelworks evacuated as Ukraine ends combat mission in Mariupol' – The Times
• 'The battle for Mariupol nears end as Ukraine declares 'combat mission' over' – CNN
• 'Ukraine ends bloody battle for Mariupol; Azovstal fighters evacuated' – The Washington Post
• 'Ukrainian authorities declare an end to the combat mission in Mariupol after weeks of Russian siege' – The New York Times
In war, an "evacuation" is when you send boats, planes or vehicles to transport your own troops away from a hostile location. Dunkirk was an evacuation. It is not when the enemy transports your troops to a location under his control after those troops have surrendered. That's called a "surrender".
Despite reporting where the Ukrainian fighters were taken (Russian-held territory), some of the articles above don't even use the word 'surrender'. One is reminded of Muhammad Saeed al-Sahhaf – nicknamed "Comical Ali" – who became known for his preposterous claims about U.S. losses during the 2003 invasion of Iraq.
Note: this has nothing to do with being 'pro-Russia'. This is about journalists using language that actually corresponds with reality. Which prompts the question of why? Why are they going around describing things in transparently misleading terms?
Western Audiences Have a Right to Be Accurately Informed About this WarRead More