Boris Johnson confirmed today that "nothing" is ruled out in responding to the Indian variant. Asked if local lockdowns are possible, the Prime Minister told reporters:
There are a range of things we could do, we want to make sure we grip it. Obviously there's surge testing, there's surge tracing. If we have to do other things, then of course the public would want us to rule nothing out. We have always been clear we would be led by the data. At the moment, I can see nothing that dissuades me from thinking we will be able to go ahead on Monday and indeed on June 21st, everywhere, but there may be things we have to do locally and we will not hesitate to do them if that is the advice we get.
Meanwhile, Professor James Naismith, from the University of Oxford, told BBC Radio 4 that local lockdowns will be ineffective at containing the variant and it should be viewed as a national problem.
I think we should view it as a countrywide problem. It will get everywhere. We keep learning this lesson, but we know that this will be the case. When we tried locally having different restrictions in different regions that didn't really make any difference. So I don't think thinking about a localised strategy for containment will really work.
An emergency meeting of Government scientific advisory group SAGE was convened this morning to address the rapid spread of the variant. One member reportedly warned that a delay to the June 21st lifting of restrictions is "possible".
Is the Indian variant really something we should be afraid of? No doubt India is currently experiencing a surge in which the variant plays the dominant role. But that doesn't mean the variant will pull the same trick everywhere – viruses aren't as simple as that. There are all kinds of reasons one variant might come to dominate, and it isn't necessarily accompanied by a surge in infections.
Italy is the European country currently most dominated by the Indian variant, having seen it quickly grow in the past few weeks (Indian variant in green).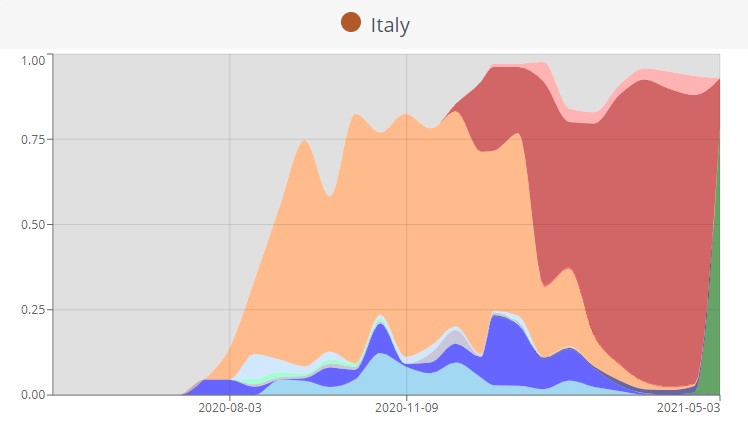 Here's what's happened to the positive test rate in that time.
Clearly, the growth and dominance of the Indian variant does not necessarily lead to a new epidemic.
Meanwhile, in Spain (which has ended its state of emergency) the variant came and went very quickly.
Boris Confirms "Nothing" is Ruled Out in Responding to Indian Variant. How Worried Should We Be?Read More