I've been watching Johannesburg slowly die for years. So nothing in a recent Financial Times piece about the city's decline was new to me. It just felt like personal laundry being aired. I'm quite sure global investors are well aware of problems in South Africa, but the FT exposed raw and growing wounds that I feel every day. Infected things that a part of me would rather keep secret. Another part of me is glad this devastation is being publicised. People should see this. It may jolt them into action to prevent this happening where they live.
Requiem for a city
Joburg's pavements are crumbling. The electricity in people's homes goes off multiple times a day unless you've installed a backup system. Some roads are more pothole than tarmac. And if you live here, you will be a victim of violent crime sooner or later. I can't think of a friend or family member who hasn't had a gun pointed at their face. I experienced that early last year.
Our homes are surrounded by 15-foot electric fences. Neighbourhoods are patrolled by private, heavily armed security. We rarely venture out late at night. By day, we do our best to navigate between safe havens. From home to a gleaming Virgin Active gym. Then perhaps to work in one of the shining Canary Wharf-like office towers of Sandton. Then, if you're lucky, back home in the afternoon to a gated security estate.
I wrote most of this piece from a co-working space in Melrose Arch, a plush, multi-use, multi-billion rand precinct in the northern suburbs. There are no potholes here. Generators kick in when state electricity runs out. It amounts to a fake European village, with designer cobblestones to match. Some people rarely leave this little enclave – it has apartments, offices, restaurants, doctors and shops. Boutique stores sell designer clothes. And you can pick up a Bentley or Ferrari from the adjacent showrooms. You'll just have to live with the stress of driving around in a mobile fortune with a target painted on its back – Joburg is a hijacking and kidnapping hub. You'd be better off with one of the bulletproof cars more and more families are choosing.
All the while, the ANC (African National Congress) Government plays the role of the wounded knight in Monty Python and the Holy Grail – "Tis but a scratch!" – while one arm lies severed. In fact, the ruling party seems very proud of its role in the destruction of South Africa. President Cyril Ramaphosa recently boasted that just two million South Africans were on state welfare in the late 1990s – that figure is now 18 million. He reckons that is progress. This reflects the ANC's socialist roots. The party was close friends with the Soviets back in the day. It helps to explain an (official) unemployment rate of about one in three. The actual rate is probably much higher than that.
Woke by any other name
Nelson Mandela's book, Long Walk to Freedom, accurately described the past, but failed to predict the future. We are sleepwalking into a form of nationhood we might call 'ruindom': state-imposed ruin, disguised as benevolence. Its tendency is to stomp on freedom.
I blame the same types of forces driving wokery. Of course, the term 'woke' only entered the public domain in recent years. But we've been doing it on steroids in South Africa for three decades. We just use different terms. The big one is the euphemistic 'Black Economic Empowerment' (BEE). Or, even 'better' (and more collectivist), 'Broad-Based Black Economic Empowerment' (BBBEE).
This emerged after the fall of apartheid. It was sold as an inclusive, ethical economic model that would help the "previously disadvantaged". As with all woke initiatives, that description hides the reality. It is predicated on racism. It excludes white people from job opportunities or bidding for Government contracts. It has helped chase away millions of productive people to Australia and London (including my two sisters). This exodus includes many black professionals. They might well be the intended beneficiaries of affirmative action, but nobody benefits when merit plays second fiddle to 'corrective racism'.
Woke racism, in the form of BBBEE schemes, has benefited many black people, as have race-based university admission policies and 'progressive' hiring schemes. However, the main beneficiaries are the 'tenderpreneurs', a new class of super wealthy, highly connected black people. Billionaires who win Government tender after Government tender. Predictably, the BEE scheme has also given rise to vast criminal networks that exploit the rules.
Cyril Ramaphosa is said to be worth $450 million, which isn't bad for a former trade unionist turned businessman turned politician. He allegedly had $580,000 (maybe as much as $4 million) stolen from its hiding place inside a couch on his game farm, Phala Phala. The cash is said to be the proceeds from a sale of buffaloes.
These policies have helped to steadily erode every institution in the country. South Africa had cheap abundant energy, including a nuclear plant established in 1984 (the year I was born). Today, Eskom, the state energy provider, is a failure. We suffer from 'loadshedding'. That's another euphemism. Households and businesses have their energy shut off for hours a day to preserve the grid. That doesn't stop authorities demanding a 'just transition' away from coal towards green energy. Climate hysteria has no dimmer switch.
The chart below shows how the price of the electricity provided by Eskom (when it's provided at all) has outstripped inflation.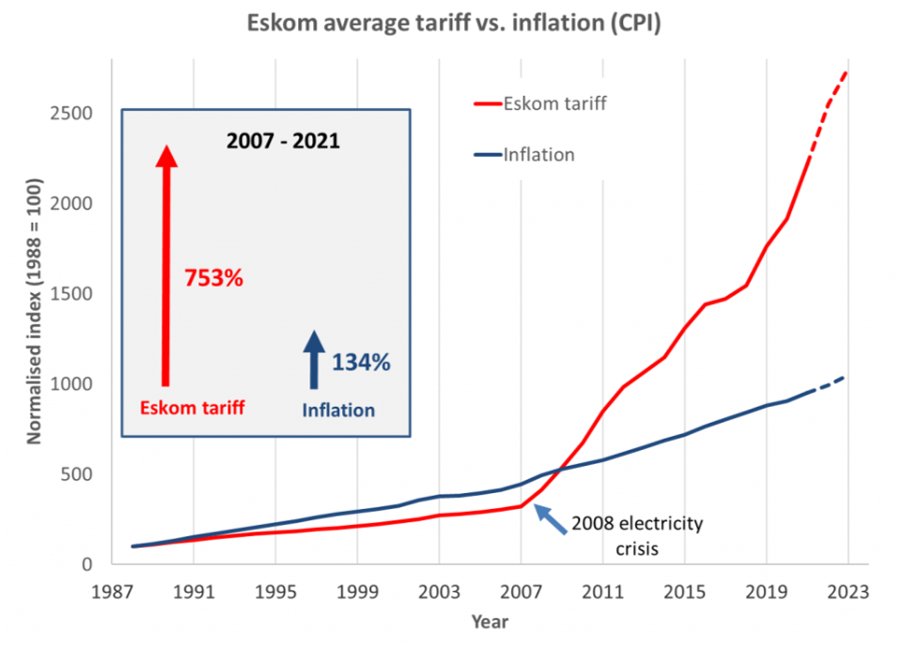 Transnet, the state rail company, once globally competitive, is almost defunct. This has meant more and more goods being transported in lorries on South Africa's crumbling roads. The chart below depicts the decimation of our rail network by share of tonnes carried compared to other transport methods.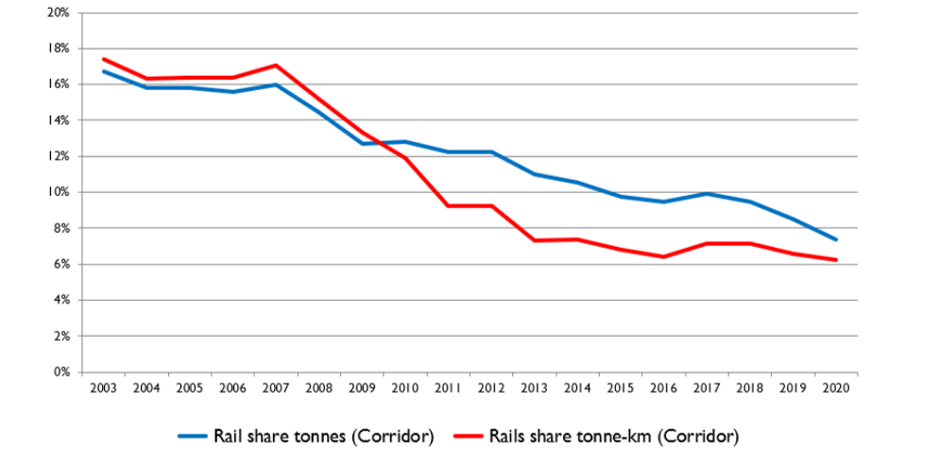 Despite multiple injections of billions of rands from taxpayers, South African Airways is also defunct. More or less everything the 'Government of the people' has touched has collapsed.
It hasn't been a minor collapse either. In its heyday, South Africa was quite something. Detached from the developed world by geography and, for spells, by apartheid sanctions, we did impressive things. As the Afrikaners say, "Boer maak n plan" ("The farmer makes a plan"). We built our own nuclear bomb (good or bad, a technical feat). Dr. Christiaan Barnard performed the world's first successful heart transplant in 1967. Our athletes travelled to Augusta National, Wimbledon and Lord's – sometimes defeating the best of the best.
There were terrible abuses, too. Sharpeville, Robben Island, and the everyday human rights denials that don't get names or memorials. I have no intention of minimising or re-litigating those now. I'm tired of the 'two wrongs make a right' approach to ethics and government. One form of racism can't fix another form of racism.
Despite a previously thriving country falling apart all around them, politicians, corporate leaders and activists find plenty of time and money for all the petty woke causes that rich nations embrace. We have a Minister for Women, Youth and Persons with Disabilities. Our political elites seem to adhere to Douglas Murray's definition of feminism: women are equal to men in every way, and, somehow, magically better. Banks self-flagellate over microaggressions. Journalists admonish men for toxic masculinity. The trans movement is embedding itself in schools. And all of these institutions embraced Covid lockdowns, to "take care of the vulnerable among us".
The pinnacle of woke praise is reserved for 'ubuntu'. Translated as "I am because you are", this is an indigenous philosophy that puts collectivism on a pedestal. Alongside some admirable elements, ubuntu treats collectivism as an unquestionable good. Plenty of proponents wield it to rebuke individualism as some type of extreme European evil. I have argued that "individualism is the original ubuntu", pointing out that the way to build a strong society is by harnessing the ambitions of self-interested individuals, as per Adam Smith. But it has fallen on deaf ears.
Wokery is everywhere
I'm getting very down on my home country, but a similar form of decay has taken root everywhere. My trip to London last May was my first visit to the U.K. since spending six months working there in 2003. I was somewhat taken aback to see tube adverts warning that looking at someone on the train can amount to sexual harassment, waiters inquiring about allergies and apologies for slavery posted all over the Bank of England Museum. It was like being back home.
I came away with a bad impression. The police in Britain seem terrified of investigating people who happen to be Muslim for fear of being called racist. Corporates are bending over backwards to hire people that give them virtue-signalling bragging rights. People appear to have leeway to be racist and sexist, as long as this is directed at straight white men. Fossil fuels are demonised with hardly a moment's thought for the incredible benefits of cheap, reliable energy from hydrocarbons. Bureaucrats proudly divert scarce resources into campaigns advising us not to trip over steps.
U.K. firms aren't forced to submit expensive BBBEE scorecards to secure Government contracts, as is demanded in the former colony. However, the social pressure is there and can be just as powerful as statutes. It would be unthinkable to see an advertising campaign on the BBC that lacked an obvious casting strategy to ensure an 'appropriate' racial mix. Politicians hail plans that benefit black school children – and ignore the data showing that working class white boys are struggling. Ever more money is spent on digging up bygone racial offences and paying 'reparations'. And universities increasingly debase themselves chasing 'diversity' – that is, a very particular form of diversity that ignores, and often shuns, diversity of thought.
It can happen to you
If you still reckon 'it couldn't happen here', I offer a cautionary tale. In 2019 I travelled to Harare to write a story about the state of Zimbabwe's economy. Like all South Africans, I grew up with anecdotes from earlier generations about how prosperous the old Rhodesia was. Thriving tobacco plantations, efficient mines and a booming tourism industry. The Harare I witnessed resembled a Netflix zombie apocalypse film. I felt great sympathy.
I described the drive from the airport to the capital city like this: "Dotted alongside the highway are figures spread out for hundreds of metres on each side, hoeing, picking and planting. But they aren't farmers. They've pegged off a patch of earth no bigger than a comfortable lounge to grow crops." There was no cash in the ATMs, the roads were almost impassable, and a glass of wine in a hotel bar was $10 (U.S. dollars, that is – the Zim variety is almost worthless).
Former President His Excellency the Honourable Comrade Robert Gabriel Mugabe wasn't exactly woke. But he was collectivist. He was retributive. He shunned merit in favour of identity politics. Those are the heart of wokery.
Long before my recent visit north of the border, I experienced Zim's fall in real time, from 2,500km away, while an undergraduate at the University of Cape Town. A number of my classmates were Zimbabwean refugees. Some were children of the country's black elite. Many were white children of farmers who'd been booted off their land (violently or otherwise). They didn't like talking about it.
Dads often travelled to Zambia to work as farm managers. Moms often found employment as teachers or nurses in Britain, Australia or South Africa. Some families thrived despite the destruction. Some thrived because of it, getting into bed with Mugabe's ZANU-PF. Others just found ways to get by.
Yes, there were racist horrors in South Africa and Rhodesia/Zimbabwe. Things that needed to change. But the collectivist, vengeful 'solutions' we are experiencing are cures that are worse than the disease.
To the barricades!
Don't assume that someone powerful is tending the fires. I have argued that the embrace by South Africa's CEOs of diversity, inclusion and equity (DIE) has brought the country to the brink of collapse. The same criticism applies to many bureaucrats, politicians, headteachers and vice-chancellors. As soon as the activist woke minority demands compliance, the majority falls in line. If you have a weighty mortgage and children in expensive schools, you have to feed the machine, or it will feed on you.
There are many of us who have more freedom than that. We are defending our rights in big and small ways. Vivek Ramaswamy, a successful biotech entrepreneur and investor now running for U.S. President, is fighting wokery. Public intellectuals like Jordan Peterson and Gad Saad have large, global audiences, all of whom are sick and tired of being treated as totems of a hated race or gender. Publications like the Daily Sceptic give us a voice.
Many South Africans are standing up against harmful forces – no longer willing to pay taxes into Lysenkoist pits of climate hysteria; no longer tolerating their kids being told at school that sex is a spectrum; refusing to be bullied. We're getting off the grid. We're telling the truth. We're 'state-proofing' our businesses and our lives. We're forming civil organisations that conduct strategic litigation.
We're winning victories too. On a tiny scale, I campaigned against a school that included Pocket Queerpedia on a public reading list. This free book speaks glowingly about sexual reassignment surgery, ignoring nuance, counter arguments and risks. School leaders agreed it was inappropriate and removed it. On a larger scale, civil organisations are defending our rights in court. Our judicial system is a beacon of hope. Last year, Sakeliga obtained a court order demanding the release of Government records on Covid lockdowns. Solidariteit just announced it will stand up against the new Employment Equity Act. It pointed out that this "legislation grants draconian racial powers to the Minister".
At a personal level, I am one of the growing number of Johannesburgers that, as the Financial Times reports, are heading for greener pastures in Cape Town – 'semi-grating', as we call it. The Western Cape Provincial Government is run by the Democratic Alliance, rather than the ANC. The DA is deeply flawed, but far better than the alternatives. If you visit, take a walk on Table Mountain. It's unlikely you'll spot a scrap of litter. Potholes are a rarity and there are credible local plans to escape power shortages. The trail running, beaches and wine farms are among the finest on the planet.
Moving to better managed cities is a good interim solution. However, we can't hide forever. Not on the southern tip of Africa. Not in London, Sydney or New York. Nations fail. Only rarely is it the result of bombs and invading armies. Far scarier are ideas and neighbours. I'm not sure if Joburg or South Africa can be saved. It is worth trying. But Britain is decades behind my homeland on this ruinous path. You folks have time to stop this and turn it around.