The U.S. remains by far the biggest supplier of military aid to Ukraine, having donated more than all other Western countries combined. And based on how much the war dominates discussion on the news and social media, you'd assume that it was foremost among Americans' concerns.
But this doesn't appear to be the case. In a Quinnipiac University poll taken on August 31st, Americans were asked:
In your opinion, what is the most urgent issue facing the country today: Russia's invasion of Ukraine, COVID-19, inflation, climate change, health care, racial inequality, immigration, election laws, abortion, gun violence, or crime?
The top answer was "inflation", chosen by 27% of respondents. Next were "abortion", "gun violence" and "climate change", chosen by 9% of respondents each. Then came "immigration", chosen by 8% of respondents. "Russia/Ukraine" was second to last, chosen by only 2% of respondents.
In fact, more respondents said "election laws" is the most important issue facing the country.
Back in May, Pew Research asked Americans whether the U.S. is providing too much or too little support to Ukraine. 42% said "too little", and only 7% said "too much". When they asked the same question in September, the percentages were 18% and 20%. (Though, of course, the U.S. did provide a lot of support in the interim.)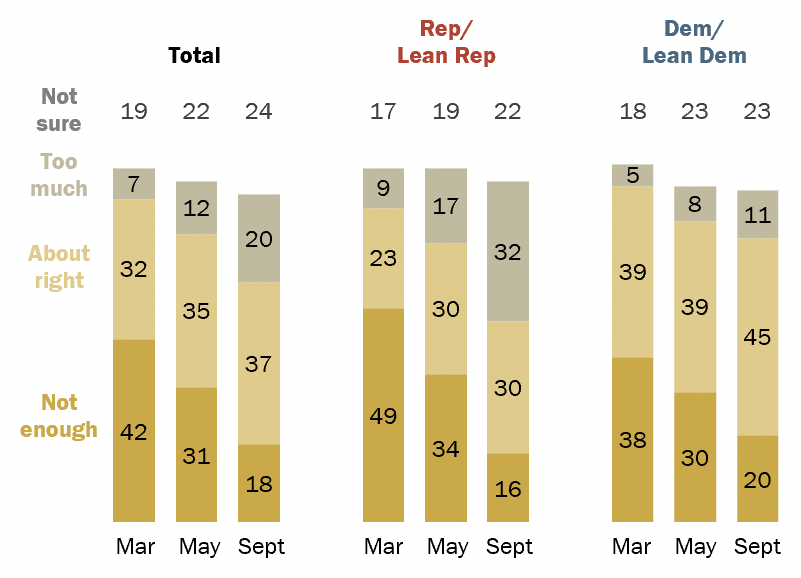 And what about ending the war?
Back in August, Gallup asked Americans whether the U.S. should "end conflict quickly, even if allow Russia to keep territory" or "support Ukraine in reclaiming territory, even if prolonged conflict". 31% opted for the former, while 66% opted for the latter – a large majority against ending the conflict quickly.
Yet in a recent poll for the Quincy Institute, Americans were asked a very similar question and the pattern of responses was reversed. 57% said the U.S. should pursue diplomatic negotiations as soon as possible "even if it means Ukraine making some compromises with Russia" – whereas only 32% said the opposite.
The usual caveats about polling apply, of course: answers can vary a lot depending on how you ask the question; and recent events may shift opinion one way or another.
In the end, however, public opinion may not matter much for U.S. policy. As early as 2010, a majority of Americans favoured pulling troops out of Afghanistan. But the U.S. didn't fully withdraw for another eleven years. So unless there's a dramatic shift in opinion, I wouldn't expect U.S. policy to change any time soon.