President Joe Biden's top medical adviser Dr. Anthony Fauci has said Americans will soon make their "own decisions" on dealing with the virus as the country is "certainly heading out of" the "full-blown pandemic phase of COVID-19". The Financial Times has the story.
The U.S. is heading out of the "full blown" pandemic phase of COVID-19, Joe Biden's Chief Medical Adviser said, as he predicted a combination of vaccinations, treatments and prior infection would soon make the virus more manageable.

Dr Anthony Fauci told the Financial Times he hoped there would be an end to all pandemic-related restrictions in the coming months including mandatory wearing of masks.

In his most optimistic comments about the trajectory of the pandemic since the emergence of the Omicron coronavirus variant, Fauci outlined a scenario in which local health departments would lead the response to the virus rather than the Biden administration.

Fauci said: "As we get out of the full-blown pandemic phase of COVID-19, which we are certainly heading out of, these decisions will increasingly be made on a local level rather than centrally decided or mandated. There will also be more people making their own decisions on how they want to deal with the virus."

Asked when restrictions might end, he said he hoped it would be "soon", and agreed with the suggestion it was likely to happen this year. But he warned local health departments could reintroduce measures temporarily if outbreaks were detected in the community.
Ever the over-cautious, Dr. Fauci still leaves open the possibility that restrictions may not end this year, or they may be set on a local level or return whenever there are "outbreaks".
He also refused to describe the virus as 'endemic', saying only that it may soon reach an "equilibrium", where the Government no longer has to pay such close attention to infection levels.
There is no way we are going to eradicate this virus, But I hope we are looking at a time when we have enough people vaccinated and enough people with protection from previous infection that the Covid restrictions will soon be a thing of the past.
Oddly, he said low-risk people may need a vaccine booster every four or five years, despite there being no evidence the vaccines remain effective even for four or five months.
It will depend on who you are. But if you are a normal, healthy 30-year-old person with no underlying conditions, you might need a booster only every four or five years.
He claimed public health officials had not been too reliant on vaccines to address the disease, pointing to the development of remdesivir as an early treatment that keeps patients out of hospital – despite it having failed to show benefit in the WHO's Solidarity trial.
The FT article also included an opinion poll for readers with a ludicrously leading question:
Do you think Covid restrictions should be dropped by the end of the year?

Yes, I think the restrictions should be scrapped now.

No, we should be led by the science, not arbitrary dates.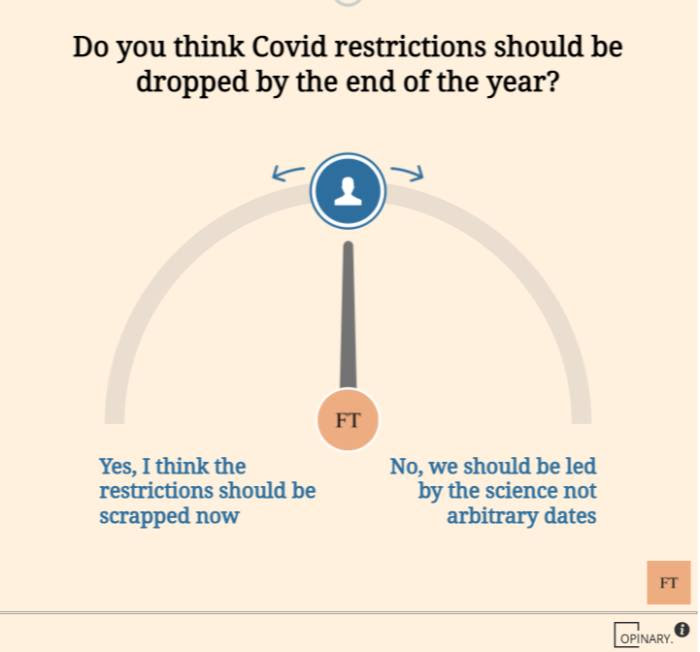 What if 'The Science' says that masks are useless, lockdowns are useless, and it's past time to lift restrictions? What if the science has been saying for many weeks now (at least) that the pandemic is no longer serious? What if the science says that lockdown is leading to huge harms to health, economic damage etc.? Possibilities apparently not permitted at the FT.