Lockdown Sceptics received a fantastic response to our call for news from the reopened states in America with which to shame our own timid Government as it delayed reopening for yet another month. We published the first as a taster on Wednesday. Now we bring you the rest.
A Road Trip to Florida and Texas
Mark – a Brit who lives in Connecticut and recently visited Florida and Texas – writes:
I spent the start of the pandemic in Manhattan, NY, where the initial response mirrored the U.K.'s. It was frightening, and to me seemed possibly OTT, but given the explosion of terrifying news and the predicted Armageddon I definitely didn't consider myself a lockdown sceptic. There was no particular turning point, more just the steady stacking up of evidence that whether or not lockdowns 'worked' in terms of a non-zero reduction in R, they very clearly didn't justify their extreme costs. By the time we got to May and police would harass me for not wearing a mask walking alone down a near-empty street while politicians across the world were getting exposed on a daily basis flouting their own rules, I was a resolute sceptic and found your site one of the few places that would keep me sane while L.A. was filling skateparks with sand the Spanish were disinfecting beaches.
My first trip to Orlando, Florida early in 2021 felt like I'd entered a parallel universe – it was hard to believe I was in the same country as the Northeast, coming from a micromanagement regime that treated me like a leper even once restaurants had their 'opening' with the full Monty of plexiglass, 25% capacity, digital menus/ordering and drink-only bans. To be clear, some Covid theatrics remained in Florida, particularly with corporations, but they were largely unenforced – think masks in hotels, six-foot queue marks in banks etc. Although there were no legal restrictions on mass gatherings, there weren't a huge number of gigs or comedy shows, and the basketball was at pretty limited capacity. Although I didn't agree with it, I still appreciated what it showed – if individuals or a business took a different view of the risks to me, they were free to limit their own behaviours or capacity without arbitrary rules forcing them to, and I could spend my money in busy venues with a better atmosphere.
Possibly the biggest difference was the attitude of people. In Connecticut and New York many people feel Covid entitles them to a level of rudeness about non-conformists that would've been unimaginable pre-pandemic, and even more, like the U.K., seemed to almost enjoy the constant discussion of Covid news. In Florida it certainly wasn't ignored, but people treated one another like regular humans, and Covid was an aspect of life rather than the aspect. I felt welcomed and had a great trip.
If the above is a good example of how much better life can be when Covid is still very prevalent and other countries imprison people in their homes, my experiences on my recent trip, with Texas and Florida's approaches now fully justified and cases far lower, highlight the absurdity of the current state of the U.K.'s lockdown-lite when Covid levels are extremely low.
In Texas we enjoyed packed nightclubs, unrestricted baseball games, and had an amazing night in Dallas on May 8th watching the sold-out boxing in front of 70,000 fans (see snap above).
Masks aside (more on that later), in most places Covid effectively didn't exist. People with symptoms isolate and get tests, and if positive they warn their recent contacts – everyone else gets on with their lives and from my perspective is far happier because of it. Florida – theme parks excepted – was much the same. I challenge anybody who supports anything close to the U.K.'s current approach to visit Texas or Florida and still defend it.
Something I found strange was that mask-wearing and similar window dressing measures were probably nearly as prevalent in May as they were earlier in the year, despite a massive reduction in cases and huge increase in vaccinations – a reasonably significant minority of people would still routinely sanitise on entry and mask up to go to the bathroom in restaurants etc., and signs asking for it were ubiquitous, particularly in large chain businesses. Most interestingly, by the time I returned to Connecticut at the end of May, mask-wearing and similar was probably less common than Texas and Florida. My theory is that when Florida and Texas reopened, companies, in particular large corporations, would've had a strong incentive to do some token measures to avoid bad PR and let their management pat themselves on the back for doing something. Sticking up mask and distance signs is a low cost way to do it, and a sizeable chunk of people were happy enough to go along with it. Perhaps this has further disconnected complying with these measures from actually responding to Covid risk, so people haven't abandoned them so quickly? By contrast the Northeast has by and large followed whatever ruse the CDC come out with, so the recent announcement that vaccinated people no longer 'need' to wear masks has been more consciously responded to.
The only bizarre part of Florida is the theme parks. We went to a Disney water park, and I struggled to keep a straight face as the lifeguard explained that the middle of three slides (each one about eight feet apart) was closed to preserve social distancing – on a windy platform several stories up in the open air. In the Universal theme park, we were aggressively hand-sanitised before every ride, and you could only sit with people from your group in the same row on rollercoasters – until later in the day when this appeared to be abandoned for the busiest rides to manage queue times. I'm always careful not to give people just trying to do their job enforcing these rules a hard time because its not their fault, and expecting someone to risk their job on principle is much easier said than done. But these episodes certainly tested my patience. I look forward to the first time a corporation footnotes the announcement of their latest rules with some actual quality evidence justifying them.
Texas 2
John Revell writes:
My wife and I are UK ex-pats living in Houston. Our story unfolds in the suburbs of Houston, Texas. Like much of the world we shut down in March 2020, though from the start adherence to stay-at-home requests was patchy at best. The multi-generational Mexican family opposite continued to party with nine cars parked outside one night, while the sheriff who lives down the road turned a blind eye. Our next-door neighbours work in healthcare and were fearful, so at first we were careful and stood back when we spoke to them over the fence, but it was only a few weeks before we started to suspect that COVID-19 was not as catastrophic as the media claimed. Analysis of the report on the Diamond Princess outbreak suggested many had pre-existing immunity and despite Houston's population being more than 50% Hispanic and including many other groups we were told were high risk, our hospitals were never overwhelmed and by early summer the trend was downwards.
The Texas governor started to lift some restrictions just six weeks after the initial lockdown, with elective surgery resuming and non-essential retail and restaurants re-opening at 25% capacity. By early June the next 'wave' of Covid cases arrived, but even then his reopening plan continued, though the aggressive timescale was stretched. On July 1st, much to our consternation as he had previously banned such requirements, the Governor issued a state-wide mask mandate for indoor spaces where physical distancing was impossible, but restaurants remained open at 50% capacity. At the same time churches were officially exempted from all COVID-19 restrictions as the Governor accepted that the U.S. constitution forbids interference with the free practice of religion; however, compliance with Covid protocols was strongly encouraged. Our church, which had been debating whether we should continue complying with the unconstitutional closure, saw about 80% of the congregation in attendance on July 5th and the stack of masks at the entrance remained untouched.
Since then Texas has seen a gradual return to normal. Notable easing included:
limited care home visits restarting in August 2020
business capacity increasing to 75% from September 21st
bars reopened from October 14th
all remaining restrictions including mask and distancing mandates cancelled on March 1st 2021.
Since then Covid cases in Texas have continued to fall.
With vaccines freely available from Government-run sites, pharmacies and even supermarkets, everyone that wants a vaccine has had ample opportunity to have one. Freeway signs that usually highlight missing persons or coming hurricanes now read "Free COVID-19 vaccines – NRG Stadium Gate 16: 0 min wait". It is always zero minutes wait – the 80,000 seat stadium is a ghost town. As of June 11th only 37% of Texans have taken the vaccine – there is massive resistance to it here as many people seem to be aware of the reported adverse reactions and the low risk of Covid for otherwise healthy people.
After the termination of all Covid measures on March 1st, most retail businesses made statements along the lines of "fully vaccinated people are permitted entry without a face mask", and it has been fascinating to see the response. Admittedly anecdotal, but almost everyone we know that has been vaccinated still wears a mask whenever they are with other people, whereas those of us who have followed the science and read sites such as Lockdown Sceptics are unvaccinated, unmasked and enjoying retail therapy! I would say the percentage unmasked in the supermarket varies between 40-60% depending on time of day and day of the week.
The Texas Governor's removal of the mask mandate caused some stores to harden their stance against maskless customers. Many stores that previously allowed the medical exemption now refuse to do so – I have been kicked out of the Swarovski and Lego stores, the managers arguing that they were not denying the medically exempt service as they offer curbside delivery! I have already written to Swarovski advising that my wife's crystal bear collection will never see another addition.
Of particular relevance for us was the removal of restrictions on churches from July 1st 2020. Texas isn't in the US 'Bible Belt', but church is still very significant in daily life. Our church numbers about 180 people and continued to meet with no social distancing or mask-wearing right through last fall and winter when Covid was supposedly raging. In all that time we have had no major Covid outbreaks and since the start of the pandemic only three families have had COVID-19, each instance separated by too great a time for infection to have been transmitted within the church.
A slightly amusing incident occurred recently. One family hosts an open meal for church friends in their home every Saturday. Numbers can be as high as 60 people and are never less than 30 – so as you can imagine the home is very crowded. Several church families could be described as 'red neck', and on a Saturday in March the mother from one of these families arrived by herself. When asked where her husband and kids were, to some shock she replied he was sick and as he had tested positive for Covid thought he had better stay home! Had she not heard of the requirement for those in close proximity to an infection to also isolate? Most of us have researched Covid to some extent and this was a test of our belief that Covid, like other respiratory viruses is not transmitted asymptomatically. We were relieved but not surprised when no one else came down ill.
Away from the big city, the experience has been quite different. Just thirty minutes from Houston is the town of Belville, typical Small Town USA. An agricultural community, life revolves around ranching and one of the most popular restaurants is Trump Burger. Next to the piles of 'Trump 2024' T-shirts is a life-size cut-out of President Trump and the burger buns are all branded 'Trump'. Here Covid never made much impact – the county recorded just 39 'Covid' deaths, a death rate of 0.13% across the whole 18 months of the pandemic – yet even at the height of the panic you could spot the Houstonian on a day trip from the city as they were the only person wearing a mask.
Finally, we recently met with some friends who have just returned from a vacation trip to Washington D.C., one of the places in the US with the strictest lockdowns – a place where you were even required to wear a mask outdoors whether or not you could socially distance. They report that even there, life has largely returned to normal, most shops and restaurants no longer require masks, tourist attractions have reopened and unmasked and unvaccinated they felt free. If the uber-liberal, woke seat of the U.S. Government is even returning to normal there really is no excuse for Boris to prolong the U.K.'s misery and destruction.
Nevada
A reader – British, but currently living in Las Vegas where her husband is on a tour abroad with the military – writes:
We have been avidly following the updates from the U.K. for many months, and are horrified at what is going on there. Particularly as the U.S. borders are still heavily restricted so my parents cannot come out to visit and haven't seen their grandchildren for nearly a year, nor will they meet their soon-to-be-born third grandchild any time soon. Luckily I went back to the U.K. briefly last summer during a short window of less restrictions and general madness, otherwise it would have been even longer. A lot of people were expecting there to be an announcement on a travel corridor between the U.S. and U.K. after the G7 summit, but that seems unlikely to happen now that travel is virtually banned from the U.K.
Life here is completely back to normal and has been for some time, despite being a Democrat-run state. The only total shutdown we had was last year, about a week before the U.K.'s in March. However most businesses re-opened in early June 2020 and have remained open ever since. We have continued going on holiday throughout, although back in January on a ski trip to Utah none of us dared put pictures up straight away on social media, because it seemed like a particularly depressing time in the U.K.
A mask mandate was introduced last summer in Vegas, and there have been capacity restrictions in restaurants and shops during the autumn and winter. However, towards the end it seemed particularly lax and nobody was enforcing it.
All restrictions were lifted on June 1st, so there's no more social distancing etc., and as per the CDC guidelines anyone who is vaccinated no longer needs to wear a mask. Of course nobody is actually checking people's vaccine status, so it's a free for all, which we're very happy about! Individual businesses can enforce masks, but in our experience once you're inside a store it's usually a mixed bag of compliance and non-compliance.
Even in California, which we visited recently, mask-wearing is no longer being strictly enforced – we went round a theme park the other week with no masks and nobody said a word. We do still have to mask up in federal buildings such as airports and hospitals, but that's it. The American attitude seems to be that it's pointless wearing a mask once you've been vaccinated; life needs to go on.
There is also little talk of variants on TV, or if there is, the narrative is that the vaccines work against them. We stopped watching the news long ago but daily deaths are no longer reported and the Covid ward in our local hospital has been closed for some time – a friend who works there said they feared the worst at the start but it was never overwhelmed. The Vegas strip is completely back to normal (we have been twice in the past month), with shows and buffets starting to reopen and lots of domestic tourism.
State schools here were shut from the original lockdown in March last year, and only fully reopened in April this year, which is terrible. Part of the reason they reopened was because there was a higher-than-average number of suicides amongst teens. Anyone who has money put their kids in private schools last summer, which re-opened as usual after the summer break. For some it was an awful choice of giving up their career to homeschool or distance-learn, or pay to put their children in private education. There's no routine testing like there is in the U.K., and although our pre-school has been affected with a handful of cases and temporary classroom shutdowns, there hasn't been a Covid case there in months. There was never any silly social distancing of young children in pre-school, thankfully, they just avoided mixing classes and hand hygiene was pushed more.
Tennessee
Ann Koontz writes:
We are as free as we want to be in Tennessee, with basically no restrictions since the end of May thanks to our Governor Bill Lee. Social distancing is encouraged, but we don't ask, we don't tell. Businesses are free to mask if they want to. Even giant Lefty food corporation Kroger has lifted mask requirements. Some people (the minority) still love to mask up, and it hurts me to see them do it to their little ones. Why don't people want freedom? Unfathomable. Below is my granddaughter's high school graduation in Knoxville on June 2nd. Class of 500, approx. 3,000 in the stadium (outdoors). I counted five people with masks; there were more, I guess, but didn't see them.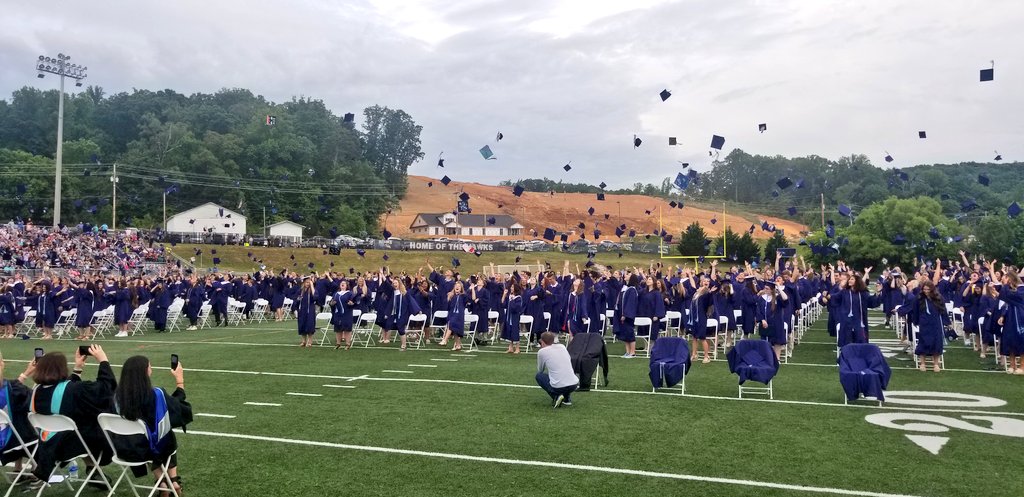 Tennessee 2
Nicholas Graves writes:
I am attending the Southern Baptist Convention here in Nashville, Tennessee. Due to several major controversies in the Convention there are about 20,000 people attending the event this year. Tennessee is a state without a mask mandate or capacity restrictions and it looks like Baptists from all across America are taking full advantage of these freedoms. Here are photographs from a local barbecue restaurant and of the convention itself. All of these photographs were taken on June 14th and 15th in Nashville, Tennessee.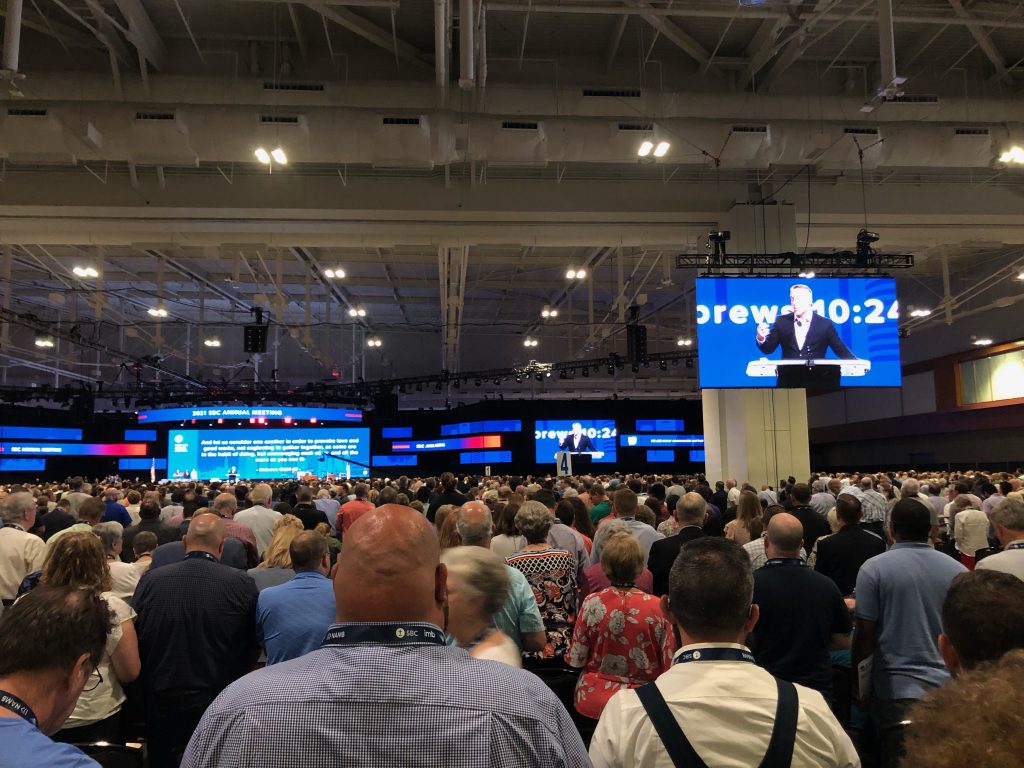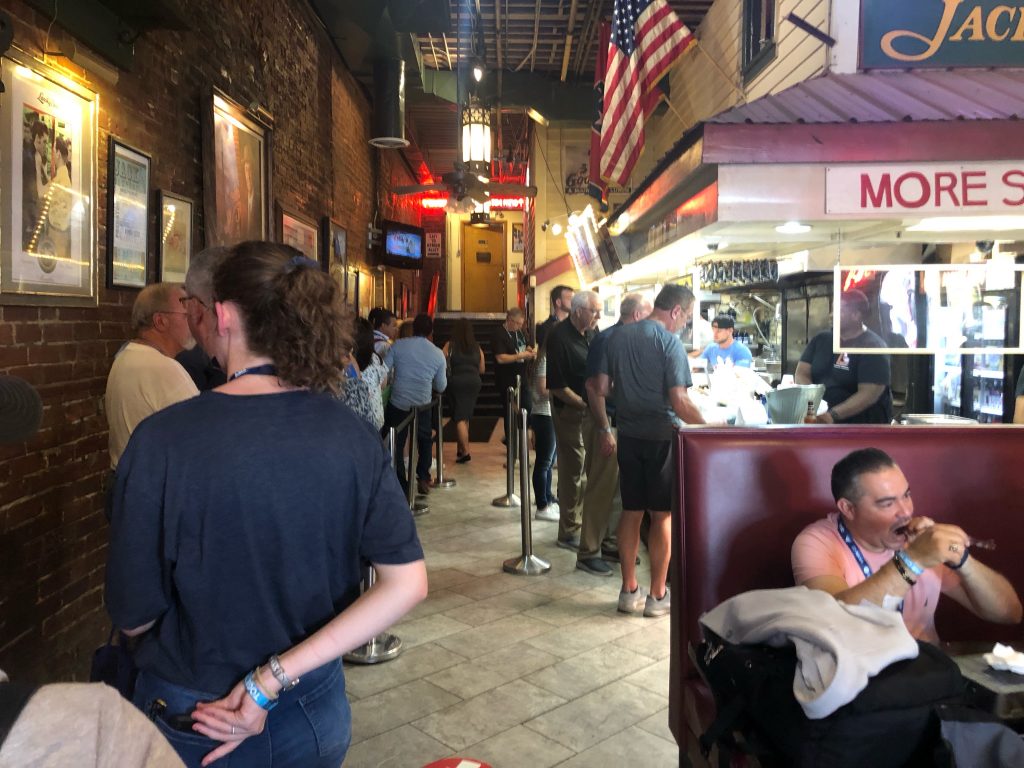 Alabama
A reader in Montgomery writes:
Here are two photos of a state championship baseball game played in Montgomery, Alabama on May 14th 2020. There were no stadium capacity limits. Note from the picture that no fans (or athletes) are wearing masks or social distancing.
The second picture is the state champions, Pike Liberal Arts School from Troy, Alabama, celebrating its baseball state title with some members of the student body after the final game.
Florida 2
Meghan Fulk writes:
We moved from North Carolina to Florida in September of 2020 and we are so glad we did. We have been able to live the last year almost like normal. Now that the majority of people in our area have stopped wearing masks (we never wore them) life feels about 99% normal. I'm from Canada and I'm shocked that Canadians are still putting up with these ridiculous, arbitrary restrictions. This video from Governor DeSantis last week shows just how normal life is in Florida.
Florida 3
A reader in Florida writes:
I'm a twenty-something woman who relocated to central Florida early this spring in order to escape the coronavirus restrictions in my native New Jersey. At the time there were still a few, relatively minor restrictions (such as the requirement to wear a mask inside shops), but by now those restrictions have largely all been lifted.
For weeks now, l have not worn a mask anywhere – I still keep a mask in my car, but I have not had to use it because nobody asks me to put on a mask anymore. I have visited shops, parks, parties, eating establishments, and career fairs without anyone telling me to put on a mask. When I went to the local government office to register my car and obtain my Florida driver's licence, I walked in with a mask on just to avoid getting into an argument with the Government staff. However, I removed it immediately once I saw that at least half the people in the office were not wearing them! In theory, everyone who has not been fully vaccinated is supposed to wear a mask, but in practice nobody ever bothers to check. Interestingly, my parents, who recently visited New York City, tell me that the same thing is happening there. Evidently nobody bothered to check them for masks or vaccination status in the supermarket they visited, although since they were both vaccinated it wouldn't have mattered to them either way. My mother speculates that even in blue states people simply want to get back to normal as quickly as possible.
Since I arrived in Florida, one of my favorite things has been the opportunity to resume a normal, involved religious life. Every weekend I attend services at the local synagogue and on Friday nights I often have dinner at the home of the local rabbi and his family. During Shavuot (our big summer festival) the synagogue was completely packed with people, many of whom were not wearing masks. Ever since that day, they scrapped the social distancing requirements that had been in place that winter, and as far as I can tell things are now back to the way they were before the pandemic happened.
All that being said, I will say that not everyone I've met here is a lockdown sceptic in the truest sense of the term. For instance, I noticed that some of my friends continued to wear masks in public even after getting vaccinated, and only took them off when the CDC told them it was okay to do so. This makes me a little worried about what will happen when I get offered a job, or visit the doctor, and whether people will start pressuring me to have the vaccine. It also makes dating fraught, since the U.S. has no equivalent to Lockdown Sceptics' "Love in the time of Covid" forum. Still, I'm glad I came to Florida, and am confident I can live a mostly normal life here.
Texas 3
Faith Elliot writes:
Life in Texas is back to normal, and I don't mean the "new normal".
On March 10th, statewide COVID restrictions were lifted and Texans were given the opportunity to start living their lives again. They have embraced it wholeheartedly. Visit almost any business in Texas and you would barely know the pandemic still exists. Masks are mostly a thing of the past. Seeing the smiling face of a waitress or bartender is like a breath of fresh air. Businesses are all open with no restrictions on capacity. A Friday night in Dallas looks just like it did pre-pandemic, with restaurants and bars overflowing with patrons. Our stadiums are packed with fans who are ecstatic to be able to cheer for their favourite teams again.
When Governor Greg Abbott made his decision in March to lift mask mandates and open Texas 100%, he was met with some criticism. President Biden called it "Neanderthal thinking" and "a big mistake". We were warned that removing restrictions would lead to a huge rise in cases and thousands of unnecessary deaths. However, three months later, cases and deaths continue to decline. Dallas county has lowered its Covid threat level from red to yellow because cases have remained so low. Removing restrictions didn't have the ominous impact so many "experts" claimed it would.
I travelled with my family to Florida this year for spring break, where restrictions have also been removed. Things looked much the same there. Businesses are packed full of people enjoying life despite the naysayers.
This return to normalcy has been a light at the end of a dark tunnel. Mask and social distancing requirements only served as constant reminders that we are supposed to be living in fear. With the restrictions gone, everything seems a lot more hopeful. Yes, Covid is still out there, but so are flu and countless other illnesses. We can't put our lives on hold every time we're faced with a potential threat. Life is meant to be lived, not just survived.
Texas 4
Nicholas Moore writes:
Background: I am a Brit with dual citizenship, my wife was born and raised in Texas. In October 2019, we returned to the UK to support our daughter and family following her very serious health diagnosis. I confided in Texas friends that I was looking forward to walking through the village and enjoying pubs and fish & chips on the way home. Hah!
We were cautious through the early Covid days, washing hands etc. (we are each 74 years old now) but by May were much more relaxed and tuning into the lockdown sceptic perspective. By the end of 2020 the prognosis for our daughter was much better and we had decided to return home. Cunard informed us in December that our May 2021 booking on the Queen Mary II had been cancelled – because of Covid! So we decided to fly at the end of March. The extraordinary thing was that if I had not held a U.S. passport, I could not have returned to my home in Texas – we would have been captive in England. Eventually we booked a flight on March 31st and came home to freedom. (Although we did have the stress of having to undergo a last minute Covid test.)
It is hard to convey the difference of life here. Your readers have probably forgotten what it is like to just walk about, meeting and greeting people, going to bars and restaurants, or shopping, without even thinking about social distancing or masks! That is our experience of Texas since we came back. It is wonderful. It really does feel like freedom. Freedom from Government diktat and fear.
And from here, the U.K. looks very strange. In Texas, we have no surge in cases, hospitalisations or death – neither does Florida or the other states that have opened up. Why does no-one talk about that? The mainstream media here (NBC, CBS, CNN, all of them) are as obsessed with Covid, variants, social distancing, vaccinations etc., as is the U.K. But, as in the U.K., those obsessions are not supported by the data. And, around here, nor by behaviour either.
About the only people to wear masks are either employees of major corporations (grocery chains, etc.) or old, unhealthy, vulnerable people living in fear. Going into our local Texas bank the other day was a delight – none of the staff wore a mask. Everyone shakes hands. Delivery of goods are accompanied by a mask-free: "Hi, how y'all doing" and a hand shake. Normality is natural! When a waiter or grocery clerk talks to you through a mask, it seems really strange, the muffled voice and hidden face – how odd! Why on earth do they do that?
I am of the post-WW2 generation who grew up playing in bombed out buildings. Buildings that were testament to the need to fight against authoritarianism epitomised by phrases like "papers please!". I can hear my father (war time RAF pilot) saying, "I may disagree with every word you say, but will fight to the death for your right to say it." Those experiences are hard to reconcile with living in England today. What has become of the U.K.?
Texas 5
A reader in the UK with contacts in Texas writes:
The below were taken Saturday June 12th at the Fairmont Hotel in Austin Texas. I live in the U.K. and many of my colleagues living in Texas assume we are now living under a Communist government (I'm not joking) and that both Scotland and the U.K. as a whole are largely a 'police state'. It's hard to disagree.
North Dakota
A reader in North Dakota writes:
We have been living free of Covid restrictions for months, kids do not wear masks at school any longer and everyone is done wearing masks and social distancing. The state has now passed laws so this will not happen again. We will not be slaves in North Dakota.
Georgia
Kevin LeCureux writes:
Don't forget Georgia! Georgia was one of the first to end lockdowns at the end of April last 2020. Newspapers said it was "an experiment in human sacrifice". Many counties implemented mask mandates, but there wasn't a state level mandate for the general public. But even through all last year, in most places one could enter without a mask with no interference.
Life in Georgia today is nearly normal. Our small church packed into our living room and sang and talked. We had lunch and cake for our son's birthday (it's too hot in the summer to be outside all the time). Most stores have stopped requiring masks. Restaurant workers still wear them in some counties because of the health departments, but fewer and fewer patrons are wearing masks. Our children's private preschool never required children to wear masks, and this week they are having a summer programme and the teachers aren't wearing masks.
Like much of the country, Georgia's cases started declining in early January (before the vaccines became widely available). Drug stores offer walk-in vaccinations. Hospitals and doctor offices operate fairly normally (they stubbornly stick to the mask talismans, though).
In short, Georgia was supposed to be a disaster, but deaths and even cases have been pretty typical, even while disruptions to normal life have been comparatively minimal.
Nebraska
Andrew Sullivan writes:
Nebraska's Governor Pete Ricketts kept Nebraska open with modest restrictions on meeting spaces and recommendations on public accommodations. This saved many jobs and allowed people to continue to work and enjoy life. The two largest cities, Omaha and Lincoln, had mask mandates but there was opposition including the Governor, and the mask mandates have expired. The biggest advocates for restrictions are from public school administrators and teachers. There was remote learning but eventually kids went back to school, wearing masks. Churches did close down voluntarily for a while but opened up a few months ago. Many social organisations have not met for over a year. Things are getting back to normal but there is long term psychological damage. There are still some people wearing masks, outdoors, on a sunny day! The restaurants did mostly deliveries at the onset of the virus, but most have opened up as soon as they were allowed. However, some businesses have closed permanently.
I have gone to a few bars, several restaurants, the grocery stores, pharmacy, Government buildings, and seen a movie at a movie theatre (Quiet Place II). Life is getting closer to normal as people overcome their fears. Many people here read the Bible enough to remember how the third servant squandered opportunity so they are out living life while others are afraid they will get Covid from their own shadow. The response of individuals to Covid tends to fall upon political partisanship. Republicans want to open things up and Democrats want to shut things down. Also, people are confused about how to greet each other: handshake or elbow bumps? With masks, I find myself torn between having to apologise for having a mask on or for having it off. My employer still requires masks, but few take it seriously or at least not as seriously as the fascist security guard I encountered last week. The masks don't work in any shape or form against a virus.
The mortality rate for Covid in Nebraska is about 1% which is quite low compared to other states. Since vitamin D deficiencies appear to be a cofactor in the severity of Covid symptoms, many people took vitamin D and still do.
Few can comprehend the vast long term damage from lockdowns. I work for an international hotel company and once these businesses shutter, you can't just open them back up. It is like starting a new business again from scratch as the former employees and former customers are long gone. The institutional knowledge is lost. As for Nebraska, there are all sorts of shortages of supplies and services but the vast majority of things are available for a price. A nationwide labour shortage is also forcing prices up. So even with everything open, I find myself staying home because going out is just too pricey, but I am free to go wherever I please.
The USA is big on vaccines and simple solutions. The vaccines have caused people to argue whether or not to get the vaccine or merely wait. People of advanced age are the most at risk of dying of Covid, so if you are 65 years or older, it makes sense to get the vaccine, but for everyone else, why the rush? There was flu season and now there will be Covid season, and people will be encouraged to get vaccinated or even get a booster shot if they have already been vaccinated. It is not healthcare. It is marketing.
So fight for freedom as best you can. You will have no regrets and nothing to apologise for. Collect the data and prove the enemies of freedom wrong. Your only disappointment will be seeing friends, relatives and neighbours who allow fear to rob them of all their freedoms. Seriously, how do you tell a friend, courage is a virtue they don't have? Perhaps, British wit, humour and satire is needed to tackle that one.
Florida and Kentucky
Penny Gaffney writes:
I spend the winter and early spring in Florida and the summer in Kentucky. This winter was wonderful in Florida. I wore a mask when asked, but was rarely asked. People respected personal space without comment and without elaborate in-store routing. We dined out and shopped where we chose to go and entertained neighbours and family over the holidays. There were a few people around who were afraid to mingle or to ditch their masks, but I was never scolded for not doing the same. They made their choices about where to shop and eat and respected me enough to let me do the same. A few complained in the local paper. Others praised Gov. DeSantis's decisions. Kids were in school, participated in sports and other extra-curricular activities, and high school seniors had a near normal graduation. Seniors got the chance to get vaccinated first with those in care facilities being the first among them.
I was apprehensive about returning to Kentucky before restrictions were lifted. The last capacity restrictions and most mask restrictions were lifted by the governor last Friday, June 11th. Early on, the Kentucky Governor showed his authoritarian side. He was not as bad as New York, California or Michigan, but his orders ensured that lots of small businesses were no longer operating this year and fewer folks with addiction disorders are seeking help. For a poor state with an "opiate crisis" this was extremely damaging. "Essential" workers, however, got to take their chances with masks and PCR testing. It was amazing who could get "essential" status.
The Governor had hoped he could lift his unconstitutional restrictions before the multiple lawsuits against him made it through courts least friendly to him, but one judgment came just days before that set a precedent that will probably end up at the Supreme Court. Most individuals seem to be ditching their masks, but reluctantly. I spoke today with a friend who is still unable to see her severely disabled brother in a nursing home, whom she has not seen in over a year. She has been putting off finding a safe care facility for her 90-year-old father who has had multiple strokes in the last year because she fears she would never see him alive again.
California
A reader in San Francisco writes:
I live in the deep blue San Francisco Bay Area of California, but also have family in Texas and have visited there quite a bit during the pandemic. My area of California has been more locked down than most of the rest of the U.S. That said, some things have been surprisingly loose, and in general, we have loosened quite a bit recently. A lot of this is the vaccines, a lot has been lawsuits, and I think some has been science – authorities and people making an honest assessment of the risks, especially given other states that are a lot more open and have lower unemployment, better education etc. Almost everyone in the U.S. knows Florida's outcome was leaps and bounds better than New York or California, in terms of the bigger picture, whether they'll admit it or not. Yes, the red states are way more open than California, but even here, people are moving on mentally.
As I write, California is "reopening" tomorrow. I think this means no more state rules. Some local businesses will no doubt retain the mask requirement, as there are some people who are still scared. However, I would say that the majority has moved on. I was at youth sporting events all weekend, outside, and maybe 15-20% of the people were still wearing a mask, though it was "required". At my kid's high school graduation last week there were all these rules, which most people sort of followed for a while, then completely ignored after the ceremony as we congregated closely. Most importantly, people still wearing masks don't hassle others much at all any more.
Of the maybe 100-plus new people I've met in the past month or so, I'd say maybe 60% of them don't care about masks any more, will shake my hand etc. as long as they are vaccinated; 20% are still masking and careful; and the rest never cared about the virus and maybe rejected the vaccine. A high percentage in this area is vaccinated, which helps people feel safer.
In rural areas of California, and in almost all of Texas where my family is (rural and urban), mask-wearing is a tiny minority now. I would be shocked if any schools in Texas required masks next year. Even the University of Texas (we have a kid there) removed their mask mandate the day our CDC (medical authority) said masks were no longer required for vaccinated people in most circumstances – that was in May – and they are a politically correct, left-leaning organisation. During the pandemic, I know a few people in Texas who never put on a mask, ever. However, most followed the rules most of the time, but not really strictly. Gatherings were happening all year. Many schools were open all year, and in small towns the mask rules were pretty lax.
The NBA games on TV now have nearly full indoor stadia, with maybe 20-30% of the spectators appearing to wear a mask, at least in the upper sections of the stands. The celebrities etc. that are close-in have to wear it, or at least, the TV won't show them if they don't. However, the TV has been willing to air shots of people packed together in the upper stands without masks, cheering and yelling.
I echo what others have said about red states and sporting events. There have been unmasked crowds there all year.
In California, there have been a number of lawsuit victories against lockdowns by businesses, churches, athletic leagues and parents regarding schools. These victories forced the authorities to relax the requirements; also, other jurisdictions knew they would lose if a suit was brought, and dropped their worst rules. I don't love lawsuits, but it really helped in this case. There are now efforts to introduce laws limiting the 'emergency authority' of various Government entities. We are learning from our mistakes, I think.
Good luck with your bullshit in the U.K.. Just saw they extended your lockdown another month. Unbelievable.
New York
Kyle Helke writes:
I recently returned to New York for a few weeks of vacation from the Philippines, which has the honour of being both the country with the longest lockdown in the world and the only country to mandate both face masks and face shields in public settings. Having endured these restrictions for the past eight months, I was well prepared for whatever the situation back in my home state held in store for me (of which, frankly, I knew little).
The difference is like night and day. Upon arrival in New York, passing through customs, claiming our baggage and exiting the airport was a breeze. The immigration officer asked no questions regarding where we had come from (the Philippines is on the 'red list' for many countries), gave our passports a cursory glance, and tepidly muttered, "Have a nice day." Exiting the airport, I expected to be subjected to temperature checks and contact tracing forms, as I would in Manila, but the only crowd by the entrance were people waiting for loved ones, and a lonely table stacked with New York State traveller health declarations forms, which were uniformly ignored by all. We had already completed it before leaving Manila, as the airline would not issue our ticket without doing so, but a family member who works as a flight attendant later told me that no one completes the form and, if they do, no one checks up on whether you are adhering to the prescribed 10 day quarantine and negative test upon entering the United States. It's important to note that the CDC quarantine requirement is a 'guideline' and not a rule or law, and for this reason is only adhered to by the most cautious and law-abiding. I'd also be willing to bet that the CDC, as well as New York's department of public health, haven't got the resources – or the will – to keep track of whether people are quarantining or not.
I'm from a suburban area of Long Island, about one hour's drive from the city. My experience back in the U.S. so far has been restricted to the quotidian – I've never been interested in events with large gatherings such as sports games or concerts, so I can't attest to what the restrictions are in regards to things like that. Instead, my day consists of running errands, visiting family and friends, and finding activities to keep my toddler occupied, so I can only offer a perspective on the workaday aspects of life here.
Much like last year, people here remain quite divided regarding the Covid restrictions, but with the difference being that there is a pretty vocal debate. Many houses proclaim their opposition to masking children in schools with signs in their yards, and the editorial section of the local newspaper issues op-eds scolding parents who dared to voice their opposition to this policy in a recent rally. Family members told me that several months ago the debate regarding vaccines was a heated one, with those who were pro-vaccine vociferously condemning and shunning those who demonstrated scepticism regarding the vaccine or chose not to have "the jab". Where I am, that debate seems to have passed for the time being. Almost unanimously, those I do know who have taken the shot said they did so so that they could visit elderly friends or family members – otherwise, they wouldn't have gotten it. One thing I think has nipped the vaccine debate in the bud is the fact that stores cannot require patrons to declare their vaccination status. As a result, the mask policy is based on an honour system. Around half of customers in the grocery store are masked, half not, and employees don't say anything. One can't tell who is following the rules and who isn't.
On June 15th, Governor Cuomo stated in a press conference that the majority of restrictions were lifted and that the Covid crisis was for the most part over, as New York had reached its target of 70% of adult New Yorkers having taken at least one dose of the vaccine. Masks are still to be worn in schools, on public transport, and in medical settings (and, of course, those who are not vaccinated still need to be masked up, but then again who's checking?), but in all other contexts masking and social distancing is no longer required. The local media don't seem to know what to do about this. Newspapers report the closings of local Covid testing centres and the low 'case' numbers, yet continue to issue warnings about the dire consequences of "opening up" too soon and showcase 'good' businesses who are maintaining Covid restrictions. A full four pages of Newsday, Long Island's daily, continue to be devoted to the tally of cases in each municipality, while the Friday edition publicises the various public events occurring the coming weekend.
All of this has left me both incredulous and giddily, yet cautiously, optimistic. As a strong lockdown sceptic, and someone who is pessimistic about the future of liberty as a result of the Covid restrictions, I had not expected to return to the States with restrictions (almost) all but lifted. Having endured (and with the necessity of returning to in August) the hard, inhuman restrictions of the Philippines for nearly a year, being able to breathe free here in the U.S. is deliciously sweet. I do sincerely hope that this country continues to stay the course in the direction of the old normal, but we Americans must not rest easy with a sense of accomplishment and the worst being passed us. There may be a 'need' to reimpose restrictions in the future – seemingly innocuous lines like these buried in the back pages of the local newspaper remain a chilling harbinger of the evils that may lie in store for us if we are not vigilant in making sure that legislation is enacted that will eliminate the possibility of future lockdowns and similar draconian restrictions. Perhaps more importantly, we must make sure that those who were responsible for the deprivation of life and liberty that was sanctioned upon us over the past 16 months shall be held responsible and brought to justice.
I have long been critical about my home country, but as we put the worst of the Covid crisis behind us, I can't help but see that America is the last beacon of hope the people of the world have to free themselves of the tyranny imposed on them over the past year and a half. Living under what is essentially a dictatorship in a developing country, where debates over lockdowns, masking, and the lethality of Covid is virtually non-existent, has made this even more clear to me, and I remain optimistic that the more draconian corners of the planet will soon no longer be able to ignore the return to normalcy that is currently overtaking most of the United States. Whether we like it or not, the world over continues to look to America for leadership, and while this may not be a good thing in many regards, the direction she is taking is the one that, in this respect at least, should be followed the world over.
Maryland
A reader in Maryland writes:
I live in Maryland, a hard-lockdown blue state. The beltway and DC-Baltimore corridor rivals California and New York for hard-core NPI policies. Apart from July-October of last year (when Maryland's infection rate decreased and stayed below 3%), we've been basically locked down solid here, and those three months still had mask and social distancing mandates. Many places like cinemas were closed continuously for over a year.
Finally the Governor lifted the mask and "inessential" business mandates in early May 2021. The vaccination rate was high and infection rate crashing. Yet he still left it open to the county executives whether to keep their restrictions in place, which those just outside DC did until only late last month.
I've been going without a mask for the first time in 16 months to supermarkets, restaurants, cafes, bookstores etc. Although you're supposed to be vaccinated to go unmasked, I have not been vaccinated because I had Covid in January 2020.
People are still wearing masks everywhere here in Prince Georges county. Probably even the vaccinated. I see people every day in cars with their windows rolled up wearing masks, sometimes double masked plus the plastic shield over their faces. I can't believe what I'm looking at.
Yet I frankly can't believe we opened up this "quickly" given the doomer mindset of the DC area (overwhelmingly Democrat, by the way). I thought this hysteria would surely last until 2022. I'm glad to be proved wrong, and I'm certain that Governor Hogan relented because Texas, Florida, South Dakota and even New York led the way. Infection rate in Maryland is now under 1%, for what it's worth (people aren't getting tested in huge numbers anymore). Although our Governor is a Republican, he is the head of the Governors' Association of America. I suppose early on he wanted to appear "responsible" in the face of the pandemic and be strict about following CDC protocols.
For half a year I've daily checked the age cohort statistics for Covid deaths and they've stayed the same ratio: 90% of the people were over the age of 70 and less than 1% are under 30.
I haven't been asked once about my vaccination status in public by store clerks, security guards, etc. A few weeks ago I was in San Antonio, Texas with my wife and we went maskless to a graduation and graduation party where there was no social distancing. No one was concerned. We have not gotten sick. People were masked in public throughout the city but again, no one confronted me on not wearing a mask.
Yes, Americans won't put up with this nonsense indefinitely. Luckily I didn't lose a business or job. More people every day seem to be waking up to the fact that the threat was inflated by hysterical media reports and statistical chicanery (which continues, of course). The British people need to just say no and commit nationwide civil disobedience by opening their stores and removing their masks on June 21st. Your numbers are even better than ours and there have been no "spikes" in cases. There's no excuse.
It's obvious to me that your leaders are afraid of being proved wrong should everyone just ignore them and continue with life as it was before this disastrous public policy was put in place. I guarantee that with your high vaccination rates the Covid problem is already under control and life can resume as it was.
Queensland, Australia
Gary writes:
We've had restrictions in Brisbane a couple of times since this thing began. At the moment there appear to be none. There are QR code sign-in requirements nearly everywhere but outside of the capital city, few people comply and nobody seems to check. You also need to wear a mask from when you arrive at the airport (in a Covid-free city) to when you leave the airport at your destination (also probably a Covid-free city).
We (or at least I) do live with the constant fear that one case will be detected and the whole lockdown and mask nonsense will start again.
There is supposed to be 40% of Queenslanders who don't want to get vaccinated so I'm also worried about what the Government will try when they run out of people who do. They seem to think that anything that is good enough for the people of the U.K. is good enough for the people of Australia. That has me worried.
Budapest, Hungary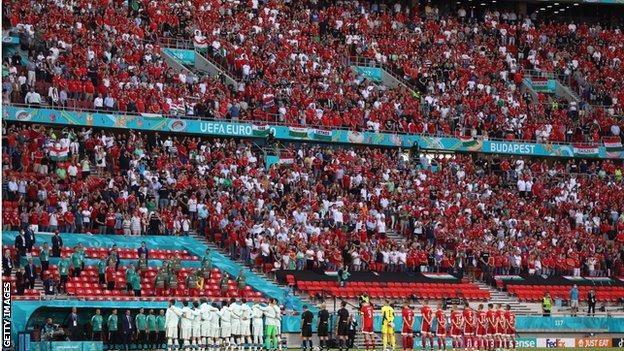 The 67,000-capacity Puskas Arena in Budapest is the only venue at Euro 2020 that will have full crowds and the fans helped create a fantastic, much-missed passionate atmosphere.