Just Seven More Years Before We're Back to Normal
When will the world finally get over COVID-19? MailOnline reports on new calculations which suggest that, on the basis of Dr Anthony Fauci's estimation that herd immunity will require 75% of the world's population to be vaccinated, it could be another seven years.
The coronavirus pandemic will drag on for another seven years at the current rate of vaccinations worldwide, new calculations predict.

It will take that long to reach Dr Anthony Fauci's estimate for the herd immunity threshold of 75% of people inoculated globally, according to Bloomberg's vaccination calculator.

More than 4.5 million vaccines are being administered a day, for a total of 119.8 million shots given worldwide.

The US has vaccinated 8.7% of its population thus far, at a rate of 1.3 million shot given a day. After a slow start, the rollout is picking up steam and saw a record 1.7 million people vaccinated Thursday.

Despite ranking sixth in the world for the pace of its vaccinations, the US is predicted to reach herd immunity just in time for New Year's 2022.

But all of this depends on whether the vaccines are effective against variants like those that emerged in South Africa and Brazil, which appear to dull the potency of shots.

Meanwhile, Israel is shaming the world with the speed of its rollout.

It has already vaccinated 58.5% of its population and is on track to reach herd immunity within two months at its current pace of 135,778 shots a day, Bloomberg predicts.

The tiny island of Seychelles, off the eastern coast of Africa, currently ranks second in the vaccination race, with 38.6% of its population having gotten one or more doses of vaccines.

The United Arab Emirates, the UK, and Bahrain are also beating the US with vaccinations given to 11.8% or more of their populations – although the U.S. is closing the gap.

The UK in particular has sped ahead, with an earlier start, a better synchronised program and three vaccines already authorised there.

It has given at least one vaccine dose of vaccine to 15.7% of its population.

At its current rate of 438,421 shots given a day, the UK will reach herd immunity well before the end of the year.
Reports come daily of the ever declining numbers of infections and the ever speedier vaccine drive, the latest scheme being vaccinations at work. But amidst it all come various suggestions of mission creep that could see restrictions lasting beyond the vaccine rollout. The Mirror reports the claim of researchers at Warwick University that, due to the mutant strains, restrictions must remain in place until 2022.
The ongoing spread of mutated coronavirus strains mean restrictions can't be lifted until 2022 despite the vaccine roll out, experts have warned.

Researchers at Warwick University used simulations to model what could happen if Britain is unshackled in the coming months, before presenting their findings to SAGE.

The paper, published on Friday, said despite nearly 11 million people across the UK having so far been inoculated, the unprecedented roll-out is "insufficient" to allow for a return to normal before the end of the year.

The scientists warn such a move could be catastrophic and leading to thousands more hospitalisations and deaths.

This is because there will still be a substantial amount of people who refuse or cannot have the vaccine, meaning transmissions could quickly soar.

While none of the jabs give complete coverage against the virus.

The paper says if the R rate were to remain at 0.8 and three million doses were being given each week and 95 per cent of those invited for a jab accepted, another wave could still hit before winter this year
Meanwhile, The Sunday Times reports that Chris Hopson, the Chair of NHS Providers, has written to Boris to warn against lifting the lockdown too soon, citing the need to protect the NHS.
Chris Hopson, the Chief Executive of NHS Providers, which represents hospital trusts, is to write to the Prime Minister to urge him not to lift restrictions until the number of new infections drops below 1,000 a day. It was 18,262 yesterday, with 29,326 people still in hospital, bringing the total number of cases to 3,929,835.

Hopson said this weekend: "We have crested the peak: but we're only just beginning the descent. We're still at a dangerously high altitude where the is still under great pressure and the thing that we know is that this descent in going to be much slower because people are taking longer to recover."
The Scotsman reports that Deputy First Minister John Swinney has become the first politician to explicitly state that the completion of the vaccine rollout is not likely to be the end of restrictions.
At the coronavirus daily briefing on Friday Mr Swinney said it was important to be "clear" with the public about expectations around restrictions and the vaccine, and that there will be a need for restrictions "for some considerable time".

Mr Swinney said face coverings, social distancing and travel restrictions may remain after the general population is vaccinated.

He said: "I think it is important that we are clear with the public that although the vaccination programme is going well, although it is becoming more extensive in the country, there will be a need for some considerable time – I don't know how long that will be – for us to live with more restrictions and mitigations that we had before the pandemic…

"Some of the restrictions might have to be in place for longer than the completion of the vaccination programme, to assure us of the security of the population.

"Of course there will also be a emerging information about the efficacy and effectiveness of the vaccine, which we will only know as we see more of the application of the vaccine within society."

National Clinical Director Jason Leitch added that vaccination is not complete until all countries go through their own programme.

"This is not about Scotland being vaccinated. It's about the world being vaccinated," he said.

He added that vaccines "for now, don't change behaviour".
Stop Press: Jonathan Sumption has a splendid piece in today's Mail on Sunday, reminding us all that the virus is here to stay and we all (even SAGE scientists) need to learn to live with it.
Stop Press 2: Janet Daley in the Sunday Telegraph is worth reading too. She calls for Ministers to make clear what benchmark they're using to determine when we'll have achieved "victory" over the virus so that we can at least know when the goalposts are being moved.
Replying to Christopher Snowdon – Again!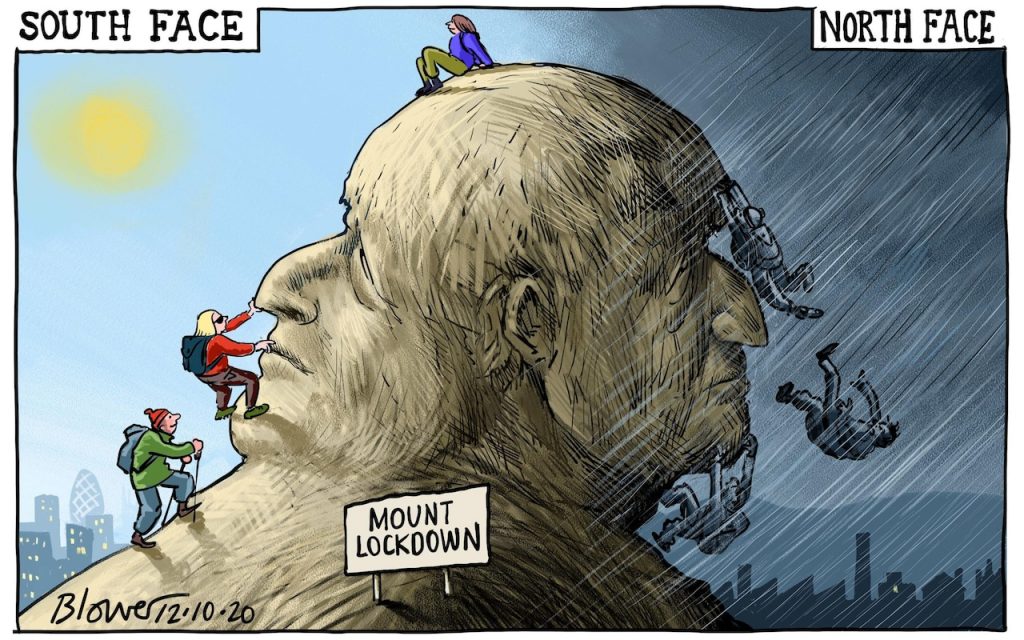 Toby has written a reply to Chris Snowdon's rebuttal of his recent piece in Quillette. Here are the first three paragraphs.
Christopher Snowdon has now done what he failed to do in his original attack on lockdown sceptics in Quillette: he has engaged with the main plank of the sceptics' case. Our central argument, as I explained in my reply to his article, is that lockdowns cause more harm than they prevent. I cited the wealth of evidence that lockdowns are largely ineffective, as well as the equally voluminous evidence that they cause social and economic damage. And I did my best to show that while some of this harm might be a 'pandemic effect' rather than a 'lockdown effect', the non-pharmaceutical interventions (NPIs) that governments have made across the world have exacerbated this damage.

In his response, Chris starts by making a pretty big concession: he acknowledges that the reduction in human interaction brought about by draconian stay-at-home orders could be achieved by people just deciding voluntarily to change their behaviour. He seems to think that lockdown sceptics are in denial about this – that we believe infections will rise and fall within a given region, irrespective of how much human interaction there is. Virus gonna virus. But I know few sceptics who believe that. On the contrary, we have been arguing from the start that the approach of the Swedish Government, which advised its citizens to take various precautions but didn't force them to, should have been the approach of the British Government. Indeed, that was Boris Johnson's strategy until he performed a U-turn and decided to plunge the country into lockdown.

The idea that the alternative to lockdown is to do nothing – that sceptics' just want to "let it rip" – is a familiar straw man in this debate, and not just when Piers Morgan gets on a tear. In one of the most influential papers produced by the modelling team at Imperial College – known colloquially as Flaxman et al and published on June 11th – the researchers argued that the lockdowns in 11 European countries, including the UK, saved 3.1 million lives. But that claim was based on the assumption that 95% of the populations of those countries would have been infected with COVID-19 in the absence of any NPIs. Setting aside the fact that pre-existing immunity to SARS-CoV-2 is almost certainly higher than 5%, it's absurd to claim that people would have just carried on as normal in the face of a global pandemic if they hadn't been ordered to change their behaviour by their governments. Indeed, this conception of democratic citizens – as mouth-breathing troglodytes who will march towards their own destruction without a benign state forcing them to act in their own best interests – is one Chris has objected to many times before.
Worth reading in full.
Vaccine Passports on their Way
The Telegraph is reporting that ministers are now considering a "targeted" vaccine passport scheme that would be used mainly but, it seems, not exclusively for travel.
Ministers are working on a "targeted" vaccine passport scheme to allow Britons who have been vaccinated to return to more of a normal day to day life.

The new passports could be similar to the yellow fever certificates which travellers must show at the border where the disease is rife.

Similarly in the UK, a targeted scheme could see people applying for proof that they have been vaccinated to carry out daily tasks, in the same way that motorists need a driving licence to get behind the wheel.

The Government has made clear that it is against a universal vaccine passport scheme on civil liberties and cost grounds.

However, some Cabinet ministers are understood to favour this targeted vaccine passport scheme.

The most common use will be to allow people to go away on foreign holidays, but a vaccine passport could assist people to take part in another activity, once they have been inoculated.

The success of any scheme hangs on whether being vaccinated means that it is not possible to transmit the virus to others. Ministers are eagerly awaiting the results of tests on the transmissibility of COVID-19…

The source added that a vaccine passport would win more backing if it were only required for specific tasks in the UK, or to go on holiday, where inoculations are required.

The source said: "Just as you need a passport to travel, then if it is linked to a particular objective [like travel] that might work.

"It is like a driving licence – you have a driving licence because you want to drive, you have a passport to travel."

The source added that a targeted approach was preferred by ministers: "A lot of us would be nervous about liberty-curtailing complications. The system would be huge to administer."
Worth reading in full.
Ministers have previously stated that there were no plans for vaccine passports, but with an increasing number of countries now looking to implement such schemes it seems realpolitik has triumphed. The concern is not so much about the necessity of having vaccine passports for international travel, but what else one might need the document for. ITV News has an example:
The system could permit a return for fans to sporting events, as long as they can prove they have received a vaccine.

At the Super Bowl in Florida, for example, a reduced crowd including 7,500 inoculated medical professionals will be allowed to attend at the weekend.

The idea could also be spread to other activities, such as going to restaurants, bars or the cinema, for example, with visitors being able to prove their vaccination with their vaccine passport.

As the Test and Trace app showed, it is possible to operate a similar system in hospitality establishments.
The Sandwich Generation is Feeling the Pressure
It is well known that the lockdown badly affects the young and the old, but less is heard about those in the middle. A report from the University of Southampton's Centre for Population Change suggests that they too have struggled, as they try to look after older relatives on the one hand, and younger ones on the other:
The sandwich generation – those supporting both children and parents – are facing heightened emotional and financial pressures during the COVID-19 pandemic, according to findings from the Centre for Population Change (CPC).

The research by Professor Maria Evandrou, Professor Jane Falkingham, Dr Min Qin and Professor Athina Vlachantoni of the CPC and University of Southampton found that people whose living arrangements have changed because of the COVID-19 pandemic are more likely to experience increased stress and family conflict than those whose living arrangements have not changed.

As our population ages, it is increasingly common for people, particularly in mid-life, to be supporting older children, while also providing informal care for family or friends. These dual-carers often provide informal care for others as well as carrying out paid employment. The COVID-19 pandemic has intensified the responsibilities of these individuals, and brought new challenges for those 'in the middle'.
Worth reading in full.
New Lancet Study Suggests Masks are Ineffective
The Lancet has published details of a new study which investigates the transmission of COVID-19 between 282 clusters in Catalonia. Its focus is the role played by viral load.
Scarce data are available on what variables affect the risk of transmission of severe acute respiratory syndrome coronavirus 2 (SARS-CoV-2), the development of symptomatic COVID-19, and, particularly, the relationship with viral load. We aimed to analyse data from linked index cases of COVID-19 and their contacts to explore factors associated with transmission of SARS-CoV-2.
The study was based on an RCT done during the initial pandemic in March and April last year.
In this cohort study, patients were recruited as part of a randomised controlled trial done between March 17th and April 28th, 2020, that aimed to assess if hydroxychloroquine reduced transmission of SARS-CoV-2. Patients with COVID-19 and their contacts were identified by use of the electronic registry of the Epidemiological Surveillance Emergency Service of Catalonia (Spain). Patients with COVID-19 included in our analysis were aged 18 years or older, not hospitalised, had quantitative PCR results available at baseline, had mild symptom onset within 5 days before enrolment, and had no reported symptoms of SARS-CoV-2 infections in their accommodation or workplace within the 14 days before enrolment. Contacts included were adults with a recent history of exposure and absence of COVID-19-like symptoms within the 7 days preceding enrolment. Viral load of contacts, measured by quantitative PCR from a nasopharyngeal swab, was assessed at enrolment, at day 14, and whenever the participant reported COVID-19-like symptoms. We assessed risk of transmission and developing symptomatic disease and incubation dynamics using regression analysis. We assessed the relationship of viral load and characteristics of cases (age, sex, number of days from reported symptom onset, and presence or absence of fever, cough, dyspnoea, rhinitis, and anosmia) and associations between risk of transmission and characteristics of the index case and contacts.
It's worth noting the numbers involved.
We identified 314 patients with COVID-19, with 282 (90%) having at least one contact (753 contacts in total), resulting in 282 clusters. 90 (32%) of 282 clusters had at least one transmission event.
Interestingly, they found that increased risk of transmission is associated with higher viral load, household contact and age.
The secondary attack rate was 17% (125 of 753 contacts), with a variation from 12% when the index case had a viral load lower than 1 × 106 copies per mL to 24% when the index case had a viral load of 1 × 1010 copies per ml or higher…

Increased risk of transmission was also associated with household contact (3·0, 1·59–5·65) and age of the contact (per year: 1·02, 1·01–1·04). 449 contacts had a positive PCR result at baseline. 28 (6%) of 449 contacts had symptoms at the first visit. Of 421 contacts who were asymptomatic at the first visit, 181 (43%) developed symptomatic COVID-19, with a variation from approximately 38% in contacts with an initial viral load lower than 1 × 107 copies per mL to greater than 66% for those with an initial viral load of 1 × 1010 copies per mL or higher.
But just as interesting is what they didn't find.
We observed no association of risk of transmission with reported mask usage by contacts, with the age or sex of the index case, or with the presence of respiratory symptoms in the index case at the initial study visit.
Worth reading in full.
How Deadly is the Kent Variant?
We were warned last week that the Kent Covid variant B.1.1.7 may be more deadly that previous variants. Grim news, but a complicated story. Deaths associated with the new variant are rising, says Nature, but questions remain as to what is causing this.
Scientists have released the data behind a British Government warning last week that the fast-spreading SARS-CoV-2 variant B.1.1.7 increases the risk of dying from COVID-19 compared with previous variants. But some scientists caution that the latest study – like the Government warning – is preliminary and still does not indicate whether the variant is more deadly or is just spreading faster and so reaching greater numbers of vulnerable people.

The latest findings are concerning, but to draw conclusions, "more work needs to be done", says Muge Cevik, a public-health researcher at the University of St Andrews, who is based in Edinburgh, UK.
Nature reports on a study into the variant, which is now dominant, carried out by the London School of Hygiene and Tropical Medicine (LSHTM) which suggests that the additional risk, if it exists, is chiefly borne by vulnerable groups.
To investigate whether the lineage causes an increased risk of dying, Nicholas Davies, an epidemiologist at the LSHTM, and colleagues analysed data from more than 850,000 people who were tested for SARS-CoV-2 between 1 November and 11 January but who were not in hospital.

Despite the fact that the B.1.1.7 variant was new, the researchers were able to identify people infected with it because of a glitch in a standard diagnostic kit used in the United Kingdom. The test normally looks for three SARS-CoV-2 genes to confirm the presence of the virus. But, in the case of B.1.1.7, changes to the spike protein mean that people who are infected still test positive, but for only two of these genes.

The team found that B.1.1.7 is more deadly than previous variants for all age groups, genders and ethnicities. "This provides strong evidence that there indeed exists increased mortality from the new strain," says Henrik Salje, an infectious-disease epidemiologist at the University of Cambridge, UK.

However, Cevik says that the small number of deaths among young people included in the analysis is not enough to conclude that the new variant hits all ages equally. "It seems to really be affecting older age-groups," she says.

This is to be expected, given that the chances of dying from COVID-19 increase significantly with age, says Tony Blakely, an epidemiologist at the University of Melbourne, Australia…
However, there is simply not enough data to draw firm conclusions.
Cevik says more data and analysis are needed to conclude whether the variant is more deadly than other lineages. For instance, the latest study doesn't consider whether people infected with the variant have underlying comorbidities, such as diabetes and obesity, and are therefore more vulnerable and at higher risk of dying, she says.

The study also covers only a small fraction of COVID-19 deaths in the United Kingdom – some 7% – and the effect could disappear if deaths in people tested at hospitals are included, says Cevik. Preliminary work by other groups has not found an increased risk of death in people admitted to hospitals with the new variant, and this complicates the latest results.
Worth reading in full.
Stop Press: Matt Ridley has an interesting piece in the Spectator about the evolution of COVID-19, which, he says, is far from random. He thinks it's possible that the lockdowns have been responsible for the emergence of the new, more transmissable variants.
Last week the Financial Times carried an article about the huge but surprisingly mild epidemic of Covid that India is suffering. It quoted one doctor as saying that "we are seeing a lot less severe disease than the rest of the world, and a lot more asymptomatic infections" and another that "it's pretty generally accepted that in India, we have a very mild form of the virus". There are lots of possible explanations, but because lockdowns have been mostly ineffective in India, could it be that mild variants have done well and an attendant-borne evolution to greater virulence has not happened?
Poetry Corner
In the Lockdown Sceptics Newsletter of January 26th, we published the poem Meh, which was written by 14 year-old boy who was feeling suicidal. Today, we have a positive update, together with a new poem, from his godfather.
First, I wanted to let you know that my godson has been doing so much better this last week or so. Obviously it's early days to say conclusively that we're completely out the other side, but things are looking up.

After his mum and dad did some asking around, it turned out that there were a number (majority) of parents at his school who were also worried about their kids right now, and consider dealing with that to be a priority over protecting themselves from a virus (thank God).

So, they've set up a little network, and this week he's managed to sneak over a couple of friends from school to stay; they have a little dormitory scenario going on, and they're all doing school together in the same room during the day. I think the plan for next week is to do the same again just at one of his friends' houses! It's a complete disregard of the rules, it's genius, it's made such a big difference, and I love it.

Second, and much less important or fun, I wanted to share a new poem with you (below).

Let Me Be Free

I don't want to see another masked human being,
I'd much rather smile and see others' feelings.

I don't want to hide, to cower and shelter.
I'd much rather greet, hug and gather together.

I don't want to tune in to Zoom for my work,
Buffering, breaking, and all else that irks.

I'd much rather see my colleagues in person
than turn on my camera like some Orwellian classroom.

I don't want to spend a single day more
Bat in my hand hitting balls at a wall.

I'd much rather be down at one end of a net
With a friend, or a foe, or a guy I just met.

I don't want to ever be socially distanced
At a gig, or a game, in the pub, or in romance.

I want to be close, to be loved, be connected,
Not bubbled, not spaced, not apart, nor 'protected'.

I want to be trusted to make my decisions,
A part of society not rife with division.

I want to be free, know my life is my own,
I'm done with this nonsense and with being alone.

I just want to be happy, to dance and be merry,
Not locked in my home, anxious and wary.

All that I want is a chance to be me,
With my place in the world, just let me be free.
Theme Tunes Suggested by Readers
Five today: "A Pub With No Beer" by The Dubliners, "Oi! Oi! Oi! We're Going Down the Pub" by the Borderers, "How Soon is Now" by the Smiths, "It's the End of The World" by R.E.M. and "Freedom Song" by Thin Lizzy.
Love in the Time of Covid
We have created some Lockdown Sceptics Forums, including a dating forum called "Love in a Covid Climate" that has attracted a bit of attention. We have a team of moderators in place to remove spam and deal with the trolls, but sometimes it takes a little while so please bear with us. You have to register to use the Forums as well as post comments below the line, but that should just be a one-time thing. Any problems, email Lockdown Sceptics here.
Sharing Stories
Some of you have asked how to link to particular stories on Lockdown Sceptics so you can share it. To do that, click on the headline of a particular story and a link symbol will appear on the right-hand side of the headline. Click on the link and the URL of your page will switch to the URL of that particular story. You can then copy that URL and either email it to your friends or post it on social media. Please do share the stories.
Social Media Accounts
You can follow Lockdown Sceptics on our social media accounts which are updated throughout the day. To follow us on Facebook, click here; to follow us on Twitter, click here; to follow us on Instagram, click here; to follow us on Parler, click here; and to follow us on MeWe, click here.
Woke Gobbledegook
We've decided to create a permanent slot down here for woke gobbledegook. Today, from ABC7News, a new insight from San Francisco, the capital of woke: Acronyms may just be a white supremacy.
First the San Francisco School Board decided to rename 44 schools because they are named after people with ties to racism or slavery. Now the Arts Department has taken a bold move by changing its name, "VAPA", because they say, "acronyms are a symptom of white supremacy culture".

Schools have yet to reopen in San Francisco, but their Arts Department has continued to work toward ensuring that all students have access to quality arts education.

The Director of that Department said, "We are prioritising antiracist arts instruction in our work." So they got rid of the acronym "VAPA", which is short for Visual and Performing Arts.

From now on, they'll simply be called SFUSD Arts Department.

"It is a very simple step we can take to just be referred to as the SFUSD Arts Department for families to better understand who we are," explained Sam Bass, Director of the SFUSD Arts Department.

In a letter, he explains that acronyms are a symptom of white supremacy culture.

"The use of so many acronyms within the educational field often tends to alienate those who may not speak English to understand the acronym," he added.

That's based on a 1999 paper written by author Tema Okun titled "White Supremacy Culture". Okun told me that, "Our culture perpetuates racism when things continue to be written down in a certain way."

But the San Francisco Unified School District uses so many acronyms on a daily basis that if you go to their website there's a section on how to find what their acronyms or abbreviations mean.
Worth reading in full.
Stop Press: Breitbart has a piece on the fallout from University of Leicester's decolonised curriculum, which has seen a Professor hand back her honorary doctorate, a letter of protest from the British Academy, and a call from the University and College Union for a vote of no confidence in the Vice-Chancellor.
Stop Press 2: On a similar note, the WSJ reports that over in the USA big business's support for the BLM protests and general wokery is costing them Republican support.
"Mask Exempt" Lanyards
We've created a one-stop shop down here for people who want to obtain a "Mask Exempt" lanyard/card – because wearing a mask causes them "severe distress", for instance. You can print out and laminate a fairly standard one for free here and the Government has instructions on how to download an official "Mask Exempt" notice to put on your phone here. And if you feel obliged to wear a mask but want to signal your disapproval of having to do so, you can get a "sexy world" mask with the Swedish flag on it here.
A reader has started a website that contains some useful guidance about how you can claim legal exemption. Another reader has created an Android app which displays "I am exempt from wearing a face mask" on your phone. Only 99p.
If you're a shop owner and you want to let your customers know you will not be insisting on face masks or asking them what their reasons for exemption are, you can download a friendly sign to stick in your window here.
And here's an excellent piece about the ineffectiveness of masks by a Roger W. Koops, who has a doctorate in organic chemistry. See also the Swiss Doctor's thorough review of the scientific evidence here and Prof Carl Heneghan and Dr Tom Jefferson's Spectator article about the Danish mask study here.
Stop Press: Masks have gone nuclear. Cambridge News carries the story of a company in the city that makes face masks using filtration technology designed by the Ministry of Defence for chemical, nuclear and biological warfare. They are doing rather well at the moment, providing masks to customers in 110 countries.
Stop Press 2: In guidance that seems designed to demonstrate that public health officials do not have much contact with regular life, some States in the U.S. require that masks be worn for high school basketball. Unsurprisingly, reports the Daily Herald, this is easier said than done.
Are masks on right? What experts, high school basketball coaches and players say

Daily Herald Preps, Twitter
The Great Barrington Declaration
The Great Barrington Declaration, a petition started by Professor Martin Kulldorff, Professor Sunetra Gupta and Professor Jay Bhattacharya calling for a strategy of "Focused Protection" (protect the elderly and the vulnerable and let everyone else get on with life), was launched in October and the lockdown zealots have been doing their best to discredit it ever since. If you googled it a week after launch, the top hits were three smear pieces from the Guardian, including: "Herd immunity letter signed by fake experts including 'Dr Johnny Bananas'." (Freddie Sayers at UnHerd warned us about this the day before it appeared.) On the bright side, Google UK has stopped shadow banning it, so the actual Declaration now tops the search results – and Toby's Spectator piece about the attempt to suppress it is among the top hits – although discussion of it has been censored by Reddit. The reason the zealots hate it, of course, is that it gives the lie to their claim that "the science" only supports their strategy. These three scientists are every bit as eminent – more eminent – than the pro-lockdown fanatics so expect no let up in the attacks. (Wikipedia has also done a smear job.)
You can find it here. Please sign it. Now over three quarters of a million signatures.
Update: The authors of the GBD have expanded the FAQs to deal with some of the arguments and smears that have been made against their proposal. Worth reading in full.
Update 2: Many of the signatories of the Great Barrington Declaration are involved with new UK anti-lockdown campaign Recovery. Find out more and join here.
Update 3: You can watch Sunetra Gupta set out the case for "Focused Protection" here and Jay Bhattacharya make it here.
Update 4: The three GBD authors plus Prof Carl Heneghan of CEBM have launched a new website collateralglobal.org, "a global repository for research into the collateral effects of the COVID-19 lockdown measures". Follow Collateral Global on Twitter here. Sign up to the newsletter here.
Judicial Reviews Against the Government
There are now so many legal cases being brought against the Government and its ministers we thought we'd include them all in one place down here.
The Simon Dolan case has now reached the end of the road. The current lead case is the Robin Tilbrook case which challenges whether the Lockdown Regulations are constitutional. You can read about that and contribute here.
Then there's John's Campaign which is focused specifically on care homes. Find out more about that here.
There's the GoodLawProject and Runnymede Trust's Judicial Review of the Government's award of lucrative PPE contracts to various private companies. You can find out more about that here and contribute to the crowdfunder here.
Scottish Church leaders from a range of Christian denominations have launched legal action, supported by the Christian Legal Centre against the Scottish Government's attempt to close churches in Scotland for the first time since the the Stuart kings in the 17th century. The church leaders emphasised it is a disproportionate step, and one which has serious implications for freedom of religion." Further information available here.
There's the class action lawsuit being brought by Dr Reiner Fuellmich and his team in various countries against "the manufacturers and sellers of the defective product, PCR tests". Dr Fuellmich explains the lawsuit in this video. Dr Fuellmich has also served cease and desist papers on Professor Christian Drosten, co-author of the Corman-Drosten paper which was the first and WHO-recommended PCR protocol for detection of SARS-CoV-2. That paper, which was pivotal to the roll out of mass PCR testing, was submitted to the journal Eurosurveillance on January 21st and accepted following peer review on January 22nd. The paper has been critically reviewed here by Pieter Borger and colleagues, who also submitted a retraction request, which was rejected in February. UPDATE: The retraction request has been rejected.
And last but not least there was the Free Speech Union's challenge to Ofcom over its 'coronavirus guidance'. A High Court judge refused permission for the FSU's judicial review on December 9th and the FSU has decided not to appeal the decision because Ofcom has conceded most of the points it was making. Check here for details.
Samaritans

If you are struggling to cope, please call Samaritans for free on 116 123 (UK and ROI), email jo@samaritans.org or visit the Samaritans website to find details of your nearest branch. Samaritans is available round the clock, every single day of the year, providing a safe place for anyone struggling to cope, whoever they are, however they feel, whatever life has done to them.
Shameless Begging Bit
Thanks as always to those of you who made a donation in the past 24 hours to pay for the upkeep of this site. Doing these daily updates is hard work (although we have help from lots of people, mainly in the form of readers sending us stories and links). If you feel like donating, please click here. And if you want to flag up any stories or links we should include in future updates, email us here. (Don't assume we'll pick them up in the comments.)
And Finally…