Government Extends Coronavirus Laws Without Telling Anyone
Christopher Hope reports in the Telegraph on the latest sneaky move by the Government.
The Government has quietly extended lockdown laws to give councils the power to close pubs, restaurants, shops and public spaces until July 17th this year.

The news will be a major setback for those hoping that life might have returned to normal by early summer once more people are vaccinated against coronavirus.

It comes after Boris Johnson admitted late last week that "it's too early to say when we'll be able to lift some of the restrictions".

The Government had pledged to review the lockdown measures in the middle of next month.

The changes to the Health Protection (Coronavirus, Restrictions) (England) (No.3) Regulations 2020 were made as part of a review of the third lockdown by Matt Hancock, the Health Secretary, earlier this month.

This law (originally introduced on July 18th last year) allows a local authority to close or limit access to premises or outdoor spaces in its area to prevent the spread of coronavirus, including stopping events.

The regulation, which applies to England only, was due to expire last week but has now been extended until July 17th, around the date when school summer holidays begin, as part of a slew of other measures.

Mark Harper, the chairman of the Coronavirus Recovery Group of Tory MPs which is campaigning against unnecessary restrictions, said: "The extension of councils' Covid powers until July will be of great concern to those worried about their jobs and businesses.

"Given the limited time allowed for debate this change in the law was little noticed."
It comes as Health Secretary Matt Hancock said in an interview on Sky News that we are a "long, long, long way off lifting lockdown restrictions". Three "long"s in a row will not give much reassurance to beleaguered businesses and an increasingly depressed public and will be confusing to those who heard him point out in his recent Downing Street briefing that the high-priority groups the Government is hoping to have vaccinated by mid-February account for 88% of all Covid deaths to date. This latest interview also contradicts what the Health Secretary said in an interview in the Spectator two weeks ago:
The goal is not to ensure that we vaccinate the whole population before that point, it is to vaccinate those who are vulnerable. Then that's the moment at which we can carefully start to lift the restrictions.
The Express has reported on some of the fighting talk of those in Parliament opposed to the restrictions:
The Prime Minister will be asking MPs to agree to the six month renewal of the Government's so-called Henry VIII emergency powers to be able to impose restrictions at will to tackle the pandemic. But already senior MPs in his own party have warned that significant numbers could vote against unless there are moves to end lockdown and revitalise the economy. Former cabinet minister Esther McVey, the founder of the powerful Blue Collar Conservatism Movement, said: "It is absolutely essential that once the most vulnerable groups have been vaccinated the Government start easing the lockdowns.

"These restrictions are doing huge damage to people's livelihoods and mental health in particular, and the Government must start to stand up to those siren voices who want lockdowns and restriction to become a near permanent feature of our lives.

"If the Government don't start making rapid headway in doing that it will be the duty of Parliament to remove these swingeing powers from them."

She also raised concerns over the way seemingly exaggerated estimates are being used to push public policy.

Previously there have been question marks over Professor Neil Ferguson's claims that 500,000 would die of COVID-19 which initiated the first lockdown and then the claims by Professor Chris Whitty and Sir Patrick Vallance in the late autumn of 5,000 infections a day which preceded the second lockdown.

Ms McVey argued that the concerns are highlighted in a written answer on prisoner deaths.

At the start of the pandemic the Government was pushed to have a mass early release of prisoners because thousands would be killed by coronavirus.

Ministers eventually resisted the calls and a written answer has revealed that just 47 died of the disease.

Ms McVey said: "There is no better example of the scaremongering to drive Government policy they wanted to see from the so-called experts than the predictions on prisoner deaths.

"I appreciate that these estimates aren't an exact science but the difference between a prediction of 2700 to the reality of 47 is embarrassing to say the least, and shows why the Government must not hand over total policy control to the scientists who are clearly not infallible with their predictions."
Sir Desmond Swayne MP also weighed in:
He said: "It seems to me that Boris has been completely taken over. He's completely given over to these people and as a consequence there's a complete lack of any sense of urgency on the need to lift restrictions."

Sir Desmond is gravely concerned by speculation the hospitality industry could still be shuttered in June.

He said: "The notion there will be any industry left in June is barking. What we've seen is the most extraordinary mission creep.

"Remember, the issue was to protect the NHS, stop the NHS being overwhelmed by hospital admissions. Clearly, as we vaccinate that proportion of the population most likely to be hospitalised were they to be infected, that risk of the NHS being overwhelmed diminishes.

"They should be planning now at what stage they will lift the restrictions. At what proportion of the most vulnerable being vaccinated will the risk be acceptable?

"That's the sort of thing they ought to be taking us into their confidence [about] and debating in public now. But what we're getting is this mission creep."
Stop Press: The Spectator has commissioned a poll that has returned alarming results:
A new poll for Coffee House by Redfield and Wilton – with a sample size of 2,000 – saw the public quizzed on the current lockdown, restrictions and vaccines. For now, there appears to be majority support for the current Government restrictions with 62% saying the restrictions are more helpful than harmful to society, compared to 24% who think they are more harmful than helpful.

Although Boris Johnson insisted again this week that lockdown measures will be looked at in mid-February to see whether they can be eased, few expect them to be. Only 25% think the current level of restrictions will be relaxed within a month from now. Overall, 70% think the current level of restrictions will be relaxed within three months from now. As for how many people need to be vaccinated before there can be a substantial easing, both the Prime Minister and Matt Hancock have suggested that decision is a matter for debate – one the country should have before making any firm decisions. The poll suggests there is as of yet no clear consensus. When surveyed on when the lockdown should end, 21% say it should end as soon as those over the age of 70 have been vaccinated, 32% think it should end when those over the age of 50 have been vaccinated, while 38% said the current lockdown should only end when the vast majority of the entire population has been vaccinated. On the question of when all non-travel related restrictions should go, a majority – 61% – agreed they should end only once enough vaccinations have been given to the general population. However, 39% think they should end sooner – once enough vaccinations have been given to the vulnerable population.
Pretty depressing, although it's good to know 24% of those polled agreed with the main contention of lockdown sceptics, namely, that the restrictions cause more harm than good.
Stop Press 2: The Daily Mail reports, Boris Johnson will soon be announcing a draconian new Australia-style quarantine system for all arrivals to the country.
British holidaymakers returning home won't escape an order to quarantine in airport hotels – signalling the death knell for summer getaways.

Ministers are finalising plans to force travellers to isolate for 10 days as soon as they enter Britain, with details to be decided tomorrow.

Boris Johnson had wanted to exempt British residents and only target those arriving from places where new strains of the virus have been detected.

But Cabinet sources last night said they expect the Prime Minister to sign off on a comprehensive proposal – modelled on Australia – that will see all arrivals sent to airport hotels, regardless of their nationality and where they have come from.

It means people who live in Britain will face having to pay extra, on top of the cost of their trip, to spend their quarantine period in a hotel patrolled by security guards.

Any new restrictions would be a further blow to the beleaguered travel industry – and could spark chaos at airports already battling through new arrivals checks.
Children's Mental Health Continues to Deteriorate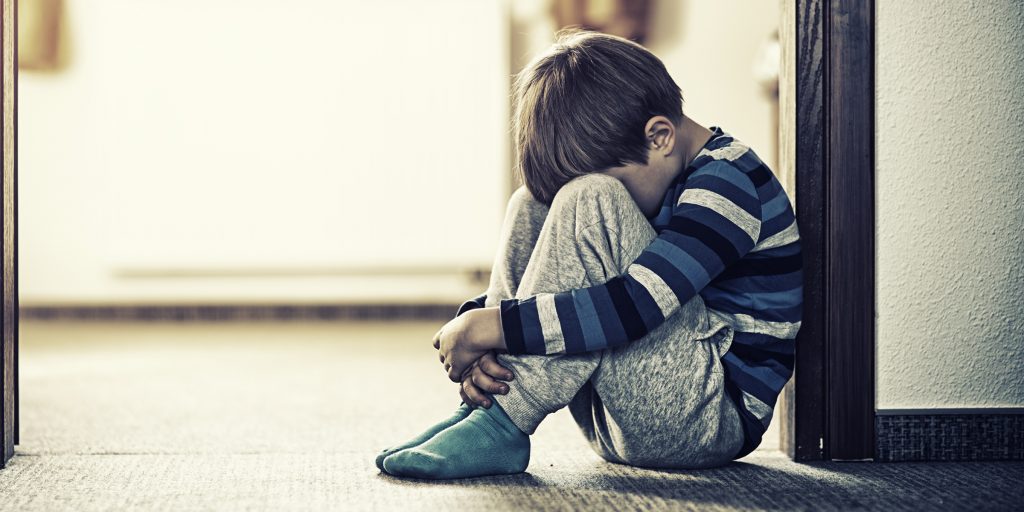 There are recent reports from both sides of the pond that young people are starting to suffer badly from the suspension of their normal lives. In the UK, Camilla Turner, Education Editor at the Telegraph, reports:
The number of children admitted to hospital for mental health reasons now outstrips those with medical conditions, a leading paediatrician has said.

Professor Russell Viner, President of the Royal College of Paediatrics and Child Health, said this is a phenomenon that paediatricians have seen across the UK since the start of the pandemic.

He was addressing MPs at the Education Select Committee which was hearing evidence on the science behind school closures.

It comes after a survey by the Prince's Trust found that one in four young people feels unable to cope with life and that crisis has taken a "devastating toll" on teenagers and young adults.

Prof Viner was asked by Dr Caroline Johnson, a Tory MP and practising consultant paediatrician, whether more children were now being admitted to hospital for mental health reasons than physical ailments.

She said: "On a recent shift that I did at hospital, there were more acutely unwell children admitted for mental health presentations than there were acutely medically unwell children. Is that an unusual pattern or is that a pattern that you are seeing in other parts of the country too?"

Prof Viner, who is a Professor of Adolescent Health at University College London's Institute of Child Health, replied: "Yes, that is absolutely a pattern that our paediatricians around the country have told us about since the beginning of the pandemic."
Worth reading in full.
Meanwhile in the USA, Erica L. Green reports in the New York Times that growing fears for the wellbeing of youngsters in Las Vegas is forcing a change of tack on school closures.
The reminders of pandemic-driven suffering among students in Clark County, NV, have come in droves.

Since schools shut their doors in March, an early-warning system that monitors students' mental health episodes has sent more than 3,100 alerts to district officials, raising alarms about suicidal thoughts, possible self-harm or cries for care. By December, 18 students had taken their own lives.

The spate of student suicides in and around Las Vegas has pushed the Clark County district, the nation's fifth largest, toward bringing students back as quickly as possible. This month, the school board gave the green light to phase in the return of some elementary school grades and groups of struggling students even as greater Las Vegas continues to post huge numbers of coronavirus cases and deaths.

Superintendents across the nation are weighing the benefit of in-person education against the cost of public health, watching teachers and staff become sick and, in some cases, die, but also seeing the psychological and academic toll that school closings are having on children nearly a year in. The risk of student suicides has quietly stirred many district leaders, leading some, like the State Superintendent in Arizona, to cite that fear in public pleas to help mitigate the virus' spread.

In Clark County, it forced the Superintendent's hand.

"When we started to see the uptick in children taking their lives, we knew it wasn't just the Covid numbers we need to look at anymore," said Jesus Jara, the Clark County Superintendent. "We have to find a way to put our hands on our kids, to see them, to look at them. They've got to start seeing some movement, some hope."

Adolescent suicide during the pandemic cannot conclusively be linked to school closures; national data on suicides in 2020 have yet to be compiled. One study from the Centers for Disease Control and Prevention showed that the percentage of youth emergency room visits that were for mental health reasons had risen during the pandemic. The actual number of those visits fell, though researchers noted that many people were avoiding hospitals that were dealing with the crush of coronavirus patients. And a compilation of emergency calls in more than 40 states among all age groups showed increased numbers related to mental health.

Even in normal circumstances, suicides are impulsive, unpredictable and difficult to ascribe to specific causes. The pandemic has created conditions unlike anything mental health professionals have seen before, making causation that much more difficult to determine.

But Greta Massetti, who studies the effects of violence and trauma on children at the CDC, said there was "definitely reason to be concerned because it makes conceptual sense". Millions of children had relied on schools for mental health services that have now been restricted, she noted.

In Clark County, 18 suicides over nine months of closure is double the nine the district had the entire previous year, Dr. Jara said. Six students died by suicide between March 16th and June 30th; 12 students died by suicide between July 1st and December 31st, the district said.

One student left a note saying he had nothing to look forward to. The youngest student Dr. Jara has lost to suicide was nine.

"I feel responsible," Dr. Jara said. "They're all my kids."
Worth reading in full.
Stop Press: The Guardian reports that the Government won't even commit to opening schools after the Easter holidays – maddening news for families with children of school age.
The Government has refused to commit to schools being open even after the Easter holidays, raising the prospect that parents will have many more weeks of homeschooling before even a phased return of most pupils to the classroom in England.

A senior Government source cautioned that although the data was starting to show signs of a slowing of infections, rates were not falling nearly as sharply as had been expected. The source said the picture had become "more pessimistic" over the past week about the Government's ability to ease any measures in the short term.

Discussions are under way in the Department for Education to decide which pupils could be prioritised, with early years and those facing exams in the summer among those who could be brought back first. Attendance rotas could also be introduced to keep numbers down in schools, but allow for more face-to-face teaching.

The chair of the education select committee expressed dismay at the delay, urging ministers to put "the whole engine of the state" behind paving the way for schools to reopen.
Stop Press 2: The UK Government has 'sponsored' this piece in the Daily Mail attempting to reassure parents that "thanks to tireless teachers, the youngsters will be fine". Oh really? Worth remembering that Ofsted found the closure of schools during the first lockdown had a negative effect on many children's learning.
Stop Press 3: Historian Neil Oliver spoke in his regular interview slot with Mike Graham on talkRADIO about the worrying things he is beginning to hear from his children's peer group.
A Response to Christopher Snowdon
As promised in yesterday's Lockdown Sceptics, we are today publishing an excellent article by Nigel Alphonso, a business consultant, entitled "To Move The Lockdown Debate Forward We Need More Honesty". The article is a response to Christopher Snowdon's "Rise of the Coronavirus Cranks" piece in Quillette. Here is an extract:
On January 16th, an article appeared in the online magazine Quillette by Christopher Snowdon from the IEA, a right of centre think tank. The article purported to demolish the claims of a particular variant of 'lockdown sceptics' and as a result has garnered widespread praise including from Toby Young who tweeted that it was a thoughtful piece which sceptics needed to address. I respectfully disagree. The article was disingenuous – not in respect of what it said but in respect of its omissions and its failure to frame the argument within a judicious lockdown/anti-lockdown framework. This is not intended as an attack on Mr Snowdon per se but the criticism I make touches on the wider failure of the libertarian, left of centre and conservative movements to counter the lockdown arguments and the failure of the lockdown sceptics' movement to achieve any penetration with the wider public. This essay is not primarily about the merits of lockdown or the technicalities of the data but about the intellectual honesty of some of the main protagonists on both sides of the argument.

First to the article itself entitled "Rise of the Coronavirus Cranks." Mr Snowdon is at liberty to write whichever article he chooses. However, his article might more appropriately have been entitled "My problem with Ivor Cummins and Mike Yeadon" or "My problem with social media Covid deniers" as it seems the bulk of his article focused on a detailed rebuttal of claims made by these two individuals and by extension those he categorises as "Covid deniers". While he states from the outset that he wishes to focus on "the most extreme variant of lockdown scepticism", he proceeds to argue on the basis that this "extreme variant" as he puts it is paradoxically the dominant form of scepticism as exemplified by the twitter/social media world he inhabits. If that was not Mr Snowdon's intention then I accept any inadvertent omission on his part. Unfortunately his article will have been seized upon by all lockdown advocates as being evidence of the general 'crankiness' and eccentricity of the lockdown sceptics' cause. Nor sadly am I convinced that the subtle and nuanced conflating of multiple variants of lockdown-scepticism was entirely innocent – not just on the part of Mr Snowdon, but by multiple other commentators who have sought to attack lockdown sceptics.

Conveniently Snowdon (like Alistair Haimes – another manqué sceptic) positions himself as a "centrist" and spends the opening paragraph reinforcing his credentials in direct contradistinction to the lockdown "junkies" such as (in his estimation) Piers Morgan or the members of Independent Sage. Therein lies the issue with both the lockdown converts such as Snowdon as well as some lockdowns sceptics. Up until the early autumn, one could have been forgiven for thinking that Snowdon was an arch lockdown-sceptic. His myriad articles, podcasts, twitter pronouncements and attacks on the likes of Morgan, Sam Bowman et al, often in the most mocking and vitriolic terms, established him firmly in that camp. If he has changed his mind – so be it. I would fully respect that position as I do those who are clear and unambiguous supporters of lockdown. However, it is mistaken to think that a form of exalted centrism exists in this debate. On one side are those who believe that lockdowns save lives and that the moral imperative is to curtail liberty in the most draconian way in order to achieve that objective. On the other is the belief that lockdown itself is a grotesque invasion of individual liberty which does far greater harm than good and does not meet any public health test of efficacy.

Snowdon, despite his sceptical foundations, is it seems clearly in the former camp. He states explicitly that lockdown "will prevent tens of thousands of people dying this winter". Leaving aside the veracity of this claim, Snowdon in that one sentence accepts the central argument of the lockdown advocates. The roll-out of the vaccine does not alter that argument although it acts as a useful pretext for those who have moved to the lockdown side. No amount of "centrist" plea bargaining can void the fact that Snowdon has switched sides. In that sense (and to the extent that he has supported two out of the three lockdowns) he is far closer to Piers Morgan than he is to any lockdown sceptic. Moreover, if one is in the lockdown camp, Snowdon's frequent acerbic critiques against the mainstream media for constantly demanding more lockdowns, deeper lockdowns and sooner lockdowns seem misplaced and ill-judged. If one believes that lockdowns save lives then the logical critique of the UK Government must be that we failed to lockdown expeditiously, that when we locked down the rules were not stringent enough, that the messaging was unclear and that we emerged from it too quickly. Despite the increasing evidence (see the recent study by John Ioannidis et al of Stanford) of the futility of lockdowns in respect of pandemic control, one cannot doubt that if one believes in the central argument about saving lives and protecting the health service, then the mainstream media and academic critique of the Government has an ineluctable logic.
Worth reading in full.
Nothing So Permanent…
We are publishing another original piece today by Angus McIntosh entitled "Temporary Government Programmes" which raises the alarm about the eagerness with which the authorities have leapt on the pandemic as an reason to curtail our liberty. He is concerned that some of the rights that have been "temporarily" suspended may never be restored to us. Here is an excerpt:
Let us take a moment to look beyond the current turmoil of the pandemic and the ensuing policy chaos and to consider its possible legacy.

At this point we are struggling to cope with the tide of misery which Covid and the lockdowns have created. But eventually, through a combination of spring weather, natural immunity and the vaccine, the virus will subside to the point where we could start to live with it as a normal part of the disease landscape.

It may then take a decade or more to recover from its terrible toll of death, depression and poverty and this is tragedy enough. But potentially even more damaging for our long-term future are the lasting shifts in attitudes which the virus may leave behind.

These will be many and complex, but there are three which are particularly likely:

1. Permanently lowered public tolerance for life's normal risks and challenges.

2. Increased popular willingness to sacrifice freedoms in pursuit of safety.

3. Greater tendency for authorities of all kinds to exploit the above.

The first two of these malign legacies represent acceleration of existing trends, rather than completely new phenomena. But the third is undergoing more of a revolution.

Anyone who doubts that we have taught certain policymakers an unexpected but welcome lesson need only look at Professor Neil Ferguson's now-infamous Times interview in which he said, referring to China: "It's a communist one-party state, we said. We couldn't get away with it in Europe, we thought…and then Italy did it. And we realised we could."

This insight has allowed Ferguson and other advisors to promote control of the virus above every other consideration and to keep it there.

When governments take control of a new aspect of our lives, they assume permanent accountability for it in the public and media mind. They know that they are far more likely to be called to account for any negative consequences of later relaxation than they are to be praised for its benefits. That's why new interventions are very rarely eased, even by those who opposed them in the first place.
Worth reading in full.
Sobering Briefing From a Senior Doctor
A reader has drawn our attention to this video of a briefing by Dr Alasdair Emslie, a senior doctor at at a private healthcare provider. It's long and detailed, and although Emslie comes across as no lockdown sceptic, it contains plenty of interesting information. Our contributor comments:
It's fantastically sober, blunt, clear, and makes some key points. I believe Lockdown Sceptics' future has to be the balanced voice of reason and to push party apparatchiks like Neil O'Brien to the side rather than bother with attacking back directly. This video has no bullshit politics or bullshit data or SAGE panic-stricken scientists, or idiotic BBC journalists. I found it fascinating and for the first time I understand where we are. Key moments in the video:

– Starts out by not pulling any punches about how badly Britain has done mortality-wise.

– 2m 08s – Points out that when he started as a doctor there were 300,000 beds in the NHS. Now there are 130,000.

– 13m 00s – The elderly are not being admitted to ICU because they are being judged as not likely to survive

– 34m 25s – Key slide where he shows that the reason for current high deaths is that 85+ victims are being triaged not to go into ICU; they are just being given palliative care and left to die (one up for Lord Sumption and 'nul points' for those who think everyone gets the same deal on admission). That's why despite so relatively few confirmed cases in that group, they are dominating deaths. Hence ICU is full of 45-64s and until that group is vaccinated the hospital crises will remain and therefore all the lockdown and other precautions are going to have to stay in place essentially until the autumn. The trade-off the Government has made has been to vaccinate those aged 65 and over first, in the hope of reducing overall Covid mortality, but at the cost of not doing as much as they could to relieve the pressure on the NHS. This really clarifies how deaths and ICUs are not in fact directly related. Elsewhere he talks about the necessity of vaccinating workers who have been hugely disproportionately affected – no use in crying over spilt milk, but that's where we are.

– 40m 00s – He really lays it on thick about the mental health fallout: "this is going to be a major problem" for several years "particularly affecting the young".

– 44m 5s – Summarises his key points which starts with the totally unsentimental assertion that Covid is here forever, we will never get rid of it. That tells me, as we all already knew, that anyone foolish enough to be promoting the idea that we can have zero Covid is genuinely irresponsible or stupid.
Worth watching in full.
Labour's Loony 'Zero Covid Now' Group Addressed by Jeremy Corbyn
Following neatly on from the comments above, a campaign entitled Zero Covid Now, which describes itself as "jointly convened by Diane Abbot MP and the Morning Star" has held a video meeting which was hosted by Bell Ribeiro-Addy MP and included addresses by Richard Burgon MP, Professor Robert West from Independent Sage, Richard Horton of the Lancet, various other figures from trade unions and Jeremy Corbyn MP.
Unsurprisingly, there were a number of highly debatable remarks made, of which the first was only seconds in, when Rebeiro-Addy declared that the UK was headed for the "worst death toll in the world" (deaths in the US currently stand at 417,000) and that the virus could be "stopped in its tracks" while simultaneously protecting lives and livelihoods.
Noticeably absent from the line-up of people apparently seriously suggesting that a seasonal respiratory virus which is now endemic can be completely eradicated was anyone who did not have a safe public sector job.
Ben Chacko, editor of the hard-left Morning Star, was the only contributor to say anything sensible: "Our Government has shown no inclination to learn from other countries that have dealt more successfully with Covid than we have and unfortunately most of the media give them a free pass."
Hear hear, Ben!
The meeting can be viewed in full here, if you can bear it.
"After My Mum Was Taken Away in an Ambulance, She Disappeared into the System."
A reader has sent in this distressing account of an ongoing situation involving communication problems with the hospital where his seriously ill mother is being treated:
Over a week ago my mother, in her mid 60s, was taken to hospital in Norfolk with a mystery affliction. Something similar to stroke or another neurological disorder. The situation looked extremely serious with her unable to eat or speak. As I do not live anywhere near her I have been relying on updates from my much younger sister and brother, who live up there with their dad. My grandad, who is 89, is obviously very worried and as he is down south with me he is reliant on updates from my sister, or me.

Initially things seemed to be being dealt with well. As usual the paramedics were excellent and they did not hesitate to take her in. This is where the problems started. The hospital (which I will not name) has a total ban on any visitors, which on the surface sounds reasonable and inevitable. They offered updates by telephone, and numbers for the main switchboard and her ward were given so that we could call in for updates.

However, last week the wheels seemed to come off. For an entire three day period the hospital would not answer the phone. When we called the main switchboard they would transfer the call, only for it to be cut off, and the ward number wasn't answered at all. Bearing in mind this was near the beginning of the investigation, with tests being apparently carried out on on a regular basis, you can imagine the intolerable worry this total blackout caused to my family, particularly her other children and my grandad. Eventually they did respond, and the diagnosis was still inconclusive, but pretty much no reason was given for not answering the phone to worried family. Things returned to some sense of normality for a few days, but two days ago we were told she had been moved to a different ward as she had contracted Covid (in hospital – sigh) but no further details were given. That was the last we have heard for two days now despite repeated calls. We don't even know what ward she is actually on. I gather that she has no Covid symptoms (she could have been pre-symptomatic) but her status remains very serious with respect to her other condition.

Without getting into the whys and wherefores of whether any of the current Government measures are proportionate to the virus, the total ban on visitors even for the most seriously ill patients, or the fact that she caught Covid in hospital, I am absolutely furious and shocked that a hospital would not think it crucially important to keep the family informed, especially in a case this serious. Can your readers imagine the absolute horror of relatives who have seen someone into an ambulance, only for them to effectively disappear into the system and have no way to find out if they are okay? I'm certain this cannot be an isolated incident. I understand the NHS is busy, and even if they are much busier than usual for this time of year, there has not been a natural disaster or a war causing mass casualties, and so I do not think it unreasonable for us to expect updates to be given. This pandemic has done nothing to improve my view of the state of the NHS as a whole and this particular incident has shown a lack of basic humanity that has really shocked me.
Magna Carta-Quoting Hairdresser to Reopen Salon
The Daily Mail reports that Sinead Quinn, the owner of Quinn Blakey, a West Yorkshire hair salon which clocked up eye-watering fines for defying orders to close last year, as we reported at the time, is planning to flout the regulations again:
A salon owner who racked up £17,000 in fines by staying open during last year's second national lockdown has indicated she plans to reopen next week.

Sinead Quinn, owner of Quinn Blakey Hairdressing, Oakenshaw, near Bradford, has suggested the salon will reopen for on January 30th on a day dubbed 'The Great Reopening'.

Ms Quinn hit headlines in November after she repeatedly cited the Magna Carta when police officers insisted she close her business during the second national lockdown.

The salon wracked up £17,000 worth of fixed penalty fines and magistrates ordered its closure for the final two days of the lockdown "to prevent nuisance to members of the public and to safeguard public health".

Earlier this month, Kirklees Council confirmed none of the fixed penalties had been paid and it had started a prosecution process.

One Instagram comment from the salon said: "We're all opening regardless of lockdown. They can't control us all when we stand up to them."

In a separate post shared two days ago, the comment stated: "When is lockdown meant to end? Feb?

"In February you can bet your life savings that COVID-21 will be here and so will your lockdown.

"I'd like you to sit back and watch it all play out but we're running out of time."
Quinn's GoFundMe page is still active and she has indicated that in the event of winning her case, the funds will be donated to support her brother who is battling cancer.
New Petition to End Restrictions
A petition with an ambitious goal has been started on the Government's online portal by David Tyler.
The Department of Health and Social Care has already issued a response to the petition, since it has passed 20,000 signatures, but it makes for predictable reading, regurgitating the Government's standard line on the matter.
View and sign the petition here.
Look These People in the Eyes
Yesterday we included a reader's disappointed response to the Government's latest fear-mongering PR campaign, featuring a series of emotive images bearing the words "look them in the eyes". Predictably, these have inspired a slew of new versions which have been doing the rounds on social media, taking the opposing view. We thought we'd include a few:
Stop Press: The Express has reported that a group of psychologist have written to the their professional body objecting to the Government's use of fear tactics. We flagged up this letter in Lockdown Sceptics on December 15th, asking for psychologists to contact the organiser if they wanted to sign. Looks like many did.
The Government has been accused of using covert strategies to keep people in a perpetual state of heightened fear to make them obey COVID-19 restrictions.

A group of 47 psychologists has claimed this amounts to a strategic decision "to inflate the fear levels of the British public", which it states is "ethically murky" and has left people too afraid to leave their homes for medical appointments. Led by former NHS consultant psychologist Dr Gary Sidley, the experts have written to the British Psychological Society (BPS) claiming the strategy is "morally questionable".

In response the Government has vehemently denied using covert techniques, saying its public information campaigns have been "transparent" and necessary to set out "clear instructions" on how the spread of the virus can be delayed.

It has admitted to communicating public information campaigns 17 per week on average during the peak of the pandemic in order to reach an estimated 95% of adults.

The criticism follows evidence from minutes of the Government advisory group SAGE of March 22nd 2020 which stated: "The perceived level of personal threat needs to be increased among those who are complacent" by "using hard hitting emotional messaging".

Dr Sidley said: "It is clear from the methods that are now being used that the Government has taken on this advice. Just because the Government is explicit in its messaging, however, it does not mean this is not having an impact covertly. It is the way this is communicated that we are concerned about. Psychologists know that while the content of messaging might be factual, the way in which it is delivered will determine its impact and we believe the biggest impact is at a subconscious level which we do not think is ethical or healthy for people. We believe inflating fear levels to achieve compliance may be doing more harm than good."
Stop Press 2: A reader has spotted a particularly misleading Government ad.
I doubt I'm the first to send you this ad, which makes the ludicrous assertion that a THIRD of people are spreading COVID-19 asymptomatically. Attached is a photo of the ad that appeared on page 16 of the i newspaper on January 20th and on the back cover of the following day's edition.

Obviously the wording should read "Around 1 in 3 people who have the virus have no COVID-19 symptoms….etc." Missing out those words can hardly be a silly mistake, given the presumed oversight of 40-plus professors on the SPI-B nudge group.

Thanks for the link to the Advertising Standards Agency coronavirus reporting form on Lockdown Sceptics. I've submitted this one.

Perhaps significantly, Google turns up only a single example of this version of the ad if one does an online search – a nearly illegible 250x300px image of it on the site of the Orkney Islands weekly paper. Drive-by scaremongering that leaves no trace behind…
Sceptics Under Fire
Following on from our report yesterday about the new website "Antivirus: The COVID-19 FAQ" set up by Neil O'Brien MP amongst others, which attempts to refute sceptics' arguments as well as compiling a list of those they consider the most egregious purveyors of wrongthink, we have received a good number of responses from readers.
One argued that since prominent lockdown sceptics are being taken to task over relatively minor errors, perhaps the same standard could be applied to the WHO:
Just a reminder of when this mess started: WHO Director General's briefing on March 3rd 2020.

Four things they got catastrophically wrong:

1. "First, COVID-19 does not transmit as efficiently as influenza, from the data we have so far."

2. "While many people globally have built up immunity to seasonal flu strains, COVID-19 is a new virus to which no one has immunity. That means more people are susceptible to infection, and some will suffer severe disease. Globally, about 3.4% of reported COVID-19 cases have died. By comparison, seasonal flu generally kills far fewer than 1% of those infected."

3. "Third, we have vaccines and therapeutics for seasonal flu, but at the moment there is no vaccine and no specific treatment for COVID-19. However, clinical trials of therapeutics are now being done, and more than 20 vaccines are in development."

4. "And fourth, we don't even talk about containment for seasonal flu – it's just not possible. But it is possible for COVID-19. We don't do contact tracing for seasonal flu – but countries should do it for COVID-19, because it will prevent infections and save lives. Containment is possible. To summarize, COVID-19 spreads less efficiently than flu, transmission does not appear to be driven by people who are not sick, it causes more severe illness than flu, there are not yet any vaccines or therapeutics, and it can be contained – which is why we must do everything we can to contain it. That's why WHO recommends a comprehensive approach."

I'm sure we've all got things wrong, but each of these points are amongst the biggest errors of the century so far.
Another points out the strange misapprehension by the authors of the website of the amount of influence sceptics have had:
I've been perusing the site and a couple of things are striking. Firstly, the currently popular charge that dissent is "dangerous" gets an outing as early as the fourth paragraph. Apparently, such ideas could lead to individuals "or entire countries" deciding to take fewer precautions. As several nations actually have taken less rigid measures (with not noticeably worse outcomes) this raises the hitherto unexplored possibility that Alexander Lukashenko wakes up every morning listening to Julia Hartley-Brewer or that Anders Tegnell developed his ideas on epidemiology at the American Institute For Economic Research.

The idea that the people the site seeks to "expose" have been "very prominent and influential during the pandemic" is exactly the kind of misinformation the authors claims it exists to counter. Tragically, lockdown scepticism has barely encroached on our Government's thinking since the Prime Minister first read Neil Ferguson's prophecies of doom in March. It may make a tiny amount of sense to say broadcasters in Malmö or Minsk have created a relaxed attitude to the pandemic, but to survey Britain's landscape of closed pubs, darkened restaurants and broken people and conclude that Whitehall mandarins listen to too much talkRADIO borders on madness.

In reality, the site is little more than an elongated tweet. A primal scream from the entitled "expert" who spends most of their time in quiet fury at the fact that somebody, somewhere does not agree with them. It's not so much information for the readers as therapy for the writers. One wonders why it even needs to exist given the grip lockdown fanaticism seems to hold on both Government and the alleged opposition. It may be interesting to see how the site's authors assign blame if figures deteriorate in the coming weeks. You can guarantee they won't be finding anything wrong with the policy itself.

Finally, one thing did amuse me. The FAQ kindly explains that they have received no funding for the website and it was paid for "out of our own pockets". Given how cheap it looks, it had never occurred to me that anyone with a PR budget might be behind this. But now that they brought it up, I can't stop wondering who is really paying the bills! They'd probably say I'm a "funding sceptic". Or is it "altruism denier"?
Another reader points out accusing the sceptics of getting the Infection Fatality Rate wrong is a little hypocritical:
My comment relates to the IFR of COVID-19 and the difficulty of putting an exact figure on it. Imperial College produced this report back in October to which Obersturmbannführer Ferguson was a contributor, which demonstrates the dilemma.

It seems pretty pointless to make an issue about something so vague and mercurial when not even the great man himself can find a definite number. Whichever way you cut the cards, it has an extremely low fatality rate which gets lower all the time as treatments improve.

I'm sure Neil O'Brien et al are avid members of the Ferguson cult so you'd think they'd know this.
This reader points to double standards with peer-reviewed studies:
Looking at the website of Neil O'Brien and co, my first thought was "where to start?" There is so much choice.

I thought I'd begin by having a look at the dying "with Covid" not "of Covid" section:

I looked at point 3: "Covid isn't just killing people who were otherwise close to death." I clicked on this link to the University of Glasgow study which O'Brien and his cohorts present as suggesting that people who died of Covid typically had over a decade to live.

The Glasgow study was funded by grants from the Wellcome Trust and Medical Research Council. The study is old, having been published ​on April 23rd 2020 and it has not been revised since then. The study involves modelling based on standard World Health Organisation life tables. The report was made available for open peer review and has received three reviews. One peer reviewer, based in the US, approved it. The other two reviewers, based in the UK, did not approve it.

One of the UK peer reviewers nails one of the study's key problems with this comment:

"The YLL (years of life lost) figure just doesn't seem to sit with observed reality. I realise this is a modelling study, but it would be nice to compare your findings to what we have actually observed. For example, what is the average age of death expected from your model compared to observed COVID age of death?"
And lastly for today (although keep emailing us your criticisms, putting "Antivirus" in the subject line):
The Anti-Virus website is a treasure trove of selective quotations and misdirection, but one quote neatly illustrated the fact that with lockdown believers it is "heads I win, tails you lose". On the page for Cases Were Falling Anyway they include the following final point:

A published paper seeks to argue that restrictions have not worked, but contains a glaring flaw. A paper that appeared in January 2021, co-authored by John Ioannidis, looked at the correlation between restrictive measures introduced by government and the number of cases. Ioannidis and his colleagues found that some lockdown restrictions were even correlated with higher growth in coronavirus cases. This should have been a warning of an obvious flaw – which is that case growth and restrictions are endogenous – in other words, governments have brought in tighter restrictions when cases are higher. The argument of the paper is like arguing that "people in hospital are more likely to have heart disease; therefore hospitals cause heart disease".

A translation into English? "Our contention is that when lockdowns are imposed and cases fall then the fall is entirely down to lockdowns and no other factors. However, in documented cases where lockdowns are imposed and cases rise then.. mumble, mumble… not strict enough… mumble".

They are saying in effect that if there was a perfect positive correlation between infection rates and lockdown severity it would be proof of an ideal government response, rather than a policy that had no effect.

I have to concede however that the same page included the knockout argument (point 5) that scientists from Imperial College have posted a report on their website that lockdowns work exactly as intended. They neglected to mention who the lead author was…
Stop Press: Toby had a letter published in the Sunday Times yesterday responding to Dominic Lawson's attack the previous week.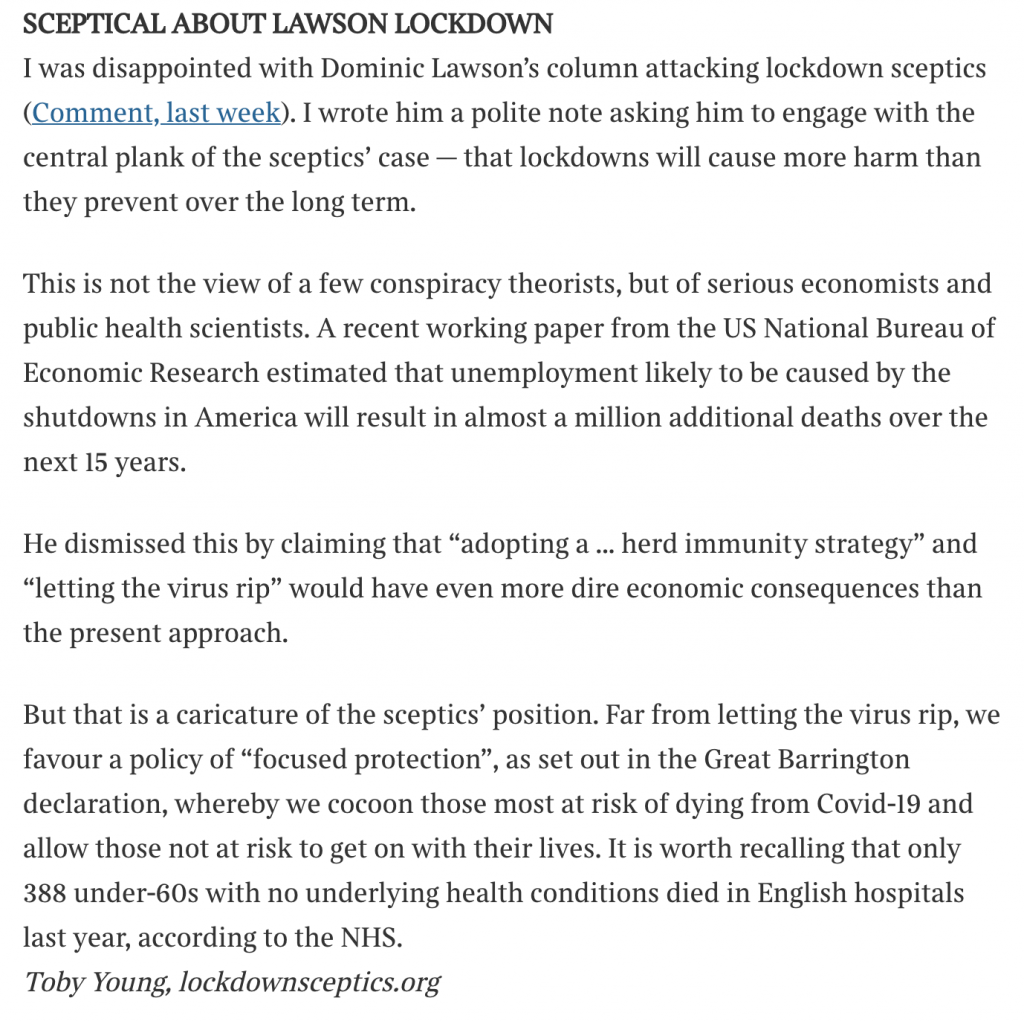 Stop Press 2: We've decided to regularly include some of the best pieces endorsing the Government's lockdown strategy, inspired by J.S. Mill's famous line: "He who knows only his own side of the case knows little of that."
Today, we're kicking off with Sam Bowman's piece in the New Statesman: "The eight biggest Covid-sceptic myths – and why they're wrong."
If readers encounter any particularly good arguments from the other side, please do send them to us and we'll flag them up.
Round-up
Theme Tunes Suggested by Readers
Six today: "Strange Days" by The Doors, "I Shall Be Released" by the Flying Burrito Brothers, "The Last Time" by the Rolling Stones, "Hard Time Killin' Floor Blues" by Skip James, "A Change is Gonna Come" by Sam Cooke, and "If You're Looking for a Way Out" by Odyssey.
Love in the Time of Covid
We have created some Lockdown Sceptics Forums, including a dating forum called "Love in a Covid Climate" that has attracted a bit of attention. We have a team of moderators in place to remove spam and deal with the trolls, but sometimes it takes a little while so please bear with us. You have to register to use the Forums as well as post comments below the line, but that should just be a one-time thing. Any problems, email the Lockdown Sceptics webmaster Ian Rons here.
Sharing Stories
Some of you have asked how to link to particular stories on Lockdown Sceptics so you can share it. To do that, click on the headline of a particular story and a link symbol will appear on the right-hand side of the headline. Click on the link and the URL of your page will switch to the URL of that particular story. You can then copy that URL and either email it to your friends or post it on social media. Please do share the stories.
Social Media Accounts
You can follow Lockdown Sceptics on our social media accounts which are updated throughout the day. To follow us on Facebook, click here; to follow us on Twitter, click here; to follow us on Instagram, click here; to follow us on Parler, click here; and to follow us on MeWe, click here.
Woke Gobbledegook
We've decided to create a permanent slot down here for woke gobbledegook. Today, the shadow Foreign Secretary Lisa Nandy MP has become embroiled in a row over her endorsement of a pamphlet that called for the Army to be replaced with a "gender balanced and ethnically diverse" peace force. Sort of like Star Fleet. The Sun has more:
The shadow Foreign Secretary denied she backed a left-wing policy pamphlet – that the Sun can reveal also called for Britain's nuclear subs to be "reconsidered".

She told the BBC it was "complete and utter rubbish" that she had "applauded" the loony left wish list.

But she was left red-faced when a recording of a Zoom call emerged where she said: "One of the things that I found really inspirational about this pamphlet is that I think it's based on the belief that I also share that while we learn from the past we are never bound to it and we have to build a foreign policy fit for this century."

The introduction to Open Labour's policy document "A Progressive Foreign Policy for New Times" said it was time to "reconsider" Trident.

It also says Britain should: "Consider a real shift in the nature of our services from classic armed forces to what one might call human security services which would include the military but would also include police, engineers, aid workers, or health workers and would be gender balanced and ethnically diverse."

"Their central task would be to protect human security and in cases of war to dampen down violence rather than intervene on one side or the other."
Worth reading in full.
Stop Press: Lawrence Fox was unimpressed by Lisa Nandy's plans for a new peace force.
"Mask Exempt" Lanyards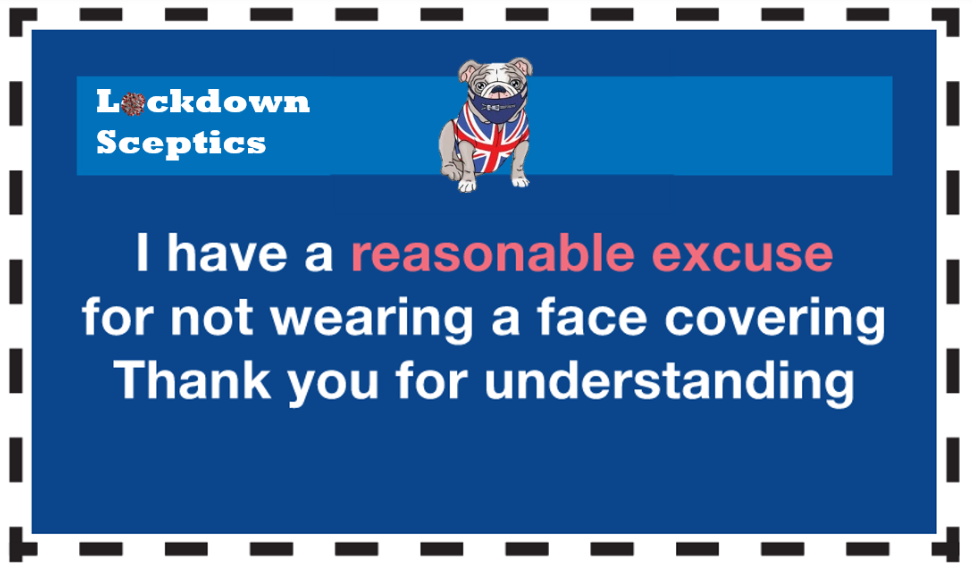 We've created a one-stop shop down here for people who want to obtain a "Mask Exempt" lanyard/card – because wearing a mask causes them "severe distress", for instance. You can print out and laminate a fairly standard one for free here and the Government has instructions on how to download an official "Mask Exempt" notice to put on your phone here. And if you feel obliged to wear a mask but want to signal your disapproval of having to do so, you can get a "sexy world" mask with the Swedish flag on it here.
Don't forget to sign the petition on the UK Government's petitions website calling for an end to mandatory face masks in shops here.
A reader has started a website that contains some useful guidance about how you can claim legal exemption. Another reader has created an Android app which displays "I am exempt from wearing a face mask" on your phone. Only 99p.
If you're a shop owner and you want to let your customers know you will not be insisting on face masks or asking them what their reasons for exemption are, you can download a friendly sign to stick in your window here.
And here's an excellent piece about the ineffectiveness of masks by a Roger W. Koops, who has a doctorate in organic chemistry. See also the Swiss Doctor's thorough review of the scientific evidence here and Prof Carl Heneghan and Dr Tom Jefferson's Spectator article about the Danish mask study here.
The Great Barrington Declaration
The Great Barrington Declaration, a petition started by Professor Martin Kulldorff, Professor Sunetra Gupta and Professor Jay Bhattacharya calling for a strategy of "Focused Protection" (protect the elderly and the vulnerable and let everyone else get on with life), was launched in October and the lockdown zealots have been doing their best to discredit it ever since. If you googled it a week after launch, the top hits were three smear pieces from the Guardian, including: "Herd immunity letter signed by fake experts including 'Dr Johnny Bananas'." (Freddie Sayers at UnHerd warned us about this the day before it appeared.) On the bright side, Google UK has stopped shadow banning it, so the actual Declaration now tops the search results – and Toby's Spectator piece about the attempt to suppress it is among the top hits – although discussion of it has been censored by Reddit. The reason the zealots hate it, of course, is that it gives the lie to their claim that "the science" only supports their strategy. These three scientists are every bit as eminent – more eminent – than the pro-lockdown fanatics so expect no let up in the attacks. (Wikipedia has also done a smear job.)
You can find it here. Please sign it. Now over three quarters of a million signatures.
Update: The authors of the GBD have expanded the FAQs to deal with some of the arguments and smears that have been made against their proposal. Worth reading in full.
Update 2: Many of the signatories of the Great Barrington Declaration are involved with new UK anti-lockdown campaign Recovery. Find out more and join here.
Update 3: You can watch Sunetra Gupta set out the case for "Focused Protection" here and Jay Bhattacharya make it here.
Update 4: The three GBD authors plus Prof Carl Heneghan of CEBM have launched a new website collateralglobal.org, "a global repository for research into the collateral effects of the COVID-19 lockdown measures". Follow Collateral Global on Twitter here. Sign up to the newsletter here.
Judicial Reviews Against the Government
There are now so many legal cases being brought against the Government and its ministers we thought we'd include them all in one place down here.
The Simon Dolan case has now reached the end of the road. The current lead case is the Robin Tilbrook case which challenges whether the Lockdown Regulations are constitutional. You can read about that and contribute here.
Then there's John's Campaign which is focused specifically on care homes. Find out more about that here.
There's the GoodLawProject and Runnymede Trust's Judicial Review of the Government's award of lucrative PPE contracts to various private companies. You can find out more about that here and contribute to the crowdfunder here.
And last but not least there was the Free Speech Union's challenge to Ofcom over its 'coronavirus guidance'. A High Court judge refused permission for the FSU's judicial review on December 9th and the FSU has decided not to appeal the decision because Ofcom has conceded most of the points it was making. Check here for details.
Samaritans

If you are struggling to cope, please call Samaritans for free on 116 123 (UK and ROI), email jo@samaritans.org or visit the Samaritans website to find details of your nearest branch. Samaritans is available round the clock, every single day of the year, providing a safe place for anyone struggling to cope, whoever they are, however they feel, whatever life has done to them.
Shameless Begging Bit
Thanks as always to those of you who made a donation in the past 24 hours to pay for the upkeep of this site. Doing these daily updates is hard work (although we have help from lots of people, mainly in the form of readers sending us stories and links). If you feel like donating, please click here. And if you want to flag up any stories or links we should include in future updates, email us here. (Don't assume we'll pick them up in the comments.)
And Finally…
A reader has drown out attention to this 2016 YouTube video by psychologist Kati Morton explaining what "Stockholm Syndrome" is. As he points out, it's as though the entire country is suffering from this peculiar affliction.