Hancock Sets Out Vaccination Plan
The Government has published its 'UK COVID-19 Vaccines Delivery Plan' and the Health Secretary gave a press conference alongside Professor Stephen Powis on Monday stating that 2.3 million people have been given at least one dose of a vaccine so far and explaining his plan to continue rolling out the biggest mass vaccination programme in history. The BBC reports:
The vaccine delivery plan says it is expected to take until spring to give a first dose to all 32 million people in the UK's priority groups, including everyone over 55 and those who are clinically vulnerable.

Under the plan, the government has pledged to carry out at least two million vaccinations in England per week by the end of January, which it says will be made possible by rolling out jabs at 206 hospital sites, 50 vaccination centres and around 1,200 local vaccination sites.

It also reiterates the government's aim of offering vaccinations to around 15 million people in the UK – the over-70s, older care home residents and staff, frontline healthcare workers and the clinically extremely vulnerable – by mid-February.

According to Mr Hancock, two fifths of over-80s have now received their first dose, and almost a quarter of care home residents have received theirs.
Ministers have stopped short so far of introducing yet stricter measures, and Hancock ruled out scrapping support 'bubbles', though several newspapers have run fairly hysterical finger-wagging front pages:
A glaring Chris Whitty is pictured next to an instruction not to "stop for a chat" despite his having repeated yesterday on Radio 4 that fleeting outdoor contact was not a risk.
The Metropolitan Police commissioner Cressida Dick, meanwhile, has written in The Times:
It is preposterous to me that anyone could be unaware of our duty to do all we can to stop the spread of the virus. We have been clear that those who breach COVID-19 legislation are increasingly likely to face fines.
The article continues:
Officers are now stopping people on the street and requiring them to explain why they are outside. They will also routinely hand out fines to anyone at illegal gatherings. Enforcement was previously limited to the organisers.

Another force is using surveillance cameras to track down motorists breaching lockdown rules. Devon and Cornwall is deploying automatic number-plate recognition technology, which identifies vehicles on the roads, to monitor vehicle movements.
Despite the doom-laden tone from Number 10, the ZOE Covid Symptom Study App calculated that the R rate in London was 0.9 as recently as January 7th, with infections falling:
The R rate was calculated just barely higher at 1 for the rest of the UK:
On Yer Bike! Did PM's Journey Contravene His Own Guidance?
The Prime Minister was accused of making a journey which wasn't in the spirit of the Government's guidance after being spotted cycling seven miles from Downing Street. The Evening Standard reports:
The Prime Minister was wearing his TfL hat and a face mask when he was seen cycling with his security detail in Stratford, east London, at around 2pm.

Official Government guidance on exercise says it should be limited to once a day and "you should not travel outside your local area".

The park has been noticeably busy with families exercising and the PM is said to have been concerned by what he saw in the area.
Lockdown sceptics will be less concerned by the length of his journey than the existence of such absurd guidance in the first place, although it did give the Health Secretary Matt Hancock an opportunity to clarify that:
"It is OK to go, if you went for a long walk, and ended up seven miles away from home – that is OK but you should stay local. You should not go from one side of the country to another potentially taking the virus with you.

"Remember one in three people who have the virus don't know they have it because they have no symptoms and yet still pass it on."

He added: "It is OK to go for a long walk or a cycle ride or exercise – but stay local."
Steerpike commented in The Spectator:
The guidance on exercise says "you should not travel outside your local area". So, what does the Prime Minister say? While there's no official response, a Downing Street source confirmed that the Prime Minister was exercising — but failed to say whether he was driven there to exercise or had cycled the whole way. The former would likely be classed as a rule breach.

They did, however, voice the PM's concern at the other people using the park at that time: "He did note how busy the park was and he commented on it at the meeting last night. He was concerned about if people were following the rules and was concerned after his cycle ride around the park."

While going somewhere and then complaining about how many other people have done the same is an unwelcome trend of the pandemic, Mr S had hoped Johnson would know better. After all, if someone should have refrained from showing up there, surely it's the person who lives seven miles away?
Covid, Hyper-Medicalisation, and Viral Interference
We are publishing a guest piece today by Dr Irina Metzler FRHistS, medical historian and former lecturer at the University of Swansea, as well as a Wellcome Trust University Award Fellow. Here is a short extract:
One of the puzzles in the Covid story is how different the effect of SARS-CoV-2 can be from person to person. If we accept the notion of 'asymptomatic transmission', then Covid is inconsequential for such a large number of apparently infected people that they notice no symptoms whatsoever, while others have symptoms so mild they are comparable to the common cold, yet a minority of infected people suffer very severe reactions and unfortunately sometimes lethal outcomes. This very wide variance in how individuals' bodies react to the virus makes COVID-19 a most unusual illness. What follows are some speculative musings on potential factors influencing individual variance, in other words, asking the question: Have we missed something that could explain why some people fall very ill and even die, yet others don't even know they've got it?

Besides individual disparity in reactions to the SARS-CoV-2 virus, there is of course the disparity in how regional variation affects mortality and severe illness. Contrary to most beliefs in an efficient health care system (including preventative care, hygiene, nutrition, immunisation programmes), whereby there should be less illness in those nations that have better and more accessible healthcare provisions, Covid actually seems to be less of a threat to poorer, economically weaker nations which had a lower case fatality rate (meaning fewer deaths per number of infected individuals) than economically stronger countries.
Demographics certainly play a role in this disparity, since older people are more likely to fall victim to Covid than younger, and economically wealthier countries have larger numbers of the old than poorer countries. But other factors, such as the former 'hygiene hypothesis', now refined as the 'Old Friends' hypothesis, and the incidence of autoimmune disorders in higher-income countries have also been advanced. The hygiene hypothesis is well known and argues that the more 'clean' we have become, the less chance our immune systems have had to be 'trained' in how to ward off pathogens. Hyper-hygienic conditions, which have been advocated in most high-income countries, through things as basic as using anti-bacterial products for everything from chopping boards for food preparation to the now ubiquitous hand sanitisers, have in fact contributed to the lack of training in childhood for most Westerners' immune systems. Lack of exposure to parasites and other pathogens, which would train the immune system, has been linked to impaired Type 1 interferon activity, which in turn has been linked with susceptibility to the SARS-CoV-2 virus (see Impaired type I interferon activity and inflammatory responses in severe COVID-19 patients). Paradoxically, then, the inhabitants of higher income countries are, despite enjoying overall better health outcomes, at greater risk of developing severe COVID-19 than those in lower-income nations.
Worth reading in full.
MP Explains His Vote Against Lockdown Restrictions – Faces Backlash
David Warburton, Member of Parliament for Somerton and Frome, whose email to one of his constituents explaining his refusal to vote for the tier system we published last month, has written an explanation on his website of his reasons for voting against lockdown again last Wednesday. Warburton has done his homework, and it's a comprehensive argument. Here is an extract:
…I have concerns in several areas:

First, the numbers and how they are being reported. Yes, there is no doubt that the new evolving strains of the virus – though thankfully no more virulent – are more easily transmitted between individuals. But our increased rates of infection are more interesting. The mass scale of our PCR testing and self-reporting through the NHS app means that, for example, our case rate appears to be far higher than many European neighbours. And testing also creates some revealing anomalies: the virus seems to understand the soft border between the Republic of Ireland and Northern Ireland, for example, crediting those to the north with a far higher rate of infection. Our mortality rate — dreadful though it is — remains much the same as others'. So either the false-positive incidence of our testing is giving us a bleak picture, or we appear more resilient to the worst effects of the virus, which is obviously unlikely.

Everyone who attends hospital is now tested – itself, of course, a terrifically important step. Those who test positive are reported statistically as hospital Covid patients, whether they were asymptomatic or not; whether they attended hospital for a broken ankle or regular cancer treatment. Naturally, when we then hear of hospitals managing thousands of Covid patients, such reporting will concern us all and lead the Government to seek to act.

Every death, for whatever reason, is tragic and shocking. Even to write about it — and especially to do so in terms of data and numbers — belittles and minimises the personal loss which we all feel. It is important to see, I think though, that excess deaths over the past year have not been statistically higher than the average for previous years. And the ONS reveals that, in terms of deaths per 100,000 of population, since 1993 ten previous years have had higher rates than 2020. But I also understand that, given the infection rates and the new strains, it is the predictions of future mortality which concerns the Government. They do not know what may come.

I will not dwell on the historic predictions of SAGE, but I must draw attention to the missing component in this thought process. At the end of the regulations before us yesterday was the bald admission that "No impact assessment has been prepared for these Regulations."

That means that we were asked to vote, again, on restrictions which will have unknown effects, both positive and negative. We are not provided with evidence for the efficacy of the lockdown, other than our experience of the mixed results of previous lockdowns, and — crucially — we do not know what is the nature or the extent of the detrimental effects.

As I've said before, the ONS have estimated that the restrictions across 2020 will have resulted in 200,000 non-Covid excess deaths. Bristol University put the figure far higher. Whether or not these predictions have any more accuracy than SAGE's own Covid predictions, these numbers are many times higher than those who tragically will have been lost to the virus.

Many of us have repeatedly asked for the data – a cost benefit analysis – which can allow us to make an informed decision. The crucial question we have to ask ourselves is what is the cost to lives, to livelihoods, to businesses, to mental health, suicides, to all non-Covid related heath. It's imperative that these factors are weighed in the balance against the likely lives saved from those same restrictions.
Definitely worth reading in full.
Stop Press: A Twitter poll has been started by a local Labour Party activist asking whether people support David's stance. If you use Twitter, you can make your voice heard here.
Stop Press 2: The Swedish physiologist Johan Hellström has published a historic mortality graph for no-lockdown Sweden up to and including 2020, and as you may expect, there isn't much to see:
This study provides more detail on the comparison between Norway and Sweden, and also concludes that lockdowns do not explain the differences.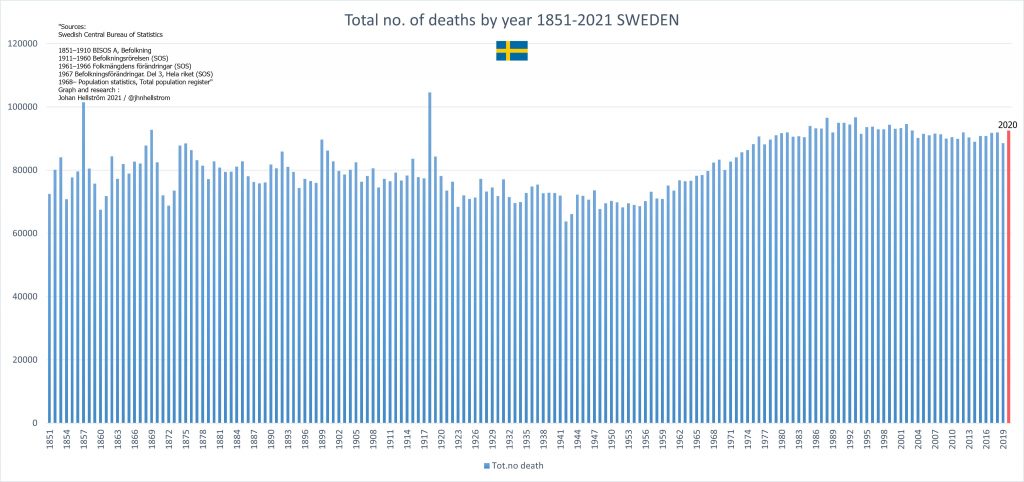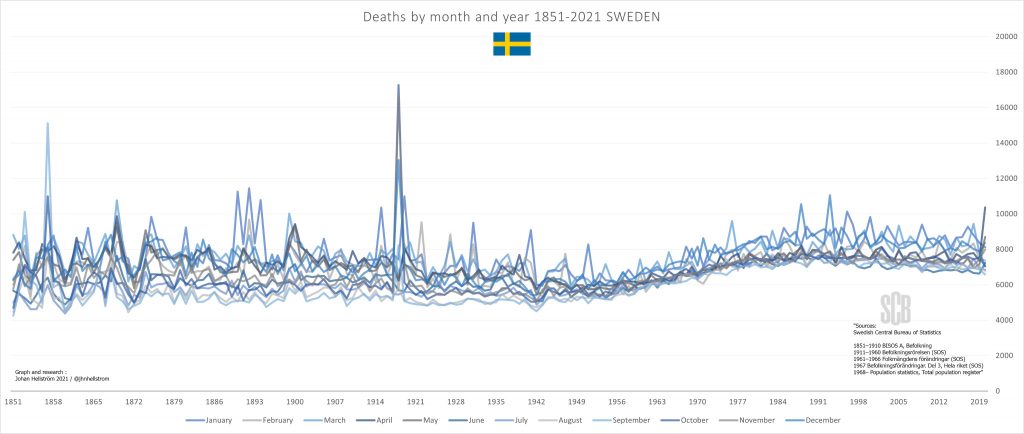 Stop Press 3: Yesterday, we reported on a lockdown enthusiast who has repented and joined the ranks of the lockdown sceptics. Today, we bring you another – New York Governor Andrew Cuomo!
What is Law and What is Guidance? Clarification from a QC
Chris Daw QC, author of Justice on Trial, spoke to Ian Collins at talkRADIO to give his legal expertise on the matter of what exactly police are and aren't entitled to fine people for, after a few well-publicised instances of members of the public being questioned and even fined by over-zealous police officers.
Stop Press: The two women fined by Derbyshire Police for driving five miles to a local reservoir, whose cups of peppermint tea were described as a 'picnic' by the issuing officer, have received an apology and had their fines withdrawn.
A Reader's Cancer Treatment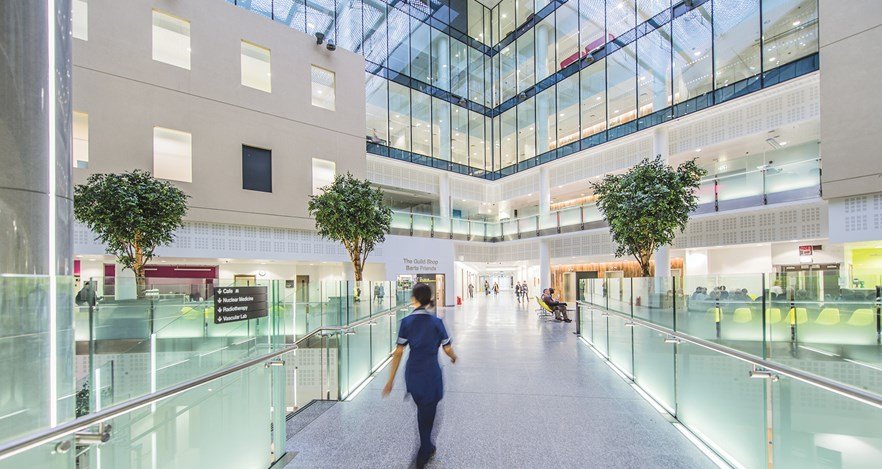 A Lockdown Sceptics reader has sent us her recent experience being treated for cancer in a private hospital through the NHS, as well as her bafflement at reports in the press about cancelled surgery.
You may be interested in my own recent experience of cancer treatment during this Covid crisis. I was diagnosed with cancer on December 30th following a biopsy on December 16th and advised to have a lumpectomy as initial treatment. This was at Barts NHS Trust. The operation took place on January 4th at a well-known London private hospital, which my surgeon explained was being used by Barts for such surgery during the pandemic. I won't name the hospital, but as it is known for treating members of the Royal Family I doubt if its facilities usually come cheaply. I was shocked to be given such an early date for surgery, but my surgeon further explained that after January 5th Barts feared being ordered to suspend all such surgery. If this has indeed happened, I was very fortunate with the timing of my diagnosis and feel enormous sympathy for anyone whose surgery has now been delayed.

I was puzzled to see it reported today (the Times: "NHS attacks private hospitals for not cancelling operations") that the NHS stopped using private hospitals for such surgery some months ago and that "NHS chiefs" were strongly critical of private hospitals for carrying out elective surgery during the present crisis (according to a "leaked" letter from senior NHS figures, including, supposedly, the head of Barts Health Trust!) The Times article states as fact that although the NHS is negotiating to use private hospitals again, this does not include any of the main London private hospitals, since the NHS reportedly balked at their high costs. This is clearly wrong from my own experience and makes me wonder if such "leaks" are inspired by political motives.
The Guardian reports that Barts NHS Trust has suspended all such surgery since December 23rd:
People with advanced cancer have had their urgent surgery cancelled at a leading London hospital trust that is treating the largest number of Covid patients in the NHS.

Patients who were due to undergo an operation to treat their disease at Barts Health NHS trust have been told the pressures the resurgent COVID-19 is putting hospitals under was to blame.

The procedures involved are known in the NHS as "red flag" cancer cases and are classed by the NHS as "priority two" surgery, which means they should be done within 28 days of the decision to operate. Any delay risks the patient's disease spreading or becoming inoperable.

Barts is the second big hospital trust in London known to have cancelled operations as a result of the strain on the NHS, which led to the UK's four Chief Medical Officers issuing an unprecedented warning last week that parts of the service were close to collapse.

Staff in Barts' surgical division approached the Guardian to disclose that cancellations had been happening there since before Christmas after reading a statement in the Observer by Sir David Sloman, the NHS's Regional Director for the capital, that "urgent cancer surgery is not being cancelled in London".

One member of staff said last week: "This [statement] is not true. At the Royal London Hospital we have not been able to do any non-emergency surgery since December 23rd. We have not done any cancer surgery, except emergency procedures, since then. [There is] no clarity yet on when or where we can restart our elective surgery."
Furthermore, The Times reports:
NHS chiefs have criticised private hospitals and doctors in London for performing non-urgent operations despite the "unthinkable pressures" of the pandemic.

A letter leaked to HSJ, the health service journal, asked trusts in the capital "not to support" private work for at least a month.

London's NHS hospitals have cancelled almost all planned care. At least two have postponed urgent cancer surgery as figures show that treatment levels are failing to keep pace with demand. The NHS has been trying to negotiate use of the capital's private hospitals for cancer patients.
Our reader is right to be confused.
Was I Just Witness to a Covid Death?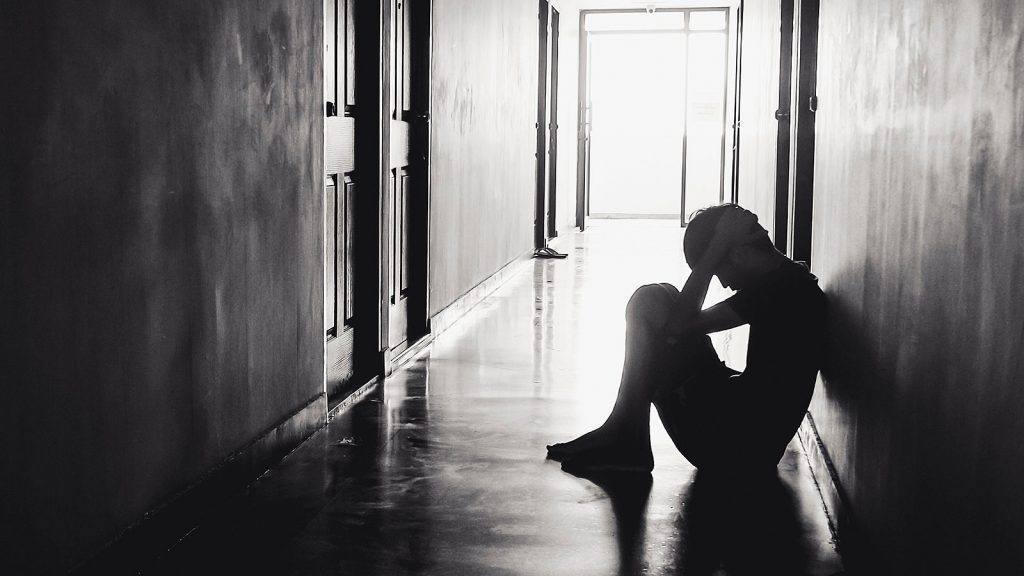 We are reproducing in full this account kindly contributed by Thomas Harrington, Professor of Iberian Studies at Trinity College, Hartford, CT, USA of a tragic occurrence last week, which he firmly attributes to the Covid restrictions.
Friday night at 4:45 in the morning my partner, K and I awoke to the flashing lights of police and medical teams outside the house where we are currently staying. It was accompanied by murmured conversations between the uniformed people and one of the men who stays with our landlord, who lives in an adjacent part of the same building.
Tired and not wanting to intrude on the lives of people we knew, but not intimately, we went back to sleep, hoping that nothing really transcendent had occurred.
By mid-morning those hopes were thoroughly dashed when K returned to our place ashen-faced to tell me that Pete, our 60 year-old weight-lifting landlord, who could have passed for a robust 45, was dead, quite probably by suicide. We just sat there numb for a very, very long time.
Over the last few months while living in the in-law apartment of his house, K, a woman who naturally invites emotional openness in others, had come to know Pete fairly well. And on my more or less extended visits to the little apartment, I had engaged with him as well. He was extremely bright and gentle, a yacht captain by trade and a romantic adventurer by predilection, who talked longingly and wistfully of lost loves and of business deals gone bad. Speaking to his best friend, Dave, yesterday after the tragedy, we were both confirmed in our suspicion that he was, in many ways, his own worst enemy.
But a message that came across just as strongly, if not stronger, was that Pete was deeply loved and supported by a network of friends who had remained true to him, and they to him, over a half a century. As Dave explained they had all seen each other through difficult moments, ratifying their support for each other, at times, through, among other things, the lending of not insignificant sums of money.
Indeed, as we spoke, just around the corner in the gorgeous, if decadently unkempt, tropical back yard of the house with its irregularly-shaped pool, the members of that support-crew were sitting together drinking beer while crying and laughing about their friend. This once grand property had, in effect, been their clubhouse, the place was where they had reaffirmed their friendship over and again during 50 years (Pete grew up in the house and had inherited it from his parents) with what he and they, and the women in their lives, liked to call Funday Sundays.
But over the last several months, that vital social lifeline, along with the possibilities of work in the boating industry, had been, if not wholly severed, severely weakened by the social restrictions imposed by the "fight against Covid".
Pete had fallen into a very deep depression, about which he had spoken pretty openly about with K. Last week, he told her he had finally gone to a mental health professional for help.
But last Friday, night, it seems, he decided to end things. As a tragedy, this story requires no adornment.
But I nonetheless less feel compelled to ask all those out there currently justifying draconian reductions of basic human liberties, and worse yet, human customs of love and caring, on the basis of inflated 'case' numbers spawned by a deeply flawed PCR test, as well as a 0.23% IFR, if they might be willing to admit that Pete was also a real Covid fatality?
And more fundamentally, I'd like to ask all those that constantly tell us about the grave threat posed by Covid — with its 99.77% survival rate and victim cohort tilted overwhelmingly to those at or beyond their normal level of life expectancy — if, after playing profligately and abusively with the threat of death, they have any empathy left for the very real and concrete terminations of life, catalyzed, if not caused, by their serial exaggerations.
Or do they simply consider such thoughts to be another thing to be mentally "deplatformed", along with all of those other things that don't neatly affirm the media's dominant narrative?
Does Pheasant Shooting Count as Exercise?
A reader got in touch after receiving the following email from Abel & Cole, the organic food delivery company:
Hello there, I'm just getting in touch about the Wild Pheasant on your order. I'm afraid we aren't able to include the pack in the box as planned this week. Due to COVID-19 restrictions, our supplier can't go out to shoot the game and we don't have any stock left in at the moment. As the lockdown is due to last roughly until the end of shooting season this year, we might not be able to bring it back again until next season. I'm really sorry for the disappointment.
In fact, there's nothing to stop Abel & Cole's supplier from shooting pheasant. You are still allowed to shoot in England, provided you only do it once a day and it's part of your daily exercise. The British Association for Shooting and Conservation has the details:
In light of the government providing greater clarity on its COVID-19 guidance and regulations, BASC is advising that outdoor shooting activities as a form of exercise are permissible once per day in England during the national lockdown, subject to two conditions.

1. You should only travel locally to shoot which is to "stay local in the village, town, or part of the city where you live" as defined in government guidance.

2. When shooting you should only meet with people you live with, your support bubble; or when on your own, with one person from another household.
If any shooting readers can supply Abel & Cole with a brace or two, please contact us here. We'll put you in touch.
Round-up
Theme Tunes Suggested by Readers
Three today: "Drinking in the Day" by Elise LeGrow, "Happenin' All Over Again" by Lonnie Gordon and "Boris Johnson a Big Bumbahole" by Machyo.
Love in the Time of Covid
We have created some Lockdown Sceptics Forums, including a dating forum called "Love in a Covid Climate" that has attracted a bit of attention. We have a team of moderators in place to remove spam and deal with the trolls, but sometimes it takes a little while so please bear with us. You have to register to use the Forums as well as post comments below the line, but that should just be a one-time thing. Any problems, email the Lockdown Sceptics webmaster Ian Rons here.
Sharing Stories
Some of you have asked how to link to particular stories on Lockdown Sceptics so you can share it. To do that, click on the headline of a particular story and a link symbol will appear on the right-hand side of the headline. Click on the link and the URL of your page will switch to the URL of that particular story. You can then copy that URL and either email it to your friends or post it on social media. Please do share the stories.
Social Media Accounts
You can follow Lockdown Sceptics on our social media accounts which are updated throughout the day. To follow us on Facebook, click here; to follow us on Twitter, click here; to follow us on Instagram, click here; to follow us on Parler, click here; and to follow us on MeWe, click here.
Woke Gobbledegook
We've decided to create a permanent slot down here for woke gobbledegook. Today, we bring you Christopher F. Rufo's report "Radicals in the Classroom" in City Journal about the hardcore Critical Race Theory indoctrination occurring in the San Diego Unified School District's new mandatory training sessions for teachers.
The San Diego Unified School District has been radicalized. In recent months, the district has announced mandatory diversity training for teachers, added a new "ethnic studies" curriculum focused on racial grievance, and even abolished the requirement to turn in homework on time – all in the name of becoming, in the words of school board member Richard Barrera, "an anti-racist school district."

Last month, I reported on one of these training sessions, focused on "white privilege," in which white teachers were accused of being colonisers on stolen Native American land and told "you are racist" and "you are upholding racist ideas, structures, and policies". The trainers demanded that the teachers "confront and examine [their] white privilege", "acknowledge when [they] feel white fragility", and "teach others to see their privilege". After the story caused an uproar, school officials defended the training as a form of "racial healing".
Phrases such as "white privilege" and "white fragility" will be familiar to anyone who has paid attention to the crazier fringes of the woke cult recently, although one of the guest speakers hired by San Diego Unified took the hyperbole to a whole new level.
According to new whistleblower documents, San Diego Unified held an even more radical training program featuring a speaker who believes American schools are guilty of the "spirit murdering of Black children". The school district hired Bettina Love, a critical race theorist who believes that children learn better from teachers of the same race, for the keynote address at the August Principal Institute and for an additional district-wide training on how to "challenge the oppressive practices that live within the systems and structures of school organizations".

Though the school district explicitly forbade attendees from recording the session, one whistleblower took detailed notes of the speech and captured screenshots of the presentation. According to these notes, Love began her presentation by claiming that "racism runs deep" in the United States and that blacks alone "know who America really is". She argued that public schools in particular "don't see [blacks] as human", are guilty of systemic "anti-Blackness", and "spirit murder babies" in the education system.
Ms Love is associated with the Abolitionist Teaching Network, whose website makes for an interesting browse.
Worth reading in full.
Stop Press: Twitter's stock has plunged after the social media platform banned Donald Trump.
Twitter's stock price tumbled Monday as investors appeared to balk at the social network's decision to ban President Trump from posting.

Shares in the San Francisco-based company tumbled as much as 12% to $45.17 in the first trading session after it booted Trump from the platform on Friday, saying his account posed a "risk of further incitement of violence" after his supporters stormed the US Capitol on Wednesday.

The stock pared the losses through the morning and fell 6.4% to close at $48.18.

Twitter's move against the outgoing president – whose account had more than 88 million followers – was the first permanent suspension for a head of state, and it's likely to spark furious debate about the role tech companies play in regulating speech.

It may also hurt Twitter's user base as Trump supporters and right-wing activists pledge to boycott the company's blockbuster decision.
"Mask Exempt" Lanyards
We've created a one-stop shop down here for people who want to obtain a "Mask Exempt" lanyard/card – because wearing a mask causes them "severe distress", for instance. You can print out and laminate a fairly standard one for free here and the Government has instructions on how to download an official "Mask Exempt" notice to put on your phone here. And if you feel obliged to wear a mask but want to signal your disapproval of having to do so, you can get a "sexy world" mask with the Swedish flag on it here.
Don't forget to sign the petition on the UK Government's petitions website calling for an end to mandatory face masks in shops here.
A reader has started a website that contains some useful guidance about how you can claim legal exemption. Another reader has created an Android app which displays "I am exempt from wearing a face mask" on your phone. Only 99p.
If you're a shop owner and you want to let your customers know you will not be insisting on face masks or asking them what their reasons for exemption are, you can download a friendly sign to stick in your window here.
And here's an excellent piece about the ineffectiveness of masks by a Roger W. Koops, who has a doctorate in organic chemistry. See also the Swiss Doctor's thorough review of the scientific evidence here and Prof Carl Heneghan and Dr Tom Jefferson's Spectator article about the Danish mask study here.
Stop Press: A reader has sent us this article in the Sydney Morning Herald from 17 years ago, written during the SARS epidemic.
Health authorities have warned that surgical masks may not be an effective protection against the virus.

"Those masks are only effective so long as they are dry," said Professor Yvonne Cossart of the Department of Infectious Diseases at the University of Sydney.

"As soon as they become saturated with the moisture in your breath they stop doing their job and pass on the droplets."

Professor Cossart said that could take as little as 15 or 20 minutes, after which the mask would need to be changed. But those warnings haven't stopped people snapping up the masks, with retailers reporting they are having trouble keeping up with demand.
The article continues:
John Bell from the Pharmaceutical Society of Australia, who owns a pharmacy in Woollahra, Sydney, said mask supplies were running low.

"At the moment we don't have any because we haven't been able to get any in the last few days," Mr Bell said. "In the early stages it was unbelievable; we'd get people coming in all the time."

Mr Bell agreed with Professor Cossart's assessment regarding the effectiveness of the masks.

"I think they're of marginal benefit," he said. "In a way they give some comfort to people who think they're doing as much as they can do to prevent the infection."
The reader who drew our attention to the piece commented:
The first line sums it up – "Retailers who cash in on community fears about SARS by exaggerating the health benefits of surgical masks could face fines of up to $110,000."

Fast forward 17 years, and currently three Australian states have mask mandates in place, with fines of $200 for non-compliance. Last time I checked (and I do look out for these things) there has been no new significant evidence brought to light since 2003 that general public mask wearing has any effect whatsoever on community transmission of the sort of virus which causes COVID. The absurdity of Australia's mask mandates is of course compounded by the almost complete absence of COVID in the general community at this time.
Worth reading in full.
Stop Press 2: Both Morrisons and Sainsbury's have announced that they will ban anyone who does not wear a mask from entering their shops, reports the BBC. The Government has stated that it is not the responsibility of retailers to enforce the rules, but that of the police, who have also said they don't intend to enforce mask-wearing in supermarkets.
Morrisons will bar customers who refuse to wear face coverings from its shops amid rising coronavirus infections.

From Monday, shoppers who refuse to wear face masks offered by staff will not be allowed inside, unless they are medically exempt.

Sainsbury's also said it would challenge those not wearing a mask or who were shopping in groups.

The announcements come amid concerns that social distancing measures are not being adhered to in supermarkets.

Vaccines minister Nadhim Zahawi said the Government is "concerned" shops are not enforcing rules strictly enough.

"Ultimately, the most important thing to do now is to make sure that actually enforcement – and of course the compliance with the rules – when people are going into supermarkets are being adhered to," Mr Zahawi told Sky News.

"We need to make sure people actually wear masks and follow the one-way system," he said.
The Union of Shop, Distributive, and Allied Workers (USDAW) tweeted the following hand-wringing statement:
Key retail workers deal with hundreds of customers every day as they perform their essential duties. With the #Covid situation developing rapidly, we're calling for retail workers and delivery drivers to get priority access to vaccinations and mass testing.

We also expect retailers to work with us, urgently, to produce new risk assessments. The new strain of Covid puts our members at increased risk of catching the virus. They need every possible protection, including the following steps:

Limits on customer numbers – back to the earlier levels if necessary – with trained security staff to manage queues. Once inside the store, customers should follow clearly highlighted one-way systems and 2m social distancing markers.
As Ivor Cummins has pointed out on numerous occasions though, and does so again in his recent conversation with James Delingpole on the Delingpod, shop workers worked for four months at the beginning of the pandemic with no masks and experienced no great wave of deaths over and above the rest of the population, even though they encountered the general public every day.
The Great Barrington Declaration
The Great Barrington Declaration, a petition started by Professor Martin Kulldorff, Professor Sunetra Gupta and Professor Jay Bhattacharya calling for a strategy of "Focused Protection" (protect the elderly and the vulnerable and let everyone else get on with life), was launched in October and the lockdown zealots have been doing their best to discredit it ever since. If you googled it a week after launch, the top hits were three smear pieces from the Guardian, including: "Herd immunity letter signed by fake experts including 'Dr Johnny Bananas'." (Freddie Sayers at UnHerd warned us about this the day before it appeared.) On the bright side, Google UK has stopped shadow banning it, so the actual Declaration now tops the search results – and Toby's Spectator piece about the attempt to suppress it is among the top hits – although discussion of it has been censored by Reddit. The reason the zealots hate it, of course, is that it gives the lie to their claim that "the science" only supports their strategy. These three scientists are every bit as eminent – more eminent – than the pro-lockdown fanatics so expect no let up in the attacks. (Wikipedia has also done a smear job.)
You can find it here. Please sign it. Now over three quarters of a million signatures.
Update: The authors of the GBD have expanded the FAQs to deal with some of the arguments and smears that have been made against their proposal. Worth reading in full.
Update 2: Many of the signatories of the Great Barrington Declaration are involved with new UK anti-lockdown campaign Recovery. Find out more and join here.
Update 3: You can watch Sunetra Gupta set out the case for "Focused Protection" here and Jay Bhattacharya make it here.
Update 4: The three GBD authors plus Prof Carl Heneghan of CEBM have launched a new website collateralglobal.org, "a global repository for research into the collateral effects of the COVID-19 lockdown measures". Follow Collateral Global on Twitter here. Sign up to the newsletter here.
Judicial Reviews Against the Government
There are now so many legal cases being brought against the Government and its ministers we thought we'd include them all in one place down here.
The Simon Dolan case has now reached the end of the road. The current lead case is the Robin Tilbrook case which challenges whether the Lockdown Regulations are constitutional. You can read about that and contribute here.
Then there's John's Campaign which is focused specifically on care homes. Find out more about that here.
There's the GoodLawProject and Runnymede Trust's Judicial Review of the Government's award of lucrative PPE contracts to various private companies. You can find out more about that here and contribute to the crowdfunder here.
And last but not least there was the Free Speech Union's challenge to Ofcom over its 'coronavirus guidance'. A High Court judge refused permission for the FSU's judicial review on December 9th and the FSU has decided not to appeal the decision because Ofcom has conceded most of the points it was making. Check here for details.
Samaritans

If you are struggling to cope, please call Samaritans for free on 116 123 (UK and ROI), email jo@samaritans.org or visit the Samaritans website to find details of your nearest branch. Samaritans is available round the clock, every single day of the year, providing a safe place for anyone struggling to cope, whoever they are, however they feel, whatever life has done to them.
Shameless Begging Bit
Thanks as always to those of you who made a donation in the past 24 hours to pay for the upkeep of this site. Doing these daily updates is hard work (although we have help from lots of people, mainly in the form of readers sending us stories and links). If you feel like donating, please click here. And if you want to flag up any stories or links we should include in future updates, email us here. (Don't assume we'll pick them up in the comments.)
And Finally…
On this week's episode of London Calling, Toby's weekly podcast with James Delingpole, they try to avoid getting into an argument about the Great Reset (he's a believer, Toby's not) and stick to books and TV shows. But they cannot avoid talking about Trump's Twitter ban and Big Tech censorship more generally.
Listen to the podcast here and subscribe to it on iTunes here.