Harder, Stronger, Tighter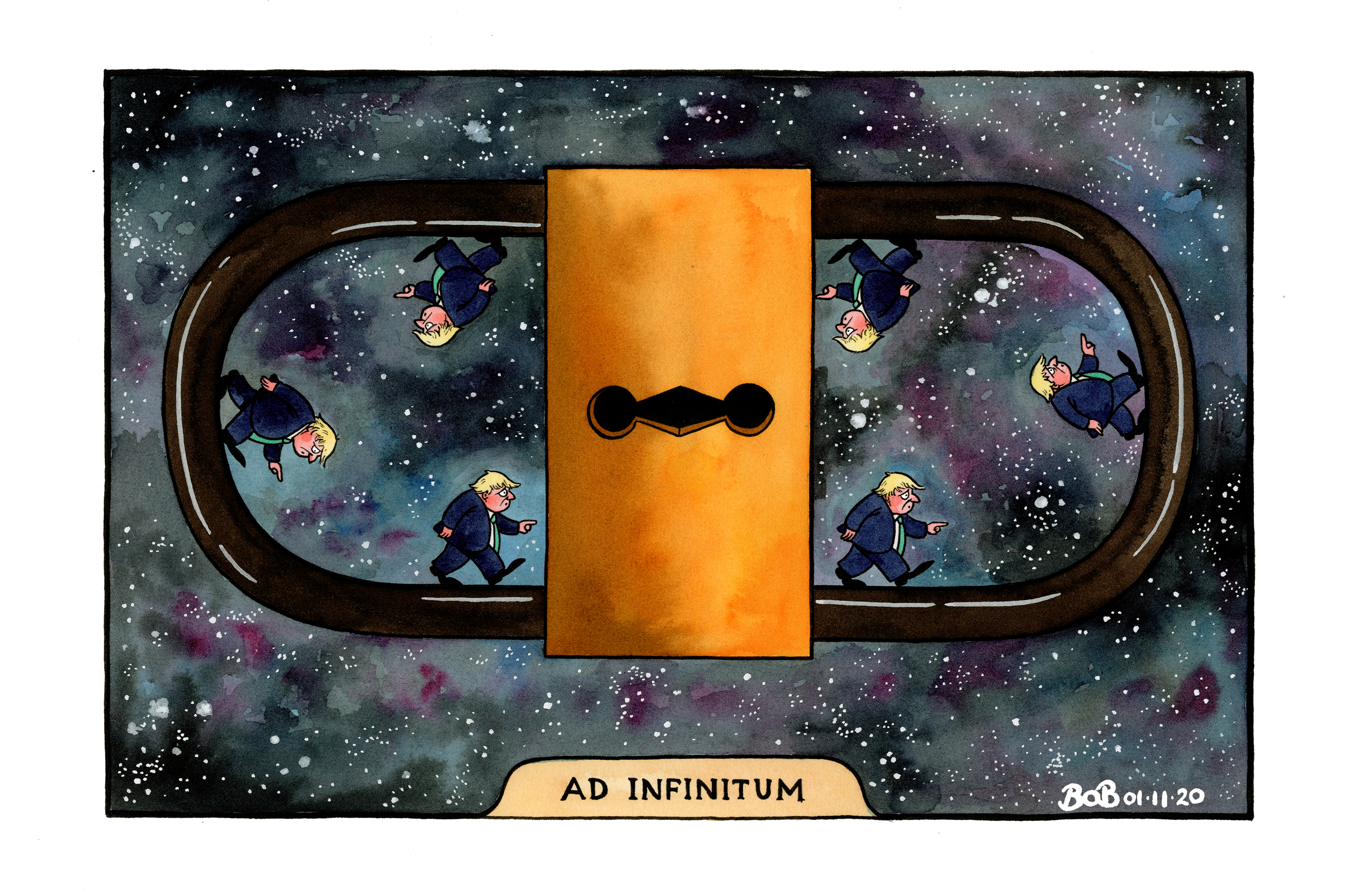 Boris Johnson held a cabinet meeting yesterday, and the report in MailOnline makes for alarming reading:
Boris Johnson held a top-secret cabinet meeting to discuss an even-tougher lockdown with limits on exercise, compulsory mask-wearing outdoors and no more social bubbles all being floated by ministers, sources claim.

The Cabinet Office refused to deny that draconian new laws were incoming – and instead pointed to Matt Hancock's vague statement earlier today.

The Health Secretary refused to speculate when directly asked if harsher measures – including curfews and nursery closures – might be brought in, and instead said Britons should 'follow the rules that we've got'.

One Whitehall source told MailOnline that the changes discussed today even included introducing a ban on people leaving their homes more than once a week.

Under current rules, Britons can exercise with one other person or with their household or support bubble.

But a Government source said the rule is "being used as an excuse for people to go for a coffee in the park with their friends" and could be tightened, the Daily Telegraph reports.

The UK announced a further 573 coronavirus deaths yesterday in the highest Sunday rise since April, and the third-deadliest Sunday of the entire pandemic.

Infections also continue to be high, with 54,940 announced on Sunday, the thirteenth day in a row they have been above the 50,000 mark.

They said the "rule is there for exercise, for people's mental health, particularly for older people who are not going to be going for a run to see someone" but many are using their "imaginations" to make it what they want.

Their concerns came as hordes of people were seen flocking to beaches and town centres over the weekend, despite Boris Johnson's pleas for families to stay at home and help control the mutant Covid variant spreading rapidly through the country.

Officials are also set to encourage shops and workplaces to improve on their Covid social distancing measures.

Supermarkets will be a key focus of the Government's latest push, with many worried that lax enforcement of the rules means shoppers are at risk.
Worth reading in full.
When Governments fail, they blame the governed. Clearly, their "imaginative" interpretation of lockdown restrictions is to blame for the high Covid death toll. Nothing to do with the lack of PPE, the failure to create dedicated hospitals for Covid patients, spunking tens of billions of pounds on a not-fit-for-purpose Test and Trace programme, building the Nightingales but not recruiting or training enough healthcare workers to staff them, decommissioning the Nightingales, failing to eliminate in-hospital infection and the ongoing scandal of secondary transmission in care homes… no. It's all the fault of the disobedient general public.
The irony is that the public agrees with the Government. According to Opinium, 72% of Britons think the authorities have not acted fast enough and 64% say they want a Government that "quickly puts lockdown measures in place, even if that means that sometimes measures are put in place that didn't need to be", compared to 25% who want a Government that "tries the hardest they can to not put lockdown measures in place, even if that means sometimes decisions are made later than they would otherwise have been".
In a recent article for the BMJ, Steve Reicher and John Drury point out that, actually, the British public has been remarkably compliant throughout.
The notion of behavioural fatigue associated with adherence to COVID-19 restrictions (so-called "pandemic fatigue") has been a recurrent theme throughout the crisis.

Linked to the notion that people in general will find it hard to adhere due to shared human psychological frailties is the idea that when particular individuals break the rules, it is due to their particular psychological failings. They are either too weak, too stupid, or too immoral to do the right thing. Hence, terms like "covidiots" have become almost as familiar as "pandemic fatigue". This feeds into a widespread narrative of blame whereby the spread of infections is explained in terms of individuals and groups who choose to break the rules, rather than failures of public health response.

The narrative of blame is exemplified in the language used by politicians… It is also exemplified in a media focus on particularly egregious examples of violations such as raves and large house parties. All in all, this narrative explains the worsening pandemic in terms of widespread non-adherence to rules which is a function of poor psychological motivations, which in turn are particularly prevalent in some people and some communities…

Adherence to stringent behavioural regulations has remained extremely high (over 90%), even though many people are suffering considerably, both financially and psychologically. Equally, despite anecdotal observations about growing violations and polling which shows that people report low levels of adherence in other people, both self-reported data and systematic observations of behaviour in public places suggest that adherence stayed high during the second lockdown. Some 90% of people or more adhere to hygiene measures, to spatial distancing, and to mask wearing most of the time. Moreover, people generally support regulations and, if anything, believe that they should be more stringent and introduced earlier. This pattern has been repeated in the last few days, with 85% of the public endorsing the January 'lockdown' and 77% thinking it should have happened sooner…

The problem, then, is that in psychologising and individualising the issue of adherence, one disregards the structural factors which underlie the spread of infection and the differential rates in different groups….

Additionally, one overlooks the fact that some of the rules and the messaging around them, may be the problem. It is particularly misleading and unfair to ask people to do things and then blame them for doing so.
Worth reading in full.
Stop Press: Appearing on the Andrew Marr show, yesterday Keir Starmer demanded that Boris do more and suggested… closing nurseries. He is probably kicking himself now and wishing he had been more ambitious so he can then take the credit when a new set of draconian restrictions are announced today.
Don't Panic, Chief Constable Mainwaring
Like the rest of us, Cabinet Ministers are struggling to tell the difference between law and guidance. The Telegraph has the story.
Police were right to fine two women £200 each for driving five miles from their home for a walk, Matt Hancock has said, as he warned the public to follow the rules because "every flex can be fatal".

The Health Secretary said he would "absolutely back the police" after Derbyshire Constabulary was criticised for overzealous enforcement of the coronavirus regulations on Friday.

Asked whether police were right to hand Jessica Allen and Eliza Moore a £200 fixed penalty notice for meeting up for a walk, Mr Hancock said: "I'm absolutely going to back the police because the challenge here is that every flex can be fatal.

"You might look at the rules and think, 'Well, it doesn't matter too much if I just do this or do that'.

"But these rules are not there as boundaries to be pushed, they are the limit to what people should be doing."
MailOnline reports that the Home Secretary supports them too:
Priti Patel today defended police as they began strict application of Covid rules that includes £200 fines and less tolerance for rule-breakers.

The Home Secretary warned that officers "will not hesitate" to take action because the increasing number of new COVID-19 cases proved there was a need for "strong enforcement" in cases where people were clearly breaking the rules.

Police tactics have come in for scrutiny after Derbyshire Police handed out £200 fines to two women who drove separately to go for a walk at a remote beauty spot situated around five miles from their homes.
The police, however, as the Telegraph says, admit the possibility that they might have got it wrong:
Derbyshire Police has since announced it will review its fines policy in light of new national guidance, following an outcry and accusations of overzealous policing of the lockdown rules.

The two women issued with a fixed penalty notice said police had told them their hot drinks "counted as a picnic", after they were surrounded by police, read their rights and fined.
Perhaps they should listen to Peter Hitchens:
The Chinese Communist Party's Global Lockdown Fraud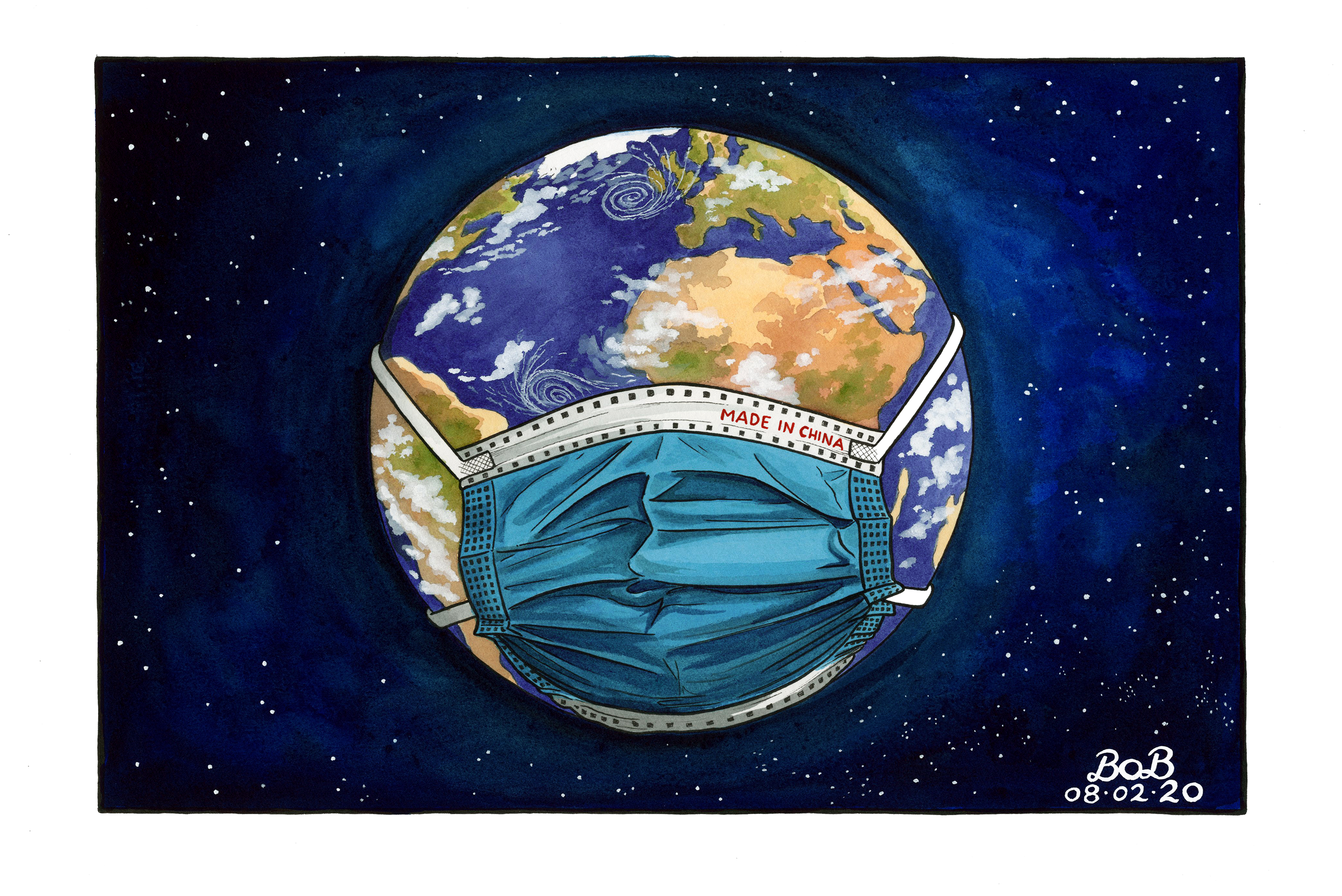 The FBI, and other security services around the world, will by now be in receipt of an open letter requesting an expedited investigation be opened into the role of the Chinese Community Party in promoting catastrophic public health policies across the West, i.e. lockdowns. The letter was written by a number of people, some of whom will be familiar to readers of Lockdown Sceptics:
Michael P. Senger, Attorney
Stacey A. Rudin, Attorney
Dr. Clare Craig, FRCPath
Retired Brig. Gen. Robert Spalding
Randy Hillier, MPP Lanark, Frontenac & Kingston
Francis Hoar, Barrister at Law
Sanjeev Sabhlok, PhD
Brian O'Shea
Maajid Nawaz
Simon Dolan
It begins:
We are writing this letter to request that a federal investigation be commenced and/or expedited regarding the scientific debate on major policy decisions during the COVID-19 crisis. In the course of our work, we have identified issues of a potentially criminal nature and believe this investigation necessary to ensure the interests of the public have been properly represented by those promoting certain pandemic policies.

During times of crisis, citizens naturally turn to the advice of those they perceive as experts. In early 2020, the public turned to the advice of scientific authorities when confronted with an apparent viral outbreak. Soon after, most nations followed the advice of prominent scientists and implemented restrictions commonly referred to as "lockdowns." While the policies varied by jurisdiction, in general they involved restrictions on gatherings and movements and the closure of schools, businesses, and public places, inspired by those imposed by the Chinese Communist Party (CCP) in Hubei Province. The intervention of federal authorities with police power may be required to ensure that those who have promoted these lockdown policies have done so in good faith.
They set out an impressive array of evidence in support of their central contention, which is that the lockdown policy was aggressively promoted to Western governments by the CCP with the help of various "useful idiots", e.g. public health scientists.
Lockdowns originated on the order Xi Jinping, General Secretary of the Chinese Communist Party and were propagated into global policy by the World Health Organisation with little analysis or logic

When the lockdown of Hubei province began, the World Health Organization (WHO)'s representative in China noted that "trying to contain a city of 11 million people is new to science… The lockdown of 11 million people is unprecedented in public health history…" Human rights observers also expressed concerns. But those concerns didn't stop the WHO from effusively praising the CCP's "unprecedented" response just days after the lockdown began, and long before it had produced any results… The WHO held a press conference during which Assistant Director-General Bruce Aylward – who later disconnected a live interview when asked to acknowledge Taiwan – told the press: "What China has demonstrated is, you have to do this. If you do it, you can save lives and prevent thousands of cases of what is a very difficult disease." Two days later, in an interview for China Central Television (CCTV), Aylward put it bluntly: "Copy China's response to COVID-19."

The most influential institution for COVID-19 models, self-described as "China's best academic partner in the West" has been by far the most alarmist and inaccurate COVID-19 modeler

In February 2020, a team from Imperial College London led by physicist Neil Ferguson ran a computer model that played an outsized role in justifying lockdowns in most countries. Imperial College forecast a number of potential outcomes, including that, by October 2020, more than 500,000 people in Great Britain and 2.2 million people in the U.S. would die as a result of COVID-19, and recommended months of strict social distancing measures to prevent this outcome. The model also predicted the United States could incur up to one million deaths even with "enhanced social distancing" guidelines, including "shielding the elderly". In reality, by the end of October, according to the CDC and the United Kingdom National Health Service (NHS), approximately 230,000 deaths in the United States and 37,000 deaths in the United Kingdom had been attributed to COVID-19…

A study by researchers at UCLA and the Institute for Health Metrics and Evaluation (IHME) compared the accuracy of various institutions' models predicting COVID-19 mortality. Across all time periods, the models produced by Imperial College were measured to have far higher rates of error than the others, always erring on the side of being too high.

In March 2020, Imperial College produced a report titled "Evidence of initial success for China exiting COVID-19 social distancing policy after achieving containment," concluding: For the first time since the outbreak began there have been no new confirmed cases caused by local transmission in China reported for five consecutive days up to March 23rd 2020. This is an indication that the social distancing measures enacted in China have led to control of COVID-19 in China… after very intense social distancing which resulted in containment, China has successfully exited their stringent social distancing policy to some degree.

Imperial College had no way of knowing if this was, in fact, true; failing to discover cases does not mean they do not exist, particularly with a virus that is fatal to hardly anyone except the most vulnerable, and a regime with a long history of fraud. Its conclusion directly contradicted that of the U.S. intelligence community around the same time that China had intentionally misrepresented its coronavirus numbers.

Deadly recommendations for early mechanical ventilation came from China

In early March 2020, the WHO released COVID-19 provider guidance documents to healthcare workers. The guidance recommended escalating quickly to mechanical ventilation as an early intervention for treating COVID-19 patients, a departure from past experience during respiratory-virus epidemics. In doing so, they cited the guidance being presented by Chinese journal articles, which published papers in January and February claiming that "Chinese expert consensus" called for "invasive mechanical ventilation" as the "first choice" for people with moderate to severe respiratory distress…

By May 2020, it was common knowledge in the medical community that early ventilator use was hurting, not helping, COVID-19 patients, and that less invasive measures were in fact very effective in assisting recoveries. A New York City study found a 97.2% mortality rate among those over age 65 who received mechanical ventilation. The "early action" ventilator guidance that the WHO distributed to the world killed thousands of innocent patients; the WHO obtained that guidance from China.

Predominant, excessive PCR testing protocols came from China

Based on guidance issued by the WHO citing three studies from China, laboratories and manufacturers across the United States and many other countries are using a PCR cycle threshold of 37 to 40 for COVID-19 PCR tests that were created using in silico genome sequences supplied by a laboratory in China, pursuant to which positive COVID-19 case counts have been inflated as much as ten- to thirty-fold.

Studies showing significant asymptomatic transmission, the only scientific basis for lockdowns of healthy individuals, came from China

Underpinning the policy of lockdown is the scientific concept of "asymptomatic spread". According to the WHO, "Early data from China suggested that people without symptoms could infect others." This idea of asymptomatic spread was reflected in the WHO's February report. According to this concept, healthy individuals, or "silent spreaders" might be responsible for a significant number of SARS-CoV-2 transmissions. The idea of setting out to stop asymptomatic spread was a significant departure from prevailing public health guidance and experience during prior respiratory-virus pandemics.

The concept of significant asymptomatic spread was believed to be a novel and unique feature of SARS-CoV-2 based on several studies performed in China. Multiple studies from other countries could not find any transmission of SARS-CoV-2 from asymptomatic individuals.

The CCP engaged in an early, broad, systematic, and global propaganda campaign

After concluding the CCP's lockdowns had "reversed the escalating cases" in China, the WHO was not alone in imploring the world to "Copy China's response to COVID-19." Beginning the same day the CCP locked down Hubei province, leaked videos from Wuhan began flooding international social media sites including Facebook, Twitter, and YouTube, all of which are blocked in China, purporting to show the horrors of Wuhan's epidemic and the seriousness of its lockdown, in scenes likened to Zombieland and The Walking Dead. Official Chinese accounts widely shared an image of a hospital wing supposedly constructed in one day, but which actually showed an apartment 600 miles away.

Then, beginning in March 2020, the entire world was bombarded with propaganda extolling the virtues of China's heavy-handed approach. Chinese state media bought numerous Facebook ads advertising China's pandemic response (all of which ran without Facebook's required political disclaimer), and began erroneously describing "herd immunity", the inevitable endpoint of every epidemic either by naturally-acquired immunity or vaccination as a "strategy" violating "human rights."
The letter goes on to make numerous other points before finally concluding:
Throughout 2020, lockdown measures have been quite popular, but that popularity is deceptive. For the general public, the idea that anyone might accept some outside incentive to support such devastating policies while knowing them to be ineffective, needlessly bankrupting millions of families and depriving millions of children of education and food, is, quite simply, too dark. Thus, the public supports lockdowns because the alternative, that they might have been implemented without good cause, is a possibility too evil for most to contemplate. But those who know history know that others with superficially excellent credentials have done even worse for even less.

Furthermore, most of the public believes that if there were anything untoward about the science behind lockdowns, intelligence agencies would stop them. For obvious reasons, those who work at intelligence agencies do not have the luxury of such complacency. Given the gravity of the decisions being made, we cannot ignore the possibility that the entire science of COVID-19 lockdowns has been a fraud of unprecedented proportion, deliberately promulgated by the Chinese Communist Party and its collaborators to impoverish the nations who implemented it.
If you are in the FBI, this is very much worth reading in full.
Stop Press: A recent article in the New York Times sung the praises of China's response to the pandemic and claimed that the freedom provided by the efficiently run Communist technocracy was more meaningful that the freedoms the West prides itself on upholding.
The pandemic has upended many perceptions, including ideas about freedom. Citizens of China don't have freedom of speech, freedom of worship or freedom from fear — three of the four freedoms articulated by President Franklin D. Roosevelt — but they have the freedom to move around and lead a normal day-to-day life. In a pandemic year, many of the world's people would envy this most basic form of freedom.
Stop Press 2: The above letter has come in for a lot of criticism on Twitter, with several people alleging its central hypothesis is a conspiracy theory. To date, no one has engaged with the arguments or the evidence as far as we can see. Rather, the debunking has consisted of pointing to some dubious things some of the authors have tweeted – Brian O'Shea tweeted this, for instance – and the links between some of them and conspiracy theorists. We've included one of the most comprehensive Twitter threads criticising the letter below – click on it to read the full charge sheet. It's by Sunder Katwala, Director of a think tank called British Future. He thinks some of the letter's content may be libellous in the UK courts and cautions against sharing it. If anyone would like to rebut the letter's central hypothesis by challenging the evidence we'd be interested in publishing an article along those lines, hopefully kicking off a debate. Contact us here.
Going All In On Vaccines
The Observer reported yesterday the warnings of some "senior scientists" that a lack of long-term planning is leaving the country vulnerable to major outbreaks of the disease for at least another year. Vaccines, they say, are part of the solution, but not all of it. No, we need to keep restrictions in place for at least a year.
The rollout of vaccines currently under way would cut hospital admissions and deaths among the old and vulnerable, they said, but it would still leave many other people at risk of being infected and suffering from the long-term effects of the disease.

Even though millions of doses of vaccine are being administered, serious outbreaks of COVID-19 are likely to continue throughout the year and into next year. These issues should be the focus of careful planning now, the scientists warned.

"Having 20 million people vaccinated is likely to reduce numbers of cases but we must not forget that this is a highly transmissible virus and if we do not continue with social measures, it will soon whip round communities again and cause havoc," said Liam Smeeth, Professor of Clinical Epidemiology at the London School of Hygiene & Tropical Medicine.

"I can understand the short-term panic that is going on at present as hospital cases rise so quickly but I am amazed at the sheer lack of long-term strategy there has been for dealing with Covid," he told the Observer. "I can see no signs of any thinking about it."

This view was backed by Mark Woolhouse, Professor of Infectious Disease Epidemiology at Edinburgh University. "This epidemic would have unfolded very differently and in a much happier way if we had accepted, back in February, that we were in this for the long term," he said. "However, the view that it was a short-term problem prevailed.

"It was thought we could completely suppress the virus, and that is why we are in the mess that we are in now."

The idea that the virus could be eradicated was a costly mistake, said Martin Hibberd of the London School of Hygiene & Tropical Medicine. "We have to understand COVID-19 is going to become endemic. The virus will not disappear. We are not going to eradicate it. Even if every human on Earth was vaccinated, we would still be at risk of it coming back."

Several other issues still have to be resolved, added Hibberd. These include concerns about how long vaccines provide protection and how new variants might evade vaccine protection. "We might be lucky and find the virus does not change very much and vaccine cover is not affected, causing the virus level to drop to low prevalence," Hibberd said.

"However, the virus might turn out to be as good as influenza at changing its coat. In that case, we will end up having to make new vaccines and distribute them every year. We should be thinking about that problem now."
Worth reading in full.
Meanwhile, an article by Helen Branswell in the Boston-based STAT News sets out how the UK's vaccine rollout is exciting the interest of friends overseas.
In an extraordinary time, British health authorities are taking extraordinary measures to beat back COVID-19. But some experts say that, in doing so, they are also taking a serious gamble.

In recent days, the British have said they will stretch out the interval between the administration of the two doses required for COVID-19 vaccines already in use, potentially to as long as three months, instead of the recommended three or four weeks. And they have said they will permit the first dose and second dose for any one person to be from different vaccine manufacturers, if the matching vaccine is not available.

The moves are borne of a desire to begin vaccinating as many people as quickly as possible, particularly with Britain facing high levels of transmission of an apparently more infectious form of SARS-CoV-2, the virus that causes COVID-19.

But they are also effectively turning that country into a living laboratory. The moves are based on small slices of evidence mined from "subsets of subsets" of participants in clinical trials, as one expert described it for STAT, and on general principles of vaccinology rather than on actual research into the specific vaccines being used. If the efforts succeed, the world will have learned a great deal. If they fail, the world will also have gained important information, though some fear it could come at a high cost…

While data from both suggest the vaccines start to protect about 10 or 12 days after the first dose, it's not known how long that initial protection lasts. In clinical trials, levels of neutralizing antibodies, which are thought to play a critical role in protecting against infection, were not substantial after the first dose of vaccine for the Pfizer vaccine.

"While we think that single shot could give protection for more than four weeks, we just don't know that. We don't know when it's going to drop off," said John Mascola, director of NIAID's Vaccine Research Centre. Mascola said Operation Warp Speed, the federal Government's project to fast-track Covid vaccines, ruled out the possibility of altering vaccination schedules before Britain decided to do so.

Paul Bieniasz of Rockefeller University is one of those who is watching the evolving situation in Britain with dread. A retro-virologist who turned from HIV research to work on SARS-2, Bieniasz is studying how the virus acquires mutations that allow it to evade the protective antibodies people develop when they have contracted COVID-19, or when they have been vaccinated against it…

Bieniasz believes Britain is replicating in people the experiments he's been doing in his lab, and could be fostering vaccine-resistant forms of the virus…

Not everyone agrees there is a disaster in the making. Some believe it makes sense, given Britain's surge in cases and the rapid spread there of the B.1.1.7 variant, which studies suggest may be 50% more transmissible than the viruses it is quickly replacing.

"At the core of my being, I really wish that we could adhere to the original schedule of vaccines, because that's the safest thing to do," said Akiko Iwasaki, a virologist and immunologist at Yale University who tweeted about her support for the British approach. "But seeing what's happening in the world and just sort of looking at the situation of poor rollout and distribution, I'm feeling frustrated that we need to come up with some other options."
Worth reading in full.
Stop Press: Sebastian Rushworth MD has also produced a useful analysis of the three vaccines' safety and efficacy.
Stop Press 2: A reader has spotted a Job Ad for the position of Covid Administrator working at a college in Greater Manchester. It appears to imply that vaccination will be be compulsory for students returning to this particular college.
Covid Administrator

Role: Administrator – COVID-19
Location: Greater Manchester
Type: Full time Temporary
Rate: £10 an hour

Eden Brown are currently looking for a strong administrator to work within an FE college in Greater Manchester.

This is a short term temporary position to start as soon as possible.

You will be expected to carry out all aspects of administration, in particular relating to the COVID-19 vaccination that all students will be required to have before returning to college.

To apply for the role you will have a business administration level 2 minimum and sufficient admin experience.
Stop Press 3: Jonathan Engler has written a helpful Twitter thread explaining the data on the efficacy of the the Pfizer vaccine.
And the Moderna vaccine (which looks impressive).
Another Reader Writes
We've been sent the following comment from a reader:
The vaccine can't come fast enough for some vulnerable people in this country, but not necessarily because it might save them from Covid. Instead, it looks like it's the only way they're going to be saved from the Government's fixation that the only risk any one of us faces is Covid. I've just received this from a very old friend to tell me about the experience of her chum:

"She's now in her late 40s. A few years ago she had breast cancer and after lots of invasive surgery and chemo she beat it. However, a few months ago, the cancer came back and this time it's in spread into various other organs. In short, she's now got terminal cancer but she has yet to have any treatment at all and the vast majority of her appointments have been over FaceTime. So the lives of very elderly people with Covid are being prioritised over the life of a relatively young woman with a teenage child who, with timely treatment, could possibly have her life expectancy extended by at least enough to see her child into adulthood? Instead she is being cast aside and left in a seemingly endless cycle of waiting for something – anything – to happen. Can you imagine how horribly frustrating this must be for her? It really makes me so angry."

Call me a cynic, but are we slowly discovering that the real truth now is that it doesn't matter what you die of, or when, just so long as it isn't Covid? It also makes me wonder how many of the vulnerable people are actually going to die sooner than they might have done thanks to all the treatment they haven't had for what made them vulnerable in the first place.
Stop Press: The Telegraph is reporting on the collapse of cancer treatment, with 10,000 fewer patients being treated for non-Covid issues today than in the middle of last month.
Has Covid Revealed the NHS's New Clothes?
A critical care surgeon, who we are calling Dr Jonathan Snow (not his real name), tells us that COVID-19 has exposed the shortcomings of the NHS. It is frequently, he says, unable to deliver.
Many times during this pandemic we have been told that we must sacrifice our civil liberties, jobs, mental health and children's education. Why? Because excess infections will lead to surge demand on the NHS that cannot flex capacity, leading to patients being denied the care they need.

Back in March the public and society was rightly sympathetic – there was very little time to plan for such a situation. But come Christmas, we are told that the NHS is still unable to cope with similar levels of demand, despite having had some nine months to make plans for a fairly predictable eventuality. Please don't misunderstand me here – this is not in any way a critique of the fantastic clinicians and hospital workers who work tirelessly caring for patients at the coalface. Blame for the current situation has rightly been directed at the Government, but also, and rather unfortunately, at the public for not following the rules. But surely NHS and hospital leaders have some responsibility for not planning for this current wave – why are difficult questions not being directed at them? Of course, it isn't possible to train more ICU nurses in nine months – ICU nursing is a highly specialised form of nursing that takes years to complete. But it is very possible to train other hospital nurses, whose departments will be largely underutilised in a pandemic situation, to ably support ICU nurses so that they can safely manage three or four times more patients than they usually would. Nine months is also a long time to secure additional intensive care hardware such as dialysis machines and ventilators. If this had happened, acute care and ICU capacity could have been flexed considerably this winter.

But perhaps a more fundamental question needs to be asked. The British people will pay a heavy price for lockdown in terms of non-Covid lives lost, mental health, relationships, livelihoods, children's education and Government borrowing that will be paid by us and our children for generations. When lockdowns have been imposed in part due to the NHS's inability to cope – why are we being asked to sacrifice so much to prop up a failing institution? The question therefore follows – is the NHS in its current form fit for purpose? As someone who has been in UK healthcare and the NHS for 20 years I have seen at first hand that NHS is frequently unable to deliver basic 21st century healthcare in normal times. Cancer care performs poorly in this country and services cannot cope with modern chronic diseases such as type 2 diabetes and obesity where excellent available therapies are frequently not offered or provided. Every winter routine surgery is cancelled as hospitals do not have enough beds due to accommodation of the very predictable respiratory illnesses that come through A+E. And we are all accustomed and worryingly apathetic towards the plethora of NHS services with long waiting lists that would be unthinkable in other countries – this is rationing of medical services although often not stated as such.
Worth reading in full.
Rethinking the Lockdown Groupthink
The Toronto Sun has published a compelling interview with Dr Ari Joffe, a specialist in paediatric infectious diseases at the Stollery Children's Hospital in Edmonton and a Clinical Professor in the Department of Paediatrics at University of Alberta. He was initially a lockdown enthusiast, but he's come round to our point of view. There is more rejoicing in heaven… etc., etc.
You were a strong proponent of lockdowns initially but have since changed your mind. Why is that?

There are a few reasons why I supported lockdowns at first.

First, initial data falsely suggested that the infection fatality rate was up to 2-3%, that over 80% of the population would be infected, and modelling suggested repeated lockdowns would be necessary. But emerging data showed that the median infection fatality rate is 0.23%, that the median infection fatality rate in people under 70 years old is 0.05%, and that the high-risk group is older people, especially those with severe co-morbidities. In addition, it is likely that in most situations only 20-40% of the population would need to be infected before ongoing transmission is limited

Second, I am an infectious diseases and critical care physician, and am not trained to make public policy decisions. I was only considering the direct effects of COVID-19 and my knowledge of how to prevent these direct effects. I was not considering the immense effects of the response to COVID-19 (that is, lockdowns) on public health and wellbeing…

Third, a formal cost-benefit analysis of different responses to the pandemic was not done by Government or public health experts. Initially, I simply assumed that lockdowns to suppress the pandemic were the best approach. But policy decisions on public health should require a cost-benefit analysis. Since lockdowns are a public health intervention, aiming to improve the population wellbeing, we must consider both benefits of lockdowns, and costs of lockdowns on the population wellbeing. Once I became more informed, I realized that lockdowns cause far more harm than they prevent.

There has never been a full cost-benefit analysis of lockdowns done in Canada. What did you find when you did yours?

First, some background into the cost-benefit analysis. I discovered information I was not aware of before. First, framing decisions as between saving lives versus saving the economy is a false dichotomy. There is a strong long-run relationship between economic recession and public health. This makes sense, as Government spending on things like healthcare, education, roads, sanitation, housing, nutrition, vaccines, safety, social security nets, clean energy, and other services determines the population well-being and life-expectancy. If the Government is forced to spend less on these social determinants of health, there will be statistical lives lost, that is, people will die in the years to come. Second, I had underestimated the effects of loneliness and unemployment on public health. It turns out that loneliness and unemployment are known to be among the strongest risk factors for early mortality, reduced lifespan, and chronic diseases. Third, in making policy decisions there are trade-offs to consider, costs and benefits, and we have to choose between options that each have tragic outcomes in order to advocate for the least people to die as possible.

In the cost-benefit analysis I consider the benefits of lockdowns in preventing deaths from COVID-19, and the costs of lockdowns in terms of the effects of the recession, loneliness, and unemployment on population wellbeing and mortality. I did not consider all of the other so-called 'collateral damage' of lockdowns mentioned above. It turned out that the costs of lockdowns are at least 10 times higher than the benefits. That is, lockdowns cause far more harm to population wellbeing than COVID-19 can. It is important to note that I support a focused protection approach, where we aim to protect those truly at high-risk of COVID-19 mortality, including older people, especially those with severe co-morbidities and those in nursing homes and hospitals.
Worth reading in full.
Dr Ari Joffe has written a paper titled "COVID-19: Rethinking the Lockdown Groupthink" in which he describes how initial modelling predictions induced groupthink and how reality only started to impose itself as data began to emerge of the significant collateral damage done by lockdowns.
Why Haven't Our Points Landed and What Lies Behind the Hysteria
Today we are publishing a new contribution to the ongoing debate on why Lockdown Sceptics have failed to convince, this one by A.R. Norman.
Why haven't our points landed and who or what is behind the hysteria that grips us? Is it the Government, the media, scientists or SAGE or some other malign agency?

In his very persuasive essay, Dr David McGrogan claims that both the reason lockdown sceptics have failed to break through the hysteria surrounding COVID-19 and the source of the hysteria itself is the successful establishment of a 'moral truth' by the advocates of lockdown. In response, Guy de la Bedoyere argues that, against such truths, reason will never prevail – that emotion always has, does and will win the day.

There are, however, some other factors worth considering. The first is context. In 2016, something happened that was not meant to happen. Having being given a referendum, the British people defied their political masters and voted for Brexit. This, from the perspective of the Establishment – the political and professional classes, together with the media that represent them and the businesses that fund them – was an absolute catastrophe, a catastrophe compounded when Donald Trump came to power in America. This was a disaster for the same political and professional classes whose identity politics and global-capitalist economic project was threatened by his overt nationalism and the protectionist policies he promised.

Brexit and Trump were thus two enormous wins for populism, the revolt by broadly patriotic, socially conservative, anti-globalist parties which now form governments in much of Eastern Europe (and, let's not forget, in Russia too) and which continue to gain support throughout the rest of Europe via the likes of National Rally in France, AfD in Germany, Lega Nord in Italy and Vox in Spain. From these gains – and the eruption of violence in America today reinforces the view – it became clear to those who people the entire western Establishment that unless they can do something drastic, they are in serious danger of losing control.

The Covid scare gives it – the Establishment – the perfect opportunity for a massive reassertion of its authority. When people are afraid, they cry out to their leaders for protection. As it turns out, these leaders have precisely nothing to offer so they do the only thing that is in their gift: they deprive the people of their liberty and make them pay for the privilege through the expenditure of blood (think here of all those missed hospital tests and treatments, think of all the suicides and of all those acts of violence in the home) and treasure (the, as yet uncounted, trillions of dollars worldwide). So it is that, under cover of fulfilling the people's wishes for protection (and let us not forget how enthusiastically most have embraced lockdown), the Establishment has just pulled off a blinder. It has massively arrogated power to itself. By terrorising an already frightened populace, by bankrupting future generations and, crucially, by depriving a generation of young people of a significant proportion of their education, it looks like it has succeeded brilliantly in shoring up its position far into the future.
Worth reading in full.
Round-up
Theme Tunes Suggested by Readers
Five today: "Your Fault" by Stephen Sondheim, "Are the Good Times Really Over For Good" by Hank Williams Jr, "Putting Out Fire" by David Bowie, "Freedom Isn't Free" by Team America, and "Stand Up! Speak Out!" by Peggo & Paul.
Love in the Time of Covid
We have created some Lockdown Sceptics Forums, including a dating forum called "Love in a Covid Climate" that has attracted a bit of attention. We have a team of moderators in place to remove spam and deal with the trolls, but sometimes it takes a little while so please bear with us. You have to register to use the Forums as well as post comments below the line, but that should just be a one-time thing. Any problems, email the Lockdown Sceptics webmaster Ian Rons here.
Sharing Stories
Some of you have asked how to link to particular stories on Lockdown Sceptics so you can share it. To do that, click on the headline of a particular story and a link symbol will appear on the right-hand side of the headline. Click on the link and the URL of your page will switch to the URL of that particular story. You can then copy that URL and either email it to your friends or post it on social media. Please do share the stories.
Social Media Accounts
You can follow Lockdown Sceptics on our social media accounts which are updated throughout the day. To follow us on Facebook, click here; to follow us on Twitter, click here; to follow us on Instagram, click here; to follow us on Parler, click here; and to follow us on MeWe, click here.
Woke Gobbledegook
We've decided to create a permanent slot down here for woke gobbledegook. Today, we turn to the National Trust who have experienced a fresh backlash from their Colonial Countryside Project, a child-led history and writing initiative which it runs in conjunction with the Leicester University. The Express has the story:
National Trust bosses have come under fire after it emerged they drafted in schoolchildren to lecture staff and volunteers on the colonial and slave-trade links of some of the charity's country houses.

So-called child advisory boards were brought in to deliver "reverse-mentoring" sessions at a number of historic properties as part of a scheme to ensure the impact of their background could be fully explained to visitors. Staff were lectured on imperial history by schoolchildren who have been taking part in the Trust's Colonial Countryside project in conjunction with Leicester University academics. None of the Trust's team was forced to take part.

The university said the four-year project looked at "a range of colonial links, including slave-produced sugar wealth, East India Company connections, black servants, Indian loot, Francis Drake and African circumnavigators, colonial business interests, holders of colonial office, Chinese wallpaper, Victorian plant hunters and imperial interior design".

But the scheme has been criticised by anti-woke campaigners who claim important aspects of British history are being erased to satisfy a politically-correct agenda.

Tory MP Sir John Hayes said: "It is a source of sadness that the National Trust are out of touch with the reality of militancy that they are explicitly endorsing, out of tune with their increasingly disillusioned members and running out of time to put these wrongs right."

A spokesman for the National Trust said: "Colonial Countryside is a project started in 2018 at 11 National Trust houses.

"The participation of the children, which has now concluded, has tested new ways of working with staff enabling us to hear and reflect the children's responses.

"It was not a compulsory exercise for staff and volunteers."

He said Trust chiefs hope the process would ensure "British imperial history is fully represented in the organisation's country houses".

Around 100 primary school children have visited 10 National Trust houses to craft fiction and short essays which are then presented to audiences.

A Leicester University spokesman said: "Children will participate in conferences and give public talks.

"Child advisory boards will reverse-mentor National Trust staff to ensure that British imperial history is fully represented in the organisation's country houses."
Worth reading in full.
Stop Press: Read why Nottingham Forest striker Lyle Taylor refuses to take the knee in SportBible.
"Mask Exempt" Lanyards
We've created a one-stop shop down here for people who want to obtain a "Mask Exempt" lanyard/card – because wearing a mask causes them "severe distress", for instance. You can print out and laminate a fairly standard one for free here and the Government has instructions on how to download an official "Mask Exempt" notice to put on your phone here. And if you feel obliged to wear a mask but want to signal your disapproval of having to do so, you can get a "sexy world" mask with the Swedish flag on it here.
Don't forget to sign the petition on the UK Government's petitions website calling for an end to mandatory face masks in shops here.
A reader has started a website that contains some useful guidance about how you can claim legal exemption. Another reader has created an Android app which displays "I am exempt from wearing a face mask" on your phone. Only 99p.
If you're a shop owner and you want to let your customers know you will not be insisting on face masks or asking them what their reasons for exemption are, you can download a friendly sign to stick in your window here.
And here's an excellent piece about the ineffectiveness of masks by a Roger W. Koops, who has a doctorate in organic chemistry. See also the Swiss Doctor's thorough review of the scientific evidence here and Prof Carl Heneghan and Dr Tom Jefferson's Spectator article about the Danish mask study here.
Stop Press: A number of readers have got in touch to back up our reader who debunked the idea that mask-wearing is endemic in Asia. Our thanks to them all.
I'm Asian and have family in Hong Kong, a place I've visited many times over the years. I've also been to many other South East Asian countries – Thailand, Japan, Indonesia, South Korea – and I can say your writer is correct. Only a very small number of people wear masks, mainly due to pollution.

It's just not true to say mask wearing was common place in Asia prior to Covid. It is very hot and humid in these countries and the last thing anyone wants to do is put a piece of cloth over their face. Imagine how sweaty and dirty it'd be!

Hope this smashes the myth of mask wearing in Asia!
Another said:
I lived in Japan for many years and during that time saw only one person I knew wearing a mask. This was a nursery teacher in my son's nursery school who had come down with a cold. Though you saw masked traffic policemen in Tokyo, that was to protect them from pollution. People did not in general wear masks. A polite greeting on parting was "Make sure you don't catch cold", but "Make sure you wear a mask" was never part of the advice. I haven't been back to Japan since 2003 and things might have changed. However, I read the Japanese online news every day and can state hand on heart that until Covid started there were never any pictures of people in masks.
And in Vietnam:
I have spent a fair bit of time in Vietnam travelling by motorbike, up to about 7000km cumulatively now. Fabric masks are commonplace there by day among motorcyclists (of which there are of course many!) to protect them from the relentless sun and the terrible dust and pollution on the roads. I've no experience of anyone in that particular Asian country wearing them when ill.
Masks are more common in South Korea in one reader's more recent experience, but again, only to protect the wearer from pollution:
Definitely more of a cultural phenomenon in South Korea when I visited in 2019 (as well as in areas with high South Korean demographic in Sydney as I have lived there on and off for upwards of 20 years). From what a friend whose brother is married to a Japanese woman tells me, masks are very common in Japan as well but primarily to protect against fine dust/air pollution or as a polite measure when the wearer is sick. Also somewhat of a fashion trend in South Korea but definitely not in the sense that one is glared at if not wearing a mask. It was common, in my experience, but entirely discretionary.
Another offered his perspective, and asked a good question:
I lived in Japan from 1999 to 2001 and saw a few people in masks each day (maybe 1 in 100 people). I thought it was odd so plucked up the guts to ask someone once and he said he had a cold and didn't want to pass it on. It was considered good manners then. I have not been there in the last year but acquaintances tell me that literally everyone wears one now, although I have not heard of anyone bring "shamed" for not wearing one. They are mandatory in most schools, though not by law.

This begs the question: Is it worse to have mandatory irrational mask rules, or the voluntary irrationality of mass mask-wearing without the rules? I'd like to think that if the mask rule is lifted in the UK we will all stop wearing them but perhaps we will do as the Japanese do and wear them anyway "just in case".
And finally, a reader has an interesting suggestion:
Your reader's experience of mask wearing tallies with mine. I travelled extensively throughout China in 2018 and don't recall seeing masks being worn beyond the odd person even on pea souper days.

For fun, why not try entering "Beijing crowds 2018" into Google Images and play 'Where's Masked Wally?' with any random result. Unless you luck out and pick a photo of a political rally or protest, it's tougher than the original game. For advanced players, replace Beijing with any large East Asian city.
The Great Barrington Declaration
The Great Barrington Declaration, a petition started by Professor Martin Kulldorff, Professor Sunetra Gupta and Professor Jay Bhattacharya calling for a strategy of "Focused Protection" (protect the elderly and the vulnerable and let everyone else get on with life), was launched in October and the lockdown zealots have been doing their best to discredit it ever since. If you googled it a week after launch, the top hits were three smear pieces from the Guardian, including: "Herd immunity letter signed by fake experts including 'Dr Johnny Bananas'." (Freddie Sayers at UnHerd warned us about this the day before it appeared.) On the bright side, Google UK has stopped shadow banning it, so the actual Declaration now tops the search results – and Toby's Spectator piece about the attempt to suppress it is among the top hits – although discussion of it has been censored by Reddit. The reason the zealots hate it, of course, is that it gives the lie to their claim that "the science" only supports their strategy. These three scientists are every bit as eminent – more eminent – than the pro-lockdown fanatics so expect no let up in the attacks. (Wikipedia has also done a smear job.)
You can find it here. Please sign it. Now over three quarters of a million signatures.
Update: The authors of the GBD have expanded the FAQs to deal with some of the arguments and smears that have been made against their proposal. Worth reading in full.
Update 2: Many of the signatories of the Great Barrington Declaration are involved with new UK anti-lockdown campaign Recovery. Find out more and join here.
Update 3: You can watch Sunetra Gupta set out the case for "Focused Protection" here and Jay Bhattacharya make it here.
Update 4: The three GBD authors plus Prof Carl Heneghan of CEBM have launched a new website collateralglobal.org, "a global repository for research into the collateral effects of the COVID-19 lockdown measures". Follow Collateral Global on Twitter here. Sign up to the newsletter here.
Judicial Reviews Against the Government
There are now so many legal cases being brought against the Government and its ministers we thought we'd include them all in one place down here.
The Simon Dolan case has now reached the end of the road. The current lead case is the Robin Tilbrook case which challenges whether the Lockdown Regulations are constitutional. You can read about that and contribute here.
Then there's John's Campaign which is focused specifically on care homes. Find out more about that here.
There's the GoodLawProject and Runnymede Trust's Judicial Review of the Government's award of lucrative PPE contracts to various private companies. You can find out more about that here and contribute to the crowdfunder here.
And last but not least there was the Free Speech Union's challenge to Ofcom over its 'coronavirus guidance'. A High Court judge refused permission for the FSU's judicial review on December 9th and the FSU has decided not to appeal the decision because Ofcom has conceded most of the points it was making. Check here for details.
Samaritans

If you are struggling to cope, please call Samaritans for free on 116 123 (UK and ROI), email jo@samaritans.org or visit the Samaritans website to find details of your nearest branch. Samaritans is available round the clock, every single day of the year, providing a safe place for anyone struggling to cope, whoever they are, however they feel, whatever life has done to them.
Shameless Begging Bit
Thanks as always to those of you who made a donation in the past 24 hours to pay for the upkeep of this site. Doing these daily updates is hard work (although we have help from lots of people, mainly in the form of readers sending us stories and links). If you feel like donating, please click here. And if you want to flag up any stories or links we should include in future updates, email us here. (Don't assume we'll pick them up in the comments.)
And Finally…