PR Blitz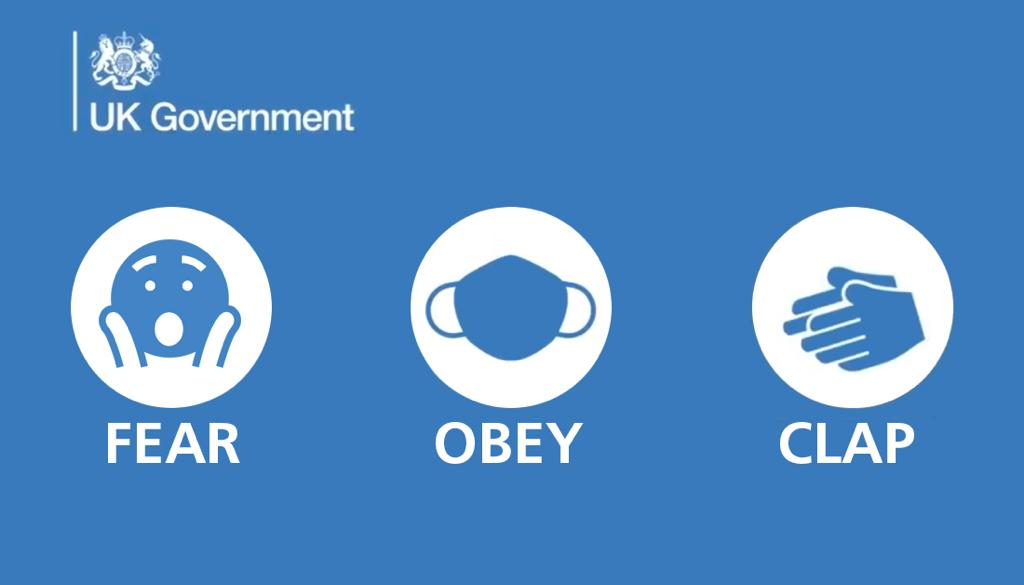 With case numbers continuing to rise, the Government is pleading with the public to obey the new lockdown rules and reinforcing the message with a new advertising campaign. The Daily Mail has the story:
Boris Johnson last night begged families to stay at home as the Covid death toll hit a grim new record.

He said infections were rising at an alarming rate, despite the lockdown imposed at the start of the week.

And he warned the only way to prevent thousands more deaths was to follow the rules. "I know the last year has taken its toll," the Prime Minister said. "But your compliance is now more vital than ever…"

With the virus apparently running rampant in London, an advertising blitz will run on TV, radio, newspapers and social media carrying shocking images of the severely ill in hospital…

The hard-hitting ad campaign was launched on TV last night, fronted by Chief Medical Officer Chris Whitty. He said that while vaccines provided "clear hope for the future… for now we must all stay at home".

Professor Whitty, who is the most trusted Government figure on Covid, said the rapid spread of the virus was putting "many people at risk of serious disease and is placing a lot of pressure on our NHS".

Dramatic images will carry the stark message: "Coronavirus. If you go out, you can spread it. People will die."
The intervention appears to be prompted by concerns about compliance, which is far below the level seen during the first lockdown in March last year:
No 10 fears that Mr Johnson's stay-at-home order is being flouted, a suspicion backed up by figures from Transport for London.

Passenger levels on the Underground were running at 18% yesterday, compared with just 5% last April.

Bus use is at 30% of capacity, compared with around 18% in the first lockdown.

And traffic levels on main roads in the capital were at 76% of normal compared with 30-40% nine months ago.
Having declared a 'major incident', Sadiq Khan is calling for tighter restrictions:
The major incident declared by Mr Khan yesterday is a procedure previously invoked following the Grenfell Tower disaster and major terrorist attacks.

The Mayor called for the closure of places of worship and for face masks to be worn routinely outside the home. Downing Street sources said there were "no more new lockdown measures on the way".

But the Mail understands that Health Secretary Matt Hancock and other ministers have been examining the case to extend the use of masks.
Worth reading in full.
The Telegraph meanwhile, offers some further detail on the mood inside the Government:
Ministers are increasingly concerned about compliance with the lockdown but believe there are few additional major options left to tighten the restrictions any further.

"There's not a lot more that we can do," said a Government source. "We've put in these very tough national restrictions. It is a lockdown for everyone all the time." The source stressed that the focus now was on persuading the public to obey the current rules.

Heavier-handed enforcement remains a lever the Government could pull, however. Police forces are already stepping up their role, having said this week that they will take a stricter approach to the latest lockdown.

Government insiders pointed out that the blanket lockdown rules are simpler and should therefore be easier to police than the tiers system.
Whatever impact this will have on the situation in the hospitals, it has a nasty side-effect in overzealous enforcement of the rules, as the Telegraph reports:
People having snowball fights outside face £200 fines for breaching Covid lockdown rules, police have said, amid criticism of heavy-handedness by officers.

West Mercia Police said snowball fights were not a justifiable reason for people to leave their homes during lockdown.

They wrote on Twitter: "There have been two reports of snowballs being thrown last night between 11 and 11.30pm. This is obviously not a justifiable reason to be out of your house, this behaviour is likely to result in a £200 Fixed Penalty Notice for breaking the lockdown rules."

The action came after police chiefs warned this week that they will take a tougher approach to the latest lockdown, including challenging and fining people outside their homes without a reasonable excuse.

On Friday, figures showed police have more than doubled the rate at which they are issuing Covid fines, with a record 7,396 in the first 20 days of December – the equivalent of more than 350 a day.

It came after two women were hit with £200 Covid fines after their countryside walk with cups of coffee was branded a picnic.

The women said they were surrounded by police, read their rights and fined after driving five miles to take a walk in the Derbyshire countryside. They were told the hot drinks they had brought along were not allowed because they were "classed as a picnic".

Guidance for the latest lockdown says people can travel for exercise as long as it is in their "local area". Derbyshire Police said driving for exercise was "not in the spirit" of lockdown.
Worth reading in full.
Stop Press: RT is reporting that West Mercia Police has rowed back on the criminalisation of snowball fights.
Stop Press 2: The Mirror has a grim story of police storming a house over a suspected lockdown breach on the strength of a tip-off from a member of the public. A neighbour reported the occupants for unauthorised household mixing, but it turned out the "strangers" seen entering the properly were paramedics bringing the family's sick daughter back from hospital. See a video of the police entering the house here.
Unpacking Yesterday's Frightening Number of Daily Covid Deaths
What follows is a guest post byWill Jones who has examined the data behind yesterday's alarming number of reported deaths.
Much is being made of the "record high" of 1,325 deaths reported yesterday, with reports of a Government crackdown to try to bring the virus under control.
There's no doubt that the virus is currently driving a worrying surge in hospital admissions in London and that deaths with Covid continue to rise. However, the high 1000+ totals of the last few days include the backlog of deaths from the Christmas period that are only just now being reported, making them artificially high. A look at the deaths by date of death shows that the seven day average was around 635 on January 1st, and though it seems set to rise to closer to 700 in the past week, it is still a long way short of 1,325.
The Prime Minister said yesterday that "infection rates across the entire country continue to soar at an alarming rate". This isn't the picture painted by the ZOE app however, where daily new cases in London have been falling for some days and also appear to be slowing across England. The researchers behind the app estimate "R" in both London and England to be 1.1 (and falling).
Alarmingly, despite Matt Hancock stating this week that he wanted to lift restrictions once the vulnerable are vaccinated in the spring, a Government source told the Telegraph: "If the vaccination programme rolls out really effectively and the vaccines behave as well as they've done in trials, then you start to see a real opportunity to start easing things off a bit over the summer and spring. But then you may need to have something reintroduced next winter and you think about things like mask wearing and social distancing to make sure that we don't give the virus a chance to spread again."
Is this another Government aspiration that will evaporate when push comes to shove and leave us with another long winter of over-cautious public health policy? Let's hope not.
Stop Press: Professor Tim Spector confirms that both the ZOE App Data and the ONS survey suggest the surge is subsiding.
What's Gone Wrong With Hospitals' Oxygen Supply?
An experienced cryogenics engineer has got in touch with an explanation for the problems with oxygen supply that some hospitals are currently experiencing. He has a solution.
Your regular weekly update from our in-house senior doctor revealed yesterday that: "Problems have arisen with oxygen supply at some hospitals – this is not due to lack of oxygen per se, but an engineering problem with the pipe pressure. Non-invasive ventilation with CPAP which most patients require needs a lot of oxygen and the requirement is more than the pipework can supply in some places."
Early in April last year I was puzzled by a report in the Independent of a mysterious "critical incident" in Watford General Hospital which was forced to close its A&E Department after its oxygen supply was cut off. A BBC documentary "Hospital", which I saw during the Summer, showed an incident occurring at about the same time of critical oxygen supply problems. Pressures dropped below minimum levels at the Royal Free London hospital as April evening temperatures fell. The immediate response was to transfer patients from non-invasive CPAP therapy to lower-demand intubation ventilators. The NHS manager was shown later fast-tracking the procurement and installation of an extra healthcare cryogenic supply tank or bulk storage tank in only 10 days. This was a creditable achievement, but sadly too late to benefit some of the COVID-19 patients, including an elderly Jewish gentleman who might, or might not, have survived had he remained on CPAP. I learned intubation is reportedly well-known to be contra-indicated for older and frail patients.
I am familiar with cryogenic systems technology and practice, having worked in and consulted for the marine Liquid Natural Gas (LNG) sector worldwide and its professional advisory bodies since the late 1970s. Bulk gases are stored in liquid form as, for example, oxygen gas occupies 800 times the volume of the same amount of liquid. But the liquid has to receive heat so that it "boils-off" back into gas. The problem with simple bulk liquid storage gas supply installations is not so much the pipework pressure limitations, but the air-liquid heat exchanger capacity which generates the supply pressure by "boiling-off" the extremely cold liquid oxygen. LNG boils at -161.5oC at atmospheric pressure, not much warmer than the boiling point of liquid oxygen used in hospital cryogenic supply tanks which is -183oC. The liquid is fed into vertical finned tube heat exchangers which draw heat from the surrounding air to "boil-off" the liquid gas. The flow of the liquid from tank to exchanger is automatically controlled to maintain supply pressure to the outlet which feeds the hospital piping system. During cold, moist conditions, the exchanger tubes become coated with frost which insulates the tube rack. With high demand, the increasing ice coating insulates too much of the exchanger surface area and prevents further uptake of heat from the air. Where "boil-off" fails to meet demand, pressure falls to hospital consumers, usually a combination positive pressure non-invasive (CPAP) therapy, nasal cannulas or invasive intubation ventilators. This is leading to triage during emergencies. If oxygen supply cannot be restored, higher consumers have to be shut off in favour of lower consumers and heavy cylinders of compressed medical oxygen, which have to be frequently replaced are substituted.
The short- to medium-term solution is surprisingly simple and well-known to marine engineers responsible for practical LNG operations. In periods of high gas demand or high need to boil-off cryogenic liquid, hard ice coat build-up from the exchanger tubes can be melted by playing a relatively low volume of fresh water (e.g. from a hospital fire hose) onto the heat exchanger. Continuing to spray water will significantly increase boil-off gas capacity as water has 4,000 times the heat capacity for a given volume than air. This technique was also known to the US healthcare sector. In May 2020 Health Facilities Management Magazine suggested that water or steam be used. In the UK, the Independent reports that "although incidents have been widely reported as NHS trust bosses were told… not to try to push oxygen systems beyond their limits" as "unapproved procedures may cause permanent damage". The only alternative advice given apparently was to provide compressed oxygen as backup in heavy cylinders.
Having tried to put forward the solution on several occasions with the local NHS in Wales and in the MSM without response or acknowledgement, I am dismayed to hear yet again nothing seems to have been learned and oxygen capacity remains a serious bottleneck. It was reported that the unused Nightingales have, in London at least, been cannibalised for their temporary units. It should have been obvious to those responsible that January, with its near-freezing temperatures, was likely to be much more problematic than a warm Spring. But we have become well aware of the procedure-driven and budget-driven limitations within the NHS.
Exponential Rise in Key Workers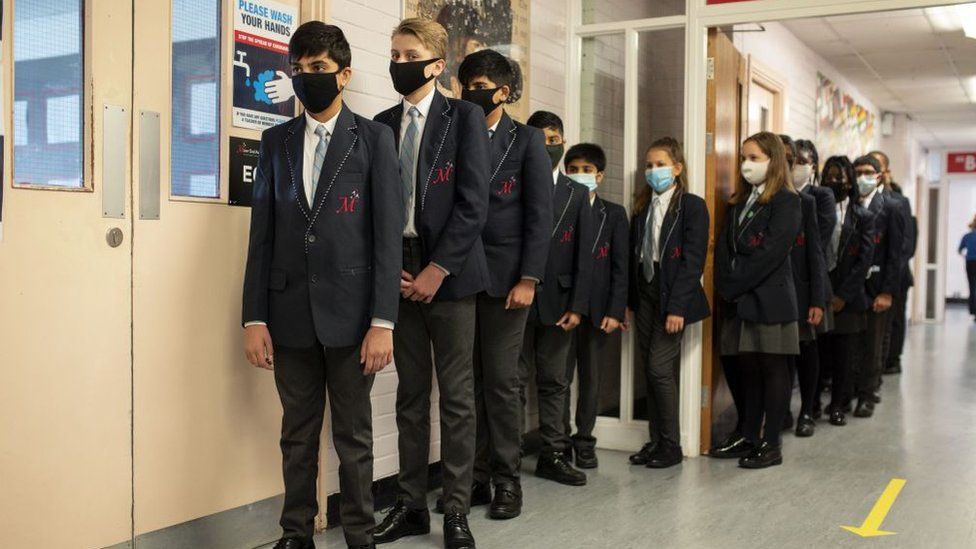 One key difference with this lockdown, as compared with the first, appears to be the number of primary school children who are still going to school. The Guardian has the story:
Primary schools in England have reported a big increase in the number of pupils attending during the latest lockdown, leading to warnings it may increase the spread of COVID-19 and prolong the need for school closures.

A survey of school leaders and classroom teachers revealed a sharp turnaround in the numbers of children attending school this week compared with those who attended in March 2020 during the first national lockdown.

The survey by the Teacher Tapp app found that one in six primary schools in England reported that 30% or more of their normal roll was attending in person this week, far more than in the first week of the March lockdown.

Nationally the figures would equate to more than 2,500 primary schools in England with a third or more of their pupils in their classrooms. More than 300 of those schools said at least half of all their pupils attended in person.

The figures are the first evidence that parents have been sending their children to school in increasing numbers. Headteachers have complained about their schools "rammed" with pupils and of parents making implausible claims of being eligible "critical workers".

One headteacher reported that a parent whose job was a dog-walker claimed to qualify as a key worker because many of the dogs' owners were NHS staff.

Rebecca Allen, a Professor of Education at the University of Brighton and Chief Analyst at Teacher Tapp, said: "The much higher number of children attending primary schools each day during this lockdown will make it more difficult to reduce the rate of transmission.

"This, in turn, may mean that schools will need to stay closed for longer, thus delaying the speed with which we can get other children back to school."
Worth reading in full.
This is at least partly because the rules on which children are allowed back into the classroom are more permissive than they were in March. The BBC has more.
Heads are calling for limits to the number of pupils in school during lockdown in England, with attendance rates surging to 50% in some places.

The two head teachers' unions, NAHT and ASCL, say the high numbers attending could hamper the fight against the virus.

The Department for Education has widened the categories of vulnerable and key worker pupils who can attend.

The widened categories not only include vulnerable pupils and children of workers in critical occupations but also those who cannot access remote learning either because they do not have devices or space to study.

Children of parents working on the Brexit arrangements are also included.

Teachers have described streets around schools being packed with parents dropping off their children and almost all staff having to come in and work despite the lockdown.

Heads say they fear schools could be overwhelmed by children who do not have access to lap tops [sic] to learn remotely.
One Lockdown Sceptics reader has a child who is now going back to school. She wrote in to share her experience of school closures in her area:
Our daughter is of primary school age and during the first lockdown we kept her at home at the same time as me and my partner both attempting to work full time from home, this being largely unsuccessful for all of us.

In anticipation of the closures this time, we sought "critical worker" status from my partner's employer and were lucky enough to have this granted. When the inevitable closures were announced on the Monday, we were ready and waiting to apply for a place for our daughter, which we duly did on the Tuesday. The school was closed to all pupils on the Tuesday whilst they organised the staff and awaited the critical worker place applications from parents.

On the Tuesday evening we received a couple of successive emails, the first notifying us that the place for our daughter was confirmed, the second outlining the plans for school opening for critical worker places from Wednesday and beyond. In that email the school outlined class numbers for each year group and the total number of places allocated. We were somewhat surprised to see that places in school (it's not clear whether these include those classed as vulnerable, I have assumed that they are) amounted to over 50% of the normal capacity of the school (166/315), with our daughter's year group being the largest class – a total of 28 children out of a possible 45.

I have no reason to believe that our daughter's school would be much different from others in our area, which is situated in a fairly affluent part of South Manchester. A quick ask around local friends and colleagues reveal that other schools do appear to be around the same sort of levels. This is also in contrast to the first lockdown, where I believe there were around 10 out of 45 in our daughter's year in attendance.

That being the case, one has to ask oneself, are any of the perceived benefits of school closures actually likely with this volume of children in schools (although as a lockdown sceptic I remain unconvinced of the benefits regardless)? Almost all of the teaching staff will still be coming into school, albeit in a shift type pattern, as will the staff of the onsite wraparound care facility.

I fear that all that has really been achieved by the closure of primary schools is the further disadvantaging of a large proportion of children across the country.

The Headteacher has since followed up the emails of Tuesday evening with an email requesting parents to all "examine our social conscience" and revisit whether we all really need the critical worker places applied for. From this I can safely assume from this that the Head is no lockdown sceptic herself.
Stop Press: A headteacher in Hull is urging parents not to abuse critical worker places, telling them to only send their children to school if they "absolutely have to".
Stop Press 2: MailOnline is reporting that some pupils are being asked to do their own Covid tests.
Answer From A Legal Eagle
Yesterday we had a question for the legal eagles: If basic care is to be curtailed to promote vaccination programmes, can I sue the GP practice if my elderly mum doesn't get the care she needs and then goes on to be hospitalised unnecessarily?
Today, a response:
I very much doubt it. Professional negligence law has two ready-made defences for the practice:

1) Compliance with law/health authority directives – The practice would say it was doing what its contractual partner (and the Government) told it to, and what it was therefore obliged to do.

2) "Reasonable foreseeability" – A successful claim would need to argue that it was reasonable for the practice to foresee that the absent care would be more critical than the vaccine. In the current uncertain environment – impossible, I fear.
Postcard From Luxembourg
One Lockdown Sceptics reader is lucky enough to live in Luxembourg were COVID-19 restrictions are being relaxed. He wanted to share his thoughts so he has written us a postcard:
The day before England woke up to its third lockdown, Luxembourg announced that it was actually going to relax its own restrictions. Yes, here in Luxembourg the shops will all be opened, the children back at school following a slightly extended Christmas holiday and we will even be able to go to the cinema and the swimming pool.

Perhaps there has been a slight whiff of Schadenfreude as the Luxembourgish authorities clamped down on arrivals from the island with the now famous mutant variant following Matt Hancock's frantic ringing of the alarm bell. After all, this is the same little country that was among the first to be kicked out of Grant Shapps's travel corridors with COVID-19 cases persistently in excess of 20 per 100,000. Do you remember that frightening threshold that forced so many holidaymakers to flee the pestilence and return to the UK before it pulled up the drawbridges? Maybe you have forgotten about it being so busy clearing streets of bodies now that cases exceed 1,000 in so many British towns. Or perhaps not.

While all of Europe sneered at Trump when he suggested that the more you test, the more cases you find, it was not long before the Luxembourg Government was saying something similar. Boris might have talked about moonshots, but Luxembourg really did roll out real mass testing early on. I don't know how many invitations I have received for members of my household to be tested. It is possibly in double figures now. Of course, the sad consequence was that it was always up there near the top in terms of COVID-19 cases detected and much to its consternation, rather than receiving a pat on its back, other countries simply slapped restrictions on travel to and from Luxembourg. This eventually led to the wonderful controversy of the pugnacious Luxembourg Foreign Minister refusing to be tested before entering Germany for an EU summit in Berlin and declaring that the imposition of mandatory tests before crossing the border was "pure harassment".

Despite this brilliant rollout of mass testing throughout the Summer, the action that we were all told was meant to stop COVID-19 in its tracks, Luxembourg has seen far more people reportedly dying of Covid since October than it did during the Spring – more than three times the number and with a youthful average age of 85. This meant that restrictions were progressively ratcheted up again until we had a curfew beginning at 9pm, non-essential shops shutting, masks, restaurants closed… you know the drill. But now the cases are dropping, the hospital beds are emptying, and the health service emergency level has been downgraded.
Worth reading in full.
We Need Scepticism More Than Ever
Sociology Professor Frank Furedi has written a long read for Spiked-Online defending the important role of scepticism at a time when it is increasingly considered a threat.
Look at the way so-called lockdown sceptics are now talked about. They are accused of "having blood on their hands", and of holding "deadly beliefs". They are to be ostracised, censored and humiliated. In this vein, one Guardian columnist even demanded that a specific scientist, who has criticised the lockdown consensus, be denied access to the media to voice his views. And little wonder. Scepticism is now routinely portrayed as dangerous, something to be quashed lest we all suffer.

It is not just criticism of lockdown restrictions that is under fire. Criticism of other aspects of the establishment's outlook is also treated in much the same way, that is, as dangerous or threatening. Indeed, it is the attempt by our cultural, political and educational elites to demonise criticism that has contributed to the broader demonisation of scepticism itself. Think of the whiff of sulphur that hangs around those called Eurosceptic or climate-sceptical. They are not presented as mere holders of dissenting opinions; they are presented as morally inferior, and potentially dangerous…

Take the hysterical criticism levelled at the authors of the lockdown-questioning Great Barrington Declaration, and lockdown-sceptical individuals, such as Sunetra Gupta, a Professor of Theoretical Epidemiology at the University of Oxford. They have been personally and professionally maligned, and, more troubling still, their critics want them removed from the public sphere. This has all the characteristics of a modern high-tech witch-hunt.
Sceptics, he writes, are routinely accused of a wicked heresy.
Today's sceptics are not accused of obscenity or moral corruption. No, they are accused of "denialism". That is their evil deed. By categorising scepticism as denialism, one is attributing malign intent to the exercise of scepticism. The sceptic is therefore not questioning or interrogating an establishment position; rather, he or she is denying the truth of the establishment position. Such is the quasi-religious force of this strategy that the Guardian, which largely cleaves to establishment positions, updated its style guide in 2019, meaning that climate sceptics were from then on to be referred to as climate-science deniers. Unsurprisingly, this same rhetorical strategy has been applied to those sceptical of lockdown policies, with accusations of "Covid denialism" now routine on social media and in the press…

They have transformed the act of denying the Holocaust into a generic evil, a free-floating blasphemy, which can be attributed to all manner of sceptical positions. As one commentator puts it: "Denial is pernicious and can have dire impacts. Climate-change denial leads to lack of action that would preserve a healthy planet. Mask denial leads to increased spread of and mortality from the Covid virus."
Yet if society is to develop, Furedi concludes, it needs scepticism.
A sceptical attitude is especially important right now. During this perilous moment, when humanity is confronted by a deadly threat like Covid, there is a temptation to close down debate and limit freedom of speech. In such circumstances, dissenting views can easily be caricatured as a threat to people's health. To some it even seems that debate itself is a luxury we can no longer afford. Yet it is precisely during an emergency, like the pandemic, that debate and free speech become indispensable. They are the means by which we harness the creativity and the wisdom of the public to deal with the crisis in which we now find ourselves.

The 19th-century biologist Thomas Henry Huxley once wrote that "scepticism is the highest of duties; blind faith the unpardonable sin". Now, more than ever, this is a statement worth heeding. Our future freedom may well depend on it.
Worth reading in full.
Stop Press: Douglas Murray has made a similar argument in a piece for UnHerd called "Don't censor the lockdown sceptics".
The Iceberg Cometh
We're publishing an original piece by Lockdown Sceptics regular Guy de la Bédoyère today about our seeming inability to come to terms with our own mortality, something that's become starkly apparent during this crisis. Here is an extract:
Life is a little like being on the Titanic, but one without lifeboats and in a perpetual state of sinking. We do everything individually and collectively we can to maximize our chances of surviving for as long as possible by metaphorically clambering towards the stern, the last part to sink beneath the waves. And why wouldn't we? But sink beneath the waves we will.

From a cultural and social point of view that is what we are all about. Human ingenuity is so powerful a force and the drive to improve our survival rates is such an integral part of what we are that they define our whole existence. The NHS is a manifestation of that aspiration because it has made healthcare available to all in this country. It is a defining aspect of our civilization. It is a force for fundamental good and an expression of compassion. But it comes at a price, and not just a financial one.

Unfortunately, what we seem ever more unable to reconcile is our enthusiasm to prolong life with the knowledge that it must end. By doing everything we can to extend life within what is possible for human beings we necessarily fill that 85-105 year-old group with ever more people who have underlying health conditions. That is the contract we have made in our society. The state provides that service, we support that service, we pay for that service, and we expect that service.
Worth reading in full.
Round-up
Theme Tunes Suggested by Readers
Four Today: "I've Had Enough" by The Who, "Cry Wolf" by Aha, "Can't Give Up Now" by Mary Mary and "It's All Going to Pot" by Willie Nelson.
Love in the Time of Covid
We have created some Lockdown Sceptics Forums, including a dating forum called "Love in a Covid Climate" that has attracted a bit of attention. We have a team of moderators in place to remove spam and deal with the trolls, but sometimes it takes a little while so please bear with us. You have to register to use the Forums as well as post comments below the line, but that should just be a one-time thing. Any problems, email the Lockdown Sceptics webmaster Ian Rons here.
Sharing Stories
Some of you have asked how to link to particular stories on Lockdown Sceptics so you can share it. To do that, click on the headline of a particular story and a link symbol will appear on the right-hand side of the headline. Click on the link and the URL of your page will switch to the URL of that particular story. You can then copy that URL and either email it to your friends or post it on social media. Please do share the stories.
Social Media Accounts
You can follow Lockdown Sceptics on our social media accounts which are updated throughout the day. To follow us on Facebook, click here; to follow us on Twitter, click here; to follow us on Instagram, click here; to follow us on Parler, click here; and to follow us on MeWe, click here.
Woke Gobbledegook
We've decided to create a permanent slot down here for woke gobbledegook. Today, from the New York Post, we bring you a human rights attorney and the curious case of her cultural identity:
A prominent human rights attorney apparently posed as a Latina woman for years.

Despite claiming Puerto Rican and Colombian heritage for over a decade, Natasha Lycia Ora Bannan is actually a white woman from Georgia, according to a report by the non-profit news outlet Prism.

She serves as Senior Counsel at the Latino Justice Puerto Rican Legal Defence and Education Fund.

Records obtained by the site say Bannan's family arrived in the United States from Ireland, Italy and Russia.

On Monday, Bannan, 43, clarified that she's white in response to the report.

"I am racially white, and have always said that. However my cultural identity was formed as a result of my family, both chosen and chosen for me, and that has always been Latinx," the attorney wrote.

"My identity is my most authentic expression of who I am and how I pay honour to the people who have formed me since I was a child."

Bannan also sent an email to Prism saying she's previously identified as white, that her "biological origins are Italian, atheist Jewish/Sephardic, some unknown (adopted grandfather) and who knows what else."
Worth reading in full.
Stop Press: For another story from across the pond, we turn to #Disrupttexts and their ongoing campaign to build an inclusive and equitable arts curriculum. Meghan Cox Gurdon has more in the Wall Street Journal.
A sustained effort is under way to deny children access to literature. Under the slogan #DisruptTexts, critical-theory ideologues, schoolteachers and Twitter agitators are purging and propagandizing against classic texts, everything from Homer to F. Scott Fitzgerald to Dr. Seuss.

Their ethos holds that children shouldn't have to read stories written in anything other than the present-day vernacular, especially those "in which racism, sexism, ableism, anti-Semitism, and other forms of hate are the norm", as young-adult novelist Padma Venkatraman writes in School Library Journal. No author is valuable enough to spare, Ms. Venkatraman instructs: "Absolving Shakespeare of responsibility by mentioning that he lived at a time when hate-ridden sentiments prevailed, risks sending a subliminal message that academic excellence outweighs hateful rhetoric."

The subtle complexities of literature are being reduced to the crude clanking of "intersectional" power struggles. Thus Seattle English teacher Evin Shinn tweeted in 2018 that he'd "rather die" than teach "The Scarlet Letter", unless Nathaniel Hawthorne's novel is used to "fight against misogyny and slut-shaming".

Outsiders got a glimpse of the intensity of the #DisruptTexts campaign recently when self-described "antiracist teacher" Lorena Germán complained that many classics were written more than 70 years ago: "Think of US society before then and the values that shaped this nation afterwards. That is what is in those books…"

The demands for censorship appear to be getting results: "Be like Odysseus and embrace the long haul to liberation (and then take the Odyssey out of your curriculum because it's trash)," tweeted Shea Martin in June, to which Heather Levine, an English teacher at Lawrence High School, Massachusetts, replied, "Hahaha. Very proud to say we got the Odyssey removed from the curriculum this year!"
Worth reading in full.
"Mask Exempt" Lanyards
We've created a one-stop shop down here for people who want to obtain a "Mask Exempt" lanyard/card – because wearing a mask causes them "severe distress", for instance. You can print out and laminate a fairly standard one for free here and the Government has instructions on how to download an official "Mask Exempt" notice to put on your phone here. And if you feel obliged to wear a mask but want to signal your disapproval of having to do so, you can get a "sexy world" mask with the Swedish flag on it here.
Don't forget to sign the petition on the UK Government's petitions website calling for an end to mandatory face masks in shops here.
A reader has started a website that contains some useful guidance about how you can claim legal exemption. Another reader has created an Android app which displays "I am exempt from wearing a face mask" on your phone. Only 99p.
If you're a shop owner and you want to let your customers know you will not be insisting on face masks or asking them what their reasons for exemption are, you can download a friendly sign to stick in your window here.
And here's an excellent piece about the ineffectiveness of masks by a Roger W. Koops, who has a doctorate in organic chemistry. See also the Swiss Doctor's thorough review of the scientific evidence here and Prof Carl Heneghan and Dr Tom Jefferson's Spectator article about the Danish mask study here.
The Great Barrington Declaration
The Great Barrington Declaration, a petition started by Professor Martin Kulldorff, Professor Sunetra Gupta and Professor Jay Bhattacharya calling for a strategy of "Focused Protection" (protect the elderly and the vulnerable and let everyone else get on with life), was launched in October and the lockdown zealots have been doing their best to discredit it ever since. If you googled it a week after launch, the top hits were three smear pieces from the Guardian, including: "Herd immunity letter signed by fake experts including 'Dr Johnny Bananas'." (Freddie Sayers at UnHerd warned us about this the day before it appeared.) On the bright side, Google UK has stopped shadow banning it, so the actual Declaration now tops the search results – and Toby's Spectator piece about the attempt to suppress it is among the top hits – although discussion of it has been censored by Reddit. The reason the zealots hate it, of course, is that it gives the lie to their claim that "the science" only supports their strategy. These three scientists are every bit as eminent – more eminent – than the pro-lockdown fanatics so expect no let up in the attacks. (Wikipedia has also done a smear job.)
You can find it here. Please sign it. Now over three quarters of a million signatures.
Update: The authors of the GBD have expanded the FAQs to deal with some of the arguments and smears that have been made against their proposal. Worth reading in full.
Update 2: Many of the signatories of the Great Barrington Declaration are involved with new UK anti-lockdown campaign Recovery. Find out more and join here.
Update 3: You can watch Sunetra Gupta set out the case for "Focused Protection" here and Jay Bhattacharya make it here.
Update 4: The three GBD authors plus Prof Carl Heneghan of CEBM have launched a new website collateralglobal.org, "a global repository for research into the collateral effects of the COVID-19 lockdown measures". Follow Collateral Global on Twitter here. Sign up to the newsletter here.
Judicial Reviews Against the Government
There are now so many legal cases being brought against the Government and its ministers we thought we'd include them all in one place down here.
The Simon Dolan case has now reached the end of the road. But the cause has been taken up by PCR Claims. Check out their website here.
The current lead case is the Robin Tilbrook case which challenges whether the Lockdown Regulations are constitutional. You can read about that and contribute here.
Then there's John's Campaign which is focused specifically on care homes. Find out more about that here.
There's the GoodLawProject and Runnymede Trust's Judicial Review of the Government's award of lucrative PPE contracts to various private companies. You can find out more about that here and contribute to the crowdfunder here.
And last but not least there was the Free Speech Union's challenge to Ofcom over its 'coronavirus guidance'. A High Court judge refused permission for the FSU's judicial review on December 9th and the FSU has decided not to appeal the decision because Ofcom has conceded most of the points it was making. Check here for details.
Samaritans

If you are struggling to cope, please call Samaritans for free on 116 123 (UK and ROI), email jo@samaritans.org or visit the Samaritans website to find details of your nearest branch. Samaritans is available round the clock, every single day of the year, providing a safe place for anyone struggling to cope, whoever they are, however they feel, whatever life has done to them.
Shameless Begging Bit
Thanks as always to those of you who made a donation in the past 24 hours to pay for the upkeep of this site. Doing these daily updates is hard work (although we have help from lots of people, mainly in the form of readers sending us stories and links). If you feel like donating, please click here. And if you want to flag up any stories or links we should include in future updates, email us here. (Don't assume we'll pick them up in the comments.)
And Finally…