Lockdown 3.0 – If at First You Don't Succeed…
Boris Johnson gave a televised address to the nation yesterday in which he announced a new national lockdown, instructing the population yet again to "stay home, protect the NHS, save lives". The Telegraph has the details:
Boris Johnson has plunged England into a third national lockdown to try to curb the rapid spread of coronavirus, as the country moved to Covid Alert Level 5.

The lockdown means people will only be able to leave their homes for limited reasons, with measures expected to stay in place until mid-February.

In an address to the nation, the Prime Minister said the new coronavirus variant – which is 50 to 70% more transmissible – was spreading in a "frustrating and alarming" manner.

"As I speak to you tonight, our hospitals are under more pressure from Covid than at any time since the start of the pandemic," he said.

The regulations are expected to be laid before Parliament on Tuesday, January 5th, with MPs retrospectively being given a vote after they are recalled early from the Christmas break on January 6th.

The third national lockdown, the strictest since last spring, begins immediately.
The new rules include:
Everyone living in England has been told to stay at home, and only to go out for specific reasons. Mr Johnson said: "You may only leave home for limited reasons permitted in law, such as to shop for essentials, to work if you absolutely cannot work from home, to exercise, to seek medical assistance such as getting a Covid test, or to escape domestic abuse."
People who are clinically vulnerable and who were previously told to shield should stay at home and only leave for medical appointments and exercise
Primary and secondary schools will close immediately and move to online learning for all pupils except children of key workers and the most vulnerable. This will apply until at least mid-February and GCSE and A-level exams will be cancelled for the second year in a row.
University students will not be allowed to return to their institutions and will be expected to study from their current residence.
Non-essential retailers will be shut in the whole of England, together with gyms, hairdressers, sports facilities, pubs and restaurants. Restaurants and other hospitality venues can continue delivery or takeaway services but will no longer be permitted to serve alcohol.
Eagle-eyed readers will have spotted that nearly all of these restrictions already apply in Tier 4 areas, save for the fact that hospitality venues will no longer be allowed to sell takeaway alcohol. True, schools won't reopen, but schools weren't open in Tier 4 areas until yesterday – and in many Tier 4 areas not even then.
But if the existing restrictions haven't been sufficient to contain the virus in Tier 4 areas like London, why does Boris think extending those restrictions to the rest of the country will "squash the sombrero"?
Needless to say, there were several references to the new mutant variant in Boris's address:
The Prime Minister said that on December 29th "more than 80,000 people tested positive for Covid across the UK", the number of deaths is up by 20% over the last week "and will sadly rise further".

"It's clear that we need to do more together to bring this new variant under control while our vaccines are rolled out," he said.

"In England we must therefore go into a national lockdown which is tough enough to contain this variant."
Given that this is the same old solution, we are entitled to ask the same old questions.
First, infections. Any decline in daily cases will likely be credited to the lockdown, but Professor Tim Spector says that his ZOE app is already showing an interesting trend:
Then there's the question of whether extending Tier 4 restrictions to the entire country will "protect the NHS", given that it is supposedly on the point of being overwhelmed in London, which has been in Tier 4 since December 20th.
The Telegraph reports that the Joint Chief Medical Officers have placed the country in COVID-19 alert level 5, meaning that there is a "material risk of health care services being overwhelmed" and the Chief Medical Officers have issued a joint statement:
We are not confident that the NHS can handle a further sustained rise in cases and without further action there is a material risk of the NHS in several areas being overwhelmed over the next 21 days.
Peter Hitchens, however, has a question:
And Dr Clare Craig highlights some key points in a bit of data analysis done by Joel Smalley showing that, in fact, the level of hospital admissions is completely normal for this time of year, as is winter mortality.
Boris set no specific end date for the lockdown, but he said schools wouldn't return until at least mid-February – by which he means late February, since mid-February is when half-term is. He indicated that it depends on the successful rollout of the vaccines. Though close to being overwhelmed, the NHS hopes to offer a first dose to everyone in the top four priority groups, a total of 13,900,000 people according to vaccine minister Nadhim Zahawi. If we manage to vaccinate 1.5 million/week, that will mean the third lockdown will last until mid-March.
Although that's probably wildly optimistic. Only a few days ago, Deputy Chief Medical Officer Jonathan Van Tam was eager to pour cold water on the notion that a vaccine can set you free, as the MailOnline records.
Professor Jonathan Van-Tam was asked at Wednesday's Downing Street press conference whether people who have had two doses of a vaccine would still have to follow strict rules such as not seeing their families.

The scientist defined the question as whether "it's OK to behave with wild abandon and go off to the bingo halls and so forth".

He said a lot was still unknown about whether jabs stopped people passing the disease to others and urged people to be "patient".

The official told reporters that the magic phrase was "transmission" and said scientists would know within a couple of months how effective the vaccines are at reducing the chances of "severe illness" from Covid.
Boris said that people should follow the lockdown rules from now, that they would become law in the early hours of Wednesday, and that parliament would meet remotely later that day. Peter Hitchens says that it is time to write to MPs again and offers some suggested wording.
Stop Press: Several readers have got in touch to point out that the reason for the alarming case data Boris cited in his announcement – 80,000 on December 29th alone – is because the UK is testing more people than any other European country. One reader has calculated that we're currently testing between six and 14 times more people every day than France, Italy and Germany. Another drew our attention to the number of "cases" in the UK for January 4th as recorded on Worldometers, which dwarfed that of France, Italy and Germany, even though the number of deaths is quite similar:
UK – 58,784 Cases/407 deaths
France – 4,022 Case/378 deaths
Italy – 10,800 Cases/348 deaths
Germany – 8,039 Cases/527 deaths
"Strange," says the reader. "Over 10 times more cases than France with a similar number of deaths. Germany had over 100 more deaths, but 50,000 fewer cases."
The explanation? Matt Hancock and his obsession with administering as many PCR tests each day as possible.
Stop Press 2: There is perhaps, as Professor Martin Kulldorff points out, a small crumb of comfort in the return to national lockdown. The fact that there's another one shows that the sceptics were right: they don't work.
Notifiable Disease Data and the Case for the Epidemic Phase of COVID-19 being a Spring Phenomenon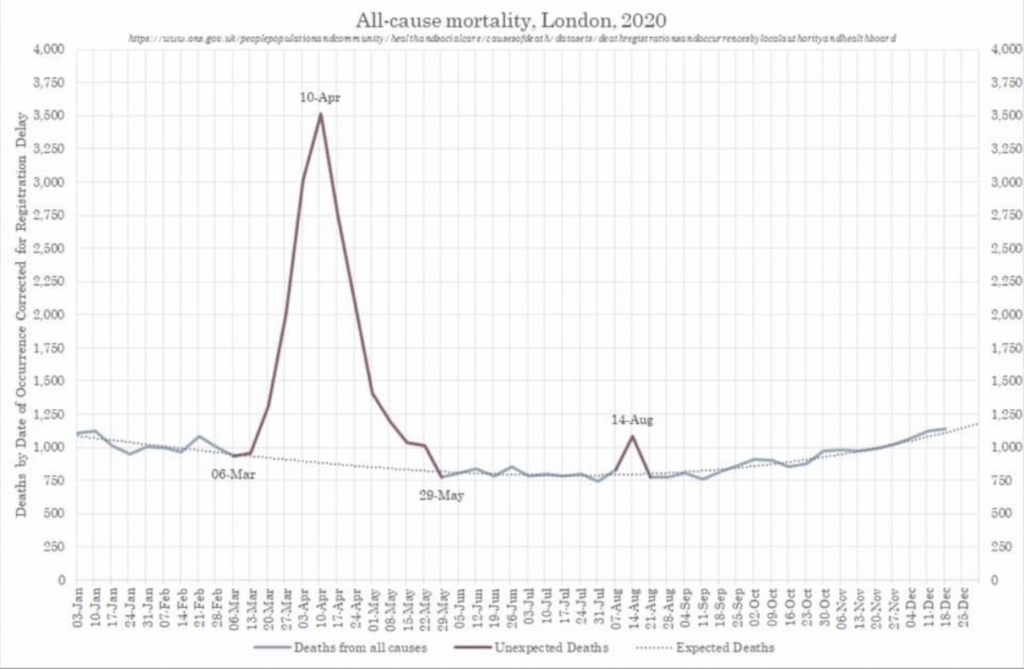 Regular Lockdown Sceptics contributor Dr Clare Craig, and her colleagues Jonathan Engler and Joel Smalley, have taken a close look at the notifiable disease data together with other sources. Examined on a regional basis, they conclude that the autumn surge may be an artefact of enthusiastic reporting in the South West which would indicate that the epidemic phase of COVID-19 concluded with the end of the first surge in Spring. Their contention is that Covid is now endemic and we're not in the midst of a genuine "surge" in infections and deaths, which is why the winter mortality data is normal.
When a notifiable disease, such as COVID-19, is recorded the location of the patient involved is also recorded. If notifiable disease data is a reliable measure of symptomatic COVID, then there is a striking South West predominance in the Autumn.

The latest data shows continuing decline in notified cases of COVID-19, with only 50 cases notified to Public Health England in the week ending 20th December and 85 cases in the week ending 27th December. Other datasets including, 111 triage data, 999 triage data, ambulance surveillance data, accident and emergency attendance data and excess death data all indicate a Spring epidemic which ended at the end of May or beginning of June, a regionalised Autumn second ripple, and then a return to baseline. This baseline will be a normal level for winter as COVID is now endemic. The only data that does not fit with the other measures is the data dependent on PCR testing.

The numbers of cases that have been notified are a very small percentage of PCR positive results, despite it being a statutory obligation for the treating doctor to notify even a suspicion of a case.

We have previously discussed why notifiable disease reports for COVID-19 may have been lower than expected…

However, closer inspection suggests that the Autumn "2nd peak" of Notifiable Covid may in fact be an artefact which does not represent the true picture nationally, since nearly all the deaths notified during Autumn were in fact from the South West region, with the peak in that area reaching numbers beyond those seen for other regions in Spring.
Very much worth reading in full.
Critical Care Beds Not Overwhelmed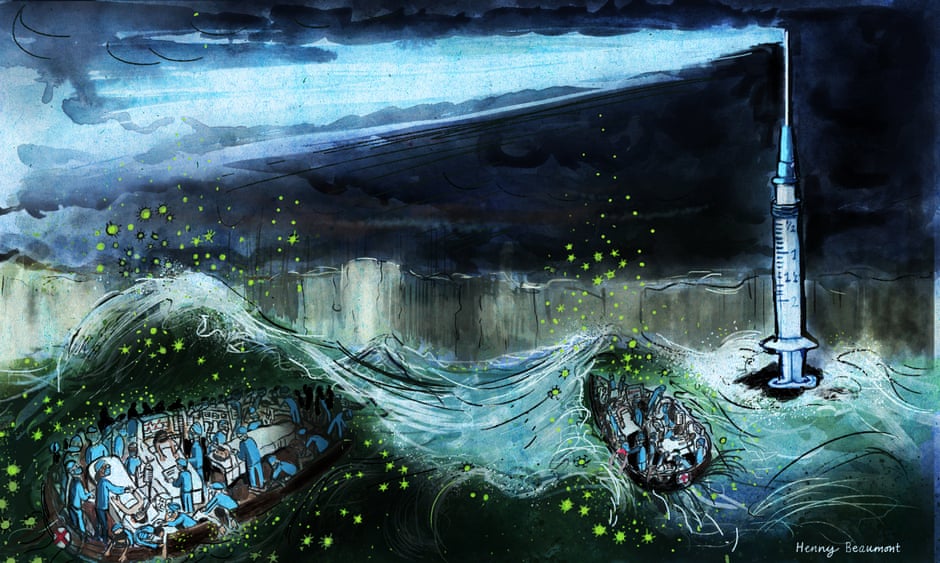 A Lockdown Sceptics reader has crunched the numbers on NHS critical care bed occupancy and sent us his analysis.
The Sunday Times published the list of critical care beds by NHS trust region, without too much drilling down. I've taken the trouble to do that. It's based on NHS numbers. I looked at it because the article was provocatively titled "Already Full" without data backing it up.
They base the data on 4,518 beds, which would be Adult Critical Care Beds approximating to the 4,119 shown below so the data is quite robust. The occupancy data includes the likes of Christie, a specialist cancer hospital, so I guess there will be some beds that aren't available for COVID-19 patients.
The Sunday Times report quotes x beds at y% occupancy. I've converted each hospital's data to show the weighted equivalent beds, and then aggregated them regionally. I then use the weighted numbers in use with the total beds per region. I think that is a reasonable approach. National weighted utilisation is about 76% using this method
There are obviously some hospitals with critical situations, but no specific region is at 90% or more, with London the highest at 87%. I've looked at the categories of utilisation to see how many of the beds available are critically overloaded. I've identified 90-100% utilisation beds in amber and red below
Stop Press: The unavailability of critical care beds, then, is not yet a problem for the NHS, but a Spectator reader has a good idea what might be. He left a comment underneath an update from Katy Balls
We have enough critical care beds but not enough staff with 30 – 40% nurses off self isolating with a (probably false) positive PCR test. Instead of the usual couple of days off sick they now have 10 days minimum. Add to that the measures put in place to separate positive from negative patients and you have a self inflicted recipe for disaster. No one will ever now admit their earlier mistakes and will continue to double down on ineffective measures. The whole mass PCR testing and SAGE advice/affair is an economic catastrophe.

We now have recently vaccinated Drs off with a positive test but no symptoms.

Asymptomatic spread has now been shown to be a myth undermining the whole rationale for any lockdown.

You just have to ask why?
Letter From a Reader to His MP About Lockdown 3.0
Readers forward us so many letters that they've written to their MPs that we cannot publish all of them. But from time to time we're sent a real humdinger. Below is one such, sent to Sir Iain Duncan Smith. If you're thinking of taking up Peter Hitchens's advice to write to your MP in advance of Wednesday's vote, there are some good facts here you might be able to use.
Dear Sir Iain,
I hope you are keeping well. I have a couple of questions in respect of the government's vaccination program/ongoing lockdown strategy (and its tragic impact) that I would be grateful if you could supply answers to.
Preamble: It has been scientifically established that COVID-19 is a low risk pathogen to most (group A), to such an extent that the majority who are infected suffer no symptoms, and that even for those who do suffer symptoms, they are generally mild/akin to flu.
It has also been scientifically established however that for a minority of primarily very elderly or unwell people (group B), COVID-19 presents a high risk pathogen that often proves fatal.
Question one: In the UK, group B consists of c.2.5M people, to which end why should some 30M or more people be vaccinated once the said 2.5M people have been?
Shelving questions of cost, necessity and disruption, it is important that people who don't need vaccinations don't have them as it enables their immune systems to develop a natural resistance to the pathogen in question, a resistance that may save them when its next variant inevitably besets them (such immunity preventing pandemics).
Moreover according to the ONS in the week to December 3rd alone 800,000 people in the UK were infected with COVID-19. Mindful of the fact that 70-90% of those infected with Covid show no symptoms, this would indicate that, even allowing for the well who got tested and whose infection was thus detected, some 4M+ of the UK population was infected in a given week, such that, allowing for the fact that the virus has been alive in our society now for an annum, surely it is only a matter of weeks before 30M people have either established a natural immunity to COVID-19 by dint of infection, or were always immune to it by way of past exposure to coronaviruses (last week 341,946 people were recorded by the ONS as having been infected, meaning, a la the same metric, a further 3M+ people were effectively immunised in just that seven day period).
Question two: In light of the fact that all of group B who wish it will be vaccinated by c. January 14th at the going rate, and that those not in this group have little to fear from COVID-19, and that tens of millions of people must already have had COVID-19 (or are immune to it by virtue of exposure to past corona viruses), why is it necessary to perpetuate lockdown measures beyond this date, measures that are both economically, socially and literally murderous? (Please see ref. below re the lockdown death toll).
This is not an idle question. As you are no doubt aware Bristol University, for one, has forecast that Parliament's response to COVID-19 (as of early November, 2020) will ultimately kill 560,000 UK citizens, a figure more than twice that of the worst case Covid-death scenario of 250,000.
Similarly the ONS predicted earlier in 2020 year that Lockdowns and anti-Covid measures will kill 200,000 UK citizens of all ages in the medium to long term, due to missed medical diagnoses, missed treatments, loss of jobs, loss of tax revenue etcetera.
In line with these dire estimations, the 2020 death statistics (as tallied by the Institute and Faculty of Actuaries) indicate that of the 71,200 excess deaths recorded since the pandemic commenced, 46,721 of these must be attributed to lockdown measures – a rate of over 1000 people a week – which is nearly double the remaining 24,479 people who, according to the Institute, died during the same period due to COVID-19 (NB though 73,512 people died in 2020 with COVID-19, 66% of these would have died of other pathologies in 2020 anyway, as was freely admitted by Professor Neil Fergusson before the House of Commons Science and Technology Committee on March 25th, and thus would not figure in the 71,200 excess death figure for that year).
To conclude, setting aside human rights, civil liberties, Magna Carta and other, now apparently trivial issues (which two million British servicemen laid down their lives for), it can be safely taken that the unjust impositions placed upon the UK public, as well as ruining lives, livelihoods and the economy, are killing a thousand among our number a week at least, and thus must be lifted as a matter of urgency (and certainly not left in force until Easter, like some devilish Lent).
Thank you for your anticipated response.
Scotland Gets in First
The First Minister, as always, made sure she got her lockdown announcement in first, announcing it six hours before Boris announced his. The Scottish Sun has a summary:
The First Minister yesterday announced that the country would enter another full shut down.

There will be a legal stay-at-home order from 12am – just like last March – with £60 minimum fines for breaches.

She addressed Parliament yesterday and explained that the current situation was "extremely serious" – adding that the new variant of the virus was a "massive blow".

Ms Sturgeon confirmed that vulnerable children and kids of key workers will still be able to go to school to ensure they are cared for.

She added that getting kids across the country back into classrooms will be a "priority" – and said that there will be a review later this month.

Churches and places of worship will be forced to shut, except for funerals and weddings.

A maximum of 20 people will be able to attend funeral services – with only five guests now allowed at weddings and civil partnerships.

She also confirmed that rules on non-essential businesses will be tightened further. Showrooms in retail outlets will be forced to close, while cosmetic and beauty outlets will not be able to operate.

Leisure venues such as ski centres which had been open until now will also have to shut in a bid to suppress the spread of the virus.

The SNP leader said government ministers would consult with businesses who have been hit by the latest wave of restrictions.
Worth reading in full.
As usual the Scottish lockdown is even more severe than the English one, closing both nurseries and churches which Boris has left open.
Stop Press: Police Scotland has unveiled a new online reporting tool so citizens can grass each other up for breaking lockdown rules without having to get up out of their armchairs.
Stop Press 2: Not wanting to be left out, Northern Ireland First Minister Arlene Foster has announced that her stay-at-home message is to be made law. Apparently, too many people were leaving their homes without a reasonable excuse. The nation is in week two of a six week lockdown. Sky News has the story.
Do Children No Longer Matter?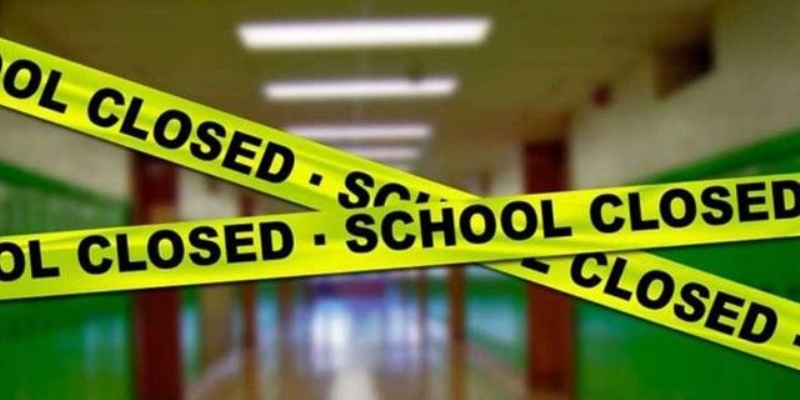 Edinburghlive reports that Rod Grant, the headmaster of Clifton Hall School, has hit out at the decision to close schools, pointing out the impact it has on children who, he says, seem to be bottom of the Scottish Executive's priorities. His comments are worth reproducing in full.
In 31 years of teaching, I don't think I've ever felt so despondent and so concerned at the same time. Our world is in the grip of a pandemic and governments across the globe have poured billions of pounds into fighting it and in trying to support the lockdown strategy. Makes me wonder why we couldn't tackle other issues globally and so ferociously in terms of spend. What about the Climate Emergency? The obesity pandemic? The fact that in 2021 we still have people living on the street; that it takes an international footballer, Marcus Rashford, to shame the British Government into feeding children during school holidays. And what does that also tell us about the current levels of poverty in the UK? What about the 1,500 people that die every day in the UK from the big three: heart disease, strokes and cancer-related illnesses. Why haven't we taken these issues as seriously as we have a virus which is likely to end up with a mortality rate of well below 1%, and which, according to the Office for National Statistics has an average age of death in the UK of 83. Meanwhile, in Glasgow, Scotland's largest city, men have a life expectancy of 71.

I'm not a conspiracy theorist; I'm not some radical on the fringes of a fringe. I'm just a teacher and this is what I see:

In the last three months, in my school and in schools like it, I am witnessing mental health issues unlike anything I've seen in my career. This is not me trying to be dramatic or to overplay what lockdown actually does to children. I am seeing children being diagnosed with clinical depression, increasing rates of self-harm (even in Scotland, where we already had the highest rate of self-harm in 15 year-old girls anywhere in the world, bar one), suicidal ideation and, something I haven't seen for at least 20 years, a resurgence of eating disorders. Add to this, those students who are displaying worrying levels of stress and anxiety; the same students that describe online learning as stress inducing. Anyone that has been involved in a Zoom meeting knows how stressful it can be and yet the great solution to our educational recovery is online learning. Well, I'm an educator and I think, at best, it's a horribly poor substitute for in-school learning.

Right throughout this pandemic, the needs of our children seem to be at the bottom of every Government's priority list. The cynic in me might suggest that it is because they can't vote. Fortunately, I'm not cynical. To me, it's actually just as worrying though to suggest that kids don't really matter that much if they are not dying.

At the moment, there seems to be no alternative voice; no political party willing to stand up for children's plight, no media criticism; merely, more nodding in agreement that lockdown is the only solution. Well, just remember in our attempts to suppress a virus and 'to save the NHS' that the price we pay is the downward spiral in the mental well-being of our children and a legacy of under-achievement as a result. Last summer, individual children were the lowest priority in Government as seen in the examination results fiasco. As of the 2nd January, there is not one single hospital bed available for any young person suffering from mental health issues anywhere in Scotland. The current waiting time for a mental health appointment with CAMHS in the Lothians is six months. Utterly disgraceful.

Children need to be with their friends. They need to play. They need to develop their social and academic skills. How dare we have created an environment where a 5 year-old can say, "I can't play with Freddy because he's not part of my bubble". It is the stuff of nonsense and it is our children who will end up being this lockdown's "collateral damage".

Schools need to be open and they need to open now
Stop Press: Us For Them, the group of mums campaigning to keep schools open, have put out an urgent call to action, asking for like-minded members of the public to write to MPs and others about schools closures. Do support them.
Stop Press 2: John Dickens has totted up the number of U-turns the Government has performed in the past week over schools for Schools Week. He makes it five. Can anyone improve on that?
Catastrophe of Postponing Mocks in Scotland
A Scottish teacher has got in touch to point out that the closure of Scottish schools for the whole of January will make it nigh on impossible for schools to assess their pupils.
It may interest you to know that thanks to Sturgeon's latest panic lockdown, schools in Scotland may find it almost impossible to provide meaningful assessment data to the SQA. (Scotland's qualification awarding body.) I am a teacher and the exams officer in a Scottish secondary school, and I am amazed that no one reminded Sturgeon that almost all Scottish secondary schools sit their preliminary (mock) exams in January.

We were expecting these exams to provide the bulk of the evidence which would be used in forming assessment grades. Now that we are to return in February, schools will struggle to have prelim exams before February mid term holidays. Of course, it is also very unfair on the candidates. Most of them were getting to the point where they were ready to sit exams. Now that has to be put on hold for another month as teaching and learning continues remotely. However, remote learning is no substitute for classroom work and exam candidates will inevitably drift somewhat between now and February. I doubt they will be at their best for prelims, whenever they eventually happen.

Of course, the SQA has been forced several times to change its plans. The last change was just a few weeks ago. And here we go again: their plans and key dates will have to be altered again.

So, she may have found yesterday's decision a difficult one to make, but once again she has decided to inflict misery on young learners in order to pursue her reckless policy of eliminating the virus. Perhaps it mutated because of lockdown? Make it harder to catch and it mutated to make the virus easier to spread?!

Anyway, I'd be grateful if you could keep my name out of this as the Scottish Government is not slow to punish those who speak up against it!
What Will Happen to Democracy if We Stop Educating Our Children?
We're publishing another original piece today by Dr David McGrogan, an Associate Professor at Northumbria Law School. This time his subject is the long-term consequences of our neglect of education – which is the loss of freedom and, ultimately, the failure of our democracy. Here are the opening three paragraphs.
Of all the tragic, unnecessary and shameful consequences of the 2020 lockdowns, school closures may be the worst. A healthy society prioritises its young; we have sacrificed their life chances to ameliorate the terrors of the old. But the educational consequences of our collective reaction to this virus are more far-reaching than 'just' the closure of schools. Indeed, it is my fear that the death of liberal education is happening right in front of our eyes.

This is a strong statement and requires some explanation.

Thoughtful liberals have always recognised that education is the very foundation of liberalism itself. (And here, it is important to make clear that in using the word 'liberalism' I am not referring to the soft-left progressivism which is sometimes meant by that term. Rather, I am referring to classical liberalism – the political philosophy that, in a nutshell, considers it foundational that the power of the State ought to be legally constrained by a system of individual rights, such as those to property, freedom of association, freedom of expression, and so on.) This is because, contrary to how its adherents are often caricatured, they have long recognised that there is nothing inevitable about liberalism. Indeed, liberalism rather goes against the grain of innate human characteristics. It sits uncomfortably alongside democracy in particular, because human beings have the tendency to use democracy for illiberal ends. Occasionally, of course, this has manifested itself in outright fascism, as in the first half of the 20th century, but much more frequently those illiberal ends are ostensibly benevolent rather than racist or hateful. The danger is not that mass democracy will usher in dictatorship. It is that it will usher in what Kant called "the worst form of despotism" – an all-encompassing, paternalistic kindness that utterly smothers freedom.
Like Dr McGrogan's previous piece, this one is worth reading in full.
Stop Press: A reader sent us a response to Dr McGrogan's last piece, as well as Guy de la Bédoyère reply.
I believe that the two articles by David McGrogan and Guy de la Bedoyere pretty much nail the issues. My only thought would be that fear is usually a big part of these collective hysterias historically. It's the starting point for the irrationality; whether that be fear of witches in Salem, fear of other internal groups in Weimar Germany or fear of every other European country in the outbreak of WW1.

Most people are still affected by the images they saw on TV in February and March. We are now in a loop where a critical mass of the population has stayed afraid and, as is usual in history, has moralized their fear into certain religious rituals such as lock downs, masks and so forth that give assurance. Of course, nobody admits to be being afraid for themselves either; it is all about protecting others. It always is. Government is then just responding and is in a state of fear too that it will be blamed. Whether any of these things work or not is irrelevant to the debate. They are rituals that are needed as part of the collective assurance seeking. Just like the pointless offensives in World War One. They were part of trying to "do something". Third Lockdown equals Third Battle of Ypres. Anyone who questions is then a heretic and an evil person. Owen Jones, Piers Morgan and Neil Ferguson are just updated witch doctors.

My belief is that there is very little that can be done now to alter this. It will have to play out. At some point, historians will look back and wonder why we lost our sanity. But it will take time. The General Melchetts of 1914-8 were actually very popular at the time. They even named the Earl Haig Fund after the prime one. It was only in the 1930s that the reaction set in.
What Ever Happened To The Flu?
One of the curiosities in the winter surge in Covid cases has been the drop in influenza cases, both in the UK and elsewhere. Often this is chalked up to the beneficial effects of masks and social distancing, but one maverick epidemiologist has an alternative theory as Just the News reports:
Where have all the flu cases gone?

Epidemiologist Knut Wittkowski thinks he can answer the riddle.

"Influenza has been renamed COVID-19 in large part," said the former Head of Biostatistics, Epidemiology and Research Design at Rockefeller University.

"There may be quite a number of influenza cases included in the 'presumed COVID-19' category of people who have COVID-19 symptoms (which Influenza symptoms can be mistaken for), but are not tested for SARS RNA," Wittkowski told Just the News on Thursday.

Those patients, he argued, "also may have some SARS RNA sitting in their nose while being infected with Influenza, in which case the influenza would be 'confirmed' to be COVID-19."

The Centres for Disease Control and Prevention's weekly influenza surveillance tracker reports that the cumulative positive influenza test rate from late September into the week of December 19th stands at 0.2% as measured by clinical labs. That's compared to a cumulative 8.7% from a year before.
Other experts in the field offer a more conventional explanation:
Timothy Sly, an Epidemiology Professor at Ryerson University in Toronto, told Just the News that "the reduced incidence of seasonal influenza is almost certainly due to the protection that a large proportion of the population has been using for many months". Those measures, he said, are "designed to be effective against any airborne respiratory virus".

Holden Maecker, a Professor of Microbiology and Immunology at Stanford University, echoed that assessment… Speculating on why COVID-19 levels have continued to soar if those measures have been so effective at stopping the flu, Maecker said: "I think it's because (1) there is less pre-existing immunity to SARS-CoV-2 in the population, whereas most of us have had vaccines and/or previous bouts with flu; and (2) the SARS-CoV-2 virus seems to spread more easily than influenza, including more aerosol transmission and 'super-spreader' events."
Wittkowski, though, is not convinced. He's been a long-standing critic of COVID-19 mitigation measures and there is data to back him up:
"I think that these viruses are more similar than people want to acknowledge," says Wittkowski. "People know everybody is wearing masks and distancing, and so people want to come up with things that are good about it."

Public health officials have at times struggled to explain why positive COVID-19 tests have surged upward in places, such as California, Pennsylvania and elsewhere, where policies such as social distancing and mask mandates have been in place for months.

Data indicate that more than nine out of every 10 Americans in most states are wearing masks in public regularly; those numbers have been above 80% since the early fall. Yet average positive COVID-19 tests have multiplied by nearly seven times since the spring peak.
Worth reading in full.
Eternal Lockdown, Wooden Horses and Shiny Things
Jake Woodhouse, a bestselling novelist, has sent us an interesting reflection on the consequences of society's love for Google, Twitter, Instagram and Facebook. The internet has brought us many great things, he says, but it has also brought us this year's panic-driven, pro-lockdown hysteria.
On February 4th 2004 the technological equivalent of a Trojan Horse was quietly rolled onto the internet. There had been others of course, Google being the obvious example of a new kind of business which provided a service to customers for free, but none which have come to symbolize the new era as much as Facebook. Do we even remember a time before Facebook? Or any of the other companies such as Twitter, Instagram, or YouTube who have come to dominate our society, changed the way we interact, how we do business, how we live our lives?

And could we have predicated how this massive garnering of our attention has turned out? It seems not. At the beginning of 2021 it has now become alarmingly clear that we have given up our freedoms for a few shiny baubles. We have scrolled, clicked and liked our way into a trap so large and so dangerous, that our very liberty is now at stake. And yet, unbelievably, many of us have yet to pull back from the constant stream of notifications on our screens long enough to see it.

The Internet has given us many good things. It has facilitated the dissemination of ideas quicker and more widely than at any other time in history, it has given artists and musicians a platform, and it has allowed so much innovation which has made our day-to-day lives easier. There are bad sides too, terrorism, hate, and the rise of mega-businesses which have been able to quietly crush their small opposition.

All of this we know, but we accept it because times have to change, and when we order something from Amazon and it arrives that very same day part of us can't suppress the glee that such easy wish fulfilment is possible. How lucky we are.

None of this is news to anyone. But what this last year has shown, beyond a shadow of a doubt, is that there is something far, far darker lurking in this new hyper-connected world.
Worth reading in full.
All the Lonely People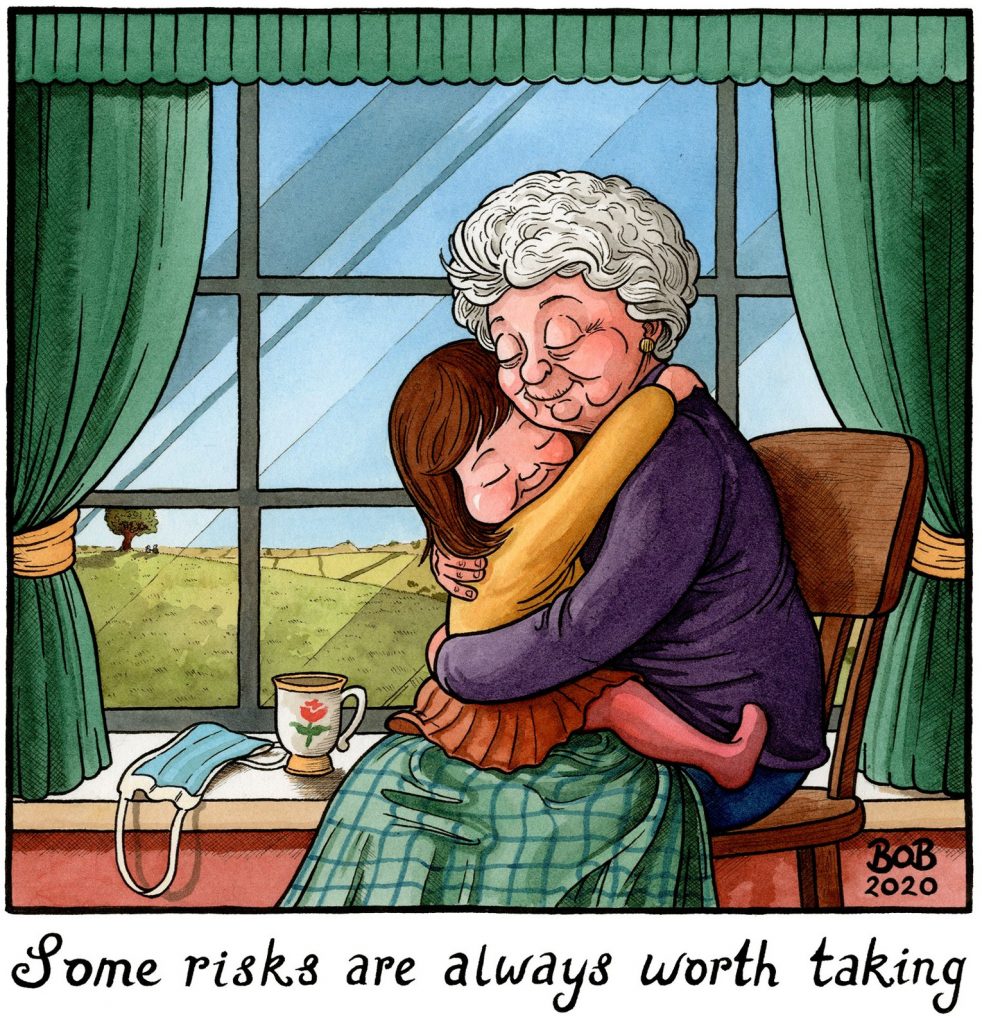 We're publishing an original piece today by Jonny Peppiatt, the author of the poem we published yesterday about suicidal ideation. Today's contribution is about loneliness and the well-established link between loneliness and depression. Here's an extract:
Before we go any further, I think it would be a good idea to explain what loneliness is, because it isn't as simple as not having friends or being alone. It is a process within the brain that has been designed by evolution that gives you a feeling as a result of believing you have limited or no connections that provide a sense of mutual aid and protection with other individuals.

Human beings began as a species on the savannahs of Africa but survived as a species because of cooperation and tribal support. If you were an individual who became separated from your tribe, no one would care for you should you fall sick, you would be unable to hunt effectively, and you would be vulnerable to predators; and it is because of this that the brain developed a way to send an urgent signal to reconnect with your tribe in the form of loneliness and a sense of insecurity.

In today's world, however, the connection that we need is slightly different: mutuality remains a necessity, and aid and protection are still important, although these come as a by-product of simply caring for one another; but avoiding loneliness is also about sharing something that matters to both sides of the connection, which gives rise to an interesting facet of loneliness: it has varying degrees not just in intensity but also in breadth.

Take, for example, three things I care deeply about: writing; cricket; and the queer community. I have people I discuss literature with, and I have people with whom I swap articles and pieces of work with; I have friends I play cricket with, and I have friends waiting around the corner to go to cricket with; but I have no queer community. Somehow, I have ended up with no friends – who would really truly understand – with whom I can discuss the struggles our community faces internally and externally, or the wondrous strides that have been made, or anything else that can be 'explained' but cannot be genuinely understood by someone outside of the community, someone who hasn't lived it, and, because of this, I often feel intensely lonely in this very important aspect of my life.
This one is worth reading in full, particularly the day after a third lockdown has been announced which, don't forget, will mean a lot of single people being stranded by themselves.
Stop Press: A reader has spotted that the Government is currently carrying out a very timely consultation.
The Government is currently running a consultation on proposals to ban keeping primates as pets, on the grounds that their welfare often suffers from cramped conditions and limited social contact.

In fairness I should note that the bits about primates kept in "tiny cages" are entirely literal, but even so there are some choice lines about "hugely intelligent and socially complex animals" being "deprived of companions of their own kind".

My favourite is: "'Primate' also includes humans but for the purposes of this consultation we are only concerned about non-human primates."
Round-up
Theme Tunes Suggested by Readers
Six Today: "Here We Go Again" by John Lennon, "When Will I See You Again" by Three Degrees, "Jailhouse Rock" by the Blues Brothers, "I Want to Break Free" by Queen, "Good Times Gone" by Nickelback and "Let Me Live Again" by Charley Pride.
Love in the Time of Covid
We have created some Lockdown Sceptics Forums, including a dating forum called "Love in a Covid Climate" that has attracted a bit of attention. We have a team of moderators in place to remove spam and deal with the trolls, but sometimes it takes a little while so please bear with us. You have to register to use the Forums as well as post comments below the line, but that should just be a one-time thing. Any problems, email the Lockdown Sceptics webmaster Ian Rons here.
Sharing Stories
Some of you have asked how to link to particular stories on Lockdown Sceptics so you can share it. To do that, click on the headline of a particular story and a link symbol will appear on the right-hand side of the headline. Click on the link and the URL of your page will switch to the URL of that particular story. You can then copy that URL and either email it to your friends or post it on social media. Please do share the stories.
Social Media Accounts
You can follow Lockdown Sceptics on our social media accounts which are updated throughout the day. To follow us on Facebook, click here; to follow us on Twitter, click here; to follow us on Instagram, click here; to follow us on Parler, click here; and to follow us on MeWe, click here.
Woke Gobbledegook
We've decided to create a permanent slot down here for woke gobbledegook. Today, the news that the UK Government stands accused of pursuing a white nationalist agenda. The Guardian has the story:
The head of a race equality think tank has accused the Government of pursuing a divisive "white nationalist" agenda, prioritising the white working class at the expense of ethnic minorities in an attempt to win votes.

In her first interview since being appointed director of the Runnymede Trust, Halima Begum said ministers had failed to respond meaningfully to the "seismic shifts" represented by Black Lives Matters (BLM) protests and the disproportionate effect of COVID-19 on black and minority ethnic (BAME) Britons.

She said that while companies such as Penguin, Goldman Sachs and Apple had been approaching Runnymede to find out what they could do to tackle structural racism, and the public and even civil servants were engaging on the topic, the Government was denying its existence.

"I think the Government's long-term plan is to work up white nationalism for the next elections," said Begum. "What we should be saying is that working-class black and white communities have been left behind because they've seen industries demolished in the north of this country. We haven't seen the economies built back, we haven't seen investment in our education system for years so that our black, white and Asian working-class children will thrive."

"What I see instead is the Conservatives pushing through [a narrative of] a white working-class that's been left behind, which by the way is where Trump was at about six years ago."
Worth reading in full if you have a taste for the absurd.
Over at Spiked, Rakib Ehsan has written a strong rebuttal. Concepts "such as 'white culture', 'white oppression' and 'white privilege', have set back race relations by years", he says.
Begum's intervention further confirms how the 'anti-racism' industry is being colonised by ideologues intent on keeping non-white people locked into a perpetual state of grievance and victimhood. The reality of the matter is that some of the most severely disadvantaged communities in the UK are predominantly white. These communities can be found in Britain's long-abandoned post-industrial and coastal towns, which have suffered from long-term economic decline, and political and cultural exclusion, thanks to decades of free-market globalism and liberal cosmopolitanism. To suggest that devoting greater political attention to these neglected communities is a form of white nationalism is exactly the kind of hysterical identitarianism that undermines the broader anti-racist cause.

Begum is right that the BLM movement has caused seismic shifts in British society. But these shifts do not represent progress. A recent poll by Opinium found that a majority of people, 55%, believed that BLM has actually increased racial tensions. This view is also shared by a plurality of ethnic-minority Brits (44%). Labour voters were also notably more likely to agree than disagree with the view that BLM has heightened racial tensions in British society. These survey results show how BLM has undermined social cohesion and sown division and antagonism.

Yes, it is true that the pandemic has exposed very real socioeconomic disparities between the UK's ethnic groups. But to ignore the myriad factors at play here – from geography and housing to occupation and lifestyle and blame such disparities on 'structural racism' is an especially crude and dangerous form of victimhood politics.
He is especially damning about the Begum's accusation of white nationalism:
To be racially nationalist, as Begum claims the Government is, is to want to preserve the 'racial purity' of a nation by facilitating the repatriation of existing racial minorities and halting flows of inward migration of other races. In the British context, white nationalists attempt to root 'Britishness' in racial identity, so that one can only be considered British if one is white. This reflects one of the key pillars of white nationalism internationally, namely, the commitment to the idea of the 'white ethno-state'.

The Government can be accused of many things, but it hardly makes sense to suggest it is committed to forging a white ethno-state. After all, this is an administration with an Indian-origin home secretary, who recently created an immigration route for millions of Hong Kong residents wishing to flee from Chinese state oppression and start a new life in the UK.

Yet despite this, the Guardian insists on carrying an interview claiming the Government is white nationalist. Too often, it seems, politically divisive and socially corrosive narratives surrounding race are presented as fact by an influential clique of culturally liberal activists. Let's hope their racialist ideas are repudiated with vigour over the course of this year.
Worth reading in full.
Stop Press: The BBC, in its wisdom, issued a health warning before broadcasting the film of Dad's Army because of its use of "discriminatory language that some may found offensive". MailOnline has the story.
Stop Press 2: Following the proposal by Democrats to eliminate gendered language from the House of Representatives, the 117th Congress has opened with a spectacularly woke prayer.
"Mask Exempt" Lanyards
We've created a one-stop shop down here for people who want to buy (or make) a "Mask Exempt" lanyard/card. You can print out and laminate a fairly standard one for free here and it has the advantage of not explicitly claiming you have a disability. But if you have no qualms about that (or you are disabled), you can buy a lanyard from Amazon saying you do have a disability/medical exemption here (takes a while to arrive). The Government has instructions on how to download an official "Mask Exempt" notice to put on your phone here. You can get a "Hidden Disability" tag from ebay here and, finally, if you feel obliged to wear a mask but want to signal your disapproval of having to do so, you can get a "sexy world" mask with the Swedish flag on it here.
Don't forget to sign the petition on the UK Government's petitions website calling for an end to mandatory face masks in shops here.
A reader has started a website that contains some useful guidance about how you can claim legal exemption. Another reader has created an Android app which displays "I am exempt from wearing a face mask" on your phone. Only 99p, and he's even said he'll donate half the money to Lockdown Sceptics, so everyone wins.
If you're a shop owner and you want to let your customers know you will not be insisting on face masks or asking them what their reasons for exemption are, you can download a friendly sign to stick in your window here.
And here's an excellent piece about the ineffectiveness of masks by a Roger W. Koops, who has a doctorate in organic chemistry. See also the Swiss Doctor's thorough review of the scientific evidence here.
The Great Barrington Declaration
The Great Barrington Declaration, a petition started by Professor Martin Kulldorff, Professor Sunetra Gupta and Professor Jay Bhattacharya calling for a strategy of "Focused Protection" (protect the elderly and the vulnerable and let everyone else get on with life), was launched in October and the lockdown zealots have been doing their best to discredit it ever since. If you googled it a week after launch, the top hits were three smear pieces from the Guardian, including: "Herd immunity letter signed by fake experts including 'Dr Johnny Bananas'." (Freddie Sayers at UnHerd warned us about this the day before it appeared.) On the bright side, Google UK has stopped shadow banning it, so the actual Declaration now tops the search results – and Toby's Spectator piece about the attempt to suppress it is among the top hits – although discussion of it has been censored by Reddit. The reason the zealots hate it, of course, is that it gives the lie to their claim that "the science" only supports their strategy. These three scientists are every bit as eminent – more eminent – than the pro-lockdown fanatics so expect no let up in the attacks. (Wikipedia has also done a smear job.)
You can find it here. Please sign it. Now over three quarters of a million signatures.
Update: The authors of the GBD have expanded the FAQs to deal with some of the arguments and smears that have been made against their proposal. Worth reading in full.
Update 2: Many of the signatories of the Great Barrington Declaration are involved with new UK anti-lockdown campaign Recovery. Find out more and join here.
Update 3: You can watch Sunetra Gupta set out the case for "Focused Protection" here and Jay Bhattacharya make it here.
Update 4: The three GBD authors plus Prof Carl Heneghan of CEBM have launched a new website collateralglobal.org, "a global repository for research into the collateral effects of the COVID-19 lockdown measures". Follow Collateral Global on Twitter here. Sign up to the newsletter here.
Judicial Reviews Against the Government
There are now so many legal cases being brought against the Government and its ministers we thought we'd include them all in one place down here.
The Simon Dolan case has now reached the end of the road. But the cause has been taken up by PCR Claims. Check out their website here.
The current lead case is the Robin Tilbrook case which challenges whether the Lockdown Regulations are constitutional. You can read about that and contribute here.
Then there's John's Campaign which is focused specifically on care homes. Find out more about that here.
There's the GoodLawProject and Runnymede Trust's Judicial Review of the Government's award of lucrative PPE contracts to various private companies. You can find out more about that here and contribute to the crowdfunder here.
And last but not least there was the Free Speech Union's challenge to Ofcom over its 'coronavirus guidance'. A High Court judge refused permission for the FSU's judicial review on December 9th and the FSU has decided not to appeal the decision because Ofcom has conceded most of the points it was making. Check here for details.
Samaritans

If you are struggling to cope, please call Samaritans for free on 116 123 (UK and ROI), email jo@samaritans.org or visit the Samaritans website to find details of your nearest branch. Samaritans is available round the clock, every single day of the year, providing a safe place for anyone struggling to cope, whoever they are, however they feel, whatever life has done to them.
Shameless Begging Bit
Thanks as always to those of you who made a donation in the past 24 hours to pay for the upkeep of this site. Doing these daily updates is hard work (although we have help from lots of people, mainly in the form of readers sending us stories and links). If you feel like donating, please click here. And if you want to flag up any stories or links we should include in future updates, email us here. (Don't assume we'll pick them up in the comments.)
And Finally…
Take a moment to watch this powerful and somewhat eerie performance staged by a number of Swiss artists against Covid restrictions. In the words of one of the commentators below, it "beats NHS tick tock dances".