"Out of Control"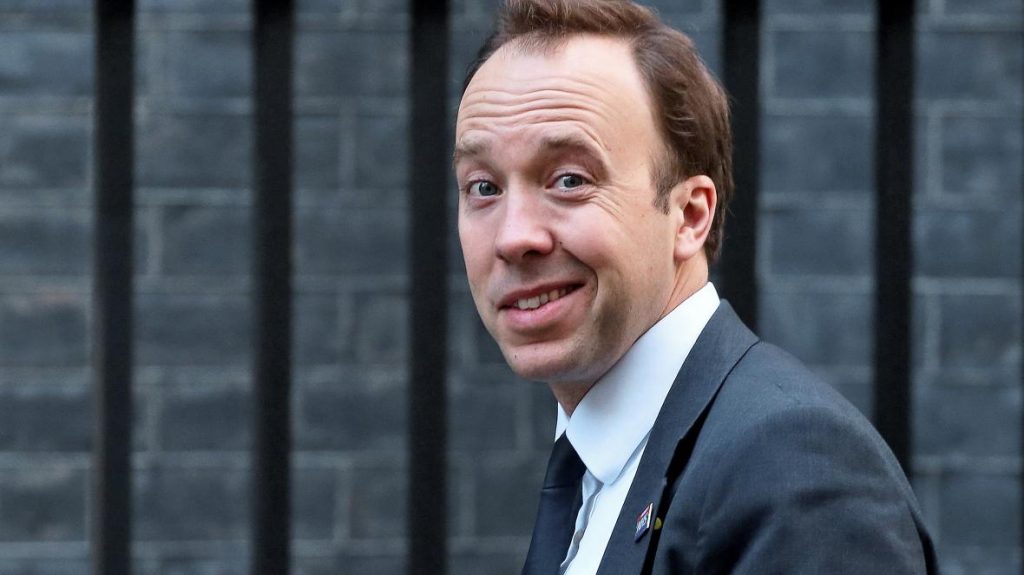 Doing the rounds on the Sunday morning's Politics shows, Matt Hancock gave his prognosis for the future of the Tier system and the mutant strain of COVID-19. He did not give the impression of having a grip on the situation. The MailOnline has the details.
Matt Hancock today warned the new mutant strain of coronavirus is "out of control" as he suggested draconian Tier 4 restrictions could be in place "until we have the vaccine rolled out".

The Health Secretary said people in Tier 4 areas should behave as if they are infected in order to combat the new variant of the disease which spreads quicker than its predecessor.

Mr Hancock said the new strain can be caught "more easily from a smaller amount of the virus being present" as he confirmed areas subject to the toughest restrictions are likely to be in the top tier for the long haul.

The Cabinet minister said "we have got a long way to go to sort this" and it will be "very difficult to keep it under control until we have the vaccine rolled out".

Mr Hancock said the increased risk posed by the new variant meant existing measures to combat the spread of the disease, like wearing face masks and social distancing, would have to be stepped up.

"All of the different measures that we have in place, we need more of them to control the spread of the new variant than we did to control the spread of the old variant, that is the fundamental problem," he said.
Not surprisingly, the Government's scaremongering about the "mutant" strain prompted other European countries to start imposing travel bans on visitors from the UK. Apparently, this entirely predictable reaction wasn't something the UK Government had predicted. The Telegraph has more.
Britain faced an EU-wide travel ban on Sunday night as European countries moved to halt the spread of the new, more infectious, coronavirus strain.

The ban on passenger flights and freight transport from the UK threatened to disrupt food supplies, Christmas gifts and even the Covid vaccine as well as hitting the festive travel plans of an estimated 250,000 Britons.

France, Belgium and the Netherlands were among 11 EU nations including Germany and Ireland to suspend flights and most freight lorries, trains and ferries from midnight on Sunday for between 48 hours and the New Year.

The Eurostar rail service said on its website on Sunday evening that due to the French and Belgian border closures with the UK it was unable to run any trains from London to Paris, Brussels, Lille or Amsterdam on Monday or Tuesday.

The EU's 27 member states will hold an emergency meeting on Monday morning to discuss a blanket ban that could cost UK consumers £400 million in lost or cancelled bookings.

On Sunday night the Department of Health said it had contingency plans in place to airlift the Pfizer COVID-19 vaccines from Belgium to the UK using military aircraft if the freight ban stays in place for longer than 48 hours.

It is understood that the next delivery of the vaccine is not scheduled for the next two days, but if the ban is extended the airlift will come into play. Contingency plans for getting essential medicines from the continent to the UK are also in place.

The Road Haulage Association (RHA) warned, however, that the plans by France alone to shut its border for at least 48 hours threatened "enormous disruption" to vital food and trade supplies so close to Christmas.

Rod McKenzie, RHA director of policy, said that even though France will allow incoming freight to the UK, they cannot return, saying it was "a bitter blow for the UK logistics industry which is struggling with the transport crisis caused by COVID-19 and Brexit".

He added: "Drivers can come in but they cannot go back with the border shut for 48 hours. Trade is a two-way street, what goes out, comes back and visa [sic] versa. So any disruption to free-flowing goods at this time of year will have severe consequences. It is an absolute mess."
Boris Johnson will chair a COBRA meeting tomorrow to discuss the flow of freight in and out of the country. Don't be surprised if there is another press conference.
Tory backbenchers have reacted to the new Tier 4 restrictions with fury, according to the Telegraph, with some accusing the Government of having deliberately waited until MPs had gone home for Christmas before unveiling what amounts to a third lockdown for 18 million people.
Sir Charles Walker, the vice-chair of the 1922 committee of backbench Tory MPs, said ministers "knew on Thursday, possibly even Wednesday, that they were going to pull the plug on Christmas, but they waited till Parliament had gone".

"That on top of everything else is a resigning matter," he said.

William Wragg, the Conservative MP for Hazel Grove in Greater Manchester, said any deliberate attempt to stifle Parliament would be "horrendous".

On Sunday, the leaders of the Covid Recovery Group (CRG) of Tory backbenchers called for an evidence-based approach to future lockdowns and the return of Parliament for a debate on the Tier 4 measures.

In a statement, Mark Harper and Steve Baker said: "We cannot expect our citizens to tolerate living under a system of laws that changes so frequently, which avoids the usual democratic checks and balances and which is riddled with so much complexity and uncertainty.

"Any change to the laws on Christmas must be debated and approved by the House of Commons in advance, using a Recall if necessary. Parliament must not be bypassed."

The CRG called for a "clear exit strategy" from Tier 4 measures, allowing families and businesses to prepare for the end of restrictions.
The mood of these backbenchers is summed up by Iain Duncan Smith in a comment piece for today's Telegraph.
The old rule that advisers advise and ministers decide is of course true, but when it comes to an issue as complex and far-reaching as this pandemic it is only fair to do all we can to understand what role Sage has played in creating the present situation. That is why I believe it is vital for the House of Commons to debate these new restrictions so we may test the rationale behind them, as we did the previous forecasts that plunged us into lockdown.

From the start, Sage has taken a number of different positions on a number of different forecasts. I recall early in the year, before we locked down, when Sage didn't think testing was vital or that face masks were important. Then there was the infamous modelling from Prof Neil Ferguson which suggested huge numbers of deaths if stricter measures were not taken. That is not to mention the dodgy 4,000 deaths a day graph which helped plunge us into the last lockdown. Now we are told that this new variant is 70% more transmissible than the old variant.
Needless to say, Hancock is not about to heed these calls to resign, according to MailOnline.
I know that Charles is very upset at the measures we have had to bring in and he has been throughout and I understand that and I understand where he is coming from.

But unfortunately these measures are absolutely necessary to save lives.

I am dealing with a global pandemic in the best way that we possibly can with huge pressures already on the NHS, with case rates that are climbing and we must take action, no matter how uncomfortable we find it.
The Mutant Strain: Show Us the Evidence
The Mutant Strain is said to be 70% more infectious than the original version. But is it? Carl Heneghan of the Centre for Evidence based Medicine asked to see the evidence.
The Daily Mail followed up this tweet:
Carl Heneghan, Professor of Evidence Based Medicine at Oxford University's Nuffield Department of Primary Care, expressed scepticism over the 70% figure.

He said: "I've been doing this job for 25 years and I can tell you can't establish a quantifiable number in such a short time frame."

He added "every expert is saying it's too early to draw such an inference".

Professor Heneghan said there was no doubt this time of the year, the "height of the viral season", was a difficult time for the NHS. But he said failure to put out the basis of the figures was undermining public trust.

He added: "I would want to have very clear evidence rather than 'we think it's more transmissible' so we can see if it is or not.

"It has massive implications, it's causing fear and panic, but we should not be in this situation when the Government is putting out data that is unquantifiable."

He added: "They are fitting the data to the evidence. They see cases rising and they are looking for evidence to explain it."

Professor Heneghan said that if it was true the new variant was more transmissible "we should be locking down the whole country" as people leaving the capital to avoid restrictions would spread it.

"We have to act on information as we have it because this is spreading very fast."

Peter Horby, chairman of NERVTAG and Professor of Emerging Infectious Diseases at the Centre for Tropical Medicine and Global Health at the University of Oxford, said the figure of 70% was based on "converging data".

He said: 'This is including, but not limited to, the rate of change in the frequency of detection of the variant (the growth rate) and the correlation between R values and the frequency of detection of the new variant."

Minutes from the NERVTAG meeting from December 18th said they had "moderate confidence" that the new variant, known as VUI-202012/01, '"demonstrates a substantial increase in transmissibility compared to other variants".

The variant demonstrated exponential growth when national lockdown measures were in place, the minutes added
Worth reading in full.
Dr Mike Yeadon isn't convinced.
In Scotland, even Devi Sridhar was looking for some more information before panicking, according to the Times.
Leading academics have demanded more data on the new strain of coronavirus after Christmas celebrations were curtailed without consulting the wider scientific community.

Devi Sridhar, a member of the Scottish government's COVID-19 advisory group, said that raising the alarm over a new strain without wider peer review had stoked "unhelpful" rumours about an increased risk to children.

Linda Bauld, chair of public health at Edinburgh University, said that experts around the country had not been shown any data to support the claim from UK Government scientists that the new strain was up to 70% more [transmissible] than existing strains.
The minutes of the December 18th NERVTAG meeting, which was so crucial to the decision, have been released – and one surprise is that our old friend Professor Neil Ferguson was among those in attendance.
Is Travelling Around the Country Against the Law?
The Tier 4 regulations were published yesterday morning at 6.57am and came into force three minutes later. So much for Parliamentary scrutiny. The Spectator has an interesting piece about what you are and aren't permitted to do by law by barrister Charles Holland:
As is perhaps inevitable when advance notice is given of a stable door shutting, the response of many in London last night was to head for the railway stations and get out of town whilst they could.

The reaction to this has been condemnation. The Health Secretary Matt Hancock described the scenes at stations as "totally irresponsible". The Transport Secretary Grant Shapps weighed in, not just with condemnation, but hinting at a police response. He said "If you are in Tier 4, the law means you must stay at home and you cannot stay overnight away from home"; "Follow the guidance and please do not come to a station unless you are permitted to travel. Extra British Transport Police officers are being deployed to ensure only those who need to take essential journeys can travel safely." Peter Hendy, the Government's "Christmas travel tsar" (who knew?) said that "additional BTP officers are in place to ensure only essential journeys take place".

The new Tier 4 regulations do not contain any express restrictions on travel, 'essential' or otherwise. What they effectively consist of is a cut and paste of the second national lockdown regulations to take effect as Tier 4 restrictions. And so, as was the case nationally during Lockdown Two, the new regulations provide for a restriction on 'movement': no person who lives in the Tier 4 area may leave or be outside of the place where they are living "without reasonable excuse". The regulations then give what lawyers would call a "non-exclusive" list of exceptions which constitute "circumstances in which a person has a reasonable excuse". The list is non-exclusive because an excuse which is reasonable but not listed will also suffice. Whether or not an excuse is reasonable is a question of fact (ultimately for a court). There are 16 categories of exceptions, too detailed to comprehensively paraphrase here, but they include a mix of broadly drafted circumstances (such as work purposes) right down to the hyper-specific.

What the English regulations don't do is place any ban on journeys that are not 'essential'. There is no direct restriction on travel in the regulations, and it is not right to speak of being 'permitted' to travel. A restriction is only reached by the indirect route of the ban (for those who live in Tier 4) on leaving or being away from the home "without reasonable excuse". And indeed what might colloquially be regarded as non-essential may be deemed to be reasonable by virtue of coming within one of the 16 categories of excuse.

So, although the deployment of police at railway stations might have the highly beneficial effect of discouraging travel from a viral hotspot, there is no requirement for residents of Tier 4 to only be undertaking "essential journeys", and no lawful way by which travel could be policed on that basis.

However, the new Tier 4 regulations have resurrected from the Lockdown Two regulations a specific power to police constables and support officers, where they "consider that a person is outside the place where they are living' in contravention of the restriction on movement, to "direct that person to return to the place where they are living".

Whilst Messrs Shapps and Hendy (in my view) go further than the law in saying that only "essential journeys" are permitted, if an individual constable's consideration is that a journey constitutes a breach of restriction on leaving home, and a direction is given, then a debate at that point about whether that direction was right or wrong does not prevent the direction having effect. This is a significant reinforcement of police powers. It could make the sort of distinctions lawyers draw between law and guidance of less practical relevance on the ground.
Worth reading in full.
MailOnline reports that the police won't be enforcing the Tier 4 restrictions, at least not on Christmas Day.
Police "won't be knocking on people's doors on Christmas Day" a federation chief for the UK's largest force declared last night as London was thrown into Tier 4 rules.

Police forces around the south of England revealed they would be increasing patrols to punish anyone found breaking Number 10's latest set of restrictions.

Metropolitan Police Federation Boss Ken Marsh told MailOnline the new rules meant little, because Mr Johnson has "lost the good will of the people" over the festive period.

He said: "It doesn't make sense. It's going to be no different now from how it was"

On the latest restrictions, National Police Chiefs' Council Chair, Martin Hewitt, said: "These restrictions will be upsetting for many after a very challenging year, but most people will want to do what they can to protect public health and the health of their loved ones."

"We urge everyone to follow the rules in their area, and as throughout the pandemic, we are confident that the majority of people will continue to do their best to adapt and do the right thing. Those who blatantly ignore the regulations should expect to receive a fixed penalty notice"
Worth reading in full.
Stop Press: A Lockdown Sceptics reader tells us he found himself among those making their way out of capital on Saturday:
Caught out in London while doing some emergency childcare we watched with incredulity as the news unfolded on Saturday. No, that's a lie. It's exactly what we expected. You can rely on this government. It always changes the plan. On Sunday afternoon we climbed into the car to head home "somewhere in the North" and bust our way past the police roadblocks and helicopter gunships en route.
Oddly, there seemed to be no difference from any other Sunday afternoon in suburban streets. Cars everywhere, plenty of people out walking busily spreading the new superpower mutant virus. Onto the A2. Same story. Bags of traffic. The Dartford Tunnel approach was not especially busy but there was still plenty of traffic. On round the M25 to the M11 – traffic peeled off steadily to follow the same route as us.
The M11 was just as busy as it always is, and both ways. Evidently while there were plenty of us on a mass Great Escape breakout there seemed to be loads of people also piling towards London to soak up the fun of living in the Land of Non-Essential Retail Closures. Seriously. Perhaps none of them had read the news?
The traffic only lightened off when we entered the dreary territory of Tier 3 but it soon warmed up when we sailed past Peterborough, currently also enjoying the delights of Tier 4. Some time later we made it home. I can say with complete honesty that apart from the motorway signs haplessly exhorting 'STAY AT HOME TIER 4' (is that an order or an expression of disdain?) I wouldn't have noticed the slightest traffic difference either from Friday last week when we drove down or any other Sunday afternoon on a route I have driven countless times in the last 20 years. Apart from one thing: we didn't see a single police car the whole way. Not even a member of the constabulary looking out for speeding drivers. And no helicopter gunships.
It vaguely reminded me of Nevil Shute's masterpiece On The Beach when the folks of the last part of Australia waiting for the radiation cloud to come held their motor race on the eponymous seashore.
Stop Press 2: Another reader found a little nugget in the new regulations:
Exception 13: voting (18) Exception 13 is that it is reasonably necessary for P to leave or be outside P's home for the purposes of voting, counting of votes or activities ancillary to voting or the counting of votes in an election or referendum which is held – (a) in accordance with provision made by or under an Act, or (b) in accordance with the laws or regulations of a country or territory outside the United Kingdom, but in respect of which arrangements are made by a consular post or diplomatic mission in the United Kingdom for persons eligible to vote in that election or referendum to vote in the United Kingdom.
As the reader pointed out, this exception seems designed to allow for voting to take place on May 6th, the date of the next local elections.
Does that mean the Government expects the new Tier 4 restrictions to remain in place until then?
Saturday's Anti-Lockdown Protest in London: An Eyewitness Report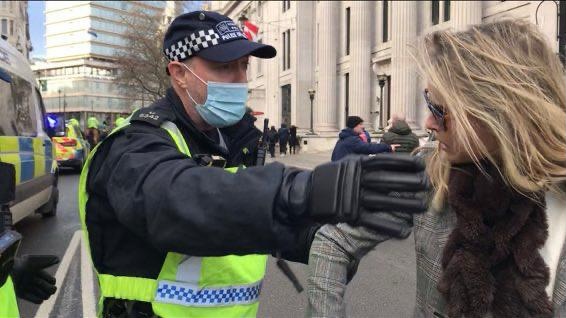 Parliament Square was the scene of an anti-lockdown protest on Saturday, taking place shortly before the Prime Minister held his press conference. A Lockdowns Sceptics reader was present and sent us this account.
The policing of Saturday's anti-lockdown protests was deeply sinister and unjustifiably heavy-handed. I say that as a seasoned demonstrator and a globe-trotting football fan. I've been around the houses and back, but this was different. I could almost taste the lust for violence on the part of the police from the moment I arrived in Parliament Square.

Gangs of highly menacing masked-up policemen came up very close, way beyond the designated two-metre distancing rule. They were towering above me – I'm not a tall woman – peering right in my face, smiling, smug and sneering. By the time I'd been crowded by the third PC asking "What are you doing?", "Why are you here?". etc., I could tell that the general vibe was that they were there to intimidate, gloat and bully under the guise of policing in a civilised manner.

There were around 2,000 armoured robocops compared to between 700 and 1,000 concerned citizens, a ratio of over 2:1. Strange, because when my son was mugged at knifepoint, as many others have been in my locality, there wasn't a policeman in sight. When my 81 year-old mother, who lives alone, had an attempted break-in, with her front door being kicked in and then a van reversing into it, she had to wait four days before the police visited.

It was a hugely mixed London demographic. Young, old, black, white, dogs, a snowman, a unicorn and a few ghetto blasters. Just freedom-loving people from across our great City questioning the insanity of yet another damaging lockdown and yearning for freedom. Before we even left Parliament Square, there had been a couple of arrests.

An articulate guy with a megaphone was trying to firm up the latest set of completely nonsensical rules. He was asking the police questions and repeating the answers over the megaphone so that we could all understand what we could and couldn't do. He was aggressively carted away for absolutely nothing. He wasn't rude or dangerous, he was just trying to communicate.

To be honest, it was the swarms of police that made social distancing impossible. We set off down Whitehall harmlessly in our own small groups, mine no more than three, a really interesting bunch of people, who were there for a range of reasons. We passed the cenotaph in good spirits, until the army of police horses pulled in front of us and then officers blocked our path. It's a well known police tactic, called kettling, used to break up aggressive groups at football matches. It splits crowds up, but also creates panic and confusion.

Next came the charging groups of big burly riot police, heading toward various random people. It was indiscriminate and remarkably forceful. My camera footage shows the full volley and disproportionate force and how many officers were used to take down people, leaving them face down on the pavement, while they wrenched their hands up behind their backs.

There was no rhyme nor reason to who they picked on or why. I believe that was part of the tactic of wider intimidation. I also noted that many badge numbers were covered up and masks made the police unidentifiable. Again deeply sinister. When people were forced to the ground other officers formed circles around the group to stop observers from seeing or filming what was happening. I politely asked what the person on the ground had done. An officer told me to get back, leave, or I would be arrested. No amount of questioning elicited an explanation. Eventually, I moved on. Not far because we were blocked and told to go back. There was nowhere for us to go

By now there were more police arriving in vans. To make it even more surreal, I saw a guy dressed as Frosty the Snowman being charged at and thrown to the ground awith such violence you would have thought he had just robbed a jewelry store. His only "crime" was walking up Whitehall in a Frosty the Snowman suit.

I witnessed another group of police charge down a young woman. The officer who led the charge was well over six-foot tall and he pushed her with such force she flew to the ground. She was screaming. Again, hands behind her back face down.

Really disturbing. I wanted to come to her aid, but was told to leave or be arrested by an incredibly aggressive officer who yelled in my face. His colleague was calmer and told me: "You must go or I promise you, you will be arrested." But he refused to tell me what for. He was completely out of control – they were all out of control. I backed off and he kept coming towards me shouting at me to leave and move back. I retreated some more, passing yet another young woman being arrested.

It was an abrupt and rude awakening. I've not witnessed anything like this before. How have we been stripped of our freedoms and ended up with our paid servants attacking and abusing citizens in our streets for exercising their right to protest peacefully?
Excess Deaths in the US
Readers may recall that last month the Johns Hopkins News-Letter published a summary of Genevieve Briand's presentation 'COVID-19 Deaths: A Look at U.S. Data' which was subsequently removed from the News-Letter's website, although it's still available via the Wayback Machine. The reason? Briand, Assistant Director for the Master's in the Applied Economics program at Hopkins, said there was no evidence COVID-19 had caused any excess deaths in the US. A pretty sensational claim, given that the CDC claims there have been more than 300,000 excess deaths due to COVID-19 in 2020. The News-Letter has set out its reasons for archiving Briand's analysis here.
However, beneath that reasoning there is a very interesting comment that suggests Briand may have been on to something.
Consider the following figures – US Total deaths by year per CDC:

2013: 2,596,993

2014: 2,626,418

2015: 2,712,630

2016: 2,744,248

2017: 2,813,503

2018: 2,839,205

2019: 2,855,000

At present the US is experiencing a 1.12% increase in overall mortality rates for 2020 – not good – pandemicky numbers to be sure.

However, last year, 2019, there was also a 1.12% increase. Did we miss a pandemic in 2019?

But wait it's even "scarier" – 2018 saw a 1.22% increase in mortality rates, 2017 saw a 1.24% increase, 2016 a 1.27% increase, 2015 a 1.27% increase, 2014 a 1.29% increase – all exceeding 2020's increase in mortality rate – so does this mean we have had pandemics for the last seven years?
Following the Séance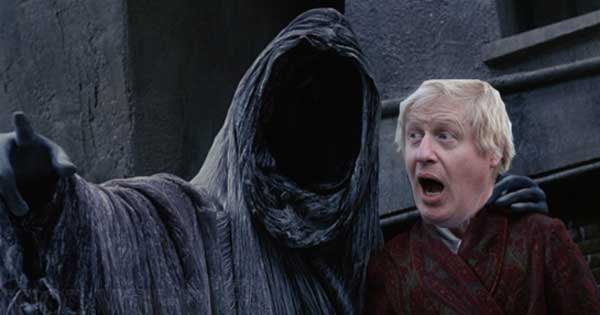 What's next? What might lie in store for us in the not too distant future? Today, we're publishing a satirical piece by regular contributor Freddie Attenborough in which he imagines a Downing Street announcement on the eve of Christmas 2022. On the advice of the Spiritualist Advisory Group for Emergencies (SAGE), Boris has imposed a new safeguard against Covid infection – thought distancing.
10 Downing Street, London SW1A 2AA

I am writing to you to update you on the steps we are taking to combat coronavirus. In just a few years, everyday life has changed dramatically. We all feel the profound impact of coronavirus not just on ourselves, but on our loved ones and our communities.

I understand completely the difficulties that lockdown has caused to your lives, businesses and jobs.
I also recognise that many of you will be concerned by the Tier 17 restrictions that my Government has today announced. Let me assure you that the actions we are taking are absolutely necessary, for one simple reason.

If too many people think at one time, the resources of the state will be distracted from the war on coronavirus. This will cost lives. We must slow the spread of information likely to generate cognition in order to save as many lives as possible.

That is why we are giving one simple instruction – from today you must distance yourself from thoughts.

You should not engage in intellectual discussion with either of the disease vectors you have been caged with since the Tier 14 mass urban evacuations. You may only think for very limited purposes such as articulating the words 'Thank you NHS,' completing compulsory liquidation forms for any insolvent businesses you may once have owned or confirming that you agree to the state being granted power of attorney over your upper respiratory tract.

If you do have to think, you should ensure, wherever possible, that your head is down a lavatory and that the chain is flushed at regular intervals. This will help us prevent the spread of thoughts.

These rules must be observed. So, if people break the rules, the police will issue on-the-spot injections of propofol. Portable electroencephalograms will also be used to identify disease vectors displaying unacceptable levels of brain activity.
Worth reading in full.
Stop Press: Read Fredrick Edward's piece in the Conservative Woman, imagining Tier 5, Tier 666, Tier Defcon Whitty, and Tier Full-Johnson
A Day in the Life, Covid-Style
Regular Lockdown Sceptics contributor Guy de la Bédoyère has rewritten the lyrics to 'A Day in the Life' by the Beatles. Perhaps some enterprising reader would like to put them to music?
I read the news today, oh boy
About a virus that the Chinese made
And as the news was rather bad
I had to don a mask
And social distance in the bath

The virus blew our world out in a trice
The lockdowns prove we've all become deranged
Governments have made us scared
Now we'll all be poor
Nobody was really sure who's died from what or if it's all a fraud

I watched the news today, oh boy
We've saved the NHS, who knows what for?
Crowds of people turned away
But I just had to stare
Having said a prayer
I think we must have got this wrong …

Woke up, fell out of bed
Dragged a mask across my head
Found my way downstairs to switch on zoom
And looking up, I noticed I was late
Found my phone and down I sat
Lost my job in seconds flat
Found my way upstairs – what a joke
And then the PM spoke and I went into a dream

I watched more news today, oh boy
No chance of Christmas here or anywhere
And though our plans were fairly small
We've had to dump them all
Now we know for certain that the country's really hit the wall
I think we must have got this wrong…
Round-up
Theme Tunes Suggested by Readers
Five today: "You Ain't Going Nowhere" by Bob Dylan, "Get Back in Your Box" by Fieves, "Quarantine Christmas" by Aaron Taos, "The War Against Intelligence" by The Fall and "The Masker Mash" by Michael J. Talmo.
Love in the Time of Covid
We have created some Lockdown Sceptics Forums, including a dating forum called "Love in a Covid Climate" that has attracted a bit of attention. We have a team of moderators in place to remove spam and deal with the trolls, but sometimes it takes a little while so please bear with us. You have to register to use the Forums, but that should just be a one-time thing. Any problems, email the Lockdown Sceptics webmaster Ian Rons here.
Sharing Stories
Some of you have asked how to link to particular stories on Lockdown Sceptics so you can share it. To do that, click on the headline of a particular story and a link symbol will appear on the right-hand side of the headline. Click on the link and the URL of your page will switch to the URL of that particular story. You can then copy that URL and either email it to your friends or post it on social media. Please do share the stories.
Social Media Accounts
You can follow Lockdown Sceptics on our social media accounts which are updated throughout the day. To follow us on Facebook, click here; to follow us on Twitter, click here; to follow us on Instagram, click here; to follow us on Parler, click here; and to follow us on MeWe, click here.
Woke Gobbledegook
We've decided to create a permanent slot down here for woke gobbledegook. Today, the recommendation of an article in the New England Journal of Medicine to rethink sex designations on birth certificates. Sadly, the full article lies behind a paywall but the free preview give you a flavour.
Sex designations on birth certificates offer no clinical utility, and they can be harmful for intersex and transgender people. Moving such designations below the line of demarcation wouldn't compromise the birth certificate's public health function but could avoid harm.
Wesley J. Smith in the National Review has more details:
The idea is to move sex designation "below the line", which allows for general statistical compilation of vital statistics, but not an identifiable designation of the particular individual about whom the birth certificate was created:

"Moving sex designations below the line would be in keeping with legal developments deemphasizing sex distinctions. Now that the U.S. Supreme Court has held, in Obergefell v. Hodges, that bans on same-sex marriage are unconstitutional, only a few legal contexts relying on sex designations remain. In these contexts, using information from birth certificates is not the best way to categorize people."

The authors also want sex distinctions removed from important documents such as passports:

"Passports and state identification cards relying on sex assigned at birth for identification pose another challenge. These documents are usually issued or renewed when the holder is an adolescent or an adult, however, so moving sex designations below the line of demarcation on birth certificates would permit applicants to identify their gender without medical verification. Governments could also remove gender designations from identification cards altogether and focus more on identifiable physical features and updated photographs. This change would accommodate nonbinary people and reduce the burdens associated with amending documents."
In conclusion Smith says:
Publishing ideological advocacy in what is supposed to be a journal that primarily publishes objective scientific information contributes to the growing public distrust of the science sector. That doesn't help people with gender dysphoria specifically, or contribute to the betterment of society overall.
Worth reading in full.
This is merely the latest social justice battle to be accurately foretold by Titania McGrath, the satirical Twitter creation of Dr Andrew Doyle, a stand up comic and member of the FSU's Advisory Council. McGrath has compiled a glorious twitter thread of all the occasions she turned out to be ahead of the curve.
Stop Press: Read Douglas Murray in the Telegraph on why the battle against woke gobbledegook is so important.
"Mask Exempt" Lanyards
We've created a one-stop shop down here for people who want to buy (or make) a "Mask Exempt" lanyard/card. You can print out and laminate a fairly standard one for free here and it has the advantage of not explicitly claiming you have a disability. But if you have no qualms about that (or you are disabled), you can buy a lanyard from Amazon saying you do have a disability/medical exemption here (takes a while to arrive). The Government has instructions on how to download an official "Mask Exempt" notice to put on your phone here. You can get a "Hidden Disability" tag from ebay here and an "exempt" card with lanyard for just £1.99 from Etsy here. And, finally, if you feel obliged to wear a mask but want to signal your disapproval of having to do so, you can get a "sexy world" mask with the Swedish flag on it here.
Don't forget to sign the petition on the UK Government's petitions website calling for an end to mandatory face masks in shops here.
A reader has started a website that contains some useful guidance about how you can claim legal exemption. Another reader has created an Android app which displays "I am exempt from wearing a face mask" on your phone. Only 99p, and he's even said he'll donate half the money to Lockdown Sceptics, so everyone wins.
If you're a shop owner and you want to let your customers know you will not be insisting on face masks or asking them what their reasons for exemption are, you can download a friendly sign to stick in your window here.
And here's an excellent piece about the ineffectiveness of masks by a Roger W. Koops, who has a doctorate in organic chemistry. See also the Swiss Doctor's thorough review of the scientific evidence here.
Stop Press: The Telegraph reports on the warning of a group of senior medics that face masks are being used in schools in a way that is damaging to children and which breaches the guidelines of the World Health Organisation:
The use of masks in classrooms has led to a "climate of fear" in schools, according to an open letter to the Prime Minister signed by a hundred academics, medics, paediatricians and clinical psychologists.

They have urged the Government to withdraw its advice on the use of face masks in school corridors "as a matter of urgency", adding that masks should "play no part in the life of healthy children".

Their intervention comes amid a major row between ministers and teachers about the roll-out of mass testing at secondary schools next term.

Signatories of the letter point out that ministers justified their recommendation for face masks in schools by citing WHO guidance.

"However, within the same guideline, the WHO states that when authorities recommend masks for children, monitoring and evaluation should be established at the onset," they said.

This evaluation should include analysing the impact of masks on children's physical and mental health as well as their development, learning and attendance.

But the Government has not complied with this aspect of the guidance, the medics claimed.
Worth reading in full.
The Great Barrington Declaration
The Great Barrington Declaration, a petition started by Professor Martin Kulldorff, Professor Sunetra Gupta and Professor Jay Bhattacharya calling for a strategy of "Focused Protection" (protect the elderly and the vulnerable and let everyone else get on with life), was launched in October and the lockdown zealots have been doing their best to discredit it ever since. If you googled it a week after launch, the top hits were three smear pieces from the Guardian, including: "Herd immunity letter signed by fake experts including 'Dr Johnny Bananas'." (Freddie Sayers at UnHerd warned us about this the day before it appeared.) On the bright side, Google UK has stopped shadow banning it, so the actual Declaration now tops the search results – and Toby's Spectator piece about the attempt to suppress it is among the top hits – although discussion of it has been censored by Reddit. The reason the zealots hate it, of course, is that it gives the lie to their claim that "the science" only supports their strategy. These three scientists are every bit as eminent – more eminent – than the pro-lockdown fanatics so expect no let up in the attacks. (Wikipedia has also done a smear job.)
You can find it here. Please sign it. Now over three quarters of a million signatures.
Update: The authors of the GDB have expanded the FAQs to deal with some of the arguments and smears that have been made against their proposal. Worth reading in full.
Update 2: Many of the signatories of the Great Barrington Declaration are involved with new UK anti-lockdown campaign Recovery. Find out more and join here.
Update 3: You can watch Sunetra Gupta set out the case for "Focused Protection" here and Jay Bhattacharya make it here.
Update 4: The three GBD authors plus Prof Carl Heneghan of CEBM have launched a new website collateralglobal.org, "a global repository for research into the collateral effects of the COVID-19 lockdown measures". Follow Collateral Global on Twitter here.
Judicial Reviews Against the Government
There are now so many JRs being brought against the Government and its ministers, we thought we'd include them all in one place down here.
First, there's the Simon Dolan case. You can see all the latest updates and contribute to that cause here. Alas, he's now reached the end of the road, with the Supreme Court's refusal to hear his appeal. Dolan has no regrets. "We forced SAGE to produce its minutes, got the Government to concede it had not lawfully shut schools, and lit the fire on scrutinizing data and information," he says. "We also believe our findings and evidence, while not considered properly by the judges, will be of use in the inevitable public inquires which will follow and will help history judge the PM, Matt Hancock and their advisers in the light that they deserve."
Then there's the Robin Tilbrook case. You can read about that and contribute here.
Then there's John's Campaign which is focused specifically on care homes. Find out more about that here.
There's the GoodLawProject's Judicial Review of the Government's award of lucrative PPE contracts to various private companies. You can find out more about that here and contribute to the crowdfunder here.
The Night Time Industries Association has instructed lawyers to JR any further restrictions on restaurants, pubs and bars.
And last but not least there's the Free Speech Union's challenge to Ofcom over its 'coronavirus guidance'. A High Court judge refused permission for the FSU's judicial review in December and the FSU has decided not to appeal the decision because Ofcom has conceded most of the points it was making. Check here for details.
Samaritans

If you are struggling to cope, please call Samaritans for free on 116 123 (UK and ROI), email jo@samaritans.org or visit the Samaritans website to find details of your nearest branch. Samaritans is available round the clock, every single day of the year, providing a safe place for anyone struggling to cope, whoever they are, however they feel, whatever life has done to them.
Quotation Corner
We know they are lying. They know they are lying, They know that we know they are lying. We know that they know that we know they are lying. And still they continue to lie.

Alexander Solzhenitsyn
It's easier to fool people than to convince them that they have been fooled.

Mark Twain
Men, it has been well said, think in herds; it will be seen that they go mad in herds, while they only recover their senses slowly, one by one.

Charles Mackay
They who would give up essential liberty to purchase a little temporary safety, deserve neither liberty nor safety.

Benjamin Franklin
To do evil a human being must first of all believe that what he's doing is good, or else that it's a well-considered act in conformity with natural law. Fortunately, it is in the nature of the human being to seek a justification for his actions…

Ideology – that is what gives the evildoing its long-sought justification and gives the evildoer the necessary steadfastness and determination.

Alexander Solzhenitsyn
No lesson seems to be so deeply inculcated by the experience of life as that you never should trust experts. If you believe the doctors, nothing is wholesome: if you believe the theologians, nothing is innocent: if you believe the soldiers, nothing is safe. They all require to have their strong wine diluted by a very large admixture of insipid common sense.

Robert Gascoyne-Cecil, 3rd Marquess of Salisbury
Nothing would be more fatal than for the Government of States to get into the hands of experts. Expert knowledge is limited knowledge and the unlimited ignorance of the plain man, who knows where it hurts, is a safer guide than any rigorous direction of a specialist.

Sir Winston Churchill
If it disagrees with experiment, it's wrong. In that simple statement is the key to science.

Richard Feynman
Of all tyrannies, a tyranny sincerely exercised for the good of its victims may be the most oppressive. It would be better to live under robber barons than under omnipotent moral busybodies. The robber baron's cruelty may sometimes sleep, his cupidity may at some point be satiated; but those who torment us for our own good will torment us without end for they do so with the approval of their own conscience.

C.S. Lewis
The welfare of humanity is always the alibi of tyrants.

Albert Camus
We've arranged a global civilization in which most crucial elements profoundly depend on science and technology. We have also arranged things so that almost no one understands science and technology. This is a prescription for disaster. We might get away with it for a while, but sooner or later this combustible mixture of ignorance and power is going to blow up in our faces.

Carl Sagan
Political language – and with variations this is true of all political parties, from Conservatives to Anarchists – is designed to make lies sound truthful and murder respectable, and to give an appearance of solidity to pure wind.

George Orwell
The object of life is not to be on the side of the majority, but to escape finding oneself in the ranks of the insane.

Marcus Aurelius
Necessity is the plea for every restriction of human freedom. It is the argument of tyrants; it is the creed of slaves.

William Pitt the Younger
If you tell a lie big enough and keep repeating it, people will eventually come to believe it. The lie can be maintained only for such time as the State can shield the people from the political, economic and/or military consequences of the lie. It thus becomes vitally important for the State to use all of its powers to repress dissent, for the truth is the mortal enemy of the lie, and thus by extension, the truth is the greatest enemy of the State.

Joseph Goebbels (attributed)
The whole aim of practical politics is to keep the populace alarmed (and hence clamorous to be led to safety) by menacing it with an endless series of hobgoblins, most of them imaginary.

H.L. Mencken
I have always strenuously supported the right of every man to his own opinion, however different that opinion might be to mine. He who denies to another this right, makes a slave of himself to his present opinion, because he precludes himself the right of changing it.

Thomas Paine
Shameless Begging Bit
Thanks as always to those of you who made a donation in the past 24 hours to pay for the upkeep of this site. Doing these daily updates is hard work (although we have help from lots of people, mainly in the form of readers sending us stories and links). If you feel like donating, please click here. And if you want to flag up any stories or links we should include in future updates, email us here. (Don't assume we'll pick them up in the comments.)
And Finally…
Lockdown Sceptics reader Philip Leith has imagined an episode of Who Wants To be a Millionaire? in which Boris Johnson is the contestant.
Jeremy Clarkson: Welcome back. Our Contestant Boris Johnson has worked his way up to this final question and he still has all his lifelines. Boris, are you ready?

Boris Johnson: Never been readier.

JC: OK, here is your final question. What policy should you adopt when confronted with a pandemic? Is it A – Do nothing, B – Focus resources to shield the most vulnerable, C – Shoot everybody before they become infected, or D – Shut down the entire country and imprison healthy people in their homes?

BJ: Well before the answers came up my initial thought would have been B, but I'm not so sure now. Can I please use my 50:50 Jeremy?

JC: Okay computer take away two wrong answers please. Interestingly you are left with B – Focus resources to shield the vulnerable, and D – Shut down the entire country and imprison healthy people in their homes. Your instinct told you to go for B. What's it going to be Prime Minister?

BJ: Yes, yes, but it is so much more difficult when you're actually in the chair.

JC: Well you still have three lifelines.

BJ: Yes, can I ask the audience please Jeremy?

JC: Okay can the audience pick up their keypads and key in what they think is the right answer now…. Well, that's interesting. An overwhelming majority appear to agree with you that the correct answer is B – Focus resources to shield the vulnerable. Is that your answer, then, Prime Minister?

BJ: Er… perhaps, perhaps.

JC: You still have two lifelines.

BJ: True, perhaps it would be prudent to use them. Jezza, what do you think?

JC: Well I'm no expert, but here's what I think. Focussing resources on protecting the most vulnerable seems like the best idea to me.

BJ: Ah, really? You think so? Crikey.

JC: If you still can't make up your mind Prime Minister, you can still phone a friend.

BJ: Quite right, there is a lot a stake here. Don't want to rush into anything, only to have to change my mind. [Audience laughter.] I'll phone a friend. I'd like to call my friend Patrick Valance and Chris Whitty.

JC: Isn't that two people, Prime Minister?

BJ: Yes, but they think exactly the same way. They might as well be one person.

JC: Okay, let's phone them. Hello is that Patrick and Chris?

Patrick Vallance and Chris Whitty: Yes.

JC: Jeremy Clarkson here, calling from Who Wants to be a Millionaire? Boris is here in the chair and is going to read out a question and give you two possible answers. Boris you have thirty seconds, make sure you leave time for them to answer, starting now.

BJ: Patrick, Chris, what policy should you follow when confronted with a pandemic? Is it B – Focus on shielding the most vulnerable, or D – Shut down the entire country and imprison healthy people in their homes?

PV: D. Definitely D. We've never done that in any previous pandemic and it was specifically recommended against by both the WHO and the UK's Pandemic Preparedness Strategy. But, nevertheless, the science says D.

CW: Agreed. D.

BJ: Right, thanks chaps.

JC: So, Prime Minister what are you going to plump for?

BJ: Well those two are very clever chaps – very eminent scientists – and with all due respect to you and the audience, Jeremy, I'm going to go for D. That's my final answer.

JC: Boris Johnson… You've just lost tens of thousands of lives, millions of jobs and billions of pounds. The correct answer was B – focused protection.

BJ: Can I do a u-turn?